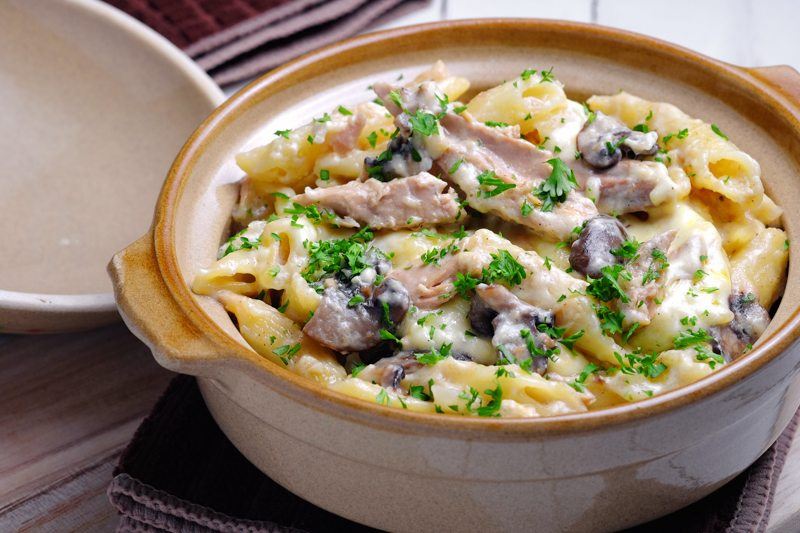 Slow Cooker Tuna and Portobello Casserole
Speed - 100%
Simplicity - 100%
Tastiness - 100%
A perfectly rich and creamy casserole with all the goodness of tuna and depth of flavor from portobello mushrooms. Definitely worth adding to your collection of quick and delicious recipes.
Really hooked to using my slow cooker lately. It just makes cooking that much more hassle-free. Who would have thought that preparing a quick and easy casserole, which could best represent one-pot meals for their convenience, could be made a whole lot easier? Honestly, this is my first attempt to cook dry pasta in the slow cooker, and I have to admit, I was really amazed.
This is basically a tuna casserole. Not a fan of fish? Go with whatever protein you wish. Just choose something that will cook at the same time your pasta would, which is as I've learned is within an hour or so. Go for minced meat, pre-cooked sausages, or of course, you can cook your chosen meat separately in another pan. Adding in the pasta late into the crockpot, if using main ingredients which need more cooking time, would also be a good option.

I've added mushrooms to my ingredients for the earthiness that would well balance the richness from the butter, milk, and the cheese. I chose fresh portobellos for maximum flavor, but you may make this more convenient by using canned varieties. Here's a quick tip when working with mushrooms – rinse them clean just before you're about to cook them. Getting them wet will ruin their structure really quickly.
Also take the time to mince the onions as fine as you can. The casserole won't be cooking that long so having big chunks of onion won't turn out pleasant at all.
Melt a stick of butter in a skillet and saute the mushrooms and onions briefly. Add a pinch of salt to allow these ingredients to sweat out more flavor.

Tip the sauteed onions and mushrooms into the pan, butter included, and mix it with all the other ingredients, except for the pasta. As for the tuna, don't drain away the liquid that it came in with the can. But be sure to account for that liquid and factor it into measuring the total amount of cooking liquid needed for the amount of dried pasta you'll be using.
For this recipe, I've used 500g of dried penne rigatte, which came to cook perfectly al dente with 5 cups of total cooking liquid – 4 cups of milk plus one cup combined brine that came from the 3 cans of tuna.

Coat the bottom and sides of the crockpot with non-stick cooking spray just to make sure your pasta won't stick. If you have a newer slow cooker, sticking won't be an issue. Then begin layering, starting with a generous amount of the sauce mixture followed by a layer of pasta and so on.

Since I had no intentions of gratinating (yup, that's a word) this casserole in the oven, I finished the top layer with a generous addition of shredded cheese. If you intend to finish this in the oven, I would suggest saving the cheese for later. You may even add some breadcrumbs, spices, herbs, and more butter to make up for a perfectly brown crust.

Set your slow cooker to a high setting. I don't think choosing to set it on low and adjusting accordingly with a longer cooking time would work. I haven't tried it, though I'm guessing that allowing the pasta would overcook causing it to get mushy. Cooking pasta in a slow cooker is finicky, so you may need to adjust the cooking times for this recipe to match your slow cooker.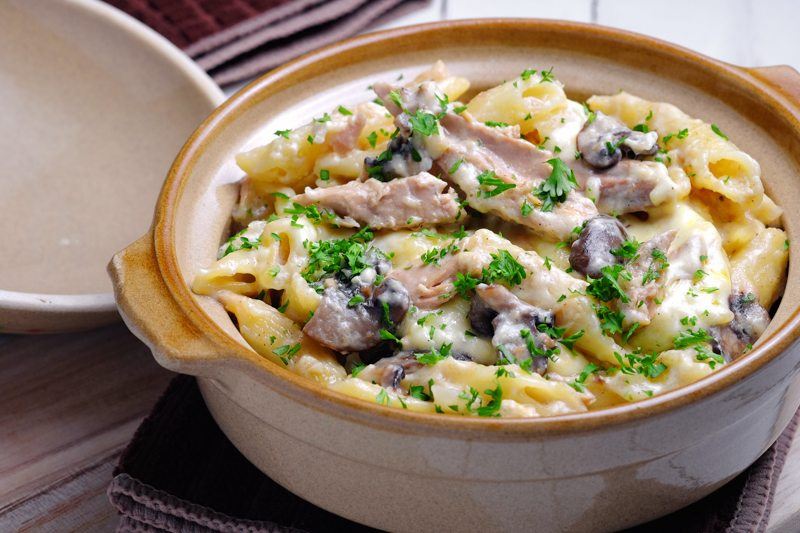 Ingredients
1/2

Kilogram

Penne Rigatte

1

Liter

Full-Cream Milk

3

Cans

Albacore Tuna

2

Cups

Cheddar Cheese

shredded

1

Cups

Portobello Mushrooms

sliced

1

Piece

White Onion

finely chopped

1

Stick

Butter

Salt

Pepper
Instructions
Sautee mushrooms and onions in a pan with melted butter.

In a bowl, combine sauteed ingredients, milk, tuna, and cheese. Season with salt and pepper to taste.

Coat the bottom and sides of the crockpot with non-stick cooking spray.

Add in a layer of sauce to the slow cooker. Arrange pasta on top.

Continue layering sauce and pasta alternately. Finish with a topping of more cheese.

Cook on high for 70-80 minutes.