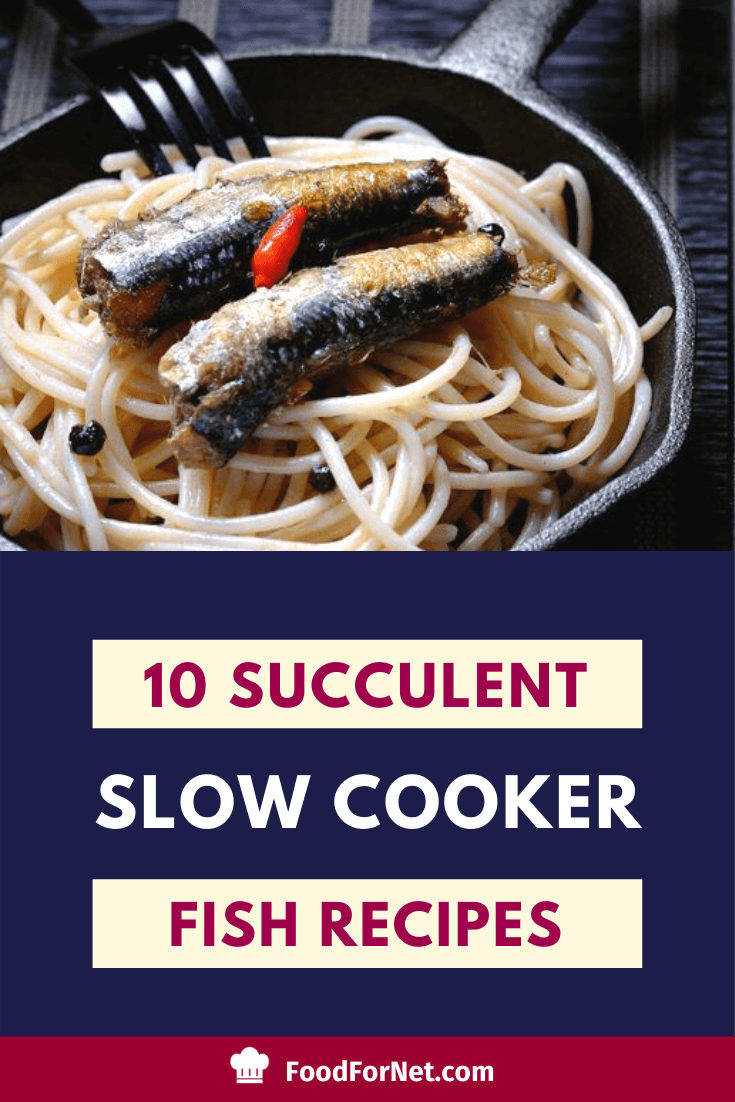 Meals like soups and stews are extremely common in the slow cooker, as are large cuts of meat. But fish? Not so much. In fact, most people don't cook fish in the slow cooker, partly because it is so fast to make normally.
Nevertheless, the slow cooker can actually work extremely well for some fish recipes. One reason is simply that the slower cooking process helps to infuse the fish with much more flavor than you would get otherwise. Additionally, you can create some amazing fish dishes in the slow cooker, some of which cannot be replicated with conventional cooking approaches.
So then, this post takes a look at ten different slow cooker fish recipes. Many of these are from this site, which means that I've designed and tested them myself. Others come from food blogs, where the authors are gifted at creating high-quality recipes.
Even if you've never cooked fish in the slow cooker before, this approach really is worth trying. With the right recipe, you can create amazing results, while the actual effort involved is minimal.
Slow Cooker Fish Recipes
Vietnamese Braised Catfish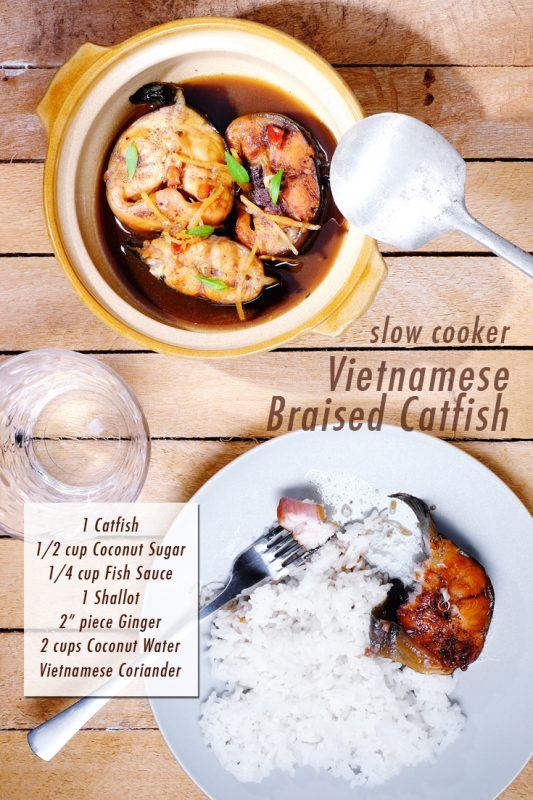 This Vietnamese Braised Catfish was inspired by a traditional Vietnamese dish called Ca Kho To. That meal makes use of a clay pot for cooking, so it isn't hard to imagine how a slow cooker version would work just as well. The dish basically involves braising the fish in coconut caramel, so it's easy to see how the final flavors are simply amazing.
While the dish is specifically designed for catfish, you don't have to rely on it. Instead, you can substitute with a different type of fish and the recipe will work almost as well. Still, if you're willing, try it with catfish first. There is something about the flavor combination that is just perfect and you don't get the slight muddy taste that is normally present in freshwater fish.
Slow Cooker Red Curry with Cod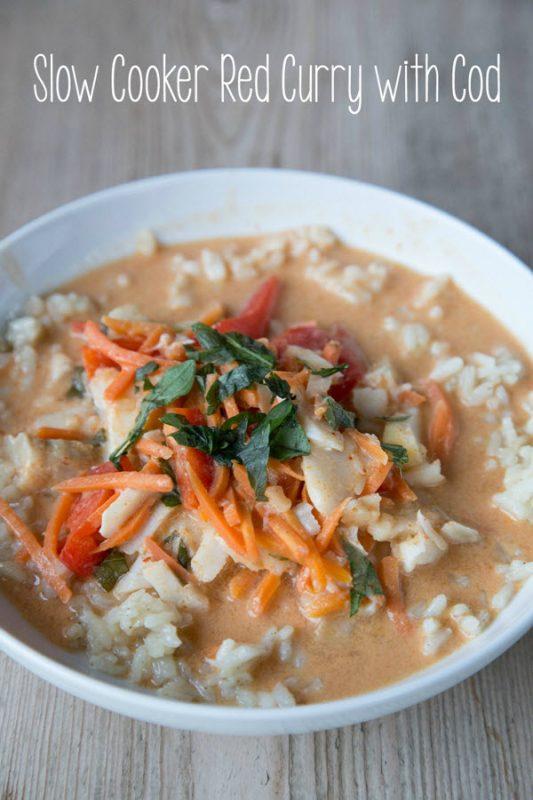 If you love curries, then this Red Curry with Cod from 5dollardinners.com is a good option to try. The prep work for this dish is simple and most of it just involves slicing the peppers and carrots, along with mixing together the various ingredients. This makes it a very easy meal to prepare and to serve. Because the dish relies on coconut milk, it also ends up being creamy and comforting.
Miso-Poached Salmon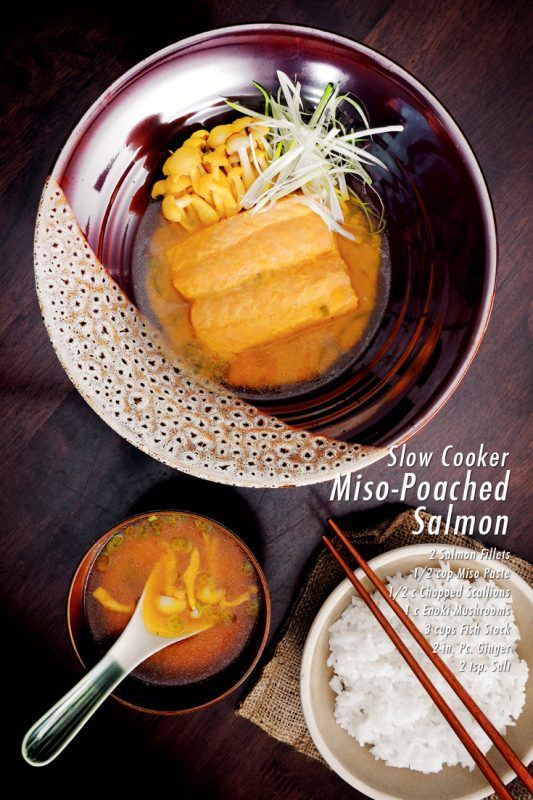 Salmon is a little different than every other fish out there, which is probably why it is also my favorite type of fish. As a result, I tend to focus on simple recipes for salmon, like this Miso-Poached Salmon. The idea is that a complex recipe will tend to overpower the flavors of the salmon, which mostly negates the point of eating it in the first place.
In contrast, using a recipe like this allows you to enjoy a tasty dish, while still making the most of the flavors the salmon has to offer. I also love the idea of poaching fish, particularly in the slow cooker, as you are infusing it with flavor throughout the whole cooking period. At the end of it, you end up with a perfectly cooked piece of salmon that can easily be served with the poaching liquid and some white rice.
Slow Cooker Tuna Salpicao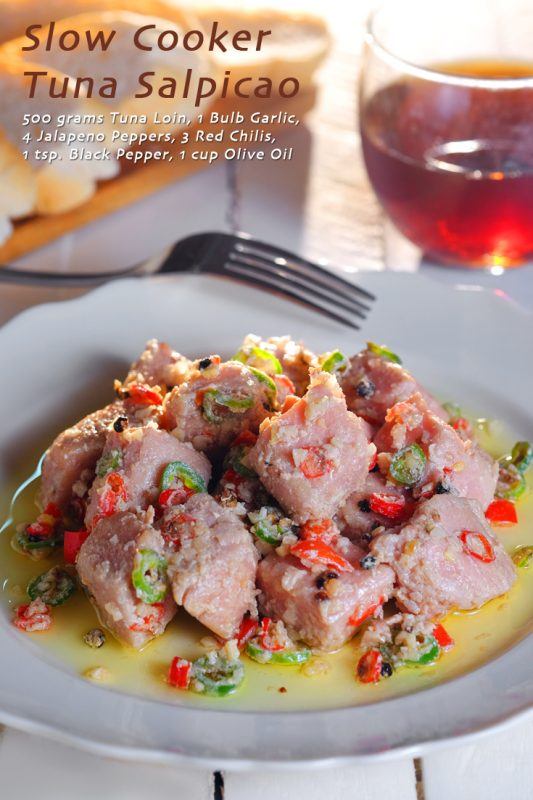 Salpicao is a classic dish in its own right but this Slow Cooker Tuna Salpicao is a good alternative, especially if you want a hands-off dish. For that matter, I swear that the finished meal tastes better this way than if you made it on the stovetop. It is also a very basic dish, so you don't have to worry about much prep work or about buying unusual ingredients.
Pineapple-Ginger Poached Milkfish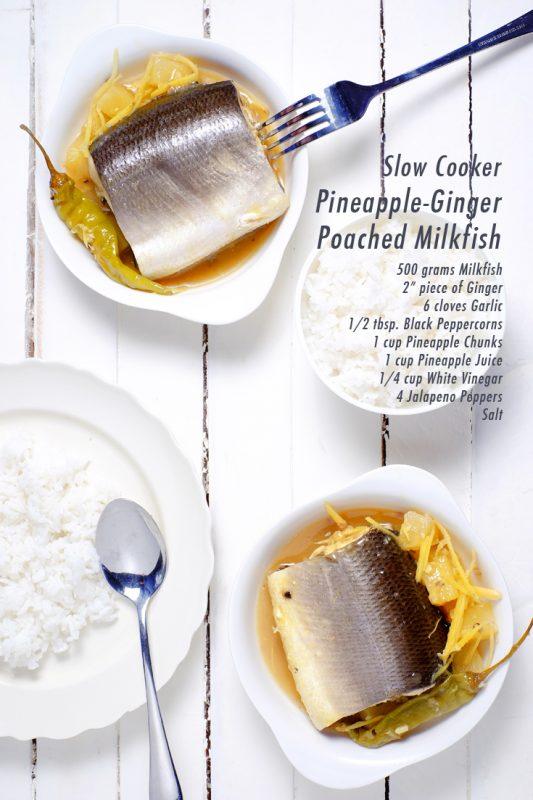 The flavors with this Pineapple-Ginger Poached Milkfish may be unusual but don't let that put you off. In fact, pineapple works well with a range of dishes, simply because it adds in a sweetness that complements many types of fish and meat. In this case, the sweetness is offset by heat from jalapeno peppers, along with the pungency of garlic and ginger. As a result, you're left with a complex flavor that perfectly complements the fish.
For that matter, I think that this is one of the best ways to poach fish or other types of meat. I've tried it with pork and chicken myself, as well as with many other fish. The flavors simply go together much better than you could imagine.
Slow Cooker Lemon and Dill Salmon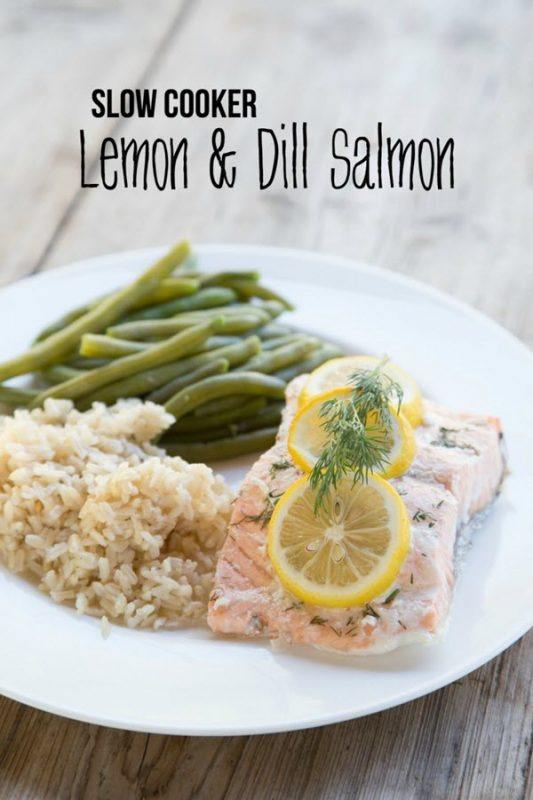 I mentioned one example of salmon in the slow cooker earlier on and this Lemon and Dill Salmon from 5dollardinners.com is an alternative approach. The flavors in this recipe are more conventional than my miso-poached salmon but they do work very well. For that matter, lemon and dill is a classic option for seafood in general, so it's hard to go wrong with that idea.
However, the style is different here, as the fish is essentially baked in the slow cooker, rather than poached. This variation would affect the overall texture of the salmon but both styles have merits. In this case, you might pick the recipe if you wanted something simple and easy, especially as you don't need to worry about a poaching liquid.
Soy-Ginger Steamed Pompano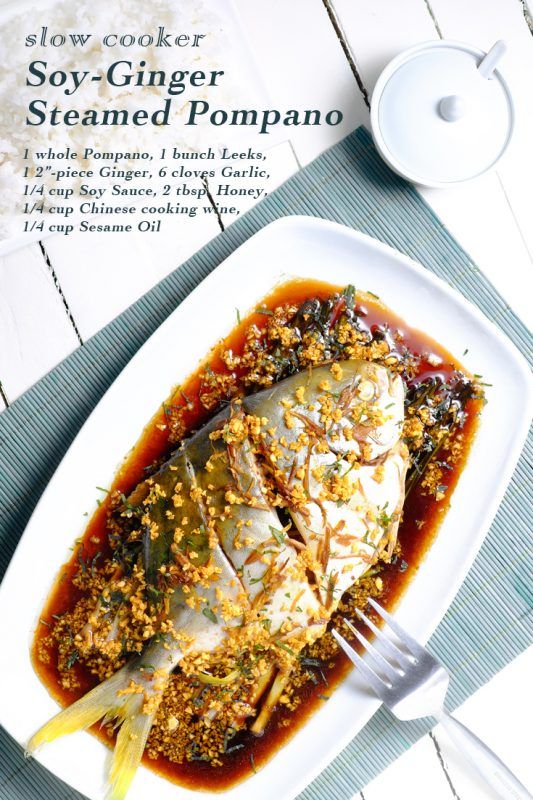 Steaming is a fairly uncommon technique in the slow cooker but it is actually extremely effective. This Soy-Ginger Steamed Pompano was the second recipe that I tried using this approach and I was impressed with just how well it worked.
As the name suggests, the recipe itself infuses your fish with a range of Asian flavors, particularly soy and ginger. These flavors are a perfect complement to fish and they're also appealing if you want something that is a little bit different.
Now, as with other recipes, you aren't limited to pompano as your fish of choice. Instead, you can use any fish with white flesh.
Slow Cooker Fish Curry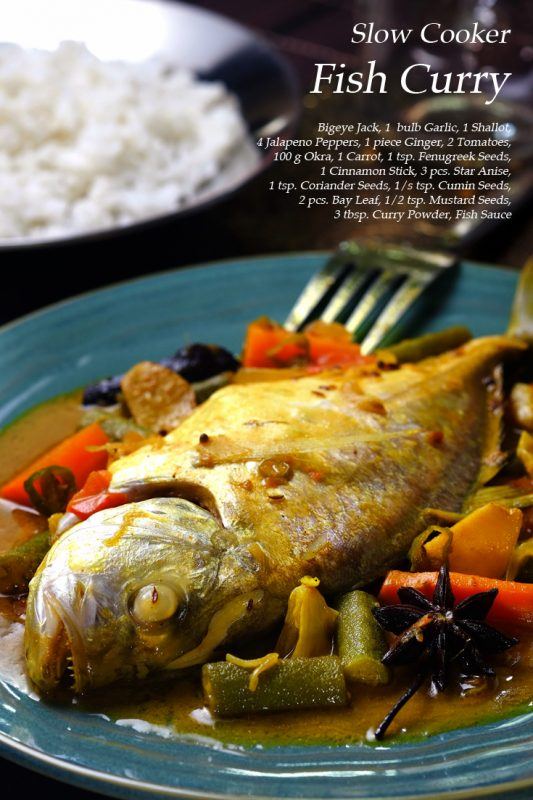 I love cooking curry dishes, partly because of the range of flavors. At the same time, the approach is surprisingly freestyle and you end up with a large range of different options for the ingredients and the flavors that you include. In this case, the dish at hand is Fish Curry and it takes advantage of many of the traditional flavors that you find in curries.
As for the fish itself, the only real restriction is that you want an option that has relatively firm flesh. After all, you are stewing it, so you need the fish to hold together somewhat. To figure this out, you can simply think of grilling. If a fish would work well on the grill, it should be fine for a fish curry as well.
Moqueca with Shrimp & Tilapia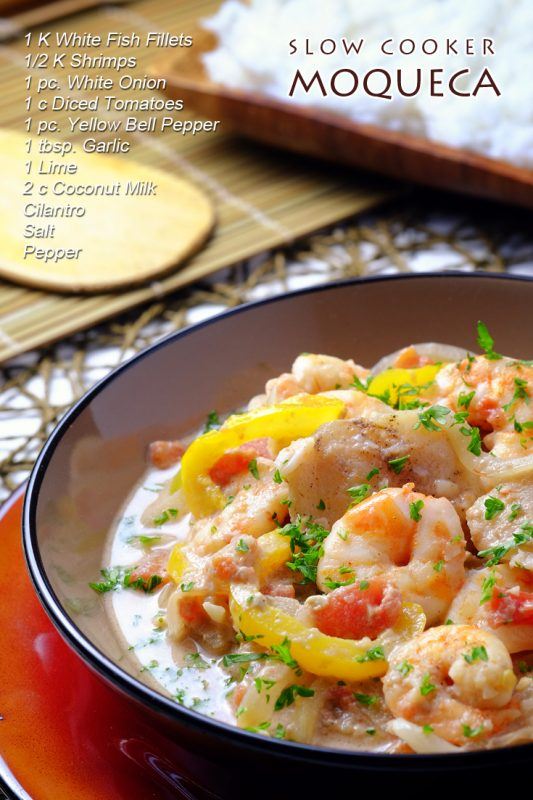 While I'm not a huge fan of seafood normally, I am particularly fond of this Moqueca with Shrimp and Tilapia. In making it, my fish of choice was tilapia but you could also use any fish that has relatively firm flesh. There are many interesting elements with this stew but the thing that pulls it all together is the coconut cream. This creates a rich gravy that highlights the flavor of the seafood and is simply irresistible.
Poached Salmon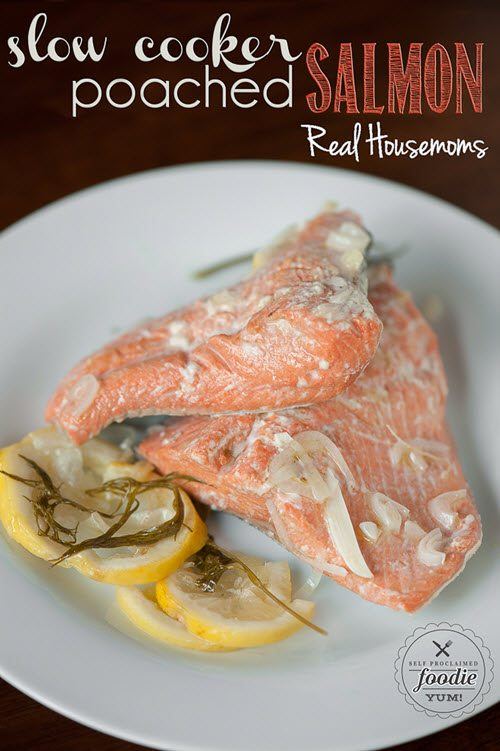 The advantage of this recipe, from realhousemoms.com, has to be its simplicity. In particular, there aren't any unusual ingredients or complex steps involved. As a result, you end up with a subtle aromatic flavor that highlights the taste of the salmon itself.
This idea is particularly attractive for anybody that wants to make salmon and be sure that they get it right every single time. There is also no prep work, aside from heating the poaching water before putting the salmon in. So, the dish is perfect for anybody in a hurry who wants to be sure their dinner turns out perfectly.
Related Content