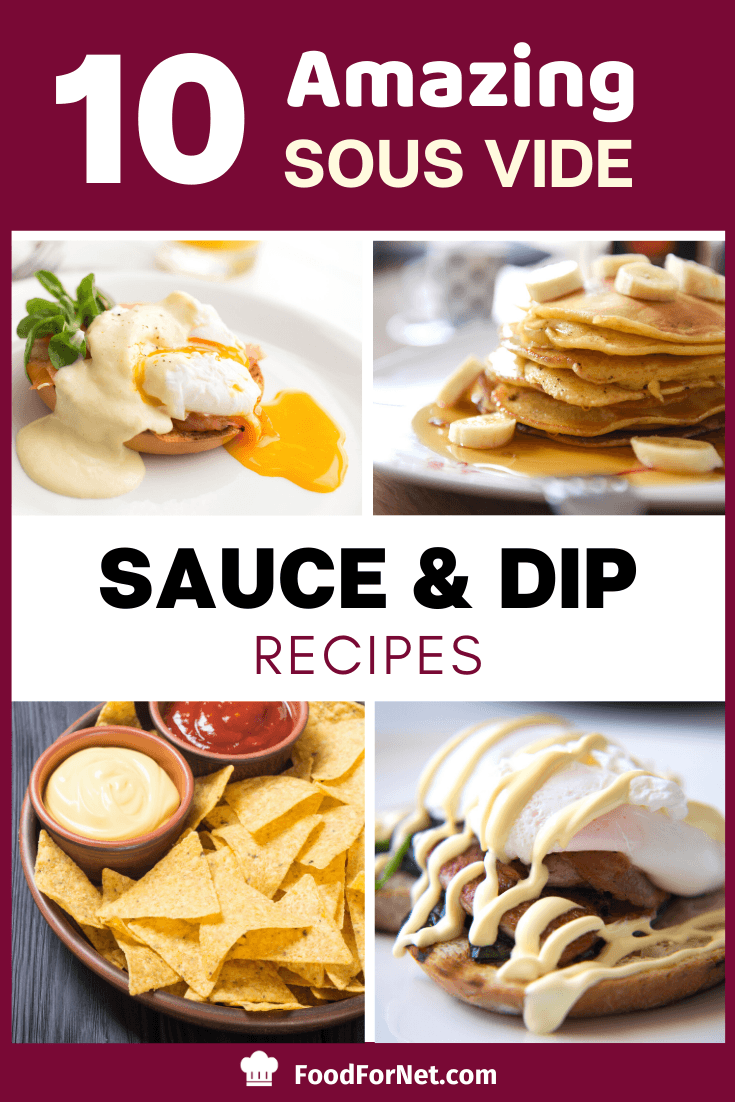 Most of the time, sous vide is a way to cook meat, including beef, chicken and pork. The technique is absolutely perfect for that role and ensures that meat is cooked all the way through, without the risk of overcooking it. These sous vide sauce recipes however, demonstrate that you can do more than just cook meat.
Sous vide also works well for other components of meals. For example, I often use my sous vide to prepare infusions, which can be a great way to make oil, vinegar and even alcohol much more interesting.
In a similar way, a sous vide setup can be used to make sauces and dips. Doing so gives you the chance to make your meals that much better and more interesting. As with meat, the process also means that you can get consistent results. In this list, we're taking a look at 10 recipes for various sauces and dips. Some of these can be used on their own, while others are perfect complements to specific meals.
Check out our list of top sous vide cookers for making these dips and sauces!
Sous Vide Sauce & Dip Recipes
Rotini in Sous Vide Saffron-Tomato Oil
Sous Vide Tarragon, Lemon and Shallot Vinaigrette
Aerated Sous Vide Hollandaise Sauce
Sous Vide Oyster Mayo
Sous Vide Vanilla-Lemongrass Syrup
Sous Vide Hollandaise
Sous Vide Bourbon-Maple Chutney
Sous Vide Nacho Cheese
Vitello Tonnato Sous Vide
Sous Vide Blueberry Compote
Rotini in Sous Vide Saffron-Tomato Oil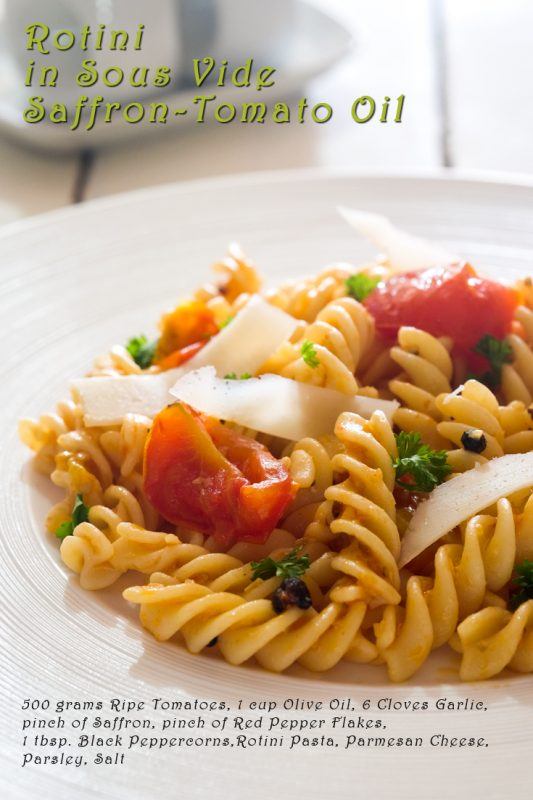 This Rotini in Sous Vide Saffron-Tomato Oil is one example of how you can make oil infusions in the sous vide. The main component of the recipe is simply that infusion, which takes advantage of the flavors of saffron, along with fresh tomatoes and a few other ingredients.
You can actually use the oil for many different purposes, including in a salad. However, I find that it is absolutely perfect as the sauce for a simple pasta dish. Rotini was my pasta of choice for the way it holds onto the sauce and the final dish comes together very well.
Start with a high quality olive oil from the olive oil of the month club!
Sous Vide Tarragon, Lemon and Shallot Vinaigrette
This Tarragon, Lemon and Shallot Vinaigrette recipe is from amazingfoodmadeeasy.com and it's also a variation on the idea of infusion. In this case, you first make infused vinegar and then use that as an ingredient for vinaigrette. The recipe is an effective way to make your own vinaigrette, especially as you could change some of the flavoring ingredients if you wanted to.
What's more – you know what all of the ingredients are when you're making your own sauce. That's a major step up from manufactured vinaigrettes, which often contain sugar, along with various additives and preservatives.
Aerated Sous Vide Hollandaise Sauce
I'm always impressed by the dishes from molecularrecipes.com and this Aerated Sous Vide Hollandaise is no exception. As the name suggests, you're making a hollandaise sauce in the sous vide and then aerating it. The latter process involves the use of an iSi Whipper, which is something I haven't personally used. However, aerating the sauce isn't strictly necessary.
Instead, you could simply use the recipe to create sous vide hollandaise and then use this as you would normally. This is a desirable outcome anyway, as the sous vide setup reduces the risk of splitting your sauce. Besides, if you pair the sauce with sous vide eggs, you're well on your way to some amazing eggs benedict.
Sous Vide Oyster Mayo
This Sous Vide Oyster Mayo is a perfect sauce option to go over food or in sandwiches. The recipe comes from www.chefsteps.com and you are literally creating mayonnaise using oysters as a key ingredient. This means you end up with fairly intense mayo that doesn't involve a large number of ingredients. And honestly, oyster mayo is an impressive achievement, so this would work well for impressing guests.
Love seafood? Here are some sous vide seafood recipes.
Sous Vide Vanilla-Lemongrass Syrup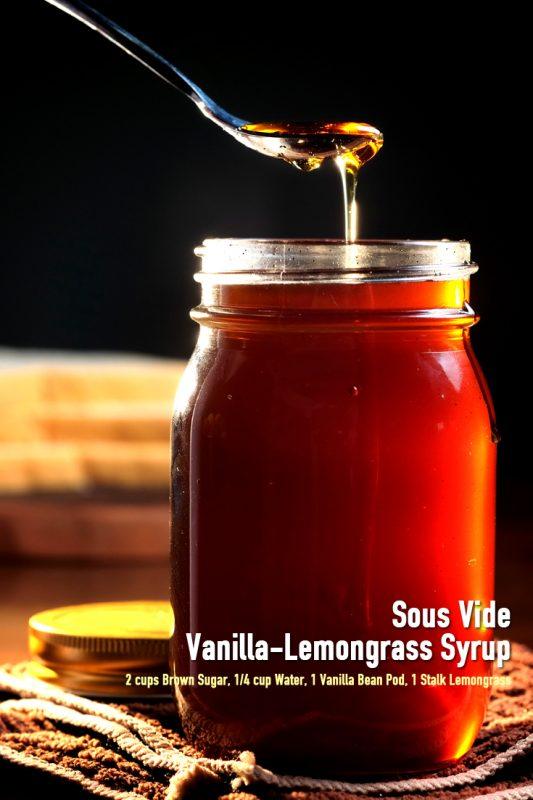 This Vanilla-Lemongrass Syrup is another infusion recipe and one that comes together effectively. The syrup itself is a sweet sauce and it would be perfect as an alternative to maple syrup in just about any situation.
I particularly love the combination of flavors in this recipe, especially because you don't often find lemongrass and vanilla sauces. But, of course, you could easily substitute out for different flavors.
I'm not sure how lemongrass would taste on pancakes, but this syrup would go perfect with dessert.
Sous Vide Hollandaise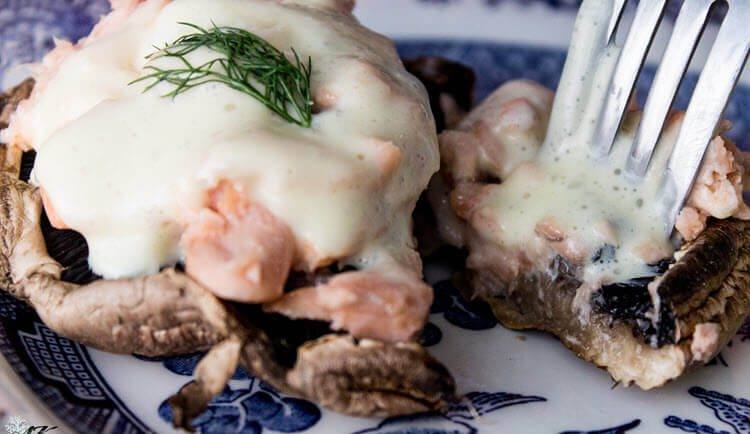 This recipe comes from almost-kosher.net and it is a second option if you want to make hollandaise sauce using the sous vide. It is also a fairly simple recipe, so you can make it even if you don't make sauces very often.
The sauce here is being served with salmon and mushrooms.
Sous Vide Bourbon-Maple Chutney
This Sous Vide Bourbon-Maple Chutney is another recipe from amazingfoodmadeeasy.com and it would be exceptional served over pork. For that matter, the sauce can work well with many types of meat and even meatless dishes, such as roast vegetables. The inclusion of bourbon is a nice touch and makes the flavor profile that much more interesting.
Sous Vide Nacho Cheese
This Nacho Cheese recipe from www.chefsteps.com is a great way to get a smooth and creamy cheese sauce. But, this isn't your everyday nacho cheese either. Instead, pickled jalapenos are used to make the sauce more interesting – just make sure you tell any guests first. Of course, you can skip those if you want something more basic, the choice is yours.
Serve this with your other mexican sous vide recipes.
Vitello Tonnato Sous Vide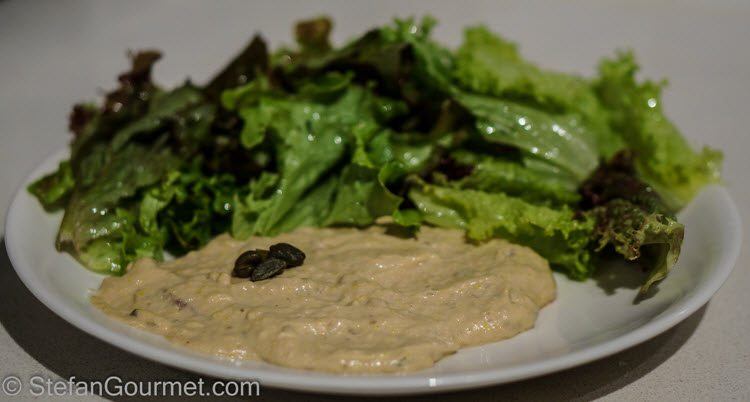 Vitello Tonnato is a classic Italian dish and one that typically isn't made with the sous vide. This version from stefangourmet.com uses the sous vide not only for the meat itself but also for the sauce that goes with it. That sauce is the reason I've included the recipe on this list – especially as it is cooked in the sous vide directly.
In case you're not familiar with the dish, this recipe means that you're making a tuna sauce, using both tuna and eggs that you have cooked in the sous vide. The end result offers an intense flavor. It's easy to see how this would pair well with the veal in the recipe, along with other types of sous vide meat.
Sous Vide Blueberry Compote
Sweet sauces are perfect for so many different situations – and this Sous Vide Blueberry Compote is a good one to add to your repertoire. The recipe comes from amazingfoodmadeeasy.com and it is very easy to make.
For that matter, you could make this sauce with less time and hassle than cooking blueberry compote with regular techniques. This approach also results in a more intense flavor than other berry compote recipes and you don't even need to use sugar to make it.