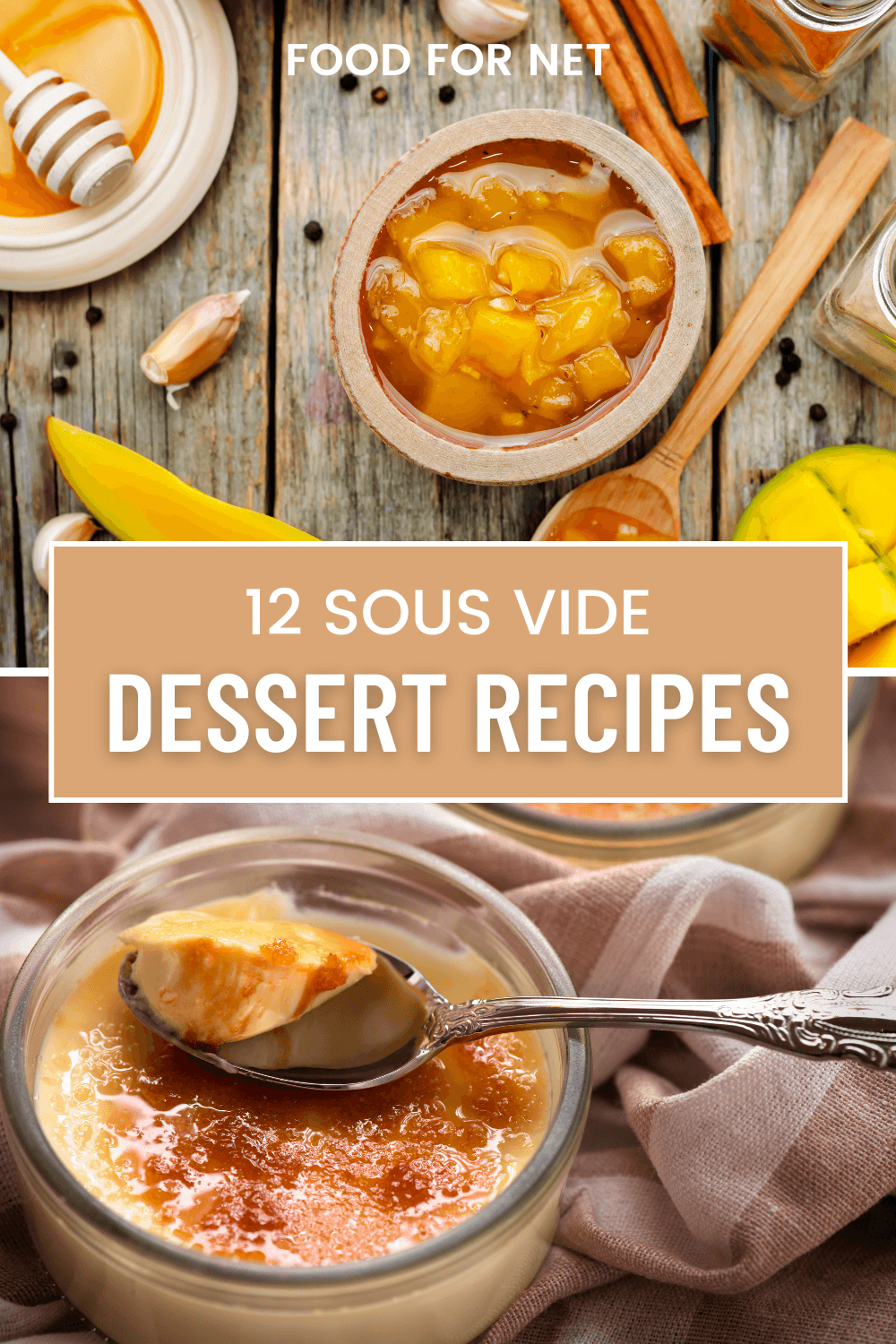 Most of the time, sous vide cooks tend to focus on savory meals. After all, the tool is incredibly popular for cooking steak and other cuts of meat, leading to amazing results time and time again. But, did you know that you can also make dessert recipes sous vide style? Sous vide dessert recipes are just as delicious as their more popular, savory meal counterparts.
Unlike a simple cut of meat, desserts in general are a fairly complex type of recipe, often requiring multiple steps and processes such as browning, crisping and reduction. As a result, there are many dessert recipes that simply won't work in a sous vide or aren't even worth the time.
Yet, as this list shows, there are some great sous vide desserts out there as well. These recipes are designed with the moist and low-heat nature of sous vide in mind. In many cases, the desserts also end up with a texture or intensity of flavor that you wouldn't find with conventional cooking.
So, while many desserts simply won't work with sous vide methods, these 10 recipes all will. For that matter, the end result is better than any conventional version of these recipes. This makes them worth trying, even if you're hesitant about the idea of sous vide desserts.
Before you start cooking these recipes though, how long has it been since you updated your sous vide device? If you haven't heard of the Joule, it's a pretty badass tool (and company). You can rock sous vide from your smartphone app, and even control it with your voice using Alexa.
Sous Vide Dessert Recipes (With Pictures!)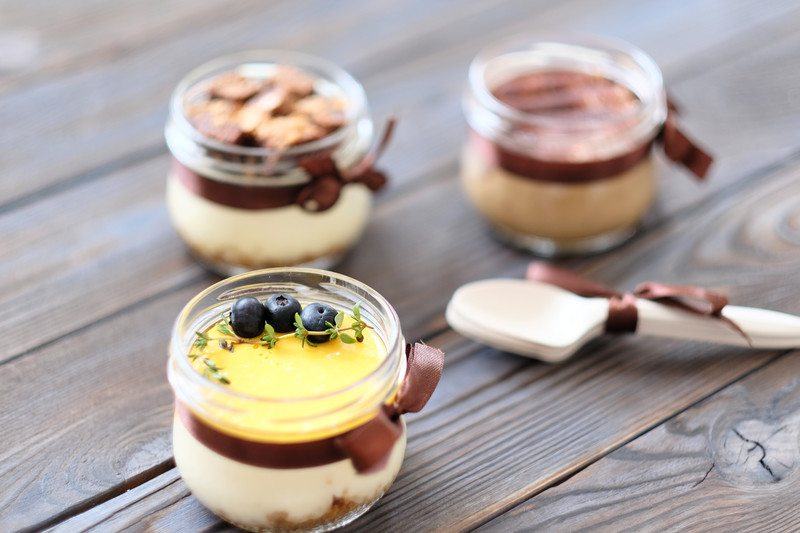 Sous Vide Citrus Yogurt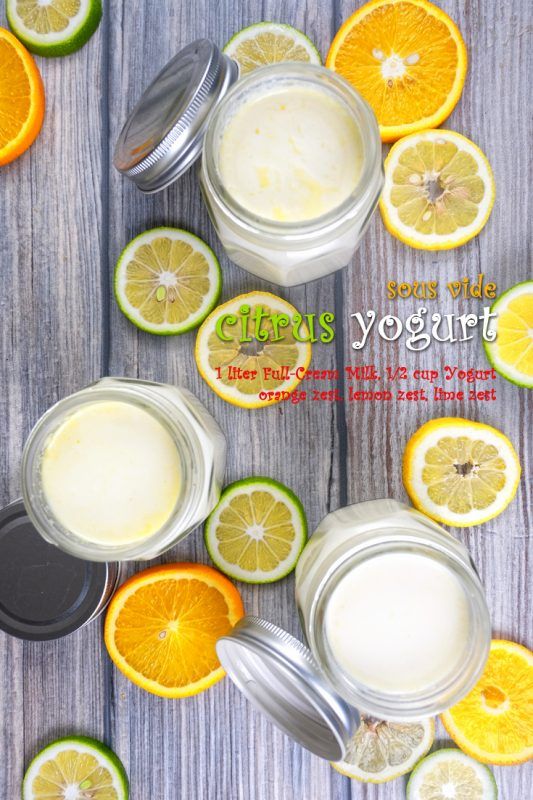 Yogurt works at any time of the day, including for breakfast or for dessert. But, if you're going to have it, why not make your own? This Citrus Yogurt is one way of doing this and you're using both yogurt and full-cream milk as the base. The end result has a much more interesting flavor than regular yogurt, without any of the added sugar that you typically see.
This is also an incredibly flexible recipe. For example, you can easily change the flavoring ingredients that you put in and just about anything will work. Doing so would let you make berry yogurt, savory yogurt or anything else that you can imagine.
Additionally, you can strain the yogurt once it is done, which will give you a texture that's similar to Greek yogurt. The only downside is that you mightn't want to go back to store-bought yogurt afterward.
Sous Vide Plums with Red Wine Granita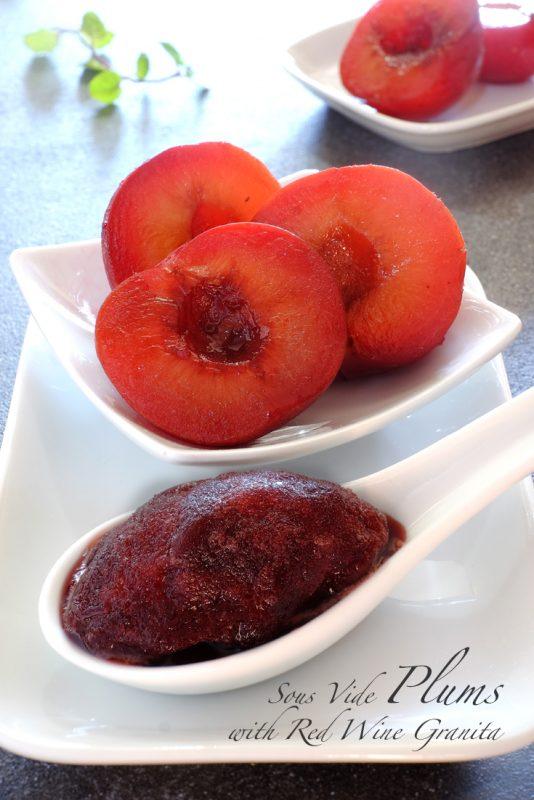 These Sous Vide Plums with Red Wine Granita make for a very simple dessert but a powerful one. One fun aspect is that you're making the red wine granita at the same time as the plums, which just adds to the simplicity of the whole dish.
Personally, I love the way this one turns out, even though I'm not normally a fan of plums. The finished dish also looks stunning, making it a good dessert to serve for company.
You could even try this recipe with other types of fruit!
Blueberry and Saffron Crème Brûlée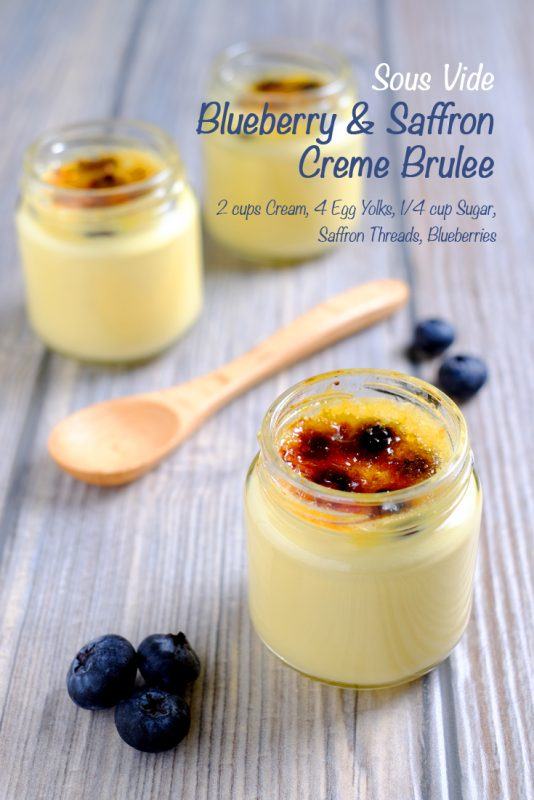 The most classic sous vide dessert would have to be crème brûlée and this Blueberry and Saffron Crème Brûlée is my own version of that idea. The recipe itself shows you everything you need to make crème brûlée in the sous vide, along with one flavor combination that I particularly love.
But, you're not limited to blueberry and saffron as ingredients. Instead, you could add in your own choices based on what you have at hand and the flavors that you like. Crème brûlée does turn out amazing with sous vide, so you can use just about any flavor combination that you can imagine and it should still turn out perfect.
Black Pepper and Mint Sous Vide Pineapples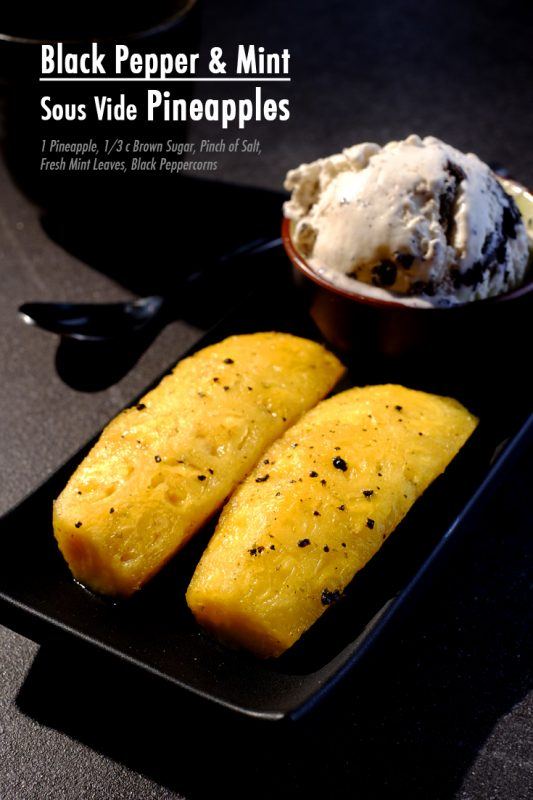 These Black Pepper and Mint Sous Vide Pineapples are a more unusual dessert choice but that doesn't make them any less appealing. You can use sous vide for most fruits that are fairly sturdy and pineapples tend to turn out exceptionally well. I was particularly impressed with how the flavors paired in this recipe, as the black pepper and mint make a nice contrast to the traditional sweetness of pineapple.
Of course, you can also play around with flavors to find your own combination. I do this often myself and rarely make a recipe the same way twice.
Sous Vide Gooey Apple Pie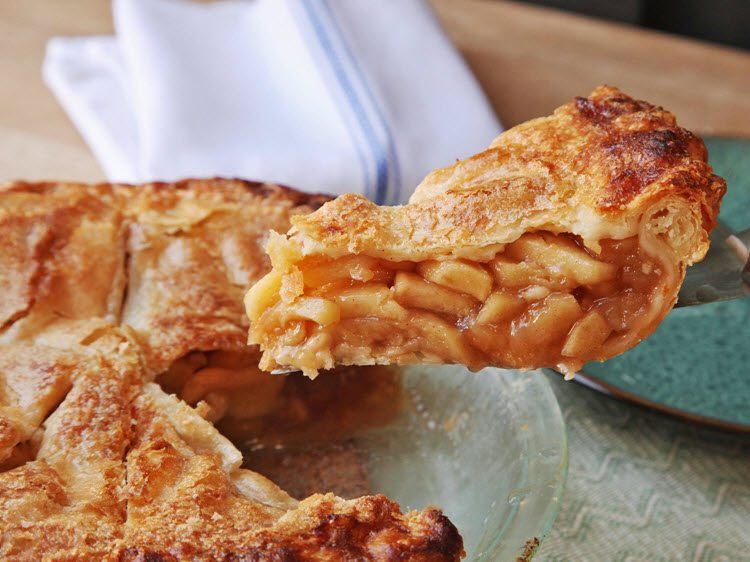 This recipe from seriouseats.com is a little different than the rest. Basically, the post is a guide to making the best apple pie possible, using either the stovetop or sous vide. The idea here is to have an interior that is more gooey than normal and actually stays in place when you slice it. The advantage of the idea is a pie that is much easier to serve and less messy overall.
Doing so involves some slightly different approaches, which is what the recipe focuses on. The end result is seriously impressive. Honestly, the recipe is one that I'd like to try myself, especially for my family members that love apple pie.
Ginger Tea Sous Vide Pears with Spiced Jelly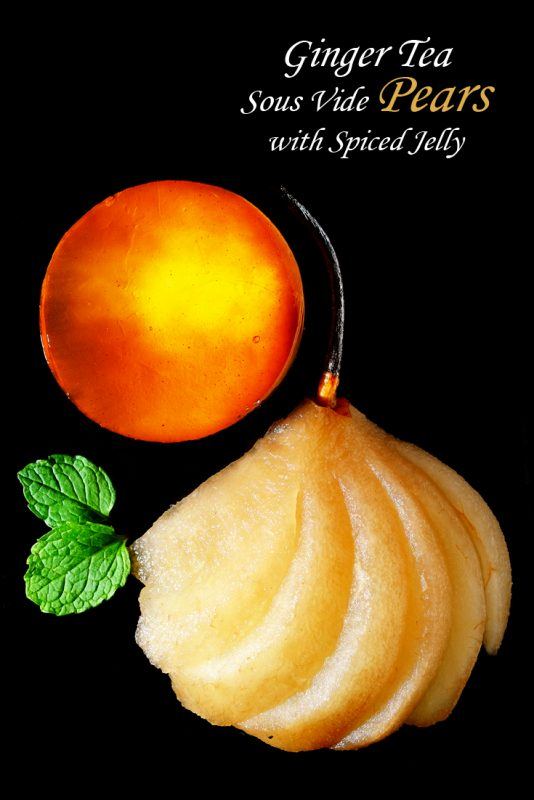 Like the pineapples from before, these Ginger Tea Sous Vide Pears with Spiced Jelly are a good example of fruit made in the sous vide. The flavor combination here works extremely well, with just the right amount of fragrance and complexity.
This is just one example of some excellent Asian flavors you can use to create delicious recipes using an immersion circulator. The dessert itself also looks very elegant, which is a bonus.
On a side note, the recipe makes a much more practical way of poaching pears. In most other cases, you need a significant amount of poaching liquid. Working with sous vide cuts down the liquid you have to use. That's perfect if you just plan on cooking for one or two, or if you simply don't like waste.
Sous Vide Rhubarb Jam
This Sous Vide Rhubarb Jam recipe comes ChefSteps and it works well as a dessert, a gift or even as part of breakfast. Rhubarb jam takes advantage of that sweet and tart flavor that rhubarb offers, without being overwhelming in either area. You're not limited to rhubarb either. Instead, the same general principles apply to any other type of jam that you want to make.
Does the name ChefSteps sound familiar? That's because their immersion circulator, the Joule, is rated #1 among all my tested sous vide devices.
Sous Vide Pumpkin Pie Crème Brûlée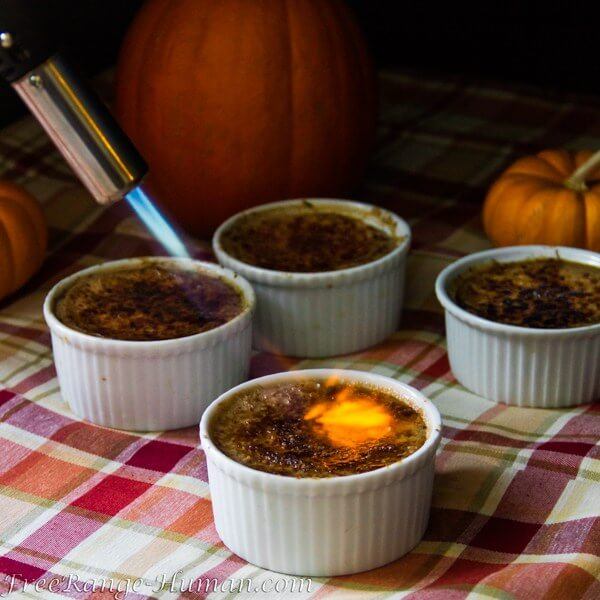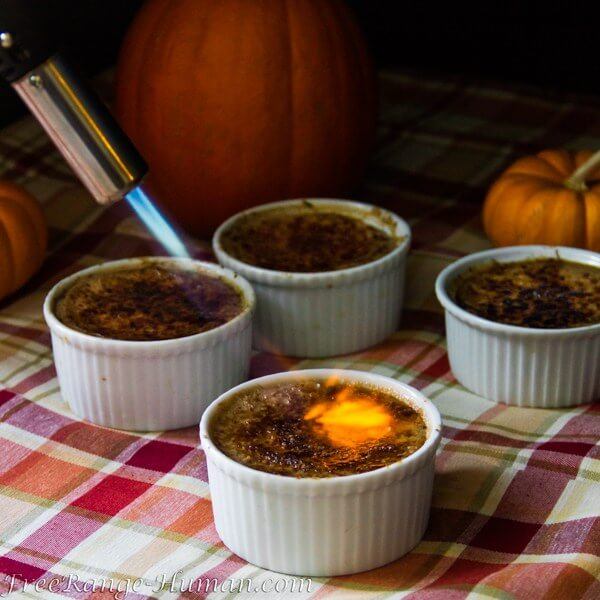 I mentioned crème brûlée earlier and this recipe from pasturedkitchen.com is another flavor combination that you could consider. The recipe here was written with fall in mind but you could easily make it in the warmer months as well. Either way, the choice of ingredients here is simply exceptional and this is another option if you enjoy crème brûlée.
Pumpkin spice works perfect around American holidays like Halloween and Thanksgiving!
Sous Vide Vanilla-Lemongrass Syrup Infusion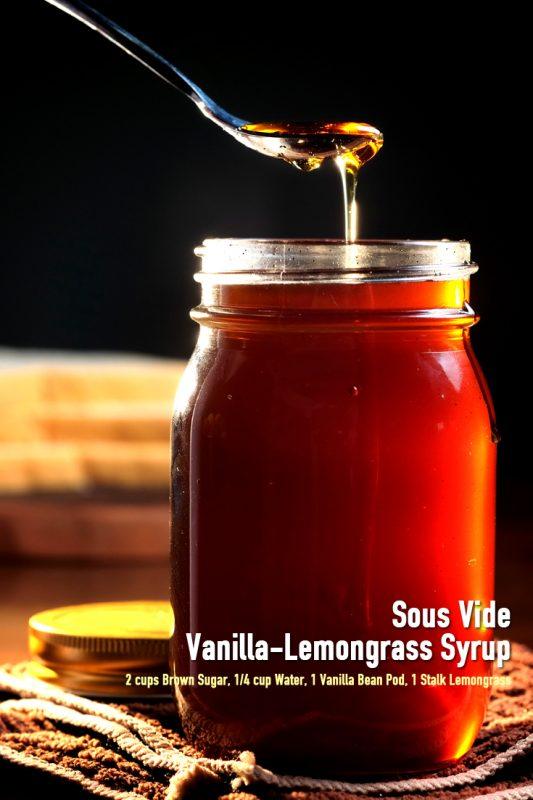 This Vanilla-Lemongrass Syrup may not be a dessert in its own right but it makes a perfect addition to many different desserts. The sous vide works exceptionally well for recipes like this, creating an intense flavor that is hard to beat. At the same time, infusions via sous vide are much faster than a cold alternative, making them extremely practical.
I can imagine this syrup on anything that traditionally uses maple syrup, such as pancakes. For that matter, it would also work well over ice cream or a banana split – the choice is yours.
Sous Vide Mango-Coffee Preserve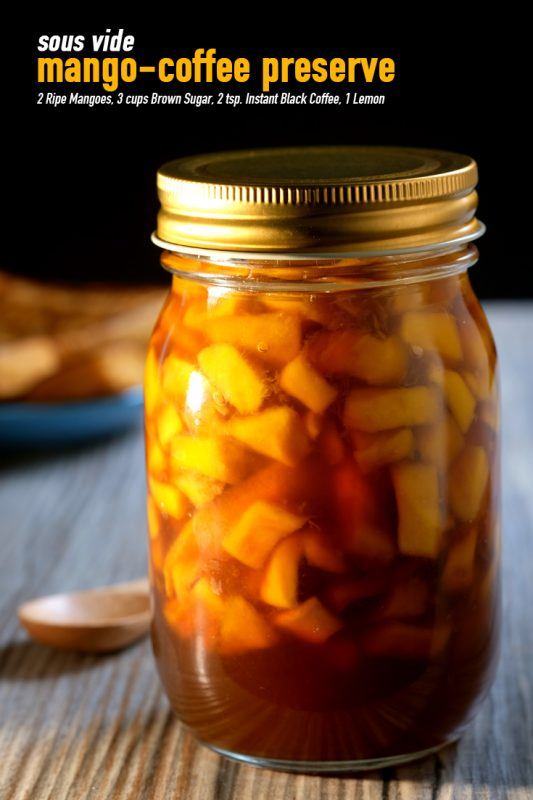 One of the most interesting aspects of the sous vide has to be the ability to make infusions and create more intense flavors overall. Many of the desserts on this list take advantage of that fact and this Mango-Coffee Preserve is another example. As the name implies, the key flavors that you're using here are mango and coffee. That may sound like a strange combination but trust me, it works well.
The finished product would also make a good gift for anybody who loves preserves. For that matter, this type of preserve can easily last more than a year if sealed properly. So, why not try it out?
Sous Vide Crème Brûlée

We've mentioned a few sous vide crème brûlée recipes already, but this one is worth trying for its simplicity. The recipe only uses five ingredients, all of which you should already have at home.
Once you master the basic recipe, you could easily add other ingredients for extra flavor. Katie, from goodlifeeats.com, recommends a variety of ingredients to try, including various extracts, spices, and even liqueurs.
Crunchy Strawberry White Chocolate Bars

Did you know that your sous vide can be used to temper chocolate? This is a powerful feature, as tempering chocolate can be tricky and sometimes doesn't turn out as you want it to.
In her post at bakedbree.com, Bree steps readers through the processes of tempering chocolate with the sous vide, including the specific times and temperatures for different types of chocolate.
The post doesn't stop here either. Bree also includes details about how to make crunchy strawberry white chocolate bars using the tempered chocolate. Of course, that's just one option. There are countless other recipes you can make with tempered chocolate. Why not experiment and see what you can come up with?
Frequently Asked Questions
Can You Bake With A Sous Vide?
Baking with sous vide is an odd idea. Normally baking relies on heat and dry temperature, neither of which you get with sous vide.
Yet, some people do manage to make traditionally baked desserts, like cookies or cakes. It's important to choose the recipe well when you do so. Even then, there's an art to baking with sous vide and not all dishes will turn out well.
What Types Of Sous Vide Desserts Can You Make?
While you can theoretically bake with sous vide, it's best to stick to the strengths of the technique. This means that you're normally looking at moist and creamy desserts, like custard, crème brûlée, mousse, and cheesecake filling.
It's even better if you find desserts that can be cooked in sealable jars. Doing so is much easier than trying to navigate vacuum sealed bags and mushy desserts.