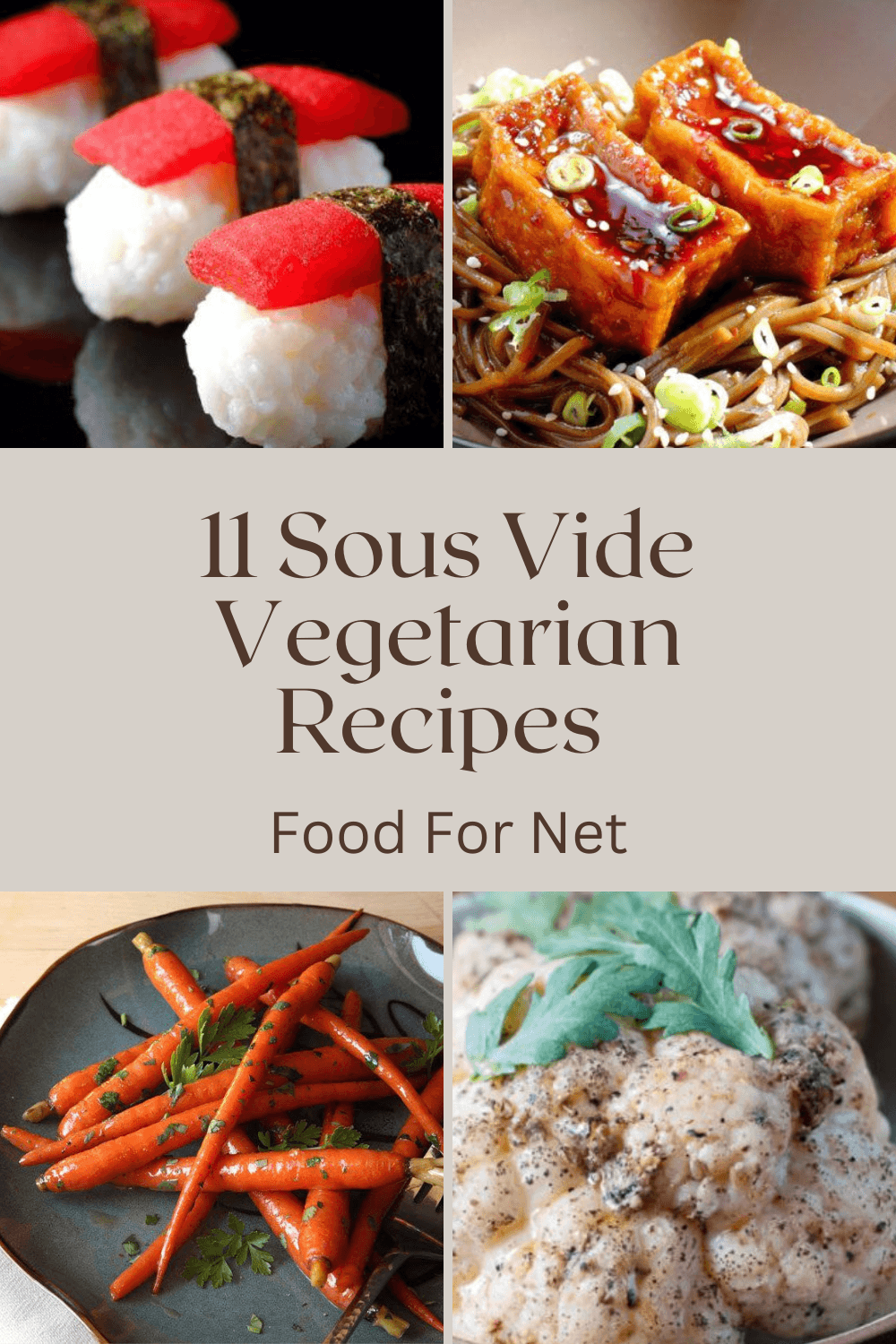 Sous vide is most popular as a way for preparing meat and with good reason. However, the technique isn't just limited to meat. Instead, it can be used for many other ingredients, including eggs, vegetables and even fruit. For that matter, there are many sous vide vegetarian recipes out there that don't use any meat at all. These can be great options for vegetarians and many will also be viable for vegans as well.
In this list, we focus on 11 such recipes, all of which are vegetarian dishes that you can prepare using sous vide. In some cases, the recipe is for an entire meal or appetizer, while other recipes are for sides, which could go with a vegetarian or a regular meal.
Even if you're not a vegetarian, these recipes can be powerful ways to get more vegetables into your diet – and to make them more interesting overall. If you are a vegetarian, then you'll also like these vegetarian subscription boxes for cool snacks sent to your house every month. As these sous vide vegetarian recipes clearly show, there's more to life than just munching on carrots.
Have you decided between a water oven and an immersion circulator? I prefer the circulator because it's takes up less counter space and most models are pretty inexpensive.
Sous Vide Vegetarian Recipes (With Pictures!)
Sous Vide Turmeric and Dill Pickled Cauliflower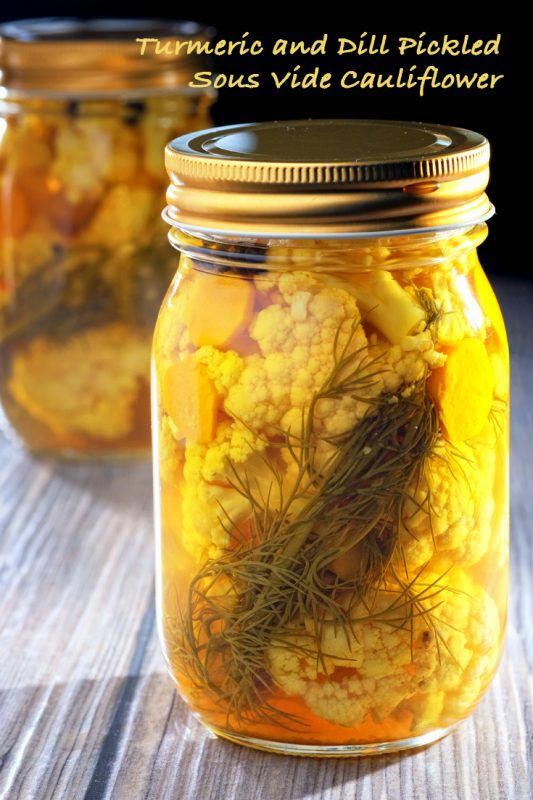 Pickling is an amazing technique, giving the ability to infuse additional flavors into various vegetables, while also them to last much longer. As the name suggests, cauliflower is the star vegetable for this Turmeric and Dill Pickled Cauliflower recipe, while the ingredients add a fantastic intensity of flavor.
The recipe is also a very versatile one and there is no limit to the different herbs, spices and other ingredients that you can use. Regardless of what options you go with, I recommend having at least one brightly colored ingredient, as this influences what the cauliflower ends up looking like. The turmeric achieves this in the original version of the recipe and makes the jar look stunning.
Deonjang-Spiced Sous Vide Eggplant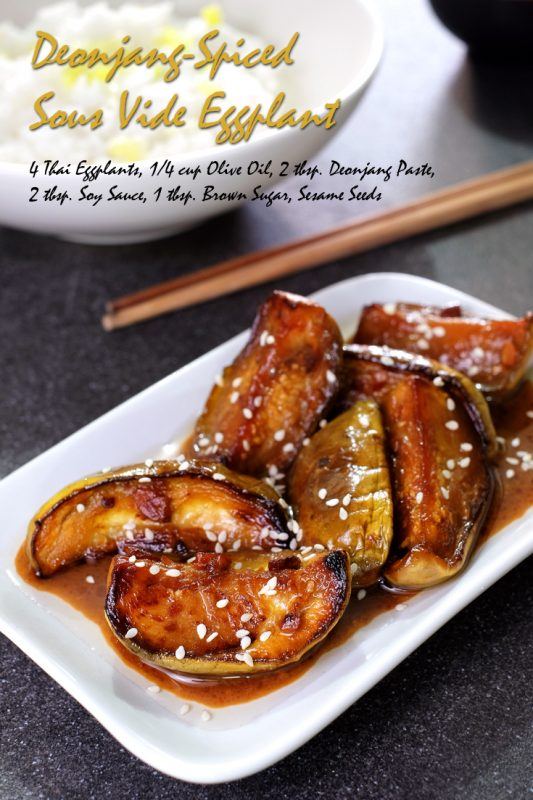 This Deonjang-Spiced Sous Vide Eggplant recipe is another vegetable dish but that's where the similarities end. In this case, the eggplants are cooked simply in a sous vide bag with the doenjang paste and a few other ingredients used to give it color and flavor. The eggplants are also seared, which contributes to the amazing appearance you can see in the image, along with the flavor of the finished dish.
Personally, I think this would be delicious with some pasta.
Sous Vide Tomato Sushi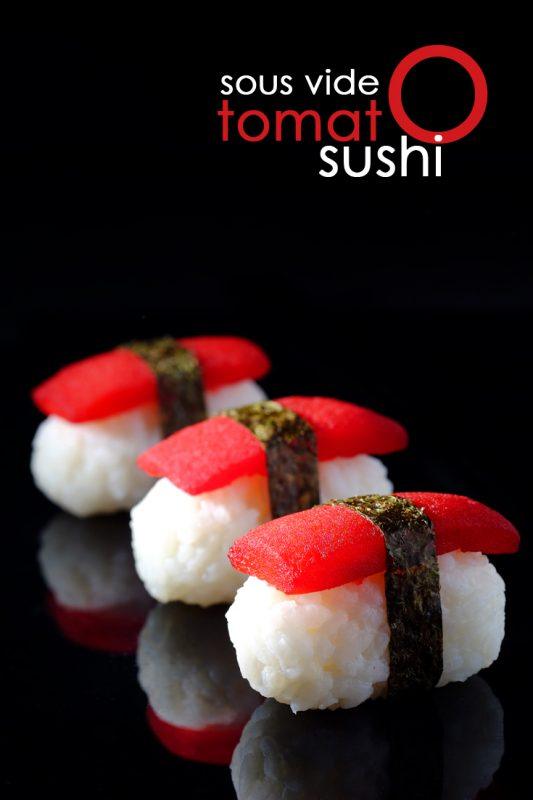 The concept of Sous Vide Tomato Sushi fascinated me from the first moment I heard about it. The idea here is that you have an entirely vegetarian dish that looks like tuna sushi and has the same general texture. For that matter, the finished product even tastes like sushi – despite the fact that it is entirely vegan.
There are multiple steps involved in getting this sushi right but, trust me, the process is worth it. More than anything, the dish would be good party meal and a way to impress people – especially if they've never heard of tomato sushi before.
Try these Japanese sous vide recipes.
Smoky Sous Vide BBQ Butter Corn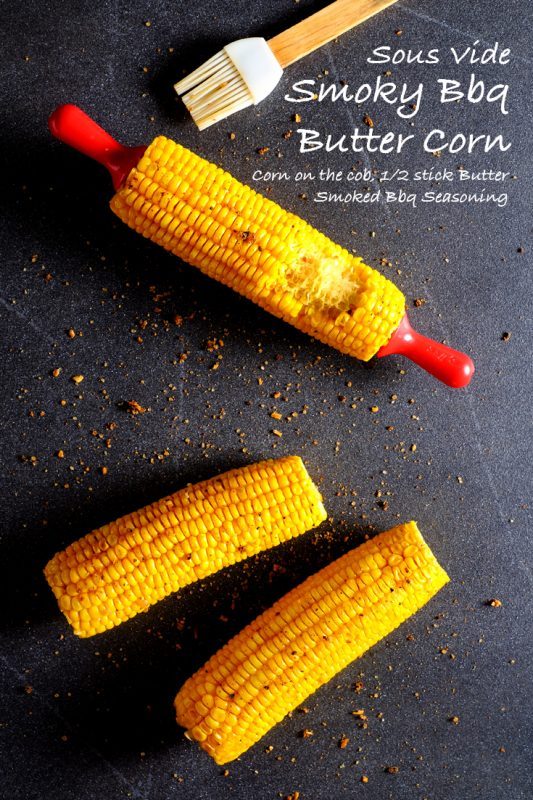 Speaking of party foods, this Smoky BBQ Butter Corn would be another interesting choice. Needless to say, the dish isn't as refined or as impressive as tomato sushi but that's not really a bad thing. Instead, the smoky flavor of this corn makes it perfect for casual gatherings and BBQs, especially if someone else already has the meat organized.
On a side note, the sous vide is particularly powerful for this recipe. For the most part, corn tends to be fairly juicy anyway but the sous vide takes that to an entirely new level. The reason seems to be that the individual kernels retain all of their juices. This also creates a much more intense corn flavor overall.
Simple Sous Vide Carrots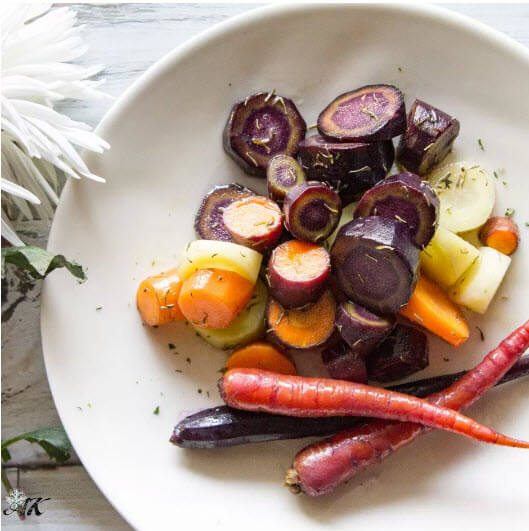 This recipe for Simple Sous Vide Carrots comes from almost-kosher.net and it acts as a good guide to glazed carrots. With that in mind, the recipe provided is simple, just involving a few ingredients.
One fun thing is that you're not restricted to regular carrots either. Instead, you could also use some of the heirloom varieties, such as purple carrots. Doing so would work well for livening up your plate while still offering the same general nutrients.
Sous Vide Chili-Garlic Tofu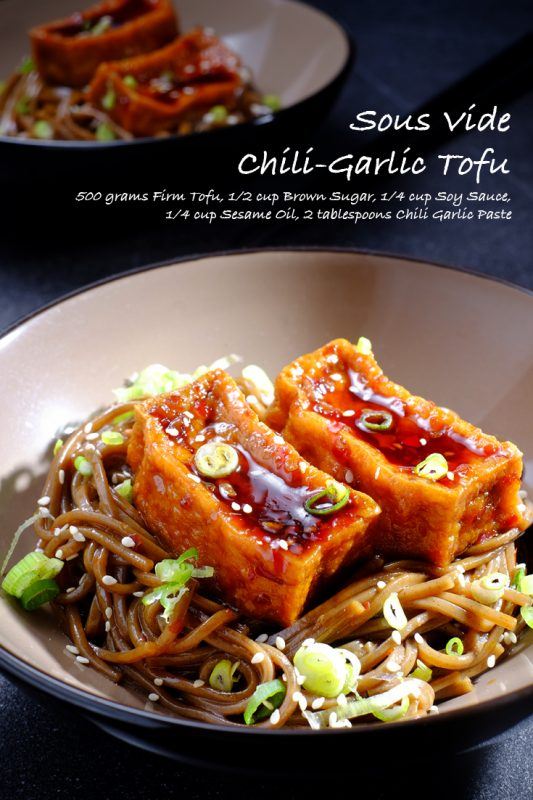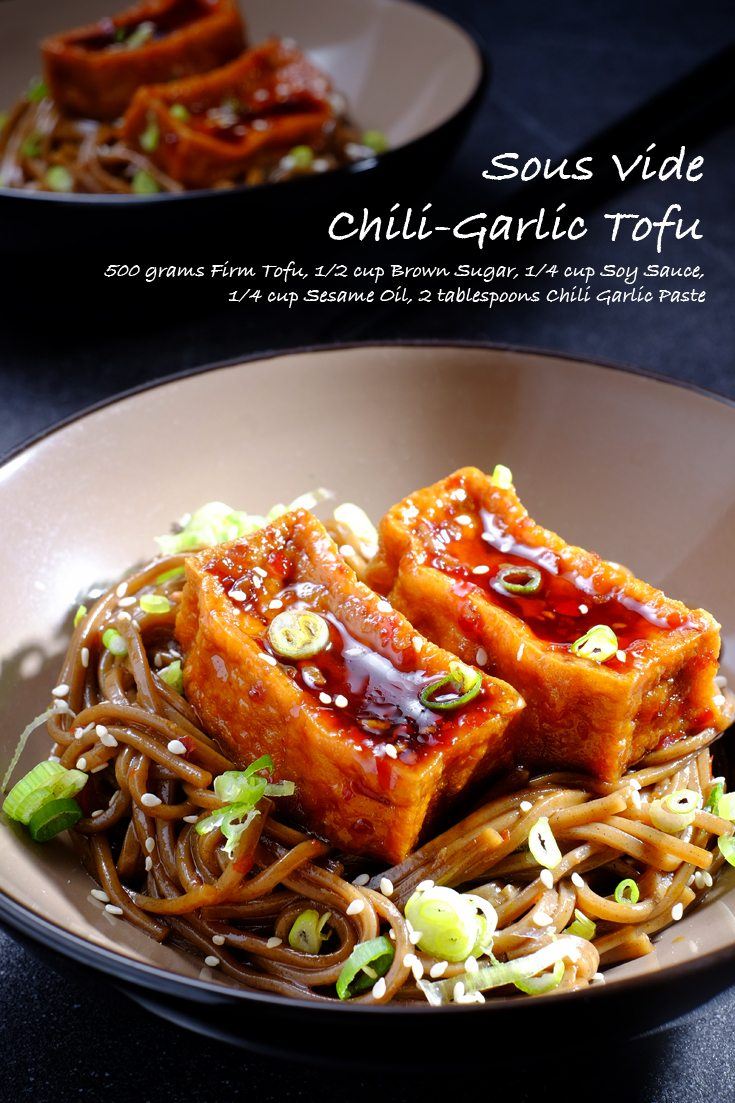 There are surprisingly few sous vide recipes out there for tofu, which was one reason for developing this Chili-Garlic Tofu in the first place. The key advantage here is that you're infusing much more flavor into the tofu than most other recipes offer. This takes the tofu away from being a boring ingredient to something that actually tastes really good.
When cooked in the sous vide, the texture of tofu is particularly impressive. It ended up having a fairly springy crust and a smooth soft inside. Add that texture to the sauce that infuses the tofu and you have a very impressive meal.
Need more spice? Try one of these hot sauce clubs and really take your spice level up a notch.
Crisp Sous Vide Corn with Butter and Herbs
I mentioned corn earlier and this Crisp Corn with Butter and Herbs from www.chefsteps.com is a second example of that idea. In this case, you're removing the kernels from the cob before you cook them in the sous vide. This is an easy way to create a corn side dish and works well if nobody wants messy hands.
Because the kernels are taken off first, you do still end up with the same plump and juicy pieces of corn that my corn recipe offered. So, either recipe can work well and the styles tend to suit different occasions.
Experiment with different herbs and tweak the recipe to your liking!
Sous Vide Glazed Carrots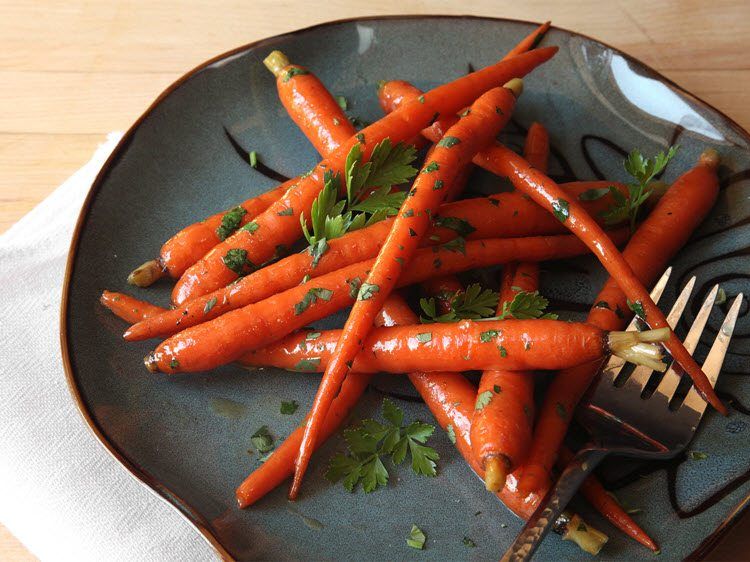 Another interesting choice for sous vide is carrots, like in this recipe from seriouseats.com. I love the fact that the recipe is so simple, which allows the underlying flavor of the carrots to shine through. After all, too much seasoning and you end up not tasting the carrots themselves.
Nevertheless, the recipe at hand is a little more complex than just cooking carrots in sous vide, which is one reason I recommend trying it. The extra steps make the carrots that much more flavorful and interesting. They do also look an amazing gourmet dish on the plate.
Sous Vide Sichuan Spicy Cauliflower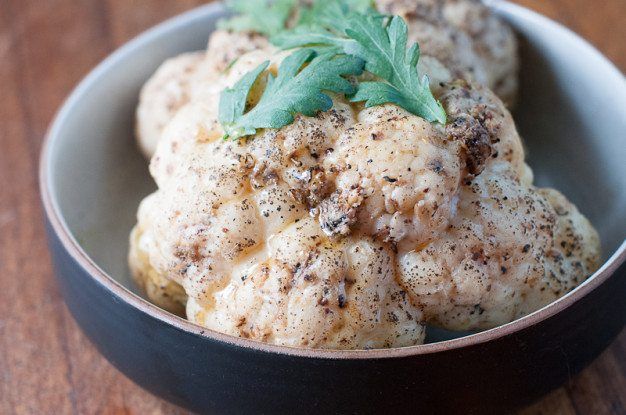 If you love your cauliflower, pickling it isn't the only option. Instead, you could choose to make this Sichuan Spicy Cauliflower from herbivoracious.com. This is another option that could work well as a side dish for just about any meal. For that matter, you might end up eating the cauliflower as a healthy snack on its own, simply because the flavor works so well.
The recipe may also be effective for people who don't especially like cauliflower but want the nutrition from it. In particular, the choice of ingredients makes the vegetable much more interesting to eat and masks some of the natural flavor.
Sous Vide French Fries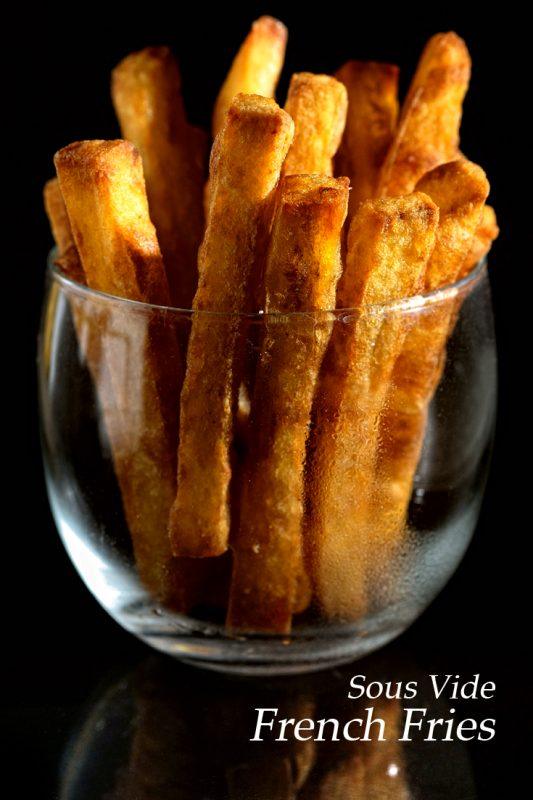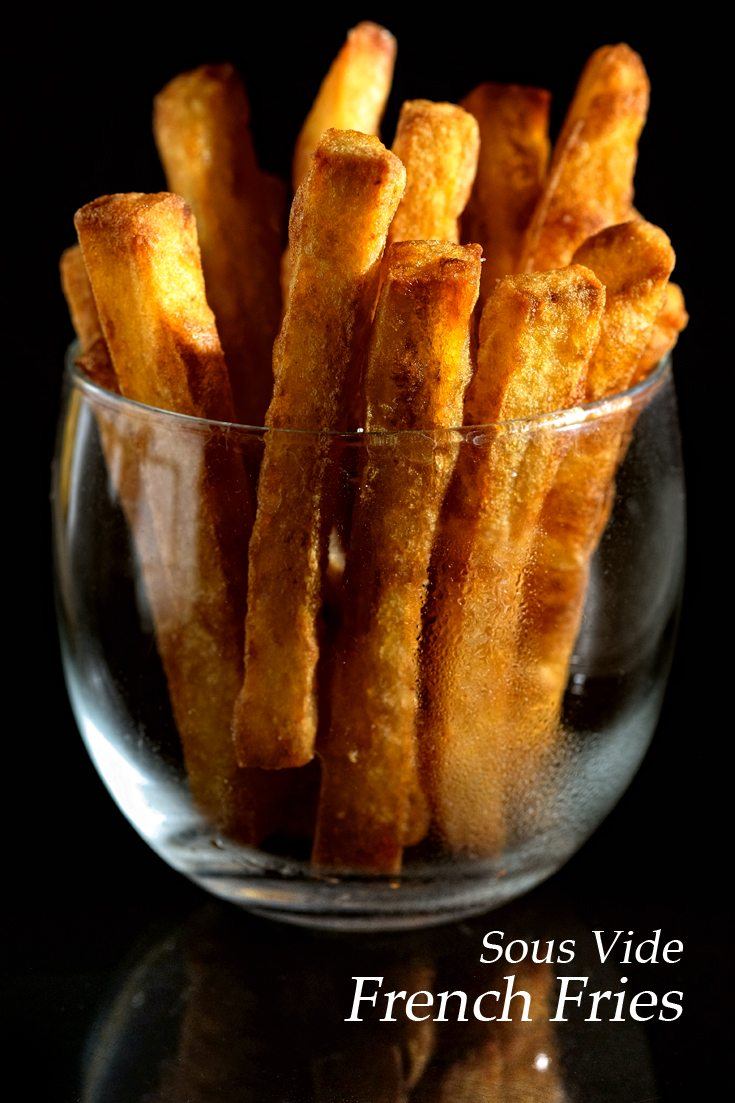 French fries may not be the healthiest vegetarian option out there – but these Sous Vide French Fries are still a viable choice. For that matter, there's nothing wrong with having a treat from time to time and this recipe allows you to do exactly that.
Cooking fries with sous vide may seem a little odd but the idea is essential if you want the best fries possible. The process helps ensure that the inside of the fries is soft and pillowy, while the outside is crisp. Achieving this with conventional methods is difficult, which is why most homemade fries end up mediocre, at best. In contrast, using sous vide will give you consistently amazing French fries.
Cheesy Sous Vide Egg Bites

While we've mostly talked about vegetables on this list, these egg bites from fitfoodiefinds.com are a useful choice for vegetarians as well. Lee describes them as being a bit like a baby egg souffle.
Egg bites aren't actually that difficult to prepare. You can easily cook them in the oven, but doing so is always a little hit and miss. When you use the sous vide instead, the bites end up tasting amazing every single time.
Frequently Asked Questions
What Are The Best Sous Vide Vegetables?
Sous vide is a versatile technique that works well with most types of vegetables. Green vegetables like green beans and asparagus are particularly popular, especially as these work as fantastic sides for many dishes. Broccoli and cauliflower work well too.
The main issue is any veggies with a very high water content. These don't fare well in sous vide, as they tend to go mushy.
Can You Sous Vide Vegetables Too Long?
Sous vide is a very forgiving technique. You can leave food in much longer than the recipe suggests without any negative impacts.
But, while it's tough to overcook veggies in the sous vide, keeping them in there too long does start to decrease their quality. This is particularly true if you go far beyond their recommended cooking time.