If you are new to eating vegetarian-style or have long been practicing this lifestyle, vegetarian of the month clubs are an excellent way to try new dishes.
These can help those new to the vegetarian diet to find meat substitutes that they like and also will introduce new recipes to others to help keep from getting bored. And for the people who are just plain busy, this is a convenient way to eat fresh, healthy foods.
Plus, many people who are not vegetarians are opting for one or two meatless days a week for health, ethical, or environmental reasons, so a monthly subscription box would be able to help you stay on track.
So then, what about the underlying concept itself?
Well, vegetarianism is a religious, moral, or health choice for those who have decided to omit meat products from their diet. However, there are subcategories to vegetarianism:
Ovolactarians aka Lacto Ovo – This category includes those who do not eat meat, but will eat dairy-based products and eggs.
Lactarians – These folks will eat dairy-based products, but no meat or eggs.
Pescetarianism – People who will eat seafood, but not meat, often include eggs and dairy-based products
Pesco Pollo – Those who abstain from eating meat from mammals, but will eat fish, poultry, eggs, and dairy-based products.
Vegan – This is the strictest category and includes no meat or animal-based products. Most vegans abstain from honey, and from buying or using products made from or by animals such as wool or leather (there are specific vegan monthly clubs too).
The first recorded term for vegetarianism was Pythagoras. The Pythagoras name originated from a Greek philosopher who invented the Pythagorean theory. The recorded history of his diet was published in a book titled, On Abstinence from Animal Food in 3rd-century B.C.E.
When vegetarianism first started, it wasn't due to ethical or religious beliefs, but instead in the hopes of prolonging one's life.
It is believed that people abstained from meat before the Pythagoras diet, but these practices were not formally recorded. Later in 1847, the term vegetarian was coined in Ramsgate, England. The term originated from the first vegetarian society.
In 1850, vegetarianism caught on in the US, and the American Vegetarian Society was initiated. The Society first popped up in New York with four founders Sylvester Graham, William Metcalfe, William Alcott, and Russell Trall.
This society was popular amongst forward thinkers like the abolitionists and feminists of the time. The American Vegetarian Society even hosted Suzanne B. Anthony.
Today, vegetarianism is widely practiced throughout the world.

Vegetarian of the Month Clubs
Urthbox
Purple Carrot
Vegancuts
Blue Apron
Trifecta Nutrition
Veestro
Sakara
Animal Place's Snack Club
SnackSack
Urthbox

Urthbox is not your average food box company. Urthbox offers healthy unique snacks and beverages, not full meals.
The founders of Urthbox understand that life gets busy and its all too easy to make bad eating choices, especially when it comes to snacking, it is their goal to provide you with healthy convenient food options at an economical price.
Their primary intention is to aid their clients in changing poor eating habits by providing you with a monthly supply of surprise treats.
Depending on the box you choose you will find products like nuts and seeds, trail mix, crackers, chips, dried fruits and vegetables, New Age beverages, crisps, cookies, juices and cleanses, snack bars, superfoods, and granola.
There are a few different types of boxes to choose from:
The Classic – No dietary restrictions
The Gluten-Free
The Vegan
The Diet – Similar to the classic, no dietary restrictions, but focuses on foods to support weight loss. The foods that are chosen for this box take into account calories, carbohydrates, and fat.
There are 4 different size subscription boxes to choose from:
Mini – 7+ Snacks starting at $14.99
Small – 14+ Snacks starting at $24.99
Medium – 20+ Snacks starting at $34.99
Large – 27+ Snacks starting at $44.99
And there are 4 different duration options: Month-to-month, 3-month, 6-month, or 12-month.
Purple Carrot

Purple Carrot's inspiration behind eating vegan is all about the plants and the benefits of switching out some if not all of your meals containing meat for vegetarian style foods.
Purple Carrot believes there are two primary reasons for eating more plant-based foods are:
Health – Plant-based diets can aid in decreasing blood pressure, risks of heart disease, and chances of diabetes.
Environment – Eating vegetarian reduces carbon emissions, methane gas (a gas that damages our atmosphere, created mainly from cattle farms), and water use.
How Purple Carrot Works:
Choose between a vegan meal plan size of 2 or 4 servings per week

If you choose 2, you will receive 2 different dinner choices for the week at $11.99 per serving
If you want 4 you will receive 2 or 3 meals at $9.99 per serving

Each week you can go in and order your meal choices in advance, if you do not choose meals for that week, they will be selected for you, making it convenient for their busy clients.
Meal plans can be put on pause, skipped, or changed whenever you choose.
Some examples of meal options include Tahini Cauliflower Steaks, Herb Chickpeas in Lemon Brodo, Ranchero Bowls, and Thai Lemongrass Soup.
In addition to dinner, Purple Carrot also offers different add-ons such as breakfast, lunch, or snacks.
Vegancuts

Vegancuts is not just a food subscription box company. They also offer two other boxes – a Beauty Box and a Makeup Box.
Vegancuts hopes to share the joy of the vegan lifestyle with other vegan enthusiasts and anyone interested in trying a vegan diet, even if it isn't adhered to in the strictest form. Vegancuts intent is to include vegans of any level of the vegan lifestyle.
In addition to the box subscription clubs, they also offer a marketplace that sells only vegan products. The vegan products featured on their website are from cruelty-free sources from all over the world.
The Vegancuts vegan, snack box subscription, is available in 4 different plan options:
Monthly: $24.95
3 Months: $74.85
6 Months: $134.70
12 Months: $258.60
Each box contains more than 10 various unique and delicious snacks.
Subscription boxes are available for shipment anywhere in the world. Shipping is free of charge for orders within the US and is included in the pricing for all International orders.
Some examples of snacks included in the subscriptions are Vegan Mac, Biena Rockin' Ranch Chickpea Puffs, Avocado Chips, and Vegan Chocolate.
Blue Apron

Blue Apron is a popular meal kit service that delivers right to your door. You will receive all of the essential ingredients you need to make the perfect dinner. The ingredients found in the box are all responsibly sourced and GMO-free.
Blue Apron's meals are all appropriately portioned, reducing waste, and their packaging is all recyclable, including the ice packs. Every recipe comes with detailed instructions, so every culinary level will be able to create a delicious meal.
There are three main meal options:
2 Serving Signature – Various classic meals to choose from, including WW approved, Beyond Meat, Diabetic Friendly, different meat choices, and health-conscious options. You have the option of 2 or 3 recipes per week. It starts at $9.99 per serving, with free shipping for people who order 3 recipes per week.
4 Serving Signature – This is the same as the signature but is designed to allow for leftovers or larger families. You have the option of 2 to 4 recipes per week. It starts at $8.99 per serving and includes free shipping.
Vegetarian – Meat-free meals with 2 to 3 recipe options per week. Starts at $9.99 per serving, with free shipping for people who order 3 recipes per week.
Once you have chosen your plan and the recipes per week, you will then select your meals. Example of their meal options are:
Baked ricotta cannelloni and romaine salad with Meyer lemon dressing
Vegetable fried-rice bowls with fried eggs, cauliflower, and gai lan
Chipotle vegetable and farro salad with crispy tortilla strips and avocado
Trifecta Nutrition

Trifecta Nutrition differs from other meal plans because it focuses on providing you the nutrition you need to reach your personal physical goals.
Also, unlike other meal plans, Trifecta Nutrition does all of your meal planning and prepping for you, including: Creating healthy meals to meet your nutritional needs, shopping for the groceries, and cooking and packing your meals.
All you need to do is enroll, choose your meals, and wait for it to be conveniently delivered to your door.
They offer a few different meal plan options:
The Classic – starting at $119 per week
Keto – starting at $108.43 per week
Paleo – starting at $108.43 per week
Clean – starting at $108.43 per week
Vegetarian – starting at $113.90 per week
Vegan – starting at $113.90 per week
Plus, you can order anywhere between 1 to 4 meals per day with this plan. Each meal is made from scratch from organic ingredients.
All programs are eligible for free shipping anywhere in the US, including Alaska and Hawaii. Shipments arrive every Friday; however, you can choose to receive shipments:
Once a week
Once every other week
Once every three weeks
Once a month
All of the meals are gluten-free, and they do their best to accommodate other food allergies or sensitivities. All but one plan, Keto, is dairy-free and all plans, but the vegetarian and vegan are soy-free.
Veestro

Veestro specializes in meat-free meals. All ingredients in their meals are 100% organic plant-based. Also, their meals come fully prepared and ready to heat and eat.
There are three different meal options. All of the meal plans have the choice of delivery every week, every 2 weeks or every 4 weeks.
The first two have the option of 10, 20, or 30 meals per delivery. The 3 meal options are:
A La Carte. You choose each meal. You can choose dietary preferences if needed, including high protein, gluten-free, low-calorie, nut-free, soy-free, or Kosher.
Chef's Choice. Hand selected meals save you time compared to having to choose your own. You can choose between the following plans: Customer Favorites, High Protein or Gluten-Free.
Weight Loss. 3 daily meals totaling approximately 1,200 calories per day. You have the choice of 5 or 7 days per delivery, and you can choose if you need the meals to be gluten-free or not (if you are focused on gluten-free eating, there are other gluten-free clubs and snack boxes to consider).
Some of the meals you might find depending on your preferences are:
Breakfast Burrito
Oatmeal Breakfast Pie
Spanish Torta
Soba Noodles in Peanut Sauce
Pasta Bolognese
Country Fried Chick'n
Enchilada Casserole
Pad Thai
Sakara

Sakara offers both food and skincare options. They specialize in keeping you healthy both from the inside out and from the outside in.
They focus on food as medicine, and many clients feel their transformation to a healthier body in as little time as one week. Their meals are designed to:
Improve digestive health
Reduce Bloat
Shed Excess Weight
Boost Energy
Increase Focus
Improve Skin Clarity
First, choose from breakfast, lunch, and dinner. Next, you will pick how many days you want, 2, 3, or 5 days.
Third, is the frequency you want the food delivered weekly or just a one week trial. Lastly, you will need to decide when you want the deliveries to start.
In addition to their standard meal program, Sakara offers a monthly detox plan. This cleanse aids in resetting your body, to ensure maximum health.
There are four different meal plans available:
Signature Program Level I – Clean eating
Beauty Nutrition – Food and skincare box
Detox Level II – Once a month option to reset your body
Brides – a 20-day program designed to have you look your best for your big day
All meal programs include free shipping and no contract. The meals include fresh foods, teas, supplements. All of the meals are:
Organic plant-based
Gluten-free
Non-GMO
Free from refined sugar
Dairy-free
Animal Place's Snack Club

Animal Place's Vegan Republic is a specialty store in Northern California, which also has an online shop and a monthly subscription. All profits from the store go to the Animal Place sanctuary.
As the name suggests, all the products from this company are vegan, rather than just being vegetarian. Still, this isn't a bad thing, as it means the monthly subscription will suit a larger audience.
There are 2 monthly memberships to choose from. The first costs $26 per month and contains a selection of seasonal snacks, including vegan jerky in summer and chocolate for the winter months.
The second box costs $45 per month. It follows the same general approach but provides you with more snacks each month.
SnackSack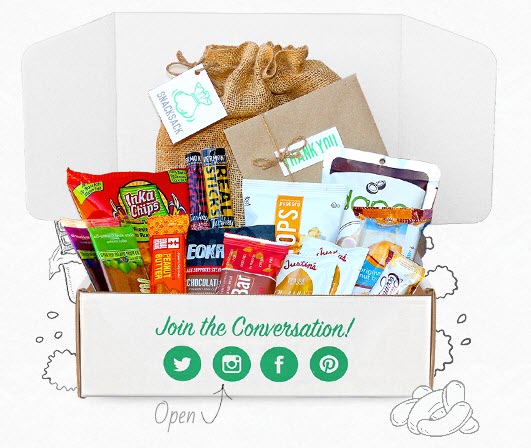 SnackSack is another service that focuses on snacks. Their goal is to provide healthy snacks, ones that don't rely on additives or artificial ingredients. The SnackSack boxes are also a great way to discover new snacks.
There are 3 types of boxes to choose from: Gluten-free, vegan and classic. You'll need to stick to the vegan option if you want vegetarian snacks, as the other options might contain some meat products (like jerky).
Each box contains between 11 and 15 snacks. SnackSack aims to provide a good balance of flavors and variety, so you shouldn't see too many similar snacks.
If you pay month-to-month, the vegan box costs $24.95. Prepaying gives you a discount per month, although the difference isn't dramatic.