Sometimes, finding gluten-free food can be a hassle. In many shops, the items available for someone on a gluten-free diets can be limited and unvaried. One fun solution to this issue is by joining a gluten-free subscription box service!
Subscription boxes are usually a monthly service where, depending on what you have signed up for, you will be sent a box containing some form of the product that you desire. This may be a surprise or it may be something that you have selected – either way, it'll be delivered straight to you! They're hassle free and fun – what's not to like?
Below we have a look at some of the best gluten-free subscription boxes on the market – take a look, you may find something that sounds just right.
Gluten Free Subscription Boxes
Related: Gluten Free Snack Subscription Boxes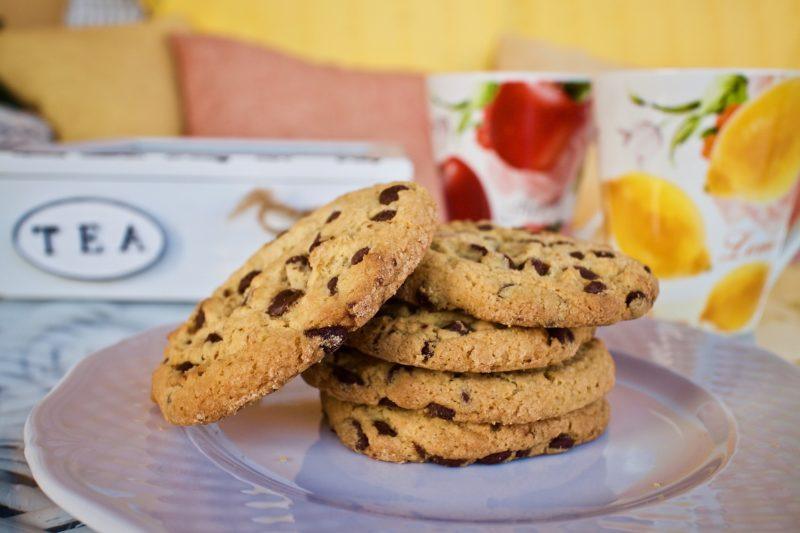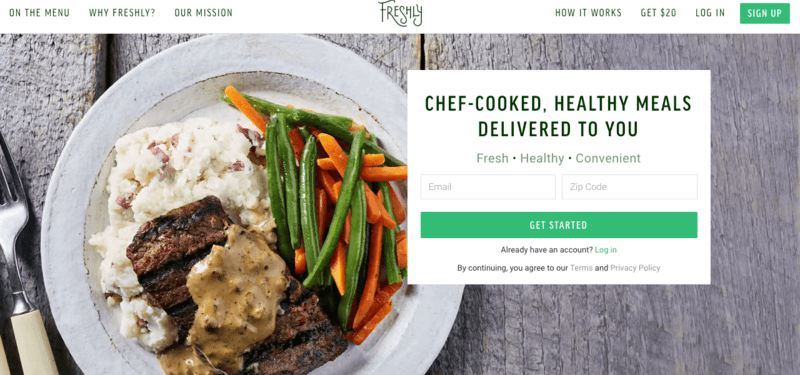 Freshly offer chef cooked, healthy meals delivered straight to you. One of the biggest hinderances of the gluten-free diet and living as a coeliac is the availability of high-quality food tailored to your needs – Freshly can help.
With Freshly, you can choose your meal, differentiating it from many subscription boxes. The boxes are insulated and packed with ice cubes, so your food will stay nice and cool on your doorstep if you're not around to collect it upon delivery.
Delivery is Tuesday through Saturday, but be sure to check if your location is catered for, as it varies depending on where you are.
There are plenty of different meal plans available: you can get 4 meals per week ($12.50 per meal), 6 ($9.99 per meal), 9 ($9.99 per meal) and 12 ($8.99 per meal).
Freshly isn't the only gluten free meal delivery service out there though, and we've covered these extensively including 41 gluten free meal delivery services and 12 gluten free meal kits.


SnackSack offer s snack subscription box that is both tasty AND healthy. The carefully curated selection of junk-free foodstuffs will make its way to you each month, should you choose to subscribe.
Each box contains 12 new snacks every month, allowing you to find out what you like best. There are 3 different plans – classic, vegan and the one that will be of the most interest to readers of this article, the gluten-free option.
A month-to-month plan for the SnackSack gluten-free option will cost you $24.95 per month, with this automatically renewing – but you can cancel any time, should you wish.
It's convenient, healthy and a pleasant monthly-surprise – what's not to like?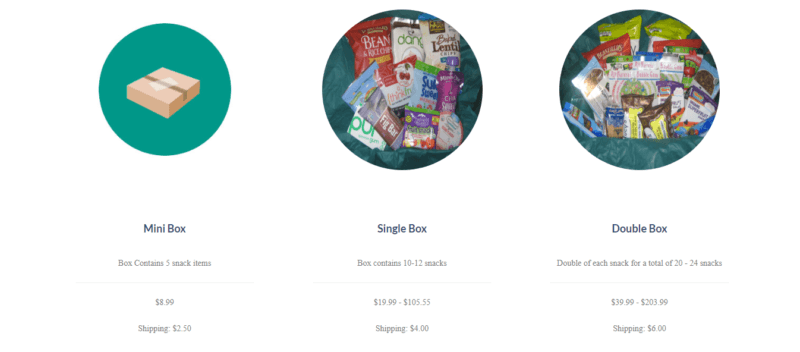 The wonderfully named Num-Nums Munch Box offers plenty of variety and taste for those looking for gluten-free food. Just because of your diet or allergy you should be restricted from having snacks!
The company sets out to provide a fantastic subscription box for people with food allergies to have access to safe – and convenient – delicious food and snacks.
There are 3 boxes available: there is the mini box, which contains 5 snack items and costs $8.99 per month; the single box, that contains somewhere between 10-12 snacks per month, which starts at $19.99; and there's the double box, which provides 2 of each snack provided (for a total of 20-24 snacks), which starts at $39.99.
Num-Nums also donate a portion of the proceeds they make from their subscription boxes towards food allergy research organizations, so so you're helping contribute to a great cause by signing up.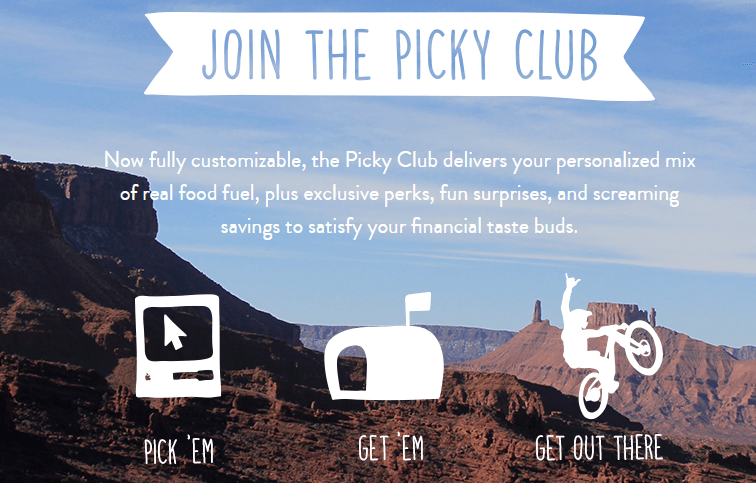 For some, the randomized nature of a subscription box is a large part of it's appeal – not only is it a treat, but it's a surprise that arrives at your door each month… but that's not for everybody, and that's where Picky Bars come in.
The Picky Club at Picky Bars allows you to fully customise your box, and then delivers you your personalized mix. There are still some surprises in addition to your picks, but at least you will know what you're getting for the most part!
The food is healthy, diet-friendly and well-priced. A mixture of bar and oat treats will have you out and about, full of energy in no-time!
Prices are also customizable, based on how much you order – and your first order comes with a free t-shirt!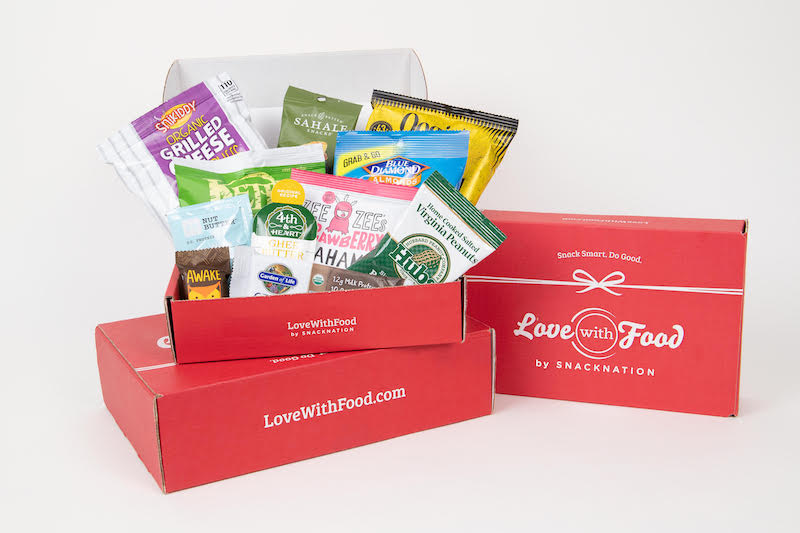 Love With Food is named such because the service provides you with food, but part of your payment goes to charity, meaning you're giving back when you subscribe to a box from them.
The Gluten-free box from the service (they also have other boxes) is filled with food and snacks that will delight your taste-buds.
The gluten-free box includes 10 or more surprise snacks and costs between $19.99 and $24.99 per box. You can cancel using the service at any time, and for each box you receive, 2 meals will be donated on your behalf.
Free shipping to the US and surrounding territories make this box great for you, or to provide as a gft – with printable gift notes also provided if required.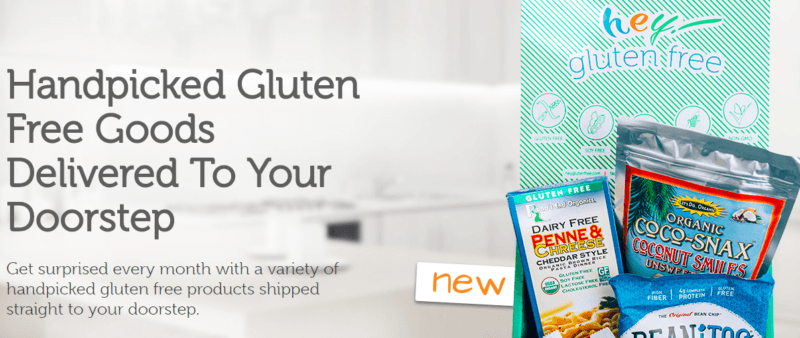 Hey Gluten Free is a subscription service with your health at the forefront of it's priority list. Every month, subscribers receive a collection of different gluten-free, soy-free and corn-free foods, as well as low in sugar and non-GMO goods.
The brands included in Hey Gluten Free boxes are from trusted brands, as well as selected small businesses.
It's a little bit more expensive than some of the other boxes on this list at $37.95 a month, but this is because it contains everything from baking mixes, to granola, to crackers and snacks – you're not going to be stuck to experiment using some gluten-free foods with this box!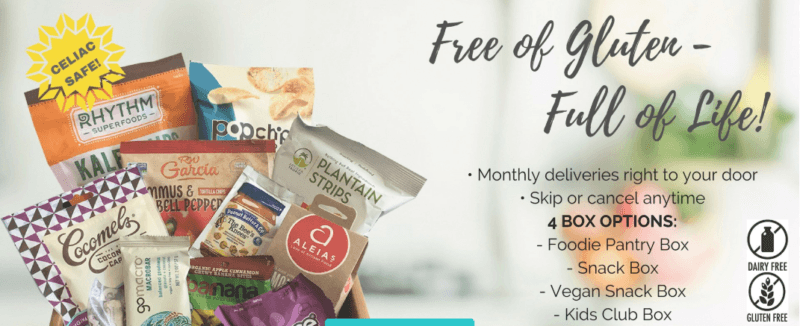 Perfect for at home or on-the-go snacking, the contents of a subscription box from American Gluten Free will keep you gnawing away on tasty snacks for as long as you can keep your hands off them!
There are loads of box options: there's the kid box, which costs $25.00 and contains snacks perfect for little ones; there's the snack box, which costs $24.95 and has a huge variety of sweet and salty snacks to keep you energised; there's the foodie box, which costs $36.95 and has lots of materials to cook with and try out new recipes using; and finally there's the vegan box, that provides high-quality vegan snacks and costs $24.95.
The service also proudly exclaims that, unlike gluten, they don't cause a fuss – meaning you can cancel anytime, without cancellation charges or hassle. You can also handily skip a box and continue the next month.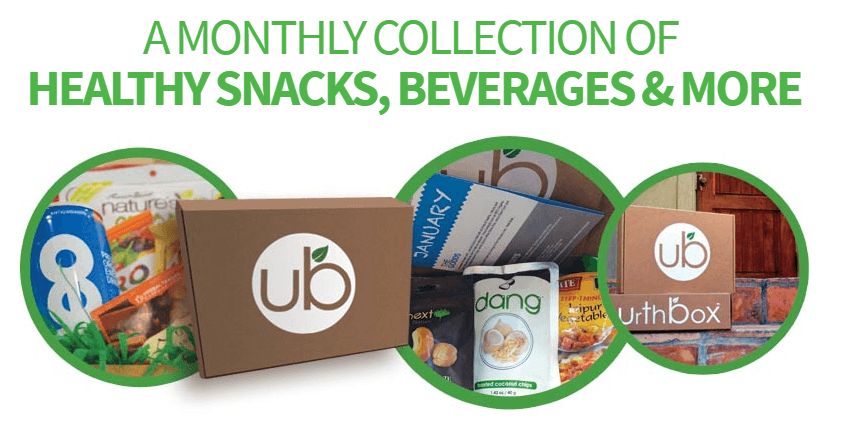 Urthbox is a subscription service that focuses on providing you with non-GMO, organic and all natural products, straight to your door.
These are delicious, full-size products that will expose you to and allow you to find out what healthy new foods, beverages, and snacks are right for you!
There are 4 options available from Urthbox, so you are sure to be able to find one that suits your needs. There is the Mini option, which offers 6+ snacks and is perfect for the casual snacker. It costs $19.99 per month.
The second option is the Small box which is perfect for the part-time snacker and it is available for $29.99 per month, which is a saving of 10% on the mini box.
If you're looking for more bang for your buck, you can opt for the medium box which is perfect for happy snackers – comes with 18+ snacks – and costs $39.99, making it a 20% overall saving.
The final offering from Urthbox is the large box, which, with 25+ snacks is massive and is perfect for a pro snacker! It costs $49.99 per month and ends up saving you 30% on the overall price.
Shipping for the boxes is free within the USA and costs $6.95 to ship to Canada. If you are shipping worldwide then it will cost $14.95.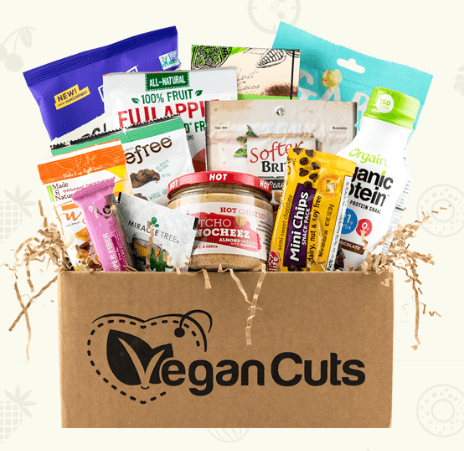 The Vegan Cuts Snack Box does a great job of maintaining a balance between delicious and healthy. Included in the boxes contents are a selection of chips, cookies, teas and sodas – all great, and all tailored to your diet.
There are 3 options when it comes to ordering the Vegan Cuts Snack box. There's the monthly option, which costs $22.95 per month, and automatically renews on a month-to-month basis.
If you'd prefer to commit to a more long term subscription up-front, the other two options allow you to pay for 6 months' worth of boxes – $120 (which works out at $20 per box) – or 12 months' worth of boxes – $222 ($18.50 per box). The longer term options work out cheaper overall, so have a look at the options and see which suits you best!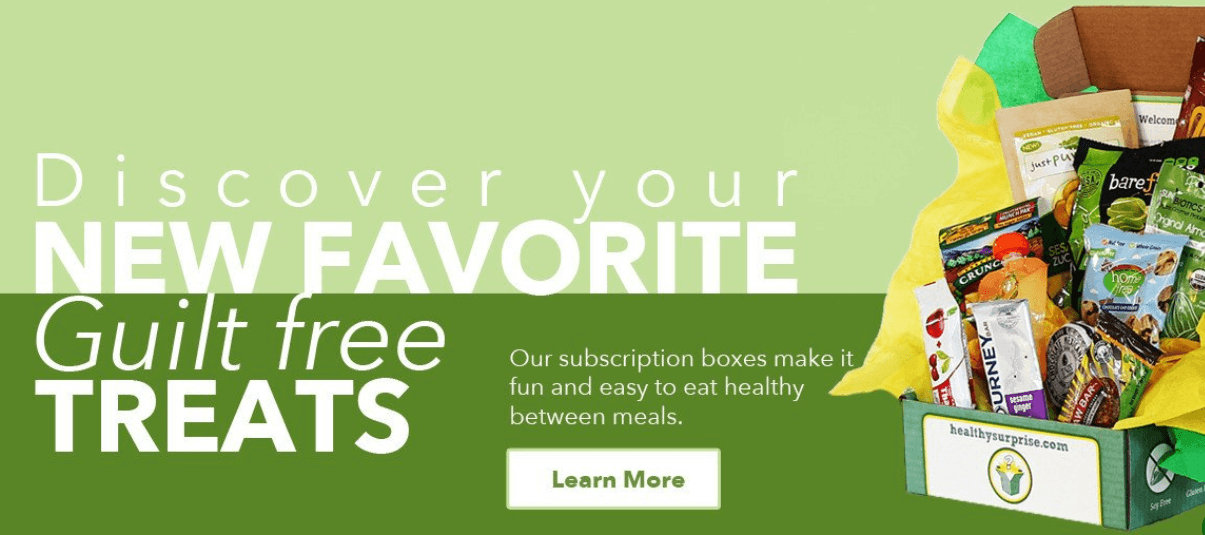 It's important for those with coeliac disease and people on a gluten-free diet to be conscious of what they are eating in terms of ingredients, and with Healthy Surprise, you are guaranteed to be provided with a monthly box of snacks and treats that are catered specifically to your needs.
All of the ingredients that go into Healthy Surprises box contents are completely natural. That means no gluten, soy, corn or wheat, as well as completely GMO free. This is good food, made in the USA.
There are 3 subscription boxes available through Healthy Surprise. There is the Classic Box, which contains 15 snacks and costs $42.49. If you want more snacks, then you're going to want to opt for the Big Box Subscription which comes with 21 snacks and costs $63.74.
The final option is the Paleo Box Subscription which costs the same as the Big Box at $63.74 and comes with 17 snacks. These snacks are guaranteed oi have no refined sugars, grains or legumes, making them perfect for somebody on a Paleo diet.
There are no commitments with Healthy Surprise and you can cancel your subscription at any time, or skip a month should you so choose, making the process hassle-free so you can enjoy your healthy treats in peace.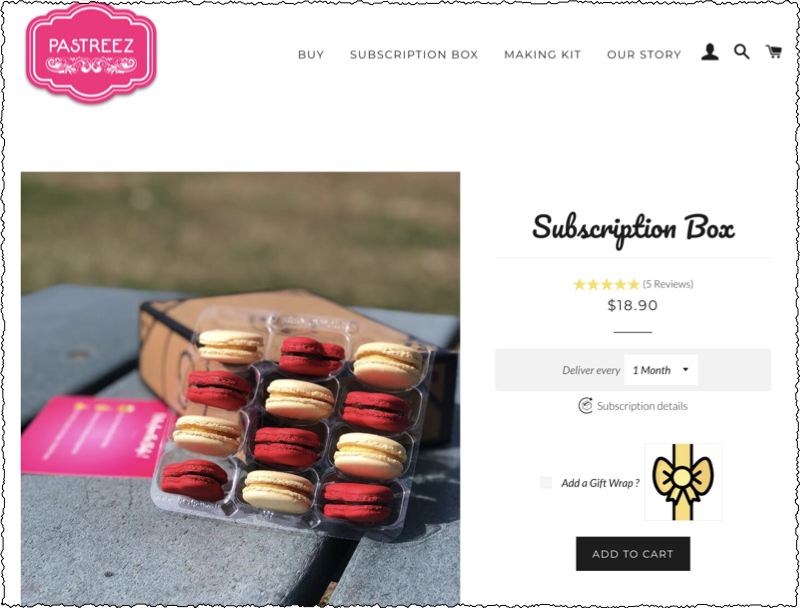 The Pastreez Macarons Subscription Box provides exactly what you think it does – Macarons! It is arguably the best way to try seasonal macaron flavours on a monthly basis.
The Macarons are handmade by French chefs, and previous boxes have included salted caramel & rose, apricot & choco cassis, and chocolate & strawberry vanilla.
A monthly subscription box costs $18.90 and you can choose for it to be delivered every one, two, three or four months. The box contains 6 macarons or one flavour, and 6 of a different flavour. In addition to that, there are tips from the chefs.
Best of all, these tasty macarons are less than 50 calories and both gluten and dairy-free!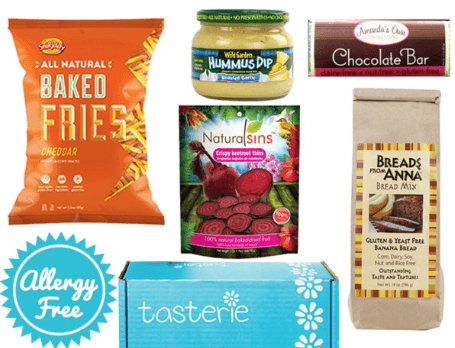 The Tasterie website's front page has an exclamation of "OMG! I have a food allergy! What now?!", safe in the knowledge that it has a solution.
A big problem for people with food allergies is finding tasty food, especially if they only became aware of their allergy in later life and can no longer consume foods they previously enjoyed. The goodies, pantry staples and cooking aids included in Tasterie's subscription box will ensure you don't have to worry about that!
There are FIVE different subscription boxes available with Tasterie. The first is the Top 8 Allergen Free Tasterie Box, which costs $32.95 and includes a selection of snacks.
The next two boxes are the Gluten Free Tasterie Box and the Gluten Free & Dairy Free Tasterie Box come with an assortment of gluten-free treats, with the latter also including dairy-free goodies. Both boxes cost $32.95 per month.
Then there's the Nut-Free Tasterie Box which contains some more allergy-free goodness and also costs $32.95.
The final box is a combination of all the other boxes and it is enormous! The OMG! Tasterie Box costs $95.00 and with it you won't be running out of allergy-free goodies anytime soon!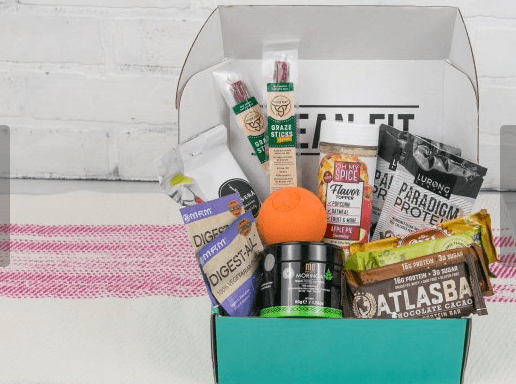 If you are living – or hoping to live – a fit life, but also want to eat tasty food that adheres to your diet, then Clean Fit Box could be great for you!
The box contains lots of superfoods and supplements, as well as some clean, healthy and delicious snacks – so that you can enjoy your lifestyle.
There are 3 times of Clean Fit Box, and they all cost $34.95: there is the Original box, the Lacto- Ovo Vegetarian box, and the Gluten-Free box. The latter is perhaps the one of the most interest to those reading this particular article.
The Clean Fit Gluten Free box contains 5-7 premium, hand-curated gluten free items. These items include snacks, supplements, and/or powder proteins.
The food itself is good for you – all items are non-GMO and will not include any artificial preservatives, flavors, colors or sweeteners.
While the contents include both full-size and trial-size items, the contents of the box will always exceed the value of the box itself, so you're getting a gluten-free bargain when you order with Clean Fit! Orders ship on the 15th of the month, so get your orders in before then if you want to get the current month's box.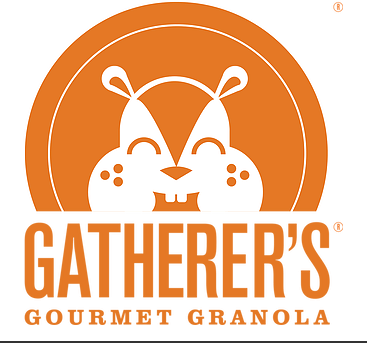 Do you love granola? With Gatherer's Granola, you can get tasty, healthy treats delivered straight to your door! Gatherer's Granola is made by hand with care in Schenectady, New York.
There's a great variety to mix-and-match with, so you will be able to get the treats you love – or be able to give a fantastic, thoughtful gift to friends and family.
There are 3 handy subscription offers that offer savings over ordering individual bags. There's the option of 4 bags per month, which comes at $19.99 – a saving of 10% on individual bags.
The second option is that of 8 bags per month. This ships at $36.99 per month and is a saving of 20%. The final offering is 12 bags every month, which costs $53.99 a month and is a saving of 20% overall. If you and your family/friends love granola, this may be the most cost effective option!
All of the granola that is delivered to you can be specified if you wish, and will all be gluten-free, meaning it will be safe with your diet.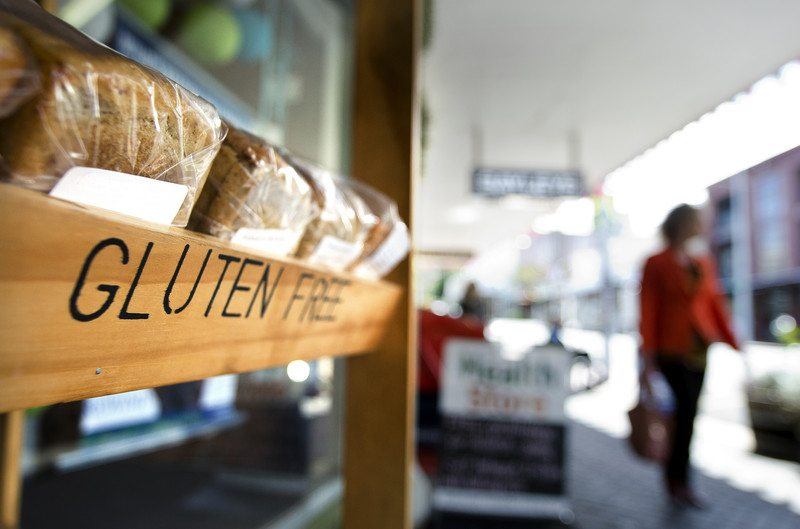 Living with a gluten-free diet doesn't have to be restrictive. One of the biggest hassles when it comes to celiac life is finding food that excites you.
This, coupled with the convenience of direct to your door delivery, make gluten-free subscription boxes a great option for many people. Have a look at some of the ones mentioned on this page, and you may find one that's perfect for you!