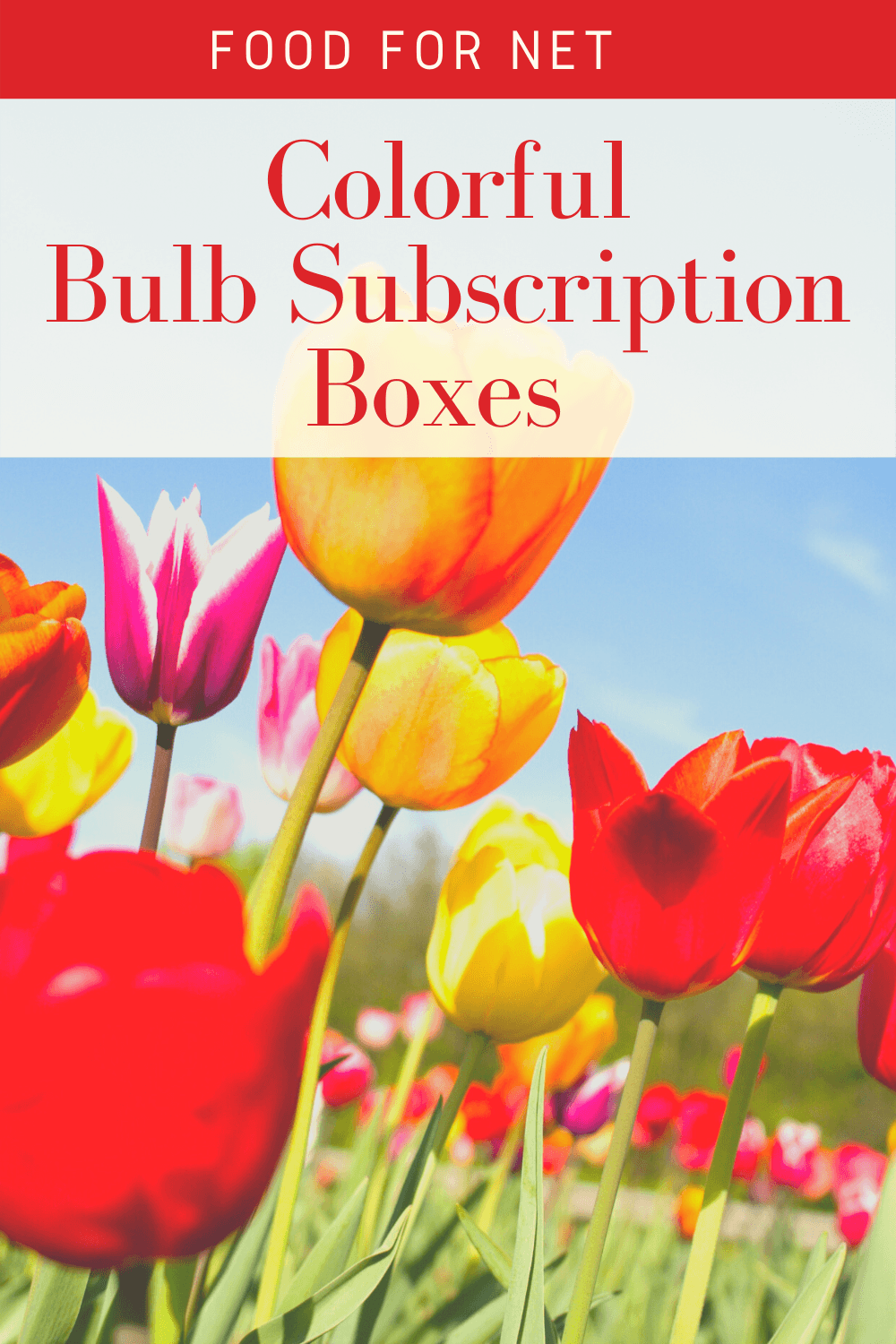 It is no wonder so many people love planting bulbs in their gardens. Bulbs are hardy, store energy so they can grow even in less favorable conditions, and new gardeners will have an easy time filling their gardens with beautiful blooms. Plus, if you choose a variety of bulbs, you can fill your home with flowers all year round, even in the winter with amaryllis or paperwhites. Bulb subscription boxes make it easy to get a variety of bulbs for your garden, without needing to do the shopping for yourself.
Though many of us love these flowers, few of us know the history of these tenacious plants. In fact, most people believe many flowering bulbs, especially tulips, come from the Netherlands. However, none of these flowers originated in that region. In fact, the tulip originally traveled from the Himalayas. One of the many reasons bulbs have spread worldwide is that they are easily transported and take to almost any climate and terrain.
Throughout history, the tulip has held special meaning in several cultures as, during the Ottoman Empire, the sultans decorated their palaces with these flowers. For a long while, tulips were all the rage and even created a type of "mania" amongst the world of science, as people attempted to create new hybrids. However, many of these early tulips lacked the flower's normal robust nature and died from the disease. Over time, scientists were able to create new breeds, and now there are more than 3,000 varieties.
And it is not just the tulip that has spread its roots throughout the world. All of the flowering bulbs can be found throughout the world. Today, there are many types of flowering bulbs, each with hundreds if not thousands of variations.
And if you love bulbs, you will be thrilled to know there are the bulb of the month clubs. Bulb of the month clubs send pre-planted bulbs that will often bloom shortly after arriving. The different clubs offer a variety of membership durations, price points, and flower options. Some of the clubs provide a single type of flower per month, whereas others send a variety of bulbs in the same shipment.
And if you are looking for a one-time gift, there are bulb gift "baskets," and like the bulb of the month clubs, you can purchase these gifts with a single type of flower in mind or an assortment.
Of course, bulbs aren't your only option if you love plants. You could also try flower of the month clubs or perhaps air plants.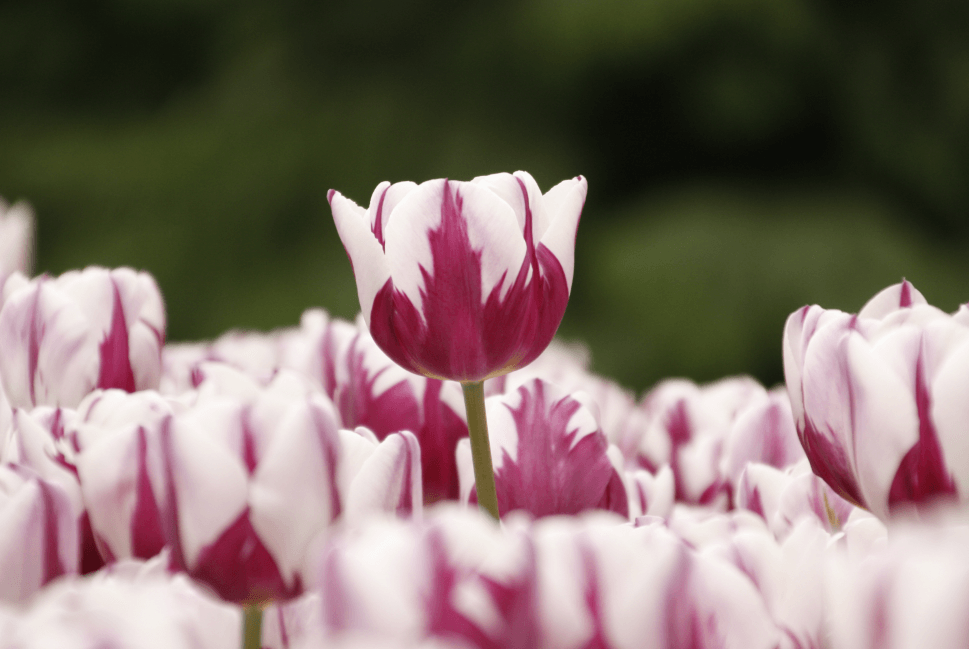 Bulb of the Month Clubs
Holland Bulb Farm
Harry and David
Wisconsin Made
Bulb Gift Basket
Holland Bulb Farm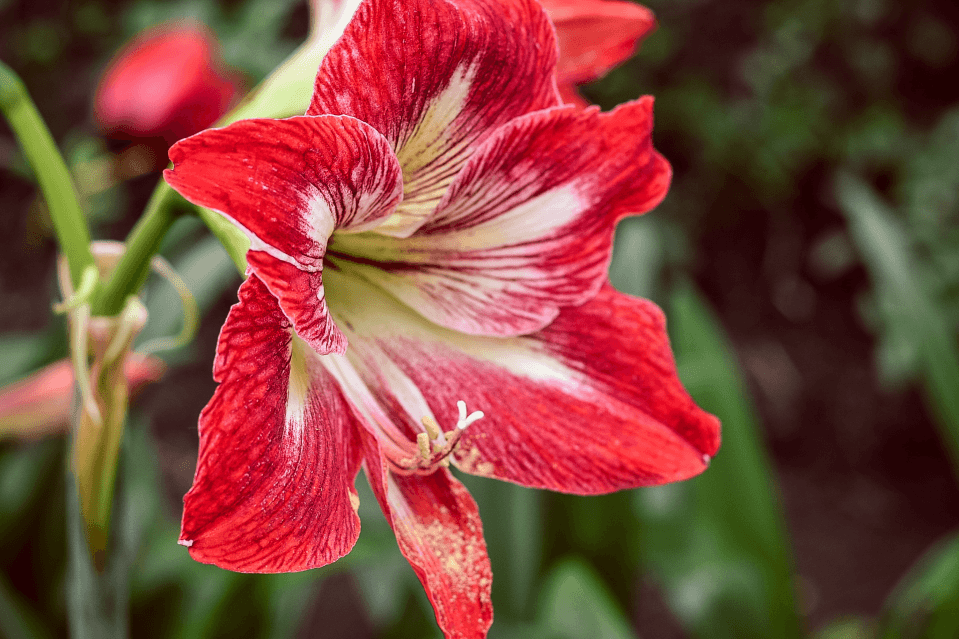 Holland Bulb Farm is a division of Holland Beauty, located in Milwaukee, Wisconsin. Holland Beauty was founded in 1975 by Arthur van Zanten. And, 20 years later, with help from his son-in-law, he opened Holland Bulb Farm to meet the demands for bulbs sourced from Holland.
Today, Holland Bulb Farm is still a family-owned and operated business sourcing at least 70% of their planted bulbs from Holland. And they source their selection of clematis, vegetable roots, fruit plants, begonias, bearded iris, and caladium from local Wisconsin farms. Holland Bulb Farm offers more than 400 varieties of plants, rotating the selection based on the season. They ship their bulbs in the spring and fall, depending on the type of plant.
Holland Bulb Farm offers more than just bulbs. They also carry plants such as dormant bare root perennials, garden accessories, seeds, and plant starts. Plus, they have a 12-month potted bulb garden subscription for $959.97. After the first month's shipment, bulbs are sent every 30 days until the full 12 months are fulfilled.
The first shipment includes a cachepot that can be reused in the subsequent months. After the first shipment, bulbs are sent in a liner made to fit into the initial pot. Each month's bulb gardens are preselected and include between 1-4 varieties and 3-16 bulbs. Some of the various selections you can expect to see include:
February – 4 white marvel tulips, 3 yellow queen hyacinth, 4 reggae narcissus, 5 blue magic muscari
April – 8 early glory tulips, 3 Paul Hermann hyacinth, 5 tubergeniana scilla
June – 4 purple prince tulips, 4 yokohama tulips, 4 orange cassini tulips
August – 5 tiny orange sensation lilies
September – 10 ziva paperwhites narcissus
December – 3 bright spark amaryllis, 8 kiwanis tulips
Due to supplies there may be a chance that flowers may be substituted.
The bulbs all arrive sprouted and most flowers bloom within a few weeks. All of the bulbs can be replanted outdoors to be enjoyed in future seasons.
Harry and David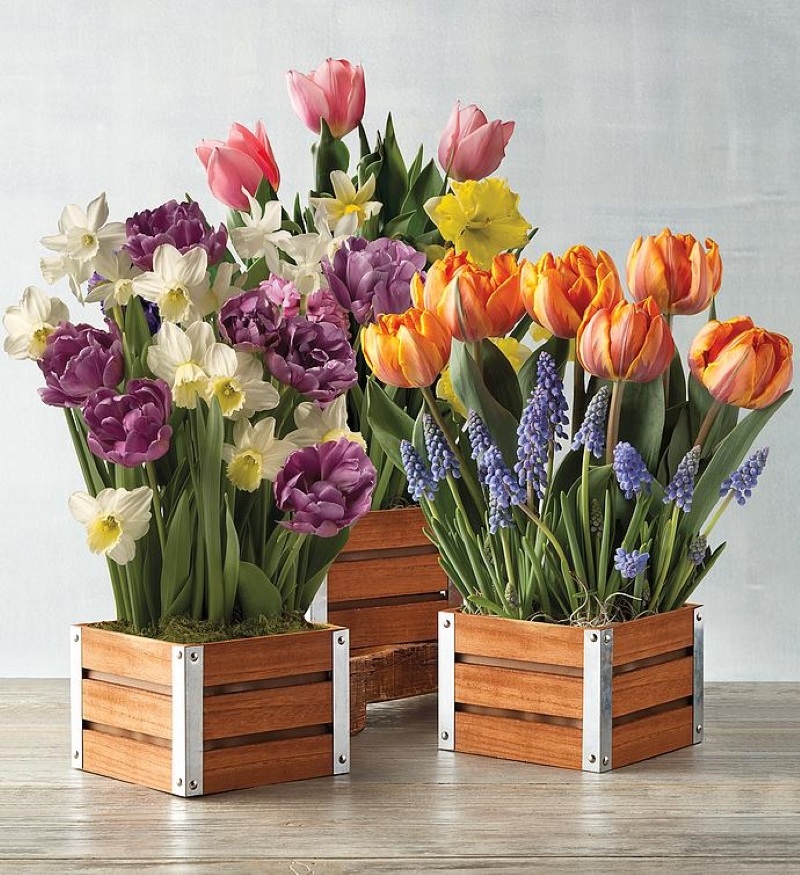 Harry and David was founded in Rogue River Valley, Oregon, by Samuel Rosenberg. In 1934, Rosenberg purchased an orchard that spanned 240 acres and was planted with pear trees. Rosenberg named the orchard Bear Creek Orchards -and in 1972 was renamed Bear Creek Corporation. Though Harry and David was a family-owned and operated company for over 40 years, in 1976, it transitioned to a public company.
The Harry and David company first made its name with their Royal Riviera pears, a hybrid of the French Comice. However, the company expanded to include a wide selection of edible and non-edible gifts over the years. Harry and David is best known for their premium gourmet food baskets and towers, but they also offer a wide selection of monthly clubs.
In addition to their food and wine gifts, Harry and David also offer flowers and plants. They have everything from one-time gifts of bouquets, bonsais, and herb gardens to subscription gifts such as their bulb of the month club.
Their bulb of the month club is available in 3 duration options:
3 months for $99.99
6 months for $199.99
12 months for $379.99
All of the different bulbs are preselected and pre-planted. The first month's bulbs arrive in a rustic planter that can be reused for future months. Some of the different flowering bulb selections included in the bulb of the month club are:
Daffodil mix
Pink lilies
November amaryllis duo
Tulips
Spring mix
Shipping is an additional $6.99 per month. All shipments include the planted bulbs plus detailed growing and care instructions.
Wisconsin Made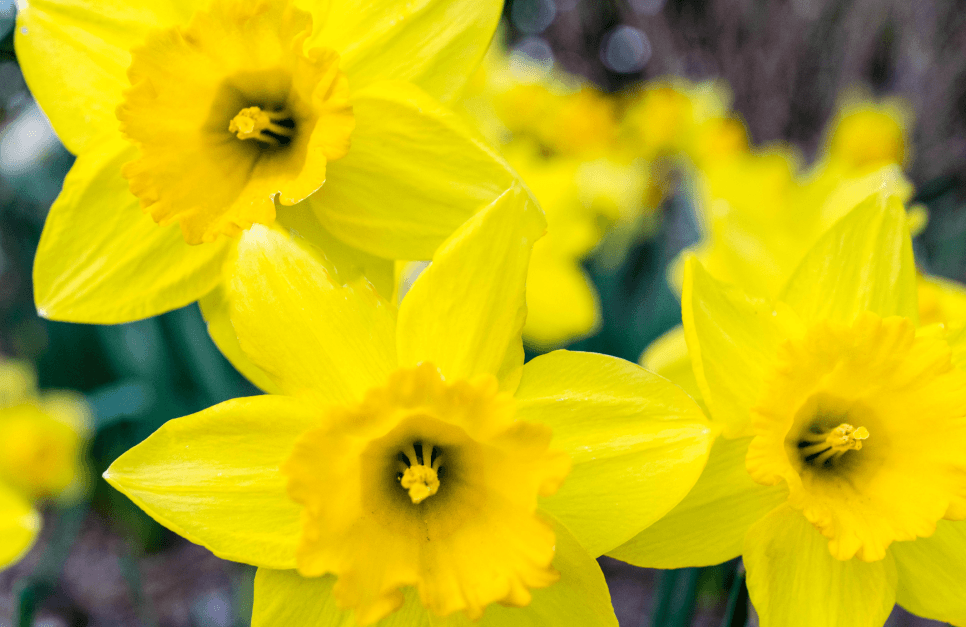 Wisconsin Made carries a collection of artisan Wisconsin-made products that best represent the state. It was founded by Brad Duesler and is based out of Middleton, Wisconsin.
Wisconsin Made is an online retailer that curates an array of goods from close to 200 different artisans all over the state. They offer a wide selection of items such as:
Gifts baskets like cheese and sausage samplers
Baked goods like delectable brownies, cheesecake, and Danish kringles
Unique foods like pickled polish sausage
Handmade woodcraft items such as cutting boards, trays, and jewelry boxes
Sports paraphernalia
Books and music
Plus, Wisconsin Made features 2 different monthly clubs – the O & H Danish Kringle of the Month and the Flower Bulb of the Month Gift. The Flower Bulb of the Month Gift comes from the Wisconsin Growers Greenhouse.
The bulb of the month club is available in 2 different options:
3 months for $127.50
6 months for $249.50
The bulbs are all pre-planted in a soil-less material then placed in a unique decorative basket. All of the bulbs will have sprouted and will begin to bloom within weeks of arrival. The bulbs come with growing instructions and can be replanted outdoors.
Shipments go out at the beginning of each month, though the dates may vary on season. Orders begin shipping in the fall in November and February in the spring. Bulbs only ship from November through April. All bulbs have been preselected and include red amaryllis, purple hyacinth, daffodil, red tulip, star of Bethlehem, and yellow dahlia. Though the bulbs for each month are already chosen, they may vary based on availability.
Bulb Gift Basket
1-800 Flowers.com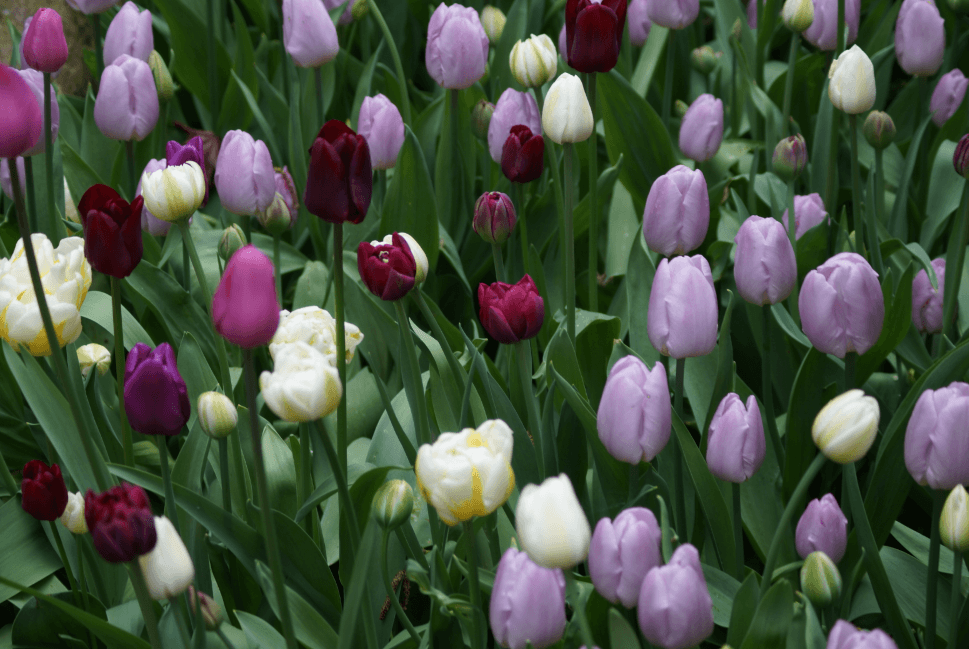 1-800 Flowers.com's founder, Jim McCann, first purchased a flower shop in Manhattan in 1976. McCann was very successful over the next 10 years, opening an additional 14 stores in the area. However, in 1986 when he obtained a new phone number and changed the company name to 1-800-Flowers, the company blew up. Since then, the 1-800 Flowers has continued to grow into the globally recognized company it is today.
And in the early 2000s, the company expanded to include more gift items outside plants and flowers. The first company they acquired was the popcorn company, shortly followed by Cheryl's Cookies, DesignPac Gifts, 1-800 Baskets, and still, continuing to grow to today.
There are very few, if any, gift items you won't be able to find at 1-800 Flowers.com. They even offer 6 bulb gift baskets:
Simply Charming Springtime Bulbs
Delightful Daffodil Bulbs
Bounitful Blooms Bulbs
Happiness Blooms Pink Amaryllis
Heavenly Hyacinth Bulbs
Spring Meadow Iris Bulbs
All of the different bulb gift options arrive potted, sprouted, and ready to bloom. Plus, these flowering bulbs can be replanted outdoors or left in their decorative container. When you receive your potted bulb, you will also get care instructions, and some even come with a free butterfly suncatcher.