Air plants are far from new; they were initially popular in the 1970s then fell out of favor as all trends do. However, over the few years, air plants are making a big comeback and can be seen decorating homes, businesses, and even restaurants. So, it's not surprising that there are air plant of the month clubs too.
What makes air plants so appealing is their size, unique look, and the fact that they don't require soil to survive. Plus, air plants are easy to maintain, even for those without a green thumb.
Air plants can be found in the wild and are most prevalent in the West Indies, Central America, and South America. Air plants are even found in the US in California as well as many of the southern states.
Air plants are also referred to by the genus name Tillandsia, and there are more than 600 different varieties. An example of a typical air plant found in the wild is Spanish moss.
Tillandsias are epiphytes, which are plants that attach themselves to other objects like trees and rocks, though they can attach themselves to almost any surface. Tillandsias are not parasites and do not feed off of what they mount themselves too.
Because air plants do not have a traditional root system and do not require soil to flourish, they can be mounted on almost anything you choose, like driftwood, shells, and rocks. Or you can mount them to nothing at all and keep them in a glass or wire holder.
Best of all, air plants are beneficial to your health and can decrease depression, lower blood pressure, reduce stress, and aid in creating a relaxing environment. Additionally, air plants are exceptional at purifying the air from contaminants, chemicals, and even dust. And, tillandsias can help regulate humidity.
Whether you are looking to start an air plant "garden" of your own or you know someone who would love these quirky little plants, an air plant of the month subscription is the perfect way to add air plants to your home or office.
You could branch out with other types of plants too, like succulents, cactus or even orchids.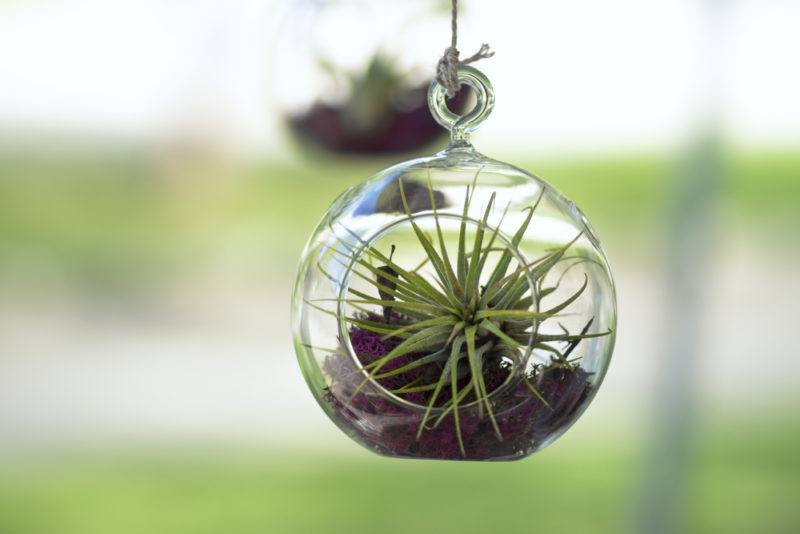 Air Plant of the Month Subscription Boxes
The House Plant Box
Air Plant Design Studio
Succulents Box
Air Plant Man
Articulture Designs
Airplant Gardens
Green Door Garden
The House Plant Box

The House Plant Box's parent company is The House Plant Shop, an online store created by a group of childhood friends. The House Plant Shop started in 2017 shortly after realizing how difficult it was to find and order quality houseplants online.
Their greenhouse is located in Southern California. Their air plants and tropical plants come from small local farms in their area. People can purchase individual plants of all types from The House Plant Shop, but you will want to check out their House Plant Box website if you are looking for a plant subscription.
The House Plant Box is a plant subscription company that delivers "a Dose of Plant-Happiness" every month. The House Plant Box has 11 plant subscription options, some of the plans available are:
Seasonal Garden Box
Indoor House Plant Box
Pet-Friendly Box
Premium House Plant Box
Aquatic Plant Box
And of course, they have an air plant of the month box too. The air plant of the month box comes in four purchase options:
Monthly for $15.99 per month
3-month prepay for $46.99
Bi-annually prepay for $92.99
Annual prepay for $179.99
Each air plant subscription box contains an assortment of air plants, 2-5 inches big. Plus, all of the air plants come with a detailed product card that provides proper care information for each plant.
Shipping is included with the prices of all the plans. And if your plant is damaged during shipping, you can contact The House Plant Box, and they will work with you on a replacement. Also, all plants come with a 30-day guarantee.
Air Plant Design Studio

Air Plant Design Studio was inspired when husband and wife duo, Ryan and Meriel Lesseig, were searching for a wedding venue and stumbled on an air plant shop in St Augustine, Florida.
After falling in love with air plants, they decided to open the Air Plant Design Studio to share their passion with others. The Air Plant Design Studio carries a wide array of air plant varieties. And they sell individual plants, kits, and combo air plant options.
In addition to the many types of tillandsia, the Air Plant Design Studio also sells planters, terrariums, air plant favors, and accessories. However, the Air Plant Design Studio is much more than just an online air plant store; it also provides valuable information about the care and use of air plants in your home.
For those looking to add to or build an air plant collection, the Air Plant Design Studio offers different subscriptions:
2 plants for $10 per month
2 premium plants for $20 per month – This subscription offers larger plants, including clumps
All of the plants are hand-selected and will include blooming specimens when available. All boxes arrive with care instructions for that month's plants and additional care instructions are available on their website.
Both subscriptions are flexible month-to-month plans that can be canceled or paused anytime. Standard shipping in the US is $5.50 though expedited shipping is available. All of their plants come with a 30-day guarantee.
Succulents Box

Succulents Box sells succulents and everything you need to grow and care for them. They have more than 200 types of succulents available, ranging from common to unique species. Some of the different succulent families they carry are: Aeonium, Crassula, Senecio, Sempervivum, and Echeveria
The company offers several varieties of plants from each family in different sizes. The plant sizes vary based on the type of plant, plus most of their succulents can be ordered pre-potted in a clay container.
Plants are not the only thing the Succulent Box sells, they also offer hanging macrame pot holders, heat packs, pots, gardening tools, ID cards for the plants, and gift boxes.
There are 6 subscription boxes, 4 of which are succulent boxes, and the other 2 are air plant boxes. The first offers a single air plant and costs $6 on a month-to-month subscription. The second offers an air plant and a succulent for $11 month-to-month.
In both cases, you get a discount if you order a pre-paid subscription instead.
Depending on the season and where you want the air plant shipped, you may want to purchase a heat pack to keep your plant protected from cold weather.
Airplantman

Airplantman was founded by Josh Rosen, who is also an artist, landscape architect, and horticulturist. Rosen fell in love with these unique alien-looking plants and wants to share his passion with others through designing and showcasing air plants through living art exhibits.
Airplantman specializes in creating unique and artistic ways to display air plants, from small vessels sitting on a desk to wall-length displays. Rosen even offers custom workpieces with built-in lights and irrigation systems.
Some of the most popular non-custom Airplantman creations include:
Plant frames
Stone and wire stands
Kokedama – a felt ball like vessel
Wood Stands
Lanterns
Wall mounts
Plus, Airplantman carries air plant refresh plants and booster kits in varying plant sizes.
The Airplantman Air Plants of The Month Club is available for $275. This 4-month subscription includes 10-15 hand-selected air plants. Each shipment includes various specimens. Blooming plants may be included in your box too, if they are available.
Each shipment includes a care card to help you keep your air plant healthy and strong.
Articulture Designs

Articulture Designs is a cross between a garden center and an art gallery. It offers a variety of unique living art pieces, including custom work.
Articulture Designs is located in Austin, Texas. They have both a brick and mortar store and an online store. Their physical storefront hosts workshops, lectures, and events.
Their botanical art includes living jewelry, living walls, living furniture, plantscapes, and event decor.
Besides their living artwork, they also create other art pieces. Some are more functional, like kitchenware, accessories, totes, clothes, while others are more decorative like their dreamcatchers. But Articulture Designs' focus is all things botanical, so they also sell vases, pots, planters, and living plants.
Articulture Designs' plant options include cacti, succulents, and air plants, all exceptional choices when creating living art. And they offer 3 different monthly subscription clubs:
Succulent of the Month Club
Cactus of the Month Club
Air Plant of the Month Club
The air plant of the month clubs come in 2 options: 3 months for $69.50 or 6 months for $120.
The air plant of the subscription box contains 1-3 air plants. Each month's plant selection is different to eliminate the chances of duplicates. Plants go out the first week of the month. Shipping is included in the price of the subscriptions above.
Airplant Gardens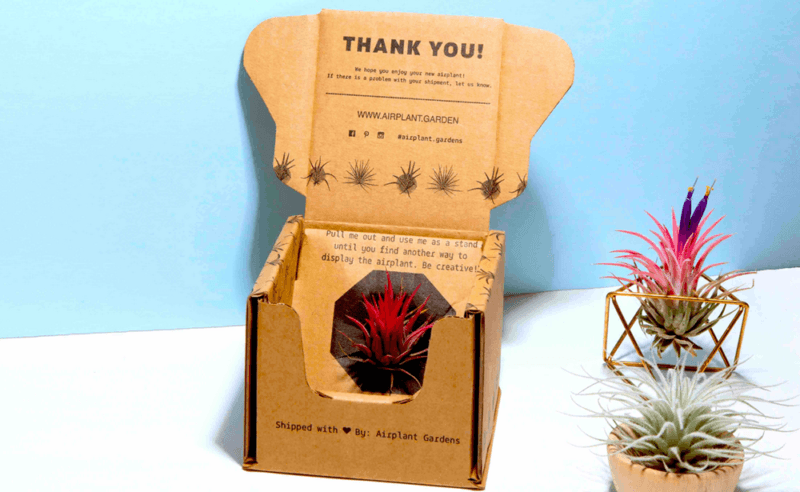 The subscription from Airplant Gardens is simple. You're shipped out a single air plant each month for $10 plus shipping. Each month's plant is unique and you'll sometimes get a rare one.
A fun feature is the box your plant comes in, which is designed so you can use it to display the plant until you find a better home for it. Each shipment also includes a collector's card and instructions for plant care.
Green Door Garden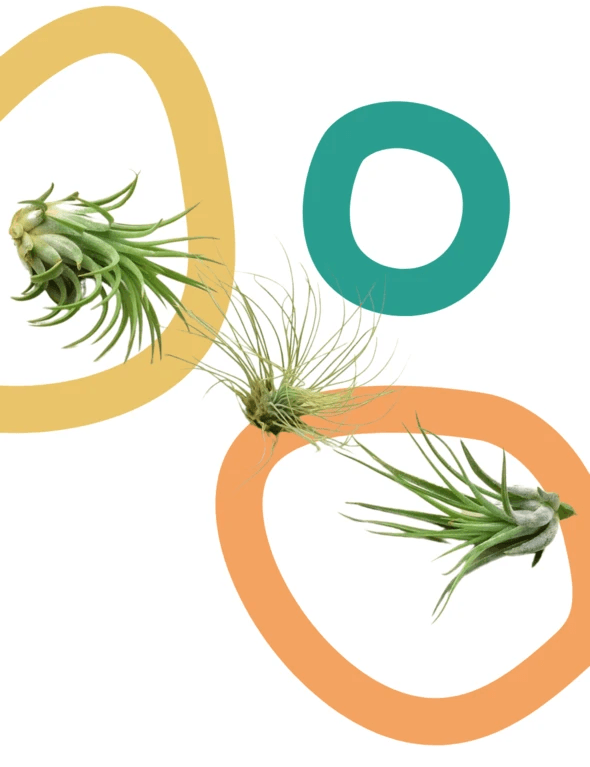 This is another easy subscription to try out. Green Door Garden has multiple boxes to choose from, including Premium Indoor Plants, Pet Friendly, Easy-Care, Low-Light, Baby Plants, and Air Plants.
Each subscription costs $12 a month plus shipping. You're sent out 3 to 4 new air plants each month, which makes it easy to grow your collection. If you live locally, you can even skip the shipping and pick the plants up instead.