Fiber is one of the main reasons that we need to regularly eat plant-based foods. The macronutrient plays many critical roles in our body and may also help to improve our gut health. While there are fiber supplements out there, fiber rich foods remain the best way to get enough fiber in your diet.
This is true for all nutrients. Wherever possible, it's best to rely on whole foods. And, when it comes to fiber, there are plenty of options to choose from.
First thing, it's worth mentioning that fiber can be categorized in various ways. Some people talk about soluble versus insoluble fiber, or fermentable versus non-fermentable. Dietary fiber versus functional fiber is another categorization, although this one is a reference to whether the fiber naturally occurs in food or is added in.
These categories aren't precise and there is plenty of overlap between them. In some senses, the type of fiber you choose doesn't matter that much anyway. The most important goal is to consume fiber from a variety of sources. Doing this should give you access to all the different types that you need, along with many other beneficial nutrients.
Fiber Rich Foods
Almonds
Pine Nuts
Other Nuts
Peanuts
Guava
Persimmons
Navy Beans
Black Beans
Pinto Beans
Other Types Of Beans
Edamame
Lentils
Split Peas
Chia Seeds
Pumpkin Seeds
Oats
Pumpkin
Parsnips
Raspberries
Blackberries
Popcorn
Apples
Pears
Prunes
Artichokes
Green Peas
Spinach
Chickpeas
Whole Wheat Flour
Whole Wheat And Whole Grain Products
Sprouted Grain Products
Other Grains And Pseudocereals
Quinoa
Buckwheat
Flaxseeds
Psyllium Husk
Bran
Potatoes With Skin
Sweet Potatoes
Brown Rice
Insects
Avocados
Almonds

Nuts are most well-known as a source of healthy fats and protein. This is why they're often on lists of healthy snacks and are an easy way to stay satisfied between meals. Nuts are even perfect when you're studying.
The fiber content of nuts is another reason for eating them regularly.
We're starting off with almonds because almonds are often thought to be the healthiest type of nut. They provide plenty of nutrients that you need. They are also easy to eat and taste delicious.
Out of all the nuts, almonds are also the best choice for fiber, giving you roughly 4 grams of fiber per 1-ounce serving.
You can take advantage of almond butter too. High-quality almond butter relies almost entirely on almonds, giving it a similar nutrient profile to the nuts themselves. Almond butter is useful as you can easily include it in recipes or as part of a smoothie.
Almond milk, on the other hand, won't give you much fiber. This plant-based milk does use almonds, but it mostly consists of water. As such, almond milk might be a practical substitute for dairy milk, but it isn't a good source of nutrients. You can get more nutrients by making almond milk at home. Even then, almond milk won't be a powerful option for fiber.
Pine Nuts

Pine nuts aren't as easy to snack on as almonds, but they're the next best nut for fiber. This time, a 1-ounce serving offers you 3 grams of fiber.
While pesto is the most common way to use pine nuts, you can also use pine nuts in many different recipes. They are soft and have a buttery-type flavor, so you can even just sprinkle them on top of a meal. When used like this, the nuts provide an interesting contrasting texture to the dish.
Other Nuts

Almonds and pine nuts might be the best choices for fiber, but you'll get some fiber from most nuts. Pistachios, hazelnuts, and pecans are especially good choices, giving you the same amount of fiber as pine nuts.
Macadamia nuts and Brazil nuts are less powerful, giving 2 grams of fiber for a 1-ounce serving. Still, Brazil nuts are high in selenium and macadamia nuts simply taste amazing, so both types of nuts have their advantages.
Peanuts

Peanuts are technically a type of legume, rather than a nut, but we usually consider them a nut. They are similar to macadamia nuts and Brazil nuts for fiber, giving you roughly 2 grams in a serving.
Peanuts also have the distinct advantage of being inexpensive. While peanuts are often thought to be inferior to other nuts, peanuts still contain most of the same powerful nutrients.
You can get fiber from peanut butter too. The most important thing is to choose your brand carefully. Some peanut butter products just use peanuts and salt – no other ingredients.
Other brands may use additives, fillers, and high fructose corn syrup. Such additions tend to make the peanut butter less healthy. If you do choose a good product, then peanut butter can be surprisingly powerful. It ends up being an inexpensive source of protein and nutrients, one that you can use in many ways.
Guava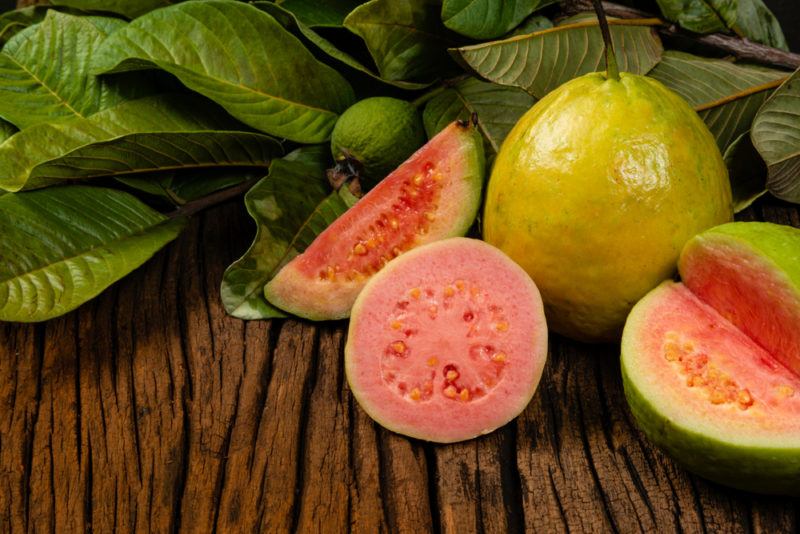 Exotic fruits are often good choices for fiber, with a single cup of guava containing 9 grams of fiber. There aren't many other fruits with this much fiber.
Guava is also a decent choice for potassium. The combination of fiber and potassium makes the fruit especially relevant for your heart health. Besides, guava has a delicious and unusual flavor profile. The fruit is exceptional when combined with other tropical flavors.  
Persimmons

While we're on the topic of exotic fruits, persimmons are also a noteworthy option. This time you're getting around 6 grams of fiber in a persimmon.
The bright color also means that there are plenty of phytonutrients present too.
Persimmons are also unusual, and they can take a while to get used to. If you're new to eating persimmons, be sure to pay attention to the type that you eat. Some persimmons are astringent and contain high levels of tannins. These tannins can lead to constipation if you consume too much.
It's best to start off slowly with persimmons to avoid any potential issues. Actually, this is a good general rule for any food on this list, as dramatically increasing your fiber intake can cause digestive issues.

Any type of bean will provide fiber, but navy beans top the list. A cup of the cooked beans will give you close to 20 grams of fiber. The beans are good for protein, offering 15 grams of protein in the same serving size.
Black Beans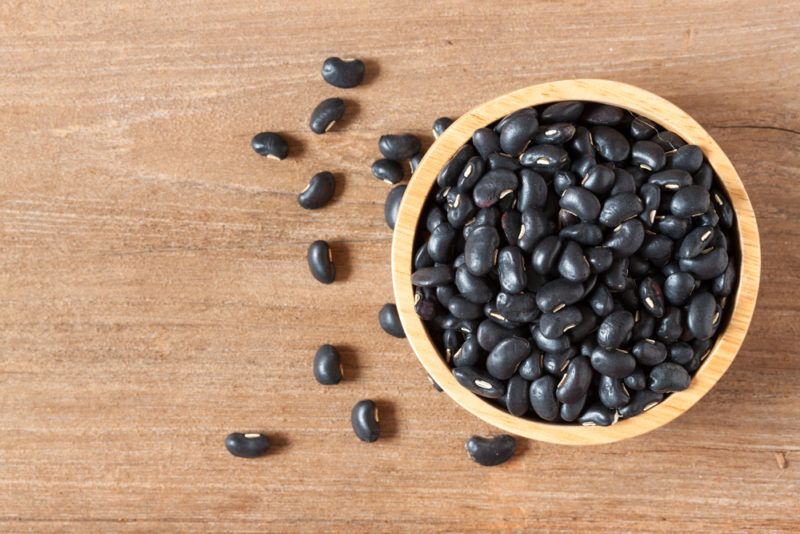 Black beans aren't as powerful as navy beans, giving you 15 grams of fiber per cup. This fiber level puts them a little way down the list of best beans for fiber.
However, black beans have other advantages. One is that most of the starch is resistant starch, which may provide strong digestive benefits.
Black beans are also high in phytonutrients, to a similar degree as some brightly colored fruits. These phytonutrients are formidable for your health, partly because they have notable antioxidant and anti-inflammatory impacts.
The black color of the beans makes them fun to cook with too. After all, there aren't many black ingredients to choose from.
Pinto Beans

We've already mentioned a few types of beans, so it shouldn't be too surprising to see pinto beans on this list too. These beans can be enjoyed warm or cold.
Soaking the beans overnight tends to make them easier to digest (good news for anyone who normally gets gassy after beans). Like most beans, pinto beans are low in sugar and fat too, making them ideal for anyone watching their waistline.
Other Types Of Beans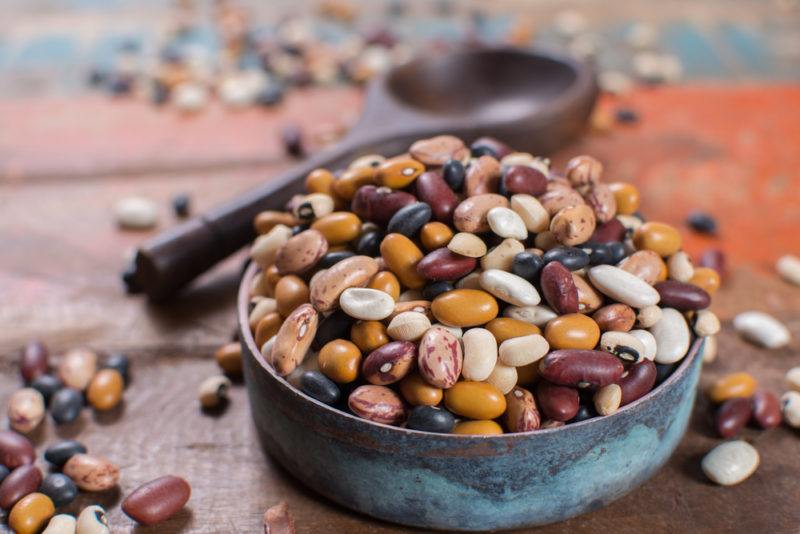 Most types of beans will give you a decent amount of fiber. The same is true for other legumes too. This gives you the chance to choose the beans that appeal to you the most – or the ones featured in the recipe that you're following.
The best approach is to include many types of beans in your diet. After all, each type of bean is different in terms of nutrients and plant-based compounds. Eating a variety of beans gives you access to the broadest range of nutrients.
Small white beans, adzuki beans, mung beans, and roman beans are particularly good choices to look at for. These all offer at least 15 grams of fiber per cup of the cooked beans.
Edamame

If you boil or steam immature soybeans, you end up with a snack called edamame. Edamame is traditionally a Japanese snack, but it's now showing up in other parts of the world too.
The fiber content isn't nearly as good as other types of beans – at roughly 10 grams per cup. Still, edamame is different than most other bean-based options, as you can just eat the boiled soybeans as-is, warm or cold.
This is much more appealing than preparing a full meal, especially as bean-based dishes are often on the heavy side. Many people love the flavor of edamame, along with snack's slight crunch. You can also use a little seasoning to make the beans taste even better.
Lentils

Lentils are a classic healthy meal addition. They're most common in soup, but lentils have been cropping up in many other places as they've become more prevalent in recent years.
The fiber content of lentils is particularly impressive. A cup of cooked lentils contains more than 15 grams of fiber. This makes lentils a much better fiber sources than leafy greens and many other options.
There are also plenty of other beneficial nutrients, including protein, iron, and folic acid.
One final benefit is that lentils work well as a source of polyphenols. Polyphenols are plant-based compounds that act as antioxidants and have other health implications too. Lentils come in various colors, and each color will have its own balance of polyphenols.
Split Peas

There's no denying that split peas and lentils are similar. While they come from different plants, both foods are legumes. Both have a mild and somewhat earthy flavor.
They can be cooked and eaten as-is, but you'll mostly find split peas and lentils used as additions to soups and stews. The legumes work well in this context, as they bulk the meal out, while also making it more nutritious.
Split peas and lentils provide roughly the same amount of fiber per serving, so you can choose whichever option you have on hand.
Chia Seeds

While most seeds are high in fiber, chia seeds are an especially attractive choice. These little seeds are low in calories and offer roughly 11 grams of carbs for every 1-ounce serving.
Chia seeds are a good source of other beneficial compounds too, including magnesium, phosphorus, vitamin B3, and omega-3 fatty acids.
Chia seeds are also versatile. You can easily scatter a spoonful on yogurt, granola, a smoothie, or many other dishes. You'll find chia seeds in a variety of healthy recipes too, including chia pudding.
Pumpkin Seeds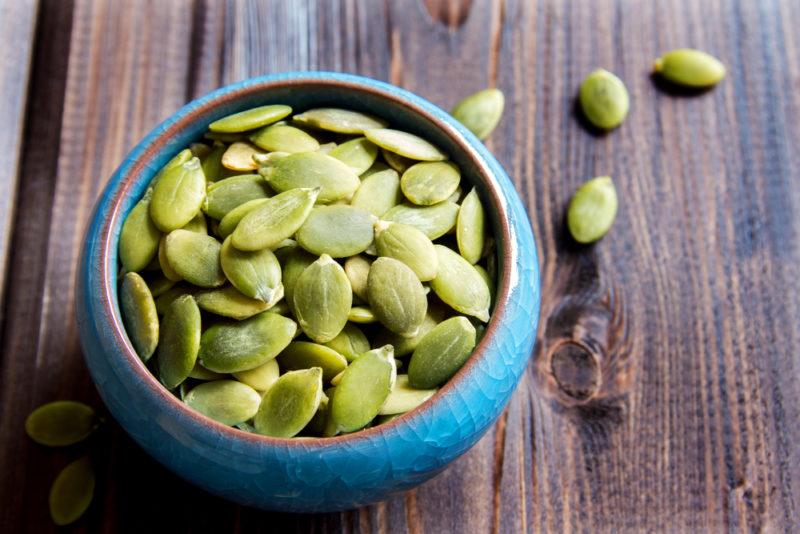 Pumpkin seeds have many advantages. For one thing, they are an easy snack. You can simply grab a handful of roasted pumpkin seeds and eat them.
There are also many brands offering pumpkin seeds with various seasonings. It won't take much work to find a product that you enjoy, or you can roast and season the pumpkin seeds yourself.
As for fiber, an ounce of the seeds will give you 5 grams of fiber. If you don't feel like snacking on the seeds directly, you could try scattering them across a meal or in a salad instead.
Oats

Oats remain a popular pantry addition. This is hardly surprising, as they're inexpensive and easy to use. A bowl of oatmeal is still one of the simplest ways to have a high protein breakfast.
Many recipes use oats as an ingredient too, giving you another way to add oats into your diet. The oats may barely be noticeable in some of these recipes and are merely there to add nutrition.
You can choose from options like rolled oats, quick-cook oats, or steel oats, but the nutrition is similar. Regardless, you're using a whole grain ingredient that is filling and packed with fiber.
Pumpkin

Pumpkin is an easy way to get more fiber, given that pumpkin is used as an ingredient in so many recipes – especially in the colder months.
While fiber levels vary by pumpkin type, on average, a cup of cooked pumpkin will provide around 3 grams of fiber. You can turn to canned pumpkin too, which makes things even easier. A full can will give you 7 grams of fiber, although you might not be eating that much in a single serving.
Pumpkin is also fairly low in calories. This makes it a useful choice if you're trying to lose weight.
Parsnips

If you enjoy roasted veggies, then parsnips are a decent choice. A 100-gram serving of parsnips contains almost 5 grams of fiber, which is a combination of soluble and insoluble fiber.
Parsnips aren't as versatile as some other vegetables. Honestly though, this doesn't matter. You're not exactly short of options for fiber.
Raspberries

Raspberries are one of the highest fiber fruits. This shouldn't be too surprising when you think about how many little seeds raspberries contain.
In fact, a cup of raspberries contains around 8 grams of fiber. While this is less fiber than in many of the other entries on this list, it's a decent amount for a fruit.
Raspberries are also versatile. Countless recipes take advantage of their sweet and tart flavor. They can even be used from frozen with ease, especially if you're planning to make a smoothie.
Blackberries

While all berries offer some fiber, blackberries stand out in the same way that raspberries does. This shouldn't be surprising, as the berries are packed with tiny seeds.
Of course, you don't need to focus on a single type of berry. Each option has advantages.
Plus, if you're relying on frozen berries, you might be getting mixed bags of berries, rather than a single type. A mixture of berries like this is the perfect way to optimize your phytonutrient intake.
Popcorn

On a cup-for-cup basis, popcorn isn't a great choice for fiber. For 3 cups of air popped popcorn, you're only getting around 3.5 grams of fiber.
Still, eating 3 cups of popcorn in a serving isn't too challenging. Many of us do so without really intending to. If you skip the butter and other high calorie toppings, popcorn even ends up being a healthy snack.
Popcorn also tends to be low in calories and the ratio of fiber to calories is decent.
Apples

If you eat the flesh and the skin, then a medium apple will give you roughly 4.5 grams of fiber. This amount does vary a little depending on the apple variety, but the variation isn't dramatic.
Apples happen to be inexpensive and easy to carry around. They have a decent shelf life too, which makes them more practical than many other types of fruit.
Then, of course, there are all the recipes that rely on apples. These are another way to get the flavor, fiber, and other nutrients from apples.
Pears

Pears are quite similar to apples, so it shouldn't be surprising that they've made this list too. In fact, pears even have a little more fiber per serving than apples.
As with apples, you need to be eating the skin of a pear to get the most fiber. There is some present in the flesh of the fruit too, but the skin is a critical source of fiber in both pears and apples.
Prunes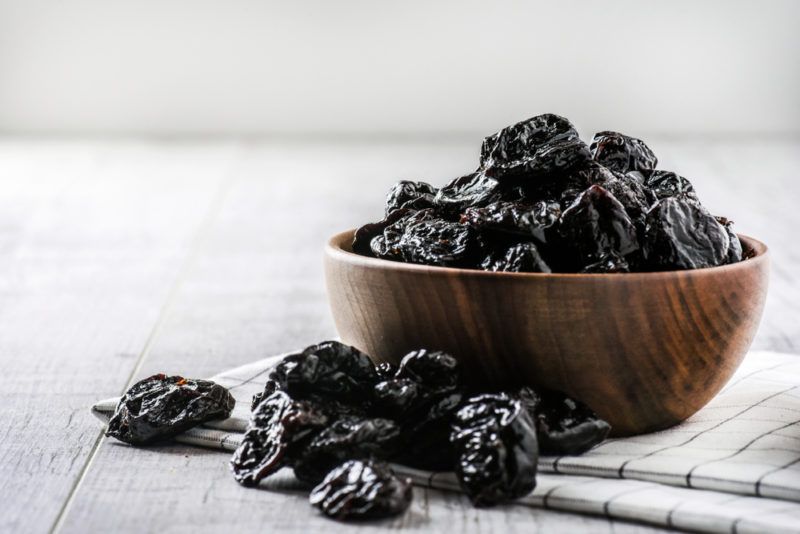 Prunes are, by far, the best dried fruits for fiber. Just 6 prunes will give you 12 grams of fiber. They're an easy way to get more fiber, as you can simply snack on prunes. There's no need to do any cooking or prep work.
Prunes also contain the compound sorbitol. This has a slight laxative effect and is the reason that prunes can help to relieve constipation and keep you regular.
However, it's essential to pay attention to the number of prunes you eat. Despite their benefits, prunes are high in sugar. The fiber helps to stabilize the sugar's impact on your blood sugar levels, but too much sugar isn't a good idea.
Artichokes

Artichokes and artichoke hearts will both provide a decent amount of protein. Artichoke hearts are especially prevalent in the United States and a half cup serving of the cooked hearts contains roughly 7 grams of fiber.
You'll get the same amount of fiber from a medium artichoke.
Artichokes might seem a little strange if you haven't tried them before. After all, the spiky vegetable does look weird. Still, when cooked well, artichokes can taste delicious on their own or as an addition to a meal.
Green Peas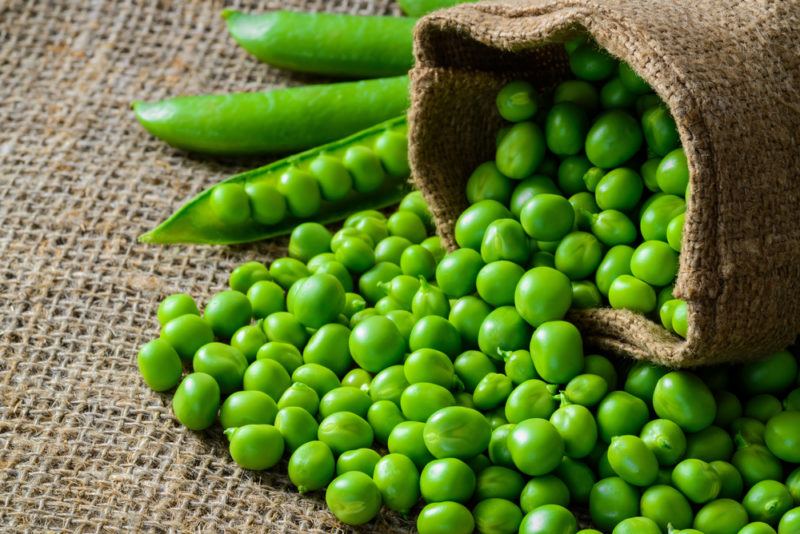 Green peas aren't a very fashionable ingredient. They've been a classic dinnertime vegetable for a long time, perhaps because they're inexpensive and be quickly cooked from frozen.
Fashionable or not, a cup of boiled green peas gives you around 9 grams of fiber. This isn't too bad, especially if you're getting fiber elsewhere in your meal too.
Spinach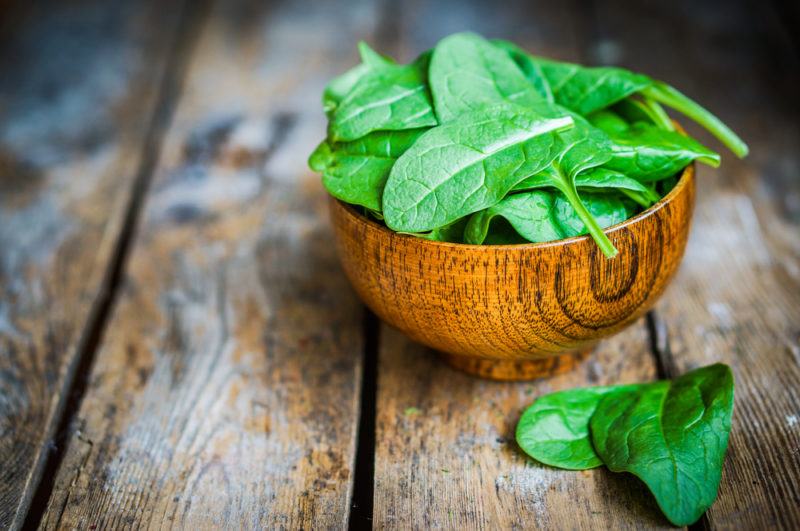 All leafy greens will give you some fiber. Spinach is one of the best choices, with a cup of cooked spinach containing 4 net grams of fiber.
Spinach is also easy to find in grocery stores and is often less expensive than more fashionable leafy greens. Many recipes rely on spinach, making it easy to include the vegetable in your meals. For that matter, there are lots of ways to eat dark leafy greens.
Chickpeas

We've featured various legumes on this list so far and chickpeas are another example. Just half a cup of cooked chickpeas provides 6 grams of fiber, along with 7 grams fat.
While hummus is one of the most popular ways to use chickpeas, there are other ways to use the legume as well. One is to roast and season the chickpeas, then eat them as a snack – just like you would with nuts.
Snacking on roasted chickpeas like this can be perfect for dieters, as chickpeas are lower in fat and calories than nuts. They can be just as tasty too.
Whole Wheat Flour

Whole wheat flour is another easy way to increase your fiber intake. This type of flour contains all parts of the wheat seed, while white flour is just made from the endosperm of wheat.
Relying on the endosperm gives white flour a finer texture and makes it inexpensive to produce. But, most of the fiber from wheat is lost during processing. Whole wheat flour maintains this fiber, along with other nutrients.
It tends to have a darker color and a different consistency compared to white flour.
You can bake with whole wheat flour, but the results aren't always the same, partly because whole wheat flour is heavier. One way around this is to use a combination of whole wheat flour and white flour. For example, a 50:50 mix will work well in some recipes.
If you're going to add fiber in this way, you'll need to pay attention to the products that you buy. Some flours are marketed as 'wheat flour', but may simply be white flour (the term is still technically correct, as white flour comes from wheat). To be safe, make sure the product you choose uses the phrase whole wheat flour.
Whole Wheat And Whole Grain Products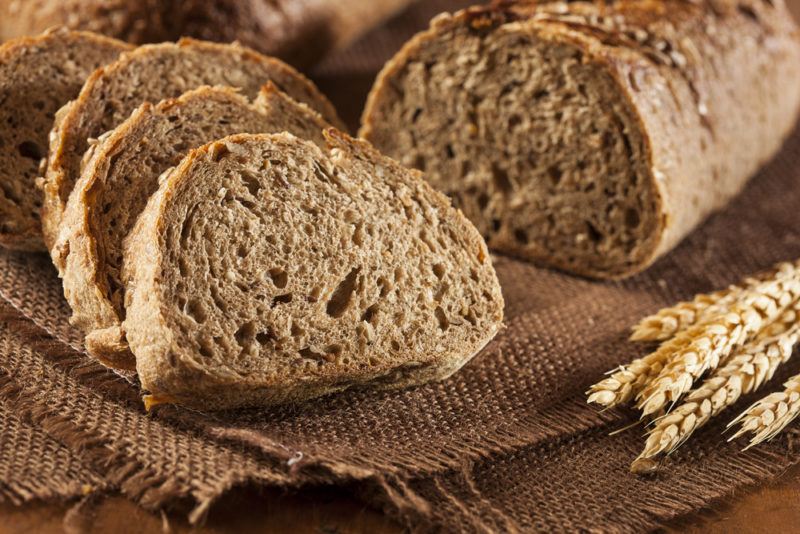 Many foods are marketed as being whole wheat or whole grain. The term whole grain simply means that the bran, endosperm, and germ of the grain is used, giving you the maximum nutrition.
Whole wheat is one type of whole grain. If something is marketed as whole wheat, then it will just contain wheat, while a whole grain product is likely to have multiple grains.
As a general rule, whole grain products will have more fiber than non-whole grain products. Whole grain foods are also digested more slowly. This can decrease the impacts on blood sugar levels, which is better for health all around.
Of course, the product that you choose matters too. Many whole grain products are highly processed. Some will have added ingredients as well, such as fillers and artificial flavors. High fructose corn syrup is sometimes added too, which can make some foods less healthy than they first seem.
Sprouted Grain Products

In some ways, sprouted grains are the next step up from whole grain foods. The idea is simply that the grains have been partly germinated. This makes them easier to digest, giving your body more usable nutrients than with unsprouted grains.
Sprouting grains can also be easier on human digestion. So, if regular grains sometimes make you feel sick, sprouted grains might be the answer.
Sprouted grain products tend to be less refined than regular whole grain foods. Some versions do still process the sprouted grains to create flour, while others leave the grains largely whole.
Ezekiel bread is one of the most well-known sprouted grain options. This bread can now be found in many grocery stores and is often frozen to make it last longer. Other products are cropping up as well, especially as sprouted grains become more popular.
Making your own sprouted grain products is also an option. You may need to find a good recipe. Thankfully, with so many food bloggers out there, you're never going to be short of recipes.
Other Grains And Pseudocereals

While wheat might be the go-to grain for many situations, there are countless other grains to choose from. Some of these fall into the category of ancient grains, which simply means that they haven't been modified much over time.
This lack of change could make ancient grains better for you, although debates rage about that claim. Either way, each type of grain has its own nutrient profile. Including more unusual grains in your diet is a great way to get more nutrients.
Some ancient grains are particularly high in fiber. Farro is one of these (it goes by the name emmer too). Farro is chewy with a nutty flavor and can be a good substitute for rice in a risotto. You could also add it as an extra ingredient to stews or soups.
You'll also find pseudocereals. Some are considered to be ancient grains, while others aren't. Pseudocereals are seeds that we use as if they were grains. Quinoa is one of the most famous examples. There are many others too.
Quinoa

If you haven't heard of quinoa, then you have probably been living under a rock. This little seed has skyrocketed in popularity, earning the label superfood.
The popularity comes from how nutritionally dense quinoa is. The seed is also high in fiber and protein, making it a satisfying choice.
Quinoa can be served warm or cold, on its own or as part of a meal. For example, warm quinoa makes an ideal side dish to dinner. You can also use quinoa instead of rice in most dishes. Replacing rice with quinoa works well, as quinoa is more nutritious and is just as easy to prepare.
Quinoa can also make meals interesting, as it has a slight crunch and some nuttiness. These aspects are perfect if you're getting bored of white rice.
Buckwheat

Buckwheat is an interesting choice because, despite the name, this pesudocereal isn't related to wheat at all. It is even entirely gluten free – and happens to be very versatile.
In particular, buckwheat groats can be ground up and used as a key ingredient in many types of baking. You can even find buckwheat flour at some stores, which makes the whole process easier still.
Buckwheat can also be used as groats, which are often fried and then boiled. These are sometimes pre-roasted, which helps them to keep their shape and provides a nuttier flavor overall.
Regardless of how you prepare buckwheat, the pseudocereal is known for its nutritional content, which includes a significant amount of protein and fiber.
Flaxseeds

We've mentioned seeds a few times on this list already. For that matter, most types of seeds will give you plenty of fiber. However, flaxseeds are especially interesting.
For one thing, the seeds offer a decent amount of ALAs, which are plant-based omega-3 fatty acids. ALAs offer some of the same benefits that you find in other omega-3 fatty acids, including the chance to decrease heart disease risk.
Flaxseeds are also easy to use. They're small and their flavor isn't dramatic, so you can easily sprinkle them on top of meals or add them into a smoothie.
Alternatively, give ground flaxseeds a try. These can be easily mixed in with meals to add a boost of fiber. You mightn't be able to taste them at all.
While ground flaxseeds are easy to find, you can also purchase whole flaxseeds and grind them yourself. Flaxseeds are fairly soft, so you can use a regular food processor or a coffee grinder to grind them.
Psyllium Husk

Psyllium husk is mostly used as an ingredient, not as a good in its own right. Still, it is too interesting to ignore entirely. Basically, psyllium husk consists of powdered seeds from plants in the plantain family.
Psyllium husk ends up being an excellent source of fiber, giving your around 5 grams of fiber in a single tablespoon of the powder. Few other sources of fiber are this effective.
Plus, psyllium husk has little flavor, so it can be easily added to meals for extra fiber.
You'll often see psyllium husk recommended as a laxative. This is because it expands during digestion and helps to clear out your colon. Just make sure to drink plenty of water if you're using psyllium husk, otherwise you may experience some discomfort.
Bran

Bran is the outer layer of a cereal crop, like wheat. Whole wheat flour, for example, includes the bran from wheat, while white flour doesn't.
You can purchase bran products, such as bran flour, bran cereal, and bran bread, along with bran itself as a fiber supplement. Bran tends to be very high in fiber, more so than any other part of the grain.
The fiber content of bran is the reason that whole grain foods contain more fiber than foods like white bread. However, bran isn't always the best way to increase your fiber intake, as it can be hard to digest.
People who struggle with digestion, including those with irritable bowel syndrome, may find that bran makes their symptoms worse.
Potatoes With Skin

While they're not exceptionally high in fiber, potatoes are also a viable source of fiber, especially if you're eating the skin.
The fiber content does vary dramatically from one type of potato to the next. For example, russet potatoes only contain 2.8 grams of fiber, while white potatoes contain 5.1 grams of fiber instead.
Sweet Potatoes

Sweet potatoes are in a class of their own, as they're not technically potatoes at all. Their flavor profile is notably different than regular potatoes, making them useful in a variety of meals.
Surprisingly, sweet potatoes contain more fiber than regular potatoes, with an average of 6.4 grams of fiber for a medium sweet potato.
Sweet potatoes are also a good source of phytonutrients, which are potent for your health too.
Brown Rice

Brown rice is a type of whole grain, which includes the bran, germ, and endosperm, unlike white rice, where only the endosperm is present. This difference is why brown rice is often considered to be much healthier than white rice. It also means that brown rice is higher in fiber.
Some people find that brown rice is more appealing in meals, as it is chewier and also has a slightly nutty flavor. White rice can seem somewhat pale in comparison.
Now, brown rice isn't as fiber packed as some of the other options on this list, but it's still a better choice than white rice.
Insects

While eating insects isn't on everybody's to-do list, edible insects do have some distinct advantages. Many of them are highly nutritious, sometimes even more so than beef, chicken, and other meats.
One benefit is that, most of the time, you're not just eating the flesh of the insects. You're eating the entire thing, which includes exoskeleton and organs. I know the idea sounds gross, but you're getting a different combination of nutrients than you would from other sources.
This is particularly relevant for fiber, as the inset's exoskeleton ends up being a particularly good source of insoluble fiber. While insects probably won't be a regular addition to your diet, the idea is worth thinking about.
If nothing else, why not consider trying insects next time you get the chance? They are often featured at food festivals or markets. And, who knows? Insects might end up being the food of the future.
Avocados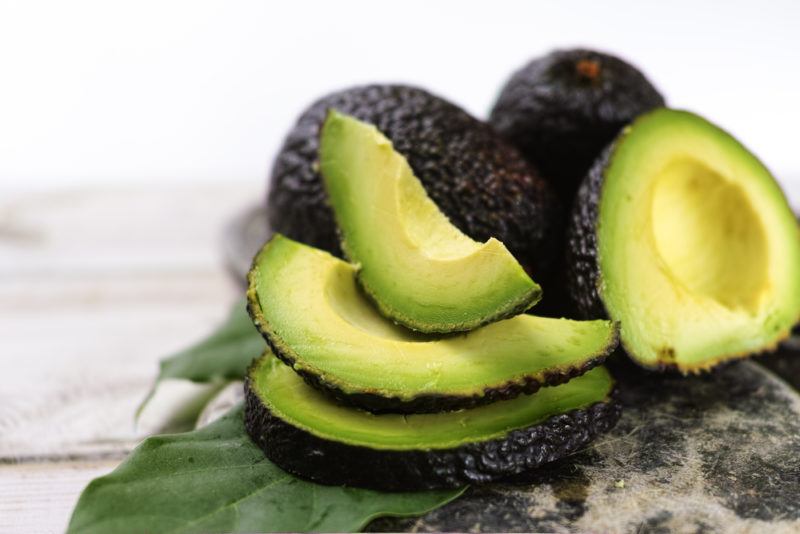 Avocados are mostly seen as a source of healthy fats. Still, like any fruit or vegetable, they do contain fiber as well. In fact, half of an average avocado will provide 5 grams of fiber.
Because most of the carbs in an avocado come from fiber, the fruit is a popular low carb food choice. Avocado has even become one of the star foods of a keto diet.
But, you don't need to be following a low carb diet to enjoy avocado. The healthy fats that the fruit offers are relevant for any diet type. Just make sure to watch your portion sizes. The high fat content of avocados mean that the fruit is high in calories too.