Magnesium is one of those nutrients that people often don't think about too much. After all, magnesium is naturally present in many foods and is even added to some foods. Despite this, you might not be getting enough magnesium, which is why magnesium rich foods are so important.
Why is magnesium important? Well, for one thing, it is a cofactor in 300 plus different biochemical reactions in our body. We need enough magnesium in our bodies to make these reactions run as they should.
Because of this, magnesium is vital for many different functions in our bodies, including energy production, maintaining a healthy heart rhythm, and transporting calcium into cells. Plus, having low magnesium intake too often could increase your risk of some diseases.
For adults, the recommended daily magnesium intake is 420 mg for males and 320 mg for females. However, some theories suggest that higher magnesium intake could offer additional benefits.
Increasing magnesium intake is particularly relevant if you're experiencing muscle pain or tightness. Sore muscles can sometimes be a symptom of magnesium deficiency, especially if there is no apparent cause for the pain you experience.
Magnesium Rich Foods
Dark Chocolate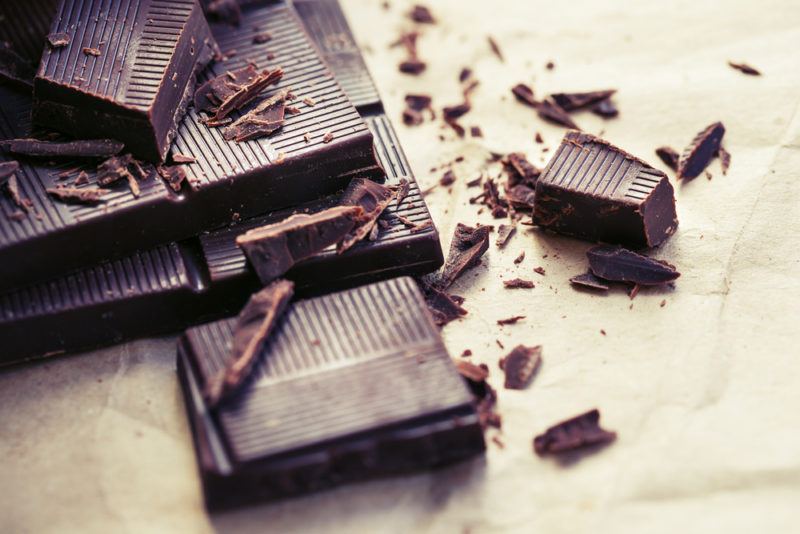 While milk chocolate is often full of sugar and can be high in calories, dark chocolate is something different entirely. It has a much higher cocoa concentration and fewer added ingredients. This generally makes dark chocolate less processed and better for you.
The higher cocoa concentration of dark chocolate gives you access to more of the powerful phytonutrients present in cocoa beans. Many of these are antioxidants. They help to protect your body from free radicals, which can damage cells.
The type of dark chocolate that you choose matters.
Focus on brands that use few extra ingredients, preferably ones that do not use artificial additives and do not add in much sugar. The best dark chocolate has no added sugar at all.
Pay attention to the cocoa content too. You'll want chocolate that is at least 75% cocoa. The higher the percentage, the better the chocolate is for you.
As for magnesium, the amount will vary depending on the brand, how it is made, and how much chocolate you eat. But, according to one estimate, you'll get around 64 mg of magnesium in a 1-ounce serving.
Almonds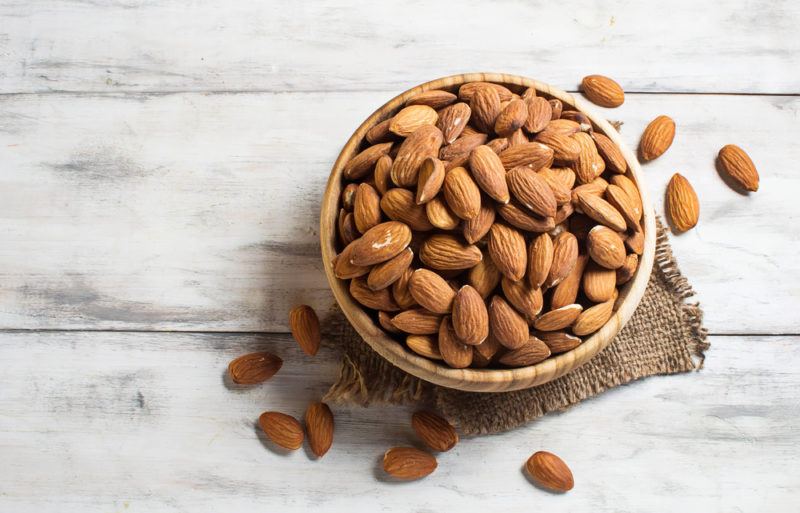 While most nuts contain some magnesium, almonds are an especially good source of the nutrient. A single ounce of almonds contains roughly 20% of your daily magnesium intake (roughly 80 mg of magnesium).
The magnesium content of almonds isn't their only appealing feature. Almonds also make a deliciously easy snack that is rich in protein. The monounsaturated fats in nuts, including almonds, have many health benefits too.
In fact, almonds are often considered to be the healthiest nut. They have a very appealing balance of nutrients and taste delicious when roasted.
Relying on the nuts themselves isn't your only option. You could try almond butter too, which provides all the nutrients that almonds offer and is very easy to use.
You will also get some magnesium in almond milk. But, unless the milk has been fortified, you probably won't get much magnesium. After all, almond milk is mostly made up of water, so it's not a great source of nutrients.
Cashews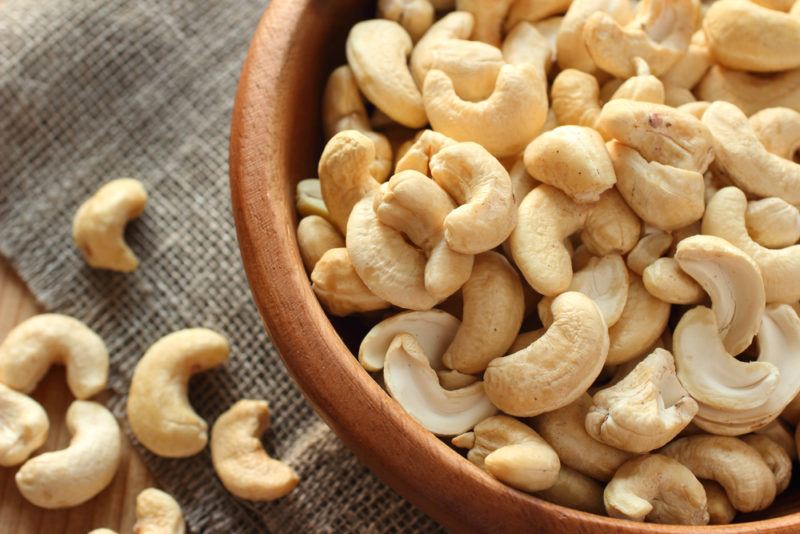 Cashews are another important nut for magnesium. This time, a 1-ounce serving offers 82 mg of magnesium. Cashews have also been linked to improvements in heart health. This includes a decreased risk of heart disease and reduced blood pressure.
Now, cashews often aren't considered as healthy as other nuts, as their saturated fat content is on the high side. Still, the impacts of saturated fats aren't as cut and dry as you might expect.
We're increasingly realizing that fat isn't as bad for health as we once thought. Even saturated fat might be healthy in the right context – and there can be no doubt that cashews themselves are healthy.
Brazil Nuts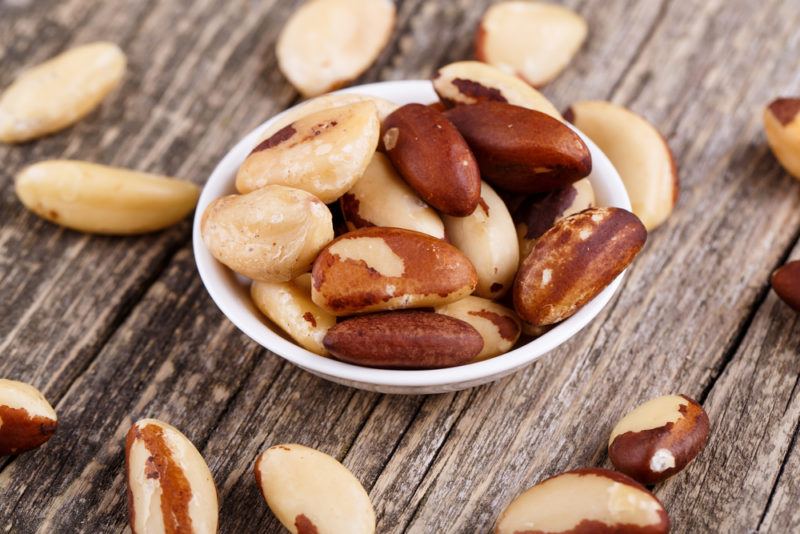 Brazil nuts aren't used for snacking nearly as often as almonds and cashews. Their larger size makes snacking a little more difficult and their flavor is unusual too.
Still, Brazil nuts have one saving grace – their selenium content. Selenium is a relatively uncommon nutrient, but just two Brazil nuts provide roughly your daily intake for selenium.
The compound may be particularly important for male health, but this doesn't mean that you should supplement it. Whole food sources of nutrients are always better and selenium supplements may provide too much of the nutrient.
And, of course, Brazil nuts can help increase your magnesium intake. A 1-ounce serving provides 107 mg of magnesium. That's considerably higher than almonds or cashews.
Lentils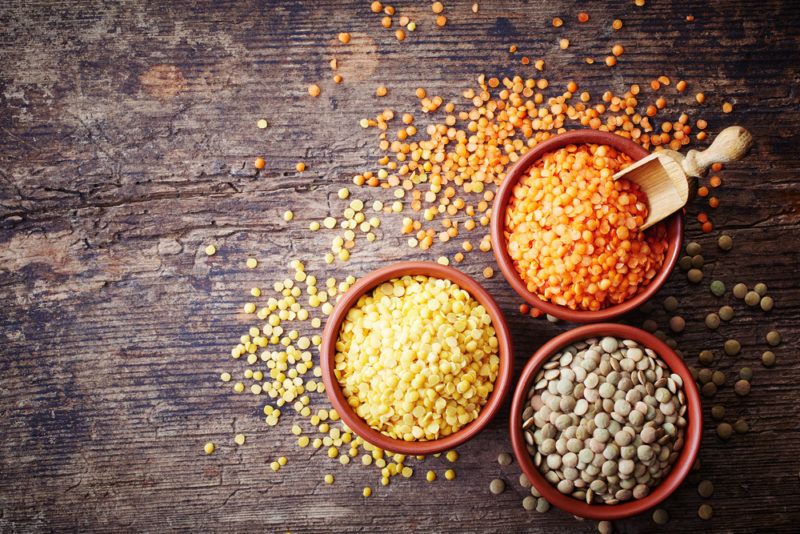 While lentils may not be the most glamorous food, there's no doubt that they're healthy. They contain a decent amount of protein and fiber, not to mention various nutrients and plant-based compounds.
As for magnesium, you get roughly 70 mg of magnesium in a cup of cooked lentils. Of course, you don't need to eat an entire cup at a time. Choose whatever amount works for you.
Lentils have another advantage too – they're easy to include in meals. Mixing them in with soups is the most common approach, but you can use lentils with many other dishes too.
Some recipes even use lentils as a key ingredient, which may mean that you get more lentils per serving compared to just including lentils in a soup.
Avocados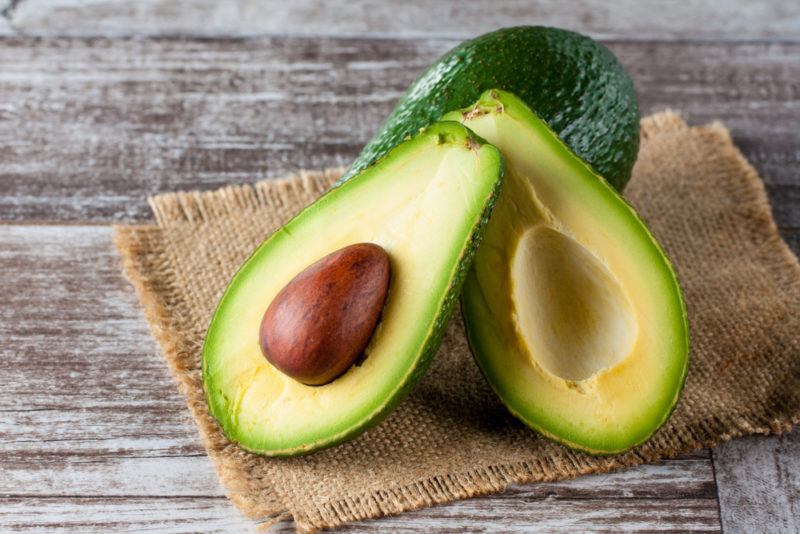 Avocados are famous for their amazing texture and for the healthy fats they contain. They are also a pretty good source of nutrients.
With a medium avocado, you're getting around 15% of the recommended daily intake of magnesium. Even if you only eat half an avocado, which is a more common serving size, you're adding a significant amount of magnesium to your diet.
This isn't all. Most of the carbs in avocados are fiber. There aren't many digestible carbs in the fruit at all, which is why avocados are so popular among keto dieters.
Tofu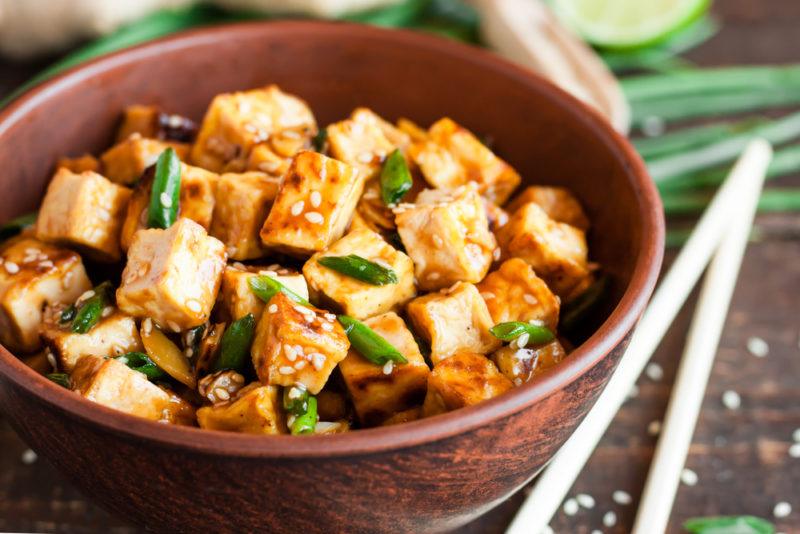 Tofu is a classic vegan source of protein that is made from soybeans. It tends to have little flavor of its own and instead takes on the characteristics of other ingredients in your meal. This makes it a fantastic ingredient for many dishes, although some people enjoy tofu more than others.
There is a variety of tofu types and brands out there. The magnesium content varies across these. One estimate suggests that the magnesium content per 100 grams varies from 10 mg to 181 mg, with many types of tofu offering 50 mg or more of magnesium.
Tempeh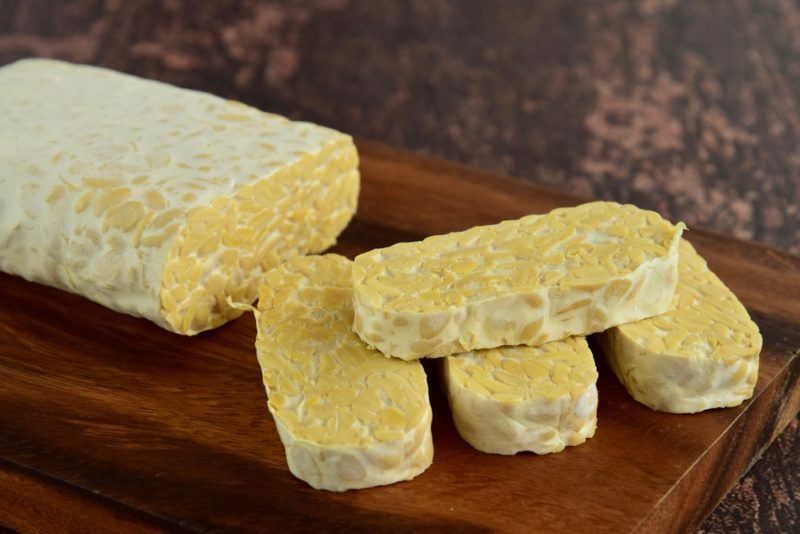 Tempeh is a type of fermented food that is also made from soybeans. It tends to contain more magnesium than tofu, with an average of 81 mg of magnesium in a 100-gram serving.
Another difference is flavor. Instead of being flavorless like tofu, tempeh is slightly nutty. The fermentation process makes tempeh a good source of probiotics too. These healthy microbes may help to promote good gut health and improve overall health outcomes.
Tempeh also has a chewy texture, which can take some getting used to. Still, tempeh makes a perfect alternative to tofu.
Finally, some versions of tempeh have extra ingredients added in, such as wheat. In some cases, soybeans may be substituted for a different type of bean, but this will change the nutritional profile of tempeh.
Natto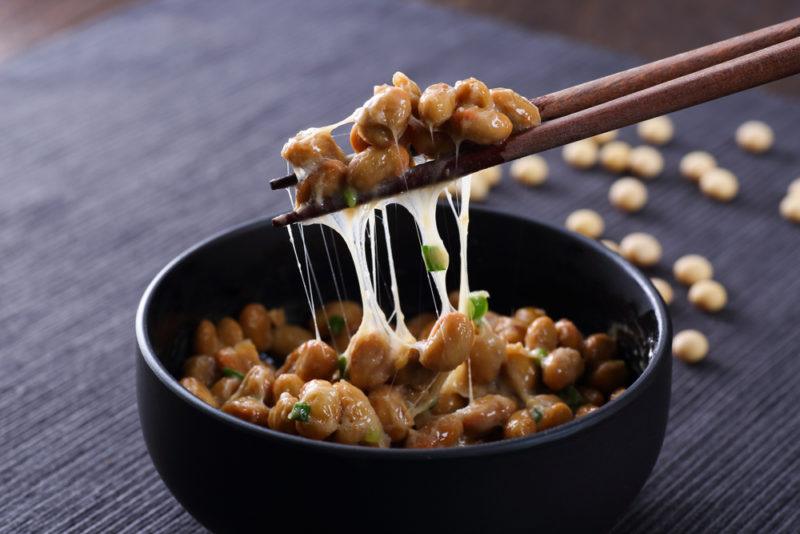 We've featured multiple soybean products on this list and natto is another one. The reason for doing so is simple – soybeans contain a decent amount of magnesium.
They're also a versatile bean. Many products rely on soybeans, including soy milk and soy flour. You'll often see soybeans and soy-containing products as ingredients in vegan meals, as soybeans are also a good source of plant-based protein.
Natto itself is a fermented soybean dish. It is popular in Japan and a potent source of probiotics.
But, as the image above suggests, natto doesn't appeal to everyone. The dish is somewhat gooey, slimy, and sticky. This texture is something that many people can't get past. After all, we don't expect our food to feel like natto does.
A single cup of the soybean product does contain 201 mg of magnesium, along with the other nutrients and probiotics, so there's no doubt that natto is healthy. Of course, the health benefits of natto are only relevant if you are willing to eat it.
Bananas

Bananas might be most famous for their potassium content, but they do contain other nutrients too. A large banana provides you with a little less than 40 mg of magnesium.
This is an attractive amount when you consider just how simple bananas are to enjoy. After all, bananas have an easy-to-remove peel that helps to protect the fruit until it is time to eat it.
Bananas aren't just a snack on the go either. They're also popular as a smoothie addition. Using frozen banana slices in a smoothie provides a delicious creamy texture that is hard to get any other way.
Pumpkin Seeds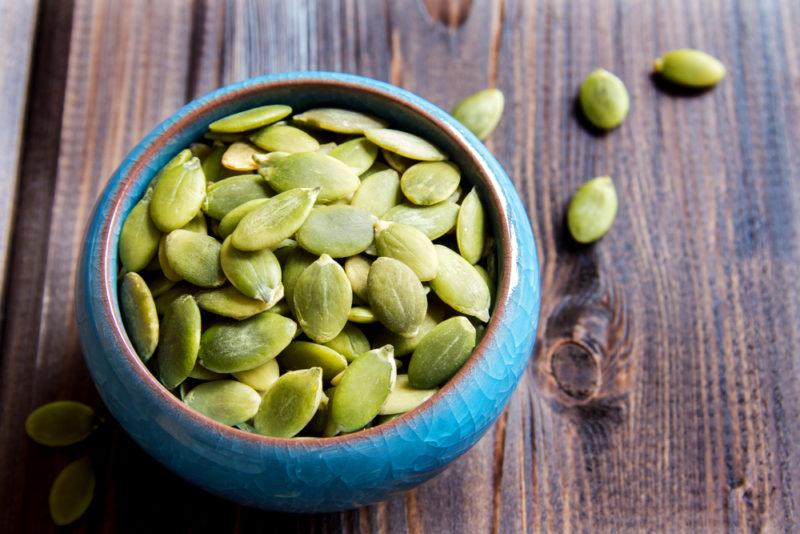 Pumpkin seeds aren't just tasty and convenient snacks, they're also highly nutritious. A 1- ounce serving of the seeds provides an impressive 40% of the daily value for magnesium, along with 14% of the daily value for iron.
The seeds are a good source of protein too. They are an easy way to stave off hunger between meals or to simply boost your nutrient intake.
Flaxseeds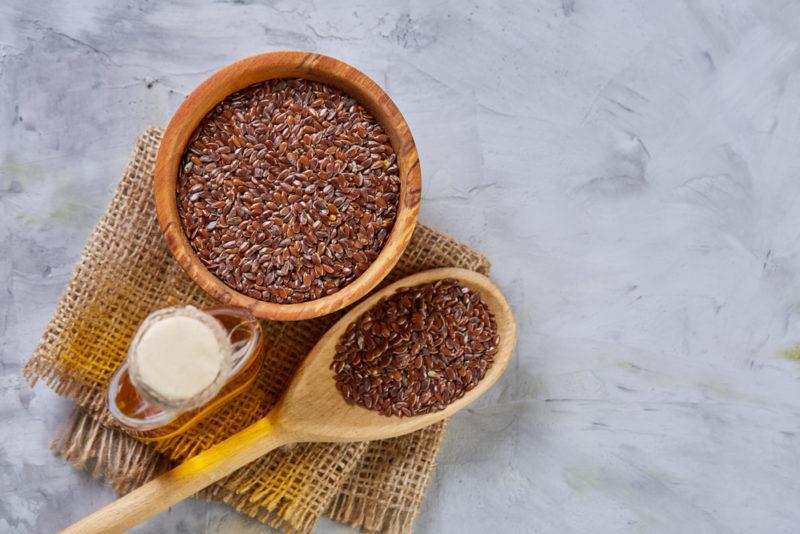 Flaxseeds aren't as easy to snack on as pumpkin seeds. You'll often sprinkle them on top of a meal instead or mix ground flaxseeds in with other ingredients. Interestingly, the ground form is usually recommended, as ground flaxseeds can be digested more easily than whole ones.
Both types of flaxseed are easily found at most health food stores. You can also buy whole flaxseeds and grind them yourself in a food processor or even a coffee grinder.
Magnesium isn't the main feature of flaxseeds. Instead, they're popular because they contain ALAs, which are a plant-based type of omega-3 fatty acid. ALAs aren't as powerful as the omega-3 that you get from fish, but ALAs are still important, especially if you don't eat fish regularly.
Research suggests that flaxseeds may help to improve blood cholesterol levels, reducing the risk of heart disease.
Leafy Greens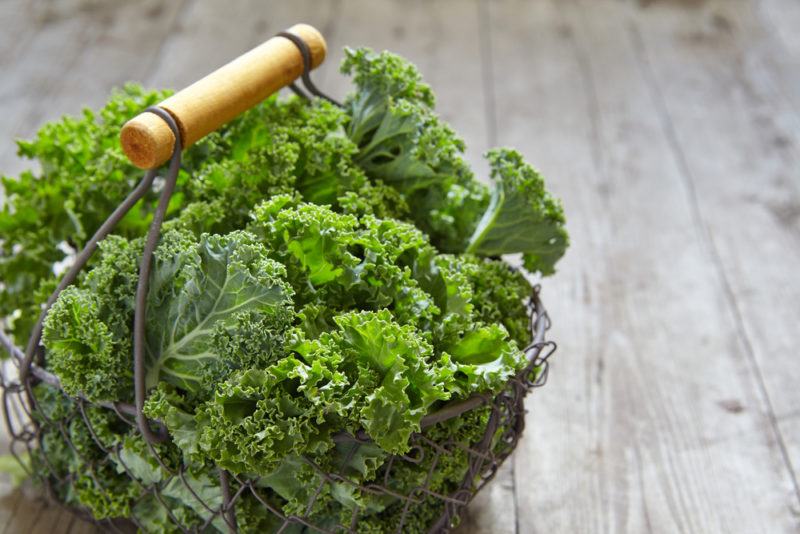 Regardless of the type that you use, leafy greens are full of nutrients. Each type offers a slightly different nutritional profile, which is the reason for including a variety in your diet.
For magnesium, spinach is an especially compelling choice. A cup of cooked spinach gives you close to 160 mg of magnesium. A full cup of the green might sound like a lot, but you can easily use it in recipes. Besides, even half a cup or less still provides a decent amount of magnesium.
Other good greens to choose include Swiss chard, collard greens, and kale. Leafy greens can be enjoyed in many different ways too, so they're surprisingly easy to add into your diet.
Artichokes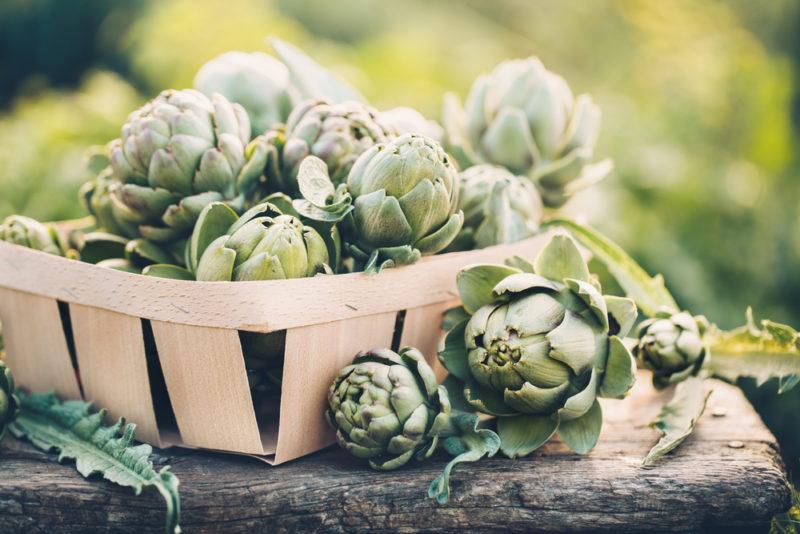 Artichokes are another green choice for magnesium. Just like leafy greens, they're also low in calories and high in fiber, making them an attractive healthy food.
A medium artichoke will provide a little over 75 mg of magnesium, which is probably as much as you'll be eating in a single serving.
Don't worry if artichokes look and sound a little strange, countless amazing recipes use artichokes. Some of them bury the taste and texture of artichokes so much that you mightn't realize the vegetable is there at all.
A Potato With Skin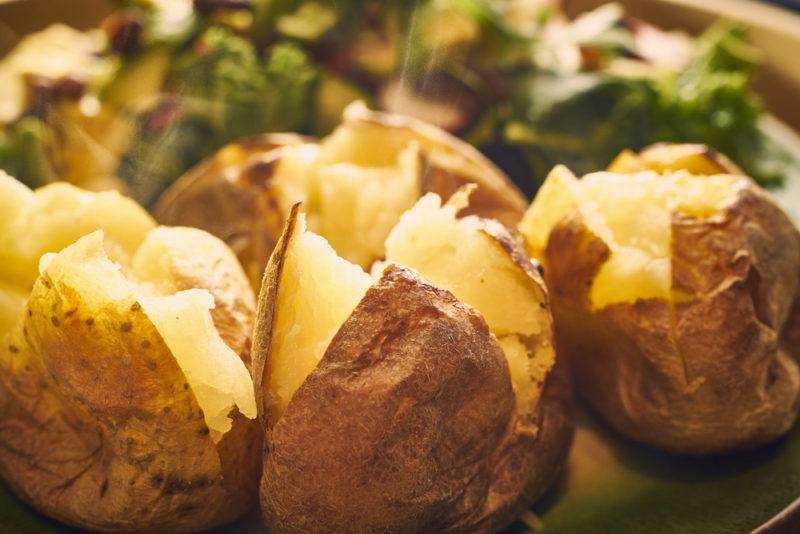 The humble potato is more nutritious than you might expect. A large baked potato, skin and all, will give you more than 80 mg of magnesium. It contains a decent amount of potassium too, along with iron and B vitamins.
Just be sure to eat the skin, as this is rich in fiber.
Despite their starch content, potatoes are surprisingly filling. You'll generally feel satisfied for longer after enjoying a potato-based meal than one that relies on pasta.
Of course, you will need to be careful with the toppings. It's easy to load potatoes up with less-than-healthy toppings, like sour cream, cheese, and bacon. Doing so creates a high-calorie dish that won't be good for your waistline.
Chia Seeds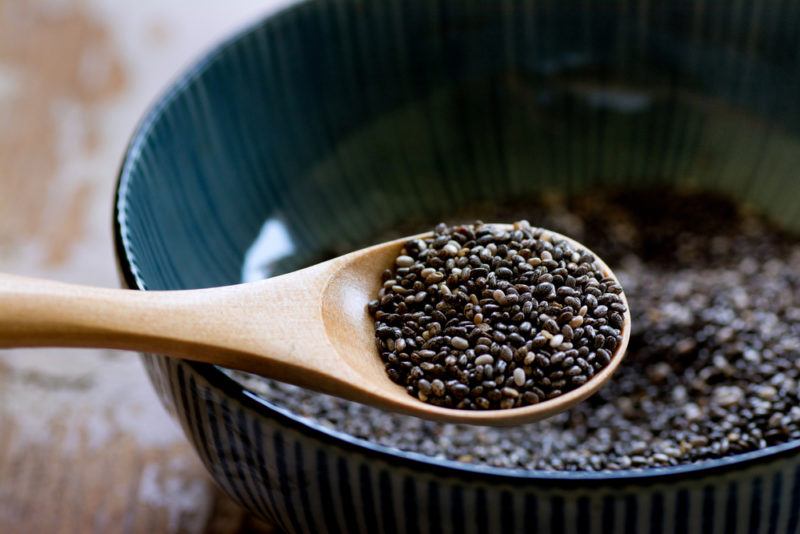 You'll sometimes see chia seeds called a superfood, partly because they are tiny and yet are such a good source of nutrients. Chia seeds are particularly appealing for their fiber content, as a 1-ounce serving of the seeds contains 11 grams of fiber.
Chia seeds are useful for their magnesium too. You're getting around 30% of your recommended daily magnesium intake from a single 1-ounce serving of the seeds.
The small size of the seeds means that you can simply sprinkle them on top of meals or include them in smoothies. Just be aware that the seeds do absorb liquid, which gives them a gelatinous texture. This isn't a problem in most contexts, but may not always be appealing.
Even more impressively, an ounce of chia seeds contains a little under 140 calories. As such, chia seeds are an easy way to add extra magnesium into your diet.
Wheat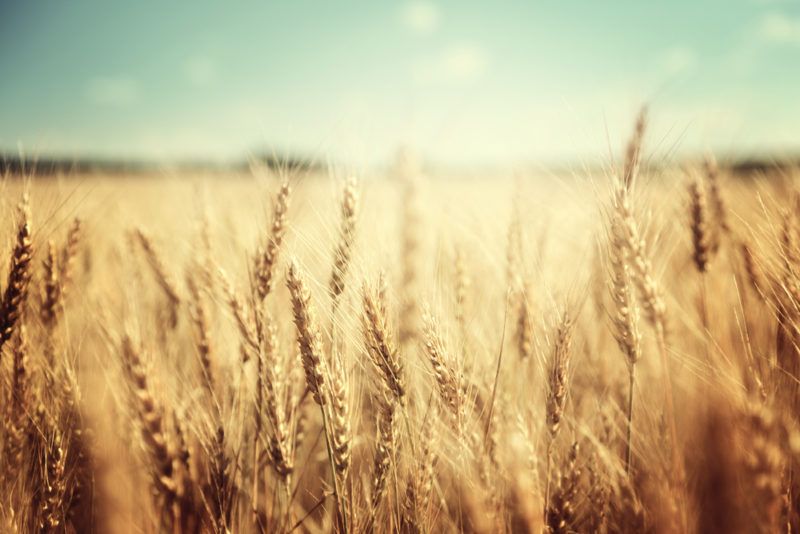 Whole grains tend to be a good magnesium source, and wheat is no exception. Whole wheat flour is a particularly powerful choice for magnesium, offering 160 mg of the nutrient in each cup.
This makes whole wheat flour an ideal baking choice. Plus, most recipes that use white flour will work well with whole wheat flour too.
Flour isn't your only option. You can also focus on whole wheat products from the grocery store.
Yogurt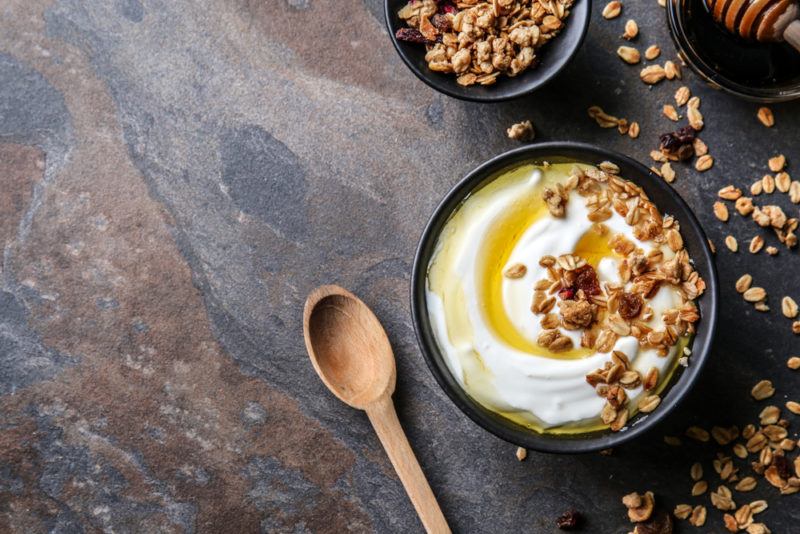 Yogurt might be most well-known for its calcium content, but the healthy snack contains some magnesium too. The amount isn't as high as some of foods on this list, as 100 grams of regular yogurt contains 15 mg of magnesium, while the same size of Greek yogurt contains 11 mg.
Still, the lower levels don't make yogurt a poor choice. After all, yogurt tastes good and could easily be topped other magnesium rich ingredients. What about yogurt with sliced bananas and chia seeds?
Yogurt is also a fermented food, so it provides probiotics that can help improve your gut health. There are many other fermented foods out there, that's true, but yogurt remains the easiest to find.
Just be sure to pay attention to the product label. While yogurt itself is healthy, many products contain extra sugar, artificial flavors, and artificial colors. Whenever possible, opt for versions that have been minimally processed, preferably those that say that they contain probiotics.
Barley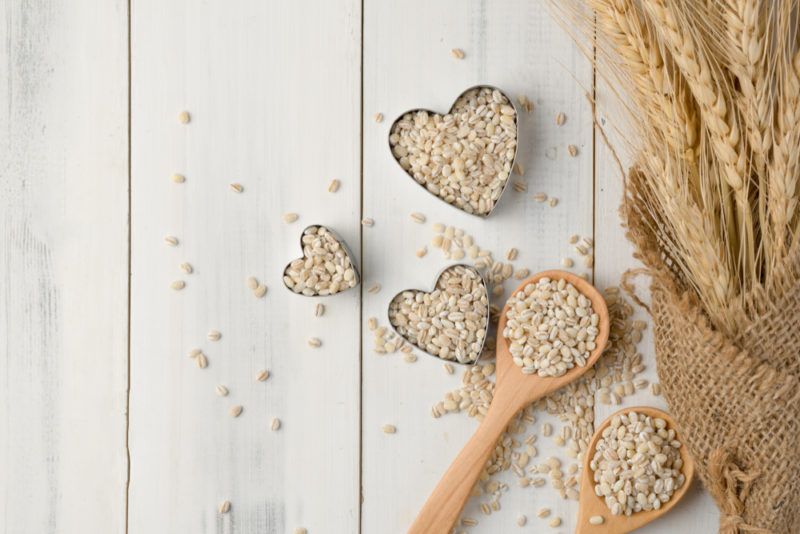 While most grains contain magnesium, some grains are better choices than others. Barley is a key example, with hulled barley offering around 130 mg of magnesium in a serving.
Barley isn't as difficult to use as you might expect either. Replacing regular flour with barley flour for baking is a good way to start. Barley can also be cooked and used much like rice as a side dish for meals.
Barley has another advantage too. It's relatively inexpensive compared to most of the other 'supergrains'. So, if you're hoping to add more nutrients to your diet, barley is an appealing place to begin.
Brown Rice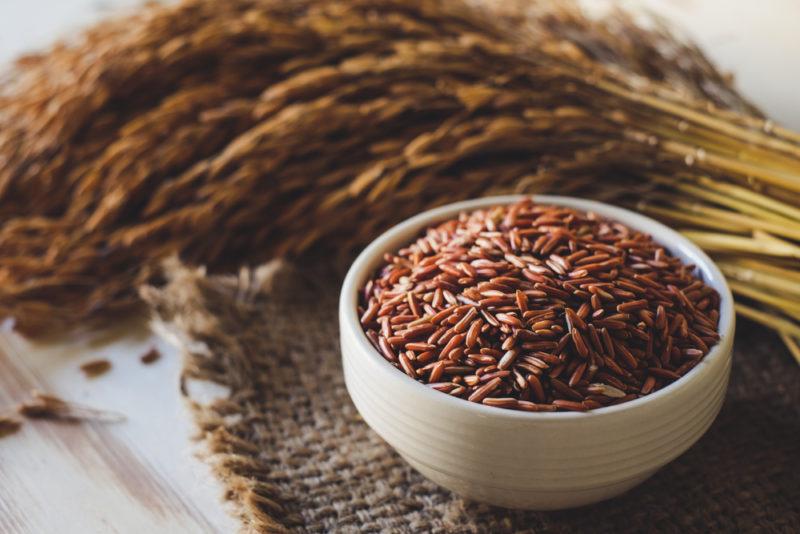 Rice might not have all that much flavor, but this doesn't stop it from being a common addition to modern diets. For one thing, rice is perfect as a side or a base to many meals, providing nutrients and carbs. The mild flavor of rice makes it ideal here, as there's no risk that the rice will clash with the rest of your meal.
There are actually many types of rice, and unlike white rice, brown rice uses all parts of the rice grain, including the bran, which is rich in fiber. This difference also makes brown rice a good source of magnesium, while white rice isn't.
Black Rice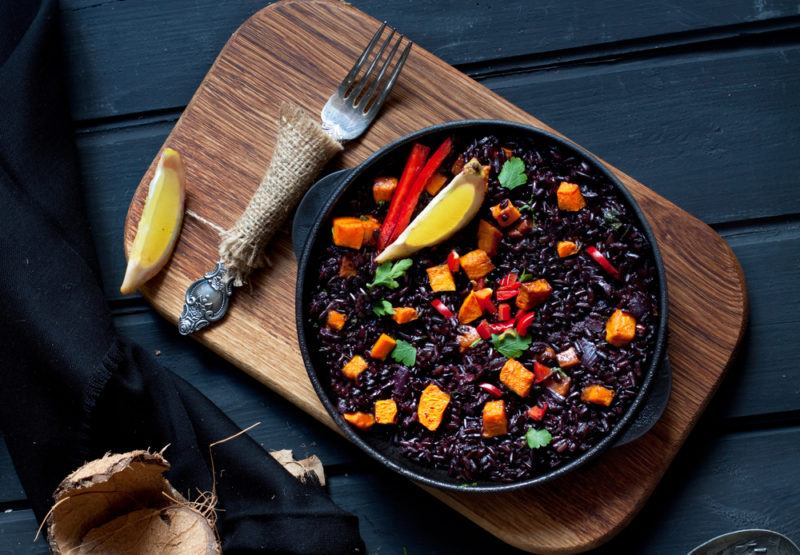 Brown rice might be powerful, but it pales in comparison compared to black rice. Black rice, also known as forbidden rice, is sometimes called a superfood as it includes some exciting phytonutrients and a powerful balance of nutrients.
A serving of black rice has more than twice the magnesium than in a similar serving of brown rice. Calcium and potassium levels are notably higher as well.
Quinoa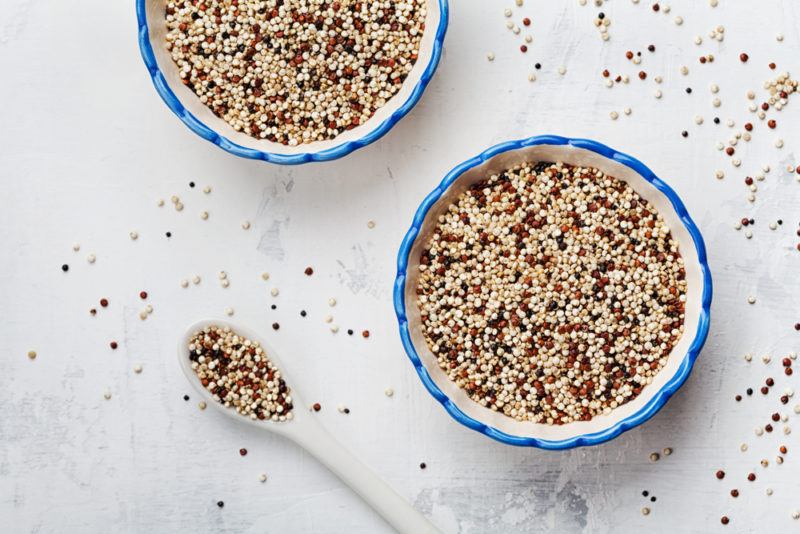 Quinoa is often called a superfood and a pseudocereal. The superfood label comes from how the seed contains many nutrients in a small package. The pseudocereal label is a reference to the way that quinoa is a seed, but we cook and eat it like a grain.
Quinoa is prepared simply by boiling it water. Other liquids can work too, like beef stock or bone broth. Once cooked, quinoa can be enjoyed hot or cold. It's perfect as a substitute for rice, especially as quinoa tends to contain more nutrients. Quinoa ends up being more interesting than rice too, as it has a slightly nutty flavor and a distinctive crunch.
Finally, with quinoa, you're getting a little under 120 mg of protein per cup of the cooked seeds.
Salmon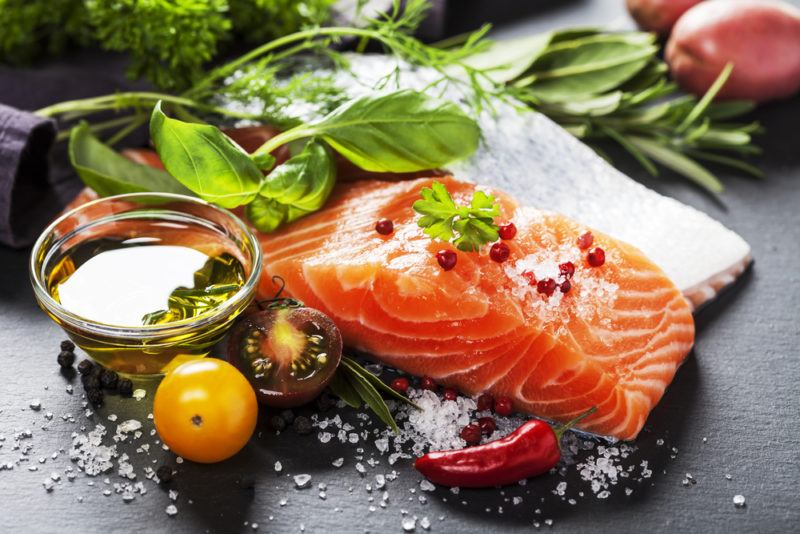 Many types of fish act as a good source of magnesium, including salmon. Salmon is especially appealing, as it is a fatty fish that is high in omega-3 fatty acids. In fact, salmon is often recommended for its nutritional profile, with wild-caught salmon considered to be the best.
The omega-3 fatty acids in fish are critical for health. They've been linked to a variety of benefits, including a decreased risk of depression. The potential benefits of omega-3 fatty acids are one reason that health recommendations often suggest consuming two or more servings of fish per week.
Salmon isn't the best source of magnesium, providing you with roughly 53 mg of magnesium in half a fillet. The amount will vary depending on the fillet size and whether the fish is wild-caught or farmed.
Still, when you consider all the other healthy compounds present, it's clear that salmon is exceptional for your health,
Halibut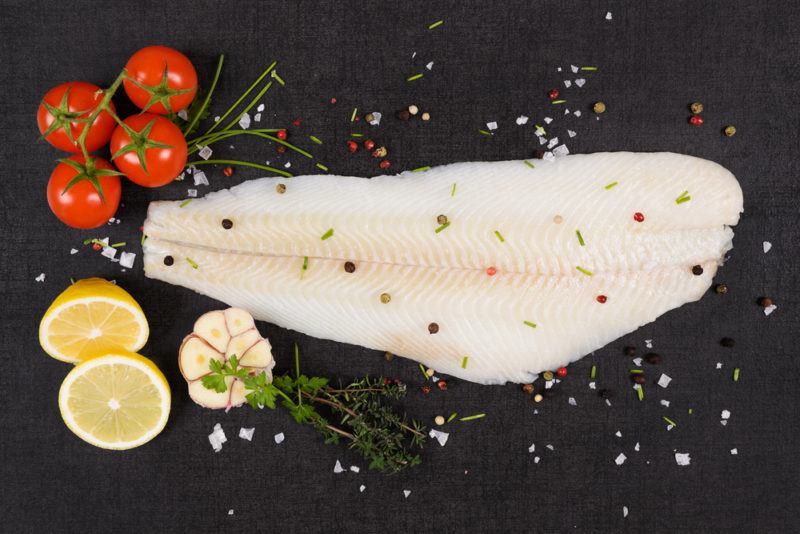 Halibut might not have the same amazing reputation as salmon, but it does offer many of the same nutrients. Three ounces of the cooked fish offers 90 mg of magnesium.
Halibut is a mild flavored fish with firm white flesh. The mild flavor makes the fish ideal for people who don't normally enjoy eating fish, as it is easy to pair halibut with bold seasonings. You can't easily do the same with strongly flavored fish.
The main limitation is that halibut can be expensive. It even ends up being more expensive than some types of beef. The high price is largely the result of supply versus demand, and doesn't suggest that halibut is better than other types of fish.
Mackerel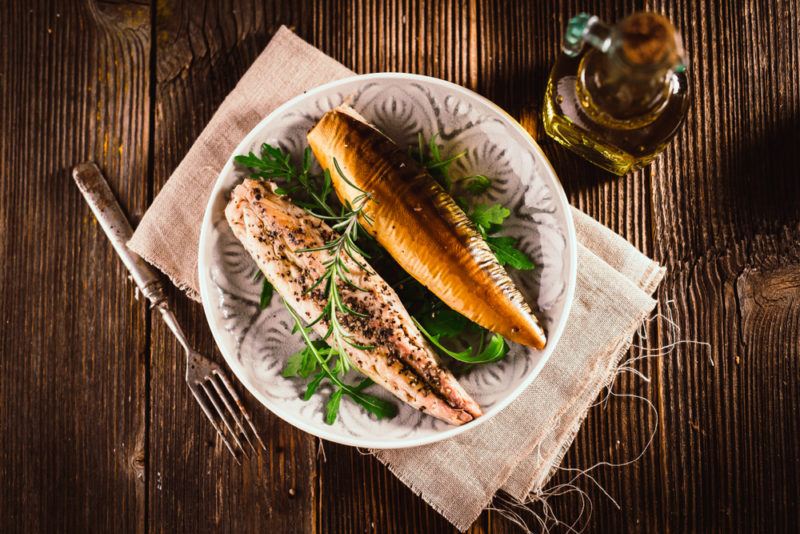 The name mackerel is used for various different types of fish. The fish are all considered pelagic and most of them are from the Scombridae family. Mackerel is similar to tuna in texture and boldness of flavor.
While the nutrient composition varies depending on the exact species, most mackerel acts as a good source of magnesium. Likewise, mackerel tend to contain a decent amount of omega-3 fatty acids and protein too.
Mercury levels remain a challenge with fresh fish. You need to be careful of the fish that you choose and your consumption levels, to keep yourself safe.
Unfortunately, the mercury content of mackerel does average higher than some other types of fish. King mackerel and Atlantic Spanish mackerel are the most concerning. Atlantic mackerel is a better choice, but you may still want to limit your consumption.
Prickly Pear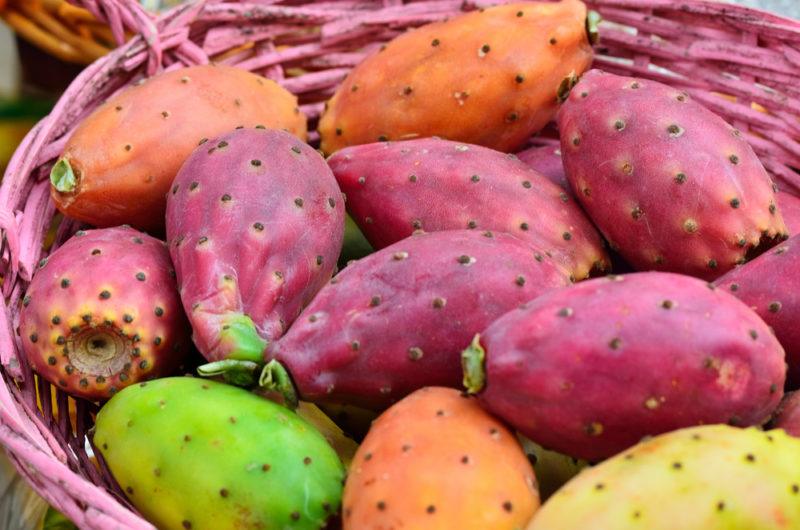 While prickly pears aren't a common addition to your diet, they're exceptional when it comes to magnesium. A single prickly pear contains close to 90 mg of magnesium. This is an unusually high level of magnesium for a fruit.
To eat a prickly pear, you need to carefully peel back and discard the skin. The flesh of prickly pears contains small seeds that you can eat without any problem at all. These give fiber and extra nutrients.
The flavor is sweet and somewhat bland – not so different than some melons.
Black Beans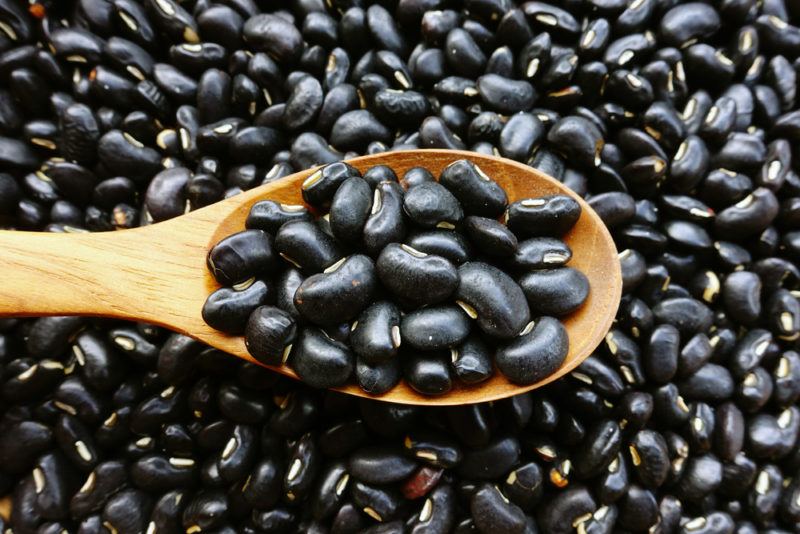 Beans are all rich in nutrients. They're great as a source of protein and fiber.
If you want to maximize your magnesium intake, then black beans are a great choice. A cup of the beans provides you with 120 mg of magnesium.
The beans are easy to use too. Countless recipes take advantage of beans. Chili is the classic example, but I'm sure you know of many more.
The color of the beans is interesting too. This does more than just make the beans look unusual. The pigment molecules in black beans also have antioxidant and anti-inflammatory properties. Some evidence suggests that they may also help to prevent against some types of cancer.
Other Types Of Beans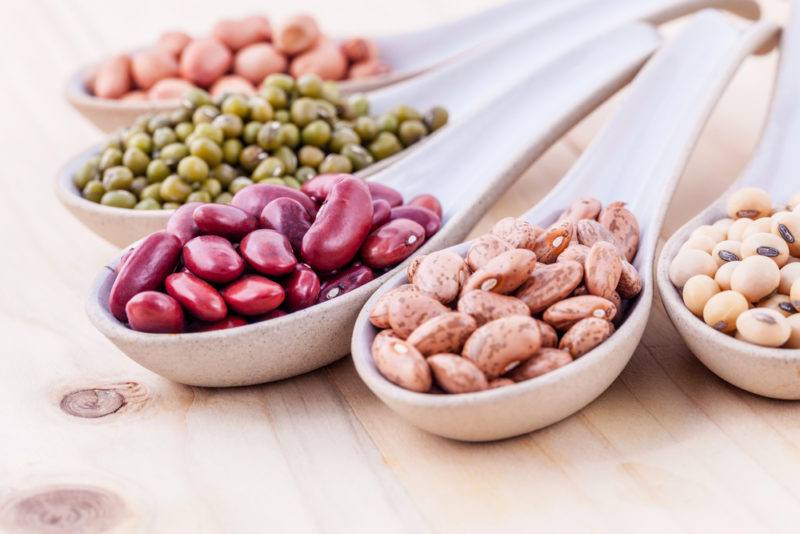 Black beans aren't your only option for magnesium. Other types of beans are rich in the nutrient too. Mung beans are an especially attractive choice, as are pinto beans.
While you can cook beans as-is, soaking them beforehand is often recommended. This helps to make the beans more digestible, so you get more nutrients from them than you would otherwise.
Some authors also suggest using vinegar in your cooking or in salad dressings. Vinegar is a useful way to improve mineral absorption, meaning you get more benefits from your beans.
Edamame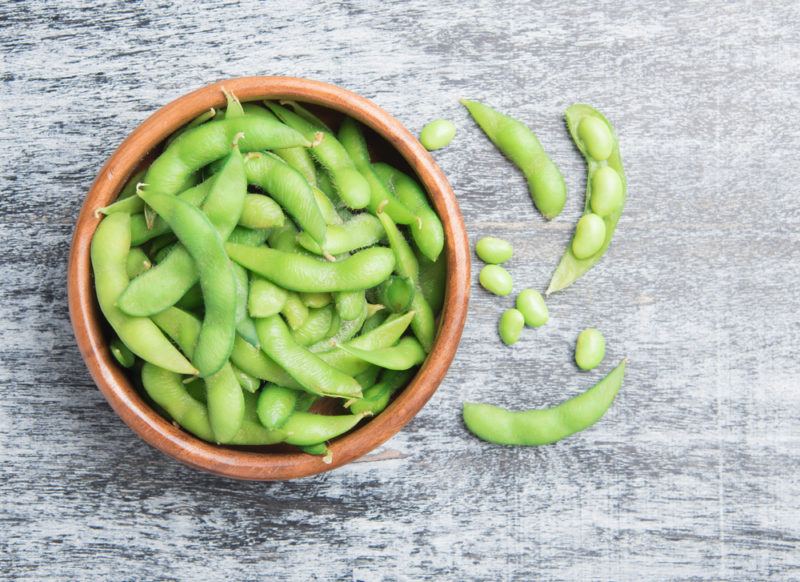 Edamame is a delicious snack that simply consists of cooked immature soybeans. The soybeans are generally boiled or steamed. They'll sometimes be served as is, while some recipes season the edamame.
Similarly, you can enjoy edamame warm or cold. When cold, edamame has an enjoyable crunch. Edamame is also low in calories, making it an especially healthy snack.
Meal Replacement Shakes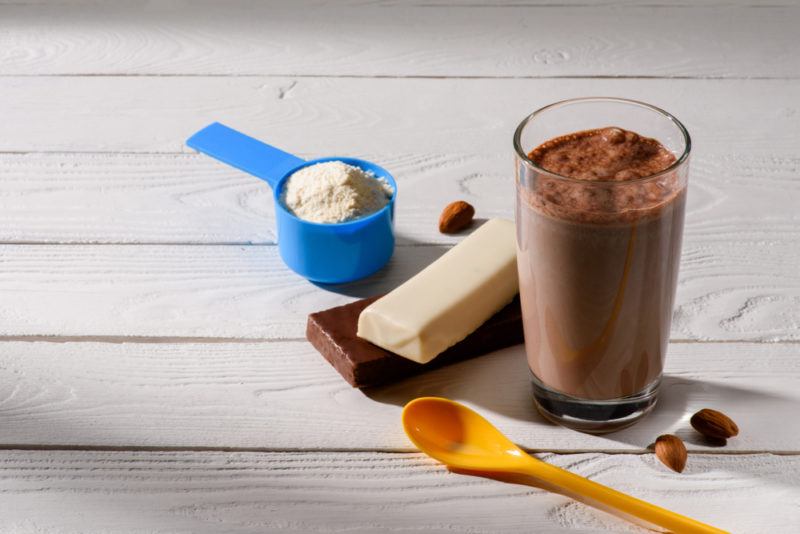 Meal replacement shakes are designed to provide protein, along with a decent boost of nutrients. In some cases, you're getting as much as a third of your daily nutrient requirements from a single shake. This way, you can easily replace a single meal with a shake, which is ideal if you're trying to lose weight.
Most meal replacement shakes should contain some magnesium. However, the amount will vary depending on the brand. If you want to optimize your magnesium intake, you'll need to check the ingredients label of any product that you buy.
If you are using powder rather than a pre-made shake, then you could create a meal replacement smoothie using some other magnesium-containing ingredients as well. For example, almond butter and chia seeds are both powerful smoothie additions that provide magnesium.