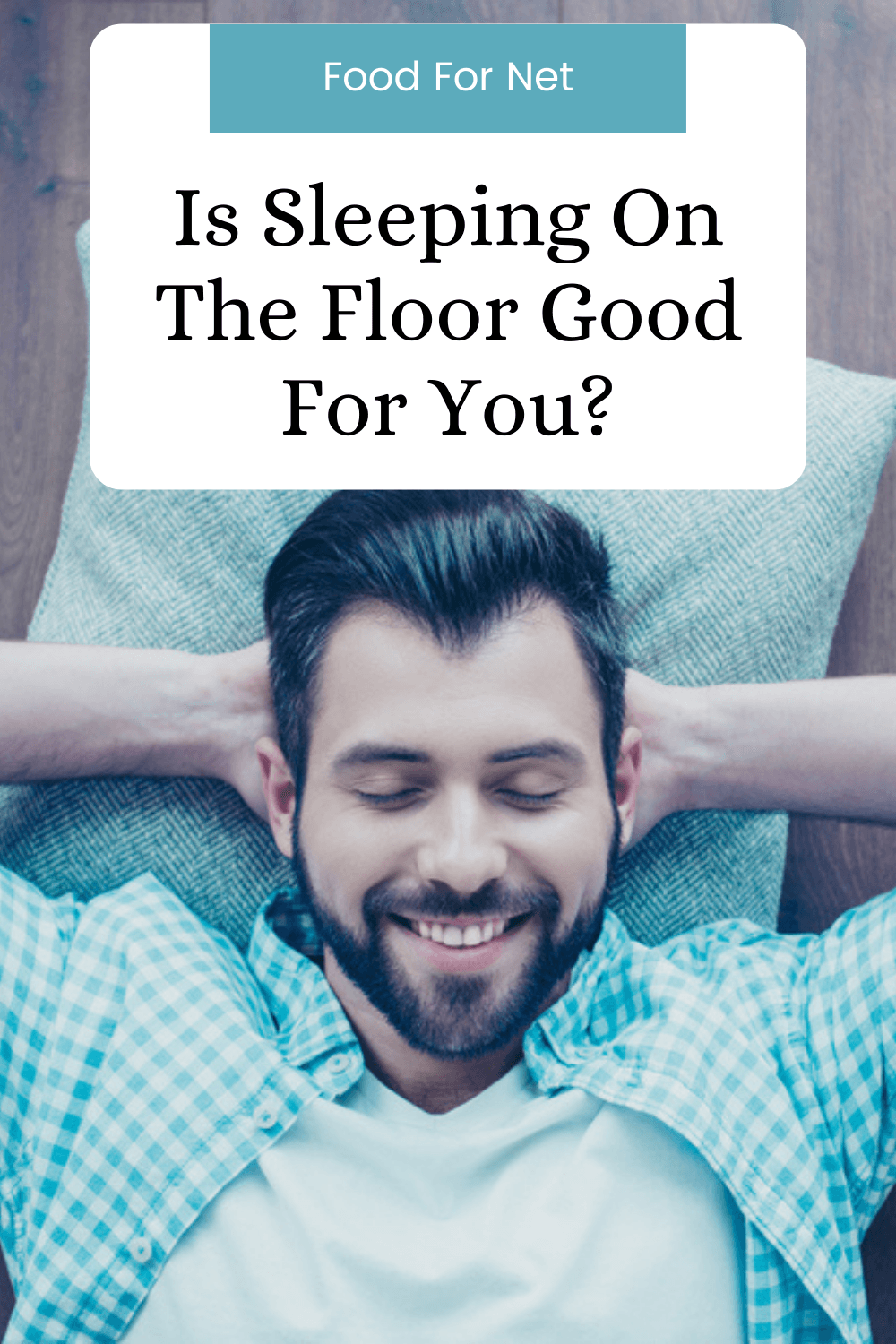 Sleeping on floor is a common pattern in many parts of world, one that's sometimes a necessity and other times a choice. Right now, the idea is taking off in the United States, promoted as a way to get your body into alignment and improve your sleep. But, honestly, is sleeping on the floor good for you? Could it possibly be better than sleeping on a good mattress instead?
The idea might sound a bit odd at first, as your mattress helps to cushion you, an effect you won't get when sleeping on the floor. The floor is also pretty hard and certainly isn't the most comfortable place to sleep. Even so, there are some interesting arguments for floor sleeping and reasons you might want to try it for yourself.
Is Sleeping On The Floor Good For You?
Benefits Of Sleeping On The Floor
Problems With Sleeping On The Floor
Should You Sleep On The Floor?
How To Get The Most Out Of Sleeping On The Floor
Final Thoughts
Benefits Of Sleeping On The Floor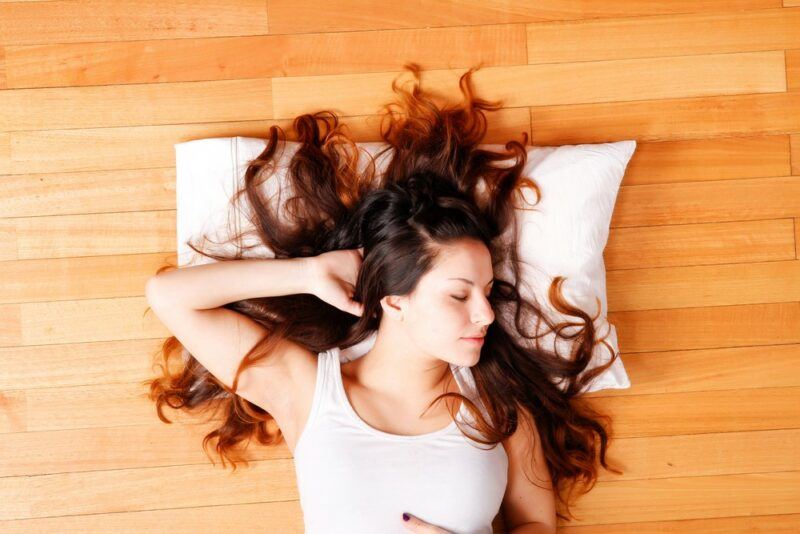 Your Weight Is More Evenly Distributed
Sleeping on the floor gives you a firm consistent surface, one that isn't influenced by your body position or by your partner's. This may help to improve your body alignment and posture, potentially giving you a better night's sleep.
In contrast, it's easier for your posture to change when you sleep on a soft surface, potentially leading to pain in the morning.
May Help With Pain
Improving your alignment while you sleep may also be relevant for pain. Indeed, floor sleeping is often promoted as a way to reduce back pain, as your spine remains straighter while you sleep.
While there isn't much evidence for this effect, there are a lot of anecdotes. Plenty of people feel that floor sleeping has been amazing for their pain. And honestly, if you wake up with pain most days, anything is worth trying once.
You never know, being on the floor might be the solution you need. If it's not, your bed isn't far away.
Is Cooler Than Sleeping On A Bed
Heat rises, so sleeping on the floor is generally much cooler than your bed. This is perfect on hot summer nights or for anyone who struggles with overheating.
You could even focus on floor sleeping just in the summer months, then use your bed in the winter. This would help you take advantage of the temperature difference and sleep well, regardless of the season.
You Might Feel Better
Some people find that they wake up feeling better after sleeping on the floor than in their bed. Their joints feel better, they're in a better mood, and they have more energy.
This isn't too surprising. If being on the floor does improve your body alignment and decrease pain, you're likely to sleep better, which should mean you feel better when you wake.
This effect is powerful, given that our mornings set the scene for the entire day. It can be pretty difficult to recover from a hard night's sleep and find enough energy for the day.
Be realistic here though. It takes time to adjust to a new sleeping situation, particularly one as dramatic as sleeping on the floor. You may well feel better in the mornings after a while, but the first few mornings will probably be rough.
Problems With Sleeping On The Floor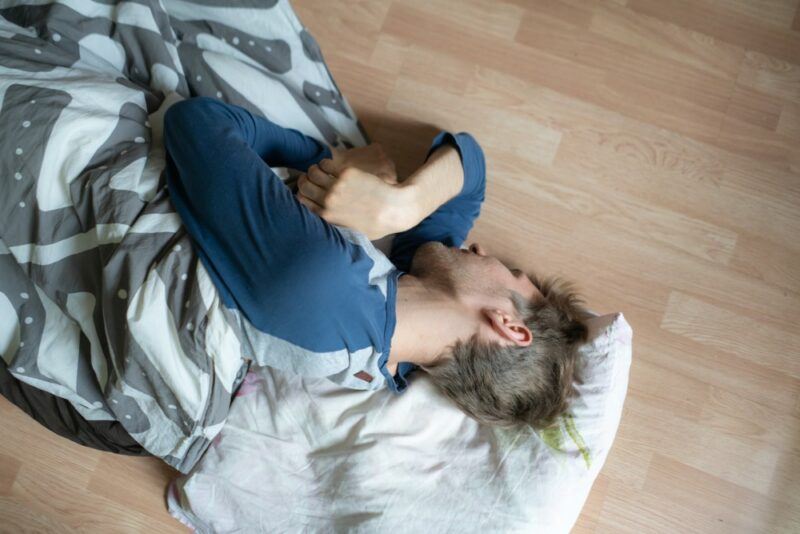 There Is Less Cushioning
Mattresses provide more cushioning than you'll ever get on the floor. This cushioning is particularly important around pressure points, such as your hips and shoulder blades.
Without it, these parts of your body may be pressed against the hard ground for most of the night, a situation that can quickly become painful. Even mild discomfort would be enough to decrease the quality of your sleep.
People who already experience joint or back pain might find that sleeping on the floor simply makes everything worse.
Higher Risk Of Allergic Reactions
Sleeping on the floor can be quickly frustrating if you have allergies. You're closer to the floor, after all, which means you're closer to the dirt and dust as well.
People with allergies can still floor sleep safely, but you'll need to clean the floor much more often than you would normally.
It May Be Too Cool
The coolness of the floor is great news for anyone who overheats easily. It's not so good if you're often cold instead. Adding more blankets might not help either, as it will always be colder at floor level than elsewhere in the room.
Anyone sensitive to the cold might need to avoid floor sleeping. Even if you're fine with the cold most of the time, it could be a bit much in the winter months. Remember that the cold also influences the quality of your sleep. So, even if you do manage to fall asleep, you may sleep poorly if it's too cold.
Getting Up And Down Can Be Difficult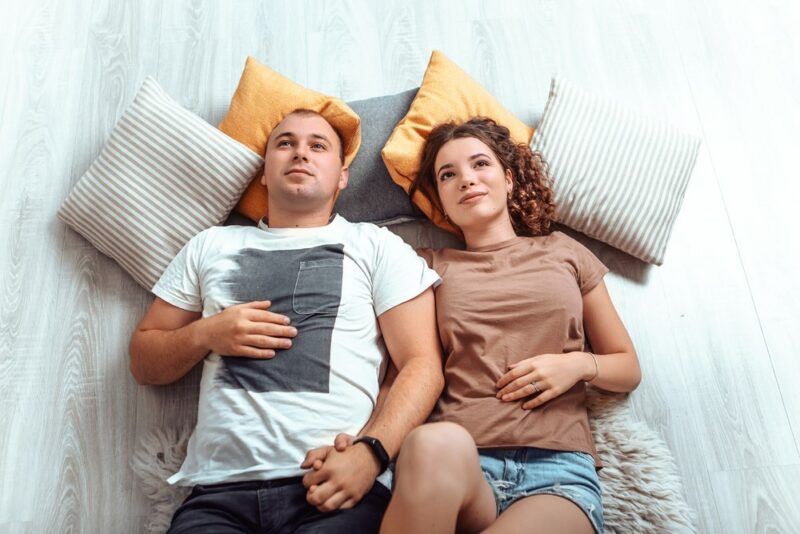 Getting up off the floor is much more difficult than getting up from a bed. This problem simply gets worse if your mobility is decreased in any way or if you deal with joint pain.
If you fall into either of these groups and still want to try sleeping on the floor, you could experiment with objects and techniques that help you to stand again more easily.
Research Is Limited
Sleeping on the floor or on a little bedding is a common practice, one that doesn't seem harmful for most people. But, few studies have compared the effects of sleeping on the floor versus sleeping on a bed.
As such, we don't truly know which approach is better. Even the benefits and risks we've talked about here are based on common sense, rather than proven effects.
If you try floor sleeping for yourself, it's important to take things slowly and pay attention to how your body responds. This way you can identify any issues early on, before they become serious.
Should You Sleep On The Floor?
Floor sleeping doesn't appear to be risky and is a common pattern throughout the world. Even so, there's little evidence for health benefits. Most of the reports are anecdotal instead.
Is this enough to get you to give up your warm and comfortable bed for a while?
It might be. Sleep is incredibly important. Not getting enough high-quality sleep leads to countless problems, including a lack of energy and difficulty concentrating.
If your current approach to sleeping isn't working, why not give floor sleeping a try? You haven't lost much if it doesn't work.
What's Your Mattress Like?
Sleeping on the floor does offer some benefits, but it's hard to know how powerful these are. In fact, many people may see benefits from floor sleeping simply because their mattress is poor quality or is too soft.
Semi-firm mattresses may be the best type for reducing pain, although research here is still ongoing. Regardless, it's clear that having a good mattress can make the world of difference – and may be much more powerful than sleeping on the floor.
If you do have a poor quality mattress and can't replace it at present, then sleeping on the floor could be a good alternative.
People Who Shouldn't Sleep On The Floor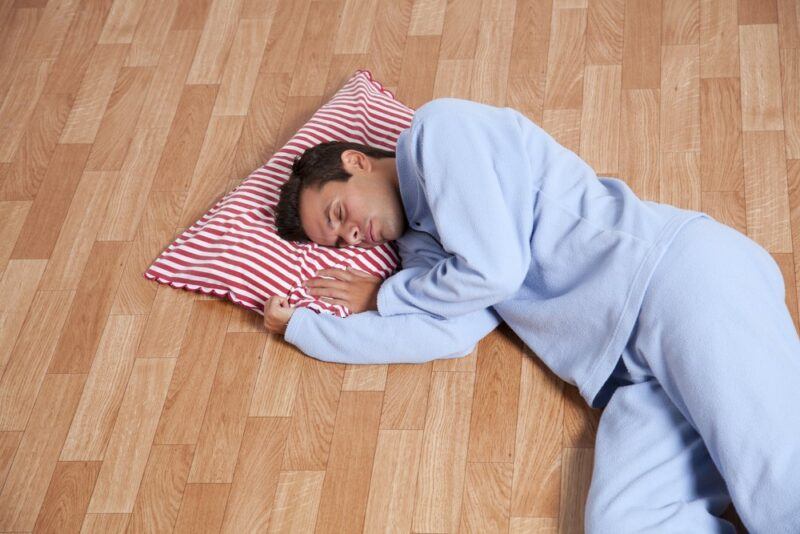 Most people aren't going to come to harm by sleeping on the floor. At worst, you might wake up sorer than usual for a while or may not sleep as well. If that's the case, you can easily shift back to sleeping on a bed.
However, some people need to be much more careful – and may not benefit from floor sleeping at all.
Anyone prone to the cold. It's cooler on the floor than in your bed. This starts to be an issue for anyone sensitive to the cold, including people with conditions like type 2 diabetes or anemia.
People with mobility issues. If you struggle with movement or joint pain, sleeping on the floor could easily make matters worse. This is partly because of the temperature, but also because getting up off the floor is much harder than doing so from a bed.
Older adults should be particularly cautious, as they're more likely to suffer joint problems than those younger and may feel the cold more as well.
How To Get The Most Out Of Sleeping On The Floor
Planning matters. Rather than simply pulling your blankets onto the floor, it's best to take some time to figure out what you need.
Start Slowly
Rather than jumping into it, try taking naps on the floor or starting your night there, then switching back to the bed. Doing so helps your body to adjust, making the transition to full nights much less of a shock.
You can also try gradually increasing firmness. For example, the first step might be to place your mattress on the floor, rather than on its base. Then, perhaps swap to a thinner mattress and eventually to a mat or something similar.
Experiment
Sleeping on the floor can mean just that – literally nothing between you and the floor. Plenty of people, however, make their own 'beds' on the floor, often using a combination of bedding and some type of mat or thin mattress.
Doing so isn't a failure. Your goal is simply to find the sleeping approach that works best for you, so anything goes. Experiment with it. Work out what works best under you and on top of you.
You might need to play around with positions too, as your favorite sleeping position in bed mightn't work as well when you're down on the floor.
Keep The Area Clear And Clean
Keeping the area of clutter helps to create a calmer and safer space. This is important, as we tend to sleep better when we're relaxed and feel safe.
Besides, odd items lying around could easily lead to accidences. You might kneel on a toy while you're trying to get up or roll over onto something sharp.
Cleaning is even more important. Dust tends to stick around at floor level and you don't want to be breathing it in. Being diligent about cleaning will have a huge impact on your experience and your health.
Make sure to regularly clean your bedding too and air your mattress. A lack of circulation can easily lead to mold and bad smells.
Listen To Yourself
Finally, be sure to pay close attention to how you feel and how your body responds. It's easy to get caught up in the hype surrounding practices like sleeping on the floor – and not realize that don't so actually makes you feel worse, not better.
Remember that just because floor sleeping is amazing for some people, it won't necessarily have that effect on you too. We're all built differently, after all.
Final Thoughts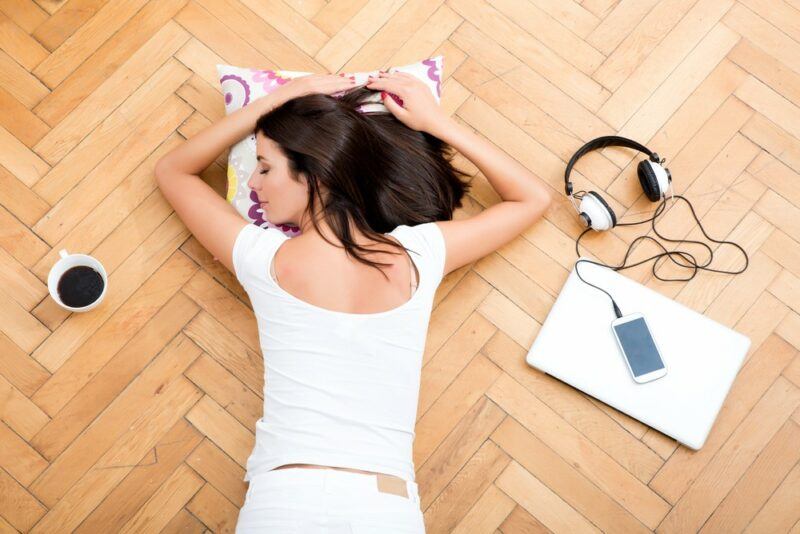 With all the hype around sleeping on the floor, it's clear that some people see benefits from the practice. Whether everyone does, however, is an entirely different question.
Many people are likely to see just as many benefits by sleeping on a high-quality semi-firm mattress. You might even get more benefits from the mattress, as it cushions your joints in a way that floor sleeping cannot.
There are also plenty of other ways to make your body feel better, like having a sauna or a massage.
Still, unless you struggle with mobility, joint pain, or are sensitive to the cold, there's little harm in sleeping on the floor for a while. Who knows? You might even prefer the practice. Just be sure to plan well and take your time with the transition. The feeling of sleeping on the floor is quite different from being in a bed and can take time to get comfortable with.
Frequently Asked Questions
Is Sleeping On The Floor Good For Your Back?
Some theories suggest that being on the floor really could help your back. However, there are still huge research gaps, so there's no way to be certain. Some people even find that sleeping on the floor leads to more back pain.
Is It Safe To Sleep On The Floor While Pregnant?
For the most part, you can safely sleep on the floor while pregnant. Some women even find doing so more comfortable and cooler than being on the bed.
Of course, you still need to get down to the floor and back up. This can be tricky in the later stages of pregnancy.
It's also crucial to listen to your doctor's advice, as sleeping on the floor mightn't always be the right choice and could even be dangerous in some situations.
Is Sleeping On The Floor Good For Sciatica?
Some people do find that floor sleeping helps with sciatica pain, as it's easier to get your spine in the right place. However, this is an under-researched area, so you'll need to experiment to see what works for you.
Is Sleeping On The Floor Good For Your Posture?
Sleeping on the floor could help, as the firmer surface gives you more control. However, you still need to be cautious about how you sleep. You may also need to use pillows to decrease pressure or sleep on a mat rather than straight on the floor.
Is Sleeping On The Floor A Sign Of Depression?
Some people with depression do sleep on the floor, finding more comfort on the floor than in their bed. However, the practice certainly isn't a symptom of depression – many non-depressed people sleep on the floor and plenty of depressed people don't.