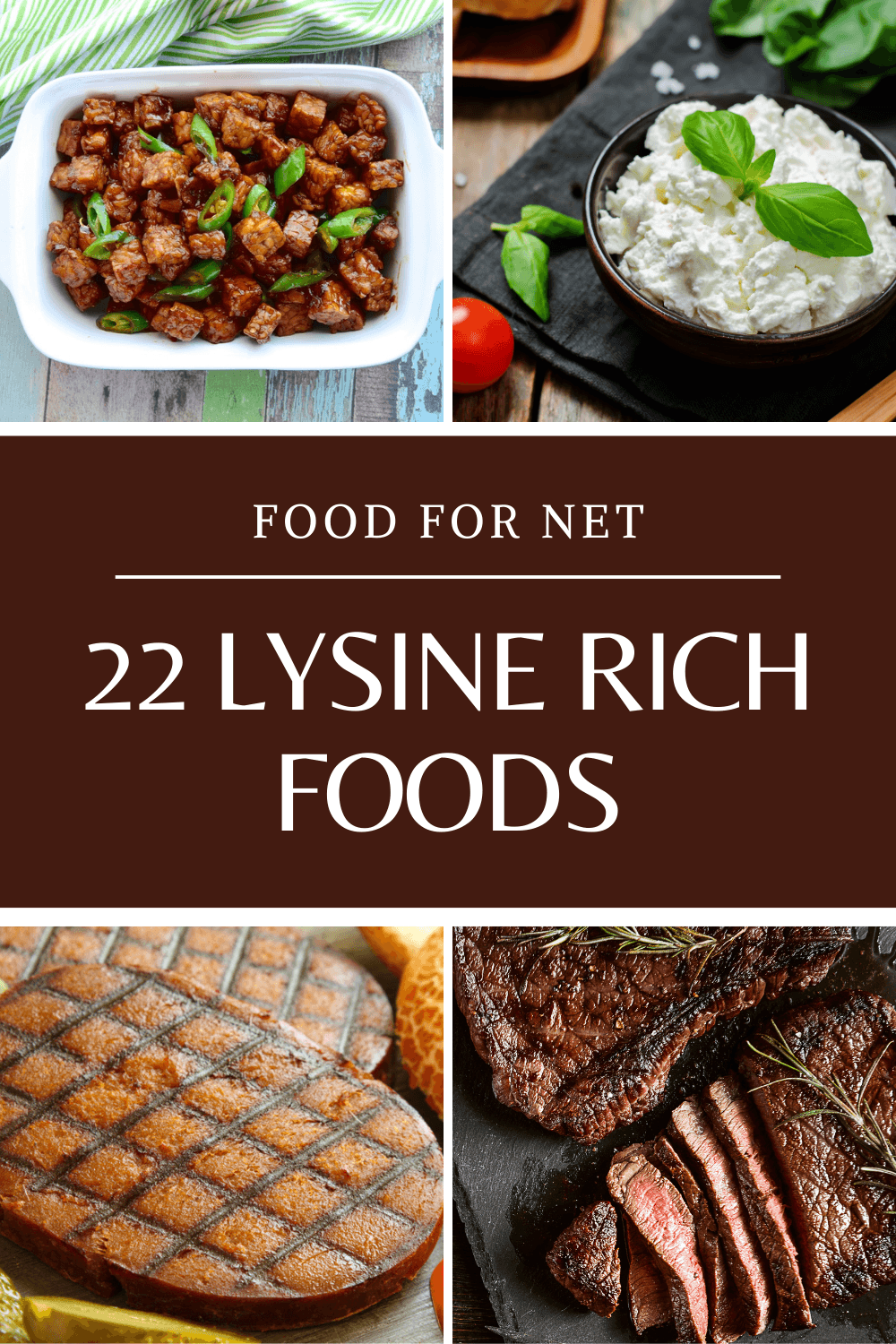 Lysine is an essential amino acid, one that plays a role in the creation of collagen and also in calcium absorption. While most people get enough lysine, deficiency can occur, which can lead to symptoms like hair loss, tiredness, anemia, and a lack of concentration. Thankfully, there are many lysine rich foods, so it's easy to avoid deficiency and stay healthy.
Getting enough lysine is especially important for people with depression, kidney disease, hypothyroidism, and asthma, as people in these groups often end up with lower levels of lysine. Low lysine in these situations simply makes everything worse.
Focusing on lysine on its own isn't enough either. Your ability to absorb lysine is influenced by parts of your diet. One issue is arginine, which is another amino acid. High levels of arginine can hinder the effects of lysine. Too much can even cause lysine deficiency.
You also need to have enough iron, vitamin C, glutamic acid, and some of the B vitamins for lysine absorption. Still, don't worry too much. Many of the foods high in lysine will contain these other compounds too. Simply focusing on a healthy diet filled with whole foods should be enough to get you all the nutrients that you need.
Finally, the recommended lysine intake is based on your body weight, so heavier people will need more lysine than those that are smaller. A common recommendation is that a person around 70 kg (around 154 pounds) will need 2,100 mg of lysine. This is based on an estimation of 30 mg lysine per kg of body weight (or 13.6 mg lysine per pound).
So then, let's look at the foods you need to get your lysine each day.
Lysine Rich Foods
Beef
Chicken
Pork
Other Poultry And Meat
Tuna
Salmon
Other Fish
Shellfish
Soybeans
Tofu
Tempeh
Seitan
Quinoa
Amaranth
Beans
Lentils
Chickpeas
Milk
Ricotta Cheese
Other Types Of Cheese
Yogurt
Eggs
Beef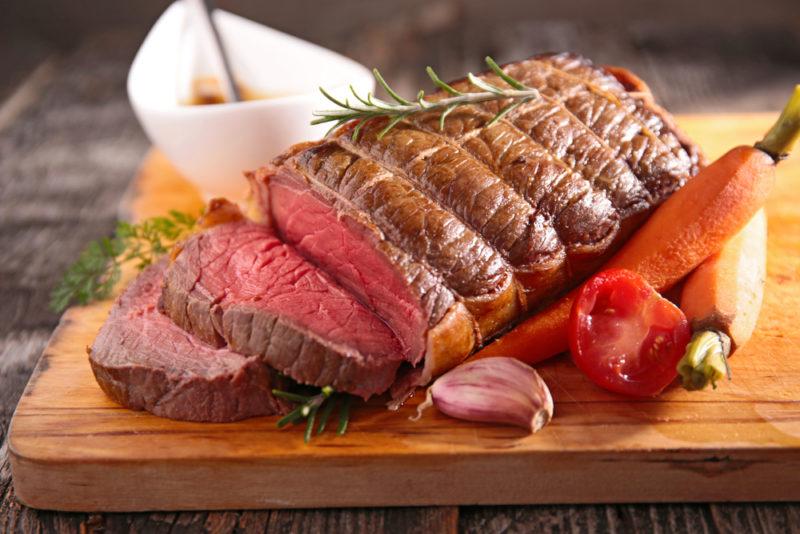 It shouldn't be surprising to see meat topping the list for lysine content. Animal products tend to be a rich source of amino acids. Skirt steak is one of the best choices, offering a 70 kg man around 270% of his daily lysine intake in a serving.
The amount of lysine does vary from one cut of beef to another. Still, any cut is going to give you far over your daily lysine intake, so there isn't much to worry about.
When buying beef, you can often choose between grass-fed and grain-fed meat. Grass-fed tends to be more expensive, but meat from cattle raised in this way may be higher in nutrients and in healthy fats. You may even end up with more lysine per serving.
Chicken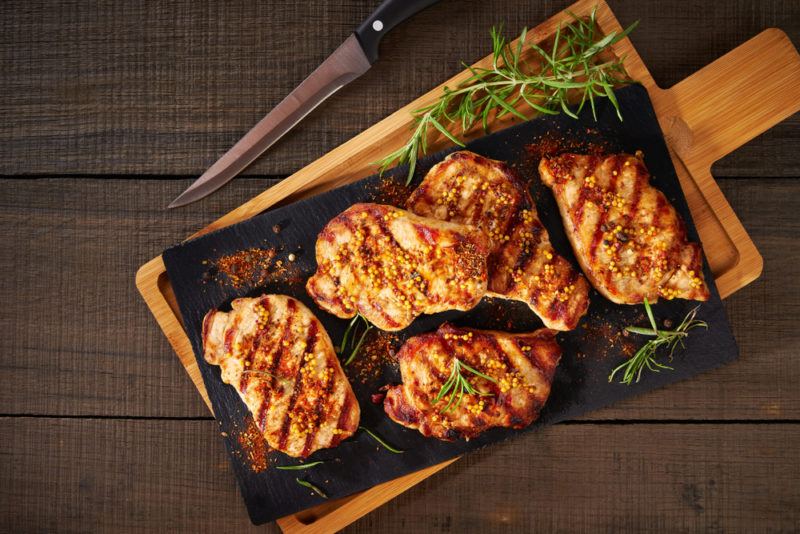 While we often associate red meat with amino acids, chicken ends up being just as good as a source of lysine. In fact, an entire roasted chicken leg ends up having a little more lysine than a 6-ounce skirt steak.
That calculation is based on eating the drumstick, thigh, and back meat associated with a chicken leg, along with the skin, but even so, the amount of lysine is impressive. Don't worry if you're not a fan of dark meat – a 6-ounce serving of cooked chicken breast still provides well over 200% of your daily lysine requirements.
Pork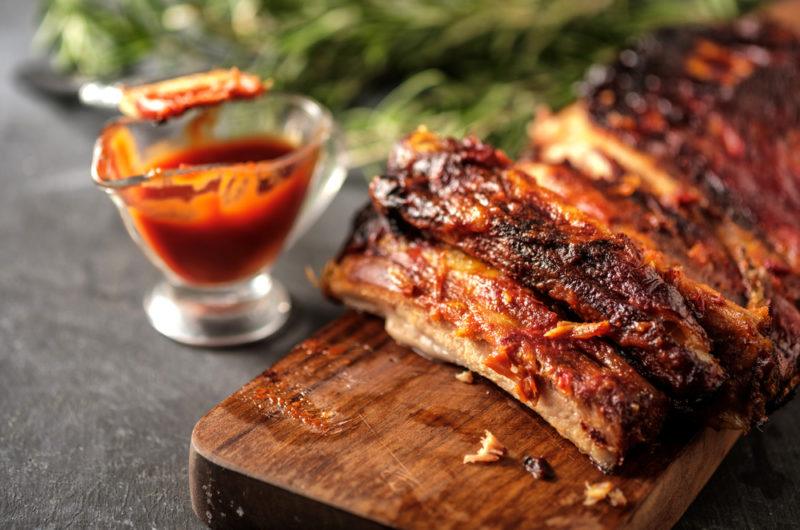 Pork is notable as a source of lysine too. Eating a whole pork chop, fat included, provides around 230% of your daily lysine intake (again, that's based on the estimation for a 70 kg man), while the amount for a lean pork chop is only a little less.
This also means that you get a decent amount of lysine from roast ham. For example, a diced cup of ham offers around 150% of your daily lysine intake. This makes ham an easy way to get more lysine. After all, you can have a few slices as part of a sandwich or mix the ham in with a recipe.
Other Poultry And Meat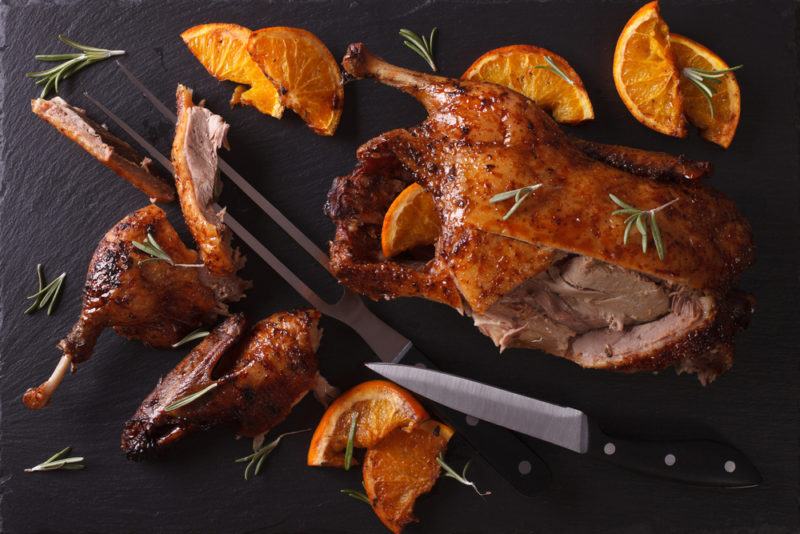 We're not going to list every type of meat and bird on this list, as the pattern is clear to see. While beef, pork, chicken, and turkey are the most powerful choices for lysine, you will get lysine from almost any type of meat.
Indeed, lists of top lysine sources often include a combination of common and less common types of meat and poultry. Examples include goose, lamb, veal, duck, and boar.
While some types of meat do contain less lysine than others, the lysine amounts are high enough that you generally don't need to worry. Just focus on the types of meat that you enjoy eating.
Tuna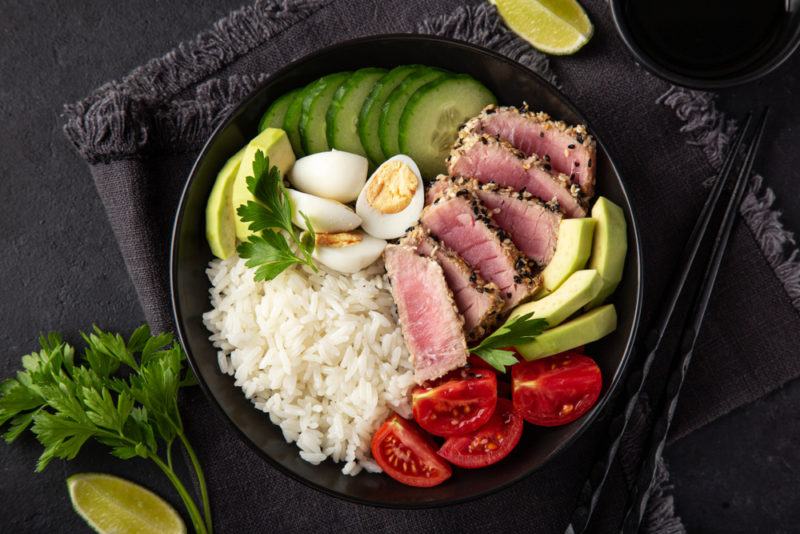 Fish is another useful source of lysine – and can be just as powerful as meat and poultry. Tuna tops the list here, as you get around 220% of your daily lysine intake from a fillet of bluefin tuna. Yellowfin tuna is impressive too.
Canned tuna provides you with lysine too, so you don't need to stick to the fresh stuff. Canned tuna might even be more useful in some cases, as it tends to be inexpensive and shelf stable.
Still, the mercury content of tuna means that you need to be careful. Tuna contains more mercury than many other types of fish, so it's best to keep your intake on the low side. Try having tuna no more than twice a week (once a week is better).
Recommendations often suggest having two to three servings of fish a week to get the most benefit from omega 3 fatty acids and other healthy compounds. You can still do this, but some of those servings will need to come from fish that contains less mercury.
Salmon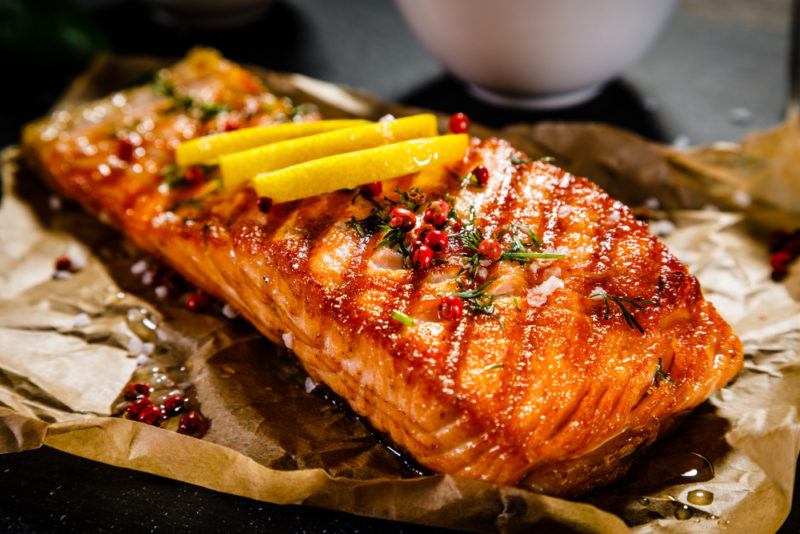 Salmon contains almost as much lysine as tuna and also happens to be much lower in mercury. The mercury difference alone makes salmon a better choice – and the fish has other advantages too.
For one thing, salmon is high in omega 3, which makes it ideal for your health. Omega 3 fatty acids are one of the main reasons that fish is thought to be so good for you. This type of fat may offer a wide range of benefits, which includes helping to improve cognition and even decreasing disease risk.
Salmon offers plenty of other important nutrients too. Plus, it happens to be a delicious fish, one that has an appealing texture. Salmon is often considered to be meaty, while some other types of fish are delicate instead. This difference can be appealing if you're on the fence about eating fish.
Other Fish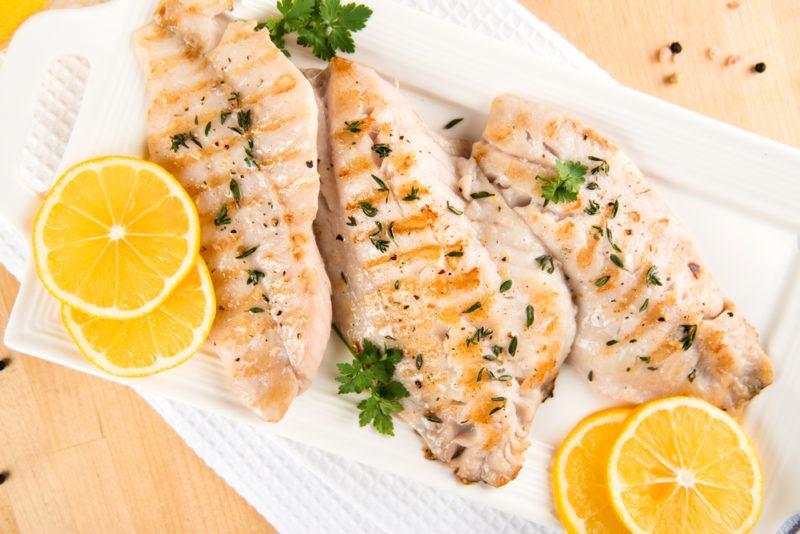 Tuna and salmon are just two examples of lysine rich fish. There are plenty of other types to choose from too, including grouper, snapper, tilapia, cod, and mackerel.
If you're looking for omega 3 from fish, focus on fatty fish. Some of the white fish don't offer nearly as much omega 3.
Still, fish of any type tends to be good for you, providing you with an array of nutrients and plenty of protein.
Shellfish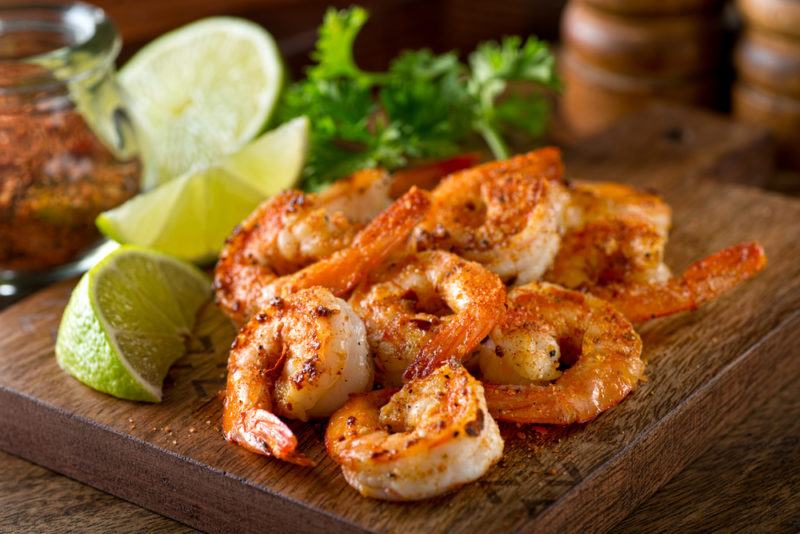 You can also turn to other types of marine life for lysine. Shrimp and Alaskan king crab are both appealing choices, while lobster, octopus, and other types of crab make the list too.
While the lysine content here isn't nearly as high as with fish or meat, you are often getting close to 100% of your lysine content from a single 3-ounce serving. And honestly, this is all you need.
Soybeans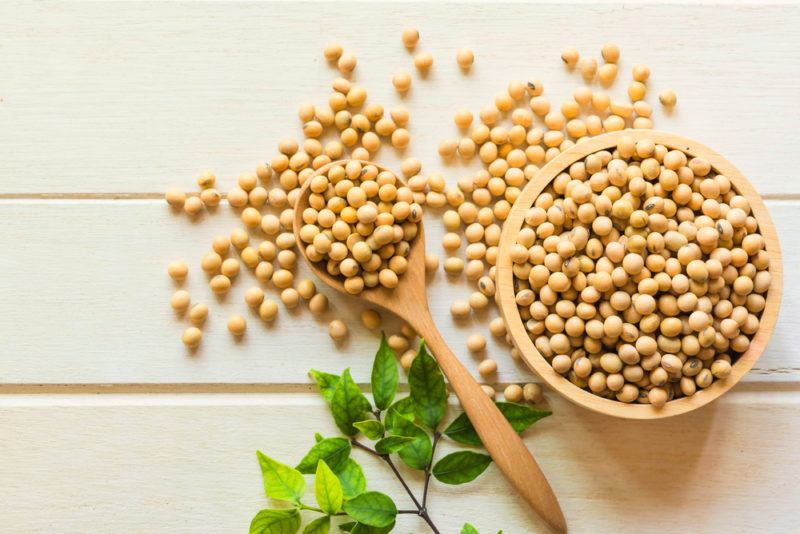 It's easy to see why soybeans are so popular. The legumes do offer many important nutrients, while also being a good vegan source of protein. Soy is even considered a complete source of protein, as it contains all of the essential amino acids.
Soybeans are sometimes used as the beans themselves. These can be roasted or boiled. Boiled immature soybeans are a popular snack known as edamame and a cup of these will give you close to your daily intake of lysine.
You'll also see soybeans used to create other products, including soy milk and soy flour, both of which are ingredients themselves. These products can provide you with the nutrients from soybeans too, including lysine. Just be aware that the lysine content will vary depending on the product that you choose.
Tofu

Tofu is a popular soy product and is one that deserves a special mention. This meat alternative is made from soy milk that has been curdled and then pressed. While tofu doesn't have much flavor of its own, it can still be appealing as it will take on the flavors of your other ingredients.
The lysine content of tofu will vary from product to product, especially as there are multiple types of tofu to choose from, including firm tofu and silken tofu. However, you're often getting just over 100% of your daily lysine intake from a cup of tofu.
Tempeh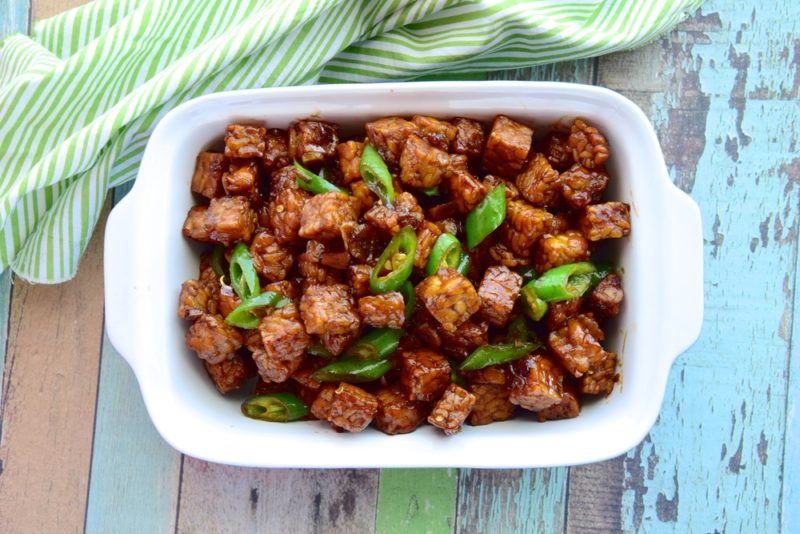 Tempeh is similar to tofu in that it is made from soy. One difference is that tempeh relies on soybeans themselves, rather than soy milk. The product ends up with a nutty flavor and a chewy texture. This can be more appealing than the relative blandness of tofu.
Tempeh is also a fermented food. The fermentation makes tempeh a good source of probiotics and means that the ingredient may help to improve your gut health.
Seitan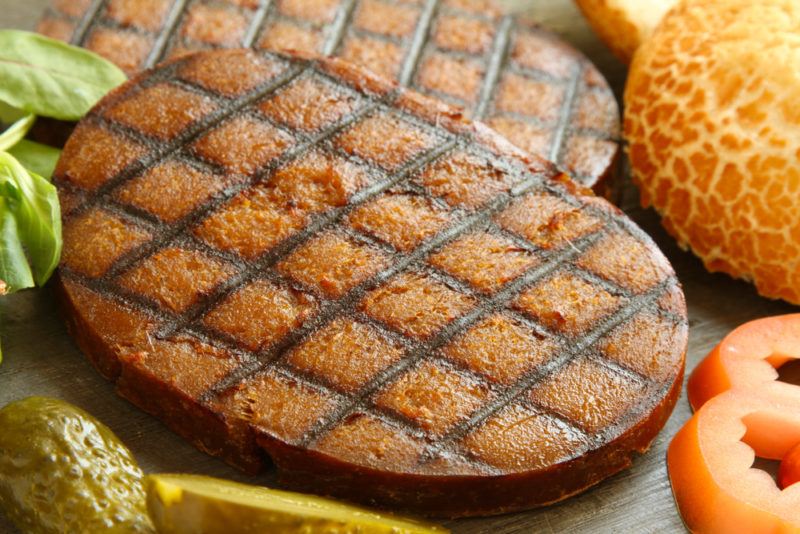 Seitan is a little controversial, as it is a processed meat alternative that is made from wheat gluten. While seitan does end up being low in carbs, many people avoid it because of the gluten.
Still, it's always good to have more vegan options for lysine, given that most sources of the amino acid are animal-based.
Besides, seitan can add versatility to your diet. You can use it instead of meat in tacos or even as a sandwich ingredient. The lysine content is impressive too, as you may get around 650 mg of lysine in a 3-ounce serving.
Quinoa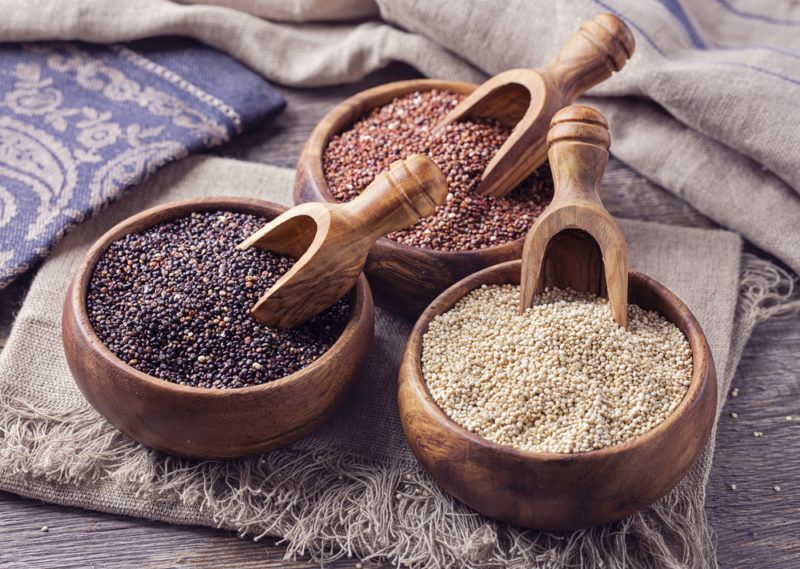 While it's unusual to find grains or pseudograins that are high in lysine, quinoa is a delightful exception. This little seed contains a decent amount of the amino acid, along with many other nutrients. In fact, quinoa is so nutrient-packed that it is often called a superfood.
Quinoa is also easy to cook and has a pleasant, slightly nutty flavor. The flavor is subtle, so most people don't enjoy quinoa plain. But, this subtle flavor does combine well with many other ingredients to create some delicious meals.
Amaranth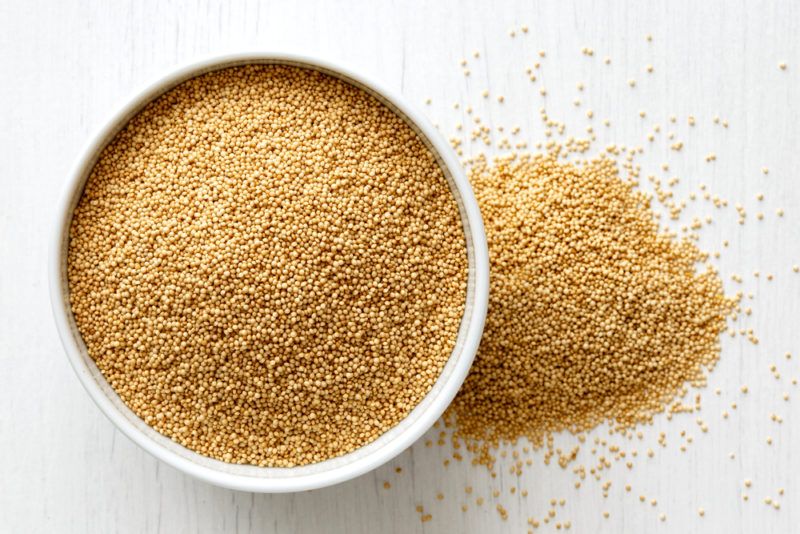 Amaranth is another pseudograin, although it isn't nearly as popular or well-known as quinoa. It is also considered an ancient grain, one that hasn't changed much in hundreds of years.
You cook amaranth by boiling the seeds in water, just like you do with quinoa. However, amaranth requires more water. You often need around six cups of water for every cup of amaranth that you use.
The lysine content isn't the only interesting thing about amaranth. The pseudograin also happens to contain vitamin C, which isn't a common nutrient to find in a seed.
Beans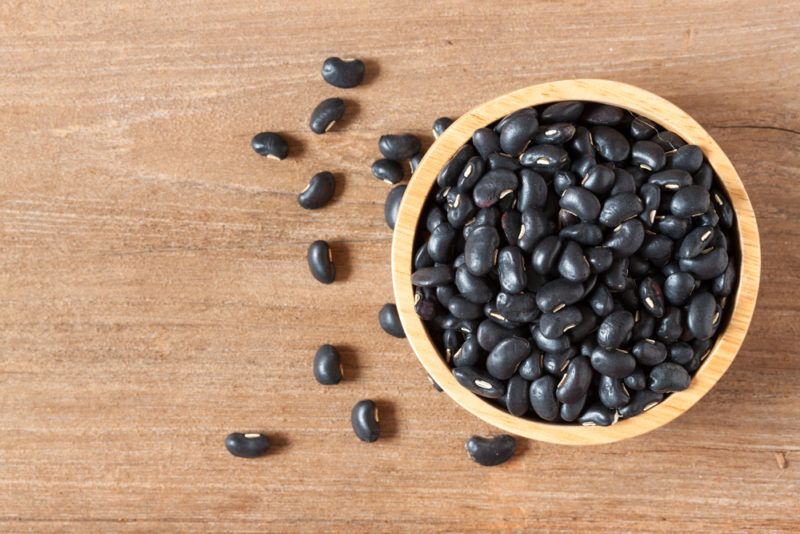 While legumes are sometimes controversial, beans do remain popular among many people. It's easy to see why – they're inexpensive and versatile. Plus, they contain a decent amount of protein and fiber, not to mention antioxidants.
Beans tend to offer lysine too, which is another reason for relying on them. The amount does vary depending on the type of bean. Black beans, kidney beans, and navy beans are some of the best choices for lysine.
These are all common types of bean too, so it will be easy to find delicious recipes that take advantage of them.
The main limitation with beans is that it's best to soak them before using them. Soaking overnight is typically recommended, although longer soaks can be useful too. The soaking process can decrease the level of some antinutrients and makes the beans easier to digest.
Lentils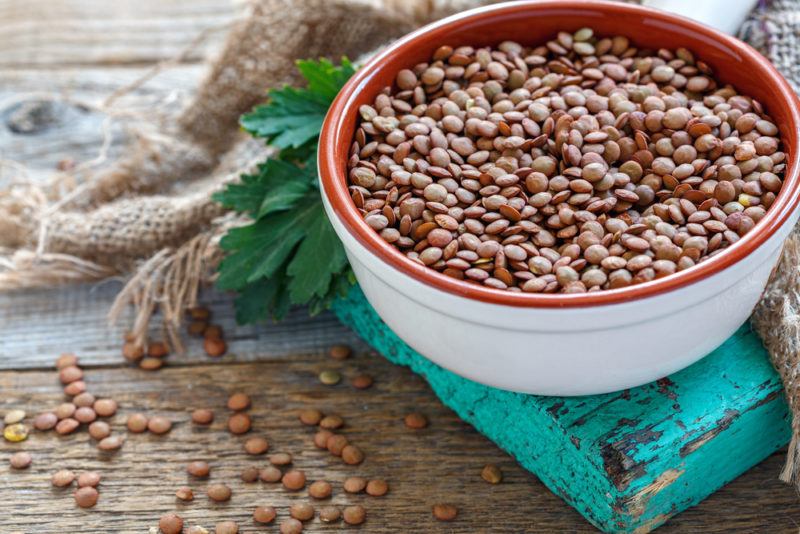 Lentils are another legume that offers lysine. Lentils are much smaller than beans and can be easier to use too. Many people simply mix lentils into soups and stews.
You can also cook lentils and use them as a side dish. For that matter, countless recipes rely on lentils and many of them taste amazing.
Chickpeas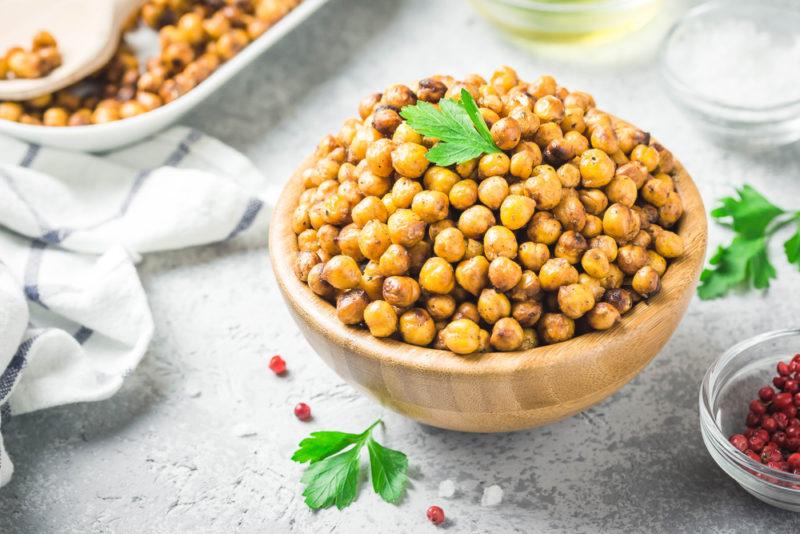 Chickpeas are a legume too. They can be used in a similar way to beans and lentils, but there are other ways to use them too.
For example, roasted chickpeas have surged in popularity. You can now even buy roasted and seasoned chickpeas from grocery stores. These are an appealing alternative to nuts, as they can be eaten in much the same way, but tend to be lower in fat and calories.
And, of course, chickpeas can be used to make hummus. Hummus is popular as a sandwich spread or an ingredient in wraps, especially as the spread ends up being low in calories.
Milk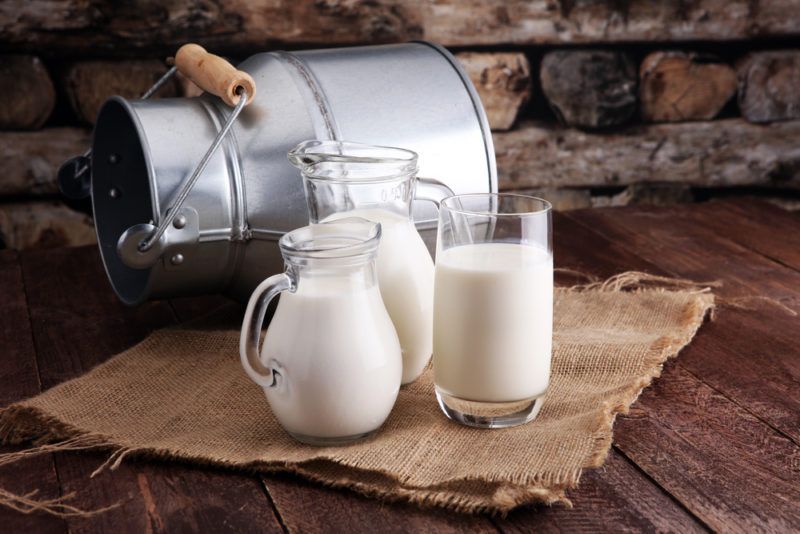 You'll also find lysine in dairy products, starting with milk. In fact, a glass of skim milk provides you with around 66% of your daily lysine.
You can get that lysine by drinking the milk as-is or by using it as an ingredient. This makes milk a very easy way to increase lysine intake. After all, milk is common in many different dishes.
The amount of lysine is highest in low fat milk and decreases as the fat content of the milk goes up. However, these differences in lysine aren't dramatic.
Ricotta Cheese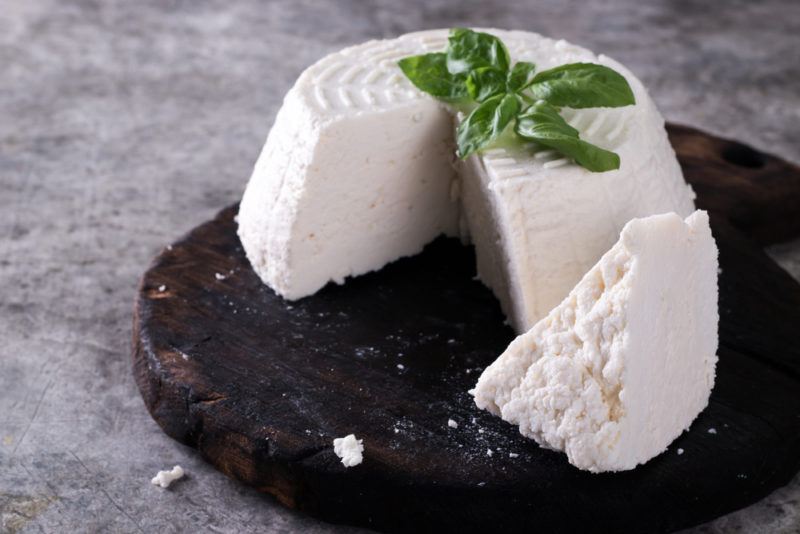 Cheese contains lysine too and ricotta is one of the best choices. You actually get more lysine in a half cup serving of ricotta than you do in a 16-ounce glass of milk.
Ricotta is also popular for its high protein content. It is also considered a low lactose dairy product, so it's something that some people with lactose intolerance can handle in small doses.
Other Types Of Cheese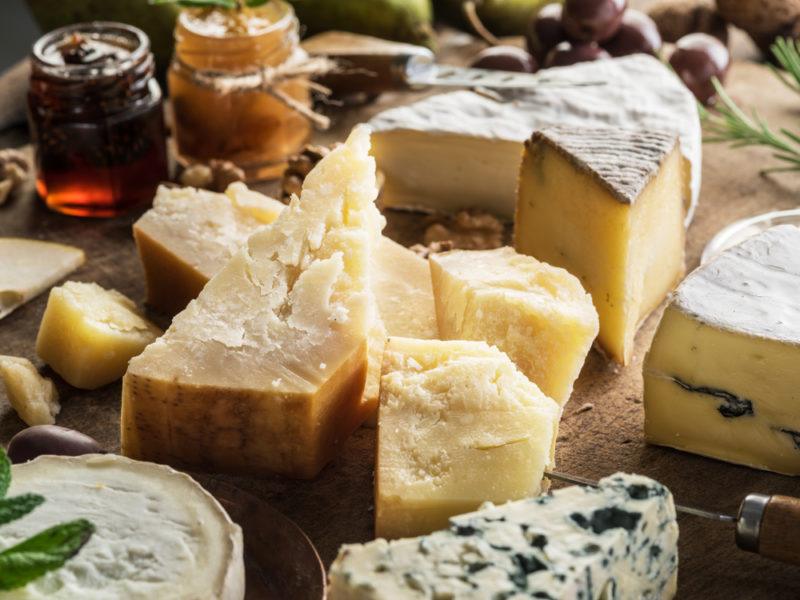 You will end up with some lysine from most cheeses. The amount of lysine strongly depends on the type of cheese. Parmesan cheese is another high lysine choice, but this mightn't be helpful, as serving sizes of parmesan cheese are often small.
Cottage cheese is another example. Despite the visual similarities between ricotta and cottage cheese, cottage cheese tends to have much less lysine per serving.
Other types of cheese with a decent amount of lysine include romano, gruyere, edam, gouda, and provolone cheese.
Yogurt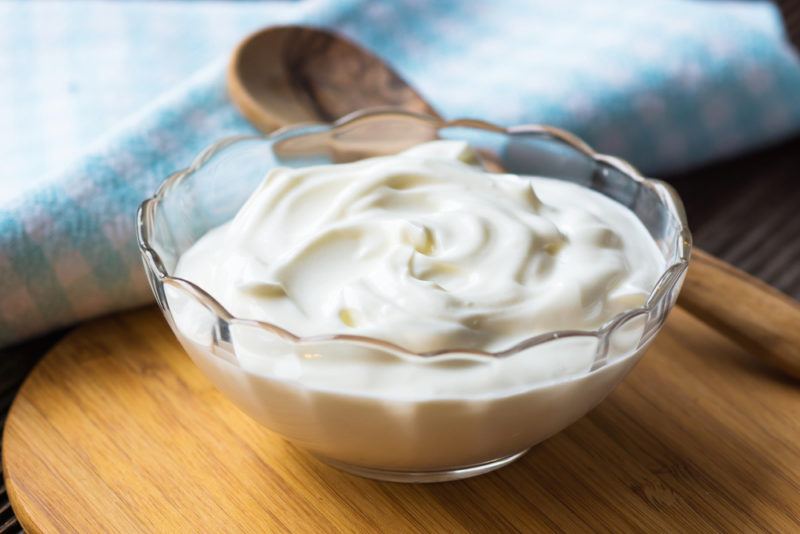 Yogurt is an interesting choice for lysine too, which probably isn't surprising. This time, you end up with around 50% to 60% of your daily lysine intake from an 8 fl oz serving of yogurt.
The amount is likely to vary depending on the yogurt that you choose, as there can be differences in manufacturing processes and the ingredients used. Likewise, some yogurts end up fairly unhealthy, as they contain sugar and many additives.
Interestingly, Greek yogurt tends to be a little lower in lysine than non-strained yogurt. While the difference here isn't dramatic, it might be unexpected, given that Greek yogurt is often promoted as being healthier than regular yogurt.
Eggs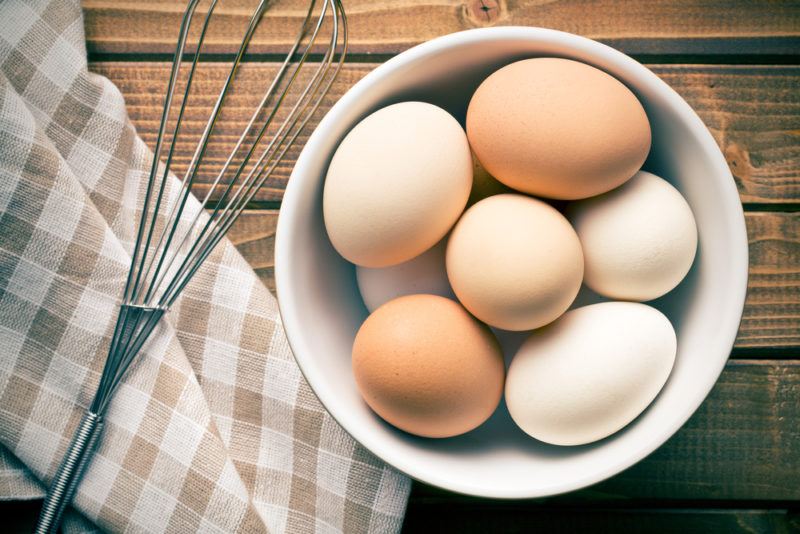 I'm always amazed by eggs. They make their way onto most nutrient-rich food lists and it's not a stretch to say that eggs are one of the most nutritionally complete foods out there.
After all, you get many different nutrients in a small package. Eggs are also high in protein, which makes them filling.
As for lysine, you end up with around 20% of your daily intake from a single egg. This mightn't sound like much, but the amount still adds up. Besides, many people eat two eggs in a serving.