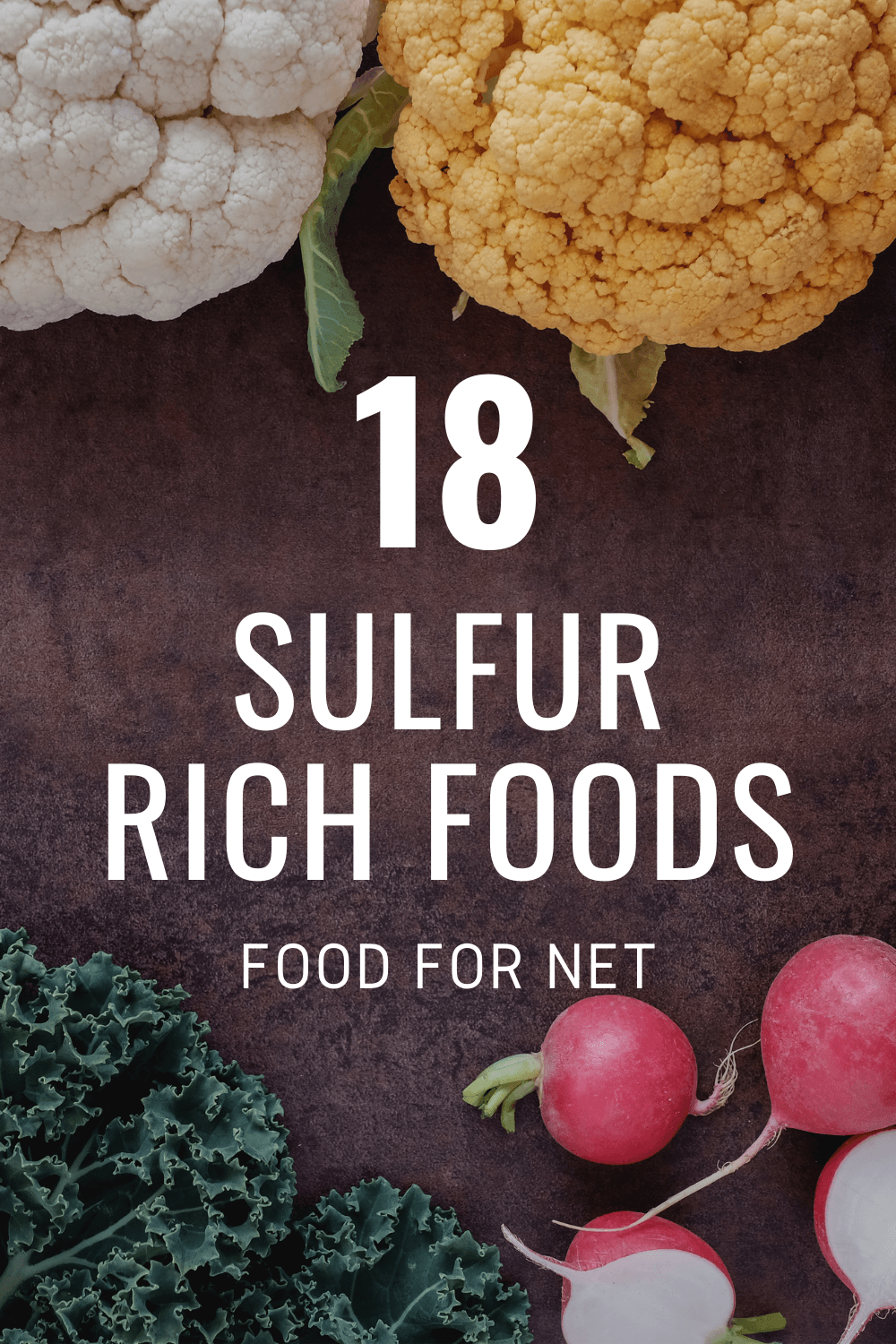 Sulfur is one of the most prevalent minerals in the body and is also essential in tissues and cells throughout your body. As such, your body needs sufficient sulfur to function well. This is why sulfur rich foods are so important. They provide a ready source of sulfur, helping to keep your body working as it should.
Sulfur has also been linked to health benefits, partly because it is used to make multiple amino acids. Sulfur may also help to decrease inflammation and inflammation-related pain. These effects could be another reason to increase your sulfur intake.
And, of course, foods high in sulfur also have other advantages. Most of them are whole foods that offer an array of other vitamins and minerals. These nutrients help to make sure that you're not missing anything that your body needs.
As always, the best approach isn't to focus on a single type of food to meet your sulfur needs. You'll get many more benefits by having a variety of foods in your diet. After all, each type of food has its own advantages and disadvantages.
On a side note, there are some debates about the way sulfur affects your body. While there are clear benefits to the compound, a high sulfur diet could come with health risks. This means that while you don't need to avoid sulfur, it's important to moderate your intake. Consuming an excessive amount of sulfur could be as bad as not getting enough.
Sulfur Rich Foods
Onions
Garlic
Leeks
Cauliflower
Broccoli
Other Cruciferous Vegetables
Asparagus
Meat
Organ Meats
Fish
Other Types Of Seafood
Eggs
Nuts And Seeds
Spices
Legumes
Dairy Products
Dried Fruit
Some Types Of Grain
Onions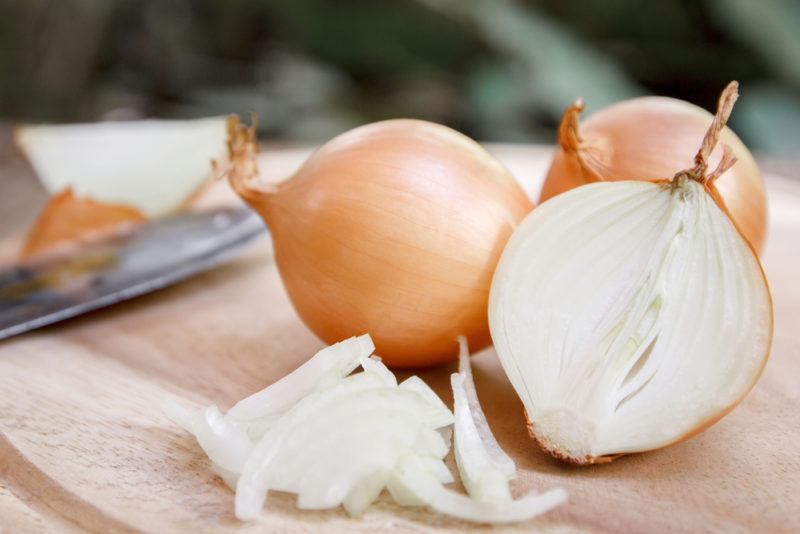 Onions belong to the Allium genus – the same genus as garlic, so it's not surprising that the benefits of onions and garlic are often similar. Vegetables in this family tend to be high in compounds like allicin and diallyl sulfide, which contain sulfur.
Of these sulfur-containing compounds, allicin is easily the most notable. It is prevalent in Allium vegetables and has been linked to antimicrobial effects. Allicin may also help to improve immune system function and protect the heart.
Onions have another advantage too – they're easy to use. You can easily chop up white onions, fry them a little, and then include them in countless meals. The flavor and texture of onions often ends up being largely unnoticeable, especially in a rich meal. Some people enjoy onions raw too.
White onions aren't your only option either. There are other types of onion to choose from. The nutrient composition will differ between onions, but you should be getting some sulfur regardless.
However, allicin doesn't survive the cooking process well. This means that you'll get more benefits from using allicin-containing vegetables raw than you will if those vegetables are cooked.
Garlic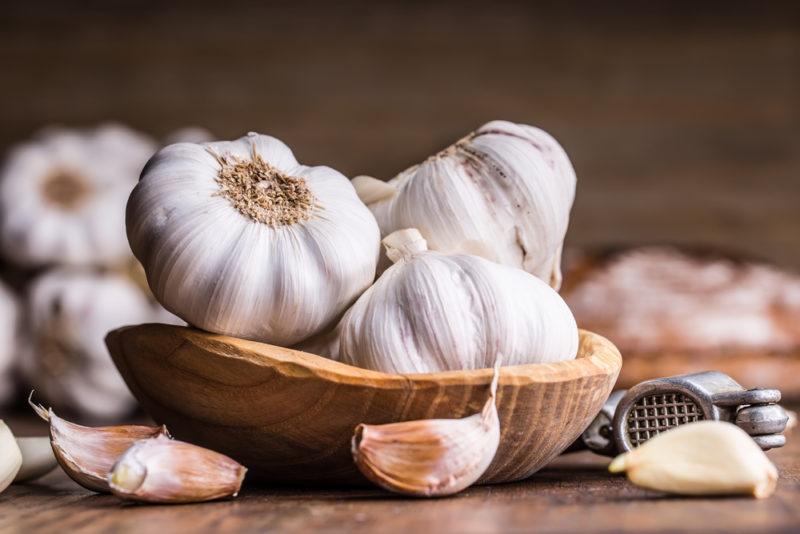 Garlic offers similar sulfur-containing compounds to onions,making garlic another logical choice. But, while cooked onions tend to have a mild flavor, the flavor of garlic is much more notable.
Because of this, a little garlic tends to go a long way. You'll certainly know if you put too much garlic in a dish and even garlic lovers have their limits.
Thankfully, garlic is a concentrated source of nutrients, so you don't need a large amount to see benefits. Simply including garlic in your cooking regularly may be enough to improve your health.
Leeks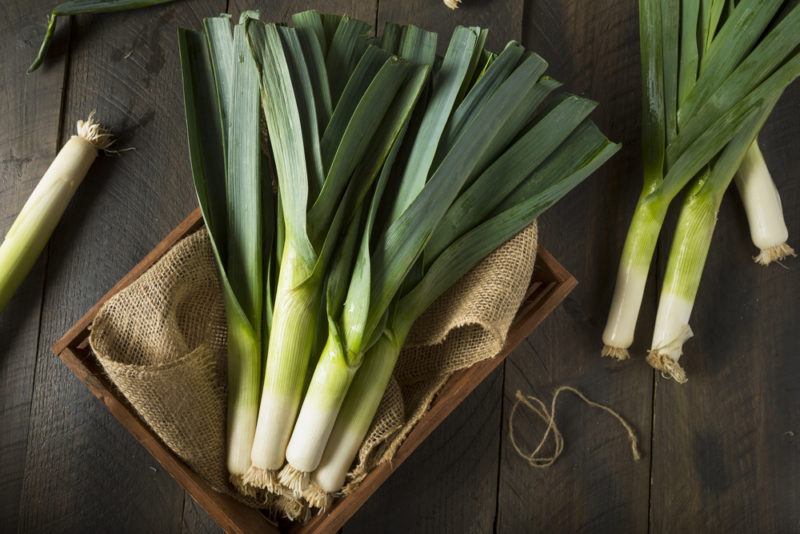 Leeks are a third vegetable from the Allium genus. They're not as widely used as garlic or onion, perhaps because the flavor of leeks is distinctive. While many people do love the way that leeks taste, the vegetable isn't nearly as versatile as garlic or onions.
Cauliflower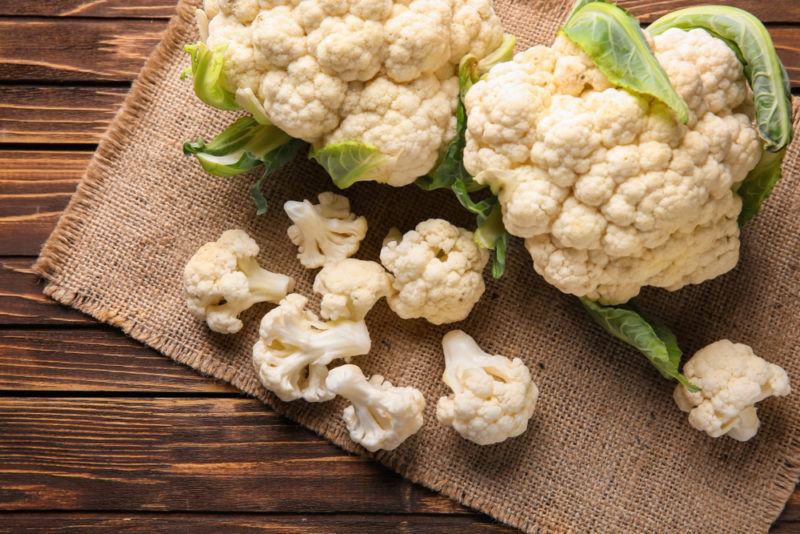 Cauliflower is a cruciferous vegetable and, like other such vegetables, it contains the compound sulforaphane. As the name suggests, this compound contains sulfur, making it an appealing way to increase your sulfur levels.
Sulforaphane itself has been linked to health benefits too. These benefits include the classic examples like decreasing inflammation and lowering oxidative stress, along with more unusual benefits, like the potential to reduce the risk of some types of cancer.
Indeed, eating cruciferous vegetables regularly is associated with good health overall.
Cauliflower is an especially interesting choice, as the vegetable can be used in so many different ways. Cauliflower rice, for example, has become such a common ingredient that some grocery stores now sell bagged riced cauliflower that can be used as-is.
You'll often see cauliflower as an ingredient in low carb meals, particularly those that try to mimic the flavor and texture of higher carb recipes. For example, you can make cauliflower pizza crust or even cauliflower bread.
Broccoli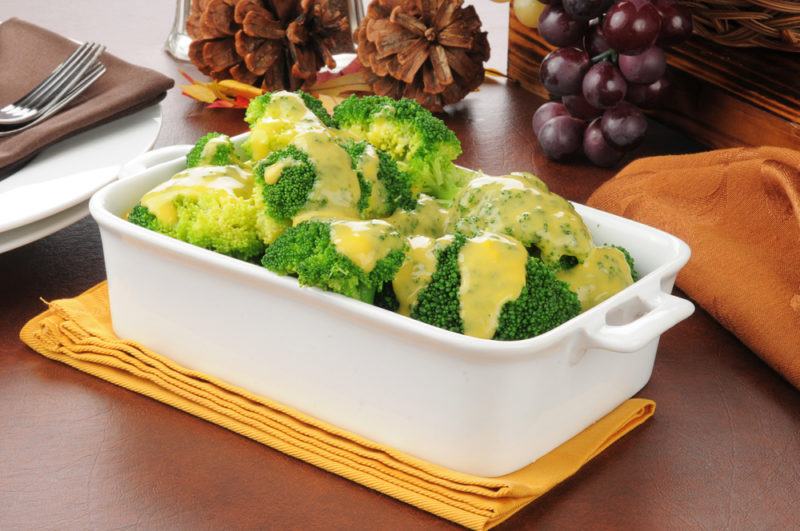 Broccoli belongs to the cruciferous vegetable family too, so its sulfur content shouldn't be too surprising. While broccoli isn't as versatile as cauliflower, it's still a popular vegetable. You might even end up serving broccoli and cauliflower together as part of a meal.
Other Cruciferous Vegetables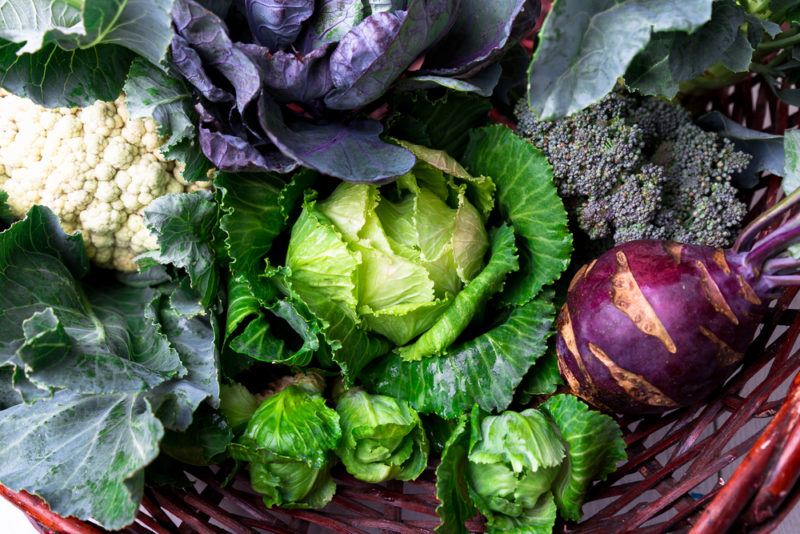 Cauliflower and broccoli are the two most recognizable cruciferous vegetables, but there are many others in the same family. Cabbage, horseradish, radishes, turnips, and Brussels sprouts are all other examples.
Many dark leafy greens fall into the cruciferous vegetable family as well, including kale, collard greens, and bok choy. Cruciferous vegetables don't appeal to everyone, of course. Some of the compounds that offer health benefits, including sulfur-containing compounds, also create a flavor profile that some people find unappealing.
Asparagus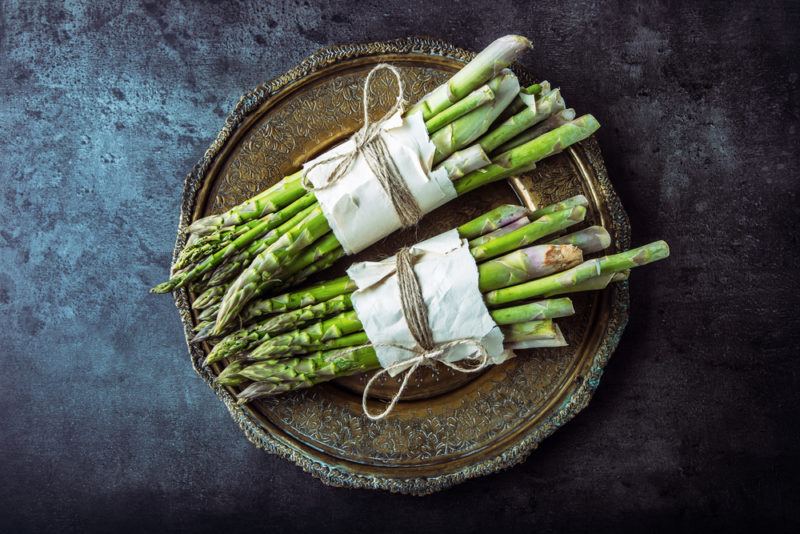 Asparagus isn't a cruciferous vegetable, but it's another interesting choice for sulfur content. Just like other vegetables, asparagus offers many interesting nutrients and plant-based compounds too.
One of these, unusually, is lycopene. Lycopene is an antioxidant that is generally found in orange and red fruits and vegetables (like tomatoes). It's unusual to find lycopene in a green vegetable, but asparagus does actually contain the compound.
Meat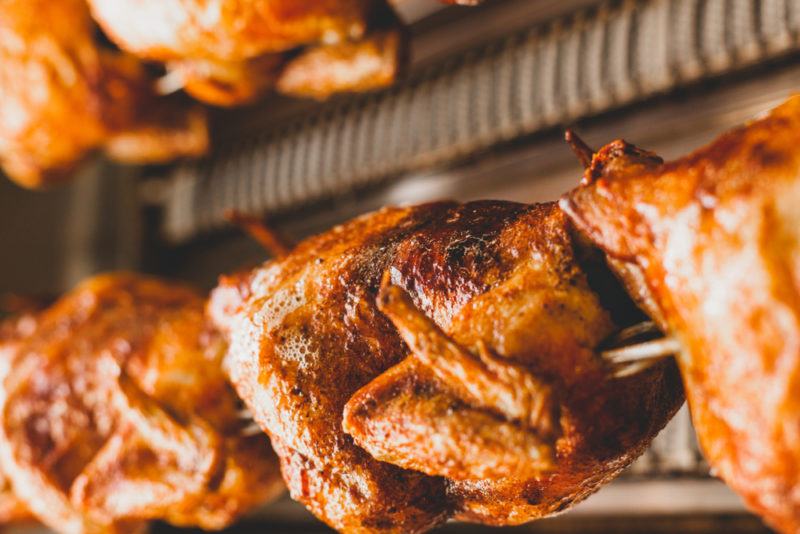 Meat, of all types, tends to be a good source of quality protein, providing you with all the essential amino acids. Some of these amino acids contain sulfur, with cysteine and methionine being two key examples.
Chicken tends to be a particularly good choice, often providing you with more than 300 mg of sulfur in a serving. Chicken also happens to be popular as a healthy food, one that is high in protein and a good source of nutrients, while also being low in fat.
You can also find sulfur in turkey, pork, and red meat. The sulfur levels will vary depending on the type of animal, the cut of meat, and even how the animal is raised. Still, you'll be getting some sulfur either way, along with other nutrients.
While all meat is nutrient packed, red meat is controversial. There are some concerns that the modern diet contains too much red meat, especially as red meat is often high in fat. Other observers suggest that red meat is healthy and can be a nutritious part of most diets.
If you are worried, then it's best to eat red meat in moderation and cut right back on any heavily processed meats, which can include sausages.
Organ Meats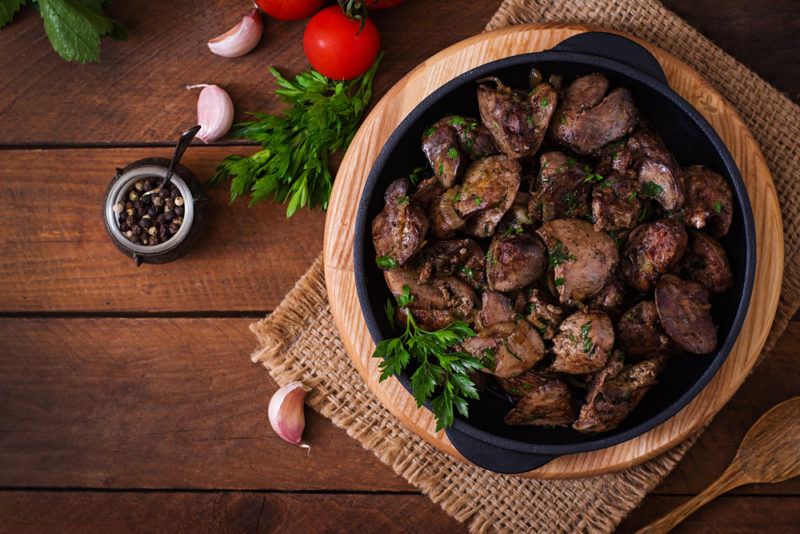 Organ meats deserve a special mention, as these tend to be rich in nutrients, more so than other cuts of meat. As the name suggests, organ meats come from the organs of animals, which can make them unappealing.
If you're new to organ meats, then liver and kidney can be good places to begin. These types of meat are both fairly easy to find and there are plenty of recipes that rely on them. You can also simply cook a little of the meat and mix it in with minced beef. If the meal you're making has rich flavors, then you mightn't notice the organ meat at all.
Fish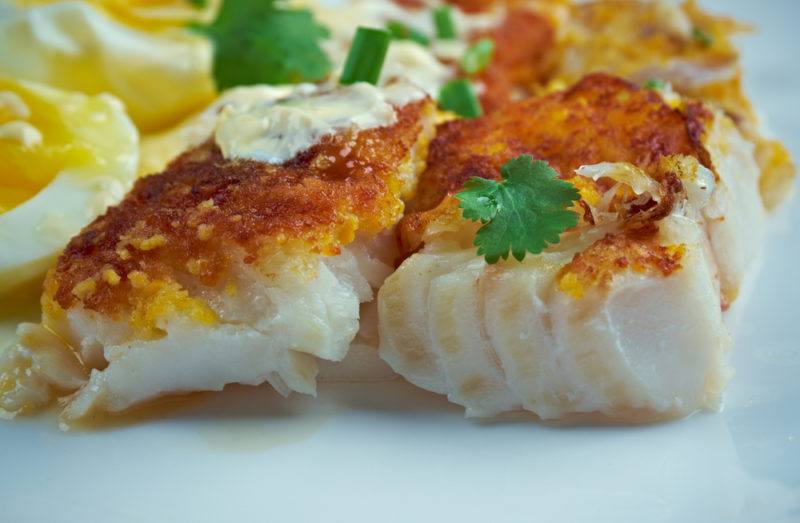 Just like meat, fish contains many amino acids, making it another easy source of sulfur. Fish has some additional advantages too. For one thing, fish is high in omega 3 fatty acids. These compounds are thought to be critical for health, helping to improve cognition, decrease disease risk, and perhaps even help to lengthen your life.
Fish also happens to be a good source of protein, so it can easily keep you satisfied.
The amount of sulfur does vary based on the type of fish that you choose. Haddock and cod are both good choices, although you can easily choose a different type of fish instead.
Other Types Of Seafood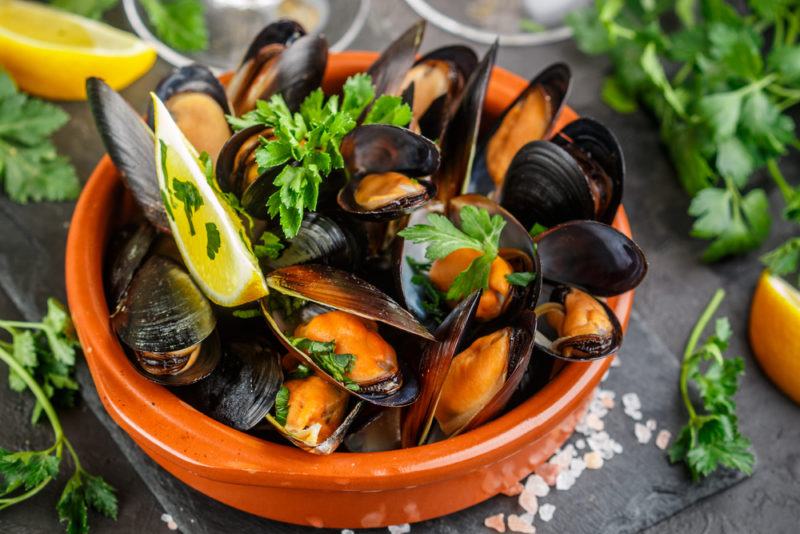 Similar benefits can be found with other types of seafood too, including shellfish. While shellfish often contain less omega 3 than oily fish than salmon, they make up for this by the other nutrients that they contain.
In particular, crabs, mussels, and scallops are all very good choices for sulfur.
Eggs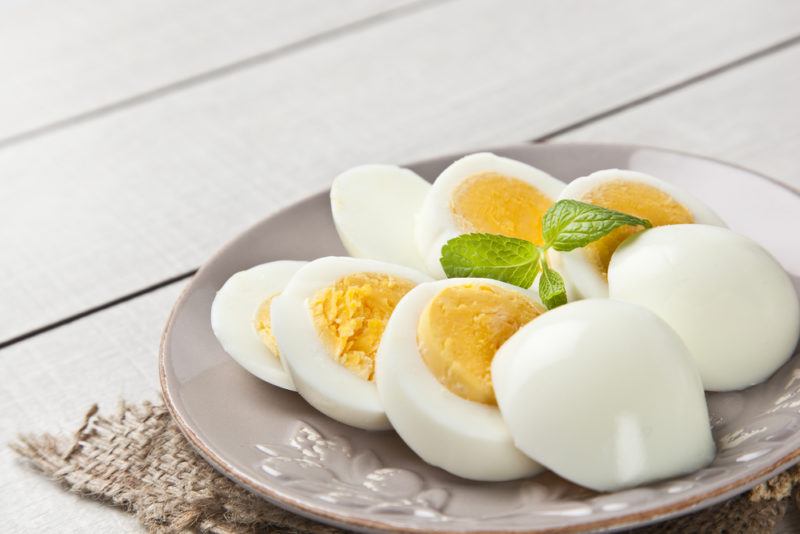 Eggs have a distinct sulfur-like smell at times, so it shouldn't be shocking to see them on this list. They contain a compound called methionine. This is an amino acid that is high in sulfur.
Some theories suggest that methionine may have health benefits, such as helping in immune system regulation and reducing oxidative stress. Other theories suggest the opposite, claiming that decreasing methionine intake is better for your health.
Either way, eggs clearly have many benefits. They're a good source of protein for one thing. This is one reason why so many people rely on eggs regularly for breakfast. Eggs powerful for their nutrient content too, which includes vitamin B12, vitamin A, and selenium.
The nutrient density of eggs means that having an egg or two most days is an easy way to dramatically reduce the risk of nutrient deficiency.
Nuts And Seeds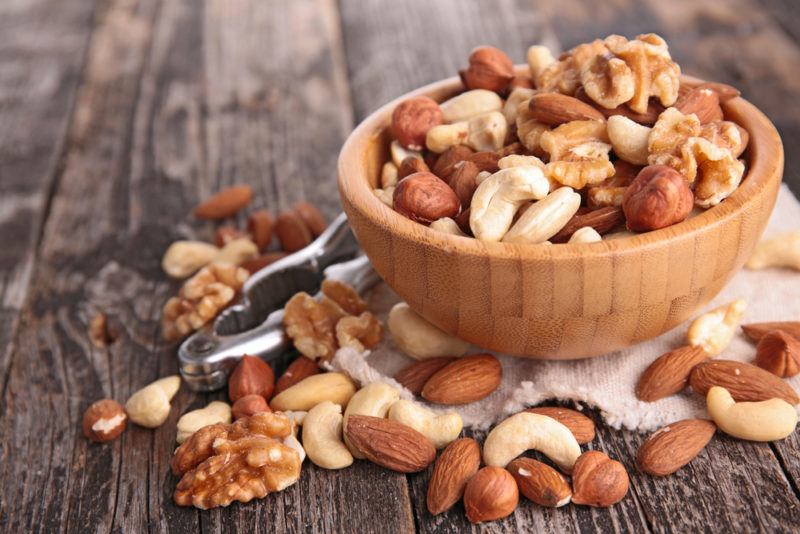 Sulfur-containing compounds are also present in many nuts and seeds. For nuts, almonds, Brazil nuts, and walnuts are some of the most significant sources of sulfur. With seeds, sesame seeds and pumpkin seeds have the highest amounts of sulfur.
Of course, all of these nuts and seeds have their own advantages. For example, almonds are often thought to be the most power nut. They have plenty of important nutrients, are a good source of protein, and happen to taste good as well.
Likewise, Brazil nuts are the single best source of selenium that you can find and walnuts are thought to be powerful for improving brain health.
For most people, including a variety of nuts and seeds in your diet is the best possible approach. This way you're getting access to all of the different nutrients and plant-based compounds, rather than a narrow selection.
Spices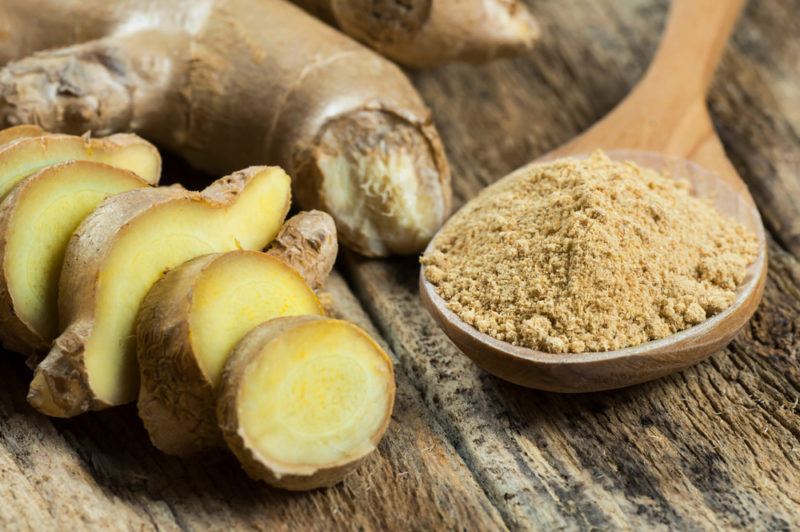 Some types of spices will provide you with sulfur as well. Curry powder and ground ginger are key examples, although there are others too.
In fact, spices are often concentrated sources of nutrients. However, you're not typically eating a large amount of any given spice at a time.
Some types of condiments end up containing a decent amount of sulfur too, including examples like horseradish and mustard. The sulfur comes from the ingredients that are used, so you can normally get a sense of the sulfur content by looking at the ingredients used in a given product.
Legumes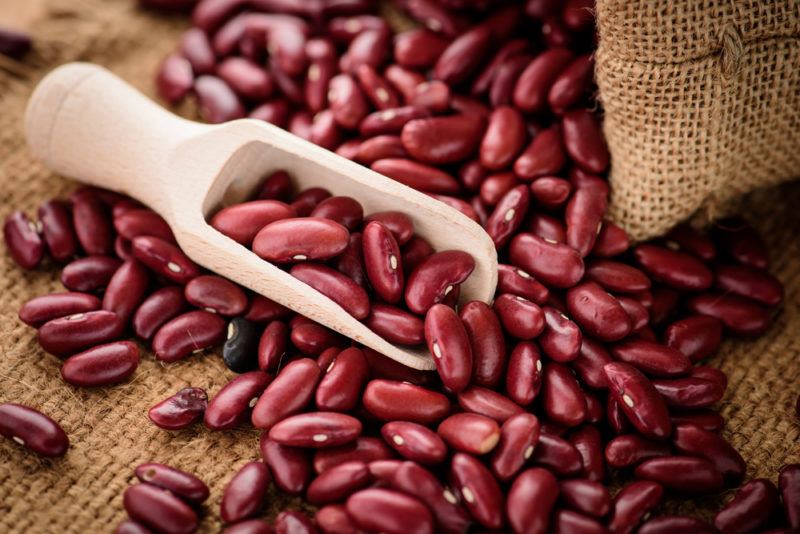 Many types of legumes contain sulfur as well. This includes soybeans, split peas, and many different types of beans, such as kidney beans and black beans.
Legumes are an interesting type of food. They're powerful in many ways, offering plenty of nutrients and acting as an important plant-based source of protein. This is especially true for soybeans, as these are used to make many foods and ingredients, such as soy milk, soy flour, tofu, and tempeh.
Yet, despite their benefits, legumes are also controversial. One problem is that some of the compounds present may act as antinutrients. This means that they affect our body's ability to absorb nutrients and mean that we get less benefits from our food than we would otherwise.
The problematic compounds in legumes can often be decreased by soaking or fermenting the legumes before use. For example, beans are often soaked overnight or for 12 hours before they are used.
And, in the end, there are many more benefits to legumes than there are problems. This means that it's worth including legumes in your diet regularly.
Dairy Products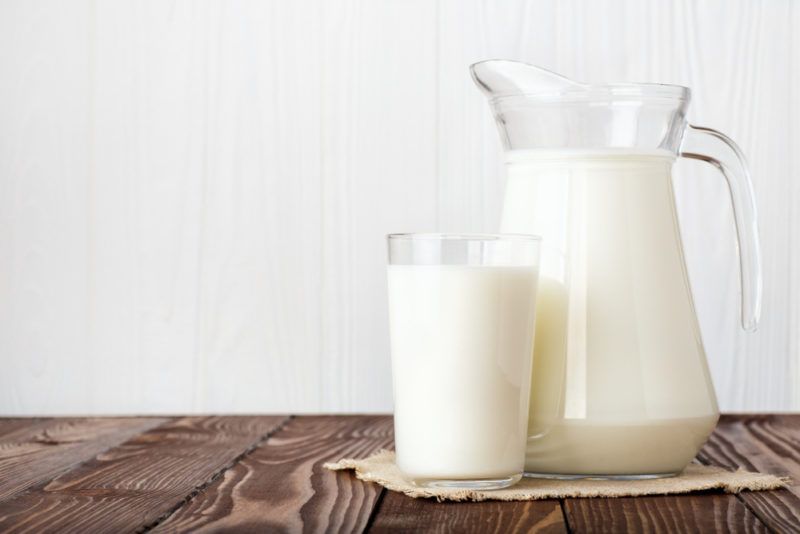 Many dairy products end up being rich in sulfur too, starting with milk. If you're not lactose intolerant, then dairy could be one of your key sources of sulfur. After all, milk and other dairy products are commonly used as ingredients in many different meals.
Yogurt and cheese are notable for their sulfur content too. Cheddar and parmesan, for example, are two key types of cheese that contain sulfur.
Just be aware that the nutrient content of cheese does vary dramatically by the type of cheese that you choose. This happens because there can be large differences in the way that various types of cheese are made.
Dried Fruit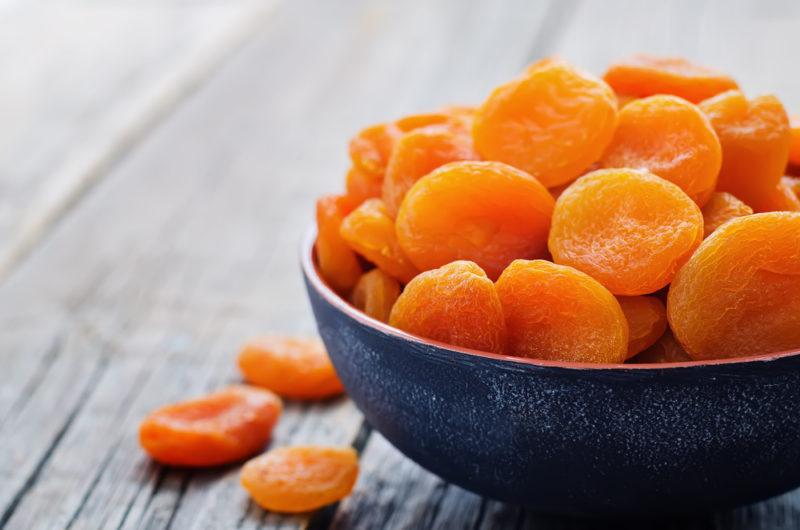 Fresh fruit tends to be relatively low in sulfur, but some dried fruits do end up being high in sulfur. Key examples include figs, apricots, peaches, and sultanas.
The high sulfur content of dried fruit isn't too surprising. Dried fruit tends to be a more concentrated source of nutrients than fresh fruit, as the liquid is removed when the fruit is dried.
This also means that dried fruit can contain more antioxidants and plant-based compounds per gram than fresh fruit.
However, when fruit is dried, it ends up being a concentrated source of sugar too. This means that you need to be wary about the amount of dried fruit that you eat.
Some Types Of Grain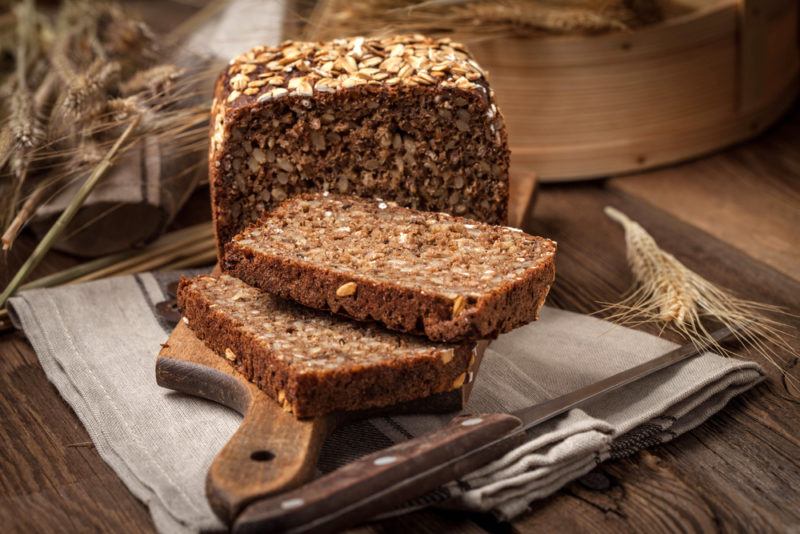 Some types of grains may contain sulfur as well. However, reports differ on the amount of sulfur that is present and whether the sulfur content is significant. For example, wheat is sometimes viewed as containing hardly any sulfur, but some types of bread and whole wheat pasta can end up being notable for their sulfur levels.
Because of this, it's worth doing a little research for any grain that you plan on eating regularly. Even if you don't need to cut out a particular grain, it's useful to have a sense of the nutrients that it contains so that you can balance your diet well.