Protein powder sounds like a powerful idea, doesn't it? Simply add a scoop or two of the powder into milk, water, a smoothie, or a baking recipe, and you've dramatically increased your protein intake. Yet, food is often more complex than it seems. So, is protein powder good for you? Should you be using the powder regularly or giving it a hard pass?
Not surprisingly, the question is a complex one. After all, there are multiple types of protein powder to choose from, not to mention all the other differences between one product and the next.
Let's take a close look at what you can expect with protein powder. That way you know all you need to decide for yourself.
Is Protein Powder Good For You?
What Is Protein Powder
Types Of Protein Powder
Why You Might Use Protein Powder
The Problems With Protein Powder
How To Choose The Best Protein Powder
How Do You Use Protein Powder Well?
Final Thoughts
What Is Protein Powder?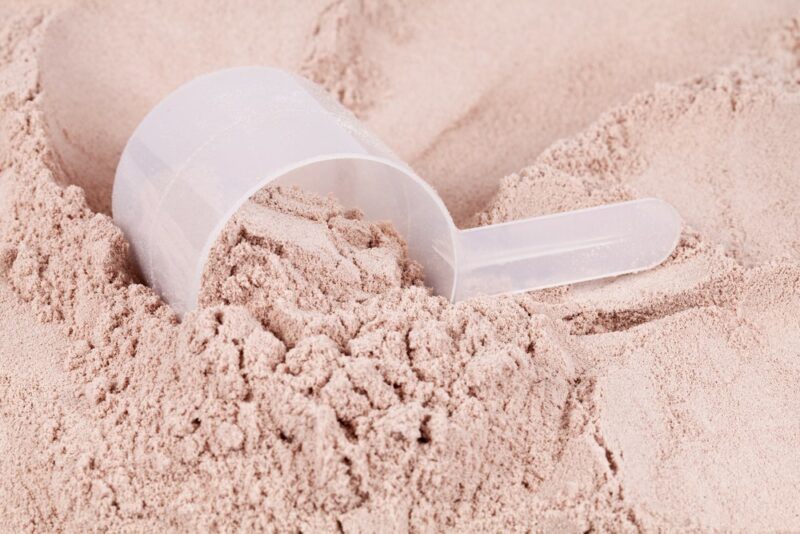 Protein powder is exactly what the name suggests – a powder that is rich in protein. You can use it in a variety of ways, like making a protein shake or a smoothie. You can even use protein powder as an ingredient in some recipes, giving you protein rich brownies, pancakes, and other foods.
These days, you'll find protein powder sold in many places, including grocery stores, pharmacies, sports supply stores, health stores, and online. There are also many many different products, which can make it difficult to find the right one.
You'll also see some pre-prepared protein shakes, like Boost and Ensure. We'll talk about those in a different post. For now, we're focusing on products that you buy in the powdered form.
Protein powders aren't all the same. There are vast differences between one product and the next, which means that the benefits vary as well.
Types Of Protein Powder
The biggest difference between products is where the protein comes from. The protein source influences the specific amino acids that are present. Here are some of the main types:
Animal-Based
Whey. Milk contains two types of protein, whey and casein. Whey is often produced in excess as a byproduct of cheesemaking, which is partly why there are so many whey protein products. Whey is also thought to be the most powerful type of protein powder, as it contains all the essential amino acids and is rich in BCAAs (branched chain amino acids).
Casein. Casein protein powder is less common than whey, but has some of the same advantages. But, while whey is digested quickly in the body, casein can take hours to digest. This makes the two types relevant in different situations.
Collagen. Collagen protein powder is unusual. While it contains protein, it's mostly used as a way to increase collagen intake and the amount of protein per serving is often lower than with other products. Collagen is also expensive, so it's not a great choice if you're just looking for protein.
Egg. Egg protein powder is often just made from egg whites, as these are rich in protein and don't have much flavor. Some products use other ingredients to help emulsify the egg and ensure that it mixes well. Unfortunately, egg protein powder tends to be more expensive than most other types.
Plant-Based
Pea. This protein powder is made from yellow peas. It's often inexpensive and is an easy-to-digest source of plant-based protein. While all 9 essential amino acids are represented in pea protein, the powder is relatively low in methionine.
Rice. Rice is another plant-based choice. The protein powder mostly relies on brown rice. It can be high in carbs, unless you buy rice protein isolate rather than concentrate.
Hemp. Hemp is rapidly becoming more popular. The protein is easy to digest and is one of the few plant-based options that contains all 9 essential amino acids. However, it is more expensive than most other plant-based protein powders and comes in smaller containers.
Soy. Soy is controversial, but it is also a common type of plant-based protein powder, one that's often inexpensive.
Seeds. Some less common protein powders use seeds as their source of protein. Some may use a single type of seed, while others use a variety instead, like cranberry seeds, sunflower seeds, and pumpkin seeds.
You'll also find many blended protein powders. These use multiple sources of protein within the same product. Plant-based blends are particularly common, as most types of plant-based protein are lacking in at least one of the essential amino acids. Combining multiple plant-based proteins in the same products gets around that issue.
Protein Powder Versus Meal Replacement Powder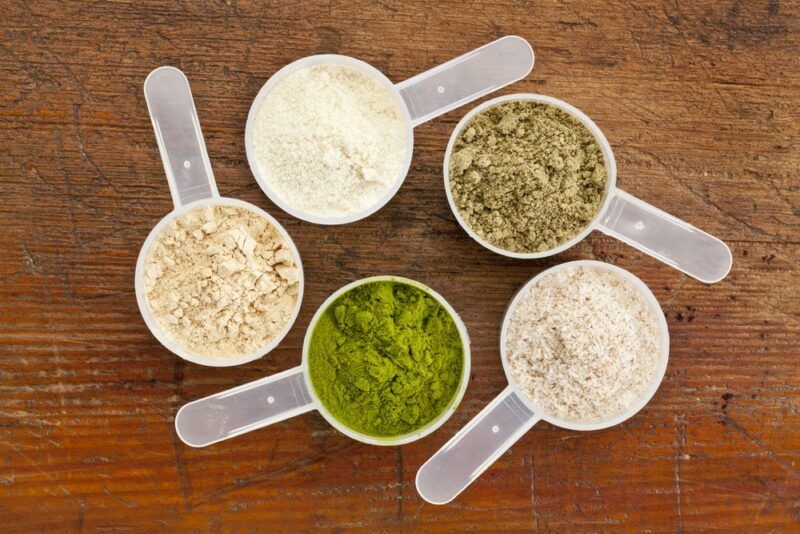 If you look in the grocery store or a sports store, you'll see some products marketed as protein powder and others that use the word meal replacement instead.
The main difference is in the other ingredients used. Protein powder products focus on the protein powder and little else. The best ones don't use additives, so they're almost pure protein. Others may have some flavoring ingredients, sweeteners, and perhaps fillers.
Meal replacement powders also contain a variety of vitamins and minerals. The goal is to provide some or all of the nutrients that you would normally get as part of your meal. Some products contain 33% of your daily intake for key vitamins and minerals, along with more than 100% for a few of them, which is quite impressive.
Meal replacement powders can be helpful if you are regularly skipping meals and are worried about nutrients. Still, the idea isn't very different from taking a multivitamin supplement. It's much better to get the nutrients from food instead.
On average, meal replacement powders contain less protein per serving than pure protein powders.
Why You Might Use Protein Powder
Weight Loss
Protein powder is often used as a weight loss tool, as a protein shake can be consumed instead of a meal and often contains fewer calories. The easiest approach is to replace a single meal each day with a protein shake. This reduces your calorie intake, making weight loss easier.
Replacing a meal with a protein shake works surprisingly well, as protein is filling. The shake might not fill you up as much as a full meal, but it can work much better than skipping breakfast entirely.
Indeed, various studies suggest that when people restrict calories, high protein diets are more effective than low protein ones.
This isn't the only advantage.
Protein may also boost your metabolism more than other types of food, as it requires more energy to digest. This effect isn't huge, but still helps your weight loss journey.
Weight Gain
Interestingly, some people use protein powder to gain weight instead. It performs this role well too, as drinking a protein shake is easier than preparing a meal.
Whether the powder promotes weight loss or gain depends on how you use it. If you have a protein shake instead of one of your meals, then you'll probably lose weight (as long as you don't compensate for the lost calories later in the day).
But, if you have a protein shake as well as your meals, then you're likely to gain weight instead. You can also add some high calorie ingredients to your smoothie to increase weight gain,. Nut butter or even coconut oil can work well.
For Muscle Development
Athletes often use protein powder to help promote muscle development. Whey protein powder is most popular for this goal, as it is a complete source of protein that contains BCAAs. These BCAAs may be more powerful than other amino acids for building muscle.
If you're focusing on muscle development, you'll need to think about when you use the protein powder. Bodybuilding sites often recommend having the protein powder a little before or after your workout, or perhaps both. Doing so means that the amino acids are available when your body needs them the most.
To Increase Protein Intake
You might want to increase protein intake for other reasons too. Some theories suggest that many of us aren't consuming enough protein.
Low protein intake can be a particular problem as you age or when you are losing weight. In both cases, not getting enough protein may lead to muscle loss, which isn't desirable.
Plus, insufficient protein intake means your body mightn't have the resources it needs to function well. After all, protein is made of amino acids. These amino acids play countless roles in our body. We can make some ourselves, but other amino acids need to come from our diets.
If your protein intake is insufficient, then a protein shake is one of the easiest ways to get more protein.
For More Nutrients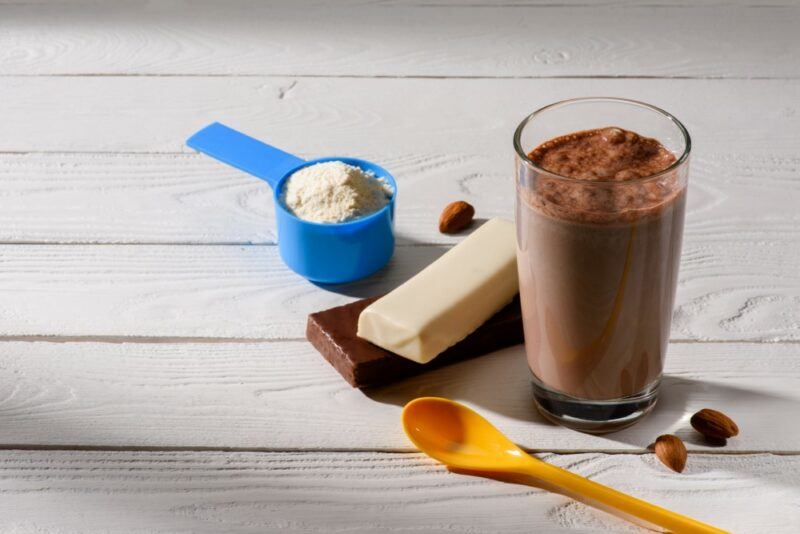 If you choose a meal replacement powder, you get a decent amount of nutrients along with your protein. Some products contain 33% of most main nutrients and even more than 100% of some critical ones.
These nutrients can be useful if you're worried about being deficient in any area.
However, getting vitamins and minerals from protein powder isn't the same as getting them from whole foods. You're basically taking a multivitamin supplement in the form of a powder.
The Problems With Protein Powder
The Risk Of Contamination
Protein powders fall into the category of supplements and there isn't much regulation around supplements. Companies still need to make sure their products are safe, of course, but much of the responsibility is theirs. There isn't much independent testing, so you can't be entirely sure that your protein powder is what the label says.
Some companies try to cut corners by using cheaper ingredients or by adding fillers.
For example, whey protein isolate is much more expensive than whey protein concentrate, as the isolate version is more refined and contains more protein. A shady brand might advertise a product as being 100% whey protein isolate, while actually using a mixture of the two types of whey.
There's also the risk of toxins in your protein powder. These may come from the soil or from how the powder is processed.
Artificial Ingredients
Even when protein powders contain exactly what they claim to and nothing more, many contain concerning ingredients. This includes artificial sweeteners, thickening ingredients, artificial colors and flavors, GMOs, and more.
While the ingredients may be technically considered safe, there are plenty of concerns about them. Many people avoid artificial ingredients as much as possible. Even if you don't think the ingredients are dangerous, there's little doubt that whole foods and natural ingredients are a healthier alternative.
Thankfully, some protein powder products skip the additives and rely on natural alternatives. This should be clear from how they're marketed. You can check their ingredients list too, as healthy products should have a shorter ingredients label than heavily processed ones.
The Sugar Content
Some protein powders are neutral, with no added flavors or sweeteners. However, many companies try to make their products taste better, which often involves adding sugar.
The amount of sugar can be seriously concerning. I've seen products with as much as 20 grams of sugar per serving. That's an absurd amount for something that's meant to be healthy.
You'll often find that protein powders with excessive sugar don't contain that much protein either, making them even less helpful.
Too Much Protein?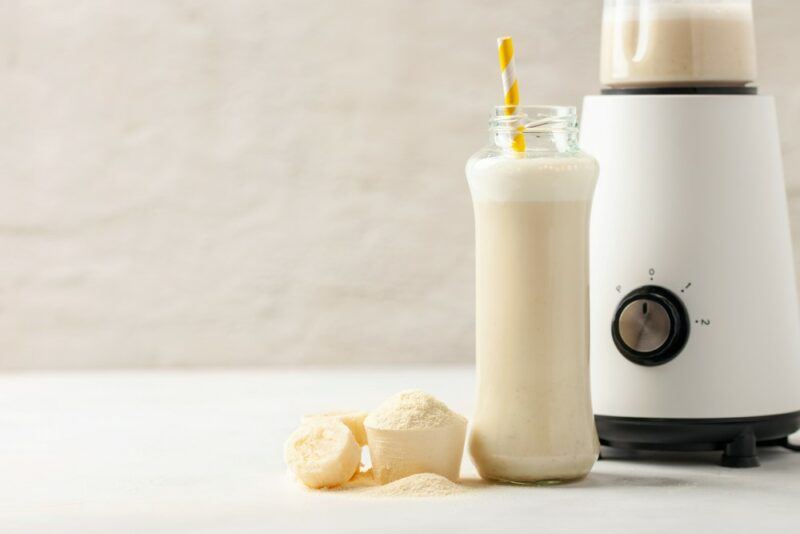 While high protein diets may have many health benefits, the long-term effects of a high protein diet aren't well-known. This could be a problem for anyone who drinks protein shakes regularly.
Currently, the recommended daily protein intake is around 56 grams for men and 46 for women. You could easily get 20 grams or 30 grams from a protein shake (depending on the powder you use and the other ingredients).
Anyone eating protein-rich meals during the day too could easily go past those protein goals. Doing so day after day could be an issue.
You May Displace Nutritional Food
Protein shakes are most effective when used in place of a meal. Doing so creates problems as well because the shake will never contain all the beneficial nutrients found in whole food.
This issue is even worse if you're relying on protein powder rather than a meal replacement product. With this powder, you're getting protein and little else.
To stay healthy, you'll need to make sure that you get all the nutrients you need in the remaining two meals of the day. Doing this isn't as easy as it sounds. Some people end up deficient in key nutrients like iron or calcium, even when they're eating their full three meals.
There May Be Allergens Present
Some protein powders contain common allergens, like dairy and soy. Others might be contaminated with allergens during their production process. Gluten contamination is a particularly common problem, so keep an eye out for gluten-free labels.
Avoiding allergens sounds easy enough, as protein powder products all have nutritional labels.
However, there's no guarantee that the product actually matches its label. The limited oversight for supplements means that some protein powders might contain allergens that aren't obvious from their labels.
How To Choose The Best Protein Powder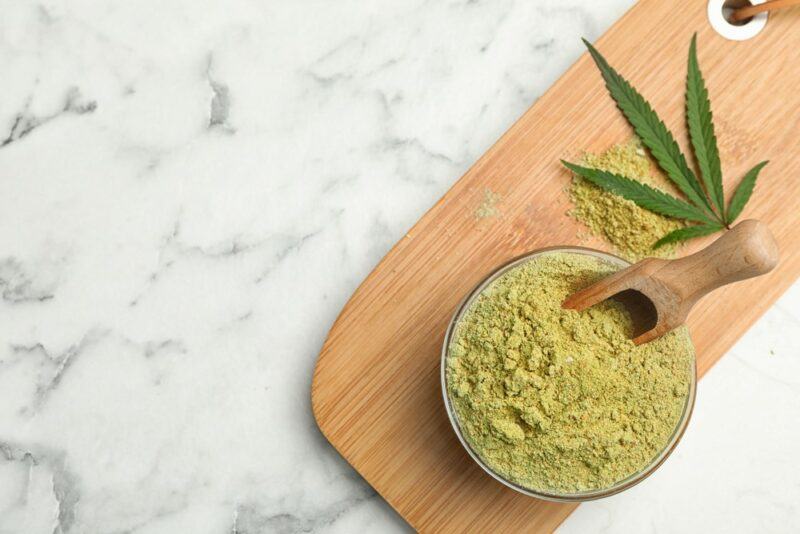 With so many protein powders on the market, finding the right product can be difficult. However, there are a few key areas to look at that can help you in your selection process.
Short Ingredients Labels Are Better
The first step is to look for ones with as few additives as possible. For example, the Naked Whey protein powder contains whey protein concentrate and literally nothing else.
If you want a flavored product, look at the ingredients used to create the flavor. The strawberry protein powder from Naked Whey, for example, uses organic coconut sugar and dried strawberries for the flavor. That's much better than artificial flavors and sweeteners.
Check The Protein And Sugar Content
The amount of protein and sugar can vary dramatically from one product to the next. For example, the vanilla protein powder from Ensure contains 9 grams of protein and 13 grams of sugar per serving. That's shocking.
Other protein powder brands might contain anywhere from 20 to 30 grams of protein per serving and perhaps just a few grams of sugar.
In most situations, high protein and low sugar products will be best.
Consider The Carb Content
There's much debate about whether carbs are good for you or harmful. However, most of the helpful ones are complex carbs from natural foods, which you're not going to be getting in a protein shake.
Because of this, protein shakes with fewer carbs tend to be healthier. There are plenty to choose from, including many whey protein products.
You can also look for the word isolate on the product label. Protein isolates tend to contain mostly pure protein, which makes them naturally low in carbs.
Keep an eye out for sugar too, as this increases the carb content. Some brands use a large amount of sugar in an attempt to make their protein powder taste better. Thankfully, any added sugar will be clear on the ingredients label.
Look At Reviews
Reviews can be incredibly helpful because they tell you things about the protein powder that the ingredients list never can, like whether the protein powder tastes good and whether it blends well with water and milk.
However, reviews aren't all created equal. Some have been sponsored in some way or come from excessively positive reviewers. Such reviews won't give you a true picture of what to expect.
Look for reviews that are more balanced instead, particularly those that talk about good features and bad features at the same time. These provide the most useful information.
How Do You Use Protein Powder Well?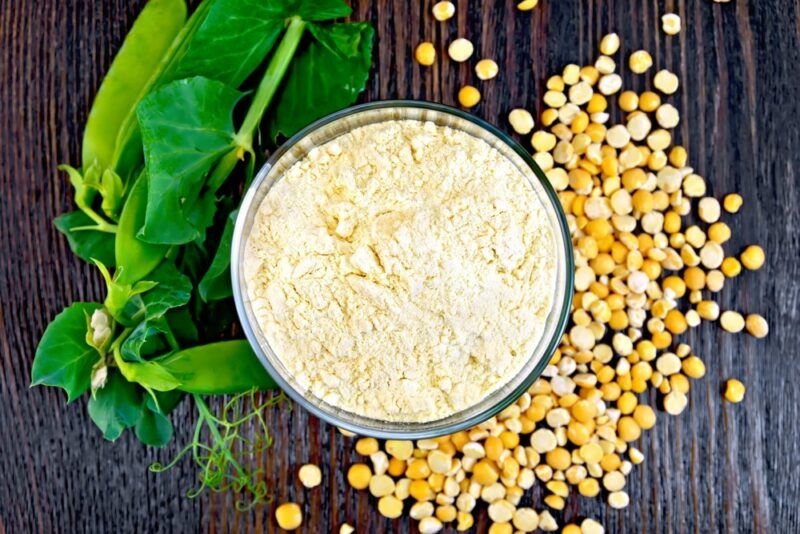 Once you have a product that you like, the next step is using it.
Many people turn to protein shakes or protein smoothies. Protein shakes often just contain the protein powder and some type of liquid (like milk, plant-based milk, or even water), while protein smoothies use a variety of add-ins that influence the flavor and the texture of the drink.
The extra ingredients also make smoothies more nutritious, as these can provide vitamins, minerals, antioxidants, healthy fats, and extra protein. But, if you're going to make a smoothie, you need to be careful. It's easy to go overboard with fruit and high-calorie ingredients – creating a smoothie that tastes amazing and isn't that good for you.
To avoid the problem, focus on nutrient-dense ingredients, particularly vegetables. Some fruit is fine, as this provides important antioxidants and makes your smoothie taste fantastic. Just be cautious with your quantities.
Final Thoughts
It's easy to understand why protein powder is so popular. The powder is a convenient way to increase your protein intake and that extra protein could help with muscle development and weight loss, while promoting health in other ways too.
Protein powder can also be powerful for people who struggle to eat regular meals or who need more nutrients than normal. Even so, protein powder is a processed product. It won't give you the same benefits as whole food sources of protein, like nuts, seeds, meat, and legumes.
Frequently Asked Questions
Is Protein Powder A Meal Replacement?
The term protein powder is normally used for protein-focused products. These often use just a few ingredients and don't contain many nutrients. Many are also low in fat and carbs.
While the protein will help to keep you satisfied, the products aren't great as meal replacements. After all, you need vitamins, minerals, and macronutrients to stay healthy.
Other protein powders are specifically designed to replace meals. These are often a good source of nutrients, sometimes giving you a third of your requirements for most nutrients in a single serving.
Some also contain more calories and fat than plain protein powder, which makes them even better for replacing meals. There are many differences between brands, so it's always important to read the nutritional label carefully and make sure the powder matches your needs.
Is It Okay To Use Protein Powder Every Day?
If you choose a reliable brand, then yes, it's completely safe to use protein powder every day. All of the ingredients have been tested for safety and plenty of people do use protein shakes daily.
However, this is only true if the rest of your diet is balanced. You should be getting most of your protein and nutrients from real foods, rather than protein powder.
Is Protein Powder Covered By EBT?
Protein powders that are sold as food can typically be purchased through EBT, while powders sold as supplements can't be. Because of this, you'll often be able to buy protein powders from Walmart and various grocery stores, but not from places like GNC.
This also means that workout protein powders, including pre-workout and post-workout powders, generally won't be covered through EBT.
Is Protein Powder Necessary?
Most people don't need protein powders at all. It's easy to get all the protein you need from your diet without ever turning to protein powders.
The powders shine for convenience, as they're a fast and easy way to boost protein intake. For example, it's certainly easier to prepare a protein shake than to cook and eat a steak.
Protein powders are occasionally necessary for people who struggle to get enough protein, perhaps because they can't tolerate solid food. However, such situations are rare.
Is Protein Powder Safe For Kids And Teens?
Children and teenagers can theoretically consume protein powder without a problem. Most won't need to, though, as they're getting enough protein from their diet. It's also much better for them to rely on whole foods, as doing so will give them more nutrients, antioxidants, and other powerful compounds.
There are cases where kids or teens might need protein powder, like if they're picky eaters. In such situations, it's crucial to work with their doctor to find out what they need and what's safe for them.