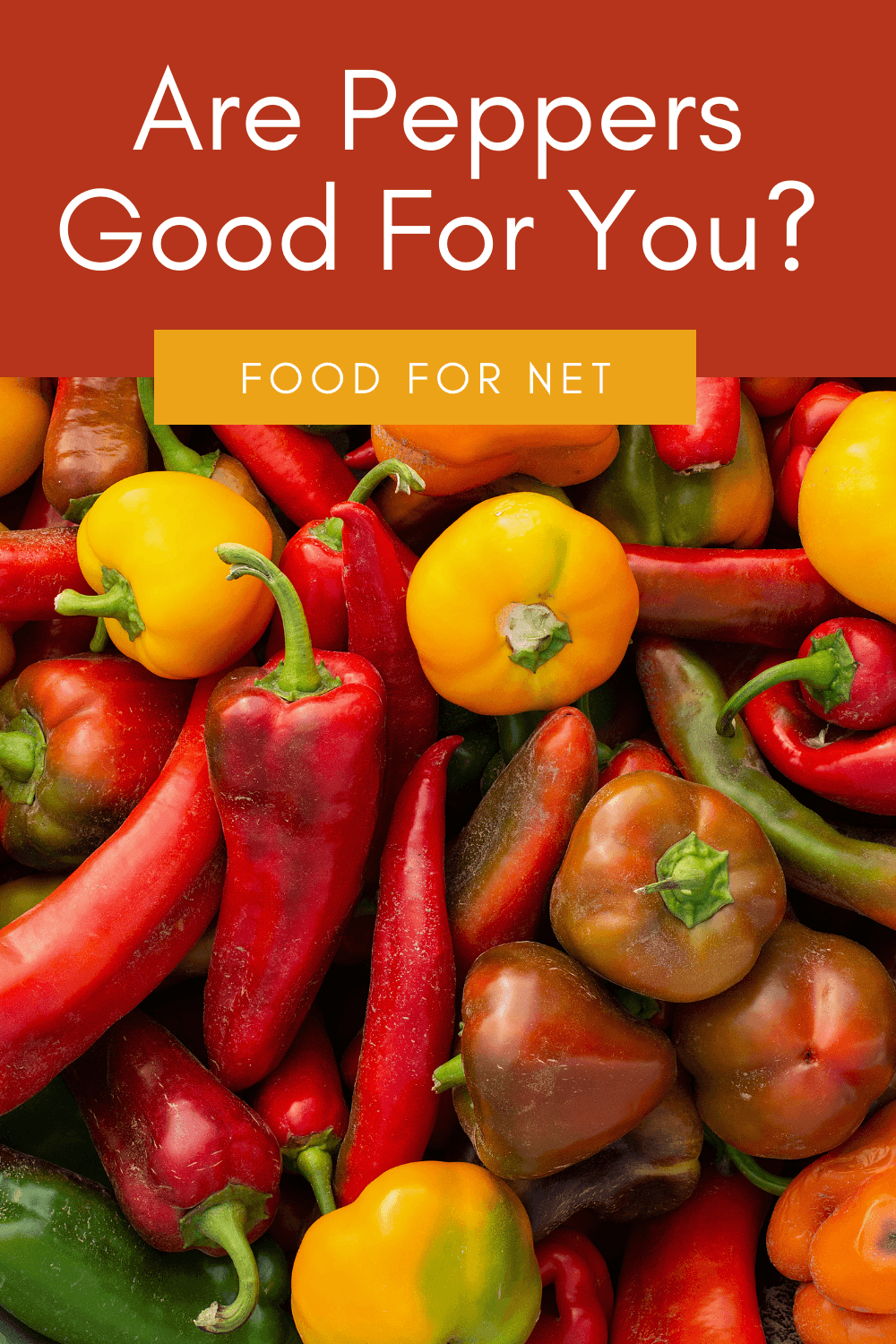 Hot peppers and bell peppers are popular ingredients in all types of meals. Some of us prefer the subtle sweetness and crunch of bell peppers or another type of sweet pepper, while others lean towards the hot and spicy variety instead, like jalapenos. But are peppers good for you?
Surprising as it might seem, all of these peppers come from the same genus – Capsicum. As such, they're very closely related and share many properties in common. The biggest difference is, of course, the spiciness, which varies dramatically.
What do peppers mean for your health though? Are peppers good for you and should you be using them regularly?
To answer that question, we need to take a close look at what peppers offer, along with the different types. After all, fruits and vegetables are rarely simple. Most have at least some hidden benefits and risks. Peppers are no exception.
Are Peppers Good For You?
Types Of Peppers
How Peppers Could Be Harmful
Which Types Of Peppers Are Healthiest?
Can Peppers Help You Lose Weight?
What About Black Pepper?
Final Thoughts
Types Of Peppers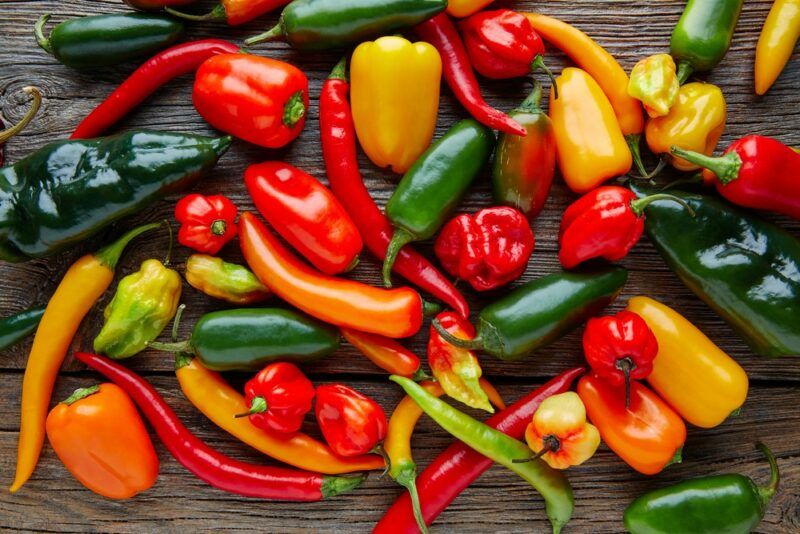 Peppers are most easily categorized by their spiciness.
First you have the sweet peppers, which include examples like bell peppers, pepperoncini, banana peppers, and Anaheim peppers. While these types all have some sweetness, they vary in flavor, texture, and size.
They can be used in different ways too. For example, the large size of bell peppers gives you plenty of flexibility. You can cut them up and use them in a dish, use bell pepper 'rings' to fry eggs, or even stuff and bake your bell peppers.
Banana peppers, on the other hand, are often pickled and then sliced. They can be stuffed as well, with their small size making them excellent as a type of finger food.
Then there are the hot peppers or chili peppers. These are often categorized using the Scoville scale, which measures the level of heat in peppers.
Sweet peppers fall at the bottom of this scale, with bell peppers scoring 0 SHU (Scoville Heat Units), while Anaheim peppers often fall between 1,000 and 2,500 SHU. Jalapeno peppers, on the other hand, can be anywhere from 2,500 to 10,000 SHU. Ghost peppers are much hotter still, with SCH levels of 750,000 or above.
Not surprisingly, the level of spiciness in peppers does influence your health. We'll dig into the specifics of that effect as we go through the benefits and risks of peppers.
What About Capsicums?
You might also hear the term capsicum from time to time. Capsicum is the genus that all peppers come from. As such, any type of pepper is technically a capsicum.
That said, in some parts of the world, including New Zealand and India, you'll sometimes see bell peppers called capsicums. While these naming conventions can get a little confusing, there's nothing to worry about – just choose the type of pepper you enjoy the most, regardless of what it's called.
Benefits Of Peppers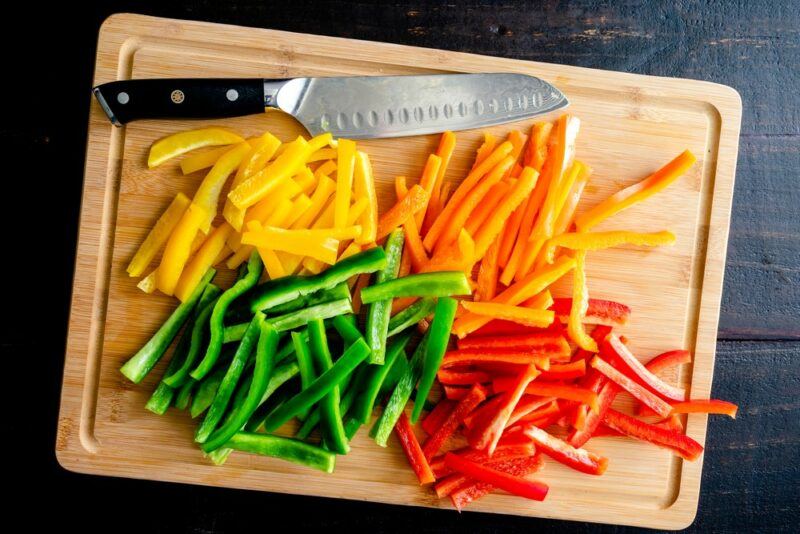 Let's begin with the good news. Peppers do offer many benefits, regardless of the type you choose.
They Offer Plenty Of Important Nutrients
Peppers are naturally low in calories, but still provide a decent array of nutrients. You'll find plenty of potassium, folic acid, vitamin A, B vitamins, and vitamin E. Other nutrients are present too.
These nutrients are all crucial. How else will your body keep functioning as it should?
They're also linked to health benefits. For example, potassium can help to decrease blood pressure, which can then lower heart disease risk, while folate is essential for pregnant women. Getting plenty of nutrients like these in your diet is one of the most reliable ways to stay healthy and live a long life.
Rich In Antioxidants
Peppers are also a rich source of antioxidants. You've heard about antioxidants, right? They've been making waves for some time now as the next big thing in health.
The compounds do exactly what their name suggests – they decrease the amount of oxidation throughout your body. This effect is critical, as too much oxidation can have some concerning effects, such as increasing your disease risk.
Focusing on antioxidant rich foods helps matters immensely. Not only are you keeping your oxidation levels down, but you're also getting plenty of vitamins and minerals at the same time.
These nutrients may be why antioxidant rich foods are much more powerful than antioxidant supplements.
An Easy Way To Add Flavor And Crunch
These benefits are amplified by how easy peppers are to use. They can be eaten raw or cooked, and prepared in more ways than you can count.
One of the simplest options is to take uncooked peppers, cut them up, and use them as part of a meal. They're excellent in stir fries, for example, or in a salad.
If you're using a sweet pepper, then you get a little extra flavor and plenty of crunch. If you turn to spicy peppers instead, then you're adding even more flavor to your dishes.
Stuffing and baking peppers is another popular option. You can do this with sweet peppers or spicy ones. What about jalapeno poppers? They're a popular example of this style, one that's perfect at any party.
Spicy Peppers May Provide Extra Benefits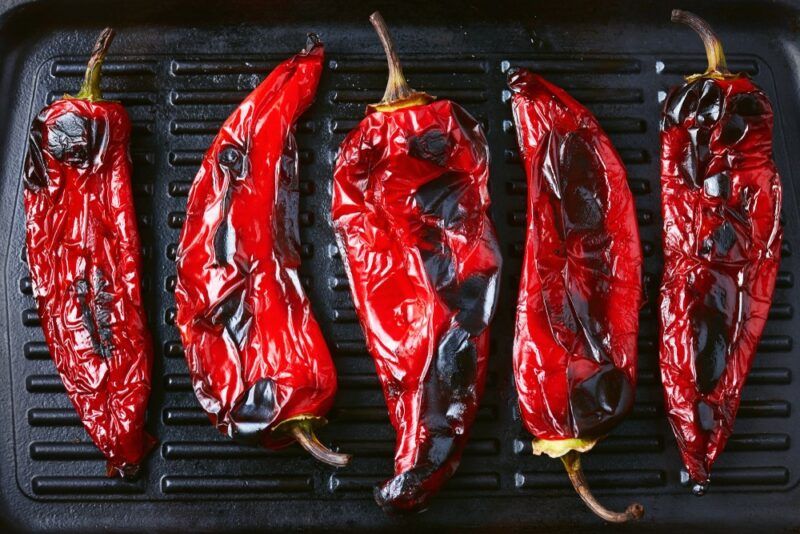 Spicy peppers deserve a special mention, but not just for their intense flavor. Their spiciness comes from a compound called capsaicin, one that has been linked to a surprising number of benefits.
Some theories suggest that capsaicin may increase your metabolism, decrease heart disease risk, and help your body to fight off infection.
Despite common myths, hot peppers don't seem to increase the risk of stomach ulcers. The capsaicin they contain may even help to protect your stomach and decrease the risk of ulcers. How's that for unexpected?
They're Often Low In Carbs
Peppers tend to be low in carbs and you'll see them feature in many keto recipes. Bell peppers that have been stuffed and then baked are particularly popular, as are jalapeno poppers.
However, you'll still need to pay attention to your overall carb intake and the type of peppers that you choose, as the carb content can vary.
How Peppers Could Be Harmful
They're A Nightshade Vegetable
Peppers are a type of nightshade vegetable, along with eggplants, potatoes, and tomatoes. This category is highly controversial, as nightshade vegetables contain alkaloids, which could be a problem for anyone with an autoimmune disease.
These alkaloids may also make the symptoms of irritable bowel disease and similar conditions worse for some people.
Right now, there's little scientific evidence supporting the link between alkaloids and irritable bowel disease and even less for autoimmune systems. Still… scientific research is complex and takes time. Nightshade vegetables could easily have some health effects that we're simply not seeing yet.
If you are concerned about nightshades, it might be worth removing them from your diet for a little while. Nightshade vegetables do have plenty of good features, but you can find these in plenty of other foods as well, ones that are less likely to cause problems.
Spicy Peppers Can Cause Discomfort (and more!)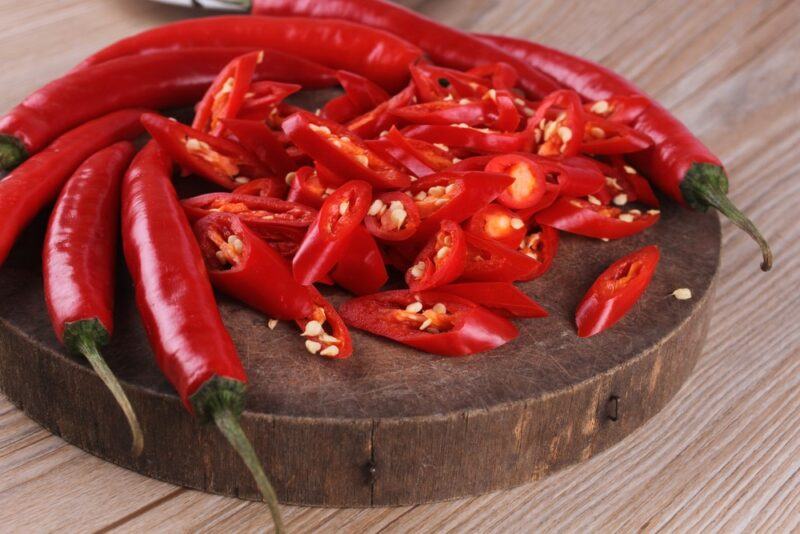 Spicy peppers are surprisingly safe and can actually be very good for you. Even so, they're not a wise choice for everyone. Some people experience significant side effects, including nausea and stomach cramps.
One way around this is to start slowly and introduce a little bit of heat to your diet at a time. This gives your body time to adjust to the spiciness and reduces the risk of side effects.
For some people, however, this might not be enough. If you're continuing to get side effects from hot peppers, it's probably best not to eat them.
Can Be Difficult To Digest
Spicy peppers aren't the only ones that can cause discomfort. Some of us experience issues with mild peppers as well.
The problem is the skin of the pepper. This is fibrous, so it can be difficult for our bodies to break down, leading to side effects like gas and stomach cramps.
There are a few ways to reduce the risk of problems.
Cook your peppers rather than having them raw, as they're easier to digest once cooked.
Remove the skin before eating. A vegetable peeler works well if you're having the peppers raw. If you're cooking them instead, then it's often fairly easy to remove the skin after they've been cooked.
Choose the color well. Green peppers are often immature versions of red peppers
Side Effects From The Fiber
Peppers provide you with some fiber. While this macronutrient is important, fiber can cause side effects if you consume too much of it or suddenly change your intake. Potential problems include gas, bloating, stomach cramps, diarrhea, and the like.
For most of us, too much fiber won't be an issue. It would take at least 50 grams of fiber per day to start to be a problem and 70 grams or more is when things become serious. Few people consume this much fiber regularly.
For the average person, side effects come from suddenly changing fiber intake instead. For example, if you're at a party and much of the finger food is high in fiber (like celery sticks, berries, and raw vegetable dishes), you might find yourself feeling ill pretty quickly.
It's always best to increase your fiber intake slowly and drink plenty of water along the way. This helps to minimize any side effects. Don't worry though, while your body's reactions to changes in fiber can be unpleasant, they're not harmful and won't last for too long.
Which Types Of Peppers Are Healthiest?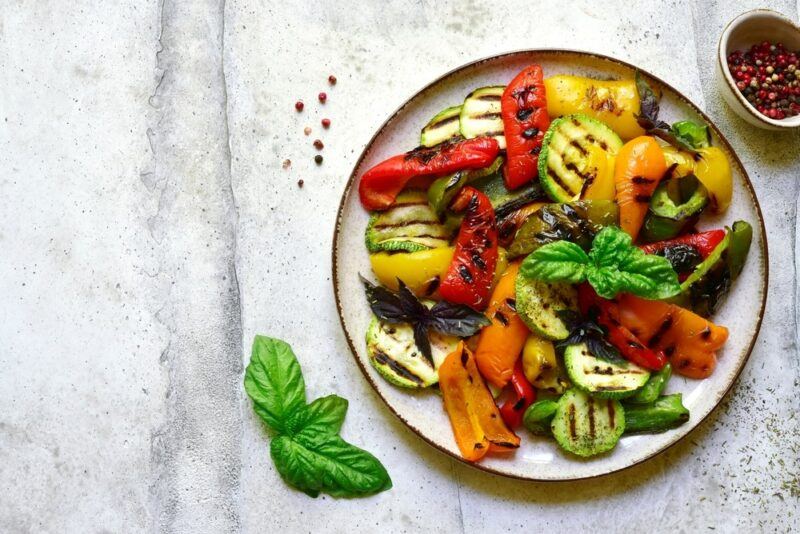 All types of peppers are good for you, giving you a variety of nutrients and antioxidants, in a vegetable that's naturally low in calories. The best type, however, will depend on your needs.
Color Matters
Red peppers can be healthier than green ones, as they've generally been on the vine longer and tend to be higher in antioxidants. That said, purple antioxidants give you anthocyanins, which are powerful too, and green peppers have more antioxidant activity than you'd expect.
These patterns suggest that you'll see the most benefits by sticking to a variety of colors, rather than a single type of pepper.
Don't Forget About The Heat
The spiciness of your peppers matters as well. As we highlighted earlier, the compound that makes peppers spicy has also been linked to benefits, like improved heart health and higher metabolism.
This suggests that spicy peppers are healthier than sweet ones – as long as you can tolerate the heat. If you start getting side effects from these peppers, like nausea, stomach cramps, and even vomiting, then you should probably stick to mild peppers instead.
The Carb Content Varies Too
Peppers are all fairly low in carbs, so they should be fine for anyone following a regular diet. But, if you're following a keto diet, some types of peppers are going to be better than others.
In particular, red peppers contain more net carbs than green ones (not surprisingly, as they're also sweeter), so they're harder to fit into a keto diet. Spicy peppers might contain more carbs than you'd like per 100 grams too, although thankfully, you're probably not eating many spicy peppers at a time.
Can Peppers Help You Lose Weight?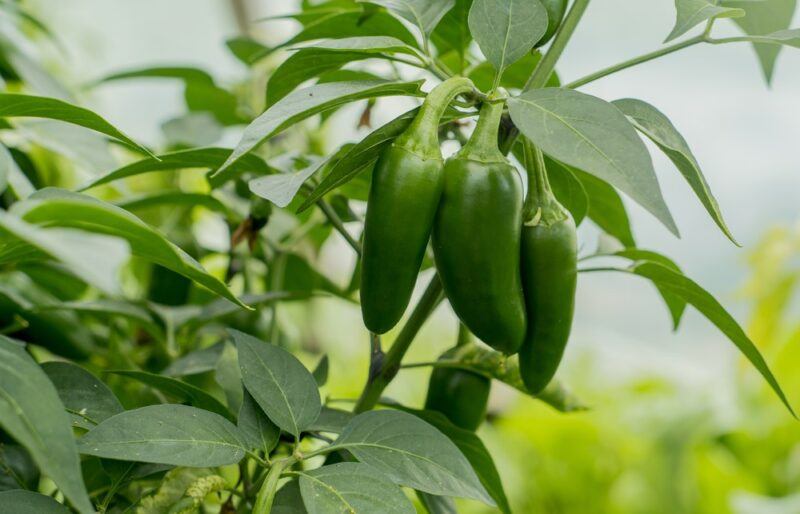 Peppers, particularly spicy peppers, are sometimes promoted as a weight loss tool. There's some evidence for this idea too, as the capsaicin in these peppers can increase your metabolism.
This effect is strongest for people who don't eat spicy food regularly. Once your body gets used to spice, your metabolism might not kick up nearly as much.
Plus, it's hard to eat spicy food quickly. The flavor is intense, so most of us slow down and take our time. This effect is relevant for weight loss too, as eating slowly and mindfully can decrease the amount you eat in a sitting.
So, from this perspective, peppers can help with your weight loss. Just remember that the effects tend to be subtle, so peppers are never going to melt the pounds away.
What About Black Pepper?
Before we finish, let's spare a thought for black pepper. This spice is incredibly popular, often used when preparing meals or as a garnish. It's also renowned for its health benefits.
But, notably, those benefits are very different than the ones you find with sweet and spicy peppers, as black pepper comes from an entirely different plant genus. As such, it has little in common with the peppers we've been talking about, aside from the name.
Final Thoughts
Whether you like your peppers sweet or spicy, there are plenty of benefits to be had. All types provide you with nutrients and antioxidants, and are naturally low in calories.
There are also countless ways to use these peppers. Sometimes they'll be the star ingredient in a dish, while other times you'll be using them to add a little flavor or crunch.
Even so, it's still important to pay attention to your body and how you react to the peppers. Significant side effects could indicate that you need to cut down on your pepper consumption or even avoid peppers entirely.
After all, there are plenty of nutritious foods out there. You'll see the most benefits by choosing the ones that your body responds best to.
Frequently Asked Questions
Do Peppers Need To Be Refrigerated?
You can theoretically keep peppers on the counter, but doing so isn't recommended, as they'll quickly shrivel. Keeping them in the fridge helps them to keep them fresh and firm – making sure they last much longer.
Storing them in the crisper drawer is your best bet. They will often last for around a week or perhaps a little beyond this. But, be sure to check the inside of the pepper before using it, as peppers will sometimes go moldy on the inside when they still look fine externally.
Are Peppers Keto?
Peppers of all kinds are fantastic for keto. You often get just 4 grams of net carbs in an entire bell pepper and around 0.6 net grams of carbs in a jalapeno. These low carb numbers mean that peppers can easily be included on a keto diet. You can even cut bell peppers in half, stuff them, and bake them.
Peppers don't just fit onto keto either. They're actually a fantastic addition, as they provide plenty of fiber, nutrients, and antioxidants, which are all crucial for keeping us healthy. The fiber content is particularly relevant, as it's easy to drop your fiber intake too low on a keto diet.
Do Peppers Go Bad?
Yes, peppers go bad quickly if they're left outside the fridge. They often last a week or so inside the fridge (depending on type and ripeness), but will eventually go bad even there. Keep an eye out for mold, inside the pepper as well as on the outside. This mold is a sure sign that it's time to get rid of the vegetable.
Are Peppers Low FODMAP?
Most peppers are low FODMAP, as long as you keep the portion size reasonable. For example, the low FODMAP serving of jalapenos is a 29 gram serving, which is roughly the weight of a small jalapeno. The low FODMAP serving is 43 grams for red and an impressive 75 grams for green bell peppers.
However, many peppers also contain capsaicin, which is responsible for their spiciness. Capsaicin isn't a FODMAP compound but it can still trigger reactions in people with irritable bowel syndrome.
Do Peppers Cause Heartburn?
The capsaicin in peppers can also lead to heartburn, with spicier peppers more likely to cause this effect than mild ones. So, the more heat there is in your pepper, the more heartburn you can expect.
Because this heartburn is associated with capsaicin, it doesn't occur with bell peppers. What's more, bell peppers are alkaline and contain important nutrients – factors that could help to decrease heartburn.