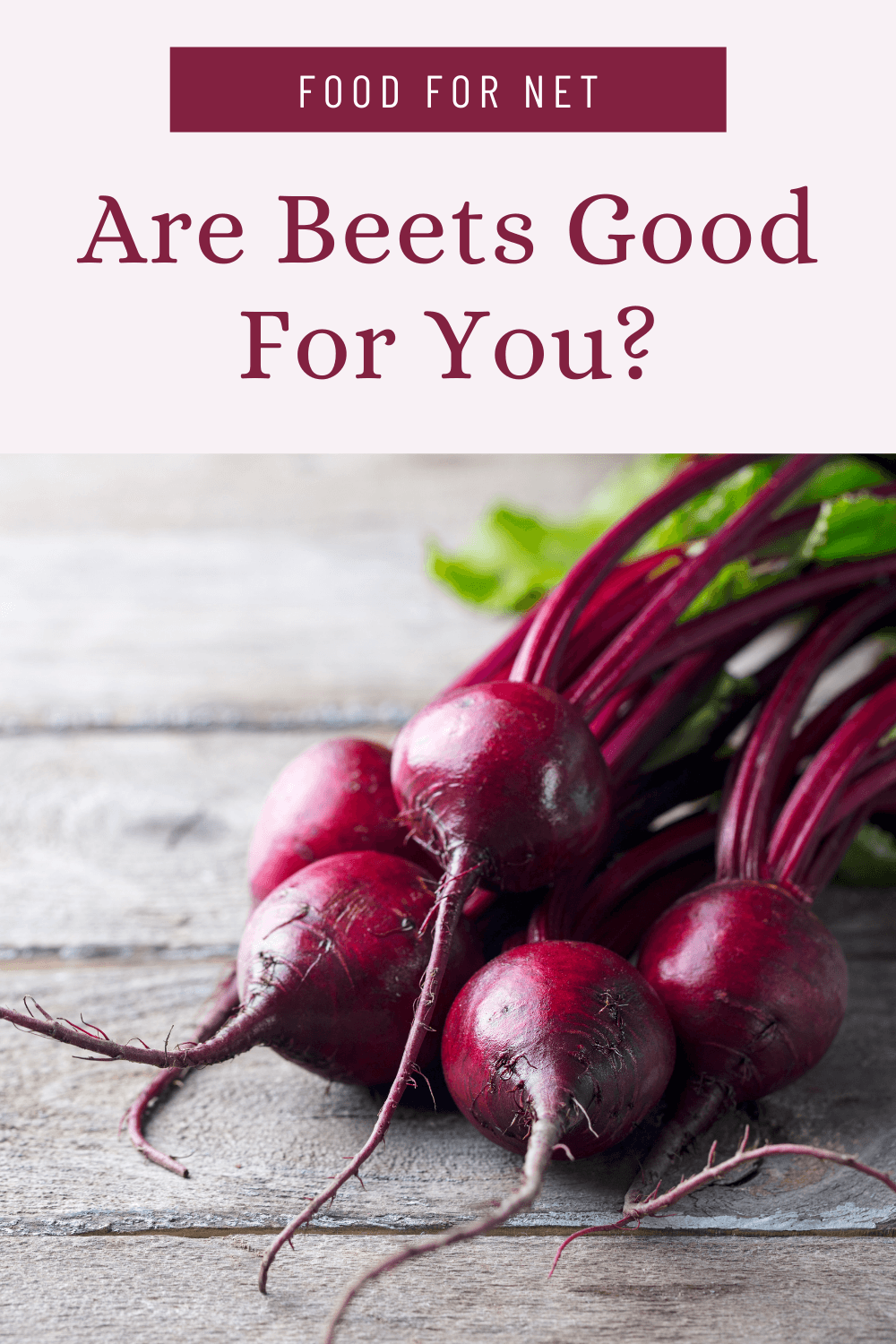 Beets are well-known for their vibrant color, which makes them exceptional as garnishes, but are beets good for you? They're an amazing ingredient, offering plenty of nutrients, inorganic nitrates, and much more. You can even eat them raw, although cooked beets, pickled beets, and even beet juice are much more common. There are canned beets too.
Are beets good for you, though? The popularity of beet juice suggests that they are but, then again, there's often more going on below the surface with our food and drink. Some ingredients are much healthier than they seem to be. For others, the reverse is true.
To answer the question, we need to take a close look at beets, including their nutrient profile, their antioxidants, and any easy-to-miss risks.
Are Beets Good For You?
Benefits Of Beets
The Problems With Beets
Should You Eat Beets If You Have Diabetes?
Are Beets A High FODMAP Food?
Are Beets Healthier Than Beet Juice?
Are The Nitrates In Beets Healthy?
Can You Eat Raw Beets?
Red Beets Versus Golden Beets
Final Thoughts
Benefits Of Beets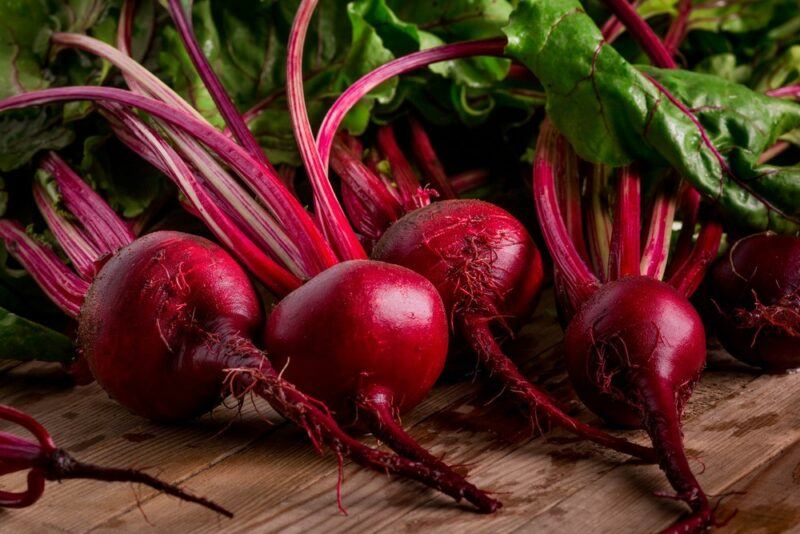 Their Nutritional Profile
To get us started, then, let's take a look at the nutrient profile of beets. After all, the vitamins, minerals, and macronutrients strongly influence the benefits of this little vegetable. For a cup of raw beets, you're looking at:
Calories: 58.5
Carbs: 13 grams
Fiber: 3.8 grams
Sugars: 9.2 grams
Fat: 0.2 grams
Protein: 2.2 grams
Folate: 37% of the recommended daily value (DV)
Manganese: 22% DV
Potassium: 13% DV
Vitamin C: 11% DV
The fat and protein content are relatively low, which isn't surprising, as most vegetables follow these patterns. You are getting a decent amount of fiber per serving, but the sugar content isn't nearly as appealing.
There's another important point too – that beets are very low in calories. Seriously, you're looking at less than 60 calories for a cup of beets. This low calorie content makes beets a very easy way to add nutrients to your diet, especially if you're trying to lose weight.
A Source Of Powerful Antioxidants
The bright red color of bets comes from a class of pigment molecules called betalains. Like most pigment molecules, betalains are excellent antioxidants, helping to decrease free radical oxidative damage throughout your body. They've also been linked to decrease inflammation.
Both effects are critical, as excessive inflammation and oxidation have been linked to an increased risk of many health problems, including heart disease, arthritis, cancer, depression, and many more. Our modern diets contain many foods that promote inflammation (some of our lifestyle choices don't help either!).
With so many problematic foods out there, stepping back and focusing on natural antioxidant-rich ones is a powerful decision. Doing so can help to bring your health back into balance while promoting better outcomes all around.
Can Improve Your Digestion
Fiber is always important. Really, we can't overstate the role of fiber. It is essential for keeping you regular, while also helping to lower your cholesterol and blood sugar levels. Yet, despite this, many of us aren't getting enough fiber.
Fiber falls into two different types, soluble and insoluble. Both are important, as they play different roles in the human body.
In particular, insoluble fiber helps to bulk up your stools, which increases your regularity and means less constipation. Soluble fiber, on the other hand, acts as food for your gut bacteria and can help you to feel full.
Beets are fantastic here, as they give you both soluble and insoluble fiber. The low calorie content is important too, as this means you can easily use beets to boost your fiber intake.
They Promote Heart Health
Beets are highly relevant for your heart in multiple ways.
First, they're a decent source of folate. This nutrient is most famous for its role in pregnancy, but it's relevant to those of us who aren't pregnant as well, playing a role in our heart health and in growth.
The nitrates in beets help as well, as these have been linked to decreased blood pressure. High blood pressure is a key heart disease risk factor, so keeping blood pressure low is a powerful way to protect yourself.
The blood pressure impact of nitrates isn't long lived, but this is simply a reason to eat beets and other nitrate rich vegetables regularly.
They Might Help With Athletic Performance Too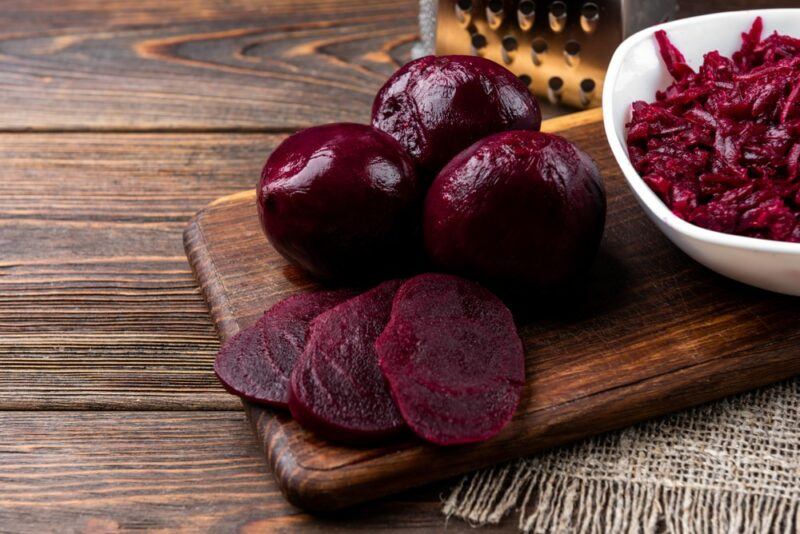 The nitrates in beets aren't just relevant for your heart. They've also been linked to better athletic performance. This may happen because nitrates help to make your mitochondria more efficient, leading to increased energy production.
Once again, this isn't a long-lived effect. To take advantage of it, you might choose to eat beets or drink beet juice a few hours before your activity. Doing so means that your nitrate levels should peak right when you need the nitrates the most.
Their Folate Content
All of the nutrients in beets are important. The folate, however, stands out the most. You get more than a third of your daily folate needs from a cup of raw beets, which is an impressive amount.
Remember that folate isn't just needed during pregnancy. It's also important for tissue growth and the function of your cells. Not getting enough of it could lead to serious problems.
The Problems With Beets
Potential Side Effects From Fiber
Fiber is an appealing feature of beets, as it offers so many benefits. Yet, that doesn't stop fiber from having side effects too. These are most noticeable if you suddenly increase your fiber intake and include issues like bloating, stomach cramps, and diarrhea.
You mightn't see these side effects from beets alone, but you could easily see them if you're eating a decent amount of fresh vegetables.
Also, side effects are often more dramatic if you're focusing on raw vegetables rather than cooked ones. While cooking does decrease the nitrate content of beets, it also makes the beets easier to digest, which can be incredibly important.
If you're worried about fiber-related side effects, try increasing your fiber intake slowly, rather than dramatically. Drink plenty of water too, as this helps your body to cope with the fiber better.
Their Carb Content
Beets are a type of root vegetable, which means they grow underground and tend to be starchy. The starchiness can be a problem if you're following a keto diet, as 100 grams of beets contains roughly 8 net grams of carbs.
This carb content is too high for most keto dieters. You might still be able to include beets on a less strict low carb diet, but even then, you'd need to closely watch your portion size.
Pickled beets and beet juice are high in carbs too, so they're an equally poor choice for keto dieters.
They're Oxalate Rich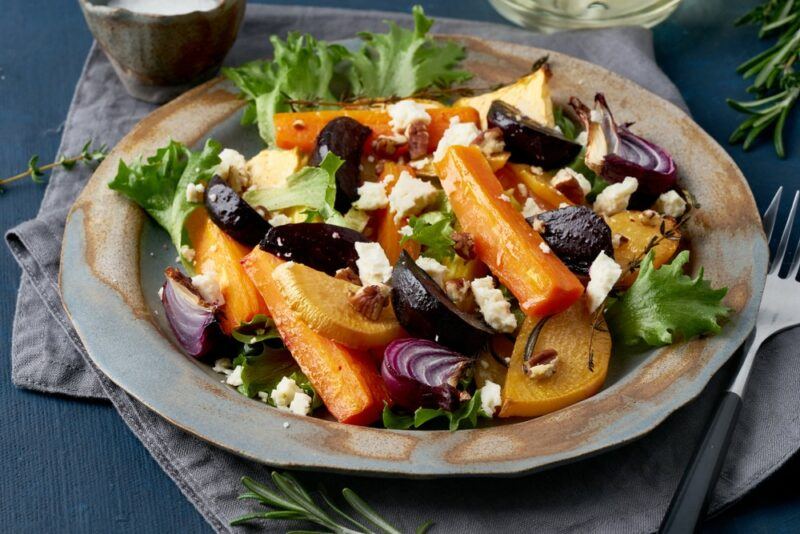 Oxalates are natural compounds that can be a problem in high doses, especially if you're at risk for kidney stones. For people at risk, low oxalate diets are sometimes recommended, which can involve consuming less than 100 mg or even 50 mg of oxalate per day.
Beets aren't as concerning as spinach for oxalates (which is shockingly high in oxalates), but even so, there are enough oxalates in beets to cause concern. To keep yourself safe, you may need to carefully watch your beet intake or even avoid the vegetable entirely.
Thankfully, the oxalate content of beets decreases with cooking, making cooked beets a safer choice than raw beets.
They Can Turn Your Urine Pink
Here's an interesting point of trivia – beets can give you pink urine. They can also give your stools a pink or red tinge. Don't worry though, this isn't a serious problem. It isn't a problem at all, actually.
The color just comes from the pigment in the beets. This pigment stains other ingredients and even your clothes, so it's not surprising that it gets into your urine too.
Should You Eat Beets If You Have Diabetes?
Beets may seem like a poor choice for anyone with diabetes, as they contain more carbs than many other vegetables. They're also a moderate GI (glycemic index) food, while lower GI foods are generally best for diabetes.
Despite this, beets can work well for diabetes.
This is partly because the fiber content helps to offset the sugar. Plus, beets have a low glycemic load, as the number of carbs per serving isn't that dramatic (especially when you compare beets to a candy bar).
Remember too that beets are often served as part of a meal. Eating them like this helps to decrease the blood sugar impact even further.
Beets may even be helpful for people with diabetes, as they can decrease the risk of diabetes concentrations. Beets may even help with your insulin resistance. These effects are partly linked to the antioxidants in beets, while some come from the nitrates as well.
Are Beets A High FODMAP Food?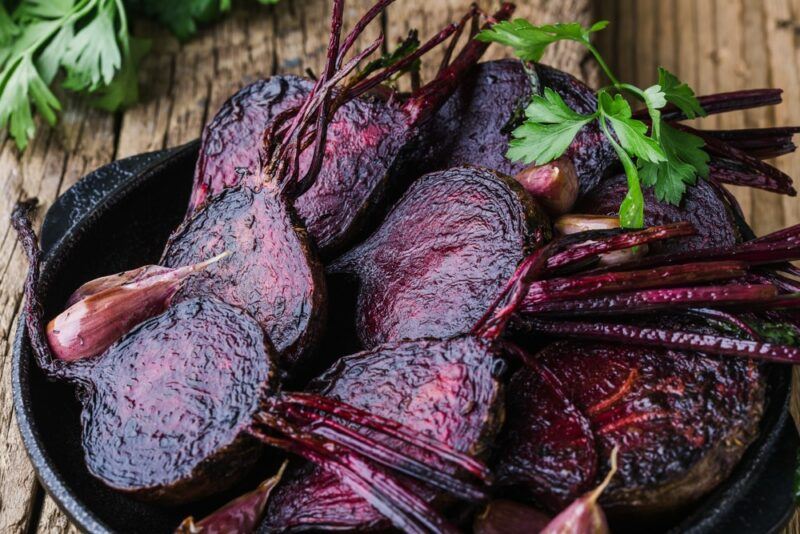 The term FODMAP stands for Fermentable Oligosaccharides, Disaccharides, Monosaccharides, and Polyols. That sounds like a mouthful, but it simply refers to fermentable carbs that can cause side effects like nausea, bloating, stomach cramps, and more.
Most people can consume high FODMAP foods without an issue. In fact, FODMAPs themselves offer some health benefits, as do the foods they're found in. However, people with irritable bowel syndrome and some other digestive difficulties can experience significant side effects from FODMAPs.
Beets are an interesting case. They're often seen as high FODMAP, but you don't need to avoid them entirely.
For fresh beets, a serving of around two slices is low enough to fit on a low FODMAP diet. Canned beetroot contains fewer FODMAPs than fresh beetroot, so you can have around half a cup without any issues. The same is true for pickled beetroot.
Are Beets Healthier Than Beet Juice?
Beet juice is a popular alternative to fresh beets, acting as a decent source of antioxidants and nitrates. Beet juice may even be more powerful than beets in some ways, as the juice is made from raw beets. Other times you'll generally cook beets before using them, which can decrease their nitrate content.
However, whether beet juice is actually healthier depends on what you're looking for.
Remember, while the juice might contain more antioxidants and nitrates than fresh beets, it is much lower in fiber. Most of us need more fiber than we're currently getting, which could make beet juice a poor choice.
Are The Nitrates In Beets Healthy?
Nitrates are an interesting topic. There are great concerns that nitrates themselves increase the risk of cancer and other health concerns. Other people feel that nitrates are only an issue in processed meat.
Indeed, most of the studies highlighting nitrate issues have looked at meat. This isn't surprising either, as some of the problems with nitrates seem to come from the interaction between nitrates and protein – and beets are naturally low in protein.
Current research suggests that nitrates from vegetables offer far more benefits than risks. These nitrates are even responsible for some of the heart health effects of beets, along with how they can aid exercise performance.
If you're worried about nitrates, you might try keeping your beet intake low. Still, for most people, it would be better to still eat beets regularly and cut down on other types of high nitrate foods, particularly processed meat.
Can You Eat Raw Beets?
Beets are normally served cooked, with roasting, boiling, and steaming being common approaches. However, you eat beets raw as well.
To do so, you'll first need to get rid of the hard skin. This can be easily done by using a vegetable peeler. Once you have access to the edible flesh, you can slice it thin or grate it.
You'll mostly want to use small amounts of raw beet at a time. This way the flavor acts as a nice contrast without being too overwhelming.
Raw beets aren't just edible, they're also richer in nitrates than cooked beets. This can make them more powerful if you're looking for athletic benefits or are trying to improve your heart health.
Red Beets Versus Golden Beets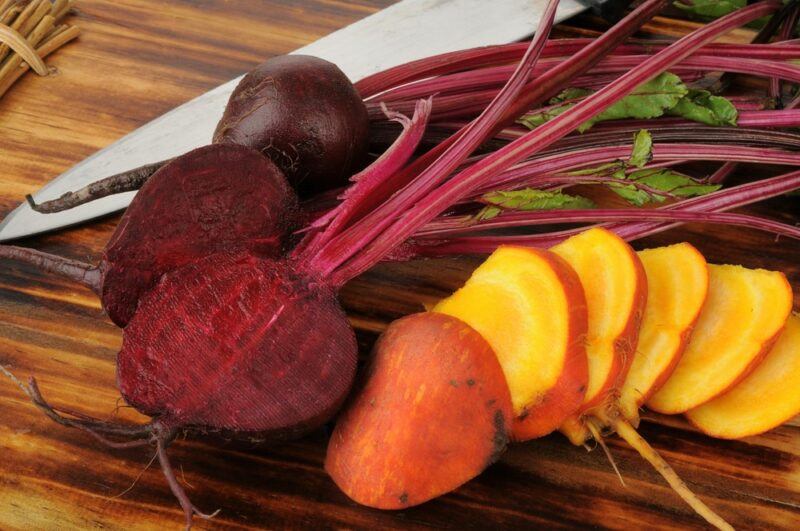 While beets are famous for their red coloring – they're not always red. You can find golden beets as well. These tend to have a mellower flavor and are less 'earthy'. They don't bleed red into your dishes either, making them more versatile than red beets.
Golden beets have started to be seen as the next 'superfood', as they're packed with nutrients and antioxidants. Honestly though, red beets and golden beets aren't that different from each other and their nutrient profiles are almost identical.
The other obvious difference is the color, which comes from pigment molecules. Red beets get much of their color from betacyanins, while golden beets contain betaxanthins instead. These two molecules have different structures, but they are both powerful antioxidants that can help to reduce inflammation as well.
As such, you can easily choose golden beets instead of red ones and still get all the benefits we've been talking about in this post. Golden beets might even be a better choice, as many people find their milder flavor easier to enjoy.
There are other types of beets too, including Chioggia beets, which tend to be striped. The same pattern applies here too.
Final Thoughts
Beets tend to be healthy, offering many benefits and few risks. The biggest potential issue is the nitrate content, but as we've discussed, nitrates in vegetables aren't nearly as significant as those in meat. You might even see benefits from the nitrates in beets, like decreased blood pressure and better athletic performance.
The main other thing to remember is the FODMAP content. Beets are a relatively high FODMAP food, so they can cause symptoms for some people with irritable bowel syndrome. To avoid this problem, you'll need to be cautious with your portion size or avoid beets entirely. Still, most people aren't sensitive to FODMAPs at all. If this is true for you, then you can easily eat beets regularly.
Frequently Asked Questions
Are Beets Keto?
Beets aren't ideal for keto, as a 100 gram serving gives you around 8 net grams of carbs. To include them on a keto diet, you would need to keep your portion sizes low.
For example, rather than eating beets on their own, you might include them in a keto friendly recipe, like this low carb oven roasted beet spread. Such recipes still give you the color and some of the flavor of beets, while keeping the carb content very low.
Do Beets Turn Your Poop Red?
Beets don't turn your stool bright red, but they do give it a slight pink or red tinge. However, this isn't a big issue and won't harm you at all.
Are Beets Good For Blood Pressure?
Yes. The nitrates in beets can help to decrease high blood pressure. This effect happens just a few hours after eating beets and may be even stronger with beet juice compared to fresh beets.
Are Beets Good For Your Liver?
While this isn't a heavily researched area, some evidence suggests that beets reduce inflammation and help protect the liver from damage. Some theories suggest that beets can also activate enzyme activity in your liver, making it more effective.
Are Beets Acidic?
Beets are actually alkaline rather than being acidic. This makes them relevant for people with acid reflux, especially as the fiber in beets also helps with your digestion.