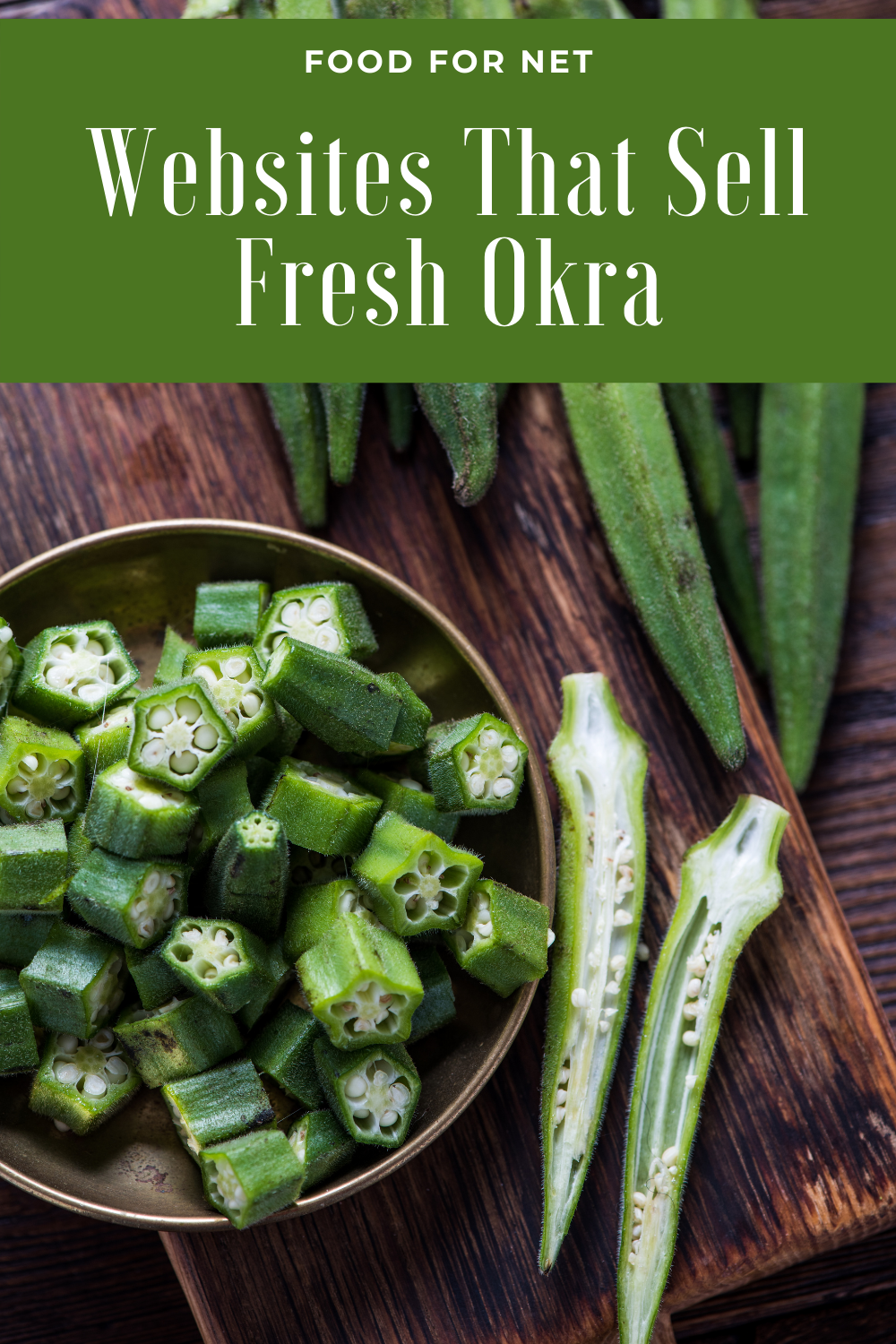 Okra is most commonly grown in warmer climates like Africa and South Asia. This allows for longer harvest times as the plants can't survive in the cold. While it's biologically classified as a fruit, its flavor isn't sweet and okra used more like a vegetable in cooking.
Perhaps its most common and well-known use is in gumbo as it acts as a thickening agent, though some find its slimy texture unappealing. It's somewhat underrated and uncommon in Western culture, but it's packed with nutrients and health benefits.
For starters, it's extremely low in calories, with only 33 per cup. Each cup also contains two grams of protein, three grams of fiber, and is a great source of magnesium, folate, and vitamins A, C, K, and B6.
Among other things, it may help lower the risk of heart disease due to its capacity for lowering cholesterol. It's also been known to help lower blood sugar, and it contains a protein called lectin, which is known to inhibit the growth of cancer cells.
While further studies are still needed to offer concrete proof of these benefits, the anecdotal evidence speaks for itself. If nothing else, adding some okra to your diet won't hurt and its mild flavor makes this pretty easy to do.
And, while you're at it, why not try some other unusual fruits and vegetables, like breadfruit or durian fruit?
Where to Buy Fresh Okra Online
Indian Online Grocery
HEB
Fresh Direct
Melissa's Produce
1. Indian Online Grocery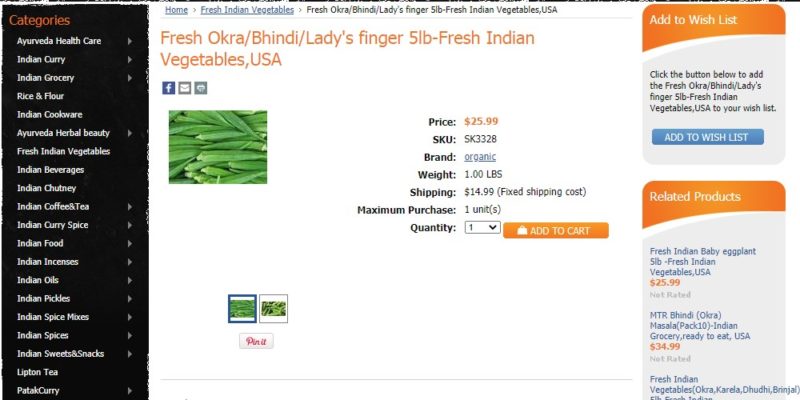 Indian Online Grocery is run by a team of experienced professionals who have been in the Indian food industry for more than ten years. Their goal with Indian Online Grocery was to provide a fast and convenient way for customers to find all their Indian food needs and desires in one place.
They already have an impressive selection across many categories and are always working to improve and expand their inventory. They have a large grocery section with all kinds of Indian food, and sections for Ayurveda health care, coffee, tea, snacks, spices, incense, oils, herbal beauty products, statuettes, Pooja items, cookware, jewelry, and more. While some basics are available, most of their selection is specifically from the Indian culture making it the perfect resource for anyone who struggles to find the right ingredients or flavors anywhere else.
If you're looking for something specific that they don't have, they encourage you to reach out and make a request.
Their selection of fresh Indian vegetables is impressive and includes many interesting options like baby eggplants, fresh yucca, curry leaves, ginger root, chili peppers, plantains, okra, and more. Their okra is fresh, nutritious, organic, and sold by the pound.
They do offer to ship their products anywhere in the world, though there are many restrictions in place in terms of what certain countries allow across the border. As long as you do some research beforehand, they'll ship your order overseas if it's allowed.
2. HEB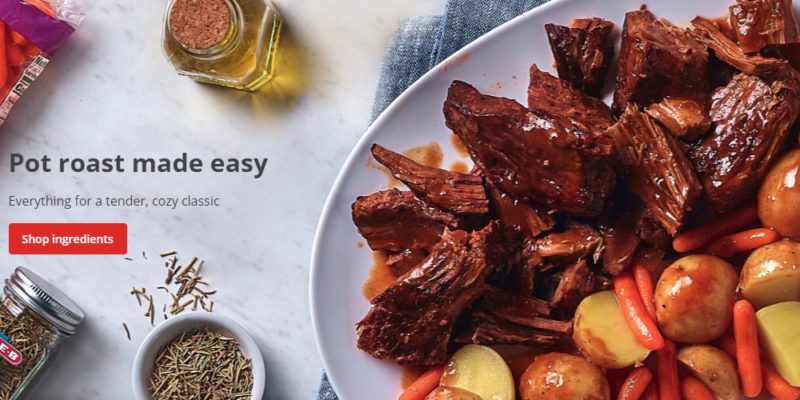 HEB is a great all-rounder when it comes to grocery shopping, everyday essentials, and lifestyle needs. It began as a tiny grocery store offering only a few items, but it has grown into an empire with many physical locations and an online store that ships throughout the United States.
Their original HEB store is the perfect place to do your online grocery shopping. They have all the basics in every category – fruits, veggies, bakery, pantry, beverages, meat, seafood, and frozen food.
They go beyond the basics though and offer a great selection of specialty items, too – particularly in their produce section. Unlike many other grocery stores, you can add specialty vegetables and rare, tropical fruits to your regular grocery order. This includes papaya, dragon fruit, prickly pears, rhubarb, okra, and so much more. Their okra is packaged to stay fresh for as long as possible. It's bright green, crispy, and ready to eat upon arrival.
Their normal grocery store also contains basic items like toiletries, laundry, cleaning tools, makeup, haircare, baby items, storage supplies, etc. If you're looking for more specific lifestyle items though, their HEB Plus store is a great place to go for even more selection. They also have a sister store called Mi Tienda that focuses on authentic Mexican cuisine and lifestyle.
3. Fresh Direct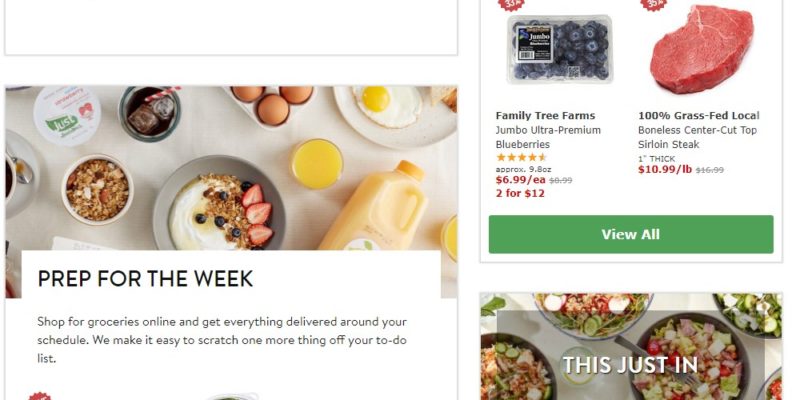 Fresh Direct is a well-known grocery delivery service that offers ease, convenience, and a fantastic selection. They have everything you could imagine a grocery store having, plus more. They have a bakery with fresh bread, bagels, and all kinds of sweets. They offer a vast selection of seafood from crab, shrimp, scallops, oysters, and lobster to even more specific, specialty options like squid and octopus legs.
They've got a little of everything in terms of meat, such as beef, pork, lamb, chicken, turkey, duck, and more. They also have a great variety of prepped and frozen meals for those that live a busy lifestyle but don't want to sacrifice quality and nutrition. They also have a selection of beer, cider, wines, and spirits to go with any meal.
Perhaps the most impressive, though, is their list of available fruits and vegetables. Of course, you can find all the basics – berries, apples, grapes, beans, broccoli, carrots, etc. But, they have a ton of specialty, tropical, exotic, and rare fruits and vegetables you can get as well. Usually, these are only available from specialty suppliers and you can't get them along with your regular grocery shopping. Fresh Direct is changing that, letting you do everything in one place.
It's no surprise, then, that they offer guaranteed fresh okra. It's sold by the pound and they give you some great cooking tips if you're unsure how to use it.
While Fresh Direct doesn't offer nationwide delivery, they do have a wide delivery area that covers many states, including Washington, New York, Pennsylvania, and more. A full list of delivery areas and their associated costs is available on the website.
4. Melissa's Produce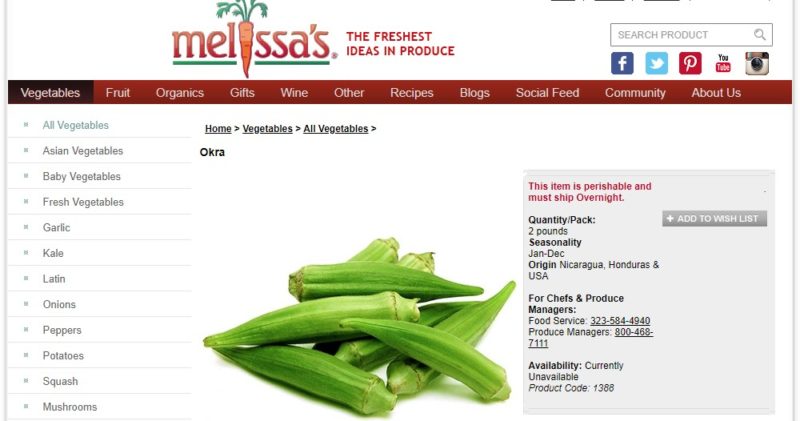 Melissa's Produce is another company that offers a long list of exotic, rare, and specialty food with a focus on produce. They are a leading supplier of specialty produce in the United States and offer nationwide shipping on everything.
Not only do they have an impressive selection, but they want to make sure everyone is fully educated and prepared when it comes to the foods they buy. Specialty items are often more difficult or complex to cook or prepare, so Melissa's makes sure you know what you're doing.
They also provide information on the food, such as some history, background, nutrition information, where theirs comes from, and some tips on storing the food properly.
They have a section exclusively for their organic items to make shopping easier if all you want is organic. In addition to produce, they do have a small selection of wine as well as a ton of gift baskets you can order. This includes fruit subscriptions, assorted gift baskets, and themed baskets. Possible themes include thank you, birthday, get well soon, housewarming, corporate, and more.
Lastly, they have a comprehensive blog that's overflowing with amazing information, and a long list of delicious, free recipes you can try for all meals and occasions.
Things to Consider When Buying Fresh Okra Online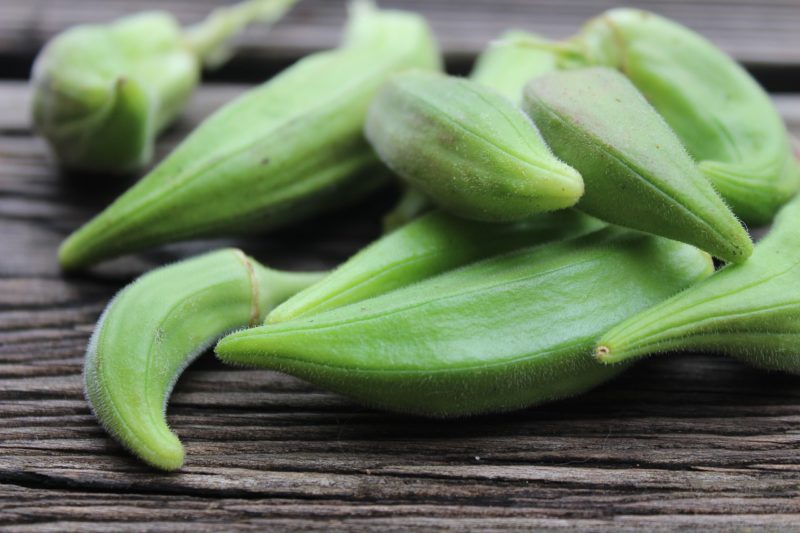 Okra is a useful little vegetable that tastes great when cooked alone and goes well with many dishes. While you may not find it in the grocery store, it's not too hard to find if you buy fresh okra online. Consider the following before you make a purchase:
Shipping Time
At it's best, okra is tender, crispy, and bright green. Unfortunately, its shelf life isn't that long. It can survive on the counter for about a day or up to three days in the fridge. This doesn't mean you can't order it online, but make sure you get it from a place that ships it soon after harvesting and gets it to you fast.
Availability
During their harvest season, okra plants will continue to produce pods as long as they're cut frequently. But, this only lasts for the warm months and will stop once the first frost kills the plant.
During the summer, fresh okra won't be hard to find. If you're looking for it in the winter, though, finding it fresh off the plant is more difficult. You can always get it frozen, but it's not quite the same. So, pay attention when harvest time rolls around and make sure you get in before the fresh stuff is all gone.
What You Need Them For
Because okra doesn't last too long once picked, it's important to consider what you're using them for. If you only need a few for a recipe or two, you're best to get them in small amounts from an online grocery store.
If you use them right away, you'll enjoy them at their best. It's also worth noting what else the store has to offer as it might be prudent to do some of your other grocery shopping while you're at it, to save time and shipping costs.
If you're after larger amounts, however, it's probably best to find a farm that lets you buy in bulk. At this point though, you'll want to store them in the freezer to keep them fresh.