Cramps are involuntary movements in your muscles. Some of the most common types of cramps include muscle cramps, stomach cramps, and of course, menstrual cramps. Let's take a look at the causes of each and how the best foods for cramps can help alleviate the symptoms and even prevent cramps in the future.
Menstrual cramps are also called dysmenorrhea, and any woman who has experienced them knows just how uncomfortable they can be. They happen before you get your monthly period and also during. Some only experience mild symptoms, like a low throbbing pain in their belly and abs area.
But others report more severe symptoms. Sometimes the pain is really severe that most girls can do no more than lie down in their beds. For worse cases, they also feel pain in other parts of the body, including the back and the hips. Still, others have nausea and can have bowel problems like loose stools.
Muscle cramps, meanwhile, can occur in any muscle in your body. Unlike period cramps that you can expect on the days before menstruation, muscle cramps can happen anytime and may last anywhere from a few seconds to fifteen minutes or more. Many people experience muscle cramps at least once in their lives.
What are the causes of muscle cramps? This can be caused by certain medicines, dehydration, or aging. You may also get cramps when you are low in magnesium or calcium.
They are usually categorized into four types: true, dystonic, contracture, and tetany. True cramps happen when a part or even all of a muscle group cramps. This may be due to the nerves getting overstimulated due to injury or vigorous activity.
Dystonic cramps usually affect smaller groups of muscles like your eyelids or neck. Writer's cramp is an example of this type of cramps, or for those who play instruments for a long time and even typing for long hours.
Contracture cramps are what many athletes experience. This can be caused by muscle fatigue. Finally, tetany is when the nerve cells of your body are activated and cause spasms.
Aside from menstrual and muscle cramps, stomach cramps are also common. Have you ever felt an uncomfortable tightening in your stomach? These stomach cramps may happen for several reasons, including food poisoning, a food allergy, and a stomach virus.
More often than not, stomach cramps disappear on their own without any need for a diagnosis. But you should still look out for some other signs like diarrhea that lasts for a few days or blood on your poop. If you experience those, it would be better to go to a doctor to see if it is an indication of a more serious problem.
While cramps may be treated by medicines and painkillers, there are foods that help with cramps so that they become more bearable. Take a look at the list below so that you know what to buy if ever you have them again.
Best Foods For Stomach Cramps
Peppermint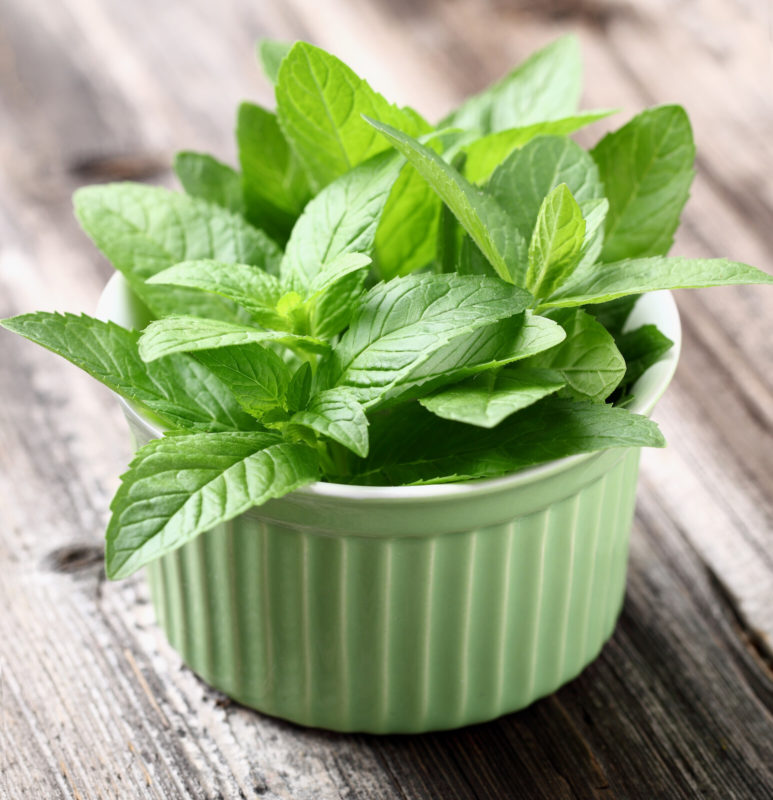 If you are having an upset stomach, peppermint is a great help. It has been used for many years to treat different ailments such as nausea and headaches. The main components of peppermint are menthol and methyl salicylate which can help calm your gastrointestinal tract and ease your stomach cramps.
They even help to treat those with conditions such as irritable bowel syndrome. Studies have shown that they can help ease symptoms of diarrhea and bloating.
You may take your peppermint as tea, steeping dried peppermint leaves in boiling water. They can also come in oil form and in capsule form which you can take one to two times a day depending on the severity of your condition.
Ginger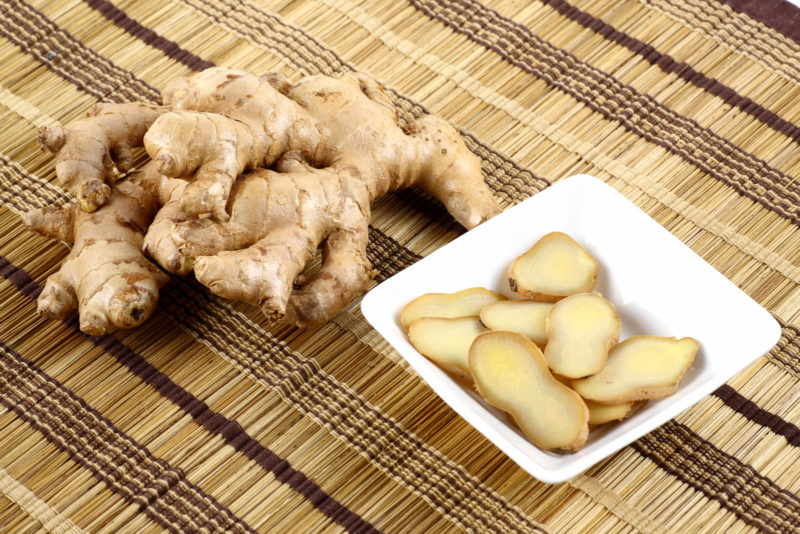 Another natural remedy that you can use for stomach cramps is ginger. In fact, in ancient times ginger has been used to treat everything from acute pain to an upset stomach.
If you have indigestion or suffering from hyperacidity, ginger will help heal your gut. It also has anti-inflammatory properties that may alleviate the pain of stomach cramps.
While ginger is often used for cooking, it will be more effective for your upset stomach if you take it as is. It may be too hard to chew on a couple of slices of ginger, but ginger tea can be tolerable.
You can buy ready-made tea in the market or you can grate some peeled ginger and then add it to boiling water. Here are some other drinks with ginger that you can also try.
Plain Rice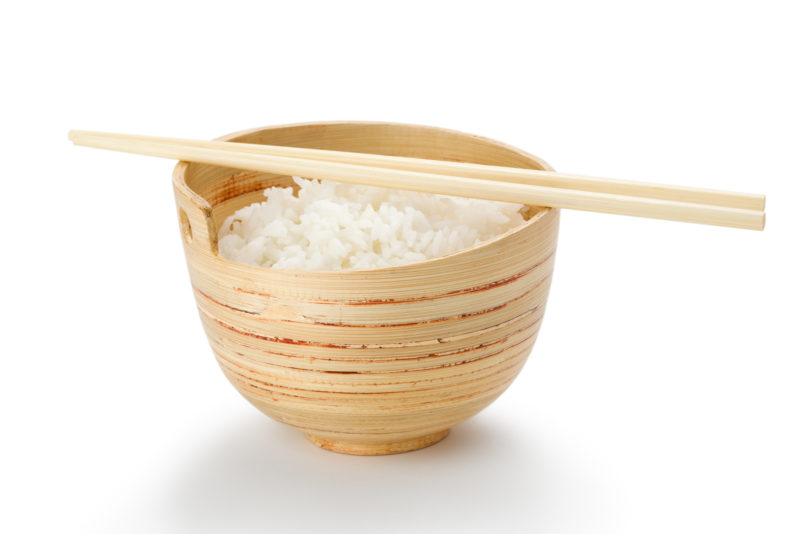 If you often have an upset stomach, you may be familiar with the BRAT diet. The BRAT diet stands for bananas, rice, applesauce, and toast. This diet is what pediatricians suggest for children who have an upset stomach.
When you have cramps, you want to give your stomach a rest and not let it work harder than usual. So you want foods that are easy to digest. These foods are low in fiber and can help protect your stomach.
Do note that you need to have plain white rice. Other types like whole grain brown rice will not do.
Licorice

Licorice root is another herb that has been used since ancient times in Europe and Asia for medicinal purposes. It can soothe conditions like stomach pains and also sore throat. You may look for the capsule form if you want to use this remedy for your cramps.
Take note that the candy form is different from the real licorice root. Although the black licorice candy is actually flavored with licorice extract, the red kind has no licorice at all. It is actually fruit-flavored, so chewing on it will not help relieve stomach cramps.
Tofu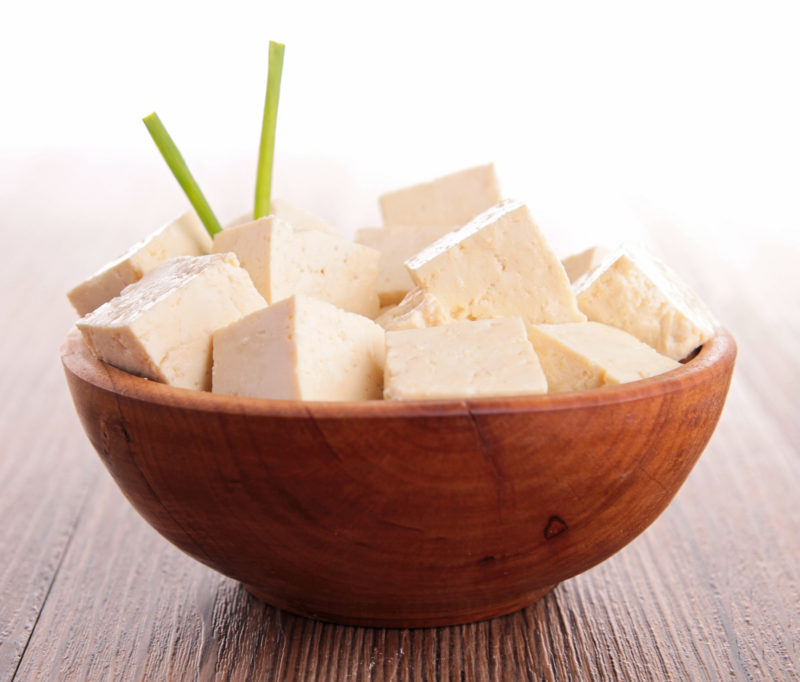 One ingredient that can help ease cramps is calcium, and tofu is a good source of this. But be sure that you are not prone to soy sensitivity as taking too much will have adverse effects on you.
Here's a great recipe that combines tofu with orange and teriyaki. It's the perfect main dish for meatless nights.
Best Foods For Menstrual Cramps
Turmeric
Dark chocolate
Quinoa
Yogurt
Kombucha
Turmeric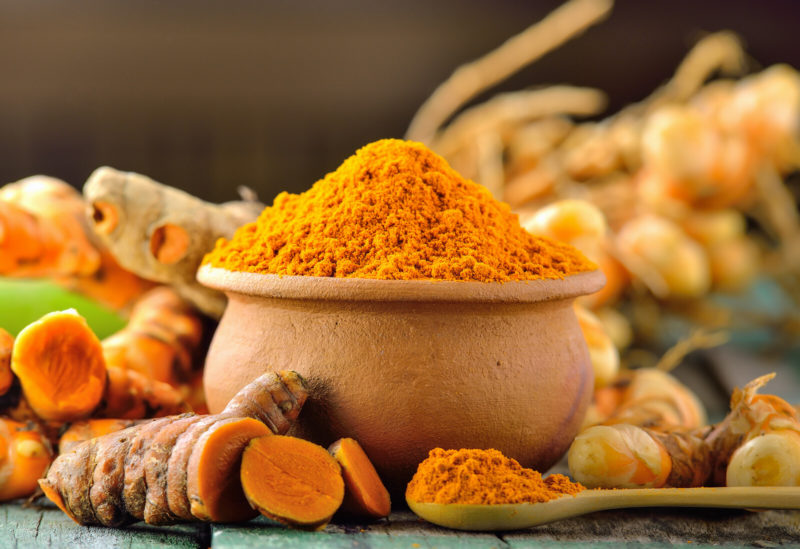 Because turmeric has anti-inflammatory properties, it can greatly help ease the pain a woman feels during her period. The most important component of turmeric with regards to menstrual cramps is curcumin, the substance that gives it that distinct yellow color.
It also has other benefits for the female reproductive system, including regulating menstruation and even helping with toxic shock syndrome. Toxic shock syndrome can happen when you leave a tampon on for too long. In a study done on animals, it was found that curcumin helped to reduce the risk by as much as 60%.
Dark Chocolate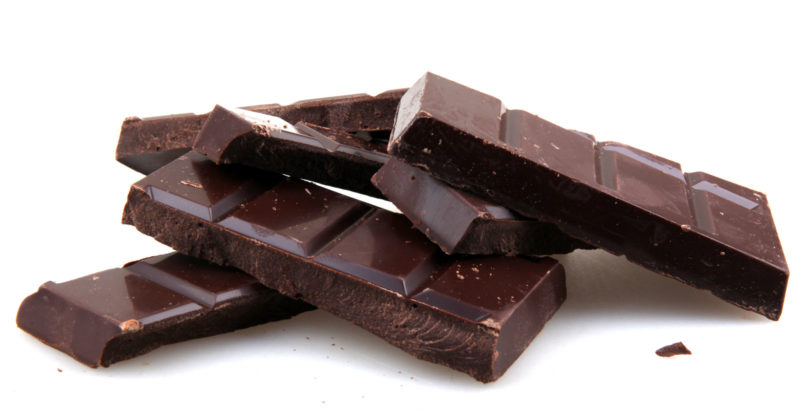 Many women often binge on comfort foods during their period. They eat everything from doughnuts, chocolates, and potato chips. But these are not good for you. They contain a lot of saturated fats which may further aggravate your symptoms.
If you are looking for something to indulge in, go for dark chocolate instead. These are rich in iron and magnesium, which have been proven to help with severe symptoms of menstrual cramps.
If you eat one bar of dark chocolate, you would have already had more than half your needed daily intake of magnesium and iron. Ailm for those that have at least 70% cocoa to fully enjoy their benefits.
Quinoa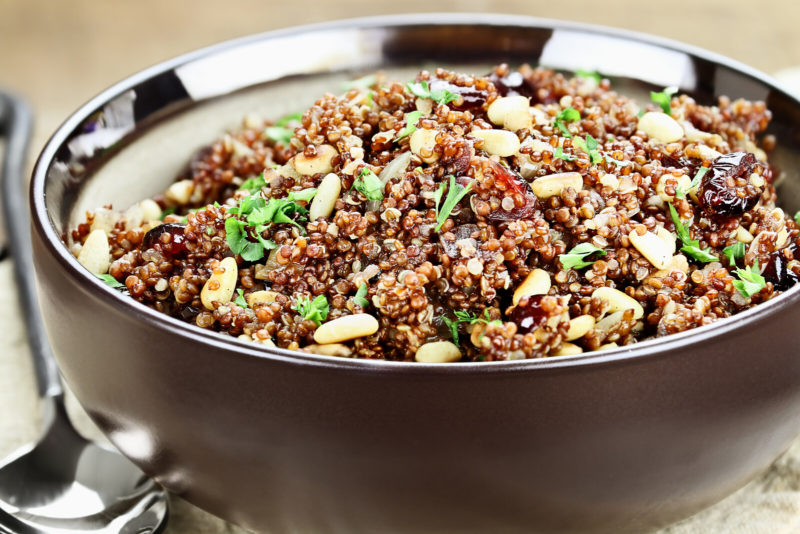 Quinoa is considered one of the healthiest foods in the world. There are so many benefits attached to it, including improving your cholesterol levels and helping you lose weight. If you are watching your blood sugar levels, you can use quinoa to replace white rice as it has a low glycemic index.
As for your period, having quinoa help increase your energy levels for days when you just feel like doing nothing bus stay in bed because of the pain. It can even help boost your mood.
Preparing quinoa is easy. You just need to boil it in water for around 15-20 minutes and it is good to go. If you want something more unique, here's a recipe for pizza that makes use of quinoa for pizza dough.
Yogurt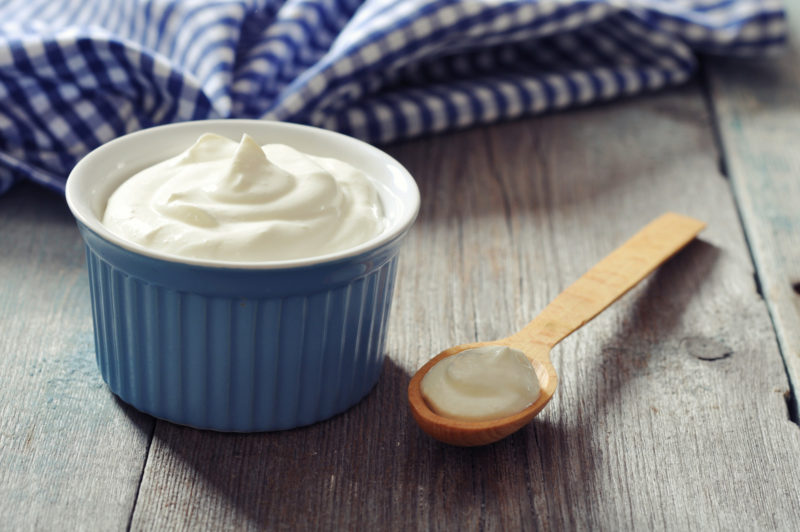 One of the things that women experience during their menstruation is bloating. With the probiotic properties that yogurt has, this bloating can be reduced.
Aside from that, yogurt also contains calcium. We usually associate calcium as being responsible for our bone health. But calcium can also alleviate the pain felt during menstruation.
Yogurt is very easy work with. You can have them as is, or top it with some fresh fruits. Add it to your smoothie for a creamier texture.
It can even be added to cake batter or used as a marinade for your meats for a batter flavor.
Kombucha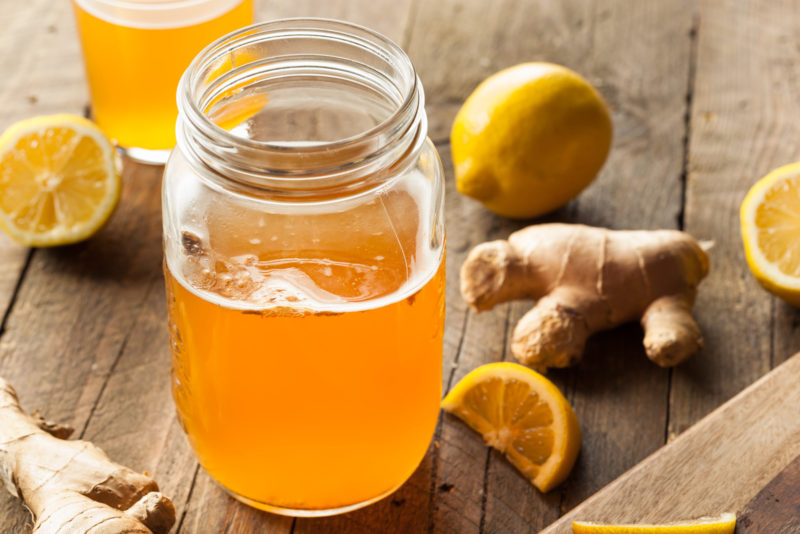 Although technically not food, we decided to add kombucha to our list as it has a lot of benefits that can be enjoyed. The same as yogurt, kombucha is also rich in probiotics.
Some women experience digestive distress during their periods, so kombucha can help with that. It can also alleviate any mood swings you might experience.
So what is kombucha? It is basically tea that has been fermented. It has gotten more popular in the past years so it can be readily available in many stores and supermarkets. But be sure to check what you will. buy as some variants may contain too much sugar.
If you have the time, you can actually make your own kombucha at home.
Best Foods Muscle Cramps
Avocado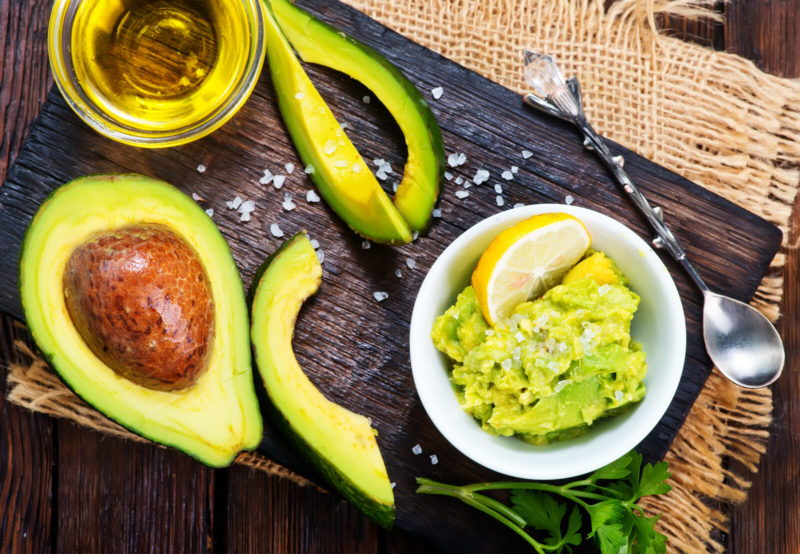 Avocado has lots of fat, but this is considered healthy fats and therefore good for your body. The magnesium and B6 in avocado can also help lessen or remove the pain from muscle cramps.
It is also rich in potassium which is essential for your muscles. So on your next salad, make sure to add slices of avocado to your recipe. For recipes that call for mayonnaise, add mashed avocados instead.
But do note that one serving of avocados already contains 50 calories. One whole avocado already has 250 calories so if you are doing calorie counting, you may need to lessen how often you would be eating them.
Watermelon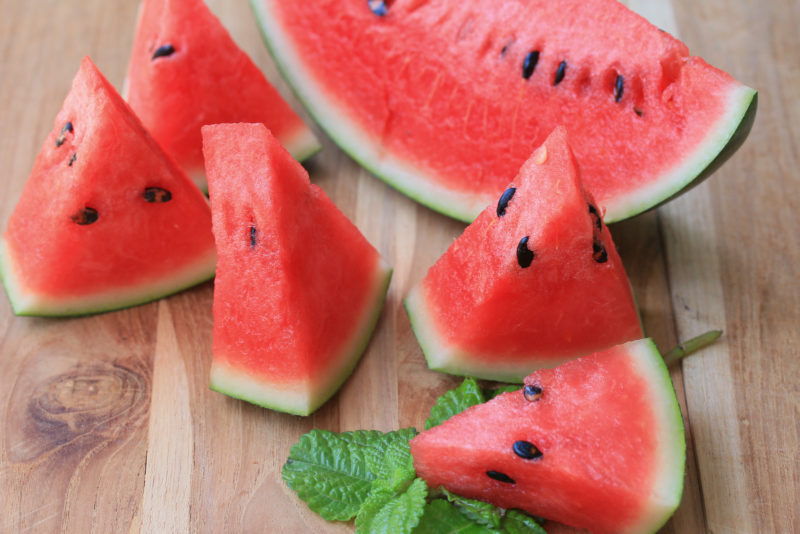 Watermelon is the perfect fruit for those hot summer days. Just slice one put it in the fridge for a few minutes, and enjoy them for snacks. You can also add them with other ingredients and create a refreshing drink, such as this Watermelon-Basil Cooler.
What makes watermelon one of the best foods for cramps is that it has a lot of potassium, which we already explained the importance of. With two slices of watermelon, you would have already consumed around 14% of the recommended daily intake.
We often think of watermelon as something for drinks or snacks, but some creative minds have actually thought of adding them to savory dishes, like this pan-seared watermelon steak.
Salmon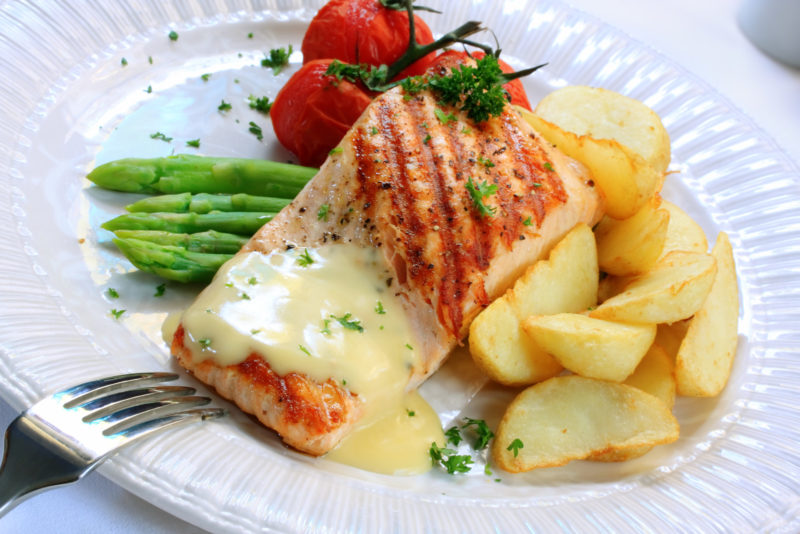 The omega-3 fatty acids in salmon have anti-inflammatory properties that can greatly relieve pain brought about by cramps. Other nutrients you can find in salmon include vitamin D, and of course protein.
Aside from fighting inflammation, salmon can also reduce the risk for conditions like cardiovascular diseases and dementia, not to mention rheumatoid arthritis.
Salmon can be prepared in a variety of ways. You can bake, grill, and roast them. Here are the best spices you can pair with salmon for your cooking.
Bone Broth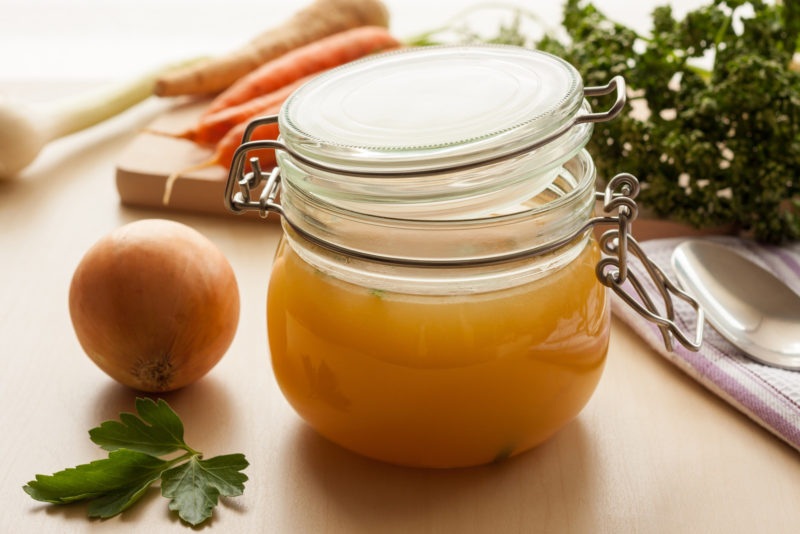 Bone broth helps keeps you hydrated, which can prevent muscle cramping due to dehydration. It is also full of magnesium and calcium, again ingredients that are helpful in preventing cramping.
You can already buy ready-made bone broth in stores, but you can also easily make one at home, although it would require a lot of time. A good bone broth takes at least eight hours to make, with some recipes even taking 12 hours! But once you make a batch, you can use it in a variety of ways.
Typically, you will need different bones from chicken, beef, and pork. YOu will add other ingredients like vegetables and apple cider vinegar and let it boil then simmer for as much as you can in order to extract the flavor needed.
Other Tips for Managing Cramps
Aside from food, there are other ways that can help relieve cramps. One is using a heating pad. If you don't have one, a hot water bottle would suffice. The heat helps your muscles to relax alleviate the discomfort you feel. You may also try soaking in a warm bath as this results in the same feeling of relaxation.
For many who feel period cramps, the instinct is to stay curled up in bed and let the pain pass. But try to do some exercises such as walking or yoga. A study in Taiwan has shown that those who go to yoga twice a week for 3 months have reported less pain during their period.
Of course, now that you know what foods you need to eat, you should also know which ones to avoid. There are foods that will aggravate the symptoms. For example, if you already have an upset stomach, do not eat spicy food, especially those that have chili peppers in them.
Tea, coffee, and other drinks with caffeine must also be avoided if you regularly have stomach cramps. The same is true for dairies like milk, cheese, and the like. You may choose the lactose-free version instead.