Probiotics have become all the rage. Whether you turn to probiotic rich foods or probiotic supplements, the basic idea is the same – you're providing your body with healthy bacteria. These may improve the balance of bacteria in your gut and lead to a range of health benefits.
While eating bacteria to improve your health might sound odd, the evidence behind this idea is staggering. Our bodies do naturally contain a large number of bacterial species. Some of those bacteria are good for us, others have negative effects instead.
It's easy to end up with a fairly negative balance of bacteria, especially if you rely on processed foods, have recently been sick, or have needed to take antibiotics. This type of bacterial balance can then have flow on effects for your health.
Probiotic supplements can be a fast way to increase the good bacteria in your body, but most of the time, you'll get more benefits from probiotic foods instead. The foods provide a wide range of nutrients at the same time, which are important to your health too. Supplements, on the other hand, tend
When trying to improve your gut bacteria, it's important to not just focus on a single type of food. There are many species of microbes that are good for you and each type of food will have its own balance of bacteria. Getting a range of these in your body is the most powerful way to promote health.
Probiotic Rich Foods
Dairy Products
Salt Fermented Vegetables
Probiotic Soups
Fermented Soy
Meals That Rely On Probiotic Ingredients
Probiotic Drinks
Dairy Products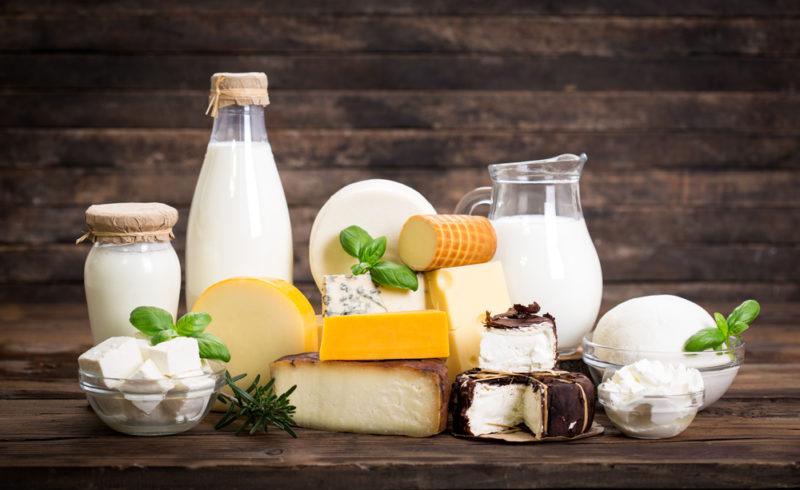 Many types of dairy have probiotic properties. Dairy products are also appealing because we regularly use them in our diet and the flavors are familiar.
However, you'll need to choose your products carefully, as some dairy products have probiotics and others don't. Yogurt is a classic example. Bacteria are used to create yogurt initially, but some of the manufacturing processes kill bacteria, regardless of whether it is good for you or not.
Some companies get around this problem by manually adding prebiotics to the yogurt afterward. This gives you yogurt that is safe and still contains healthy probiotics.
Milk, on the other hand, generally doesn't contain probiotics. But, some types do. Acidophilus milk and buttermilk can both be probiotic rich, as they go through some fermentation. The same is true for kefir, which is a fermented drink made from milk.
Some types of cheese contain probiotics, while others don't. You'll generally get more probiotics in soft cheeses than in hard ones, with cheddar, gouda, and Swiss cheese all being particularly good probiotic choices.
Salt Fermented Vegetables

Salt fermentation is one of the oldest ways of preserving food. It's also very safe and is easy to do, as you don't need any starter culture of bacteria.
The process simply involves massaging salt into your vegetables and allowing it to ferment. Once fermented, your vegetables can be packed into jars and kept in the fridge.
This process works because the natural sugars in the vegetables act as food for the bacteria, while microbes from the plant tissues lead to the fermentation in the first place. The salt is important too, as this helps to prevent any unwanted bacteria from flourishing.
A classic example here is fermenting cabbage to make sauerkraut. This is surprisingly easy to do at home and is well worth the effort.
You can easily buy sauerkraut from the store too, but you'll need to make sure that it hasn't been heat treated. In fact, many store bought products are heat treated to make them safe. That process kills the healthy bacteria.
Salt fermented pickles and kimchi are other examples. Kimchi is a Korean pickled vegetable dish. Cabbages and radishes are the most common vegetables used to make kimchi, although other vegetables can be used too. There ends up being plenty of variation between one kimchi dish and another, especially as there are multiple types of radish and cabbage that you can rely on.
Many other types of vegetables can be fermented too, including carrots, cucumbers, garlic, peppers, turnips, and snap peas. You don't need to ferment one vegetable at a time either. Most vegetables can be mixed and then fermented together. You can even add in some spices and perhaps caraway seeds to give your vegetables extra flavor.
Probiotic Soups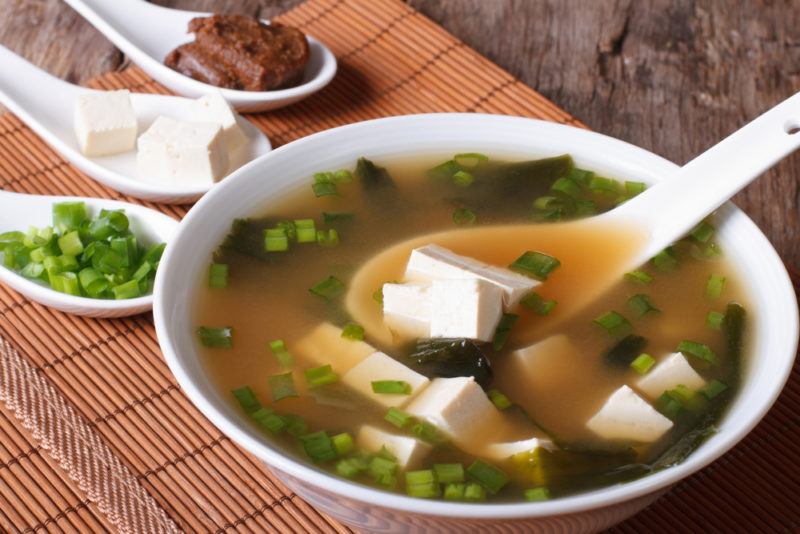 There are also many probiotic rich soups. Miso soup is the most famous type. This soup relies on a fermented soybean paste, making it another type of fermented soybean product.
Miso soup is sometimes made as a largely clear soup with few added ingredients. This highlights the umami flavors of the miso and makes a light soup to enjoy.
Other soups are more complex, using a wide range of ingredients. Some probiotic soups rely on miso paste, while others will include fermented vegetables as ingredients in the soup.
Fermented Soy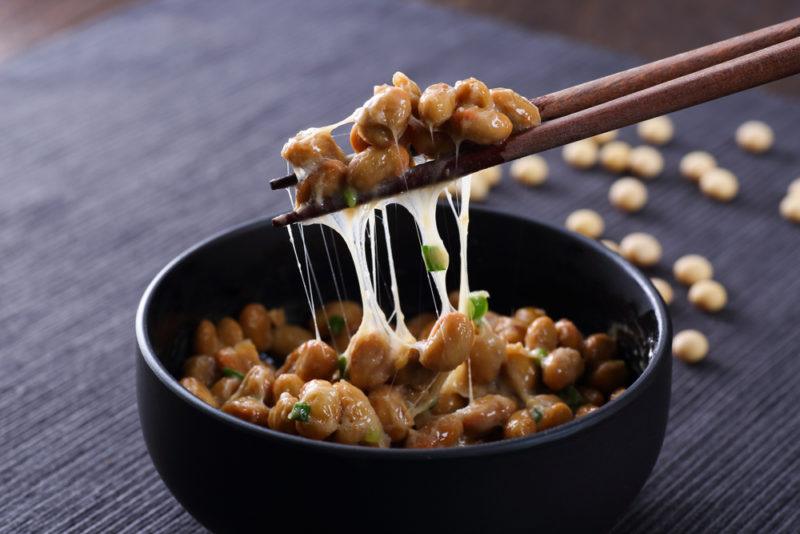 Soy remains a popular choice for plant-based protein and many products are made from soybeans, including soy milk and soy flour (both of which are common ingredients). There is also a range of different fermented soy products.
These all provide you with some nutrients from soy, along with probiotics. Of course, there is plenty of variation from one type of dish to the next.
Tempeh is a relatively popular choice. It's basically a fermented alternative to tofu and can be used in much the same way. However, tempeh has more flavor than tofu and tends to be a bit chewier. Tempeh has a different nutrient distribution too, as it is made from soybeans, while tofu relies on soy milk instead.
Natto is another option. This is a traditional Japanese dish, one that is sometimes part of a Japanese breakfast. However, natto is an acquired taste, as the dish has a stringy texture and tends to be sticky and almost slimy.
There are also many regional fermented soy products, like axone and bekang from India, douchi and jajangmyeon from China, and Tương from Vietnam.
Meals That Rely On Probiotic Ingredients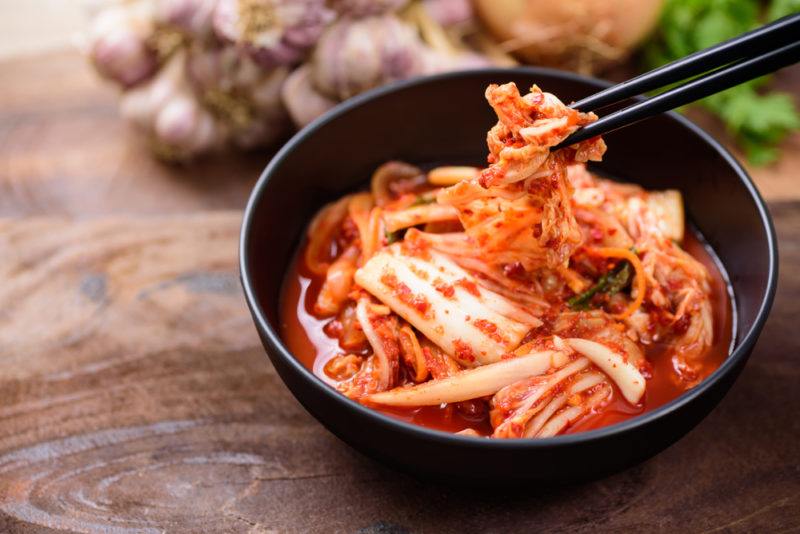 All of these foods are delicious probiotic choices, but eating the foods on their own isn't your only option. You can also turn to recipes that use probiotic ingredients. Probiotic foods often have intense flavors, so using them in a meal is an easy way to help mellow out the flavors.
However, it's worth looking for recipes that are designed to provide you with probiotics. The creators of recipes like these tend to choose their ingredients and cooking methods carefully so that the probiotic content of the foods remains intact.
Also remember that healthy bacteria generally don't fare well in heat. So, cooking probiotic food over high heat is likely to kill off any beneficial bacteria that were present. Gentle heating, on the other hand, may be fine.
Probiotic Drinks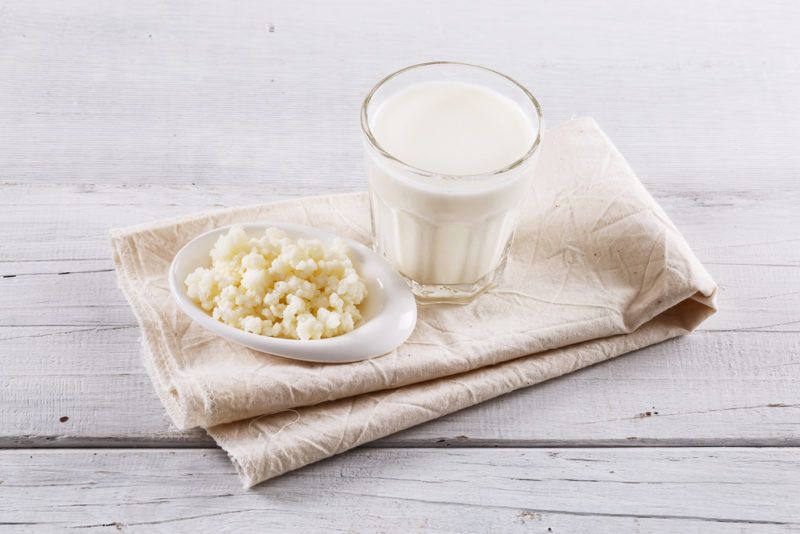 We've been focusing on probiotic foods in this post but, of course, there are also plenty of fermented drinks out there. Fermented drinks include many types of alcohol, along with a variety of non-alcoholic drinks.
However, fermented drinks aren't all equal. Some will contain far more probiotics than others. And, as is the case with yogurt, the healthy bacteria has been removed from some types of probiotic drink.
This means that you'll need to shop around carefully or do the fermentation yourself.
Kefir and kombucha are two popular types of probiotic drink. Kefir is typically made from milk using kefir grains, although you can make water kefir as well. Kombucha, on the other hand, is made from tea. The flavor of kombucha can vary dramatically depending on the tea used, the specific fermentation approaches, and any flavoring ingredients that are added.
While most kombucha at stores tends to have negligible amounts of alcohol, kombucha can end up quite alcoholic. This is something to be aware of if you're fermenting it yourself. There have also been problems where the alcohol content on kombucha labels isn't accurate, which can mean you end up with an alcoholic drink when you weren't expecting one.
What About Probiotic Supplements?

Probiotic supplements are the most obvious alternative to probiotic foods, as the supplements do contain probiotics too. The supplements even have some advantages, as you know the type of bacteria that you're getting and the amount.
Most supplements will tell you the types of bacteria that are present, along with the amount of CFU for each species. CFU stands for Colony Forming Units. Supplements often contain somewhere between 1 and 10 billion CFU in a dose. Some can be much higher, perhaps up to 50 billion CFU or even higher.
However, a higher CFU count doesn't guarantee that you'll get more health benefits. Studies into probiotics suggest that specific types of bacteria are helpful in specific situations. After all, the goal is to get a good balance of gut bacteria, so the types of bacteria you need will depend on the species and quantities of bacteria that are currently in your gut.
Probiotic supplements may be helpful in some situations, such as times where your gut bacteria have been severely depleted after using antibiotics or for another reason. Still, most of the time, it's best to get your nutrients and probiotics from food rather than supplements.
A supplement can never offer the large range of nutrients and other compounds that you get with food, so supplements are never as powerful for your health either.