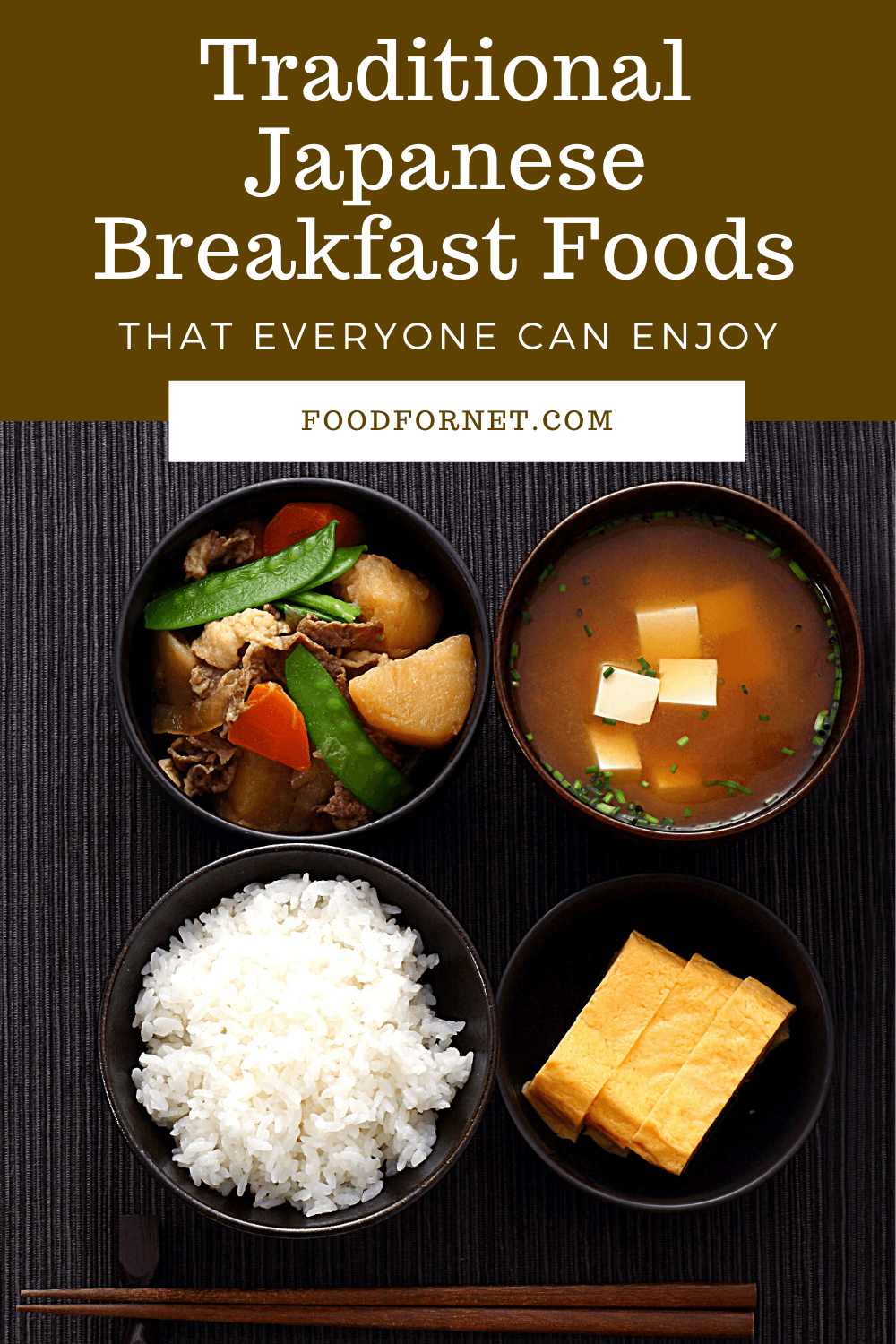 Do you find breakfast boring after a while? It's very easy to have the same type of meal day in and day out, simply because there don't seem to be that many other options to choose from. Turning to other cultures is an easy way to get more ideas for your breakfasts. Today, we're looking at traditional Japanese breakfast foods.
The reason behind the topic is simple – each country has its own distinct patterns for breakfast. This includes meals and flavor combinations that might seem completely unfamiliar.
Japanese breakfasts highlight this idea well. As you'll see, the breakfasts often rely on starches and light sources of protein. The way you eat is different too, as Japanese breakfasts tend to rely on multiple small dishes, rather than a single large meal.
The flavors and ingredients are very different than what you might be used to at home. Many of the meals might be closer to something that you'd have at lunch time. If you find the dishes here a bit too unusual, you could consider our closer-to-home lists, including American breakfast foods and English breakfast foods.
Honestly though, variation in breakfast isn't bad at all. There's no reason that you need to stick to so-called traditional breakfast flavors. Other types of meals and ingredients can be just as appealing, if not more so.
Traditional Japanese Breakfast Foods
Rice
Rice Porridge
Pickled Vegetables
Steamed Vegetables
Grilled Fish
Seaweed
Miso Soup
Other Types Of Soup
Onigiri
Natto
Eggs
Rolled Omelet
Tamago Kake Gohan
Rice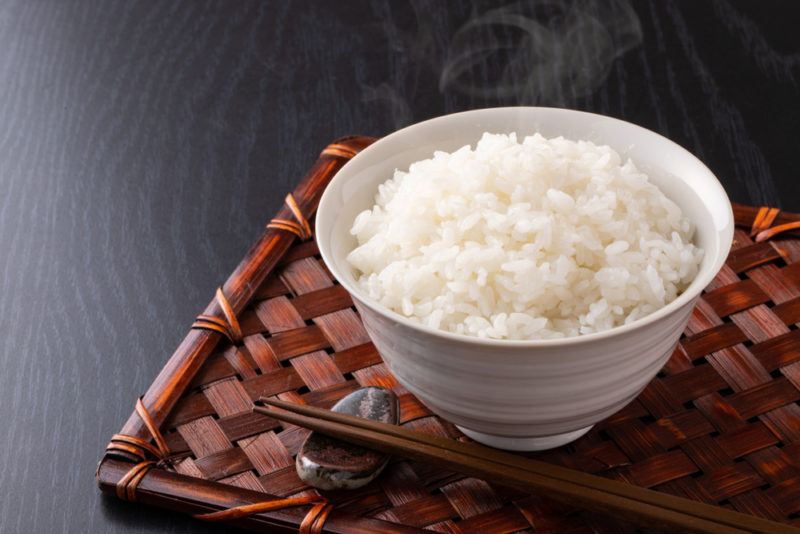 Rice is often the base ingredient of a Japanese breakfast. Short-grain rice is traditionally used, which is the type of rice used for sushi. Of course, short-grain rice isn't your only option here. Some people will use brown rice or regular white rice instead.
How the rice is served will depend on the style of breakfast that is being followed. Japanese breakfasts are sometimes served in a single bowl, much like a protein bowl. The components might be served in their own containers instead or even used to create a bento box.
This pattern isn't so surprising, as rice is a key part of the Japanese diet to begin with. The mild flavor of rice means that it is versatile and can easily be paired with many other ingredients.
Rice Porridge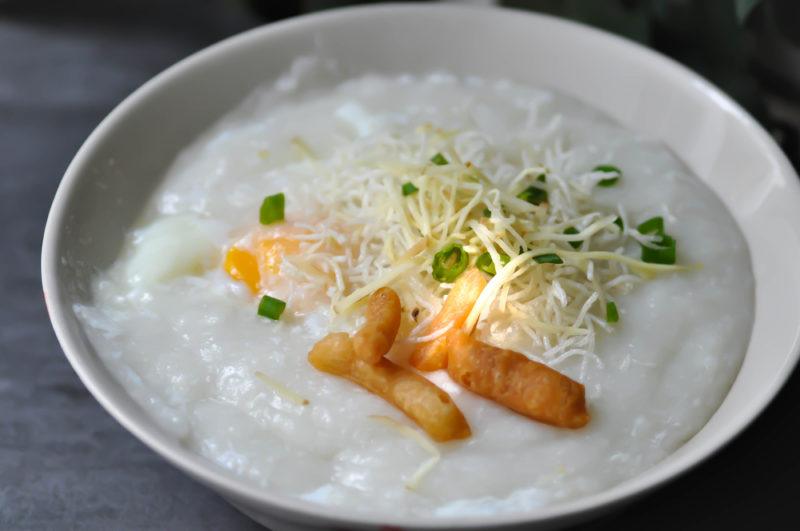 While rice is often cooked in a traditional manner, it can also be used to create rice porridge. This will often be served with sides or toppings to make the rice taste more interesting.
Seasoned seaweed is one popular topping choice, while shiso leaves also feature. Another approach is tsukemono, which combines pickled plums and vegetables.
Pickled Vegetables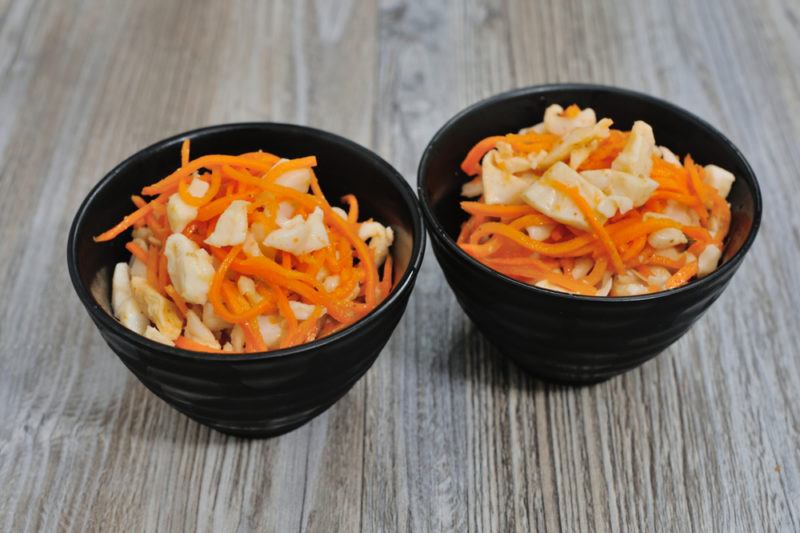 Pickled vegetables can use many combinations of ingredients, but they all tend to have a combination of sweet, sour, and savory notes. Key ingredients can include carrot, eggplant, cabbage, and ginger.
The vegetables are a fantastic way to balance the flavors of other parts of the breakfast, helping to make plain foods more interesting and to prevent stronger foods from being too intense.
Steamed Vegetables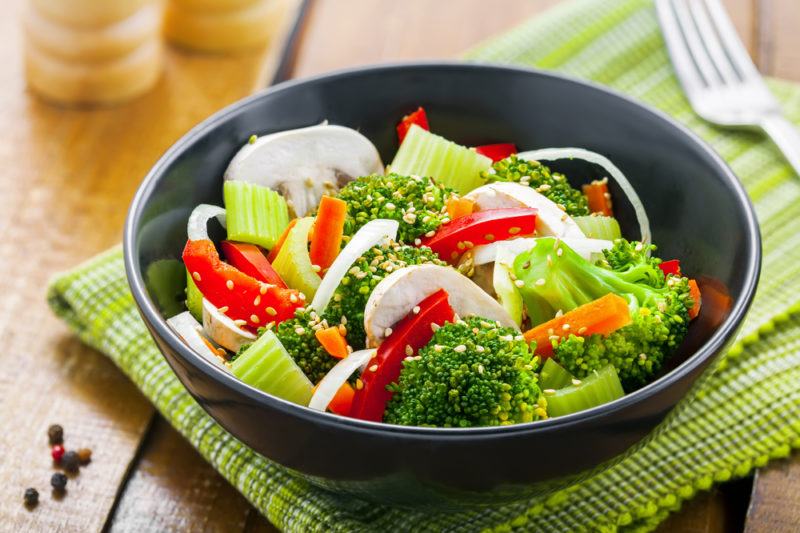 Steamed vegetables is a simpler side dish that is also popular at breakfast time. You're getting most of the same advantages as with pickled vegetables, although there are distinct texture and flavor differences. There will also be differences between the types of vegetables that you choose.
Steaming vegetables does require less work than pickling them. You can easily prepare steamed vegetables from start to finish on the day that you plan to eat them. The same isn't true for pickled vegetables, which need to be started much earlier on.
Grilled Fish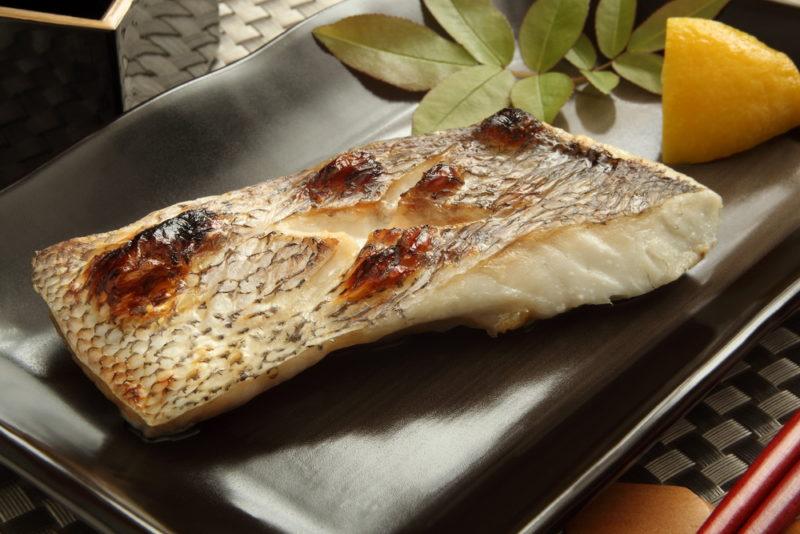 Grilled fish, which is known as yakizakana, is also often found as part of a Japanese breakfast. The fish acts as a good source of protein, giving people the energy that they need to last the day.
Any type of fish will work well enough here, although mackerel and salmon are both popular choices. Not having access to fresh fish doesn't need to be a problem, as tinned fish or smoked salmon can easily be used instead.
Seaweed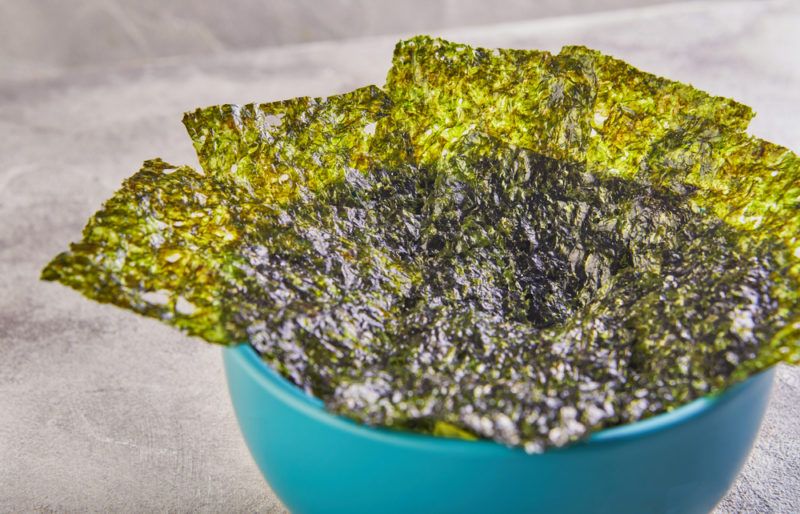 Dried and seasoned seaweed (called nori) probably isn't what you had in mind for breakfast, but nori is often part of a Japanese breakfast. The seasoning means that the seaweed can literally be eaten as it is, often with rice as a side.
The seaweed can also be dipped in soy sauce to make it more interesting again.
Miso Soup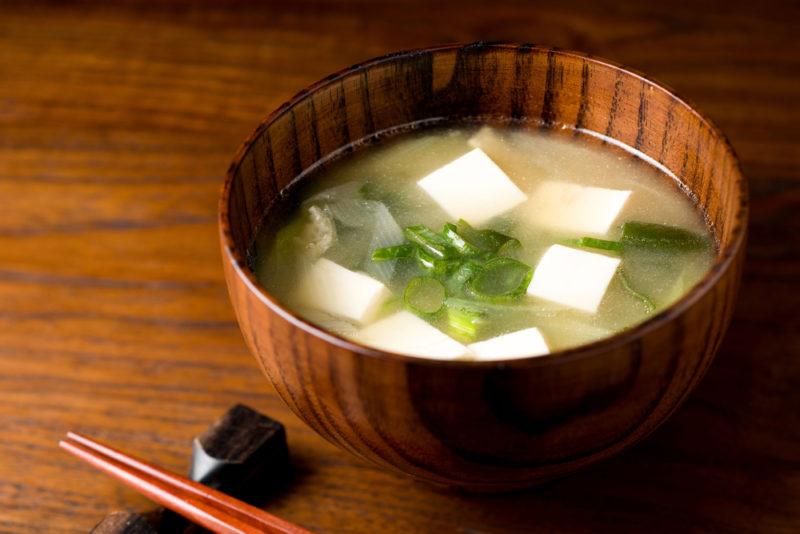 Miso soup is a type of fermented food with a distinct umami flavor. It isn't difficult to prepare, as the soup largely just relies on miso, which is fermented soybean paste.
The soup may be little more than a broth or other ingredients may be added in. Tofu, mushrooms, and seaweed are all additions that work well with the soup.
Having soup as part of your breakfast is an ideal way to really slow down and begin the day well. The idea is even better when the weather is cold, as you end up with a breakfast that warms you from the inside out.
However, you probably wouldn't just have miso soup for breakfast. While the soup tastes good, it doesn't have much substance, so it wouldn't fill you up.
Other Types Of Soup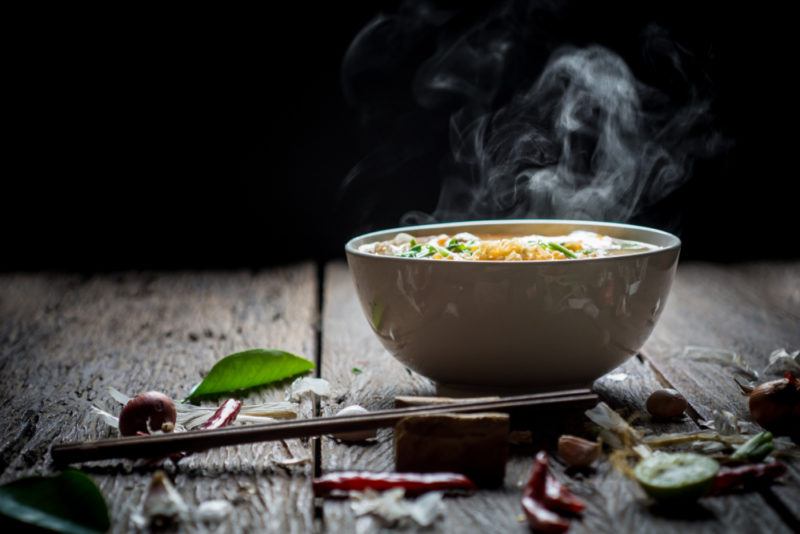 While miso soup is the most common type of soup enjoyed for breakfast in Japan, other types of soup can work well too. One example is vegetable soup, which would be heartier than miso soup and would offer more nutrients too.
Soup often takes a while to eat, which isn't always a bad thing. After all, eating breakfast fast and running out the door isn't a very healthy practice. If you are short on time, you could always just have a little soup and more of the other breakfast options that we've featured.
Onigiri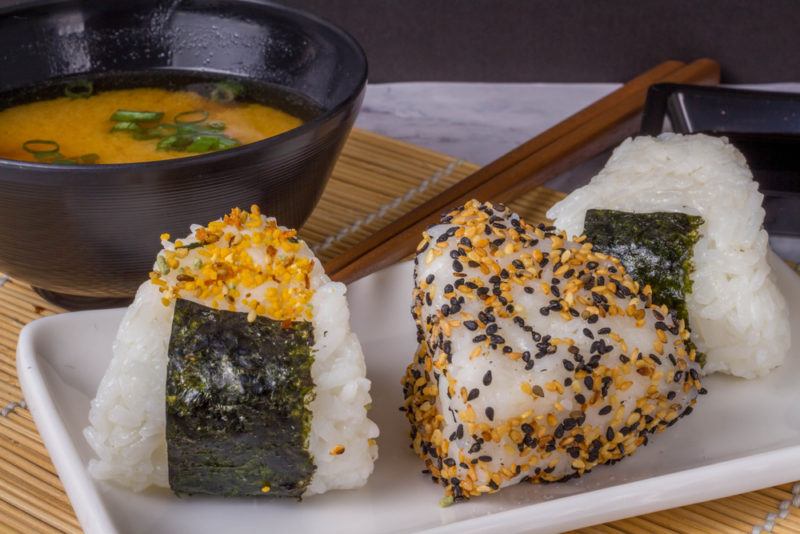 Onigiri are rice balls that have been partially wrapped in nori seaweed. They're good at any time of the day, especially as you can simply pick them up and eat them on the go.
Most onigiri will have a protein-based filling. Fish is the most common filling, but there are other variations too, like chicken. Onigiri can easily be prepared at home or purchased from any number of stores.
You've probably seen onigiri before, although you may have simply heard them called rice balls or something similar. The simple dish is often enjoyed as a snack or at lunchtime, but there's no reason not to try it out for breakfast too.
Natto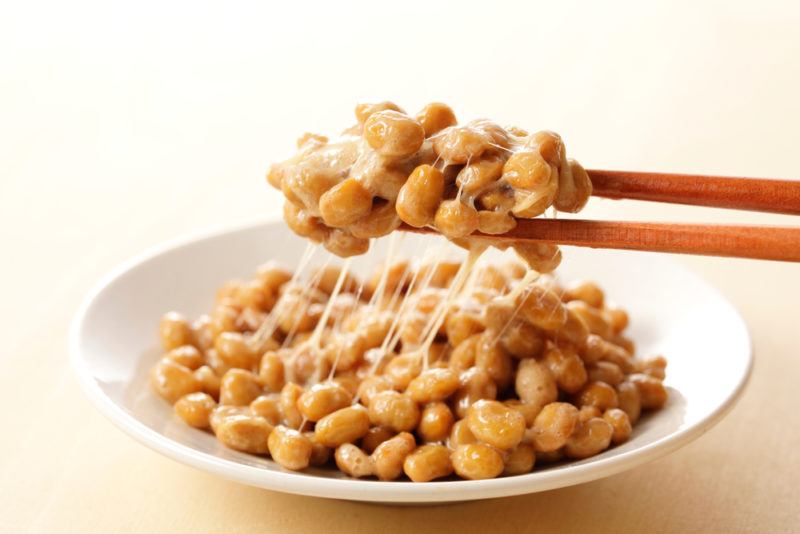 While we're talking about fermented food, it's worth bringing up natto. This fermented dish is… interesting. It has some major advantages, such as offering plenty of protein and being a good source of nutrients.
The meal even tastes good, as long as you can get past the smell and the texture. As you can no doubt guess from the image, natto has a distinctly slimy texture, one that many people find very difficult to enjoy.
If you've never tried natto before, it will probably be a while before you can finish the dish and even longer before you enjoy it. Still, some acquired tastes are worth pursuing. And, you never know, you might happen to like the dish the first time that you try it.
Eggs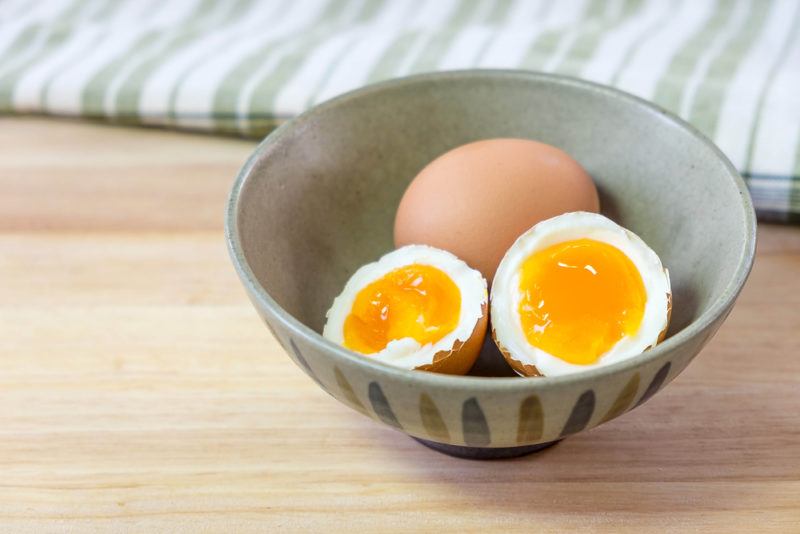 Eggs will be a more familiar breakfast ingredient for many readers. One difference is Japanese breakfasts often use furikake seasoning. This is a type of dry seasoning that is used to flavor a variety of dishes.
Much like spice powder, the composition of furikake can vary dramatically. However, regardless of the ingredients, furikake is an easy way to make eggs more interesting.
Fried eggs might be eaten on their own or on top of one of the other breakfast foods, like rice or natto. Eggs are an easy way to add protein to other Japanese breakfast options. Doing so is perfect if you have a long day ahead of you.
Rolled Omelet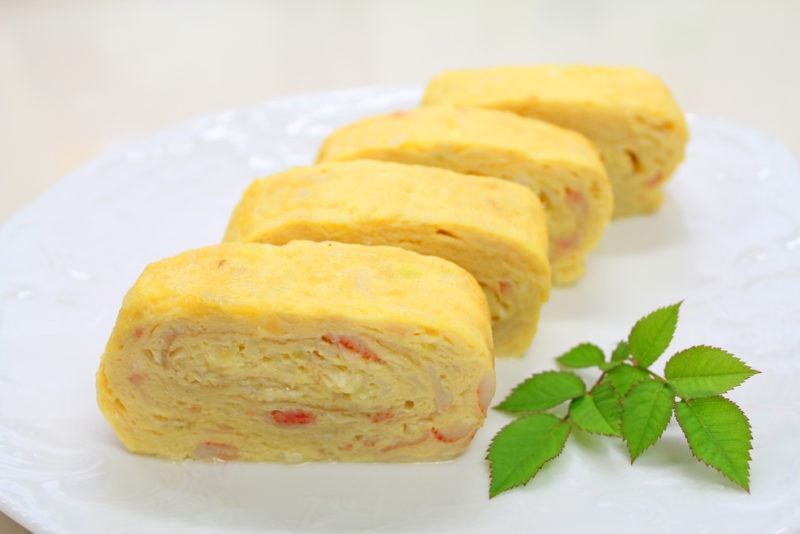 Omelet rolls are one way to serve eggs as part of breakfast. These may simply involve the omelet itself, with no fillings or toppings, or other ingredients could be added too.
Once again, this dish is unlikely to be served on its own. Instead, Japanese breakfasts often involve multiple types of food at the same time.
Using extra ingredients would help to make the omelet more filling. This would be most relevant if you were having the omelet on its own. If you're having a selection of different Japanese dishes for your breakfast, then keeping the omelet simple might be best.
Tamago Kake Gohan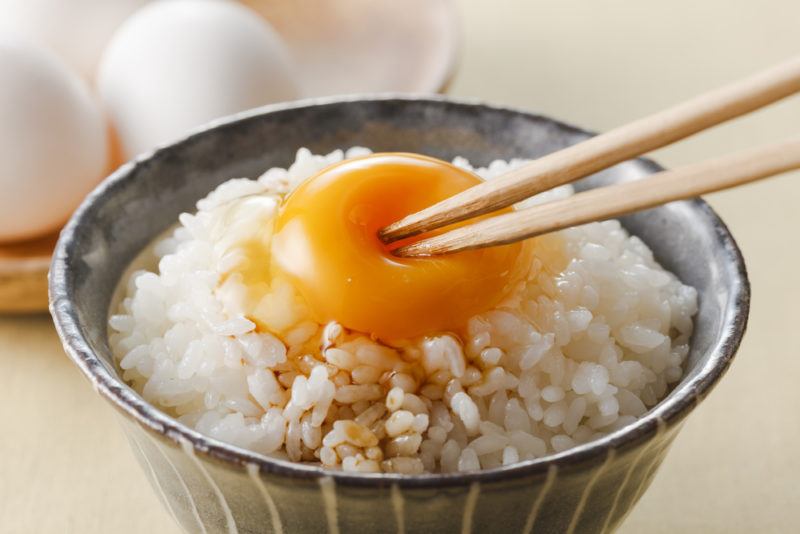 This unusual meal isn't for everyone, as it consists of a bowl of steamed rice that is topped with some soy sauce and a raw egg. The ingredients are often mixed in together right before eating.
While a raw egg does offer plenty of nutrients, it is an unusual breakfast choice – and there's always a slight risk of food poisoning from the egg. The warmth from the rice might partly cook the egg, but not as much as many of us would want.
Interestingly, the meal is often considered delicious, which could make it worth trying. If nothing else, the entire thing is easy to prepare. After all, you only need to cook the rice.