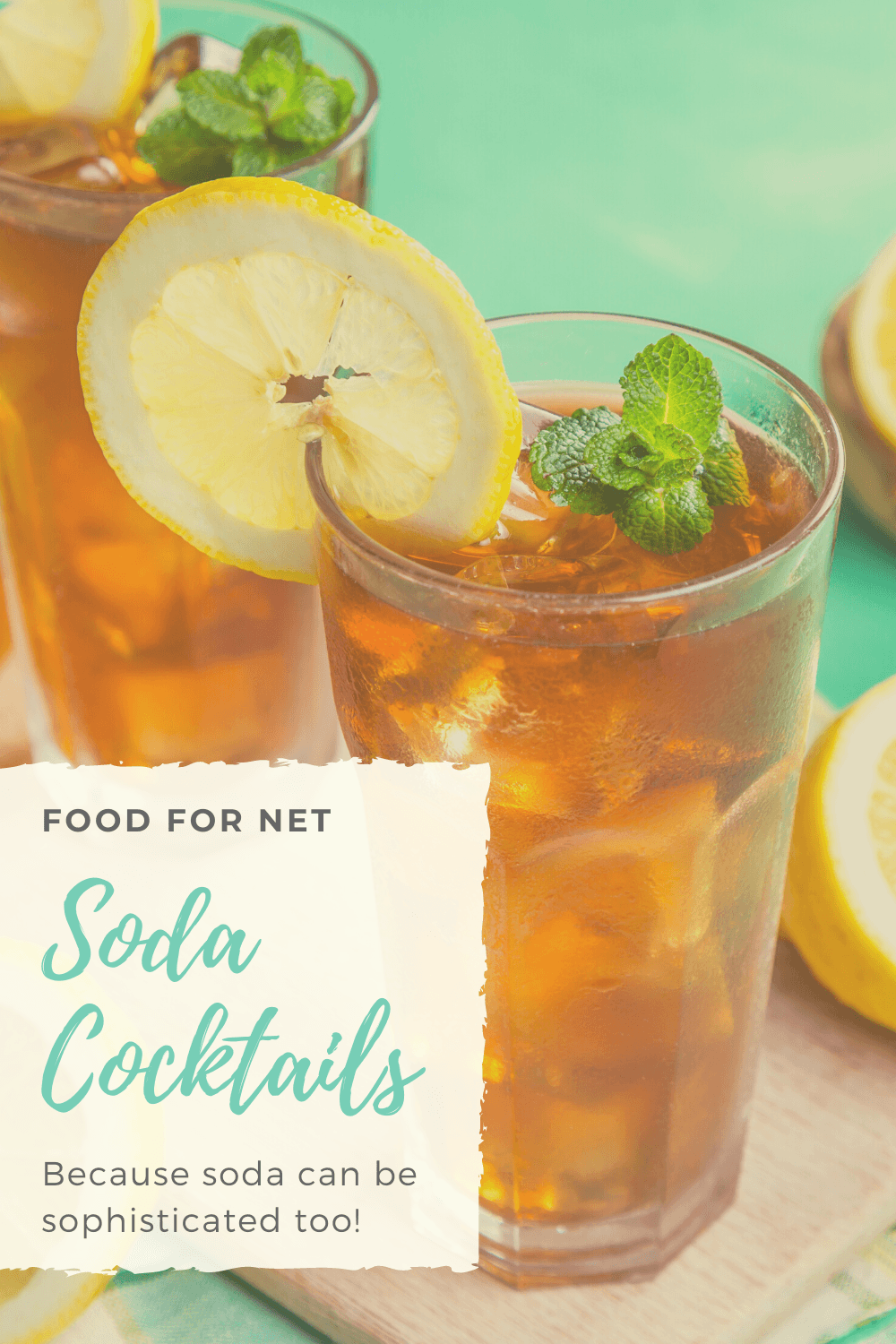 Soda isn't just an easy mixer to go with a spirit. You can also use the ingredient to create soda cocktails. This type of cocktail tends to include multiple ingredients and can often have a complex balance of flavors.
Some soda cocktails take a little work to prepare. You might need a cocktail shaker, ingredients like simple syrup and lime juice, and a little patience. Others are simpler, where you're mostly just stirring the ingredients together and serving.
There are other variations too, such as differences in flavor and texture between the cocktails, as well as the soda and the spirit that is used.
In this list, we're covering as much of this variety as we can, so there should be something for everyone. Check the cocktails out – and don't be afraid to experiment if you don't quite have the right ingredient combination for a cocktail that you'd like to try.
Soda Cocktails
Long Island Iced Tea
Cuba Libre
Moscow Mule
Horsefeather
Black Russian
Pimm's Cup
Paloma
Blue Lagoon
Aperol Spritz
Gin Fizz
Suffering Bastard
Kalimotxo
Americano
Gin Buck
Gin Rickey
Kentucky Mule
Siliciano
Mind Eraser
Kahlua Cold Brew Tonic
Gin And Tonic
Colorado Bulldog
New Orleans Fizz
Cubata
Ginger Rogers
El Diablo
Soda As A Mixer
Long Island Iced Tea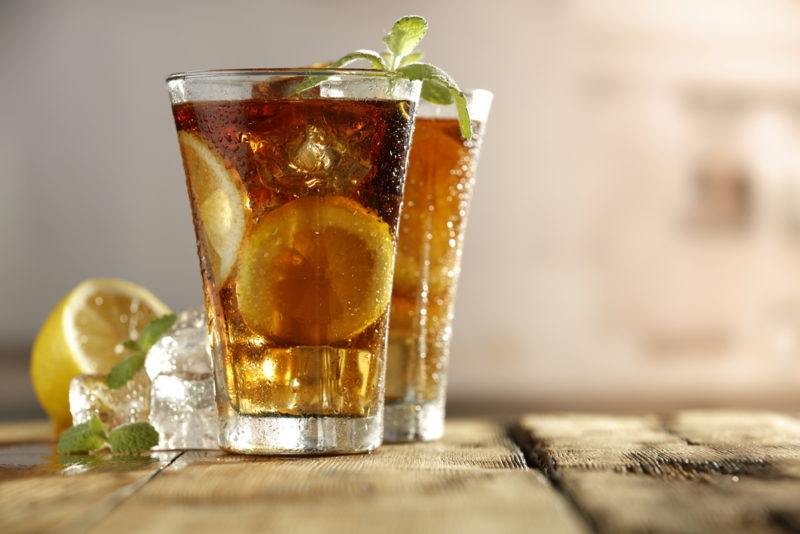 Rumor suggests that the Long Island iced tea was originally created during prohibition, as a way to enjoy alcohol without being noticed. Yet, despite the name, a Long Island iced tea doesn't include tea at all (there are, however, some iced tea cocktails that you can try).
Instead, the drink is made up of five different types of spirit, along with lemon juice and simple syrup. The whole mixture is topped up with cola.
The specific spirits and their ratios vary from recipe to recipe. For example, one version calls for two parts vodka, two parts tequila, one part gin, one part white rum, and one part Cointreau. Another uses equal parts of all the spirts and swaps the Cointreau out for triple sec.
This cocktail can end up very heavy in alcohol, with close to four ounces of booze and less than half of that in mixers. Other recipes use less alcohol, giving you closer to two and a half ounces of alcohol and more mixer.
The drink tastes surprisingly good either way. If you're making it at home, you can easily control the ratio of alcohol to soda.
Cuba Libre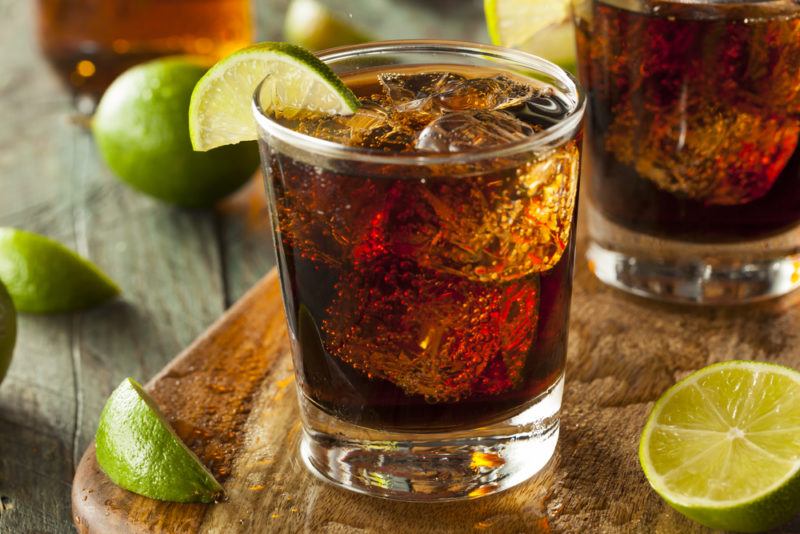 Cube libre is another cocktail that uses cola as a key ingredient. This time, there is only one spirit used – rum.
The drink is traditionally made using Cuban rum, which gives it a distinctive flavor profile. You could substitute this with Bacardi if you don't have Cuban rum on hand.
Regardless of the rum, your first step is to half-fill a highball glass with ice. Add four parts of rum and the juice from half a lime. Then, top the cocktail up with cola.
Moscow Mule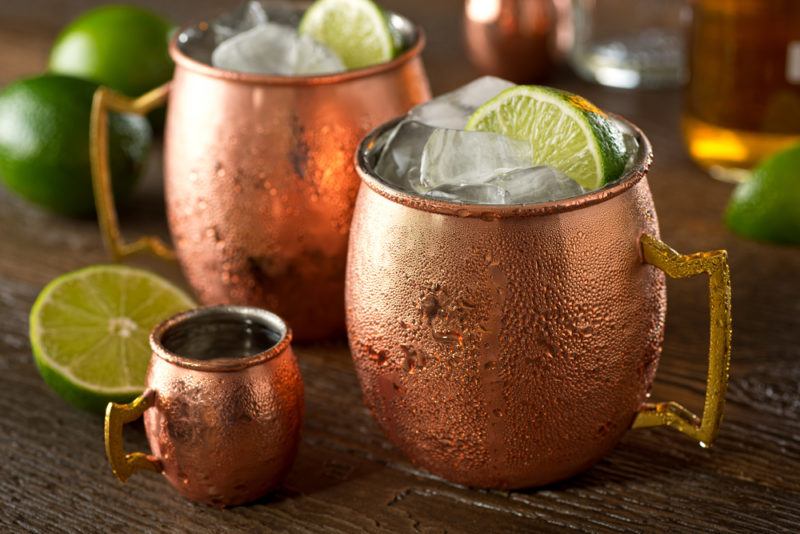 Rumor suggests that the Moscow mule was created by a bar owner with too much ginger ale on his hands. Since then, the cocktail has become a classic in its own right. It is also easy to prepare, which is a bonus.
The cocktail simply involves shaking four parts vodka together with the juice from two limes, over ice. The mixture is then poured into a chilled highball glass. The rest of the glass is filled with ginger ale.
A Moscow mule is traditionally served in a copper or a pewter mug. The mug isn't just used for looks. It also helps to keep the drink cool. You can also buy this cocktail in a can, in case you don't want to make it yourself.
Horsefeather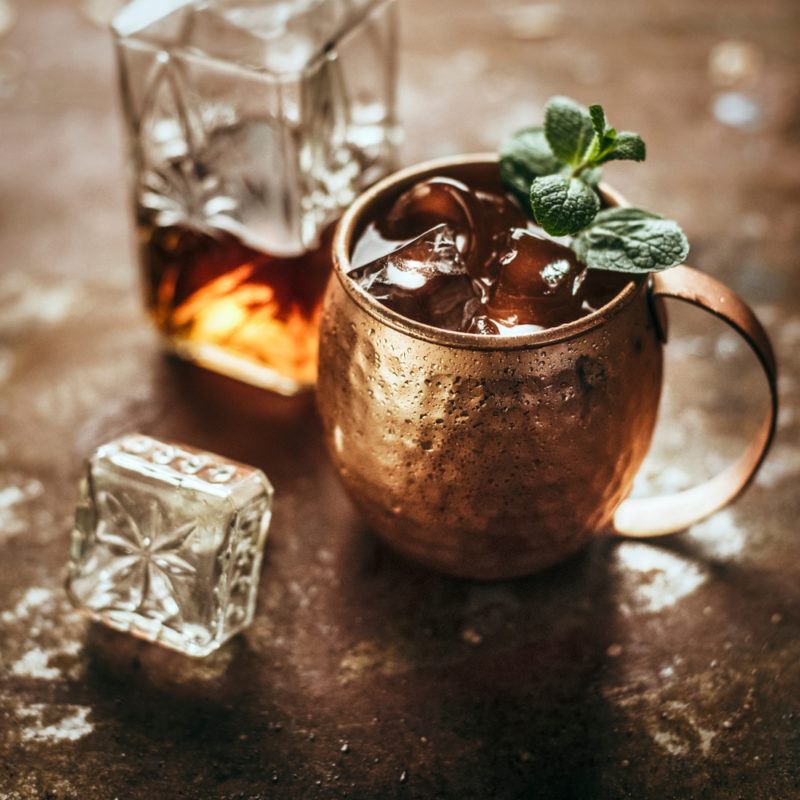 A horsefeather is very similar to a Moscow mule, as it mostly consists of ginger beer and lime juice. One difference is that you're using whiskey instead of vodka. The whiskey provides a more complex flavor and complements the ginger beer perfectly.
Plus, a horsefeather also includes a few shakes of Angostura bitters. These bitters provide a little extra depth to the drink and bring all the flavors together nicely.
Black Russian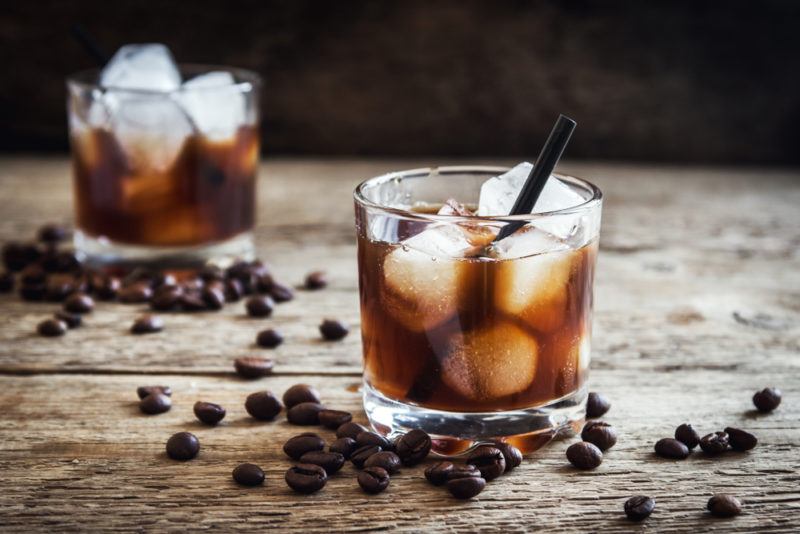 Cola is an optional ingredient in a black Russian cocktail, but it does make the drink sweeter. To make the cocktail, you simply pour four parts vodka and two parts Kahlua over ice in a short glass.
The two ingredients are then stirred together. If you want to use it, cola is added at this point, to fill the glass.
Pimm's Cup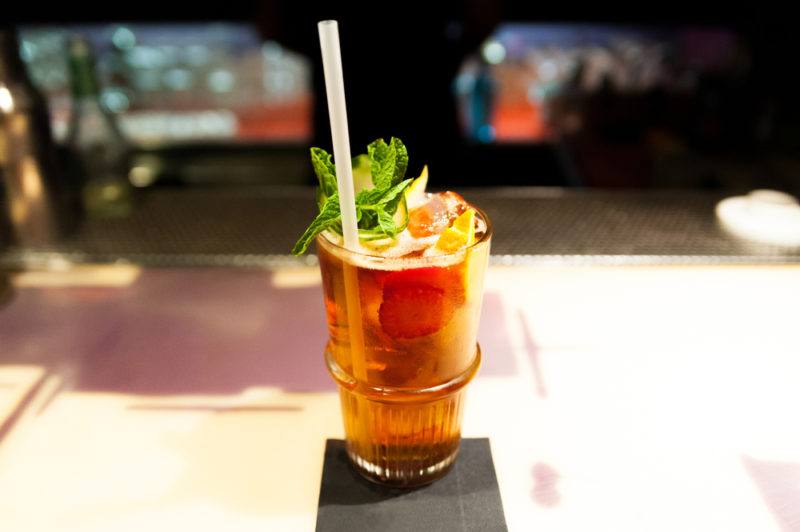 The official version of a Pimm's cup is made using one part Pimm's No. 1 and three parts lemonade. Sliced fruit and/or cucumber is included in the cup as well, which helps to create a fruity and refreshing drink.
The cocktail can also be varied. For example, using ginger beer or ginger ale instead makes is a great way to decrease the sweetness of the cocktail while also providing a richer flavor.
Spiking the cocktail is another approach. Adding a shot or two of gin works well, as Pimm's is gin-based anyway. Other spirits are effective too. For example, rye whiskey adds another spicy kick to the drink, while tequila provides an interesting contrast to the aromatics.
Paloma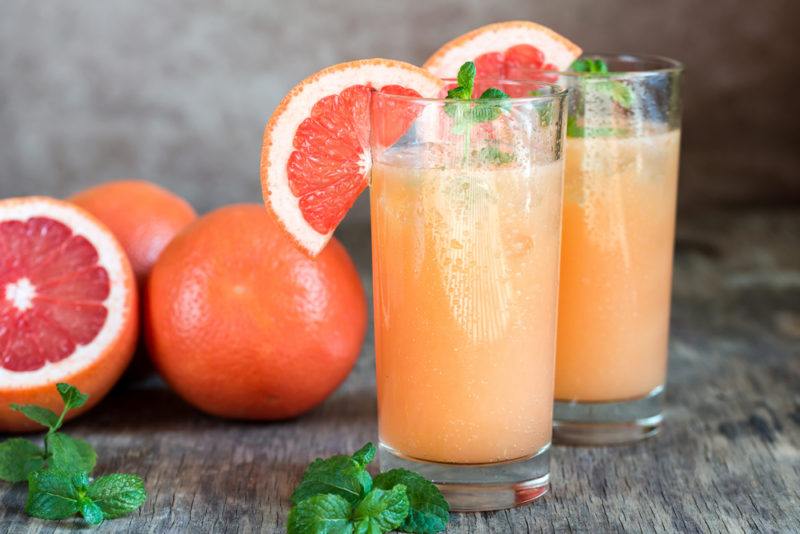 A paloma is a simple tequila cocktail. It consists of lime juice, tequila, and grapefruit soda. Many versions use grapefruit juice and soda water instead of grapefruit soda. If the juice and soda water combination is used, then the drink often ends up having a more vibrant color and the flavor may be more intense too.
If you find the flavors too intense, a sweetener can be added to the cocktail. Agave syrup is one option, which seems fitting given that this is a tequila cocktail. Other sweeteners work well too, such as sugar or simple syrup.
The fruity and refreshing nature of this cocktail means that you can even have it in the morning.
Blue Lagoon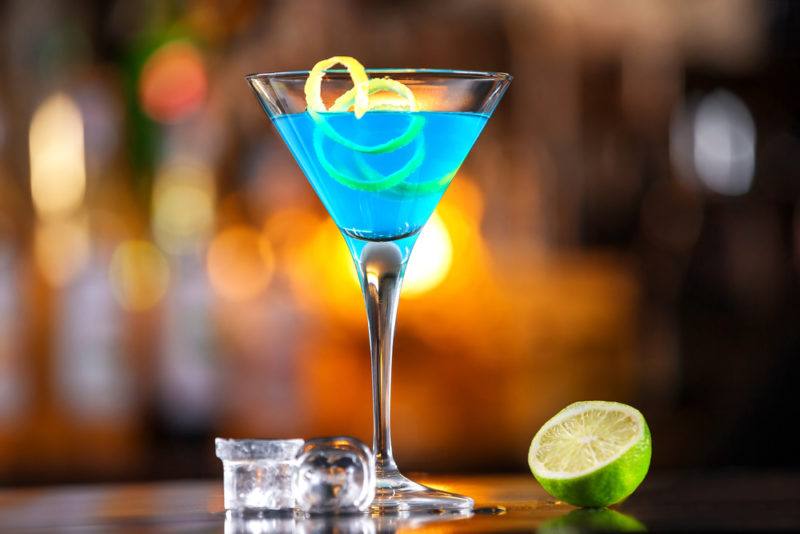 This refreshing cocktail relies on lemonade as the soda of choice. The other main ingredients are vodka and blue curacao.
The curacao is what gives the cocktail it's characteristic blue coloring. Interestingly, curacao has an orange flavor, despite the blue coloring, so the drink might taste a bit different than you first expect.
Aperol Spritz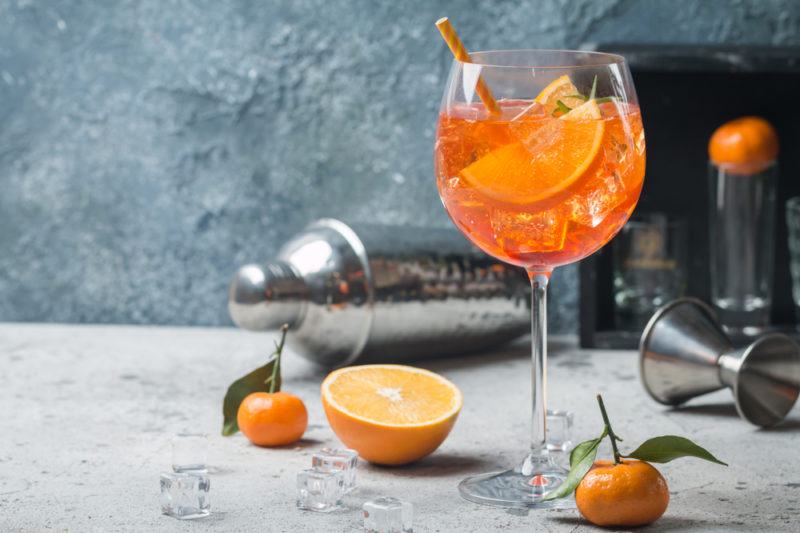 The aperol spritz is a little different, as it only relies on a small amount of soda water. In fact, a common version of the cocktail combines three parts prosecco, two parts aperol, and just one part soda water.
With this balance, the soda water isn't adding much to the cocktail at all, simply a little dilution and some extra fizz. Even so, the addition is an appealing one. The cocktail wouldn't taste nearly as good without the soda water in place.
Gin Fizz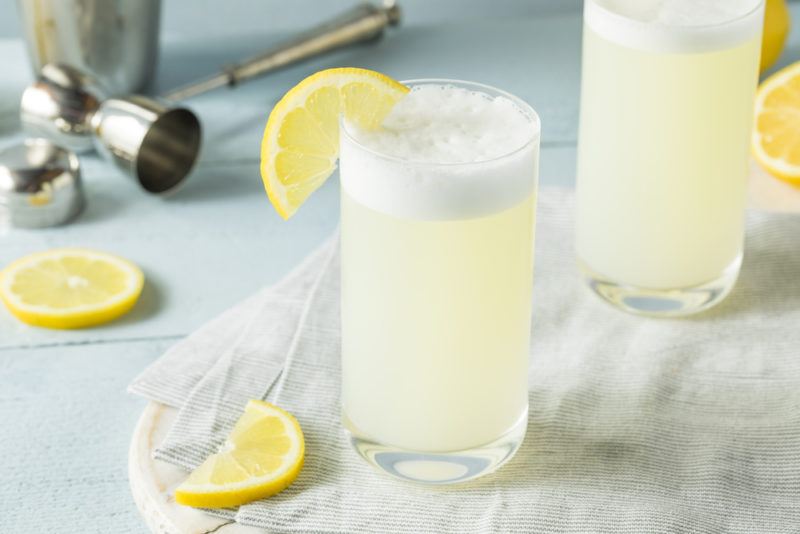 If you want something delicious and vibrant, a gin fizz is hard to beat. Like other fizz drinks, the cocktail relies on club soda as a key ingredient, which gives it distinct lightness and fizziness.
Other important ingredients are gin, lemon juice, and simple syrup. The lemon juice and simple syrup provide the cocktail with a sweet and tart balance.
But, the most notable thing is the inclusion of an egg white. This, along with the gin, lemon juice, and simple syrup is dry shaken, then shaken again over ice. The drink is then strained into a glass and topped with soda.
While the egg white might seem odd, it is a key part of the drink, giving it a distinct texture, along with the famous fizz. You can make a gin fizz without the egg white, but it loses something special in the process.
Suffering Bastard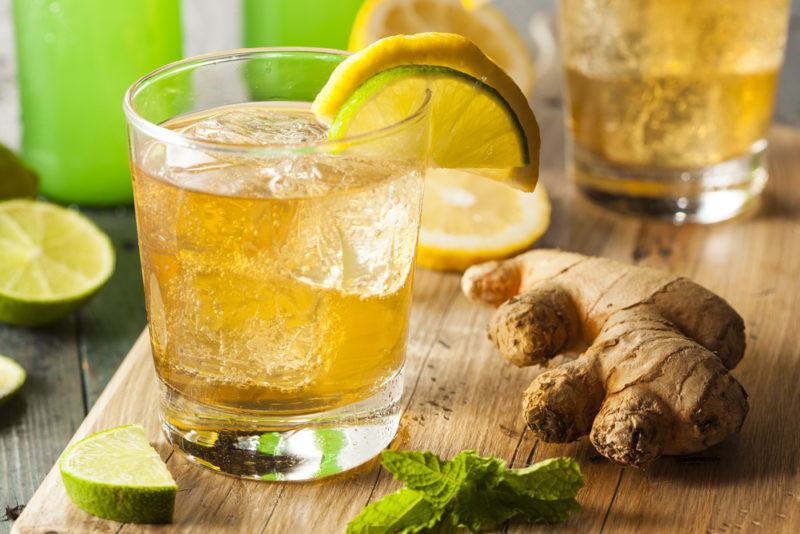 This hangover cure cocktail is pretty tasty as a regular drink too. It uses bourbon and gin as key ingredients. These are complemented by lime juice and Angostura bitters.
Then ginger ale is used to finish the drink up. The ginger ale helps to lower the ABV and prevents the cocktail from being too concentrated.
Kalimotxo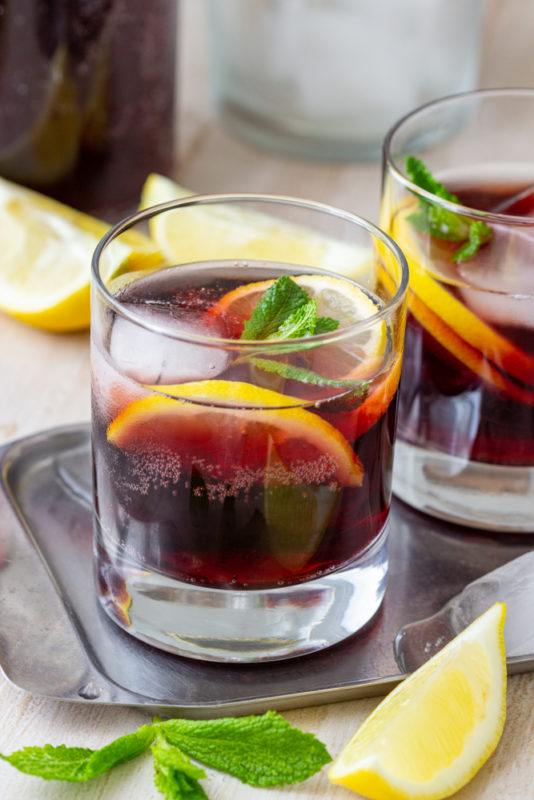 The kalimotxo is another simple cocktail that uses just two ingredients. It's also unusual, as you're combining red wine and cola.
While white wine and soda water is a common cocktail, the idea of red wine and cola is quirky, to say the least. Still, the cocktail is popular and ends up with a flavor balance that's somewhat like a sangria.
Americano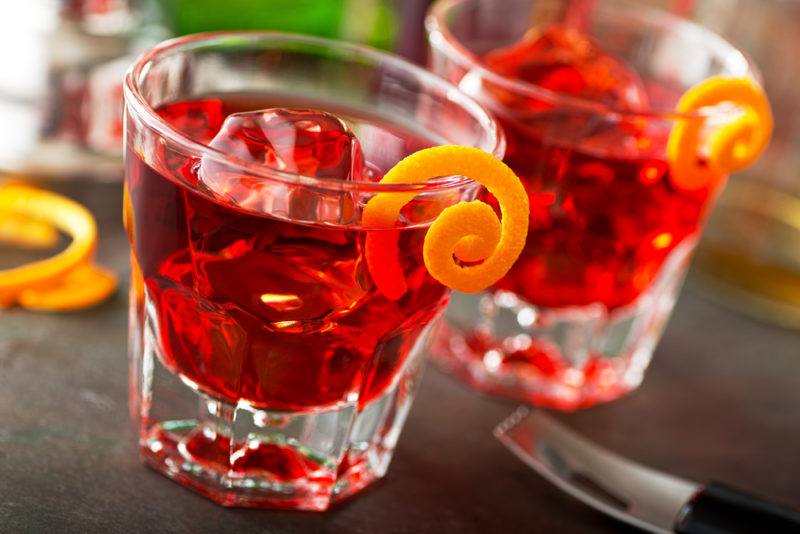 You might call the Americano a baby cousin to the negroni. The cocktail has the same familiar red coloring that a negroni offers. It relies on Campari and sweet vermouth as key ingredients as well.
But, while a negroni uses gin as the third ingredient, an Americano uses soda water instead. This decision changes everything. Without the gin, an Americano ends up with a simpler flavor profile and fewer botanicals.
It is also a more refreshing drink with a lower ABV. The low ABV could make this a good choice for a daytime drink or a celebration.
Gin Buck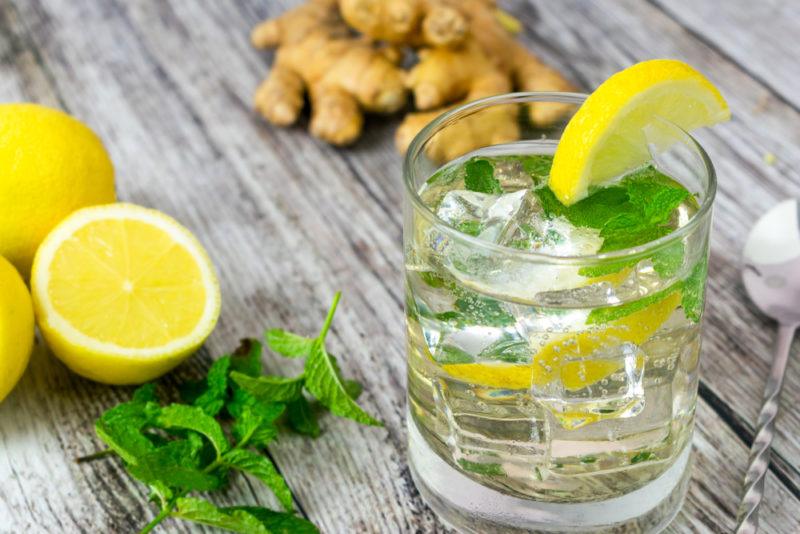 Gin cocktails can be divisive. Some, like the gin and tonic, are dry and have a distinct flavor that many people don't enjoy. Others are too tart instead.
A gin buck is a perfect alternative, as this highball relies on ginger ale as a key ingredient. This provides an interesting flavor to the drink and has some sweetness, but not too much.
Some recipes also include either lemon or lime juice as a third ingredient in the cocktail. While the juice isn't essential, it may be tempting for anyone who wants a little tartness or vibrancy in their drink.
Gin Rickey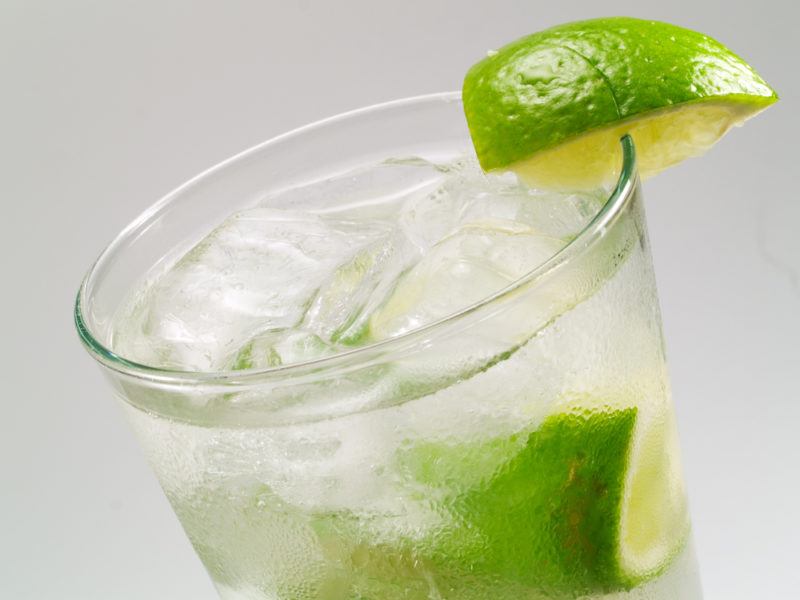 Gin rickey is another example of a gin cocktail. This one uses soda water and lime juice as the other ingredients.
Swapping the ginger ale of a gin buck for soda water in a gin rickey completely changes the drink. Ginger ale has some sweetness that helps to balance out the gin and any juice that is added.
Soda water doesn't have this sweetness. It doesn't have much flavor at all. So, if you use regular soda water, the flavor of this cocktail comes from the gin and the lime juice. As a result, the cocktail is perfect for experiencing the nuances of your gin.
You could also try a craft soda water. These products have a greater focus on quality. Some are also infused with subtle flavors that will complement the rest of the drink perfectly.
Kentucky Mule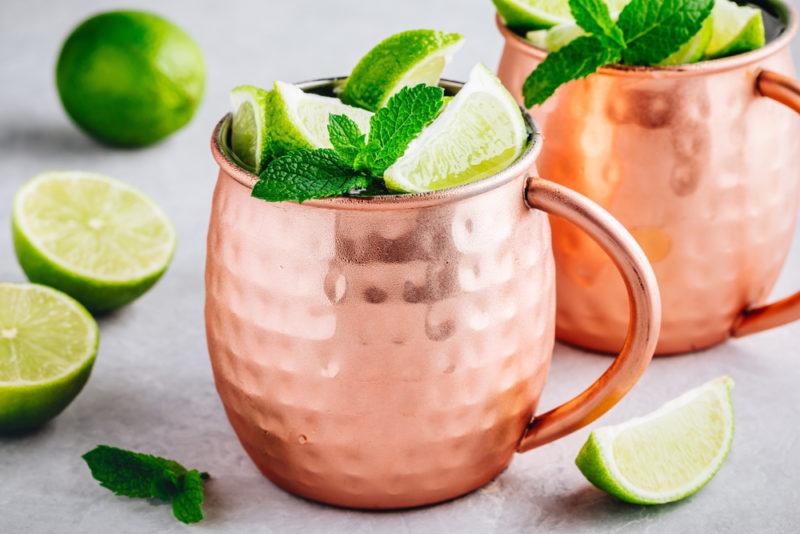 As the name implies, a Kentucky mule is a variation on a Moscow mule. The only difference is the spirit that you're using, as this cocktail relies on bourbon rather than vodka.
Bourbon has more flavor than vodka, so the Kentucky mule ends up having more depth than the Moscow mule. In both cases, you can choose the ratio of ingredients based on your preferences.
You might make a tall drink, where there is a decent amount of soda compared to bourbon, perhaps a ratio of 4:1 or something similar. Or, you might lean towards something shorter, which gives you a higher ABV for the drink and makes the flavor of the bourbon more notable.
Siciliano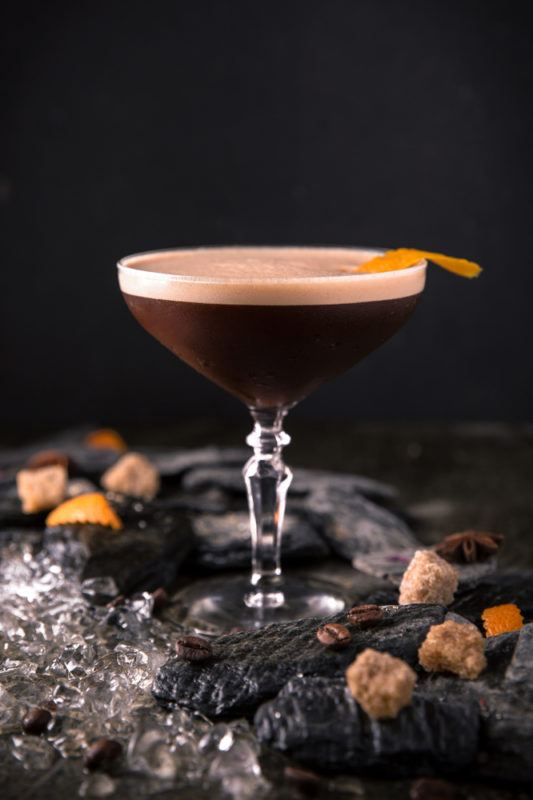 Here's an entirely different cocktail to try. The Siciliano is a cold brew coffee cocktail, so you're using a shot of strong coffee as one of the ingredients. This makes it a great drink for keeping you alert, but it might not be so appealing as a nightcap.
The other ingredients are interesting, as the Siciliano is made using sweet vermouth, amaro, and simple syrup. The simple syrup and the sweet vermouth both stop the cold brew coffee from being too intense.
The ingredients are generally shaken together over ice, then strained into a glass. Some versions serve the drink neat, while others pour it over ice and then use soda water to top the cocktail off.
Mind Eraser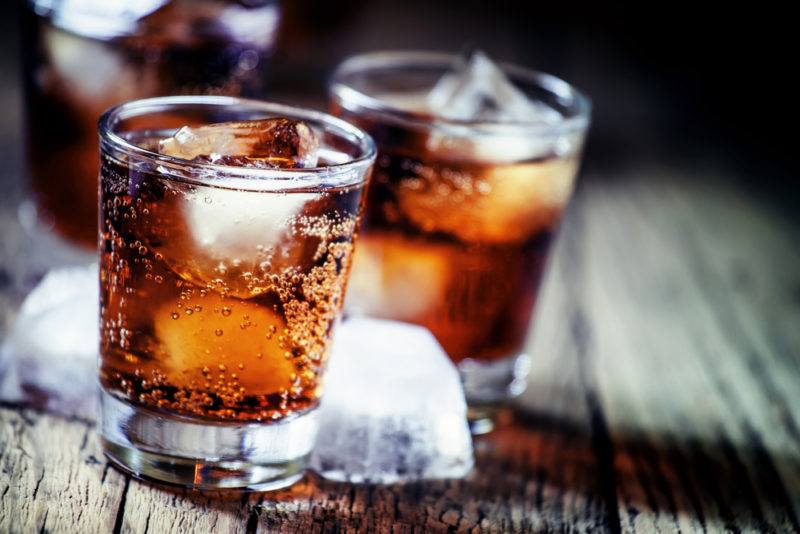 The mind eraser can be a good choice for anyone who loves coffee. The cocktail relies on three ingredients: Kahlua, vodka, and club soda. You're using equal measures of each ingredient, which makes this a very easy cocktail to prepare.
Neither vodka nor club soda tends to have a very strong flavor, so you're mostly tasting the Kahlua. Of course, this isn't a bad thing. Instead, the cocktail is a good way to enjoy the taste of Kahlua while getting a stronger alcohol hit.
Kahlua Cold Brew Tonic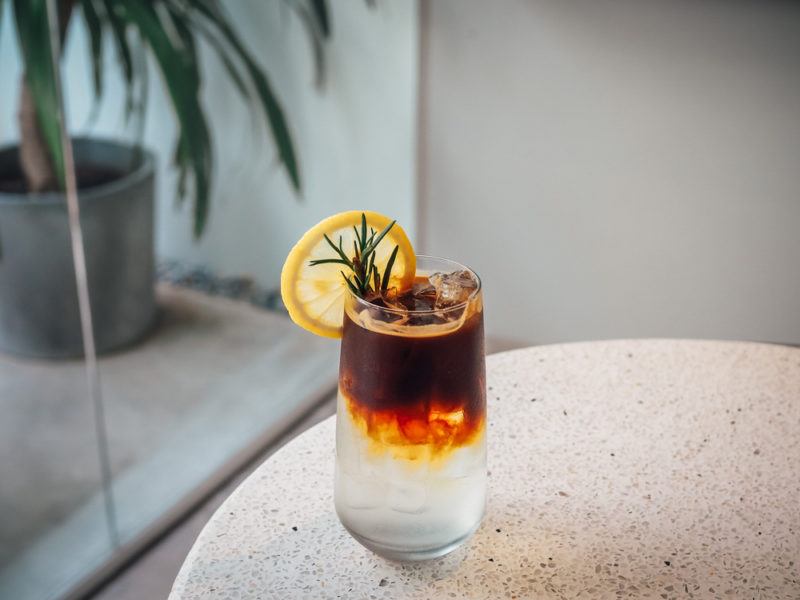 While we're on the topic of Kahlua, here's another interesting cocktail. This one plays on the combination of cold brew coffee and tonic water, which has become surprisingly popular recently.
The idea is that tonic water lifts your cold brew coffee to an entirely new level. Many versions of the drink heavily rely on tonic water. You might be using a 1:3 ratio of cold brew to tonic water, for example.
Making a Kahlua cocktail from the drink simply involves adding Kahlua. You'll often use equal measures of cold brew and Kahlua, then top the drink off with the tonic water.
Not surprisingly, the alcohol content of this cocktail is low. Kahlua is the only source of alcohol present, it has a low ABV anyway, and you're not using much of it. The low alcohol content isn't necessarily a bad thing. If nothing else, the drink ends up being a refreshing summer choice.
Gin And Tonic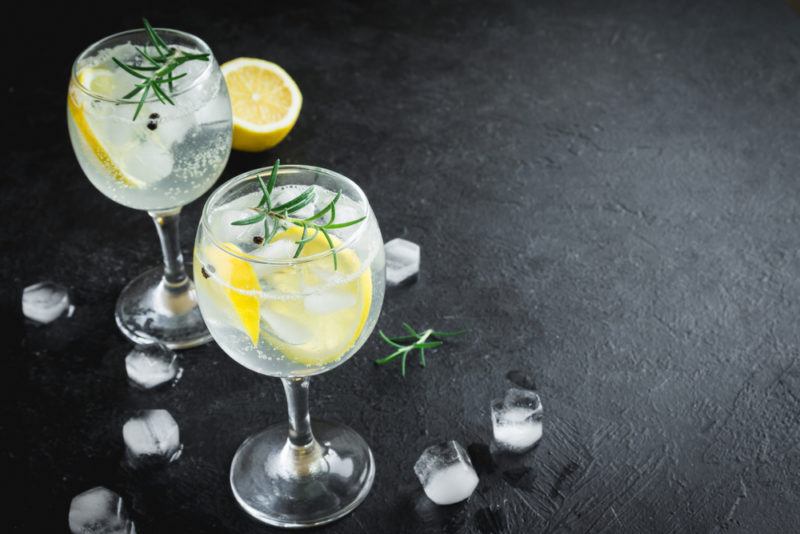 A gin and tonic is one of the most popular two-ingredient soda cocktails. One reason is that you're not simply drowning out your spirit of choice with soda. Instead, the flavors of the gin and the tonic water complement each other well, giving you an interesting and nuanced drink.
Plus, there are countless ways to vary the recipe to make the cocktail more interesting. Varying the type of gin, the type of tonic water, or both, can dramatically change the flavor of your drink. Adding in fruits or herbs to your glass can have a strong impact as well.
Colorado Bulldog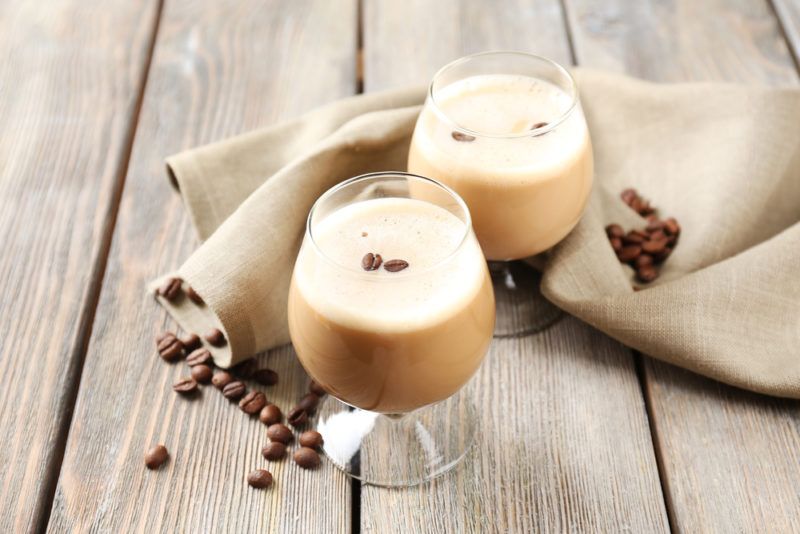 A Colorado bulldog cocktail is a little similar to the black Russian that we mentioned earlier in this list. Just like with the black Russian, this cocktail relies on coffee liqueur, vodka, and cola.
One difference is the ratios. While a black Russian often uses a 2:1 ratio of vodka to coffee liqueur, a Colorado bulldog often uses a 1:1 ratio instead, giving you a more intense coffee flavor.
There's also an extra ingredient. When you're making a Colorado bulldog, you're also including either milk or cream. Adding cream and soda to the same cocktail might be unusual, but the approach seems to work well in a Colorado bulldog. By doing so, you end up with a balanced cocktail, one that is creamy but not excessively so.
New Orleans Fizz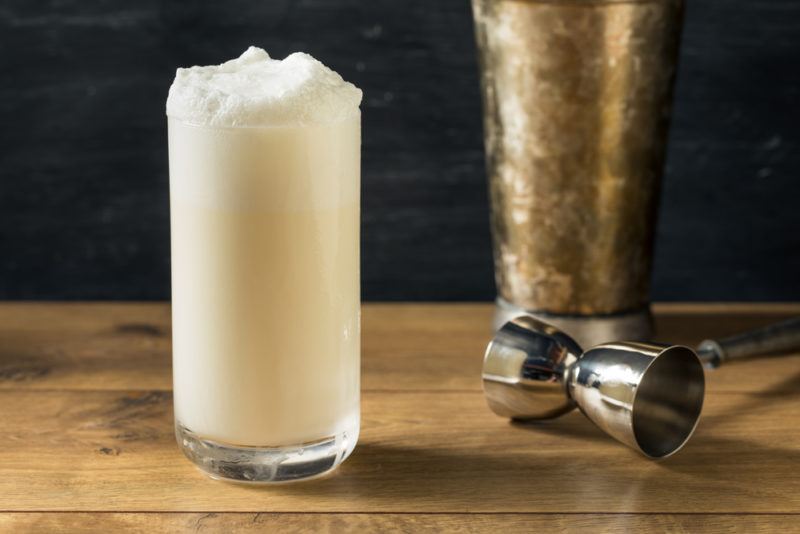 This cocktail goes by the name New Orleans or Ramos Gin Fizz. It is a fairly complex drink that relies on gin, lemon juice, lime juice, simple syrup, orange flower water, an egg white, cream, and club soda. Needless to say, you'll need to follow some instructions the first few times you make it (a good recipe can be found here).
There's another complexity too – the shaking.
To make this drink well, it needs to be shaken for a minute or even more. You basically need to keep shaking it long after you feel like you should stop. After all, the cocktail does rely on eggs and cream. You're going to need a lot of shaking to combine everything and make sure that the drink froths up well.
Not surprisingly, the soda water doesn't play a huge role in the finished drink, but it is still important. Each of the ingredients is vital in the final texture and flavor of the drink, so don't skip any of them.
Cubata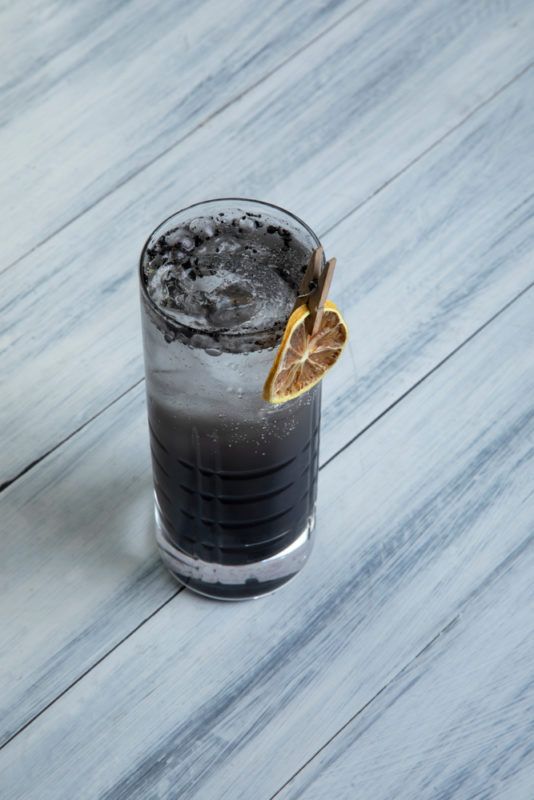 The cubata is similar to a Cuba libra, which you could have probably guessed from the name. Both drinks mostly consist of cola with a little lime juice.
The difference is the spirit of choice. While a Cuba libre relies on rum, particularly Cuban rum, a cubata is made using gin instead.
While the drink is delicious, this isn't a cocktail to make using craft gin, as the cola will drown out any nuances from the spirit.
Ginger Rogers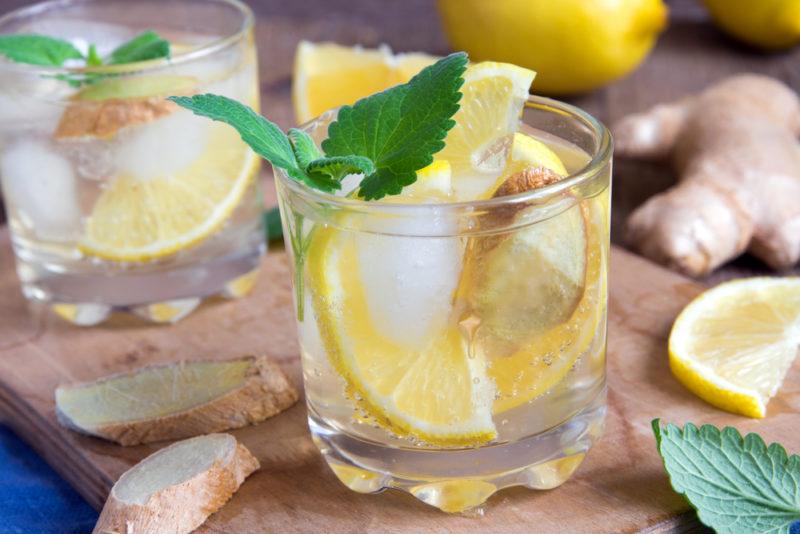 This cocktail gets its name from the American actress – and the ingredients that the drink uses. Gin is the base ingredient, while the cocktail also uses lemon juice, ginger ale, mint leaves, and ginger syrup.
The ginger syrup is what makes this drink stand out from other ginger ale cocktails. This syrup simply increases the ginger content of the drink, creating something stronger and more dynamic.
El Diablo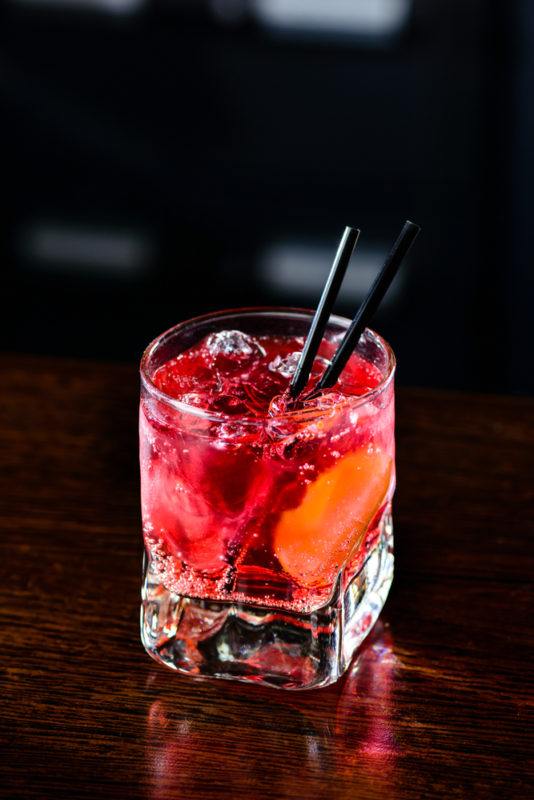 This tequila cocktail only uses a handful of ingredients, yet ends up with a stunning flavor profile. The cocktail combines tequila with crème de cassis and lime juice. It is then topped up with ginger beer.
Crème de cassis has a blackcurrant flavor, which makes it a sweet liqueur. This helps to balance out some of the sharpness of the ginger beer, while the lime juice stops the cocktail from ending up too sweet.
Soda As A Mixer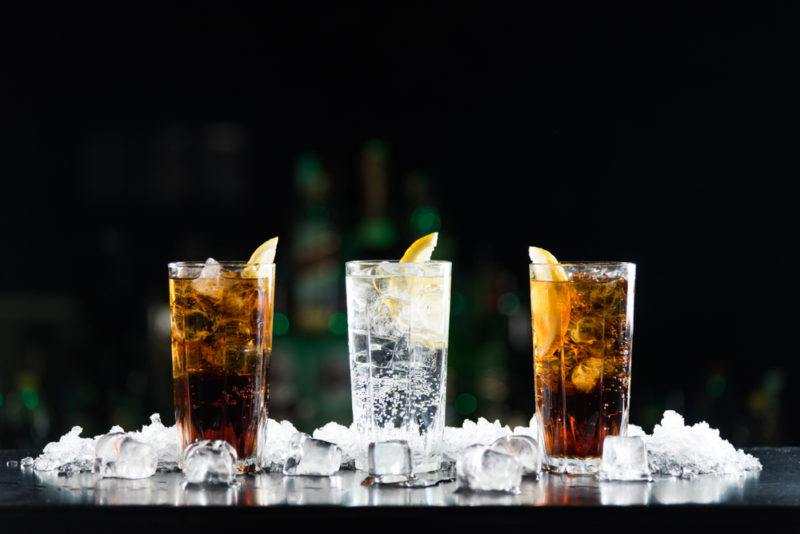 The final thing to mention is that soda can simply be used as a mixer. Most spirits and some liqueurs can be combined with soda to create simple and delicious two-ingredient cocktails.
The most common way to use soda is in two-ingredient cocktails. Most of the time, these cocktails include one alcoholic ingredient and one non-alcoholic mixer.
Rum and coke is one of the most classic examples, while gin and tonic is another. In fact, most spirits can easily be combined with soda. Soda water, ginger beer, and cola are some of the most popular choices.
It's not worth going into all the different options in this list, as there are so many of them. But, you can check out our lists of gin, rum, whiskey, and tequila mixers to work out the best soda to use with your spirit.