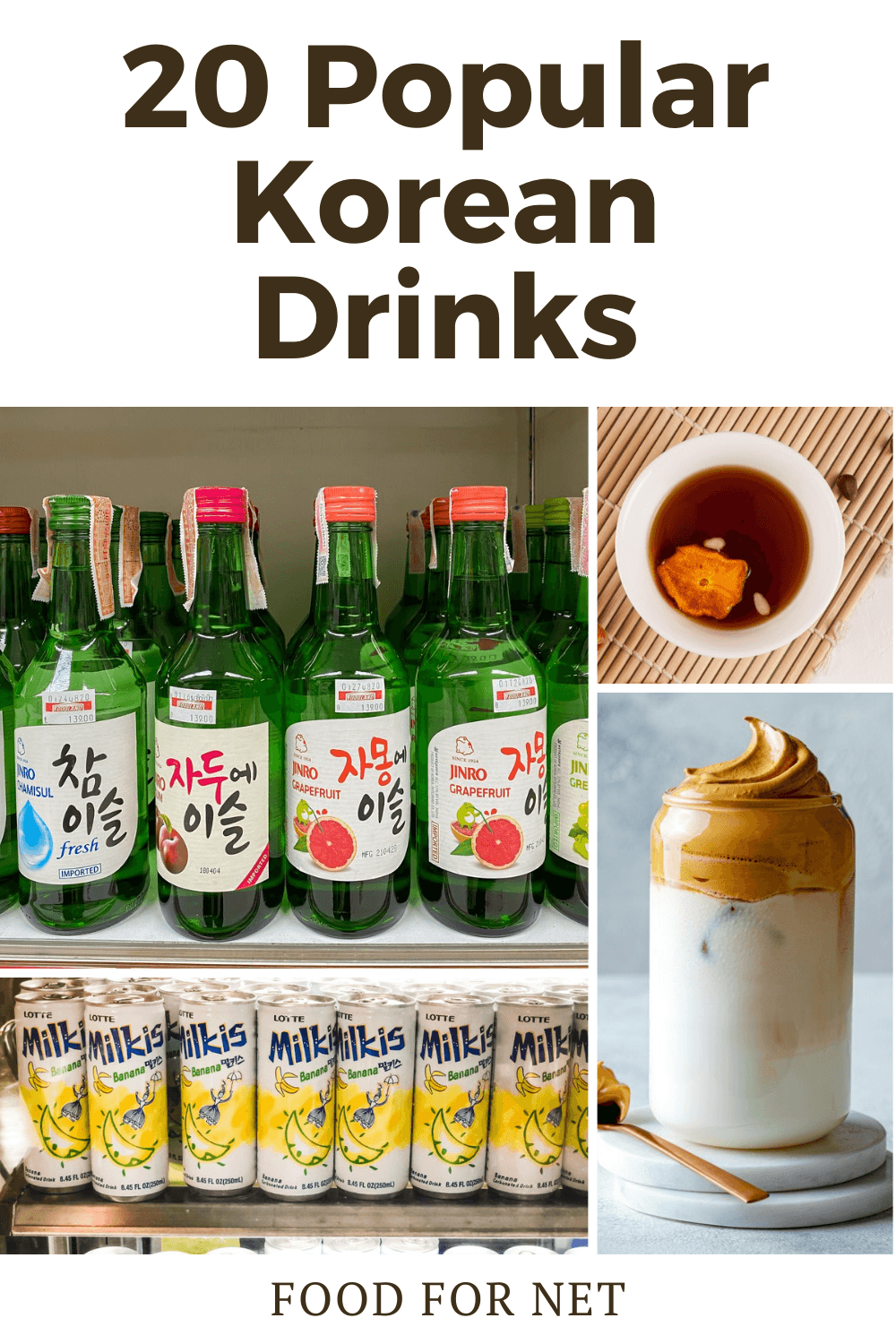 Traditional Korean drinks cover a large gambit of styles. Many are alcoholic, including some drinks that are familiar to Western audiences and others that won't be. Other drinks are non-alcoholic and the styles here vary just as much.
In fact, some estimates say that there are around 200 traditional non-alcoholic drinks. That's a decent number and it doesn't count all the less common styles and the alcoholic options.
Needless to say, we're not covering every possible drink in this post. We'd be here all day – and the information would just get overwhelming. We will, however, highlight some of the best and most interesting drinks. Many of these will be instantly recognizable to anyone who has spent some time in Korea.
If these drinks are entirely unfamiliar, why not try some of them out? You never know what new joys you'll discover when you start looking at foods and drinks from other parts of the world. You can also check out our lists of international breakfasts for more ideas, like breakfasts from Japan and France. Or, what about trying out a Korean snack subscription box?
You might also want to cook Korean meals yourself, using Korean vegetables and other ingredients.
Korean Drinks
Soju

Soju is a Korean liquor and an incredibly famous one at that. You'll find the liquor in green bottles at almost every place that sells alcohol.
The alcohol itself can range from around 17% ABV up to 53% ABV. It mostly relies on rice as the main grain, but can be made with other types of starch instead.
The biggest drawcard isn't the flavor of soju, but how it helps people to get drunk without spending much money. This is especially true for the most famous brands: Chum Churum and Chamisul. After all, soju is cheap compared to most other options.
Don't let soju's reputation put you off. While there are many unappealing versions of the spirit, some brands are focusing on products that taste much better. You can even buy soju in the United States, although here the ABV is often 25% or below so that it can be sold under a wine and beer license.
Banana Milk

Korean banana milk is a sugary drink that's surprisingly popular and can be somewhat addictive. We're not overselling the drink either. Close to a million bottles of banana milk are sold every single day in South Korea!
Honestly, the drink's popularity is a little shocking as you're getting exactly what the name suggests – banana flavored milk. Still, Korean manufacturers have managed to create a delicious balance of sweet and savory that's better than you'll find anywhere else.
Banana milk is also a great way to encourage people to drink more milk and get all the nutrients that milk offers.
The most popular brand is Binggarae, which also offers other flavors of milk, including melon and strawberry. Still, banana remains the hands-down favorite. You might even be able to find the brand in the United States
Milkis

Milkis is an unusual type of soda. It's also a unique type of milk, which should tell you a lot about the drink. Milkis combines milk with carbonation and corn syrup to create something that's in the middle of milk and soda.
As odd as this all might sound, Milkis is also very popular, partly because the fizzy milky drink ends up being both delicious and refreshing.
The classic version of the drink is unflavored, making it taste much like regular milk. There are flavored versions as well, including strawberry and banana.
The popularity of Milkis is such that you don't need to go all the way to Korea to find it. Many small grocery stores and Asian food stores in America and other countries offer the drink, giving you the chance to enjoy it in your home environment.
Bacchus

Bacchus is basically the Korean equivalent of Red Bull, making it a notable energy drink. Just like Red Bull, Bacchus relies on taurine, sugar, water, and high fructose corn syrup, along with various other ingredients. There isn't that much flavor present, but then again, most people don't drink Bacchus for its taste.
The drink was originally promoted as a way to fight hangovers, rather than a source of energy. However, the combination of caffeine and taurine makes the drink perfect for getting you moving.
Sikhye

Sikhye is a sweet drink that's often served cold, sometimes as a thirst quencher, and other times as something to accompany desserts. You may even see it served in a bowl as a dessert in its own right.
It's delicious whatever the situation, although perhaps unexpected, as this is a rice drink – made from cooked rice and malt water. Even more surprising is the fact that you're often still getting some rice in the drink.
This is a non-alcoholic option, one that's even meant to be good for you. It's thought to be a good source of antioxidants and fiber. So, why not try it for yourself?
Sikhye is surprisingly easy to find too. Many Korean supermarkets will offer bottles or cans of the stuff. Look for the term 'rice punch' on the label. This will often be there even if the rest of the writing is in Korean.
Dalgona

Dalgona is interesting. There's no other word for it. The drink is basically a type of whipped coffee that is layered on top of milk. This gives you a two-tone color, with the white milk on the bottom and a caramel-like top.
The coffee part of the drink often relies on instant coffee, water, and sugar. The ingredients are whipped together until they're foamy and can then be ladled on top of the milk.
Dalgona is often called a South Korean specialty. Still, you will actually find versions of the drink in other Asian countries as well. You can change the recipe up in various ways, such as by using flavored instant coffee or by changing whether the milk portion of the drink is heated or chilled.
However, the use of instant coffee is essential. While you can make the drink with other types of coffee, those versions don't end up as creamy.
Sujeonggwa

Sujeonggwa is a dessert drink. It is created by boiling spices, including ginger, cinnamon, and peppercorns. Sweetener is then added, often in the form of brown sugar or honey. Dried persimmons may be included too. Adding these to the liquid helps to plumpen them out again and provides an interesting flavor to the drink.
You end up with a delicious and sweet fall-like combination of flavors. But, perhaps surprisingly, the drink is served cold (and garnished with pine nuts). The temperature choice means that you can enjoy this drink even when the weather is hot.
Citron Tea

Citron tea is also known as yuja-cha or yuya tea. This isn't real tea, as there are no tea leaves to vve found. Instead, the citron tea relies on a citrus infusion, which gives you a sweet winter warmer.
The drink is traditionally made using yuya, which is a lemon-like citrus fruit that that is common in South Korea. If you're using fresh fruit, try mixing slices of the fruit with sugar and then combining this combination with warm water.
Using a fruit preserve works as well. If this is the case, you just need to dissolve the preserve in warm water. The fruit preserve approach may be easier if you're not in Korea. After all, fruit preserve tends to travel better than fresh fruit.
There's even the chance that you'll get some health benefits. The drink has often been touted as a cold and flu cure. It could help with sore throats too.
Coffee Milk

This drink goes by the name keopi uyu, which simply translates to coffee milk. The name tells you all you need to know about the drink too, as it is just milk that's been infused with coffee.
The coffee milk is sometimes sold in small plastic bottles, much like similar products here. Other times you'll find coffee milk in small triangular plastic bags. The packaging might be odd, but it's very portable and is fun to use.
Because there's coffee in the drink, it ends up giving you a caffeine hit too.
Chrysanthemum Tea

This hot drink is a type of flower-based tea and is a popular option. One reason is that you can make the tea using full flower blossoms, which then look amazing in the glass. If the flowers are dried and steeped in honey for a month or more before they're used, then the tea ends up being a little sweet, with some flavor from the honey.
Using honey in the tea is a useful idea, as chrysanthemum tea on its own doesn't have much flavor. The tea is often promoted as a way to help with a cold or the flu, especially in winter.
Green Plum Tea

As the name suggests, green plum tea relies on green plums (which are called maesil). While the tea can be created a few different ways, the most popular option is to ferment the plums together with sugar. This creates a concentrated syrup, called maesil syrup, that be used to make a refreshing drink.
The maesil syrup approach works well, as the syrup will last much longer than the fresh green plums. It can also be used in multiple ways. For example, you can mix it with sparkling water to create a refreshing bubbly drink. Try serving this one over ice in the summer.
Or, how about combining the syrup with hot water instead? This gives you a tea-like drink that's ideal when the weather is cold.
Makgeolli

This spirit is considered the oldest alcohol in Korea and is made from fermented rice. It isn't filtered, so the white spirit is milky and even has some sediment. The flavor tends to be appealing, as the drink is both sweet and smooth, but has enough tang to stop the sweetness from being too much.
The rice wine is slightly sparkling too. This combined with the flavor helps to make the wine refreshing.
While makgeolli isn't as popular as it once was, the drink has seen a recent revival, partly through its use in cocktails.
There are various makgeolli brands to choose from and you can even make your own. If you're in the United States, your options might be more limited, but some stores do sell makgeolli (you may see it called makkoli instead).
Interestingly, the alcohol content of makgeolli is low, generally around 6% to 9%. You may sometimes find products with more alcohol, like a 15% ABV product, but these aren't common.
Yumlu

It's hard to know whether to call yumlu a drink or a type of meal, as it has characteristics of each. The main feature is the use of a small tear-shaped grain, often called 'Job's tears' in English.
Most versions of yumlu use a ground up version of the grain, along with nuts and seeds. Adding water gives you a drink that's a little like a mug of tea and a little like a bowl of soup. The grain means that yumlu contains a decent amount of protein, so it's more filling than most other drinks.
Barley Tea

Barley tea can be found in many Asian cultures. It's even become mainstream elsewhere in the world too. Still, the drink remains very popular in Korea, both in the warm and the cool months. It's an easy choice, as you can simply make barley tea using a teabag. There's no syrup to worry about at all.
There are plenty of barley tea brands out there. Many are similar to each other, but some have tried to be more creative. For example, one version roasts the barley seeds and then mixes these with other ingredients to create a lighter flavor.
Cheongju

This rice wine is a popular alternative to soju. It's a clear liquor that has been fermented multiple times. The fermentation gives the drink a sweet flavor and makes the rice wine easy to drink. The flavor can make this the perfect drink for anyone who finds soju to be too intense.
The ABV is around 14%, which is a little lower than soju and higher than makgeolli.
Once again, there are plenty of brands to choose from.
Omija Tea

Fruit-based infusions are popular in Korea. We've mentioned a few already and omija tea is another one to try out. The name translates to five-flavor berry, as you're meant to be able to taste five flavor elements within the berry itself.
The berry is prepared so that it's easy to use as a type of tea. You just need to infuse it in hot water, just like you would with any other type of tea.
You can get more creative too. Some people add honey in to make the tea sweeter, while others use other ingredients to change the flavor profile. Even just adding flowers to the drink can create an unusual and delicious tea.
Sungnyung

Sungnyung is a drink with a long history. It comes from the process of cooking rice, back when Koreans mostly relied on heavy iron pots. Rice was often cooked in these pots for hours, which created a roasted rice crust at the bottom of the pot (which is called nurungji).
To clean the pot, water, tea, or barley water can be poured over it. This helps to loosen the nurungji, and the liquid gets infused with the flavor of the roasted rice. The liquid is often used as a palate cleanser. It could even help with digestion.
Baekseju
Baekseju isn't as popular as some of the other alcoholic drinks on this list, perhaps partly because it is considered old-fashioned. It's also expensive. Baekseju is another rice-based wine, one that's flavored with a variety of herbs.
Ginseng is the most prominent herb in the drink, while others include ginger, cinnamon, gugija, and omija. The use of herbs is said to make this drink very healthy. In fact, the name translates to 100-year liquor and suggests that anyone drinking it might live to be 100 years old.
Corn Tea

Did you know that you can make tea out of corn? Some versions rely on dried corn silk, while others focus on corn kernels that have been dried and roasted instead. You might even see some that use a combination of the two approaches.
Not surprisingly, tea that uses dried corn kernels tends to have more of the traditional corn flavor (which could be good or bad, depending on your preferences).
The tea is often promoted as a way to help you lose weight. Much of the marketing focuses on the idea of having a slim jawline, but if the tea does help with weight loss, it would help you lose weight elsewhere too.
The claim isn't that far-fetched either. Most types of tea will help you lose weight, as they're hot drinks that are low in calories and contain plenty of water.
Dawn 808
Dawn 808 is actually patented as a hangover cure, which is incredibly unusual. The drink is also very popular and can even be found in the United States.
Dawn 808 is basically a type of natural tea and includes a variety of herbal extracts. An extract from false acacia is the main active ingredient. Many of the ingredients have a long history as hangover cures in Korea.
While hangover drinks and foods don't tend to be that effective, the many rave reviews for Dawn 808 suggest that it works well for some people at least.
Related Content