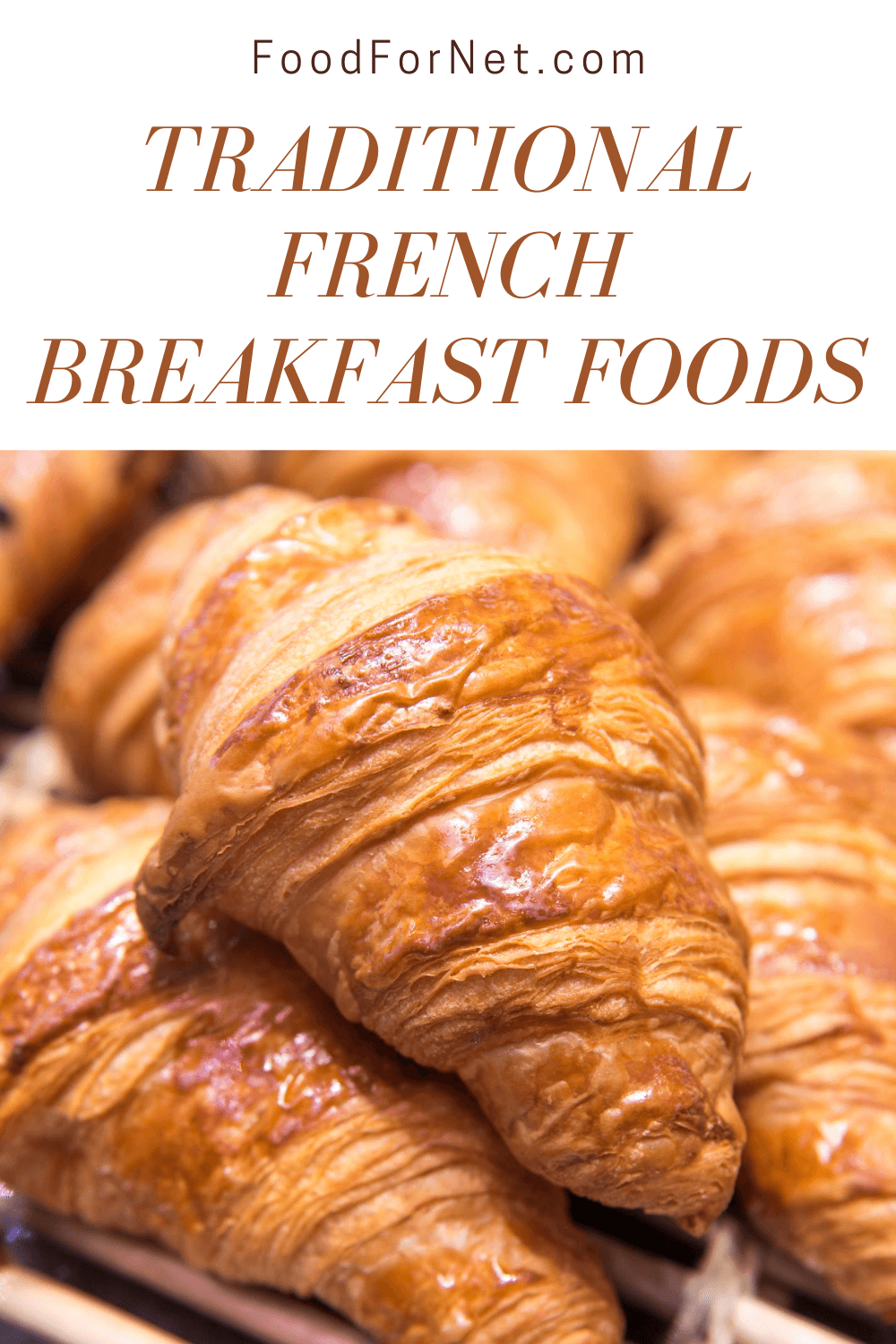 Whether you eat breakfast or not, it's hard to deny that the meal is essential for many people. Breakfast doesn't just provide important nutrients and act as a source of energy to get you going first thing, it is also the time where you are gearing up mentally to face the day. We've been focusing on breakfast choices from throughout the world and today we're looking at traditional French breakfast foods.
These breakfasts are all options that you will be able to easily find in France. Many of them are options that you could make at home yourself, even if you don't happen to live in France. Or, at the very least, you should be able to make something similar.
Why talk about French breakfasts anyway?
Well, the topic is fascinating, for one thing. It's always cool to see how other people eat. Plus, lists like this can help to give you more inspiration for your breakfasts. Even if you don't plan to make any traditional French meals, there's a good chance that one of them will give you an idea for a future breakfast.
Before we dig into the breakfasts themselves, there's one important thing to mention – that breakfast in France tends to be simple. It isn't a very involved meal like you see in many other places and the foods aren't likely to keep you full for long. Still, there is something appealing about the simple and relaxed nature of French breakfasts.
Oh a side note, these don't just need to be breakfast foods. You could easily bring them along to a French picnic
Traditional French Breakfast Foods
Bread And Spreads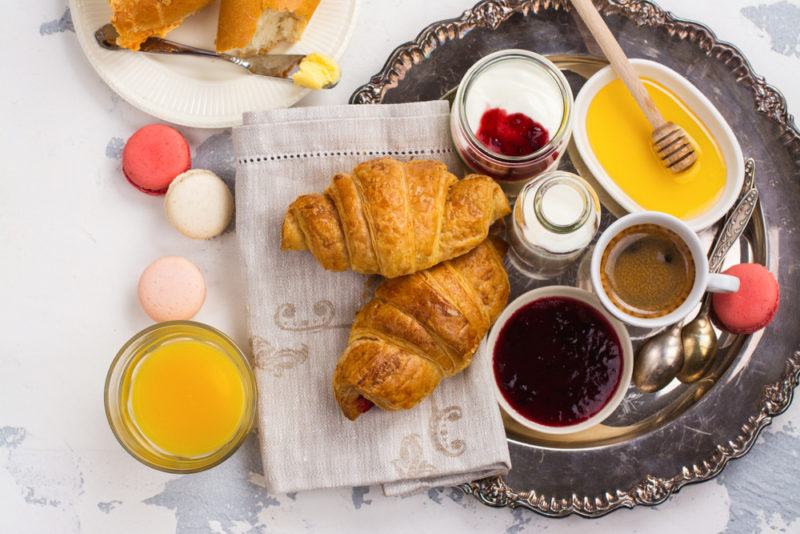 French breakfasts often consist of some type of French bread, along with a selection of spreads. Butter, honey, and jam are all common choices for spreads, with homemade jam being a particular favorite.
Some of the time, the bread might be toasted. But, it is just as common to see fresh bread enjoyed for breakfast. And, with so many bread products to choose from, it's easy to see why this type of breakfast remains popular.
The reliance on breads and spreads highlights a common theme throughout French breakfasts, which is that the meals tend to be light, simple, and are generally sweet. You're not going to find many heavy protein rich meals like you find with English breakfasts. So, don't expect to see eggs, fish, or cold cut meat featuring very much at all.
This choice may be because other French meals tend to be heavy and rich, so they're often very filling. Dinner will, in many cases, be served late too. Because of this, many people simply won't be that hungry first thing in the morning.
There is also a strong emphasis on quality. The bread eaten tends to be fresh and minimally processed, like something you would buy from a bakery or make at home, rather than from a grocery store.
Likewise, there are often many types of jam to choose from, including ones that have been made locally. The homemade style is often preferred, which tends to involve more fruit and less added sugar than the type of jam that you find in grocery stores.
The focus on quality provides the chance to deeply enjoy the food that one is eating.
Croissants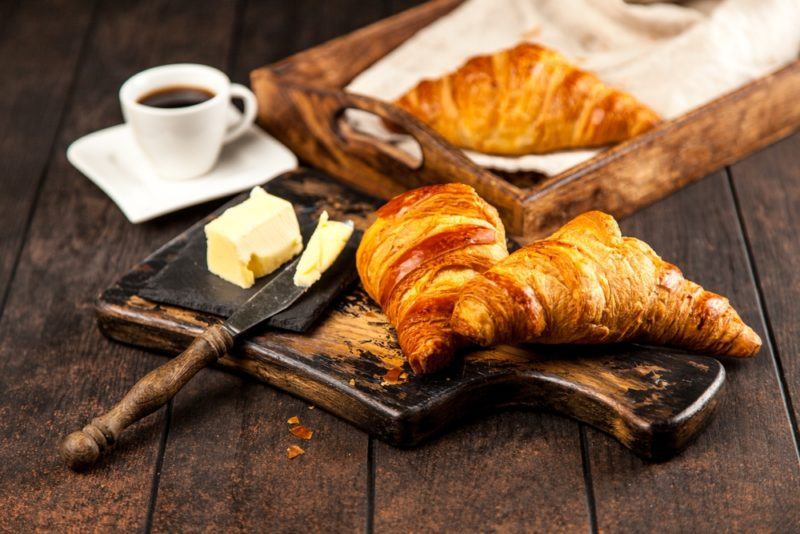 Croissants are traditional and popular as a breakfast food, especially when they are eaten at a cafe or purchased then eaten on the go. However, most families won't be making croissants at home on weekdays, as croissants are best when they are fresh and they take quite some time to make. No one wants to be doing that much work first thing in the morning on a workday.
There are faster approaches, like relying on frozen croissants that are mostly cooked and can just be finished off in the oven. Some people may find this to be a perfectly acceptable way of enjoying a croissant first thing in the morning, while others would consider the idea akin to sacrilege.
When croissants are enjoyed for breakfast, they're often paired with a cup of coffee. And, many people stop at just one croissant. After all, while croissants aren't especially filling, they are rich and are high in calories. Having multiple croissants for breakfast every day could quickly become a problem.
Croissants are often eaten as they are or perhaps with a spread like butter, nutella, or jam. Filled croissants, like you will see elsewhere, are rare and aren't considered typical breakfast foods.
Pain au Chocolat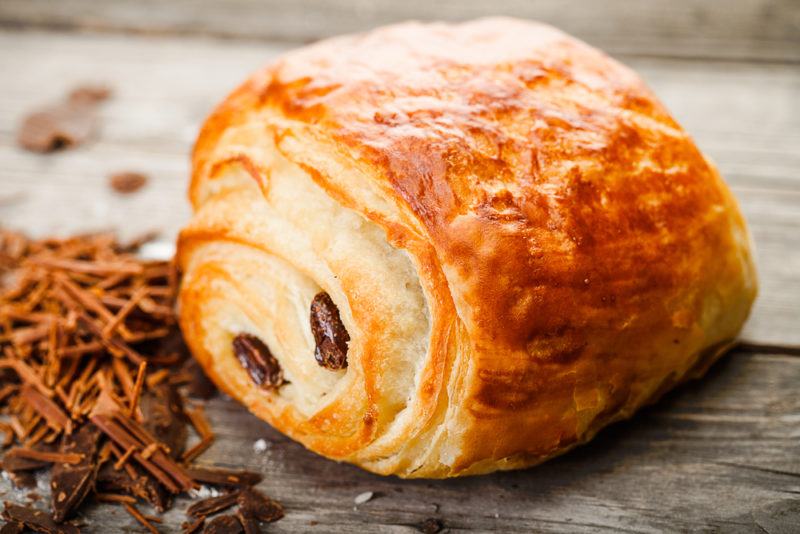 You've probably seen a pain au chocolat before (which just translates to bread with chocolate). This French pastry has become popular in many parts of the world, although it will never taste quite as good outside of its native home of France.
In France, the pastry sometimes goes by the name chocolatine instead, while other parts of the world often use the term chocolate croissant instead. Calling it a chocolate croissant does make sense, as both pastries have the same richness to them. However, a pain au chocolat is quite distinct from a croissant, and mixing the names up does neither dish justice.
A pain au chocolat tends to be an occasional breakfast food in France, rather than one that is eaten every day. After all, the pastry isn't exactly healthy.
Baguette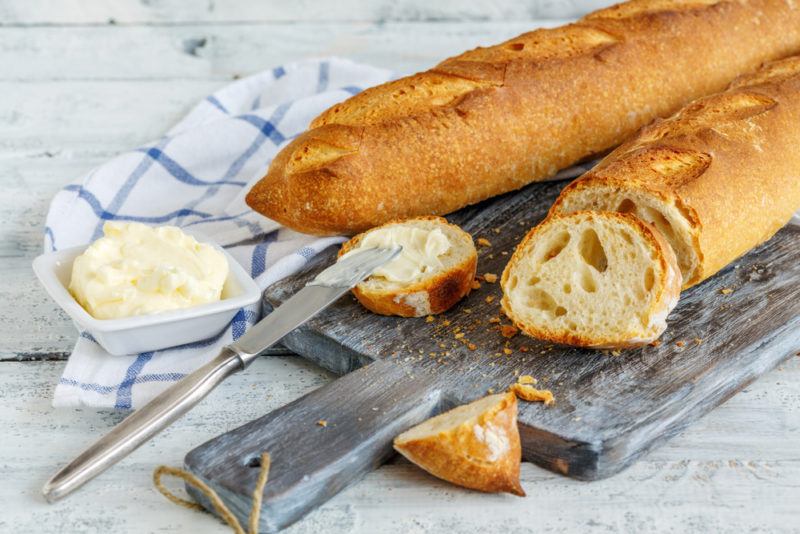 Having a baguette for breakfast is another typically French approach. Unlike the pattern in other countries, French people don't tend to stuff the baguette with many different fillings. Instead, it is often enjoyed with just a little butter or perhaps some jam as well.
This is another choice that is more commonly enjoyed when you're eating at a cafe rather than at home, as baguettes are best enjoyed fresh. If you're eating at home instead, other bread-based products might take the fore.
There's also an interesting French habit surrounding baguettes and breakfast, where many people will dip their buttered baguette in hot coffee or a hot chocolate. This idea is likely to leave many people shocked. Intentionally getting your bread soggy isn't normal practice, after all.
Still, the habit is one that you should try for yourself before dismissing it. After all, some of the most enjoyable habits do look quite strange to outsiders.
Brioche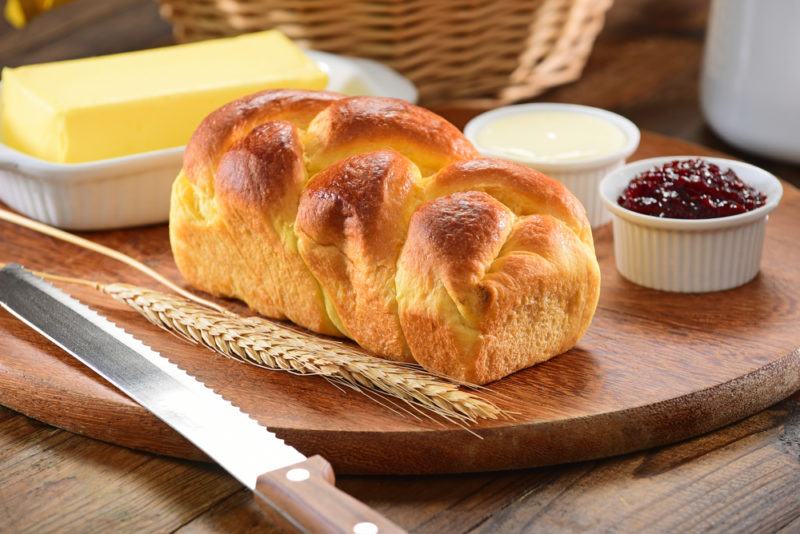 Brioche is another type of bread that you'll often see featured in French breakfasts. While brioche tends to be made similarly to other types of bread, the balance of ingredients is different. Brioche relies more heavily on eggs and butter. This creates a richer bread that is often sweeter as well.
Loaves of brioche can be used in the same way as other types of bread. So, for example, you can slice brioche, toast it, and then serve it with various spreads.
Regular Sandwich Bread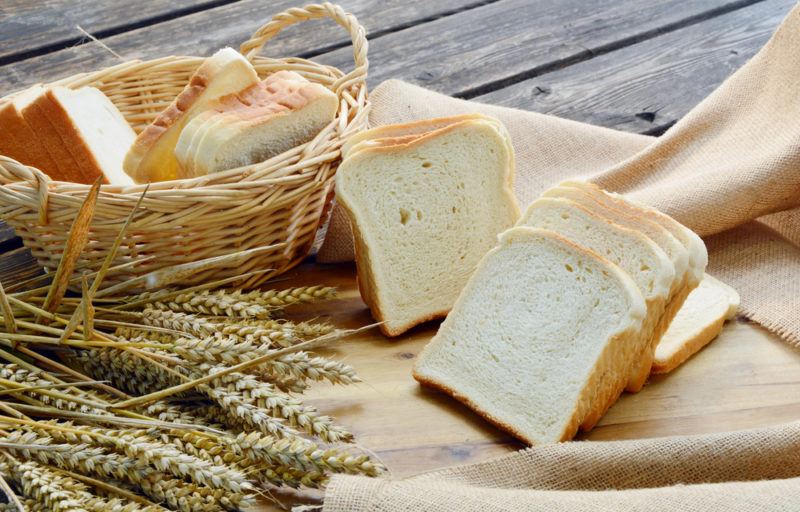 Despite all the amazing and interesting types of French bread out there, some people choose to focus on regular sandwich bread, which is roughly the same as what you find in other countries. This is often a convenient choice, as many families won't have the time or the energy to bake fresh bread first thing in the morning.
Sandwich bread can be enjoyed for breakfast fresh or toasted, with the same selection of spreads that you find for other types of French bread.
Brioche can sometimes be found sliced in the grocery store as well. This can be a good intermediate for people who enjoy the flavors of French bread, but also one something easy for first thing in the morning.
Fresh Fruit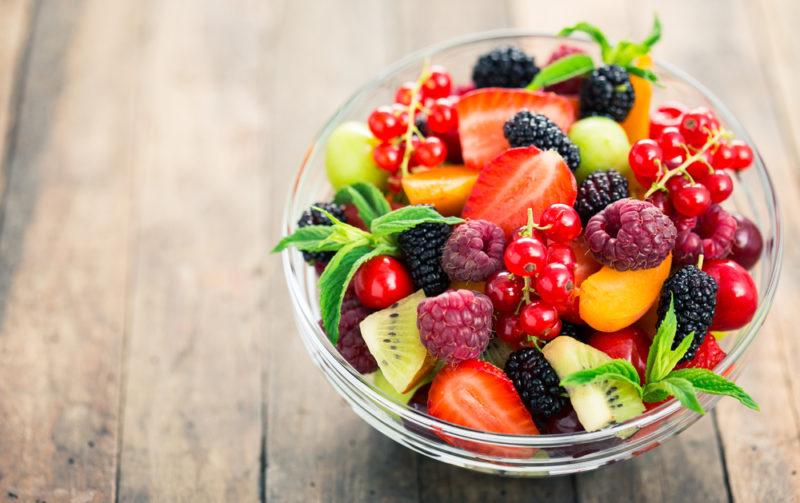 Fresh fruit is actually a less common breakfast addition, but it is one that you will find sometimes. Fruit does have the same advantage as other French breakfast foods, in that it is easy to eat, delicious, and doesn't take much effort.
Serving a basket of pastries and a basket of fresh fruit is an easy approach when making breakfast for a crowd. Various condiments can then be provided as well, with jam and butter being some of the most popular. This style of breakfast involves much less work than the meals that you'll find in many other countries, giving you more time to enjoy the food.
Cereal

Cereal isn't a traditional breakfast in France, but it is becoming a common one, especially for children. The cereals available tend to be similar to what you will find in the United States and other countries, although the products in France are often lower in sugar than their American counterparts.
The appeal is easy to see. Cereal is a very convenient choice first thing in the morning, which makes it perfect for people who don't have much time to spare at all. Some types of cereal will be higher in protein than traditional French breakfasts, making them more satisfying.
Yogurt

While yogurt is often left off lists of French breakfasts, it is a popular choice at any time of the day. French people have access to a similar selection of yogurt types and flavors as those of us living in the United States. However, French shoppers will often find more plain yogurt than we see.
This isn't so surprising, as plain yogurt gives you a greater chance to enjoy the flavor nuances of the dairy product. Plain yogurt also naturally complements the other foods used in French breakfasts.
Related Content