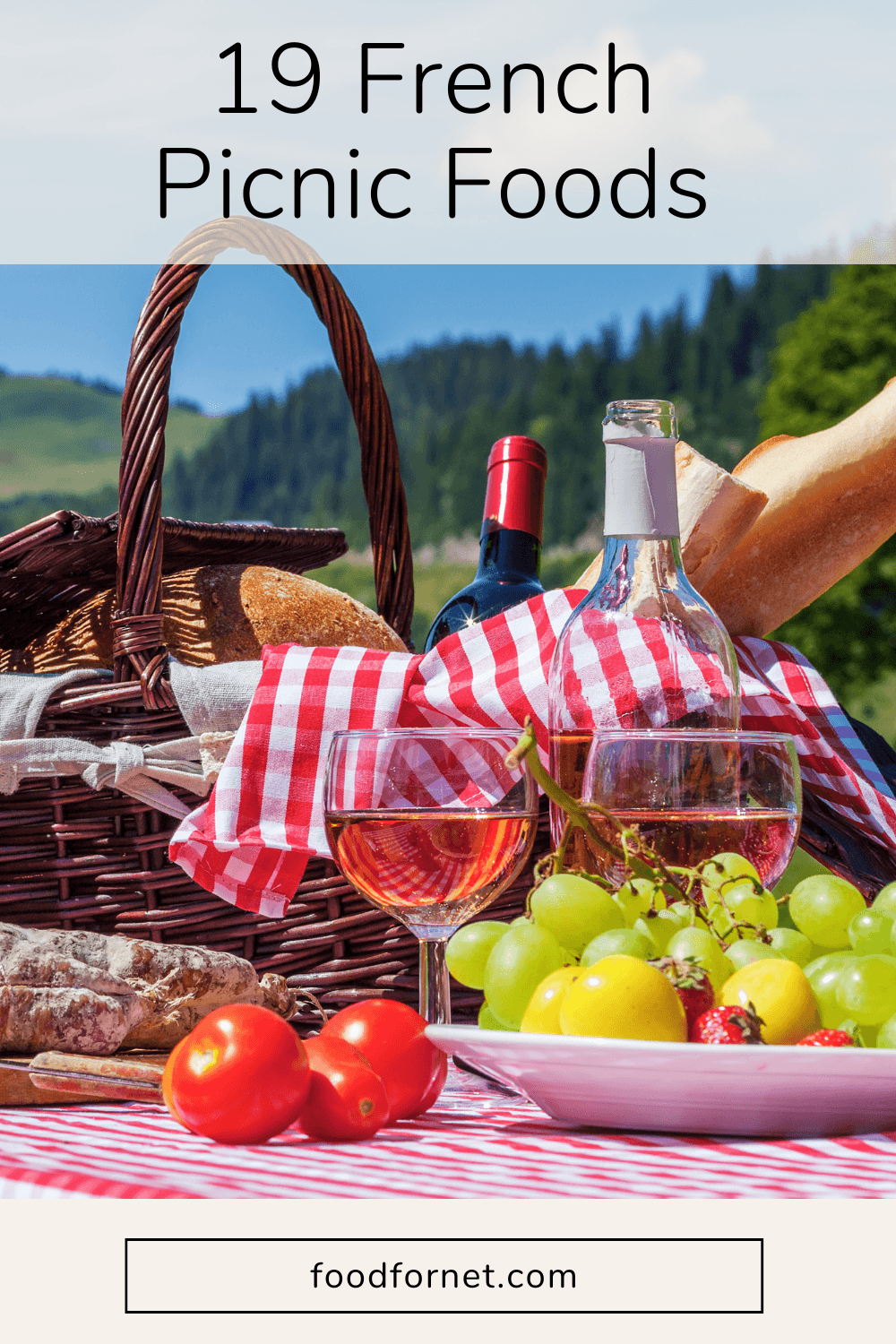 There's something almost magical about picnics. Somehow, the chance to enjoy food and good company outdoors makes the whole world better. Even simple snacks taste more delicious during a picnic than at any other time. So, why not take things a step further with French picnic foods?
The items we're featuring on this list all take inspiration from French cuisine. Some of them are dishes that you'll actually find served during a French picnic, while we've taken a few creative liberties with others.
The foods featured would be fantastic during any picnic. They're also a great way to vary things up, as regular picnic foods can get a little boring. Or, what about French foods for a date? There's no doubt that they'd kick the romance up a notch.
If you want more inspiration, you could always check out some French cookbooks. Many of the meals featured in those could easily be packed up and brought along on your picnic. The same is true for French breakfast foods.
French Picnic Foods For Your Next Date
Grapes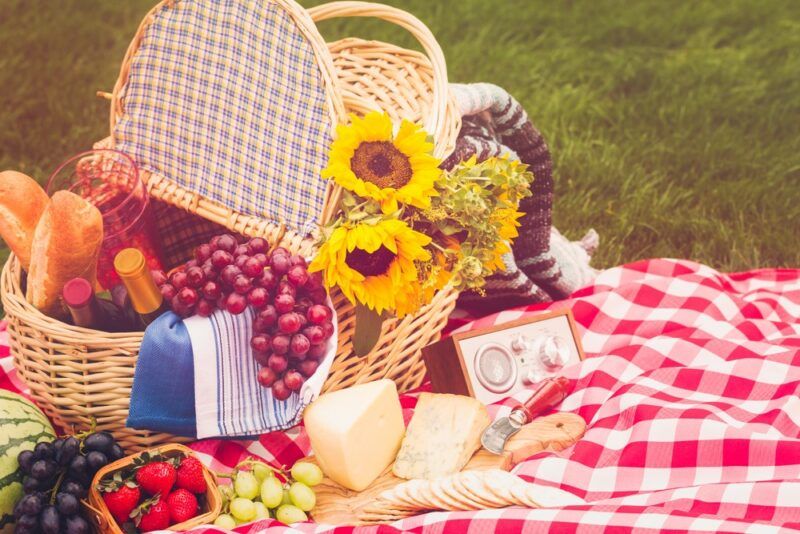 Let's start with something simple. Fresh fruit is always a refreshing treat during a picnic and grapes are a fantastic go-to. They also fit naturally into the French theme, especially if you're bringing along some French wine to go with them.
If it's likely to be a hot day, you could try freezing your grapes before the event. Frozen grapes are a little like candy and they taste excellent at any stage of defrosting. They'll even help to keep your other foods cool.
Baguette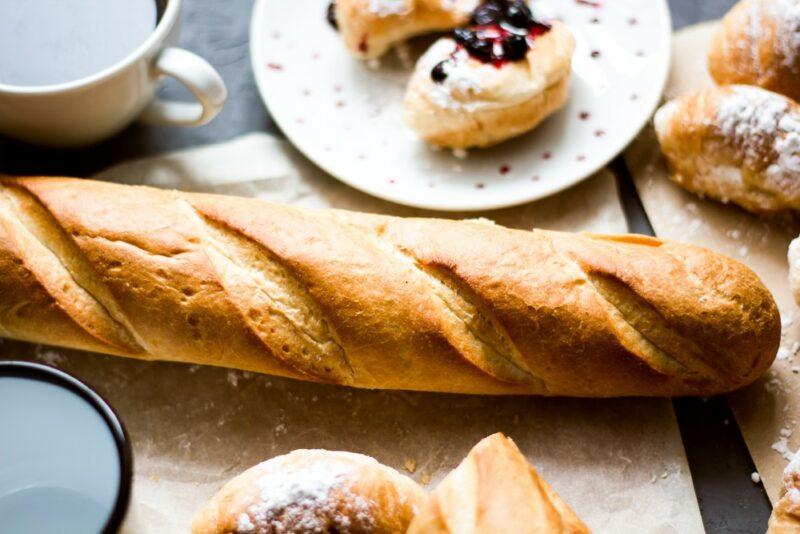 Honestly, any type of fresh crusty bread is the perfect match for a French picnic, especially if you're bringing plenty of butter. And honestly, it's hard to have a good picnic without some bread, as it goes well with so many different ingredients.
If you want to go for the classic though, a baguette is your best bet. This is easily the most recognizable type of French bread.
Regardless of the type you choose, it's worth shopping around for a good loaf. The version you get from your local grocery store won't be nearly as delicious as a fresh loaf from your local bakery.
It's also best to pick up the bread on the day of the picnic. Seriously. Freshly baked bread is a treat and is always much better than anything that's been sitting around for a day or two.
There are plenty of things you can do with your baguette too. Perhaps you spread some fresh butter or pâté on it, or even use a hunk of baguette to make a complete sandwich.
Fresh Cheese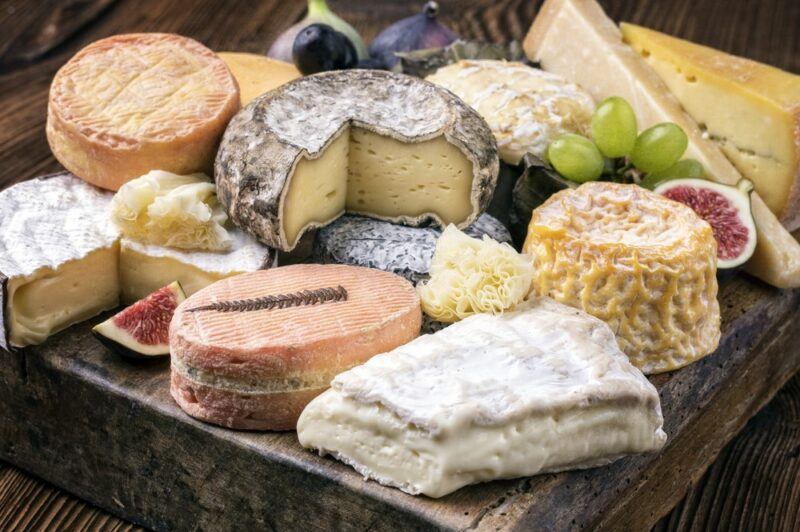 What's bread without cheese? For that matter, what's a picnic without cheese?
The best French picnic will need to feature at least one type of cheese. Most of the time you'll be serving at least three or four types. Some of the most traditional are blue cheese, camembert, brie, and chevre.
A good trick is to have a small platter of different cheeses. Try to vary up the textures and flavors, as this makes the platter much more interesting. For example, camembert and brie are both soft and creamy, while blue cheese is pungent. You could introduce some feta too for sharp saltiness.
But honestly, anything goes with the types of cheese you choose. You can run with your current favorites or anything new that you want to try out.
Croissants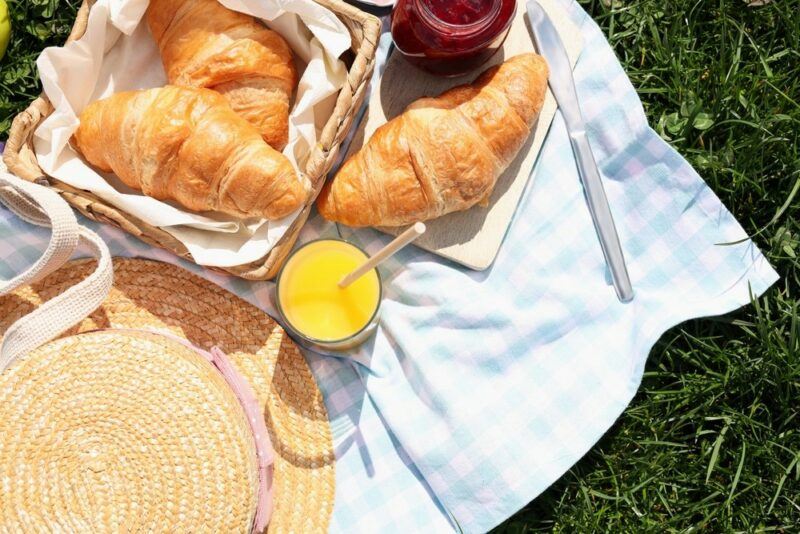 Croissants certainly aren't the only pastry in France, but they're easily the most famous type. They're also a fantastic choice for picnics, as their rich butteriness makes them feel incredibly decadent.
To make croissants even more exciting, why not add some fillings? Ham and cheese croissants are excellent. They're even better if you use ham off the bone.
Nutella croissants are another delicious style to try. Most kids will adore them and the croissants work perfectly as a type of dessert.
Other French Pastries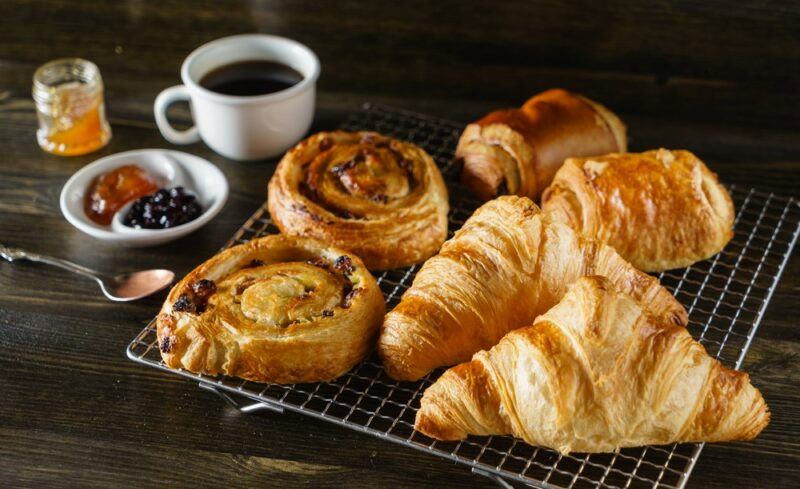 Don't worry if croissants aren't the right fit. There are plenty of other French pasties to experiment with, including Paris-Brest, pain au chocolat, and mille-feuille.
The best versions of these pastries will be freshly made from a specialty bakery. You might need to shop around though, as some versions are definitely better than others.
Many of these pastries can also be made at home. The recipes can sometimes be tricky, so a little experimentation may be in order.
Brioche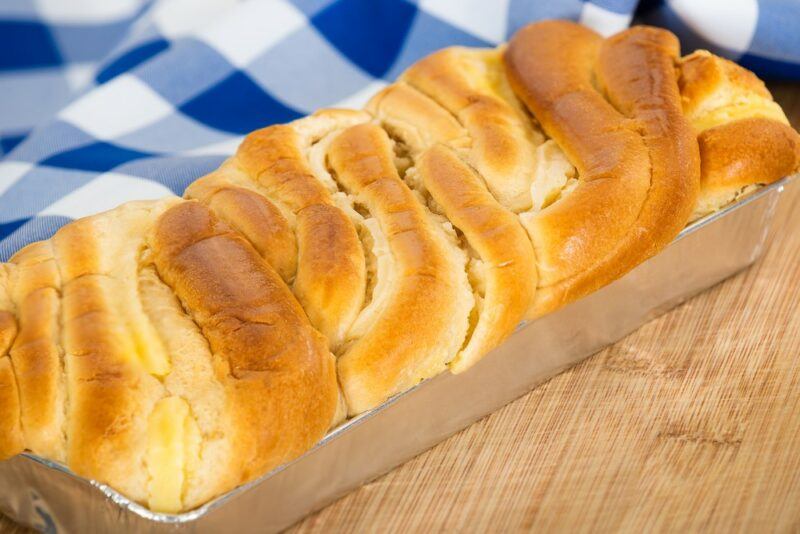 Brioche often comes in the form of a roll or a loaf of bread. The big difference is that brioche is a bit sweeter and has a richer flavor than a regular loaf of bread.
That said, you can use brioche just like regular bread. So, you could simply spread some butter on it or perhaps add some cold cut meat.
Even just swapping regular bread for brioche is enough to make your picnic much more exotic.
French Onion Soup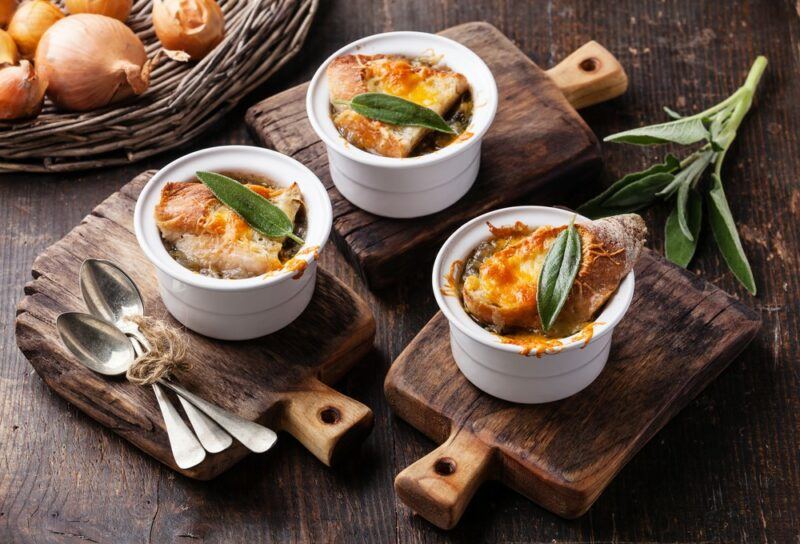 French onion soup isn't the easiest dish to serve at a picnic, but you can do so. In fact, French onion soup is even better when you make it a day or two before you serve it, which works in your favor.
The trick is to make the base of the soup ahead of time but not the croutons. Those will need to be added closer to the time. Honestly though, even if you leave the cheesy croutons off entirely, the soup should be ideal during your picnic.
Niçoise Salad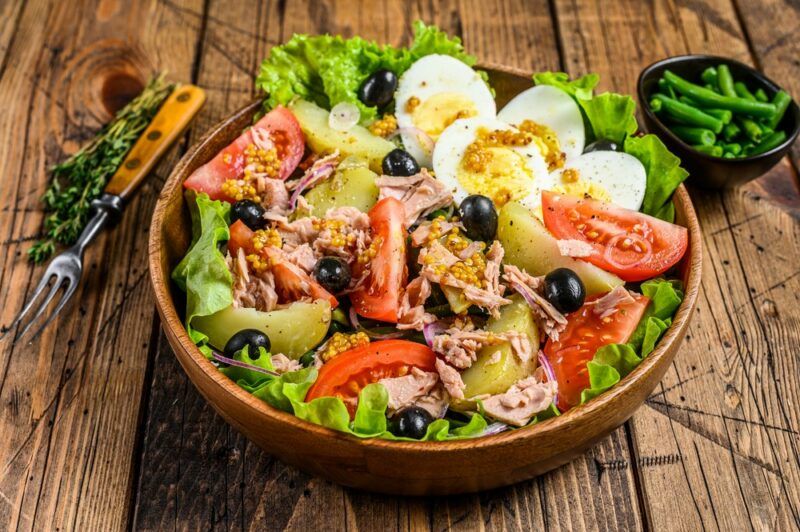 Niçoise salad is easily the most famous French salad and gets its name from the city of Nice. It's a fantastic picnic salad too, simply because it is so hearty. Seriously, a decent serving of the salad could be enough for your entire meal.
Classic ingredients include potatoes, tomatoes, hard boiled eggs, green beans, and either tuna or anchovies.
When making the salad for a picnic, you might first chop and perhaps mix all the ingredients together. Leave off the dressing though. It's best to add this when you're serving the salad.
You might leave out the tuna as well, then use canned tuna when you're at the picnic site. Doing so reduces the risk of food poisoning and helps the salad taste fresh.
Fried Zucchini Flowers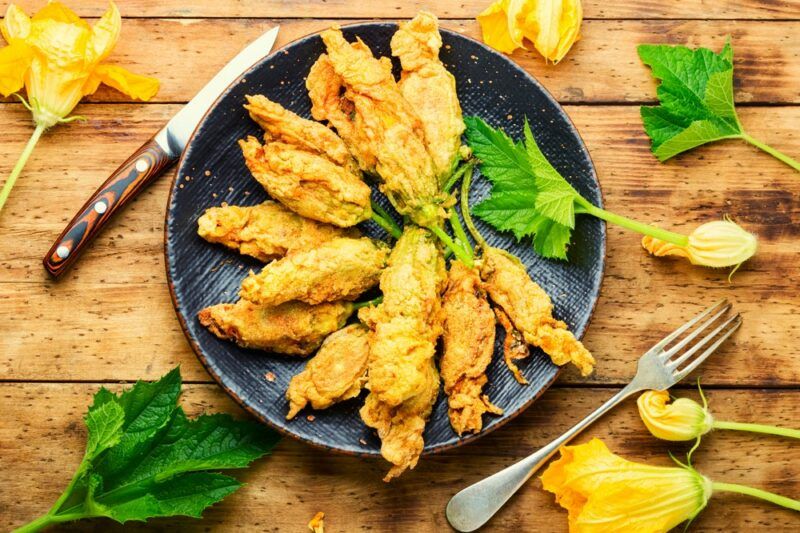 Have you ever eaten zucchini flowers? They're a surprisingly delicious dish, especially when they've been fried.
Making them isn't difficult either. You're simply covering the flowers with flour or a crumb mixture, then frying them. You end up with a crunchy and almost addictive snack that will be gone before you know it.
If you're harvesting your own zucchini flowers to make this treat, look for male zucchini flowers. These don't become zucchinis, so you're not reducing your crop by using them.
Tarte Tatin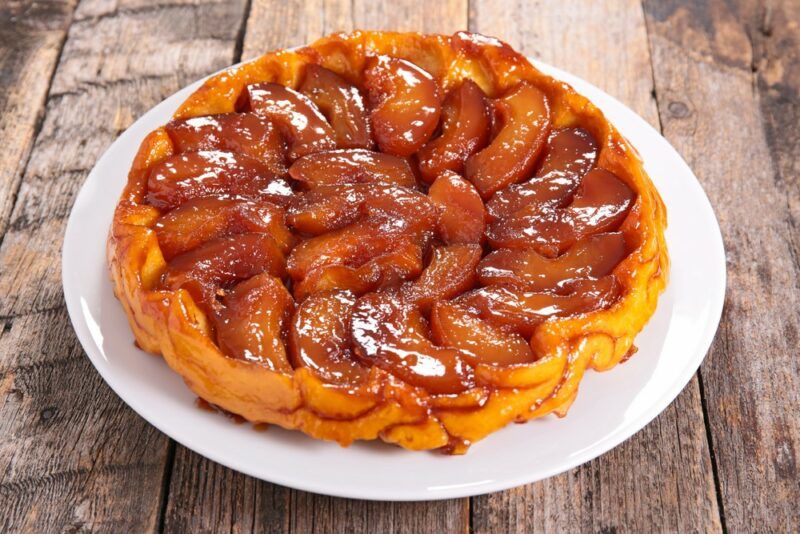 A tarte tatin is a delightful variation for anyone who loves apple pie. It's basically an apple tart, where the apples have been caramelized in sugar and butter.
Because you're making a tart, you only have the buttery crust and the apples to worry about. There's no need to make a top layer as well.
There's another interesting feature too – a tarte tatin is normally served upside down, with the base on the top. Doing so is a little tricky at a picnic, but not as bad as you might expect. If you're not certain, why not make this dish at home first? This will give you a little practice.
Macarons

While macarons were first developed in Italy, they're strongly associated with France and are often seen as a French dessert. The little cookies are seriously delicious. That's not surprising, given that they're made from egg whites, sugar, and ground almonds. That combination gives you a light sweet treat.
Seriously, what's not to love?
There are also so many stunning macaron flavors and colors to choose from. This includes red velvet, key lime pie, and blueberry macarons, along with plenty of more unusual flavors.
Many companies sell macarons in boxes with multiple flavors, giving your guests a chance to try plenty of different ones.
A French Charcuterie Plate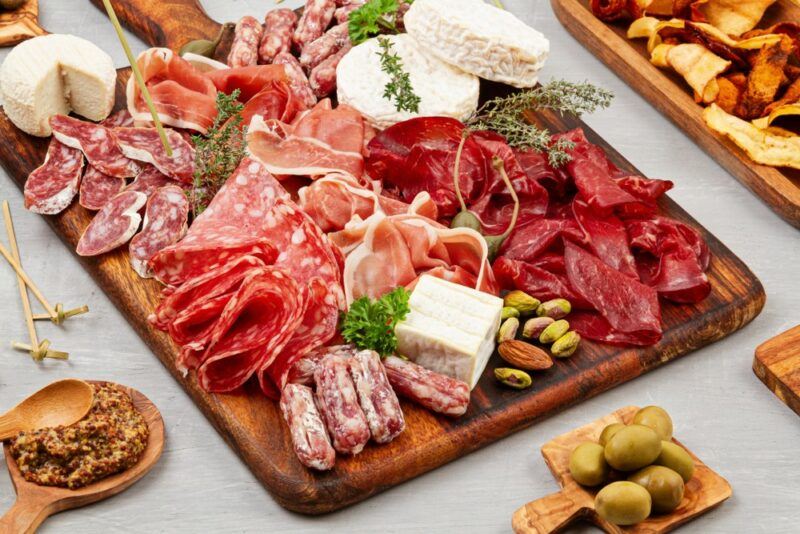 Charcuterie plates feature at French picnics too. The idea is the same as usual, where you're serving a variety of cheeses, meat, bread, and other ingredients that guests can pick and choose from.
Charcuterie plates don't need to be complicated, but the best ones include different textures and flavors. For example, you might have creamy cheeses, salty nuts, pâté, and perhaps some gherkins.
You could include some of the other ingredients from this list as part of your charcuterie plate too. Anything goes, really.
Pickled Green Beans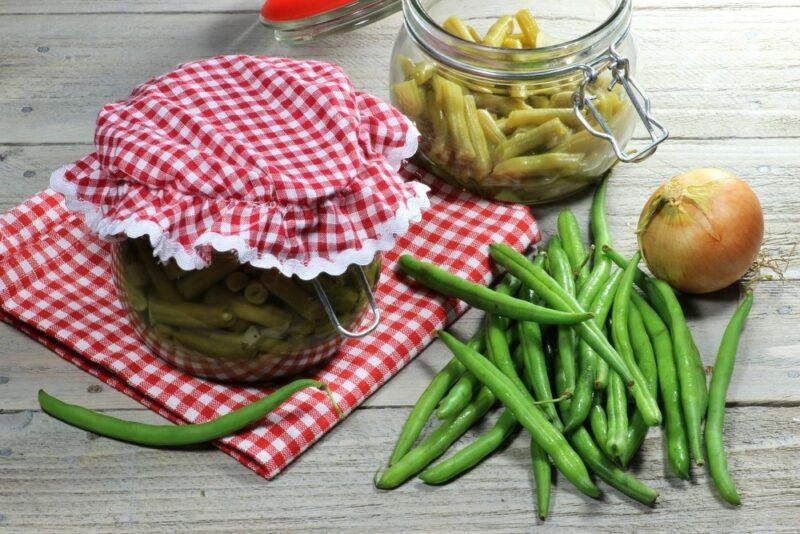 Pickling your green beans is a great way to get more out of them. Not only do pickled beans last for ages, but they also have a delicious flavor. You can even add some red pepper flakes into the mix to create a spicy version.
Pickled beans aren't a typical picnic food, but that's all the more reason to include them. After all, the same old same old picnic foods get a little boring. Why not make life much more interesting?
You could even bring along some other pickled food at the same time, like sauerkraut.
Roast Provençal Chicken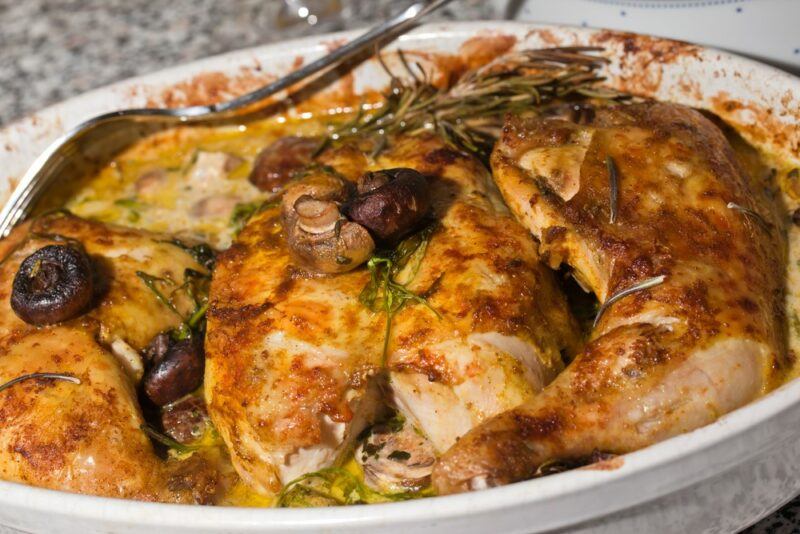 Fried chicken and shredded rotisserie chicken are often served at picnics. So, why not mix things up with Provençal chicken instead?
This chicken recipe gets its name from the Provençal region in France and brings together all the regional flavors. We're looking at olives, tomatoes, garlic, and even some rosemary paste.
Of course, you can easily vary the recipe so that it matches your flavor preferences. While you could serve this chicken cold, it will be much better if you can bring it to the picnic site warm.
A Bottle Of Bubbly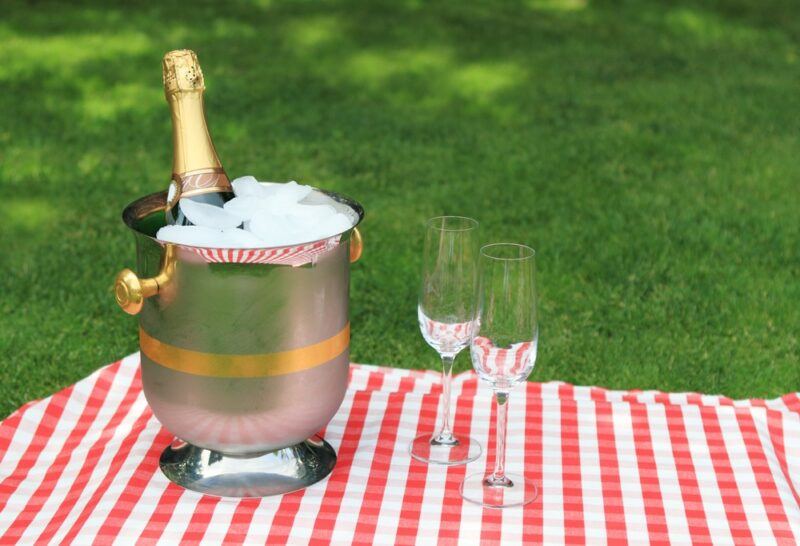 Okay, so sparkling wine isn't really a type of food. It's also too perfect to leave off this list.
After all, bringing a bottle of bubbly with you really does make any picnic more exciting. Champagne would be ideal for a French picnic. Don't worry if your budget doesn't stretch this far – champagne isn't the only type of French sparkling wine. There are plenty of others and many of them are less expensive.
For something non-alcoholic, why not turn to sparkling water? This helps to keep everyone hydrated and still feels pretty special.
Perrier is an excellent choice here, as this is a French brand that still gets its water from an underground source in France. That said, you don't really need sparkling water from France, right? Other brands of sparkling water will be just as refreshing.
Fresh Fruit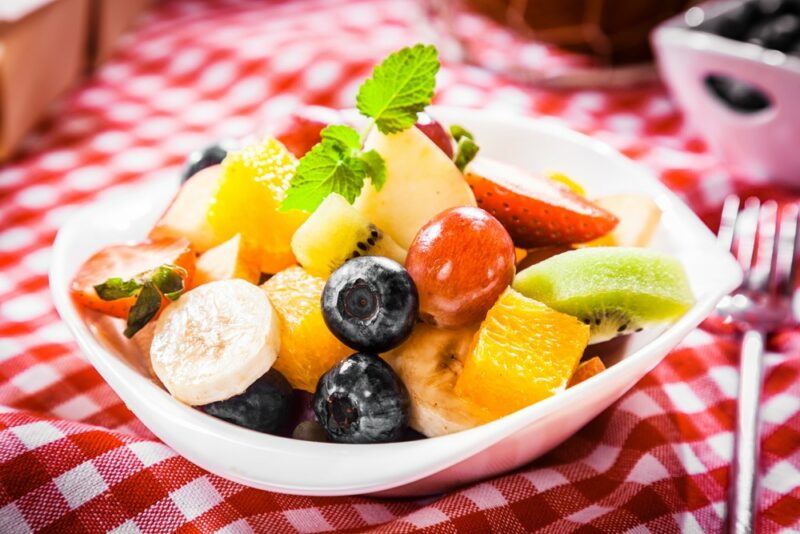 We mentioned grapes earlier, but honestly, any type of fresh fruit is going to be perfect during your picnic. Berries are an obvious choice, including strawberries and blueberries.
However, you will need to be careful with transportation, as fruit can be delicate. Packing the fruit well in sturdy containers can help. If squashed food is likely to be an issue, you could turn to more resilient fruit instead, like apples, oranges, or even a whole watermelon.
Salad Jars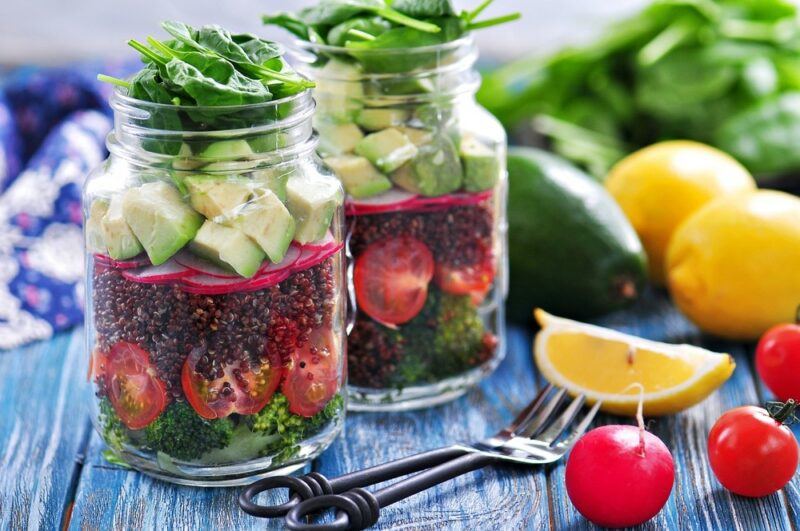 Mason jar salads are a terrific alternative to regular salads. Rather than preparing a big dish of salad, you're making individual salads in jars.
The beauty of it is that the salads are layered. Doing so makes them interesting to look at and to eat. Plus, the layers help to stop the ingredients from going soggy.
Some versions of these salads can be eaten straight from the jar, while others will need to be dumped into a bowl and mixed first. Either approach is delicious.
Quiche Lorraine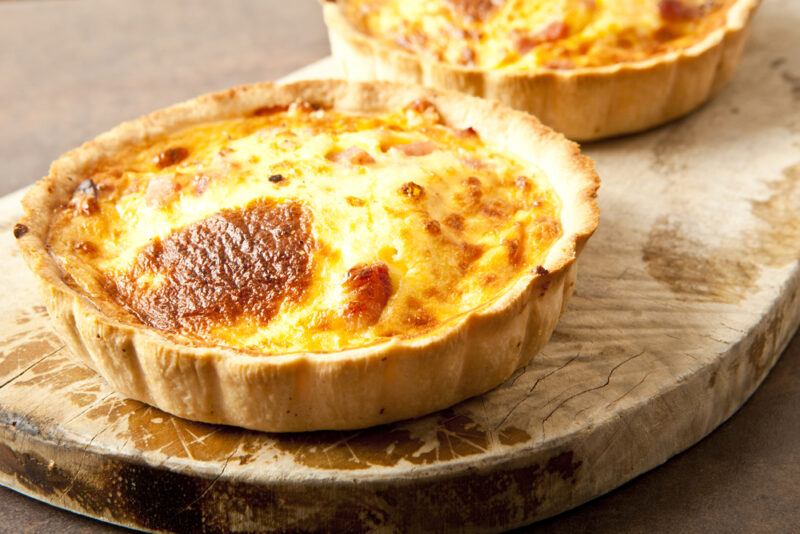 Quiche Lorraine came from Alsace-Lorraine, a region in the north east of France. It's a specific version of quiche, one that relies on Swiss cheese, bacon, heavy cream, and eggs.
That combination of ingredients is critical. If you add or remove some of them, then you're simply making a regular quiche, rather than Quiche Lorraine.
Quiches are always excellent as picnic foods, giving your guests something satisfying to eat. Just make sure that you keep it cool, as eggs and cream really don't do well in the heat.
Clafoutis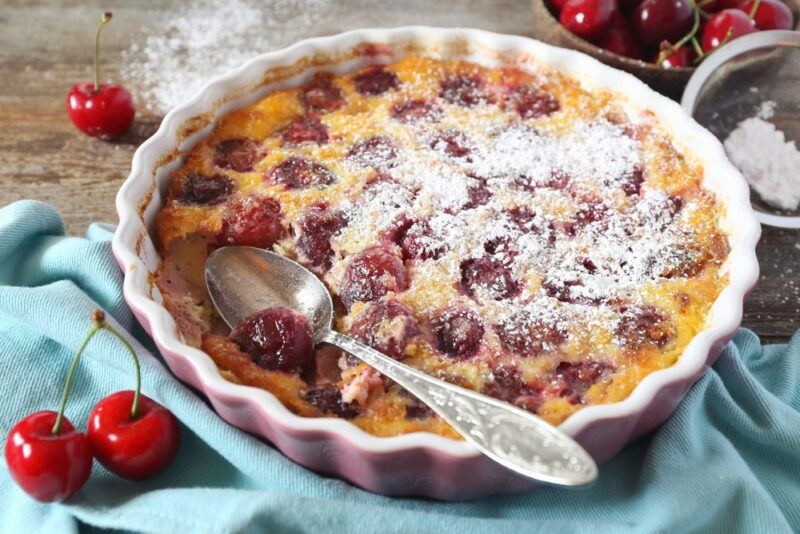 Clafoutis is an interesting dessert. It's traditionally made using black cherries and is somewhat sweet, but not overwhelmingly so.
This isn't a tart though, as the texture is most like thick custard. Not surprisingly, it's an incredibly popular dessert. It's also an easy addition to your picnic, as long as you keep it cool during transport.
While a black cherry clafoutis is the traditional version, you could easily swap the cherries out for a different type of fruit. Some people even use a combination of fruit, like nectarines and cherries.