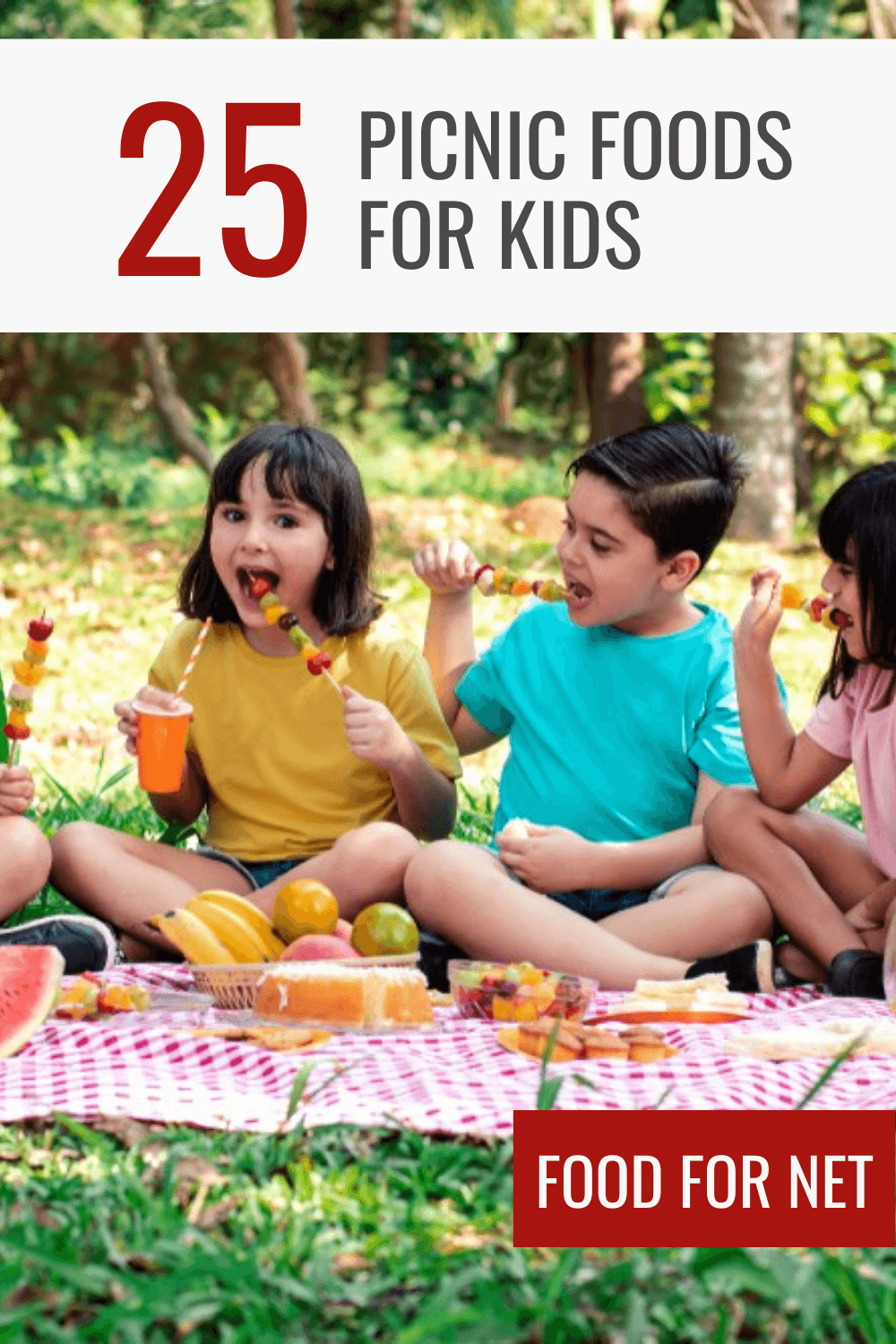 What's better than a picnic? You have the chance to get outdoors, to eat delicious food, to enjoy each other's company. There's also plenty of space for kids to go a little wild and have a ton of fun. But, to make the event go off without a hitch, you need excellent picnic foods for kids.
After all, kids are well-known for being picky. They'll love some things and completely turn their nose up at others. Chances are that any picnic foods for a date certainly won't go down well with kids. You need to find the right foods just for them.
Thankfully, there are plenty of kid-focused foods that will work well. Many of them don't take that much energy and effort either.
It helps to choose a variety of foods, including some sweet and some savory. You could even bring warm food by cooking it right before you leave and wrapping it in tinfoil. Variety really is fantastic, as kids all have different favorites.
Besides, you want some foods that adults will eat first, as the day isn't all about the kids. The following foods are certain to be popular among kids and adults alike.
Picnic Foods For Kids (With Pictures!)
Baby Quiches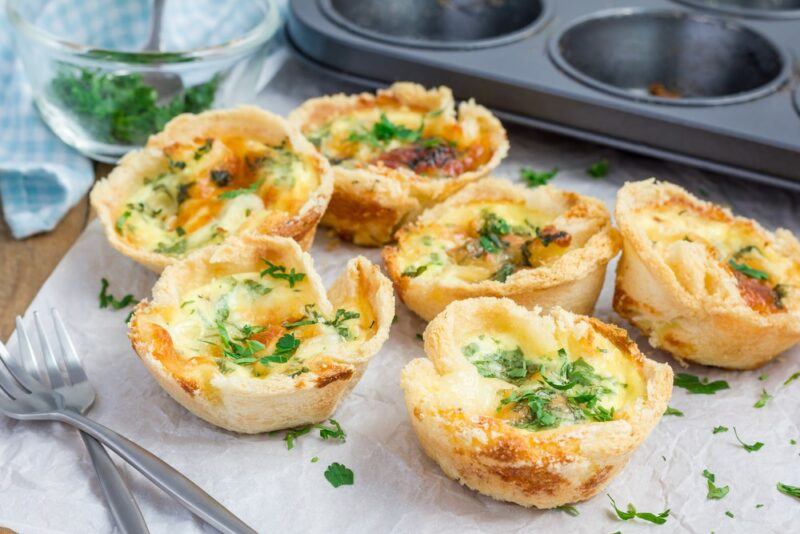 Baby quiches make the perfect picnic finger food as they're small enough to be eaten in a bite or two, plus they're actually filling (they'd also make an excellent breakfast for picky kids).
Such quiches are often made in muffin pans (you can make crustless or crust-based versions). You don't need a specialized recipe either. Most regular quiches will work well in a mini size, as long as you adjust the cooking time.
For even more fun, why not let kids design their own before the picnic? This should increase anticipation during the actual event. You can make versions for adults at the same time.
Pasta Tuna Salad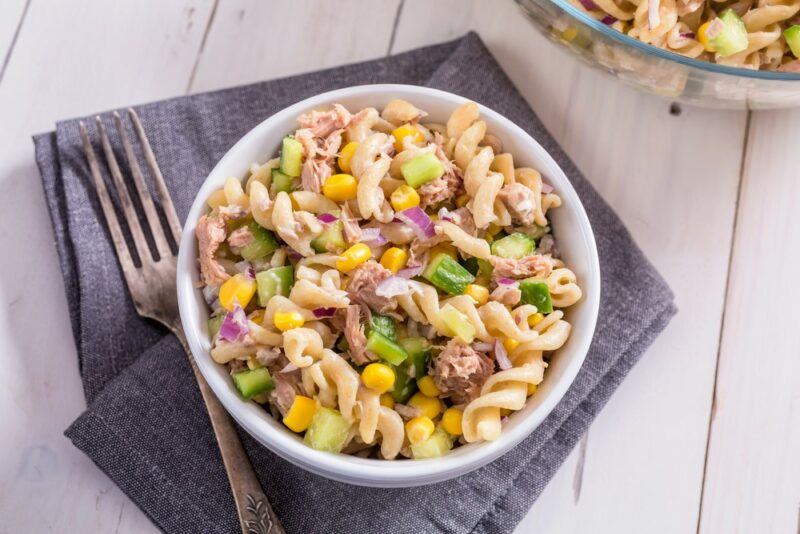 Pasta salad always works well for events. Adding tuna to the salad simply completes the deal, giving your salad a hit of protein and a flavor that most kids will love.
Plus, most versions of this salad are creamy, often relying on ingredients like sour cream or Greek yogurt. The creaminess is certain to be a hit among kids.
Trail Mix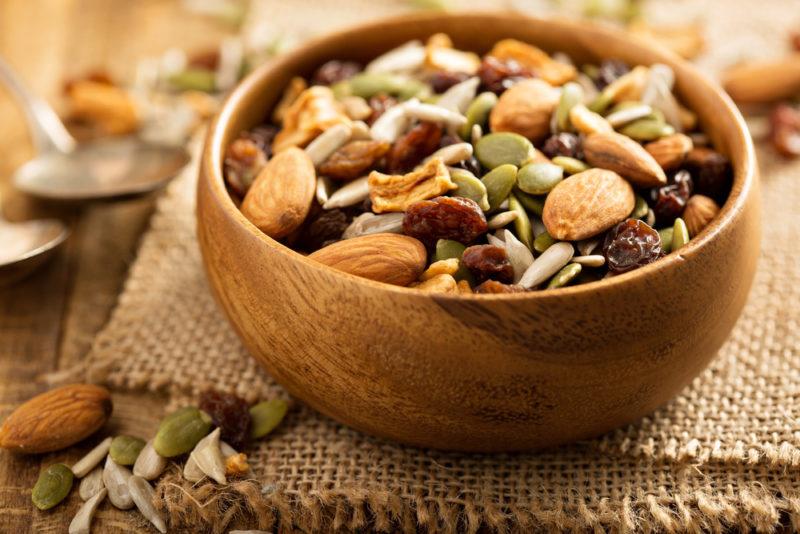 Trail mix is delicious, easy to eat, and can be healthy. The best versions rely heavily on nuts and seeds, while using relatively small amounts of chocolate, dried fruit, and other sweet ingredients.
If you want something less calorie dense, try mixing plain popcorn into the trail mix. This helps to spread it out, without taking away from the enjoyment.
Pizza Rolls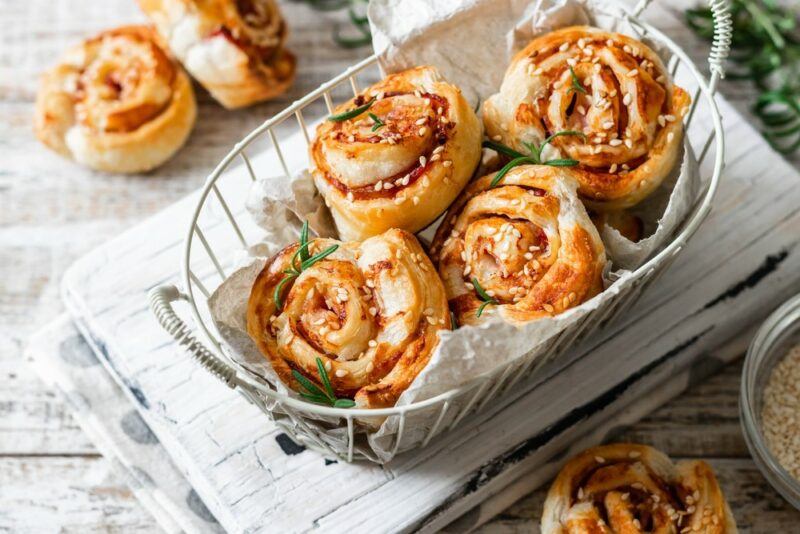 Want pizza without actually serving pizza? These pizza rolls could be the perfect solution.
Most recipes rely on a basic bread dough or perhaps puff pastry, along with pizza ingredients like cheese, ham, and sauce. You can also experiment with the ingredients to get a version that your kids will love.
Here's another cool thing – you can make this recipe at home with your kids. Most kids will love the experience, especially as they get to eat their creations later on.
Fruit Skewers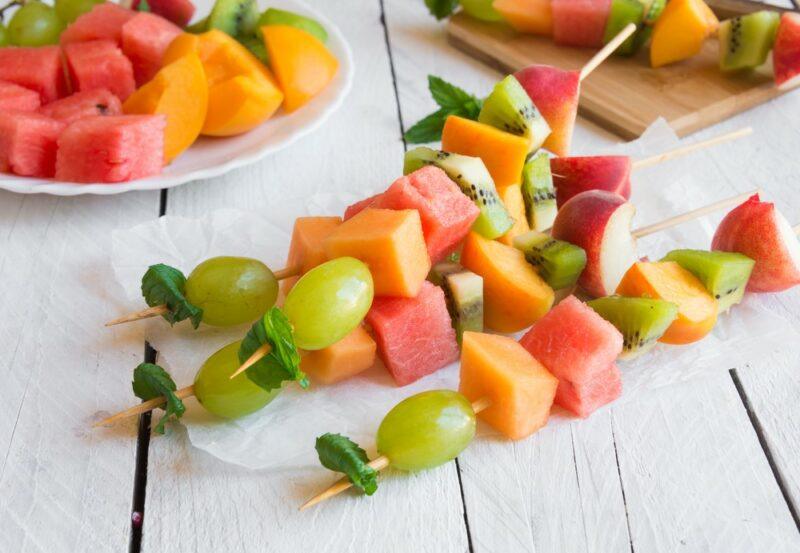 Fresh fruit is an easy picnic snack, one that helps to cleanse everyone's palate. But, fruit skewers often work better for kids.
There's simply something fun about having your food on a stick. They can also grab a skewer and go explore, giving the adults some quiet time in the process.
You don't just need to stick with fruit either. Chunks of cheese and pieces of meat are a great addition to the skewers. Their savory nature is an excellent contrast to the sweetness of the fruit. They make the snack a little more filling too.
You can get more creative too, like including marshmallows or even small pieces of pancake. Really, anything you can put on the stick is going to be exceptional.
Chicken Kebabs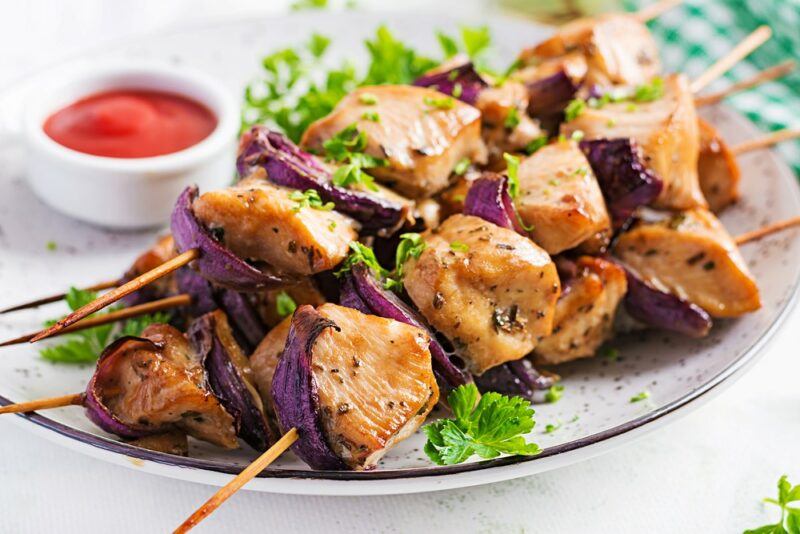 Speaking of food on a stick, what about chicken kebabs? These are popular among adults and kids alike, especially if you season them well.
Again, you don't need to stick to just one ingredient. Grilled vegetables are popular on chicken kebabs too. Many of these taste just as good cold as they do hot.
Pesto Pasta Salad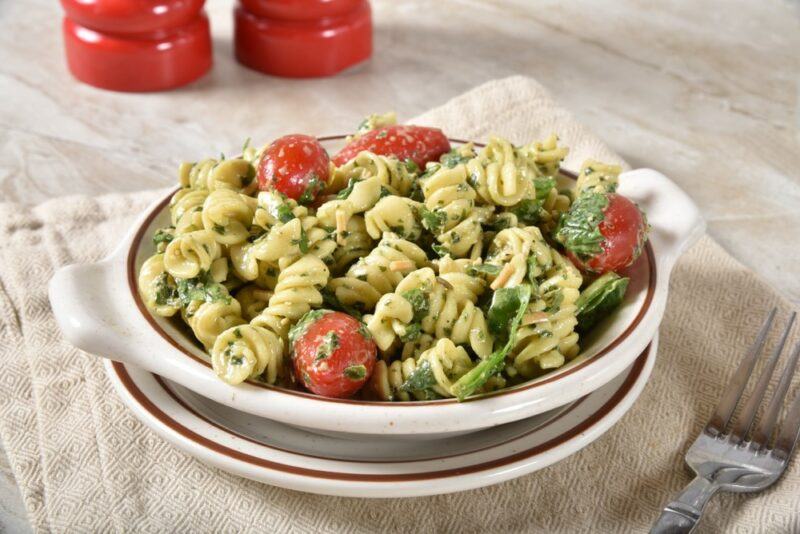 If a regular pasta salad sounds a little boring, what about a pesto pasta salad instead? The pesto helps to make the dish much more interesting, giving it a brighter flavor and a fantastic color.
Cherry tomatoes and feta cheese are fantastic additions, ones that kids are certain to love. Of course, there's endless room for variation.
Caprese Skewers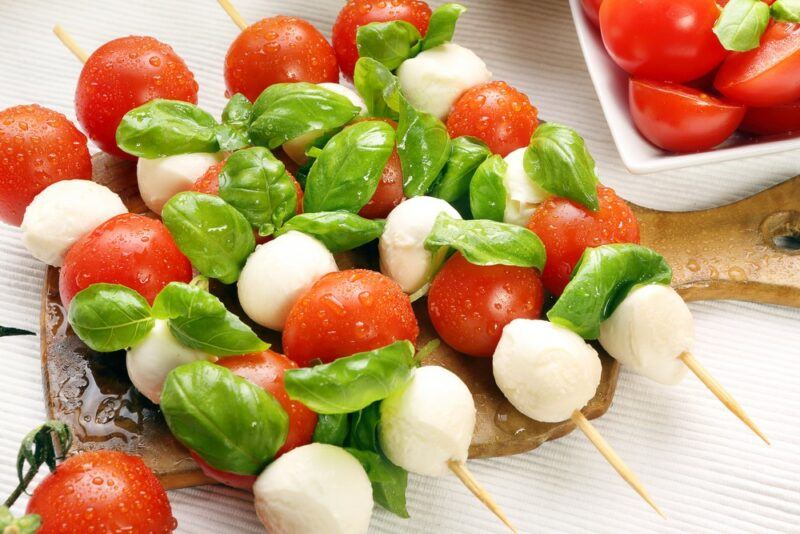 The skewers are basically a caprese salad on a stick. So, you've got cherry tomatoes, mozzarella cheese balls, and basil leaves.
Some people drizzle balsamic vinegar on top too. The vinegar makes the skewers taste even better, but you might skip this step if you have picky kids or don't want to make a mess.
Chicken Drumsticks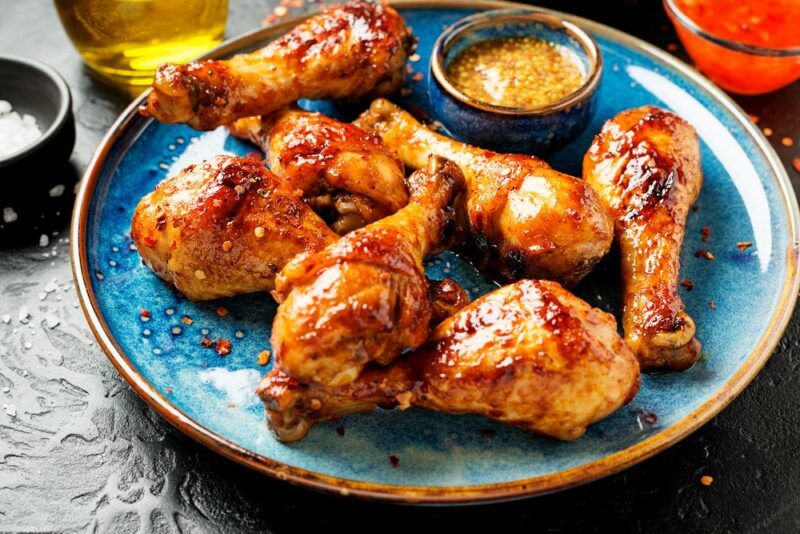 Simple as they might be, chicken drumsticks are always popular. They're fantastic as a protein hit, especially as they have an inbuilt handle. Just be sure to bring plenty of wipes, as chicken drumsticks get messy fast.
There's also endless space for variation. You could try making deep fried chicken drumsticks, which tend to get almost inhaled, even though they're not healthy at all. Or, you could turn to baked recipes. These tend to be lower in fat and just as delicious.
Seven Layer Taco Dip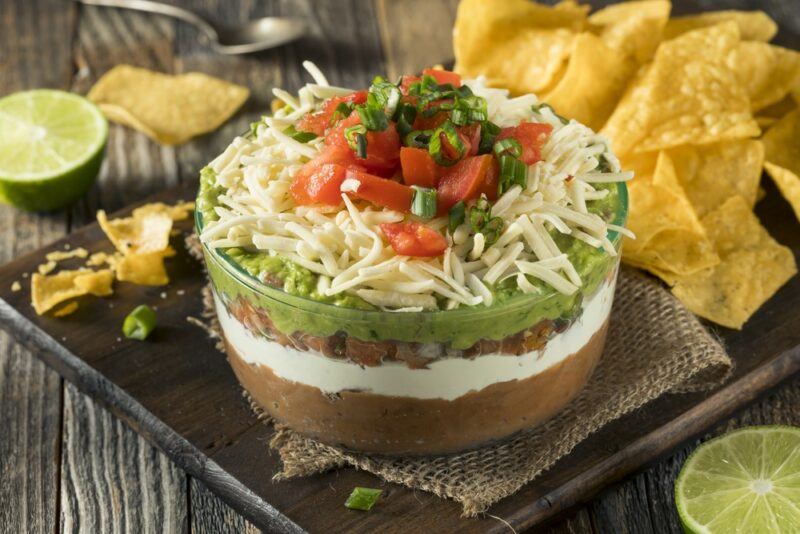 Seven layer dip isn't just a party favorite. It can also work well at a picnic. Any type of dip can, for that matter, as your kids can use pretty much any ingredient with the dip to make their experience more interesting.
Veggie sticks or taco chips both work exceptionally well with seven layer dip, but they're hardly your only option. Some kids might even want to dip their chicken in there.
Now, seven layer dip is a little more complicated than other party dips. However, it generally includes refried beans, which means that it's also more filling.
Popcorn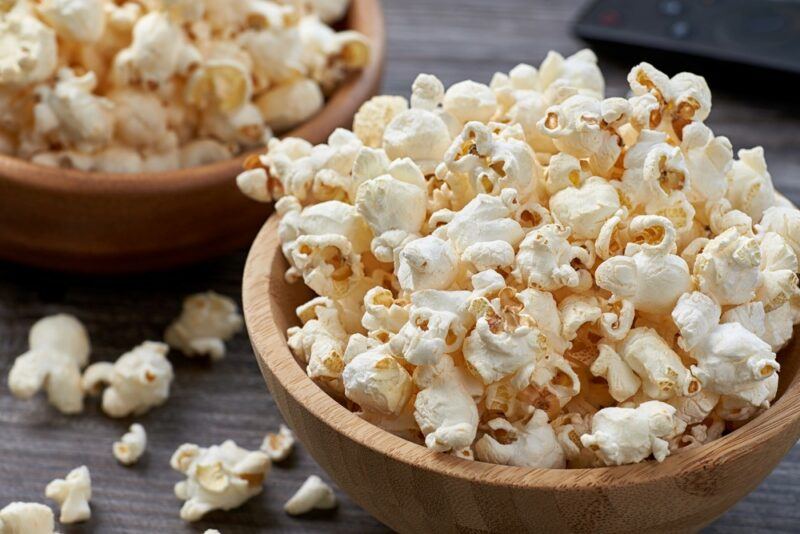 What about popcorn? This snack has a bad rap, but it's surprisingly healthy. Plain popcorn even manages to be low in calories and offers a decent amount of fiber.
Of course, plain popcorn won't sit well with kids. You're going to need to make it more interesting.
There are a few ways to do this. The first is to make a type of trail mix with popcorn. You might even prepare these in bags, mixing together popcorn, pretzels, nuts, and dried fruit for a snack that's filling and healthier than it seems.
You could even throw in a little chocolate to make it even more popular.
There are also healthy ways to season popcorn, like combining parmesan and sea salt, using chocolate protein powder (of all things), or experimenting with different types of spices.
Savory Muffins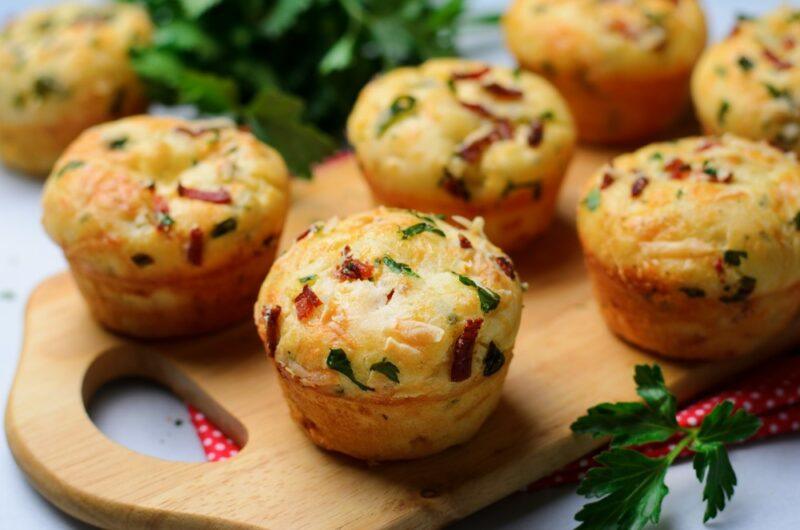 Regular muffins tend to be packed with sugar, so why not make savory ones instead? These rely on ingredients like sour cream, cheese, ham, and spinach, to create something that's not only delicious but is also filling.
Ham, corn, and cheese muffins are a fantastic starting point, as these avoid any ingredients likely to make your kids squirm. Or, why not add a little spinach in there? Seriously, savory muffins are a great way to sneak in some extra nutrients.
Tortellini Salad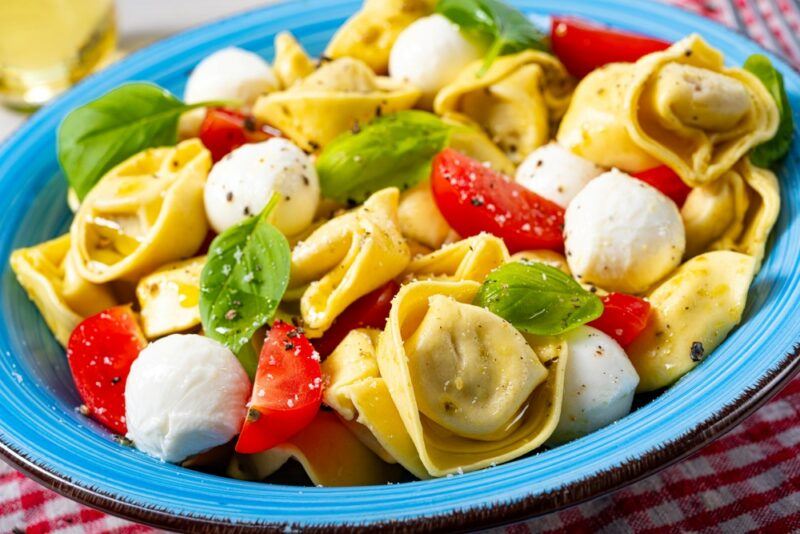 Pasta salad is a staple at picnics and barbeques, but it quickly gets boring. Why not change things up a bit by relying on tortellini, rather than regular pasta?
This means that every bit of pasta comes with a delicious filling, one that might offer some extra protein. There are also endless ways to vary this approach, such as creating an Italian tortellini salad, a Greek tortellini salad, or even a vegetarian one.
Plus, just like regular pasta salad, a tortellini salad can be enjoyed cold. This could be perfect, as trying to keep food warm for a picnic is extremely frustrating.
Ciabatta Sandwiches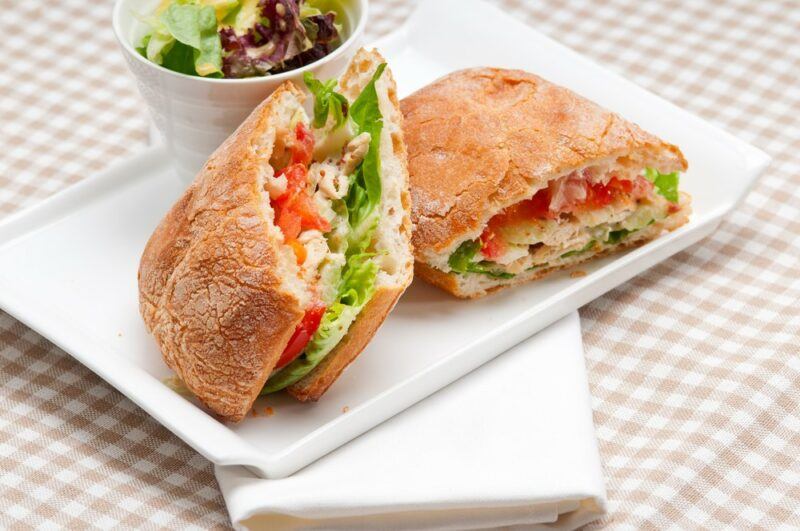 The right sandwiches are excellent for picnicking, as you have a delicious and filling treat that's already prepared.
You can't just go with any sandwiches, though. If your kids already have sandwiches most days in their lunches, having the same type of sandwich during a picnic isn't going to fly.
So, make them more memorable. Ciabatta sandwiches are perfect, as the bread kicks the sandwiches up a level. You can then focus on ingredients your kids love, including some unusual ones.
For some kids, you might need simple ingredients, like cream cheese and ham. Other kids might be happy with grilled peppers, lettuce, or other vegetables. Spreads can be a great addition as well, like hummus or aioli.
Breakfast Burritos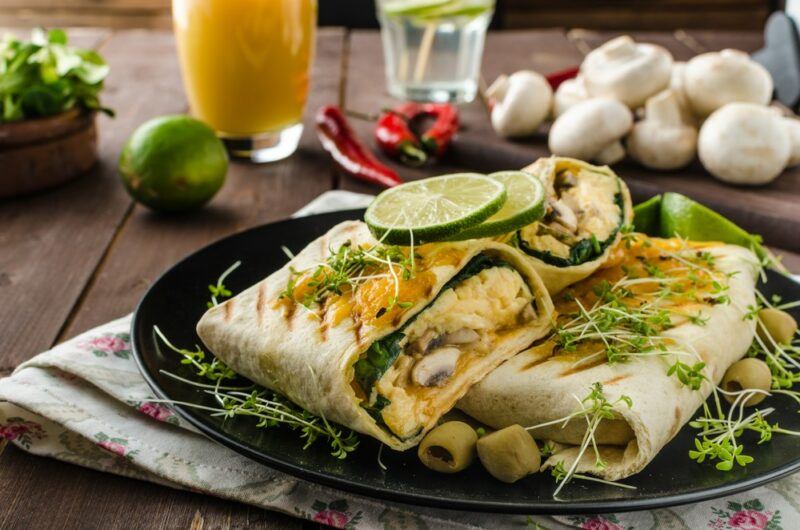 Surprising as it might seem, breakfast burritos can work well at picnics. After all, many recipes can be prepared ahead of time and even eaten cold.
Or, you might heat them up right before the event, then bring them along in tinfoil. It doesn't matter whether it's breakfast time or not, the flavors will always be a hit.
Roasted Chickpeas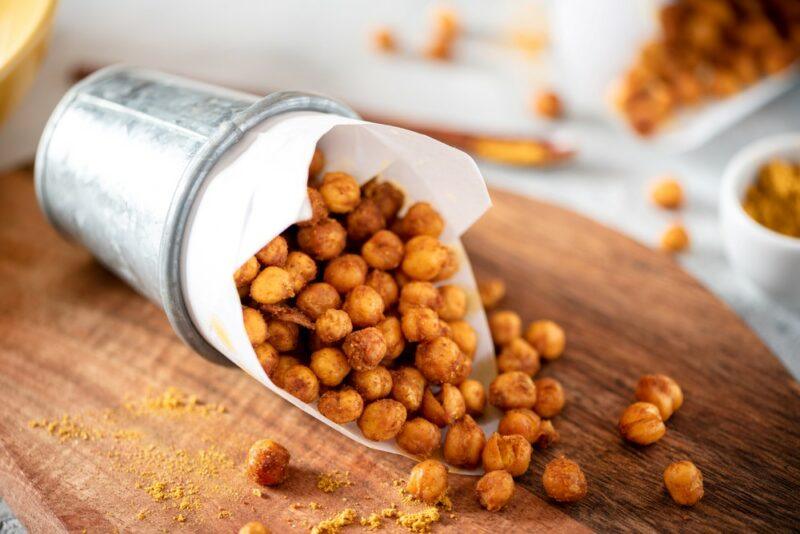 If you want a simple and healthy snack, roasted chickpeas might just be perfect. You can roast them yourself or buy them already roasted and seasoned from the grocery store.
The chickpeas end up having a similar crunch and flavor as nuts, but they're much lower in fat and calories. So, it doesn't matter if kids eat them by the handful.
If you are buying roasted chickpeas, make sure you pay attention to the ingredients label. Some companies produce chickpea snacks that are high in fillers and additives, and low in actual chickpeas.
Peanut Butter Dip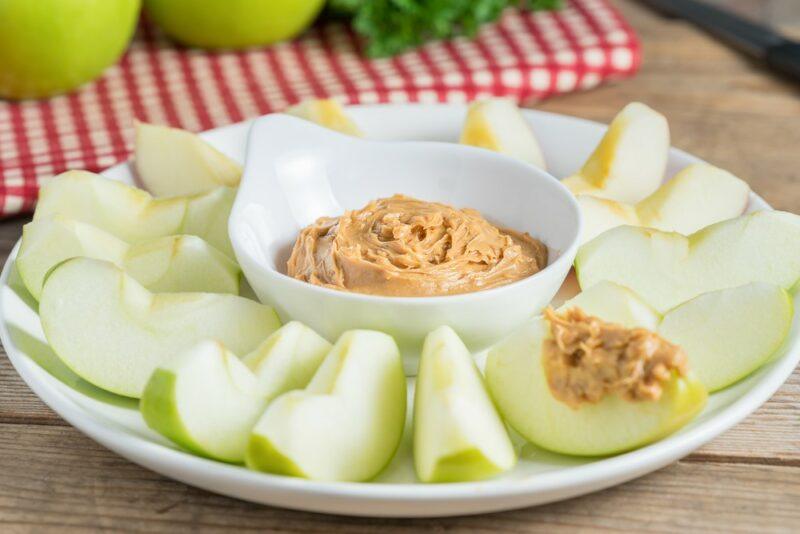 Did you know you can turn peanut butter into a dip? The dip is perfect with pieces of fruit or pretzels. It's also much simpler than trying to spread actual peanut butter on apple slices.
One version involves combining peanut butter with Greek yogurt and some maple syrup. The Greek yogurt provides creaminess to the dip, while also making it easy to use.
You could also try mixing peanut butter with cream cheese or even sour cream. Both ingredients provide a similar creaminess, although there are slight differences in texture.
Oatmeal Bars

Oatmeal bars are just the ticket if you want something filling that's also delicious. You can buy them from local stores, but honestly, the homemade versions are much better.
There's an endless range of recipes to choose from, starting with simple bars that just contain four ingredients and ending with more complex layered versions.
The bars will easily last a week or more, so there's no need to rush. You can prepare them in advance, then simply pull them out before the picnic.
Monkey Bread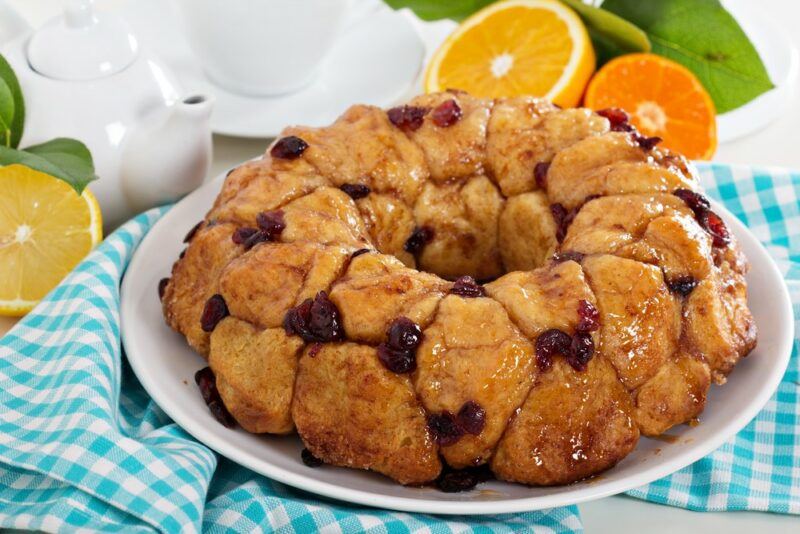 Monkey bread is famous for being incredibly easy and also very delicious. The dish often relies on refrigerated biscuit dough and a handful of ingredients to create a sweet glaze.
It's also a treat that can easily be prepared ahead and taken with you. As such, it's perfect picnic fare.
Plus, monkey bread tends to be a pull apart dish, one your kids can eat with their hands, no utensils required.
Baked Mac And Cheese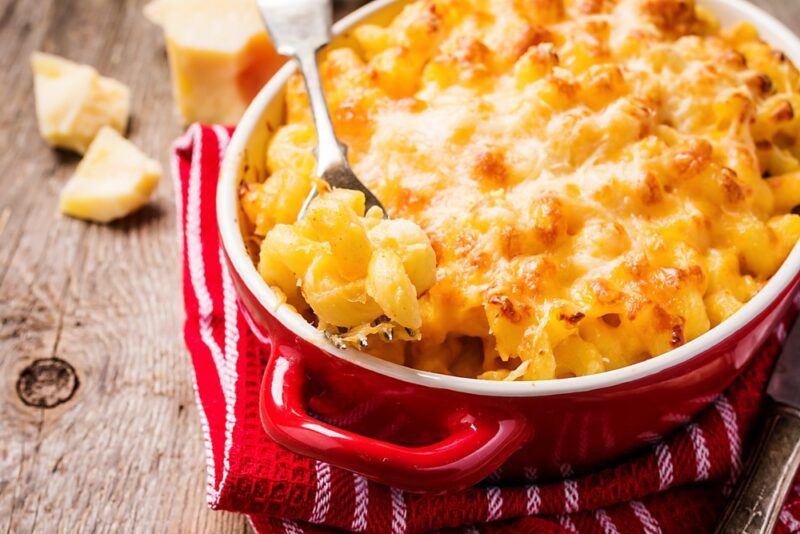 Kids love mac and cheese, right? It's one of the all-time favorites that never seems to get old.
While mac and cheese isn't the normal picnic fare, it's not too difficult to cook a dish of it, wrap it up well and bring it along to the event.
You'll need a spoon to scoop it, plus plates and utensils. Still, you're certain to make everyone's day, so why not give mac and cheese a go?
Chicken Sushi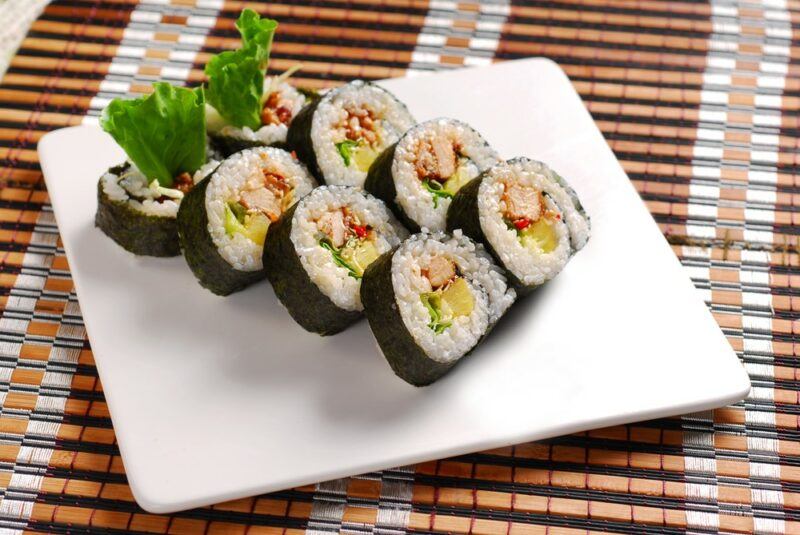 Sushi works surprisingly well at a picnic, as long as you keep it cool. For kids, you might need to change things up a bit.
Rather than focusing on traditional sushi, why not serve chicken sushi instead? This is as simple as using chicken instead of raw fish.
Most versions will still use seaweed, but there's not much, so most kids should be just fine with it. Plus, sushi is easy to eat with your fingers, which is exactly what you need during a picnic.
Dessert Cones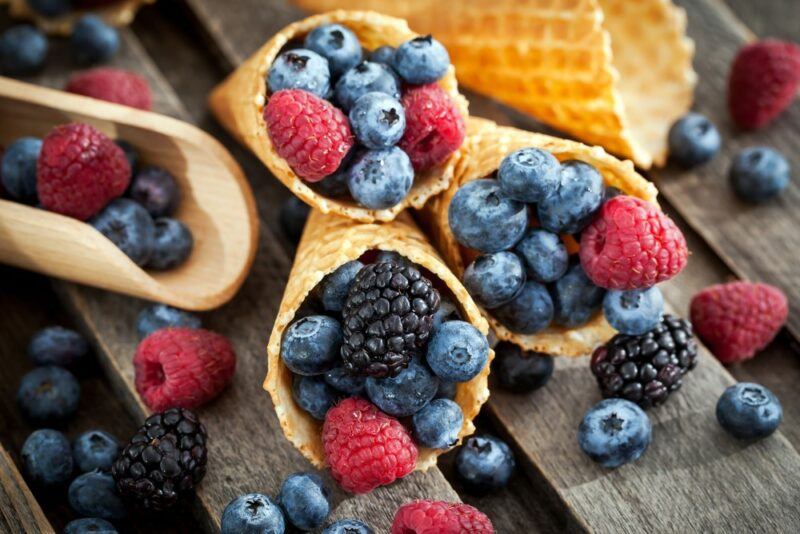 These cones are a fantastic way to make fruit more interesting. The simplest version just involves taking regular ice cream cones and filling them with fresh fruit (berries work particularly well).
You could add other ingredients too, like marshmallows or perhaps a some small chocolate pieces.
The cones don't just make fruit more interesting. They also give kids something to hold and take with them, which is perfect if they're getting sick of sitting still.
Watermelon Rice Krispies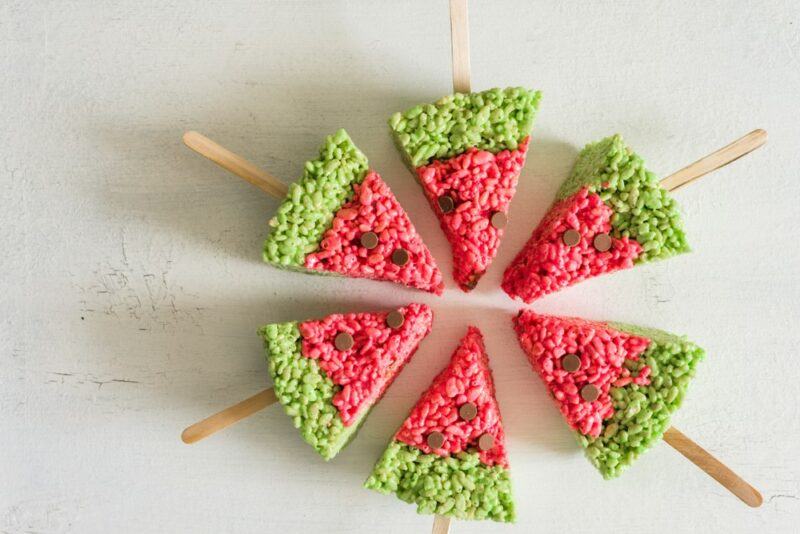 Rice Krispie treats are always great at a picnic. This version is even more fun, as the treats literally look like watermelon pieces.
You can probably guess how to make them, as they just consist of two layers of a Rice Krispie treat, one made with green food coloring and one that uses red instead. The 'seeds' are simple too. They're just chocolate chips.
Fresh Bread, Meat, And Cheese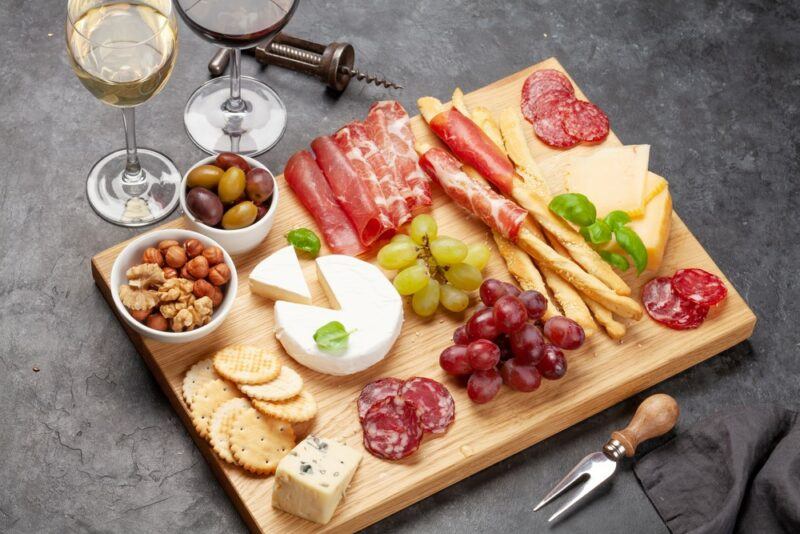 Here's an old classic – bread, meat, and cheese. How can you go past it?
Part of the fun is that there's so much room for variation. For meat, you might focus on cold cut deli meat or perhaps turn to cured meat, like salami. There's an endless range of bread types too, including fresh sourdough and even sprouted bread.
Having at least a few options for each ingredient allows kids to mix and match. Honestly, that's half the fun. You can play around with accompanying ingredients too, like dips and spreads, cucumber, tomatoes, and even olives.
Homemade Chicken Nuggets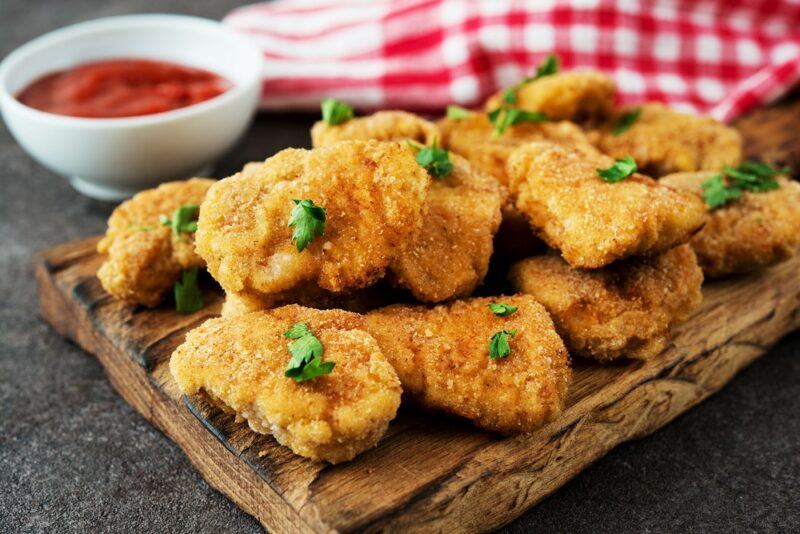 Frozen chicken nuggets or those from fast food stores tend to be horrible for health. They often rely on undesirable parts of chicken, along with plenty of fillers and additives. Sometimes there isn't that much chicken in them at all.
Thankfully, you can make baked chicken nuggets at home, ones that are much better for your kids. Some recipes are as simple as using chicken breasts, breadcrumbs, parmesan cheese, and a few other ingredients.
How To Have A Good Picnic With Kids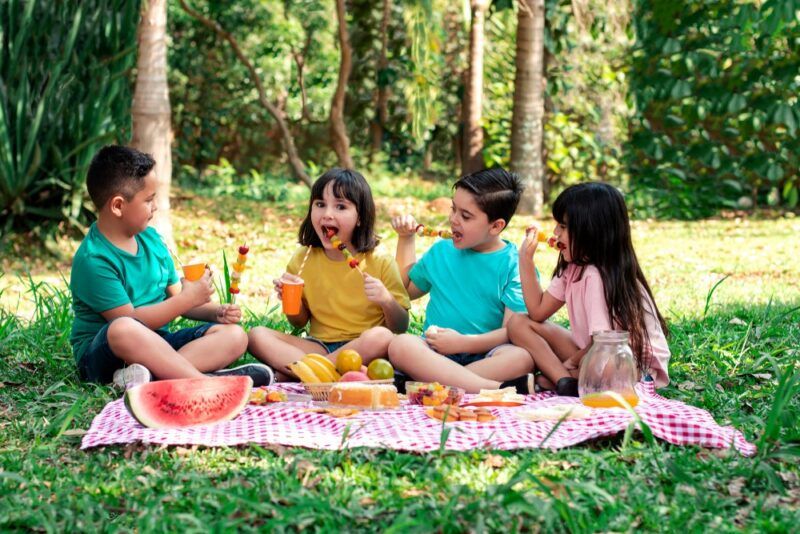 Of course, food isn't the only thing to think about. You'll need to think about other areas too, starting with utensils and plates. It's best to focus on plastic options if you can, that way nothing will break.
If plastic doesn't sit right with you, bamboo plates and utensils are another way to go. These are resilient too and are better for the environment.
Then there are the seating arrangements. A picnic blanket will often do the trick, but sometimes you might want fold up chairs instead. If there's going to be a picnic table, that's even better. Just remember to bring wet wipes or something similar, as it mightn't be clean.
There's another thing to think about too – activities. While adults enjoy sitting around quietly and talking (let's face it, it's nice just to slow down), most kids get bored fast.
Having a few simple activities can make the whole experience much more enjoyable. Games like freeze and tag are fantastic or you can even bring a board game along with you.
Anything that gets kids engaged in nature also works well, like teaching them about specific plants or the life cycles of some animals. Or, if you want some peace and quiet, why not send them on a scavenger hunt?
Finally, don't forget about things like sunscreen, sun hats, insect repellent, and a first aid kit. This way everyone stays safe and has a good time.
Related Content