Picnics are a fantastic chance to spend time with friends, to share food, and to have a good time. You're getting out in nature too, which is always a bonus.
You know what makes a picnic horrible? Getting sick afterward. It's not so fun when your carefully prepared food has succumbed to the heat and simply doesn't taste good anymore. That's why picnic foods that don't need refrigeration are so important.
These aren't just picnic foods that won't spoil in the heat; they're also ones that are completely fine in the warm temperatures. No wilted lettuce here. What's more, we've found some delicious choices, some that you'll want to use regularly. Perhaps even as picnic foods for a date.
This topic is particularly important because some unexpected foods need refrigeration. Cooked grains and pseudograins, like rice and quinoa, are a classic example. This means that a quinoa salad and vegetable sushi aren't as safe as you might expect.
Picnic Foods You Don't Need To Keep Cold
Nuts And Seeds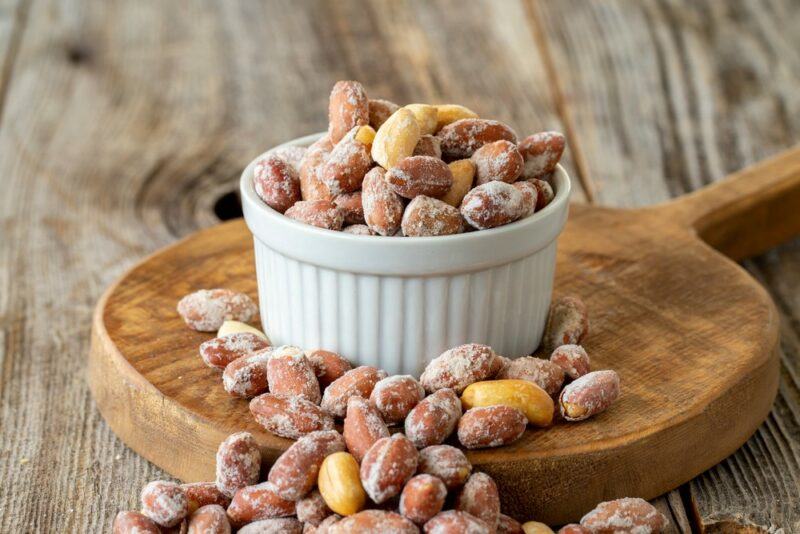 Let's begin with simple and obvious. Nuts and seeds are always delicious. Plus, they're easy to find and are always filling.
They do well at almost any temperature, so you don't need to worry about them even on the hottest day. You can easily vary things up too, like by creating a trail mix with dried fruit and perhaps a little chocolate.
You could also roast your own nuts and experiment with flavor combinations. Smoked paprika, rosemary, nutritional yeast, sea salt, and cayenne pepper are just a handful of seasonings to experiment with.
Fresh Fruit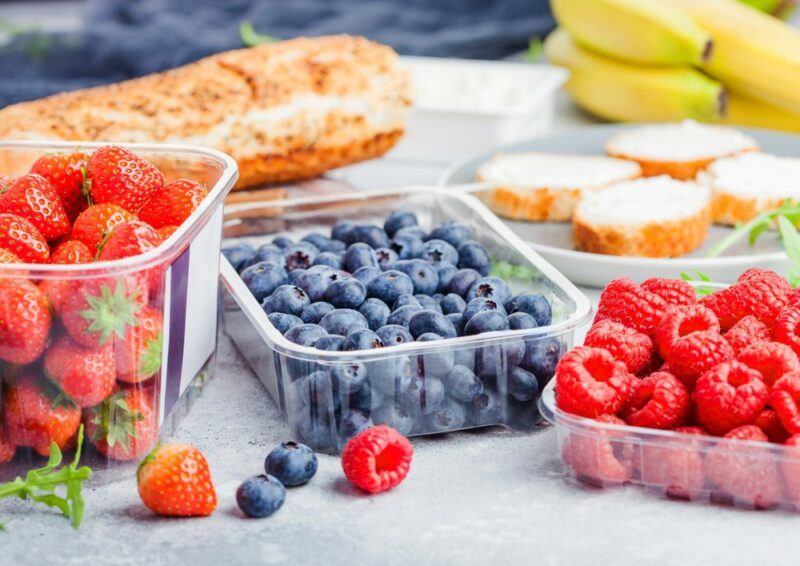 It can be a picnic without fruit, right? Watermelon is a classic for any picnic. Sure, it's a pain to lug an entire watermelon around, but you end up with such a delicious and refreshing treat that it's always worth the effort.
Freezing grapes before the event is another fun approach. They won't stay frozen, of course, especially if you're not chilling them. This doesn't matter though, as the grapes will remain cool for hours and they're delicious as they slowly defrost.
Or, fruit skewers. These are always a hit, don't need refrigeration, and do well at most temperatures.
Chips And Salsa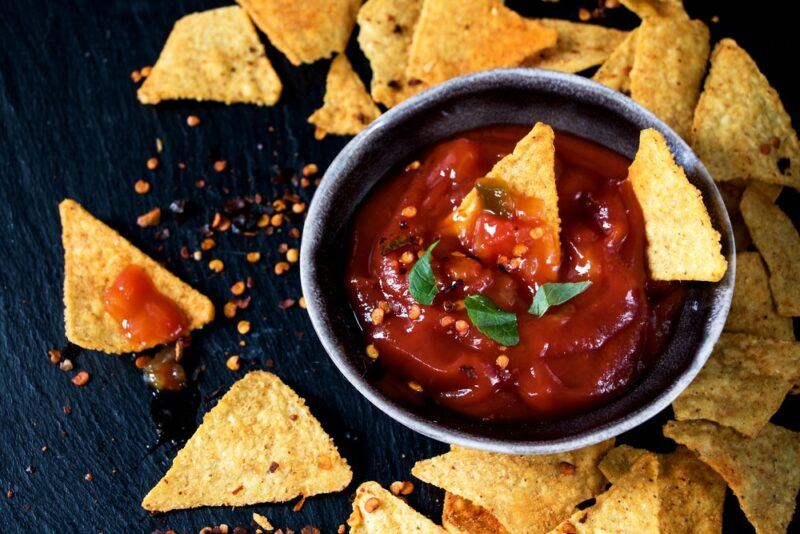 Homemade salsa and salsa from the store is a safe dip to use at a picnic. Pair this with tortilla chips and you have a snack that everyone will love and that takes no effort at all.
If you have a long journey to your destination or plan to be out in the sun for hours, it's best to go with unopened salsa from the store, rather than homemade stuff.
Look for products that are sold on shelves (rather than in the fridge) and don't open the salsa until you get to the picnic. This way there's no chance of contamination, even when the weather is scorching.
Mayo-Free Potato Salad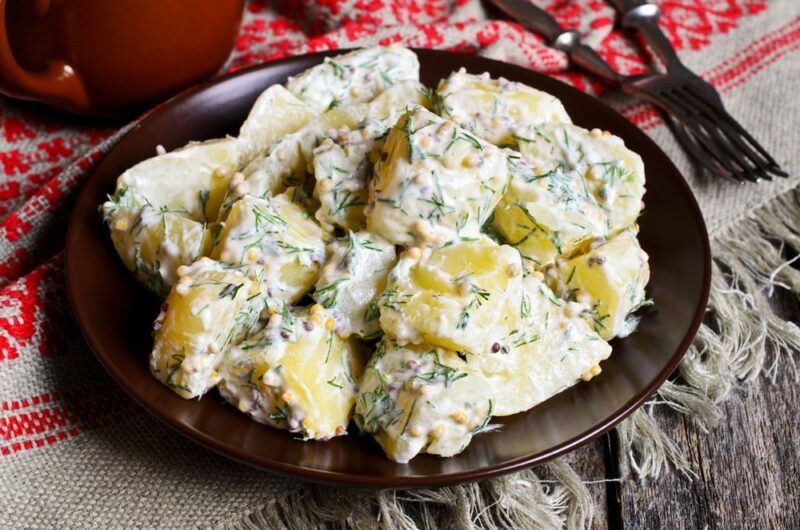 Potato salad is one of the most common causes of food poisoning during a picnic – largely because mayo really doesn't like being out in the heat.
You can get around the issue by looking for mayo-free potato salads. These often taste just as good as the mayo versions, but are much safer in the warm weather. As a bonus, such salads are often vegan-friendly as well.
Cookies, Brownies, And Cupcakes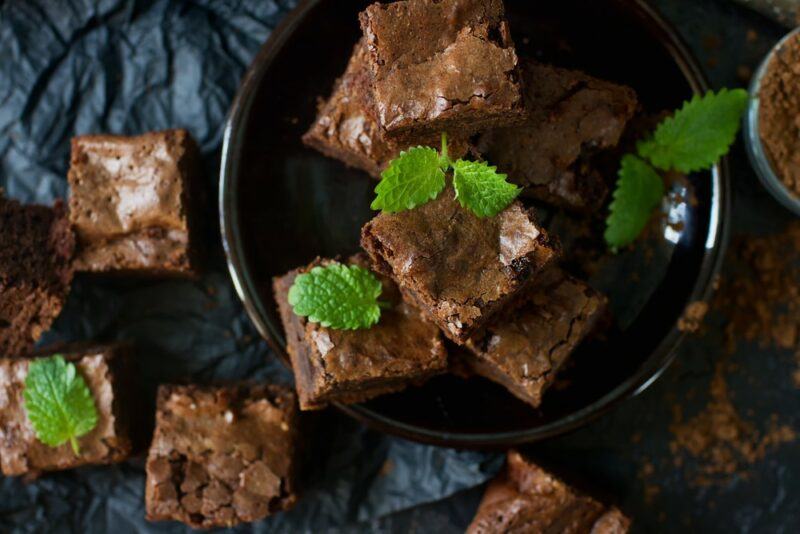 Desserts like cupcakes, cookies, and brownies all fare just fine outside the fridge for as long as you need. The trick is to be cautious with any frosted treats, as the frosting will suffer in the heat (and perhaps even make you sick).
Cookies are particularly good. They'll often last a couple of weeks at room temperature. Brownies and cakes only tend to last a few days in the pantry. Still, if they're newly made, that's more than enough time for your picnic.
Jerky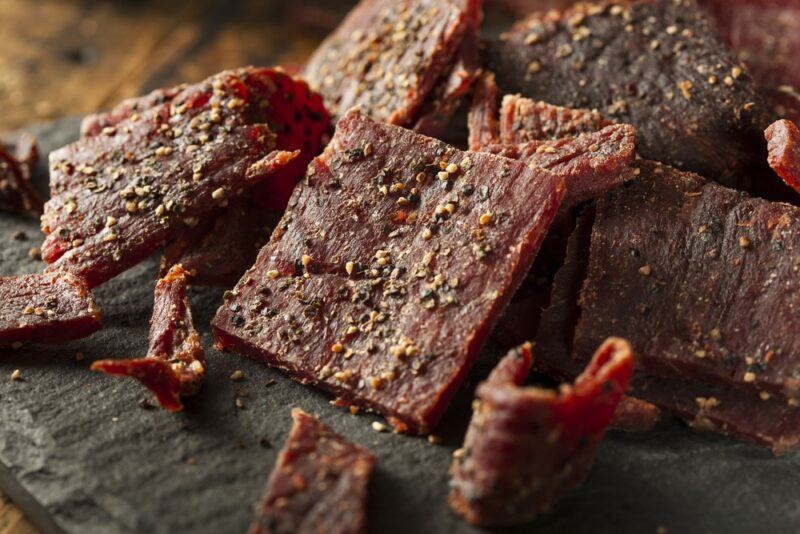 Meat is tricky when you can't chill your food, as the risk of food poisoning increases rapidly.
Jerky gets around the problem entirely. Commercial products are often safe for an entire year after purchase, although they're generally best within six months. Homemade jerky doesn't last as long, but it's still completely fine for a picnic.
Also, did you know that you can rehydrate your jerky? Even just soaking it for a while can work wonders, giving you an easier to eat treat. Of course, jerky varies in flavor and quality. You may need to do some hunting to find a version that you love.
Or, why not try a jerky of the month club? These are a fun way to try new types of jerky regularly. Who knows what favorites you'll discover?
Aged Cheeses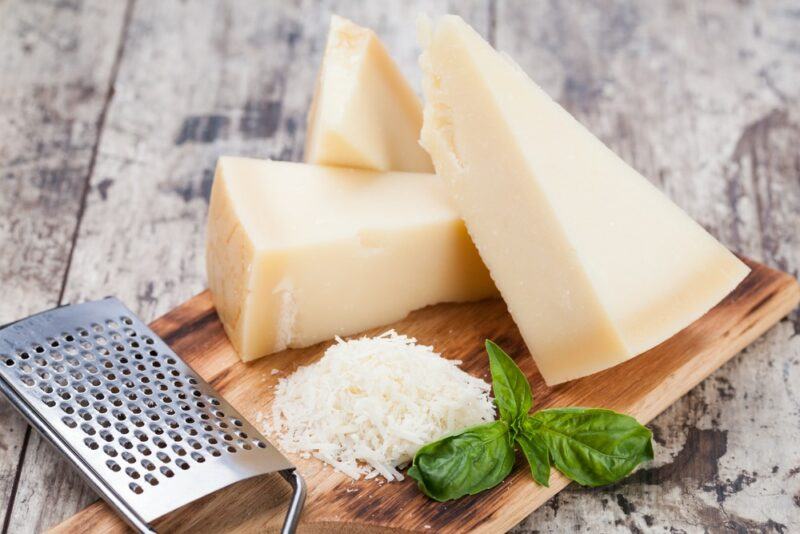 Soft cheeses, like feta, cheddar, and camembert, are popular on picnics. They're safe enough if you keep them chilled until it's time to eat them.
However, leaving them un-chilled for hours generally isn't a good idea. Such cheeses fare particularly badly in the height of summer and could easily make people sick.
They also get difficult to use once they start melting. Do you really want gooey cheese everywhere?
Hard cheeses like parmesan are much more resilient. Their lower moisture content means they're much less likely to go bad. They can certainly withstand the time it takes to get to your picnic spot and the entirety of the event.
Fresh Bread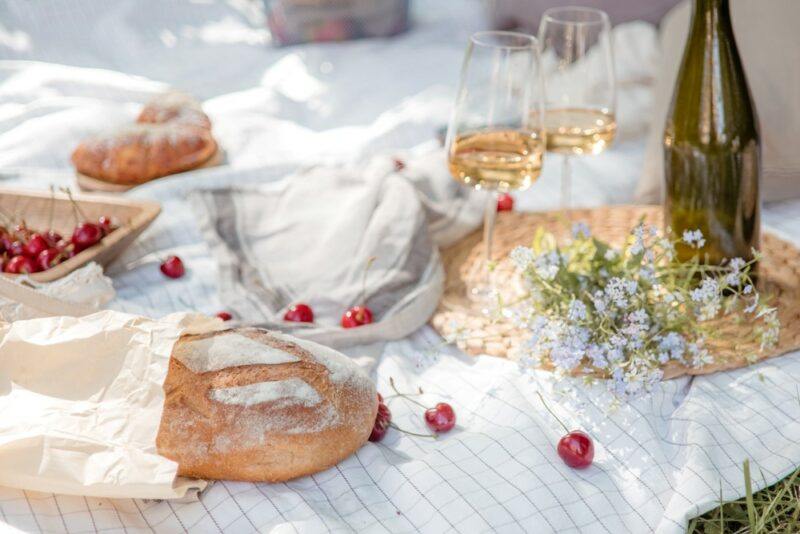 Bread is an excellent choice. Not only can it be a vehicle for so many different dips and toppings, but there's also absolutely no need to chill it.
Freshly baked bread is the best here. If you're not a great baker yourself, why not pick a loaf up from a bakery on the way out? Make sure to bring a good knife too.
You can also get creative with recipes, like making savory pull apart bread, which is easy to eat at a picnic.
Olives And Sundried Tomatoes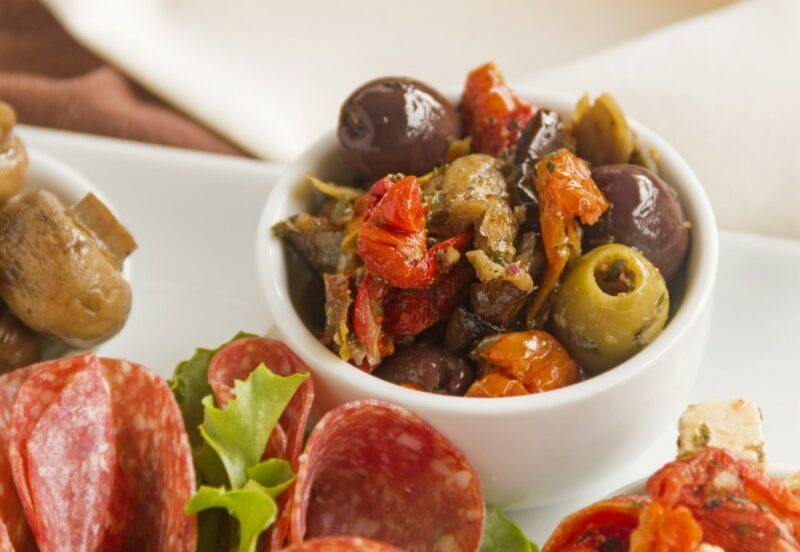 Olives and sundried tomatoes are both Mediterranean snacks that are perfect at a picnic. Try using them on a board with jerky, crackers, fresh bread, and perhaps some aged cheese.
Of course, that's just one option. Both ingredients are also excellent in sandwiches or as part of a couscous salad.
Dried Fruit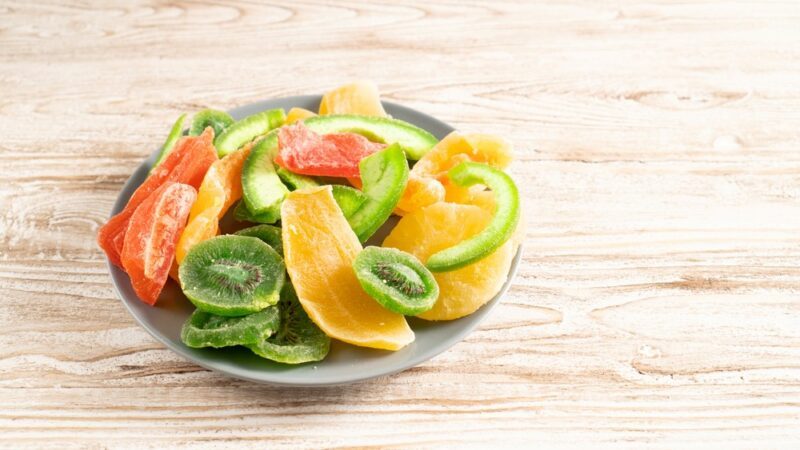 For a healthy alternative to candy, what about dried fruit? This still offers most of the nutrients and antioxidants found in fresh fruit, but in a different form.
Dried cranberries, raisins, and dried apricots are some of the most common types. That's just scratching the surface though. There are plenty of other types too, including kiwifruit and mango.
Not surprisingly, dried fruit is incredibly resilient. It will survive any degree of heat without loss of quality.
Apples With Peanut Butter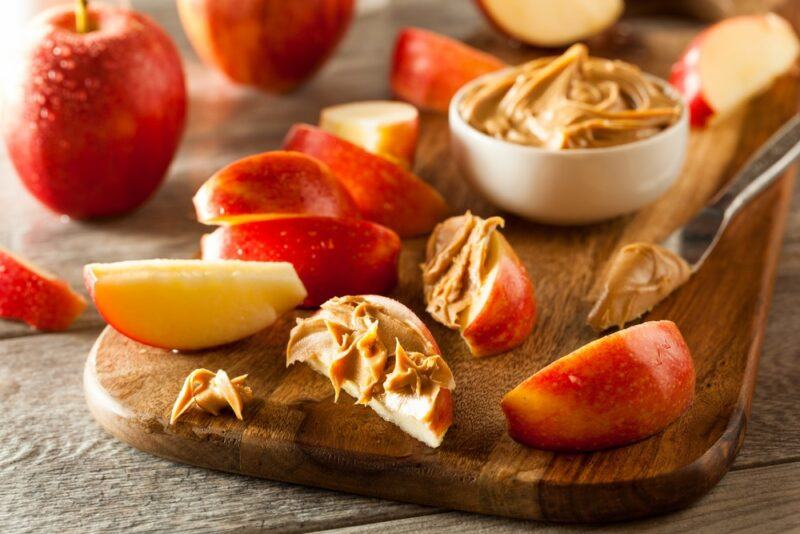 Spreading peanut butter on apple pieces helps create a more filling snack, one that's easy to prepare at the picnic site. Spritzing the apple spices with a little lemon makes things even better, as this stops the apple from going brown.
For a version that's a little different, why not use almond butter instead of peanut butter, then sprinkle a little cinnamon on top? Doing so is even more delicious and a nice change of pace.
Salami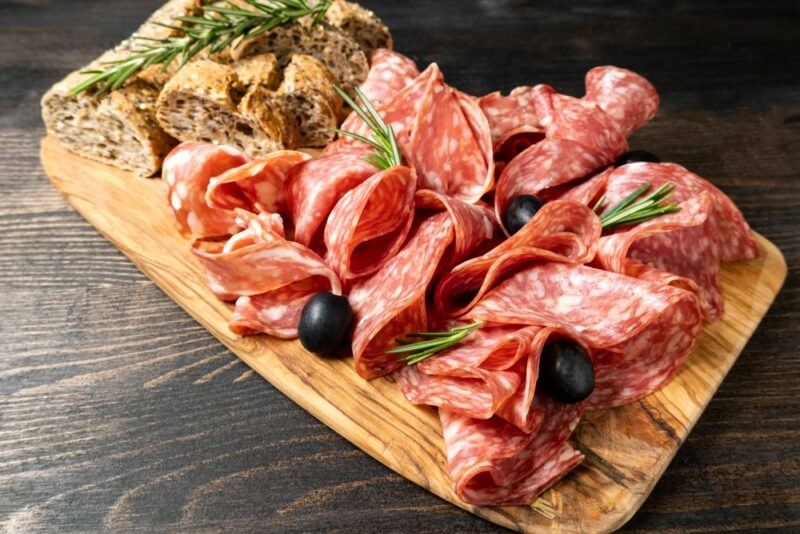 As a type of cured meat, salami has an exceptional shelf life. It's an easy choice for picnicking too, as salami works well on any meat and cheese board and is also fantastic in sandwiches. It's also a bit easier to eat than jerky.
There are a few things to watch out for, though. First, you need salami that doesn't say 'keep refrigerated'.
Second, you need to be working with a whole salami, one with the casing still intact. Salami slices don't have the same shelf life, as the cut surface allows bacteria to enter.
The best trick for a picnic is to buy a whole salami, then slice it as needed during the event. This should keep it safe and delicious for as long as you need.
The Right Sandwiches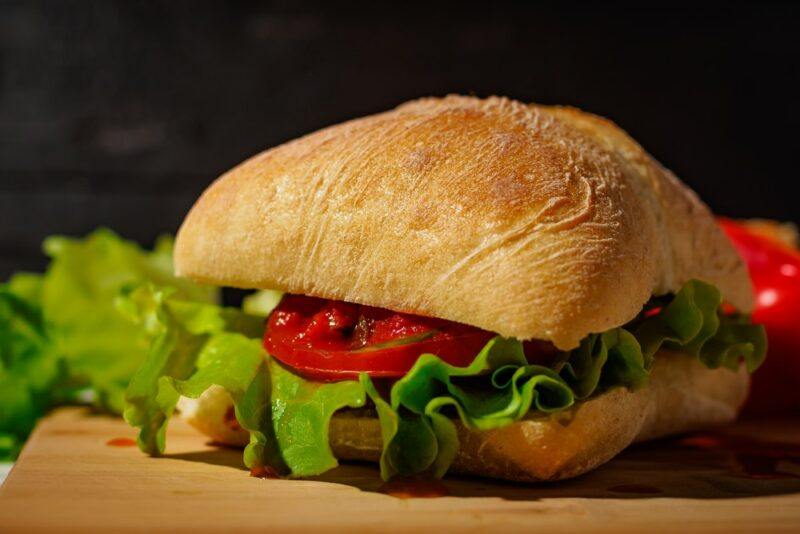 Sandwiches are a classic picnic staple, giving you something hearty and easy to eat. Plus, you can prep them beforehand, meaning that they're ready to go as soon as you get to the picnic site.
Sandwiches often rely on meat, cheese, egg-based spreads, so they need to be kept cool. Thankfully, there are plenty of versions that avoid such ingredients entirely.
For starters, you can make a vegetable-focused sandwich. Vegetables are particularly good, including tomatoes, radishes, spinach, cucumbers, and red peppers. You could even grill some of them beforehand.
It's best to avoid lettuce, though. Lettuce tends to wilt in the heat and loses its crispness. Dark leafy greens like spinach do much better when the temperature is high. Some spreads are okay for short periods of time, like hummus.
You could also go for the classic peanut butter and jelly sandwich. That's always a hit with the kids and great to bring along simply as a backup. Nutella works well too, as this doesn't need to be refrigerated.
Including spreads and meat in your sandwich is also possible. Doing so involves buying shelf-stable versions of those products, like canned salmon, tuna pouches, and even canned hummus. Look for items that are sold on the shelf, rather than from a fridge.
You'll need to keep the containers unopened until you're putting the sandwiches together at the picnic.
Protein Bites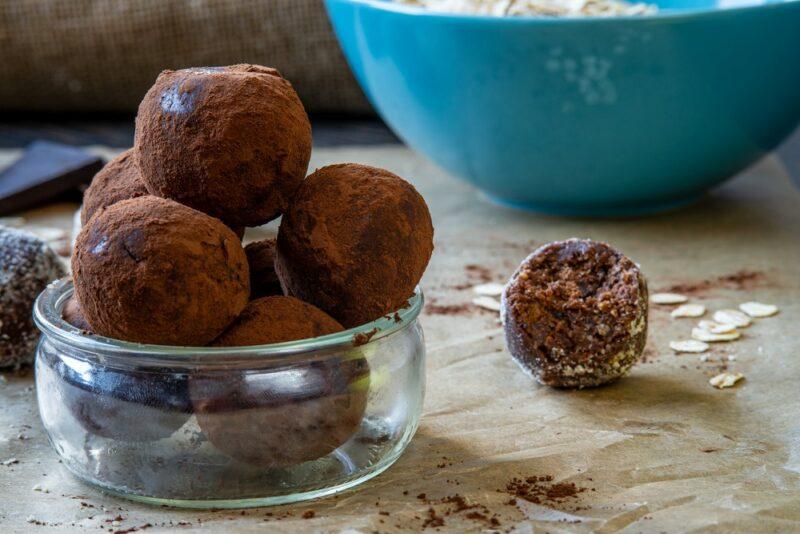 Protein bites are perfect for picnics, as they're satisfying, easy to eat, and taste like a treat. There's also endless variety in recipes and flavors, so there's something for everyone.
Most protein bites are also designed as on-the-go snacks, so they don't normally need to be kept cool.
Potential ingredients include peanut butter, protein powder, oats, chia seeds, maple syrup, chocolate chips, dried fruit, coconut flour, and almond flour. Some versions even rely on superfood ingredients, like matcha or goji berries.
There's no shortage of styles. So, why not try a few recipes for yourself? You can always tweak the ingredients if the bites don't taste quite right the first time around.
Salty Snacks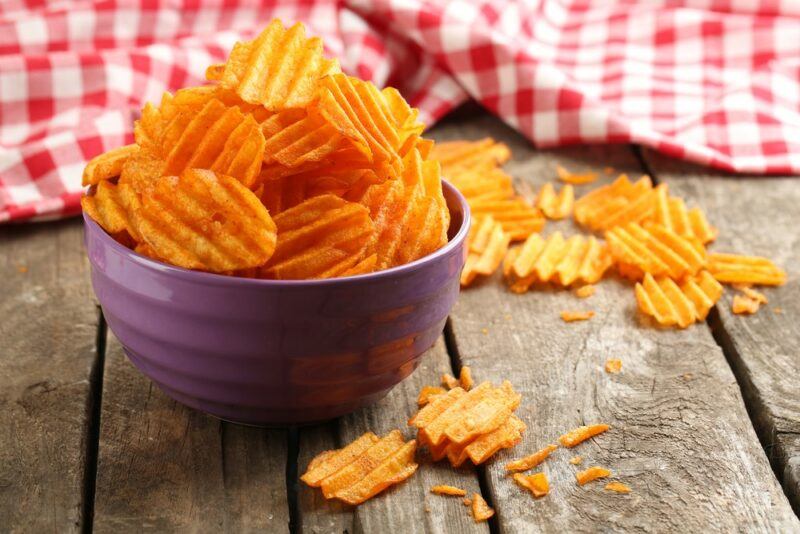 Most picnics need at least one salty snack, so why not chips? You can simply pick up a bag of them from the local store. They're always a hit.
If regular potato chips aren't the right fit, you could go with veggie chips. The processed versions aren't much healthier than potato chips, but they're still tasty. You can even make healthier versions yourself, like homemade kale chips.
Don't forget about pretzels, salted popcorn, and rice cakes either. Those are convenient, salty, and delicious as well. You could even turn to weird popcorn flavors (if you want something a little different).
Vegetable Salads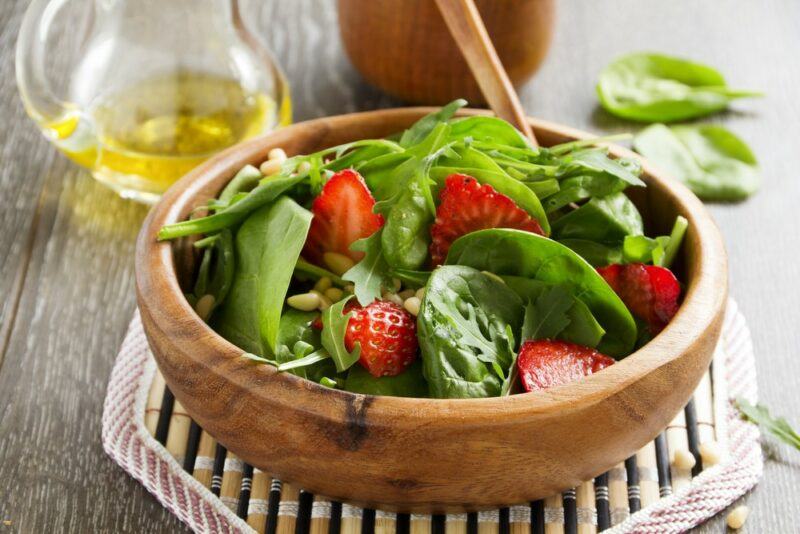 Vegetables are fine outside of the fridge, so vegetable-based salads are excellent for picnics. It's easiest to chop up the ingredients and mix them together ahead of time.
Then, you just need to add the dressing at the picnic (adding it earlier will make your salad go soggy). You'll need to focus on a dressing that will handle the heat, which means avoiding creamy or egg-based dressings.
Thankfully, there are plenty of other options. Balsamic vinaigrettes work particularly well, as do any unopened dressings from the grocery store (just be sure to avoid any dressings that are sold from the fridge).
As with sandwiches, it's best to avoid lettuce and stick with sturdier greens, like kale or spinach. You can also use canned tuna or even canned chicken if you want meat in the salad.
Some Dips And Spreads

You'll need to be cautious here, as many dips and spreads need to be stored in the fridge. A few exceptions are mustard, ketchup, and hot sauce. Balsamic vinegar and olive oil don't need to be refrigerated either – and the pair can be combined to create a fantastic dip for bread.
Salsa is another good choice. It is resilient enough to work well for a picnic.
You can also look for shelf stable versions. Hummus is a great example here. It is normally okay for an hour or two at room temperature, but that's it.
If you need longer, look for canned hummus in the grocery store. While this isn't as good as the fresh stuff, it can still be delicious and doesn't need to be kept in the fridge.
Processed ingredients, like cheese whiz are an option too, even though they're not particularly healthy.
Veggies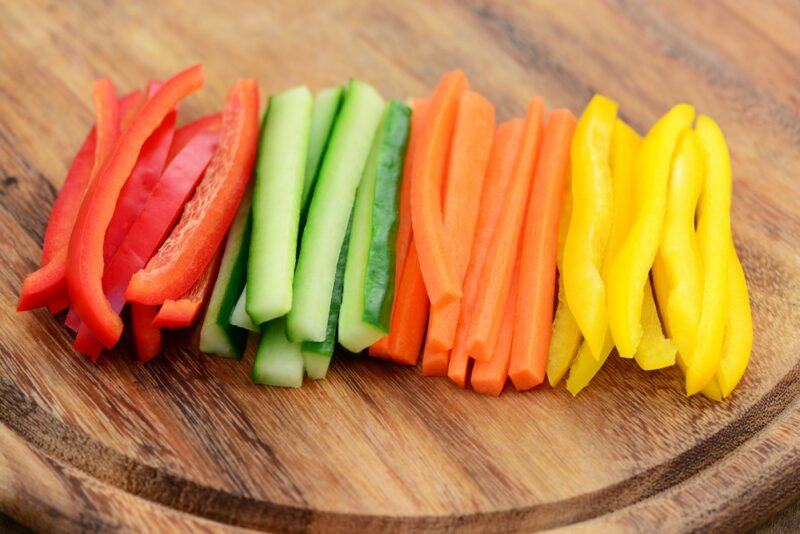 Veggies help to balance your picnic out, giving you plenty of nutrients and fiber. This is useful, as it's easy to go overboard on the salty and fatty treats.
Veggie sticks are a popular choice, especially if you can find a dip to go with them. Don't forget about cherry tomatoes and cucumbers either. These veggies are fresh and delicious enough to be enjoyed on their own.
Ants On A Log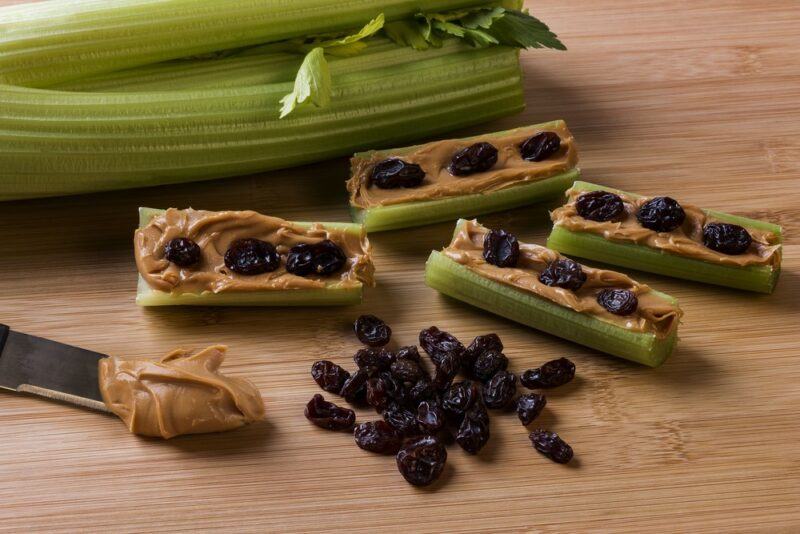 This fun snack is great for kids and adults. There are just three ingredients – celery, peanut butter, and raisins. The combination works surprisingly well, giving you crunch, creaminess, and sweetness, along with fiber, protein, and nutrients.
There's room for variation too. You could try swapping the peanut butter for cashew butter or almond butter instead. Or, what about a different type of dried fruit?
How To Make Your Picnic Even Better
While there are some delicious entries on this list, you don't need to focus entirely on foods that don't need to be chilled. Most of the time, you'll be able to keep at least a few things cold, even if you need to wrap them up tightly with an ice pack. Doing so can elevate your picnic to the next level.
The trick then is to prioritize. Think about what chilled foods will bring your picnic to life the most. For some families, this might be fried chicken drumsticks, particularly if you have picky kids. Other times, you might prioritize some cold beers over any type of cold food.
Don't forget about the basics either. You're going to need utensils and things to eat off, along with something to sit on.
Planning for the weather helps as well. If it's a hot day or if you're picnicking on the beach, you're going to need plenty of sunscreen and a hat. Probably some insect repellent too. If it's cold, you'll want layers and possibly a thermos filled with a hot drink.