Growing tomatoes can seem overwhelming at times. It's not that they're difficult to grow, just that there are so many different options. So, what are the best tomato varieties for your home garden and kitchen?
The answer entirely depends on what you're looking for. Do you want ripe and round red tomatoes, ones that can be easily sliced for sandwiches or salads?
Perhaps you're interested in yellow tomatoes instead. These tend to be sweeter and often have a milder flavor, although they're still delicious. There are also the ever-popular cherry tomatoes, not to mention the more unusual tomato varieties, including some that are almost black.
In this post, we'll highlight some of the most popular tomatoes in every style and what makes each one special. It should be easy to find a few new varieties for your garden.
Best Tomato Varieties
Regular And Familiar Tomatoes

These are the tomato varieties that you'll see the most often, particularly in grocery stores and restaurants. Most are large enough to be easily sliced for sandwiches and can also be used in many recipes.
Delicious

Delicious tomatoes, also called red delicious, are one of the most popular tomato varieties. The tomatoes typically grow to between 1 and 2 pounds, although they can get seriously large.
Not only are the tomatoes large and easy to use in sandwiches, but they also live up to their name by having a rich and fantastic flavor. They're also very meaty, with just a small number of seeds. That style works well for sandwiches too, as watery tomatoes can easily soak your bread.
Roma

Roma tomatoes should be instantly familiar. They're a little larger than cherry tomatoes and form an oval shape rather than being round.
These tomatoes are often called paste or sauce tomatoes – and truly do well in these roles. In particular, Roma tomatoes are fairly dense, have few seeds, and have thick cell walls. Such features create a much richer sauce than you get with slicing tomatoes.
Roma tomatoes are great for home gardeners as they thrive in many environments and are disease resistant. Just make sure they get plenty of sunlight.
Early Girl

Early Girl tomatoes look just like any other type of simple red tomato. Yet, they have one powerful feature – how early they produce fruit.
It only takes around 50 days for them to start giving you fruit. This is exceptional if you plan to use tomatoes in your meals or want to make preserves. The early harvest also means that the fruits are often produced before pests start to be a problem in your garden.
Early Girls have decent pest resistance and disease resistance too. This makes them a good choice for both experienced and newly initiated gardeners.
It's even possible to replant Early Girls late in the summer to produce a second new crop of tomatoes. This is a great way to increase yield without much extra effort.
Better Boy

Better Boy and Early Girl tomatoes look similar and can be used in many of the same ways. The most significant difference is harvest time, as Better Boys tend to mature later than Early Girls.
Better Boy can still be a good variety, as the plants are resistant to many diseases and wilting. They also grow juicy tomatoes that include the traditional tomato flavor. Honestly, it's hard to go wrong with Better Boys.
Celebrity

Now we're up to the Celebrity tomato. This is an easy-to-grow variety that's disease resistant, pest resistant, and produces many fruits.
The flavor profile isn't as exciting as some other tomatoes on this list, but there's still enough flavor to make these tomatoes useful. Celebrity tomatoes are versatile too, so you can use them in sandwiches, sauces, soups, and plenty of other situations.
San Marzano

San Marzano tomatoes are generally classified as a type of plum tomato, although they're longer and thinner than you might expect. The tomatoes hail from Italy and are great for cooking, due to their meaty texture.
Authentic San Marzano tomatoes are grown in Sarnese-Nocerino. The soil here gives the tomatoes a distinct flavor profile with plenty of rich tomato notes.
That said, some people grow San Marzano tomatoes elsewhere. The difference in the soil changes the flavor profile a little, often making the tomatoes saltier, with a little more acidity.
Cherry Tomatoes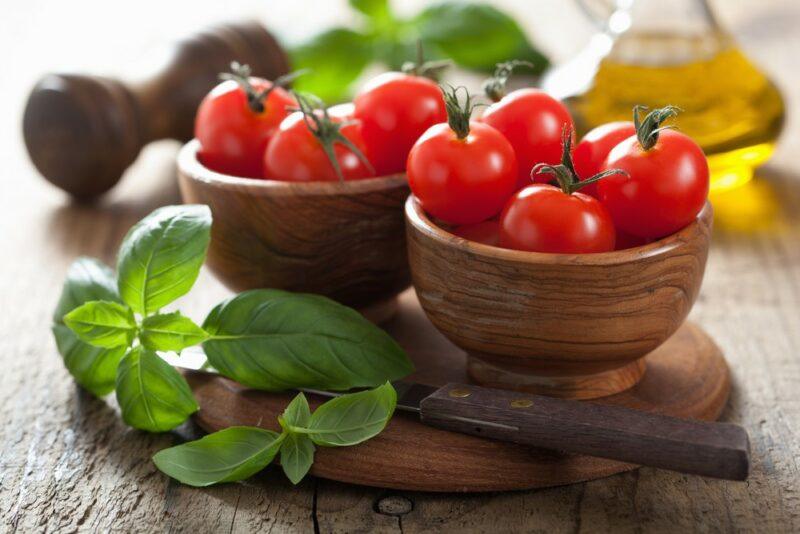 Now we have cherry tomatoes. These are small enough to be popped into your mouth whole and are often pretty sweet as well. Cherry tomato plants often produce an abundance of tomatoes, to the extent that it's hard to find uses for them all.
The large number of tomatoes is fantastic if you don't have much growing space. You might only need a plant or two to get all the tomatoes you need for your kitchen.
Sweet Million

With a name like Sweet Million, it's no surprise that this variety produces plenty of sweet and delicious tomatoes. These are excellent for eating straight off the vine or using in many dishes.
This is a great cherry tomato variety for beginners, as the plants are disease resistant and you get many fruits at a time.
Sweet Million produces long trusses and has a climbing nature, so a decent amount of support is needed for the vines. Anyone growing the plant in a small area should also prune it regularly to keep it contained.
Veranda Red Hybrid

Here's the ideal tomato variety for small spaces. It's basically a dwarf tomato plant that can easily grow in pots and balconies. The plant typically just reaches a foot in height and width, making it perfect for any situation with limited space.
Despite the small size, Veranda Red Hybrid plants are still prolific, producing many tomatoes every growing season. The tomatoes also have an impressive flavor and slight sweetness – a combination that's perfect for your cooking.
Sun Sugar

Yellow tomatoes typically have a milder flavor than red tomatoes, but are still very delicious. They don't taste as acidic either and have a different nutrient balance. These features are appealing, especially if you don't enjoy regular tomatoes.
Sun Sugar tomatoes are an excellent place to begin. These sweet little tomatoes mature early and may be some of the first fruits gracing your garden.
Pruning is important, as this is an indeterminate variety of tomatoes and keeps growing until killed by frost. Pruning the plant regularly helps keep the growth under control, while also providing the plant with more resources for fruit production.
Baby Boomer

The name Baby Boomer makes a lot of sense, as this tomato variety is incredibly prolific. You'll sometimes get upwards of 300 tomatoes from a single plant. That's tough to beat.
The tomatoes are all small, just an inch or so in size. Yet, the tomatoes remain sweet, juicy, and perfect for snacking.
Super Sweet 100

Super Sweet 100 and Sweet 100 are both delicious options for cherry tomatoes. Super Sweet 100 is often seen as the best of the two, as it has higher disease resistance.
The name Super Sweet is very accurate as well, as the tomatoes really are bursting with sweetness. It's pretty easy to grow 100 tomatoes on a single plant too. You might even get several hundred tomatoes, if not more, across an entire growing season.
Juliet

Juliet tomatoes are often classified as grape tomatoes rather than cherry tomatoes due to the way they grow. They have a similar softness and juiciness to the cherry tomatoes we've been featuring, just with a slightly elongated shape.
Juliet tomatoes also have a fairly low water content. This makes them excellent in sauces and for roasting. You can also use them in any dish that calls for Roma tomatoes.
Black Zebra Cherry

As the name suggests, Black Zebra tomatoes have the characteristic strips of a regular Zebra tomato, except that they're much darker. Some fruits appear almost black at first glance, although closer inspection shows that the tomato itself is a deep red instead.
Some varieties are a similar size and shape to regular Zebra tomatoes, so the color is the only difference. There are also cherry tomato versions, like the ones in the image. These have a similar flavor profile as the larger tomatoes, complete with plenty of sweet notes and a hint of smokiness.
If you like the style, keep an eye out for cherry tomato versions of the Green Zebra tomato as well.
Yellow Tomatoes

Red tomatoes are famous, yet they're not the only style. Yellow tomatoes are surprisingly common as well. These are yellow even when fully ripe and have a milder flavor than red tomatoes.
The mild flavor isn't a problem, as yellow tomatoes still taste delicious and work well in many recipes. They're arguably lower in acid than red tomatoes, which is another major benefit (that said, there's some debate about whether these tomatoes actually have a higher pH or whether they just taste sweeter).
Golden Roma

We've already talked about Roma tomatoes, so these beauties should be familiar. Gold Romas have a sweet and mild flavor with minimal acidity. They're also fleshy, making them excellent for many recipes – including yellow tomato paste.
Cooking isn't your only option. The golden tomatoes are still wonderful for eating raw.
Yellow Pear

Now we have Yellow Pear tomatoes. These are aptly named, as they are shaped just like pears. The tomatoes are also tiny, growing between 1 and 2 inches in length.
The tomato flavor is mild here and the fruits are slightly tangy, making them outstanding in salads. The tomatoes can also be used for preserved, eaten raw, or roasted. Honestly, they taste delicious no matter what you do.
Yellow Brandywine

While Brandywine tomatoes look strange, they've become one of the most popular varieties of tomato in the United States. Not surprisingly, the Yellow Brandywine tomatoes have similar features. They're just yellow instead of being red.
Yellow Brandywine tomatoes have many familiar qualities, including being flavorful and large enough to slice easily. The yellow fruits are also somewhat sweet and are taste less acidic than the red varieties.
Lemon Boy

Lemon Boy tomatoes are particularly bright, so they stand out in any garden and in most meals. As for flavor, you're looking at a sweet tomato with a hint of tanginess.
Lemon Boy plants are great for beginners, as they are disease resistant and hardy. Their high yield means you'll get a decent crop of tomatoes from just a few plants.
Amana Orange

As the name suggests, this tomato is more orange than yellow. It has a mild flavor with bright notes that are reminiscent of a pineapple. That flavor profile is fantastic in so many situations and is a nice change from regular tomatoes.
The tomatoes are also huge, which makes them excellent as slicing tomatoes for sandwiches and the like. Plus, Amana Orange is a type of Beefsteak, so you can use them in the same way as other Beefsteak varieties.
Blush Tiger

These beautiful little tomatoes have an unusual red blush and elongated shape that makes them stand out. There are also some interesting tropical notes to their flavor profile, which is a great reason to try them yourself.
Sun Gold

These yellow Sun Gold tomatoes are some of the sweetest cherry tomatoes you'll find. They're also versatile, working just as well roasted as they do in salads.
The plants can thrive outdoors or in a greenhouse. Some home gardeners even have great success growing these in containers, which is perfect when you're short on space.
Dark Colored

Now we're into the exciting varieties. These are purple, rather than red or yellow. Sometimes the purple coloring is so dark that they even look black – a pattern reflected in names like Black Beauty and Black Krim.
These tomatoes tend to taste more acidic than red or yellow tomatoes, but also offer a richer flavor and look stunning. There is often a smokiness and wine-like touch to the flavor profile. These features make the tomatoes stand out in sauces, sandwiches, and any other recipe.
Purple Cherokee

Don't these tomatoes look amazing? There's a long story behind the variety and it's thought that they were once grown by the Cherokee Indians.
The size and flat tops of the tomatoes make them excellent as slicers. As such, you can easily include them on a sandwich or cut them into chunks for a salad.
Black Krim

Black Krim tomatoes look similar to Purple Cherokees, but they have some distinct features. For one thing, Black Krims tend to be rounder than Purple Cherokee tomatoes, have a more balanced flavor profile, and taste less acidic.
Black Krims also have a low water content. As such, they can be easily used for tomato paste and various sauces. The tomatoes are fantastic for such recipes because they add an interesting color and some unusual flavors.
Still… Black Krim and Purple Cherokee tomatoes are similar enough that you wouldn't need both in your garden. Which you choose might depend on the seeds you can find first.
Blue Beauty

Here are some more stunners. Blue Beauty tomatoes have dark purple-black coloring on top, which then fades into red tones. Sun exposure plays a role in the coloring – meaning that each tomato has its own distinct pattern.
Interestingly, the blue pigmentation here doesn't have much flavor, so the tomatoes taste just like regular red varieties. The coloring will still make many dishes look stunning and provides you with anthocyanins, which are powerful antioxidants.
Black Beauty

The anthocyanin expression on Black Beauty tomatoes is so intense that these really do look black. The flavor is most noticeable if these are kept at room temperature rather than stored in the fridge (that's a good rule of thumb for tomatoes in general).
Like most black tomatoes, the pigment is mostly on the skin of the tomato. The interior is still the bright red color we're all familiar with.
You might notice some variation with Black Beauty tomatoes, depending on where you grow them. This is true for other anthocyanin rich varieties as well. Alkaline soils show up the blue and purple colors the most strongly, while acidic soils can make the tomatoes redder.
Black Cherry Tomato

These little Black Cherry Tomatoes often look like grapes when they're growing, although they certainly don't taste like grapes. They have an intense tomato flavor instead, along with plenty of sweetness.
The small size of these tomatoes makes them a fantastic introduction to the world of black tomatoes.
Midnight Roma

Here's another small dark tomato to try. The shape is similar to that of a Roma tomato, except the parent plants were actually Indigo Rose and Oregon Star.
Like Roma tomatoes, Midnight Romas are excellent for pastes and similar uses. The flavor profile is also better than most other paste tomatoes, making these an exciting addition to any home garden.
The challenge is learning when to pick them. Look for when the tomatoes start to become purple-brown and less shiny, rather than the blue-purple color they show when immature. This is a little difficult to spot at first, but gets easier once you've been growing the tomatoes for a while.
Indigo Rose

The dark Indigo Rose fruits stand out in any garden, especially if they get plenty of sunlight – as sun exposure gives the tomatoes their characteristic color. The tomatoes are relatively high in acidity and have a slightly sour aftertaste, but they're also delicious and versatile.
These cherry tomatoes are also a little larger than normal, which can be useful in some meals. However, these are late harvest tomatoes and take a long time to ripen. This can be frustrating if you want to try them soon.
Other Types Of Tomatoes
Beefsteak

Beefsteak tomatoes are large and very popular. It's not unusual to see these meaty tomatoes grow to a diameter of six inches. That's no small feat.
These tomatoes are often used in sandwiches and burgers, as they're so meaty and don't contain many seeds. Those features stop your sandwiches from getting soggy, while still allowing you to enjoy rich tomato flavors.
The popularity of Beefsteak tomatoes means that there are now many related varieties.
Green Zebra

Green Zebra tomatoes are stunning. When ripe, the fruits are yellow-green, with dark green stripes. The tomatoes taste more acidic and are more aromatic than most red tomatoes, but still work well in many recipes.
Why not try serving sliced green zebra tomatoes in a sandwich? The tomatoes are also great in salsa, especially as they make it look completely different.
The Green Zebra variety is a valuable reminder that not all tomatoes will turn red as they ripen. This means it's essential to learn about your tomato variety early on. Otherwise you mightn't realize when the tomatoes are ready to harvest.
Brandywine

Brandywine is an heirloom variety that produces large and flavorful Beefsteak tomatoes. These tomatoes are famous for their rich flavor. Their size also means that the tomatoes can easily be sliced and used in sandwiches.
Brandywine tomatoes can be grown just like other types of tomato. However, it's helpful to start them indoors a little before the final frost of spring, as the growing season is prolonged.
There are now many Brandywine varieties, including pink, red, purple, apricot, and black. The characteristics are similar in all cases, although the different colors have distinct flavor profiles.
Oxheart

Oxheart tomatoes have been around for much longer than many of the varieties we've been talking about today. Yet, they're still very popular.
The tomatoes have many of the same features as Beefsteak tomatoes, including being large and meaty. They can also be used in all the same ways. But, unlike Beefsteak tomatoes, these ones are tapered at the base and actually form a heart-like shape.
There are plenty of related Oxheart varieties too, including the pink Bulgarian Oxheart tomato and the light yellow White Oxheart.
Chocolate Stripes

These tomatoes are another Beefsteak tomato variety. They're most famous for their coloring, as the green stripes stand out. The tomatoes have an interesting flavor with sweet and tangy notes.
Chocolate Stripe tomatoes are a little tricky to grow, as you'll need some type of trellis or cage for support. The tomatoes are also best grown in a greenhouse, if you have access to one.
Frequently Asked Questions
What Are The Best Tomatoes For Salsa?
While you can use any tomatoes in your salsa, the best ones are meaty and have thick cell walls. Roma tomatoes are fantastic here, along with any other plum tomatoes, like San Marzano. Beefsteak tomatoes have similar features, so they're another great option.
Cherry tomatoes work well too, because of their small size. You could even use black or yellow cherry tomatoes in your salsa to make it look even more appealing.
Which Tomatoes Are Easiest To Grow?
Cherry tomato varieties tend to be easy to grow, as they're ready much faster than other types. Many are disease resistant as well. Some larger varieties of tomatoes are easy to grow as well, including Celebrity and Ballerina tomatoes, both of which are disease resistant.
Beyond this, try checking in with local garden centers for recommendations. After all, the easiest tomatoes to grow will depend on the local climate, your soil, the growing area, and related factors.
What Are The Best Tasting Tomatoes?
Personal preference plays a strong role in which tomatoes you enjoy the most. However, Brandywine, Cherokee Purple, Sun Gold, and Black Krim tomatoes regularly top lists as tasting particularly impressive.
What Are The Best Tomatoes For Sandwiches?
Sandwich tomatoes are often characterized as slicers. They tend to be meaty and offer plenty of flavor, without being too watery. Beefsteak tomatoes are especially popular here. This also includes related varieties like Brandywine. Roma tomatoes work well too, as their moisture content is low.
You could also turn to heirloom varieties, some of which have been featured on this list. These tomatoes are often flavorful and come in plenty of different colors. The color variation can make your sandwiches much more exciting.
Are There Low Acid Tomatoes?
Some of the tomatoes we've talked about are typically classified as low acid, including most varieties of yellow tomatoes. However, that distinction mostly refers to how the tomatoes taste, rather than their pH content.
So, regardless of color and flavor, most tomatoes are fairly acidic. This means that anyone with acid reflux and those prone to canker sores might need to avoid tomatoes and tomato-based products.