It's hard to go past tomatoes when you're looking for something healthy and delicious. The fruit is often bursting with this amazing fresh flavor, especially when it has been picked straight off the vine.
So, are tomatoes good for you?
The simplest answer is yes. Of course, they are. Tomatoes provide some important nutrients and antioxidants, including the famous lycopene.
Tomatoes also feature in many delicious and healthy meals, sometimes combined with ingredients like cucumber, pasta, chicken, or cheese.
Yet, despite these positive features, the health effects of tomatoes aren't as clear-cut as you might expect. There are a few concerning aspects too, including some of the compounds that are found in nightshade plants.
Are Tomatoes Good For Your Health?
Types Of Tomatoes
Benefits Of Tomatoes
How Tomatoes Could Be Harmful
What About Tomato-Based Products?
Are Green Tomatoes Safe?
Are Tomatoes A Fruit Or A Vegetable?
Final Thoughts
Types Of Tomatoes

The first thing to know is that there are many types of tomatoes, far more than we can talk about in this discussion. Seriously. The site Butter N Thyme has a list of 45 different types and that's not even all of them.
Some tomatoes are fairly easy to find. You'll often see them in grocery stores or farmers' markets. You might even grow some of them at home. Other types are more obscure and feature mostly in the gardens of passionate heirloom growers.
The different tomato types have their own balance of nutrients and plant-based compounds. Even so, there are many similarities, so most of the benefits and risks we're talking about today will apply to all of them.
Grape tomatoes. These tiny tomatoes are shaped like a grape, hence the name. They come in a variety of colors and flavors, with some sweet ones and others that are tarter.
Cherry tomatoes are small too but tend to be rounder and have thinner skin than grape tomatoes. They're often sweet and juicy – and are delicious straight off the vine.
Beefsteak tomatoes. These are the classic tomato for salsa, as they're large, juicy, and have plenty of flesh. You can find green versions too. These are a different variety, rather than being unripe. Green beefsteak tomatoes tend to be tarter and crunchier than their red cousins.
Cocktail tomatoes have a rich tomato flavor and tend to be soft. They're fantastic as cooking ingredients, although they don't hold their shape well.
Green zebra. This is one of many unusual tomato cultivars. It's distinctive for having dark green skin with yellow stripes. It can be difficult to work out when the tomato is ripe, given that the tomato is green when it is ripe and unripe.
Benefits Of Tomatoes
A Rich Source Of Lycopene
Tomatoes are famous for lycopene. This is a pigment molecule that gives tomatoes their red color. It's found in other fruits and vegetables too, including watermelon and pink grapefruit.
Lycopene has been studied extensively and linked to plenty of benefits. Many of these come from the antioxidant function of the molecule.
It's becoming clear now that antioxidants are critical for human health. They help to reduce oxidative damage from free radicals. By doing so, antioxidants could significantly decrease the risk of disease, decrease inflammation, and may have many more benefits.
That's not all.
Lycopene itself has been associated with decreased cancer risk, lower cholesterol levels, and even protection against sunburn.
Interestingly, the lycopene in tomatoes isn't harmed by cooking. Quite the opposite actually. If you cook tomatoes with some type of fat, like olive oil, you end up increasing the amount of lycopene and also boosting lycopene absorption.
Contain Other Plant-Based Compounds Too

Lycopene isn't the only powerful compound in tomatoes. There is a wide range of other plant-based compounds present. These compounds tend to complement each other, having similar but distinct impacts on your health.
Not surprisingly, tomatoes have powerful antioxidant and anti-inflammatory effects. Such effects can promote your health in many ways, helping to decrease disease risk and perhaps even leading to a longer life.
Some of the plant-based compounds are pigment molecules, which are often powerful antioxidants.
There's an interesting thing to mention here.
The specific pigment molecules vary depending on the type of tomato you're eating. Lycopene, for example, is common in red tomatoes, while green tomatoes have higher levels of chlorophyll instead and carotene is prominent in yellow tomatoes.
While pigment molecules all act as antioxidants, they can have different health effects to each other. This is one reason why the phrase 'eat the rainbow' is so important. By consuming foods from a variety of colors, you're getting plenty of different pigment types of pigment molecules.
Provide Nutrients And Fiber
Like other fruits and vegetables, tomatoes do contain various vitamins and minerals. They're particularly high in vitamin C, folate, potassium, and vitamin K.
All of these are important for health. Vitamin C, for example, has antioxidant functions and may help with your immune system, while potassium keeps blood pressure levels in check.
Then there's the fiber. You get roughly 1.5 grams of fiber in an average tomato, which is a decent amount.
Fiber sounds a little boring at times, yet it is essential, as fiber keeps our digestive system functioning well. Consume too little fiber and you're likely to experience constipation, irregular bowel movements, and poor gut health.
And, unfortunately, many of us aren't getting the fiber we need.
This is partly because modern diets rely heavily on processed food and processed food is often fairly low in fiber. Cutting down your processed food intake and consuming more fresh fruits and vegetables can help to improve your fiber intake and give you plenty of nutrients at the same time.
They're Low In Carbs
Tomatoes are relatively low in digestible carbs – low enough that they feature in many low carb diets. Even keto dieters can consume tomatoes, in moderation.
The low carb content is important, as there are so many concerns about how carbs affect health. Among other things, carbs influence your blood sugar levels and might increase inflammation.
Tomatoes may even be particularly important on low carb diets, as they're rich in phytonutrients, ones that you might not get enough of otherwise (as many types of fruit contain too much sugar to fit on a low carb diet).
If you're watching carbs, fresh tomatoes are easily the best choice. Tomato sauces and other products often have added sugar, so they might not be keto friendly at all.
May Improve Heart Health
Of all the ways that tomatoes can influence your health, their impact on heart disease risk is the one most worth highlighting.
This effect comes from multiple compounds in tomatoes, including the lycopene, other antioxidants, potassium, fiber, and various vitamins and minerals. The low sugar content is helpful too.
How Tomatoes Could Be Harmful

Too much of anything is bad for you. There's a lot of wisdom in that classic statement, especially when it comes to food.
It doesn't matter how healthy a given ingredient is – eat too much of it and you're likely to get sick. Even too much water can be harmful.
And tomatoes, as it turns out, have some serious risks that are often overlooked. Most of these aren't a big deal if you're having moderate amounts of tomatoes. However, the risks can stack up surprisingly fast.
Tomatoes Are Nightshade Vegetables
Tomatoes belong to the Solanaceae family of plants. This is the same family that contains deadly plants like mandrake and deadly nightshade.
As such, tomatoes are often called a type of nightshade vegetable. Plants in this family produce toxic alkaloids, including compounds like atropine and solanine. These are used to protect the plants from predators.
Some of these substances are thought to be harmful to humans, possibly contributing to autoimmune conditions like inflammatory bowel disease (IBD). Some studies support this idea, suggesting that alkaloids may harm the intestines and promote increase IBD symptoms.
However, the research is very limited. It has often been conducted in animals and test tubes rather than humans, often using higher alkaloid concentrations than are found naturally.
Compounds in nightshade vegetables could have other effects too, like increasing arthritis symptoms. Once again, there aren't many studies proving these claims.
Overall, there's little evidence that nightshade vegetables cause harm, but little evidence that they don't either. We can't be certain one way or another.
This is yet another reason that people need to pay attention to their own reactions. So, if you have an autoimmune condition, you could try cutting out nightshade vegetables for a while (or perhaps decreasing your intake). See if doing so has any effect on your symptoms.
They Can Promote Acid Reflux
Tomatoes often make acid reflux symptoms worse. This isn't too surprising, as tomatoes are quite acidic and contain a decent amount of citric acid and malic acid.
The alkaloids discussed earlier may also increase reflux symptoms. Thankfully, the effects aren't true for everyone. Many people eat tomatoes regularly without any acid reflux issues.
What About Tomato-Based Products?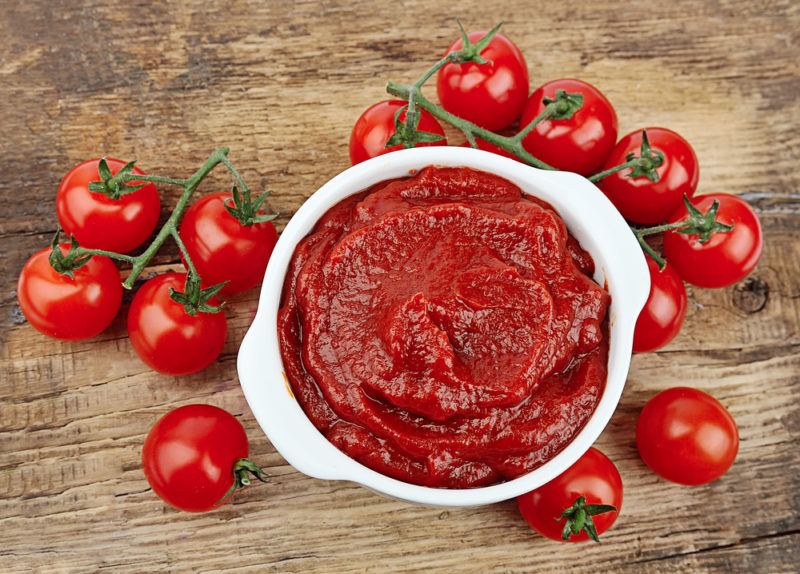 This discussion has focused on fresh tomatoes themselves, but we're not always eating tomatoes raw. Instead, tomatoes are often cooked, like when we use them in a rich tomato sauce.
Then there are all the related products, like tomato paste, tomato puree, sundried tomatoes. and tomato sauce.
Not surprisingly, the health effects vary depending on the specific product. In most cases, though, the bioactive compounds are still significant even in processed ingredients, like tomato paste.
Such products could even be particularly powerful, as they're a more concentrated source of compounds like lycopene. This does mean you'll need to be cautious, as a higher concentration of the compounds from tomatoes may increase some of the risks we discussed previously.
Remember too that many products are packed with additives. Ketchup, for example, is often surprisingly high in both sugar and sodium, not to mention additives that are used to add flavor and stabilize the product.
All in all, it's vital to be careful with tomato-based products. While you're still getting many of the compounds found in fresh tomatoes, the risks are often higher as well.
You'll see the most benefits by choosing brands wisely. Look for products that rely on natural ingredients and avoid additives. Or, better yet, why not make your own ketchup, tomato paste, and tomato puree? This way you know exactly what to expect.
Are Green Tomatoes Safe?
There are two types of green tomatoes. One is the green tomato variety that we mentioned earlier, which is fully safe and has similar benefits and risks as other types of tomatoes.
Then there's the other type, unripe versions of regular red tomatoes.
This type of green tomato features in the dish fried green tomatoes, along with many others. Unripe tomatoes work well in such dishes, as they are much firmer than ripe ones.
Opinions vary about whether these green tomatoes are safe or not. Some people say that they're perfectly fine. Others claim that green tomatoes contain toxic compounds.
Both claims are somewhat true.
As we discussed earlier, tomatoes do contain toxic alkaloids, as do other members of the nightshade family. These compounds aren't generally a huge issue but can be a problem in high quantities or if you're sensitive.
Not surprisingly, the levels of alkaloids are higher in green tomatoes than in ripe red ones. Green tomatoes are more acidic than red ones too.
These issues mean you need to be more cautious with green tomatoes than with ripe ones. If you're sensitive to the compounds in red tomatoes, you might need to avoid green ones entirely.
Also, if you're going to use green tomatoes regularly – make sure you cook them, rather than eating them raw. This decreases the concentration of concerning compounds, helping to protect you.
Are Tomatoes A Fruit Or A Vegetable?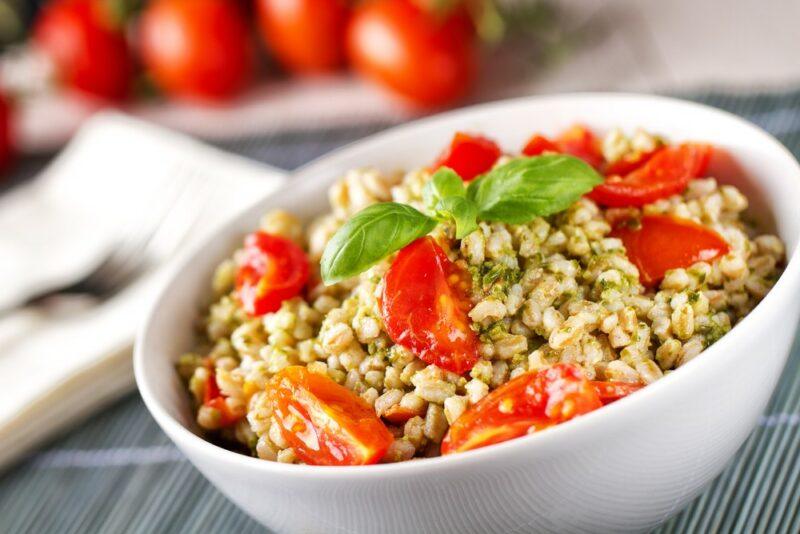 Tomatoes are interesting in that they're botanically considered a type of fruit, but we tend to call them vegetables and treat them as such.
That pattern isn't unusual though. Fruits and vegetables are botanically classified based on the part of the plant that they come from, where a fruit develops from the flower, while vegetables include other parts of the plant, like the roots and stems.
Practically, however, we tend to classify fruits and vegetables based on how we use them. So, because we're often cooking tomatoes and using them in sauces, we tend to call them vegetables.
Tomatoes also happen to be savory. This is another reason for calling them a vegetable, as we tend to think of fruit as being either sweet or tart.
In the end, the terms are useful for categorizing foods, but they don't mean that much. Tomatoes still have the same features, regardless of whether they're a fruit or a vegetable.
Are Tomatoes Bad For You?
Tomatoes offer clear benefits, while most of the risks haven't been proven. Does this mean that you can eat them freely?
Well… not necessarily.
Nutrition research always has its limits. Even when there have been plenty of studies, it's still tough to tease out the relationship between a given food and health.
This becomes even more difficult when there aren't that many human studies, as is the case for tomatoes. Besides, even when the research has been done well, it can't fully consider all the variation between one person and the next.
This is one reason that some writers talk about the idea of n=1. This means that your sample size should always be 1. You, in other words.
Rather than getting stressed by what works well for others, start experimenting for yourself. Try out different dietary approaches. See what works and what doesn't.
So, if you're worried about some of the compounds in tomatoes, try cutting them out for a while. If your health improves, you might be sensitive to tomatoes. If you don't see much change, then tomatoes are probably completely fine for you to eat.