Sushi is an easy and obvious choice when you want a healthy lunch while you're out. You can now find it served at countless restaurants and food courts, with no shortage of styles to choose from. But, let's get real for a second, is sushi good for you?
After all, sushi does have some potential problems too – including all that white rice. With all the concern surrounding carbs these days, maybe it's time to take a hard look at sushi to see whether it really is as good as we often assume.
Is Sushi Good For You?
What Is Sushi?
The Benefits Of Sushi
The Problems With Sushi
Sushi Eaters Tend To Be Healthy
How To Make Sushi Healthier
Final Thoughts
What Is Sushi?

At its most basic, sushi involves a combination of rice, vegetables, fish, and seaweed. The rice typically has vinegar added, which changes its flavor and pH. Some chefs add salt and/or sugar to make the rice taste better too.
The most famous styles of sushi include maki, temaki, and nigiri. Maki is the traditional rolled sushi, where rolls of rice and seaweed are then filled with a variety of ingredients.
Temaki, on the other hand, involves cones of dried seaweed that have been filled. They often go by the name hand rolls. Nigiri follows a different style, where you have a hand-formed block of rice that is topped with a piece of fish.
Those types are just examples. There are plenty of other options too, including inside out sushi rolls (where the rice is on the outside and the seaweed is on the inside), very large rolls, and rice balls.
That's not even counting all the differences in each category, including all the changes you can make to the ingredient selection (seriously, many types of sushi don't even include fish at all).
Not surprisingly, the type of sushi you eat and the ingredients in it will influence the health effects.
The Benefits Of Sushi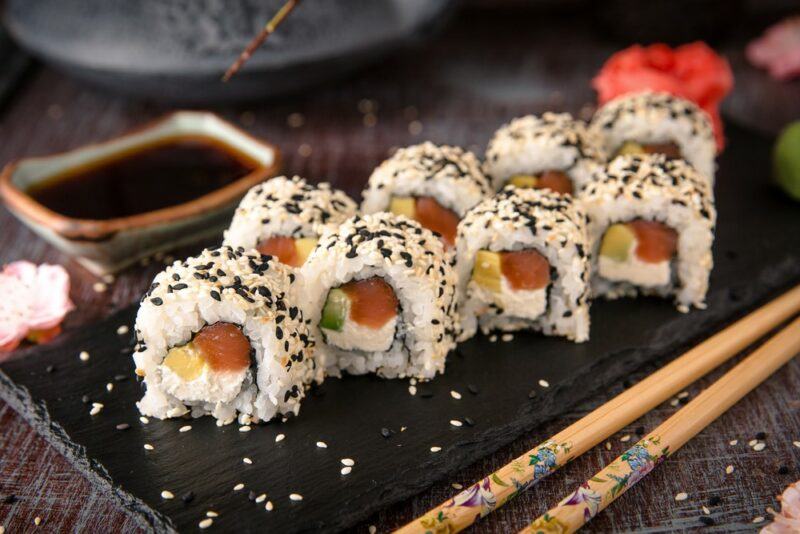 Can Provide Omega 3 Fatty Acids
Sushi often, although not always, uses fish as an ingredient. Fish is important, as it provides us with omega 3 fatty acids.
You've heard about those before, right? Omega 3s are famous, largely because they offer so many health benefits and also because many of us aren't getting as many omega 3s as we probably should be.
Sushi often just contains small pieces of fish, so you're often not getting a large amount of omega 3s. Still, it tends to rely on salmon and tuna, which are both oily fish, so that helps. Some people also find it easier to eat fish as part of sushi, rather than trying to have cooked fish for dinner.
Of course, fish isn't always used in sushi. Some versions use chicken instead, while others are vegetarian. Not surprisingly, you'll only get the omega 3 benefits if you focus on fish-based sushi.
The Ingredients Are Often Fresh And Nutritious
Fish isn't the only healthy ingredient that you find in sushi. Plenty of the other potential ingredients contain their fair share of nutrients and antioxidants too.
Possibilities include cucumber, carrots, shitake mushrooms, avocado, and plenty more. There's no denying that these ingredients are helpful, especially when they're fresh.
Don't forget about the seaweed either. Seaweed is often promoted as a healthy food, partly because it is a dense source of vitamins and minerals.
Plus, dishes that rely on fresh ingredients like these are always much more powerful than highly processed packaged food that is packed with additives.
Sushi may be even healthier if you choose a version made with brown rice rather than white rice. This way you're getting extra fiber. That fiber provides many benefits and should also give you a more sustained energy release than white rice.
Sushi Is Relatively Low In Calories
While the calorie content of sushi is influenced by the ingredients, it does tend to be relatively low in calories. This makes it an excellent choice when you're worried about weight or simply looking for a healthy option.
If nothing else, sushi tends to be much healthier than heavily processed meals from McDonald's or similar places.
You can also keep the calorie content low by making wise choices about your sushi. Avoiding cream cheese and large pieces of avocado can help lower the calories. Watch out for the sauces too, as many of these are high in fat or have added sugar.
Tempura shrimp sushi is another issue, as the shrimp have been deep-fried. Not surprisingly, any type of deep-fried food tends to be high in calories.
The Problems With Sushi

It Doesn't Contain Many Vegetables
Most of the time, sushi is made from rice, seaweed, and some source of protein (or perhaps avocado). There may be some vegetables included too, like a little lettuce or some cucumber, but the veggie content is normally quite low.
Even when you choose vegetarian sushi, the ratios are often far in the favor of the rice rather than the vegetables.
This balance isn't what we're normally looking for in a healthy meal. It's much better to have a large amount of veggies, while keeping the carb portion of the meal in check.
The Sauces Are Often Unhealthy
While sushi uses plenty of delicious fresh ingredients, there are also some concerning aspects, including the sauces. Many of these sauces are surprisingly high in sugar, salt, or fat.
Spicy sushi can be an especially big problem, as the sauces are often mayonnaise-based, which isn't ideal when you're looking for a healthy meal.
Sauces can seem appealing, as they make your sushi taste better. However, they have a dark side too.
One issue is that the sauce overpowers the nuances of the other ingredients. This makes it easier for companies to get away with low quality ingredients and sushi that is well past its best.
Some Versions Are Even Worse For You
Many restaurants experiment with different types of sushi. If the sushi is labeled as creamy, for example, it will often have some type of added fat. Crunchy sushi often has a batter, which often adds to the calorie content.
Then there's deep-fried sushi. The deep-frying does make the dish tastier, but you're getting a lot of extra fat and calories. Let's not kid ourselves. Deep-fried sushi is a treat. It shouldn't ever be seen as even vaguely good for you.
If you're ordering sushi at a restaurant, it's often best to stick to the familiar versions. This might seem boring, but at least this way you know what you're consuming. With dishes like 'angry sushi' or 'vengeful sushi', you really have no idea what the chef put in there.
The Mercury Content
Mercury is an important topic for anyone who eats fish regularly. The heavy metal accumulates in the flesh of the fish and can be harmful if you consume too much. Pregnant and breastfeeding women are particularly vulnerable to mercury, as are young children.
Anyone vulnerable should be careful with high mercury fish, including tuna and king mackerel. Unfortunately, tuna and mackerel are both often used in sushi.
If you already eat a lot of fish or if you're worried about your mercury intake, look for sushi that uses salmon instead. This may be more expensive than tuna sushi, but salmon contains much less mercury, making it a safer option.
The Risk Of Food Poisoning

Sushi often relies on raw fish and it sometimes ends up sitting in stores for hours at a time. This means there's always some risk of food poisoning.
You'll get the best outcomes by focusing on stores that prepare their sushi fresh, that always use fresh fish, and that have clean cooking and food prep environments. Even then, be aware that you're still taking a risk, as raw fish is never as safe as cooked fish.
If you're worried or have a sensitive stomach, look for sushi that relies on cooked fish or a type that doesn't use fish at all.
The Carb Content
There's one other potential problem with sushi – the rice. Rice is a high carb food, one that can quickly spike your blood sugar levels.
To make matters worse, sushi is generally made using white rice rather than brown rice. White rice is considered a simple source of carbs, one that contains few nutrients and is digested very quickly.
Simple carbs like this are often thought to be bad for your health. Some theories suggest that carbs lead to increased inflammation and higher disease risk. Our modern carb-filled diets could even be part of the reason that obesity and heart disease are such large problems.
If you're worried about carbs or already have a carb-rich diet, then it's probably best to moderate your sushi intake.
Sushi Eaters Tend To Be Healthy
Sushi has a variety of features that seem excellent for health, along with some that are much less appealing. The carb content, for one, is a reason that many people steer clear of sushi entirely (or make their own versions using cauliflower rice).
Yet, despite all the concerns, sushi originally hails from Japan and Japanese people tend to have a high life expectancy, even though their diet often heavily relies on rice. Various research studies suggest that Japanese foods may be a reason for the population's longevity. If that's the case, then sushi could have more benefits than we expect.
The health of Japanese people is a good reminder about the importance of not focusing so heavily on individual foods.
It's too easy to get caught up in the debate about 'is this good for me?' and 'is that good for me?', when individual foods aren't as important as we often expect. Instead, our health is more strongly influenced by our overall diets, along with how much we exercise, our stress levels, our genetics, and a variety of other factors.
How To Make Sushi Healthier

If you're concerned about sushi, why not look for ways to make it healthier, rather than cutting it out altogether?
Be Careful With Your Portion Size
Many modern problems with foods aren't so much about what we eat, but our portion sizes. It's easy to overdo it with food that we love. Plus, many restaurants serve larger portions than we should actually be eating.
To get around this, try making your own portions, ones that fit your appetite.
Eating slowly can help as well. This gives you the chance to savor your food, while also giving your hunger hormones the chance to adjust to the food you're eating. Doing this should mean that it takes less food to make you feel full and the risk of overeating is lower.
Here's another trick – stop when you're no longer hungry.
Seriously. The 8-piece box of sushi that we're commonly served is often too much. It's easy to keep eating because the sushi is delicious, but doing so isn't a great plan at all.
If you find that you regularly overeat sushi rather than wasting it, try buying a snack sized box instead or look for a place where you can choose your own sushi. If that fails, why not share with a friend?
Serve Sushi With Other Foods
Japanese meals follow an interesting style, where there are many small dishes of different foods for you to pick and choose from. Sushi might be one of these, but it often won't be the entire meal.
Taking a similar approach at home can be powerful. Other ingredients, like miso soup and kimchi, are much lower in carbs than rice, giving you a better overall balance of nutrients.
Make Sure The Sushi Is Fresh
It's also important to make sure that the sushi is fresh and stored well. After all, many types of sushi rely on raw fish, so there's always some chance of food poisoning. That risk gets higher if the sushi has been sitting around all day or if it's not kept at the right temperature.
Looking at reviews for sushi shops can help you to work out the best places to get fresh and delicious sushi. If multiple people talk about feeling sick after their sushi, it's a sure sign that you should look somewhere else.
Swap The Rice Out
To take things even further, why not make a low carb version of sushi? Keto dieters often do this by using cauliflower rice instead of regular rice (this recipe from My Keto Kitchen shows you how to do so).
If you do this well, you end up with a similar consistency to regular sushi and a surprisingly good flavor. The carb content is much lower too, which should make the sushi better for you.
Choose Your Fillings Well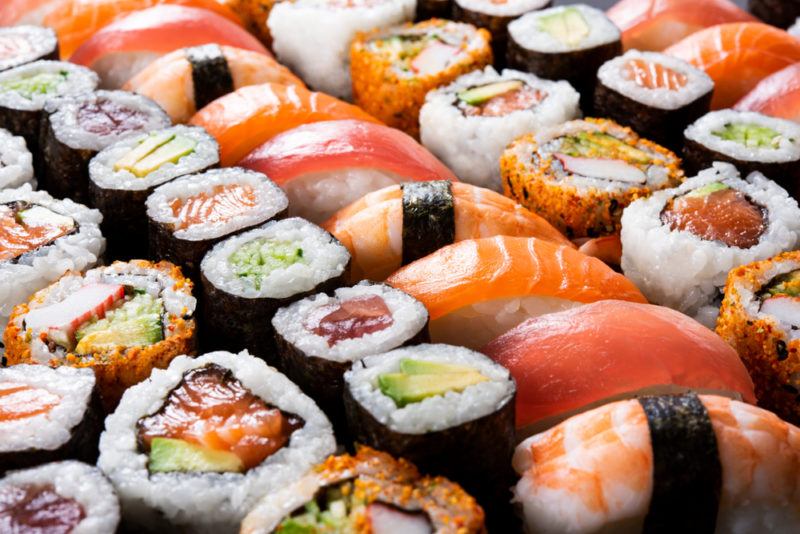 The fillings will influence how healthy your sushi is too. Anything processed or tempura-battered is okay every so often, but isn't something that you should rely on every time.
Salmon is an exceptional choice as a filling. While the fish is relatively high in calories, it's a powerful source of healthy omega 3 fats and tastes delicious too.
Tuna offers some of the same benefits, but it can be high in mercury. It's important to watch out for this, as too much mercury can be dangerous.
Avocado is appealing too, as it offers healthy monounsaturated fats. Plus, sushi that uses avocado instead of raw fish is an easy way to dramatically reduce your risk of food poisoning.
Doing forget about soy sauce as a topping, along with any ingredients that are cooked in teriyaki or soy sauce.
The sodium content of these sauces makes them a poor choice for anyone who needs to watch their sodium. Besides, let's face it, most of us are consuming more sodium than we should be.
Pay Attention To The Ratio Of Fillings To Rice
The rice is one of the cheapest parts of your sushi, while the fillings (particularly the fish) tends to be much more expensive. Because of this, some places give you lots of rice and hardly any fillings with your sushi.
The fillings are also the part of the sushi that you want, both for the flavor and for the health benefits. Thankfully, you can often see the sushi before you order. This should make it easy to see whether the sushi is worth the price or not.
Final Thoughts
Sushi is a healthy type of food in some ways, as it relies on ingredients like salmon, avocado, and seaweed, and is relatively unprocessed. It's also delicious and low in sugar, so it's easy to see why we come back to it time and time again.
However, as we've shown, there are some serious issues with sushi too, including the risk of food poisoning, the high carb content, and the fact that sushi doesn't contain all that many vegetables.
To get around these problems, it's important to limit your serving sizes. Also be careful about how often you have sushi. While the meal should be fine every so often, It isn't healthy enough to be your lunch every day of the week. Why not have sushi some days, then rely on vegetable-rich meals other times?
You'll need to pay attention to the type of sushi you choose too, as the term sushi now applies to a large range of different dishes. Sushi made using rice, vinegar, raw fish, and veggies is healthy enough. That pattern starts to change once you add creamy sauces, calorie-packed ingredients, or deep fry the entire thing.
Frequently Asked Questions
How Long Can Sushi Sit Out?
Sushi should only be kept at room temperature for a maximum of two hours – the same as most foods. If the environment is very hot, then you should put the sushi in the fridge much sooner – ideally after one hour.
Can You Have Sushi Without Fish?
Fish isn't an essential ingredient in sushi at all. Many versions skip the fish and stick to vegetables like avocado and cucumber.
Other protein sources may also feature in sushi, including chicken (particularly teriyaki chicken) and tofu. With so many different types, most people can find some sushi they enjoy.
Can You Eat Sushi When Pregnant?
Pregnant women can eat some types of sushi – generally sushi that has been prepared with cooked fish or any versions that skip fish entirely. The most important thing is to avoid any sushi with raw fish, as this isn't safe for you or your baby.
That's not the end of it though. You also need to make sure the sushi hasn't been sitting out too long, as this is a big issue, even for sushi that doesn't contain fish.
How Long Does Sushi Last?
Sushi made with raw fish should be stored in the fridge and eaten within 12 to 24 hours. You should be okay eating it the next day, but anything after this is risky. Seriously, you have raw fish in the mix, so you need to be wise.
If the sushi doesn't have fish in it, then it should last longer – up to a week in the fridge.
But, because there are so many types of sushi and differences in how it has been prepared, you'll need be wise. Keep an eye out for signs that it has gone off, such as a notable change to flavor, smell, or appearance. A slight sliminess on the rice is another important indication.
Is Sushi Japanese Or Chinese?
Sushi is most famously associated with Japan, partly because Japan now produces such a huge array of sushi. Indeed, the Indeed, the version of sushi that we know today has been refined and popularized by Japan. However, similar dishes have been found in other cultures as well.
Some theories suggest that the parent dish for sushi came from China, where fermenting fish and rice was used as a way to preserve fish. The Japanese, of course, took the meal in a different direction, where they started to eat the rice along with the fish.