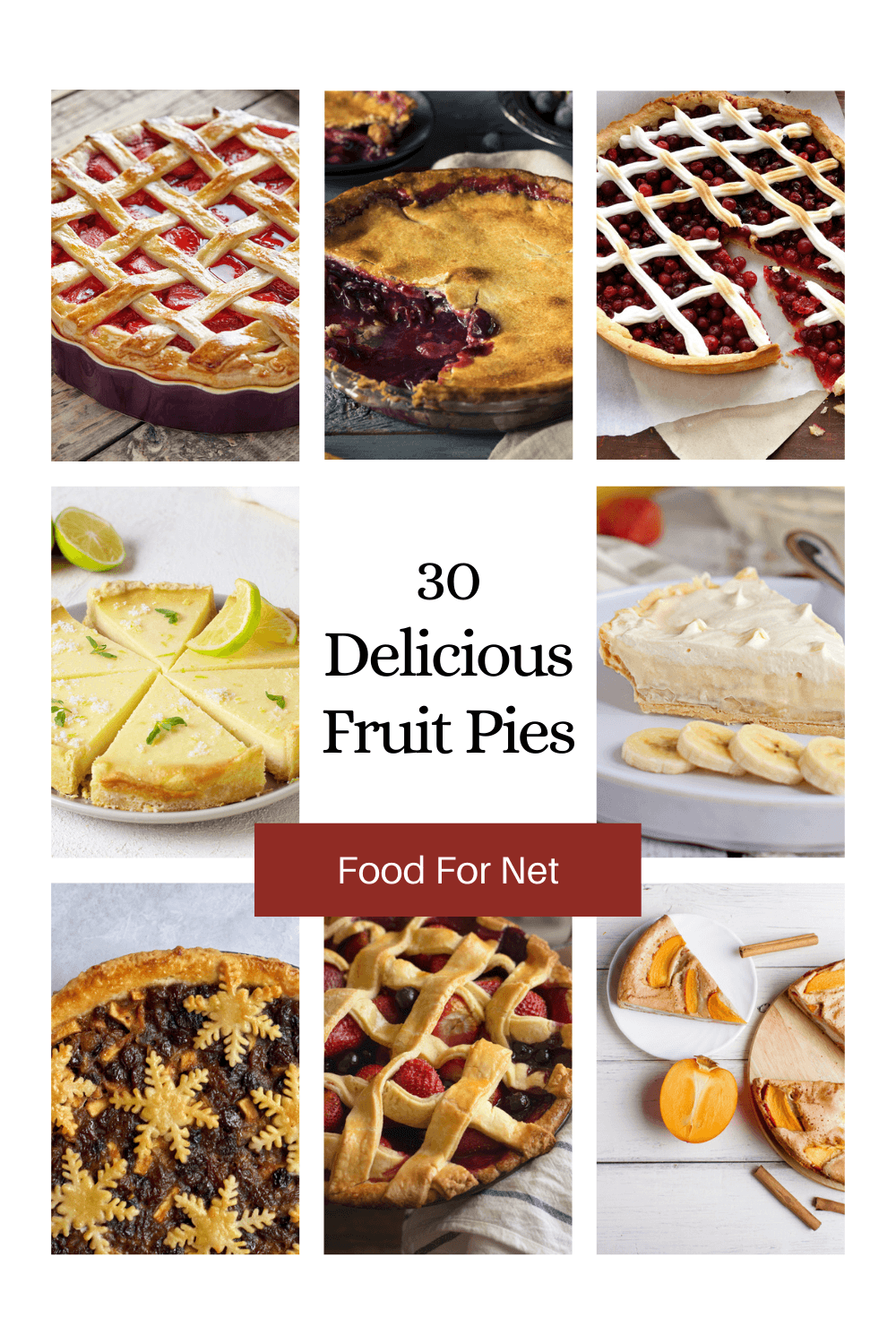 Fruit pies are such an amazing treat. They're a fantastic way to enjoy vibrant fresh summer fruit and seem to suit almost any occasion. They don't need to be boring either, as there are so many types of fruit pies to choose from.
Some types of pies will be exceedingly familiar and perhaps a little boring (apple pie, anyone?). Others are much more unusual. With any luck, some of the pies on this list are ones that you've never even thought about before.
Pies aren't that hard to make. And, once you've got the basics down, you can easily tweak the ingredients you use to make something different. You might add another type of fruit or two to create a more complex pie or use some spices to add a little pizzaz to the recipe. Even so, if you really want to enjoy a pie without all the work, try one of these pie of the month clubs to sample new flavors and techniques, or just enjoy a great pie for a special occasion.
Types Of Fruit Pies
Peach Pie
Plum Pie
Apple Pie
Cherry Pie
Strawberry Rhubarb Pie
Concord Grape Pie
Blueberry Pie
Nectarine Blueberry Pie
Blueberry Peach Pie
Apple, Pear, and Hazelnut Pie
Blackberry and Ginger Pie
Strawberry Pie
Boysenberry Pie
Key Lime Pie
Lemon Meringue Pie
Cranberry Pie
Apple and Cranberry Pie
Lemon and Raspberry Pie
Apple Raspberry Pie
Banana Cream Pie
Peach Huckleberry Pie
Mixed Berry Pie
Christmas Mince Pie
Winter Fruit Pie
Caramel Pear Pie
Pineapple Pie
Fruit Cocktail Pie
Black Forest Pie
Persimmon Pie
Any Type Of Berry Pie
Peach Pie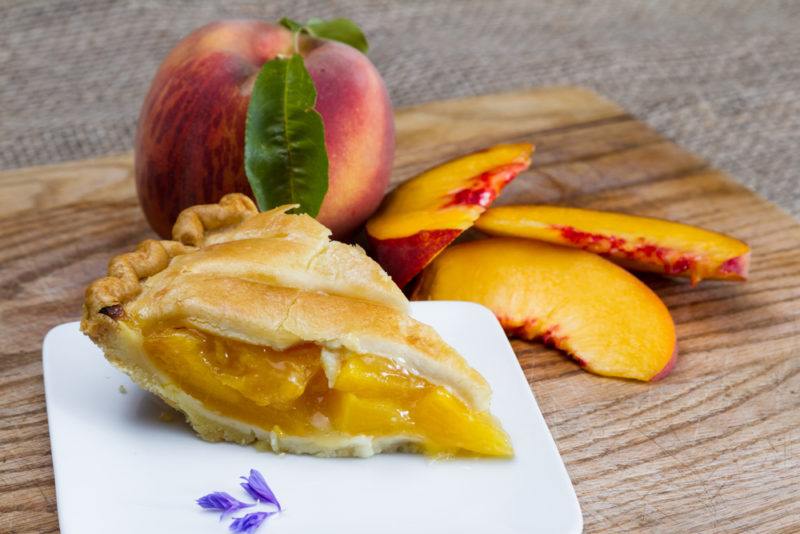 Peaches often have a delicate flavor, which isn't a bad thing at all. Using peaches in a pie means that you won't have an overwhelming amount of sweetness to deal with.
Peaches are on the mild side, so it's easy to play around with the flavor of your pie. One version I've seen relies on various spices, maple syrup, and bourbon to create a deeper and darker flavor profile.
You don't just need to stick to the traditional light and mild beaches either. Some have darker coloring and a richer flavor, like blackboy peaches and blood peaches. Using multiple types in the same pie could give you a fantastic complexity of flavor.
Plum Pie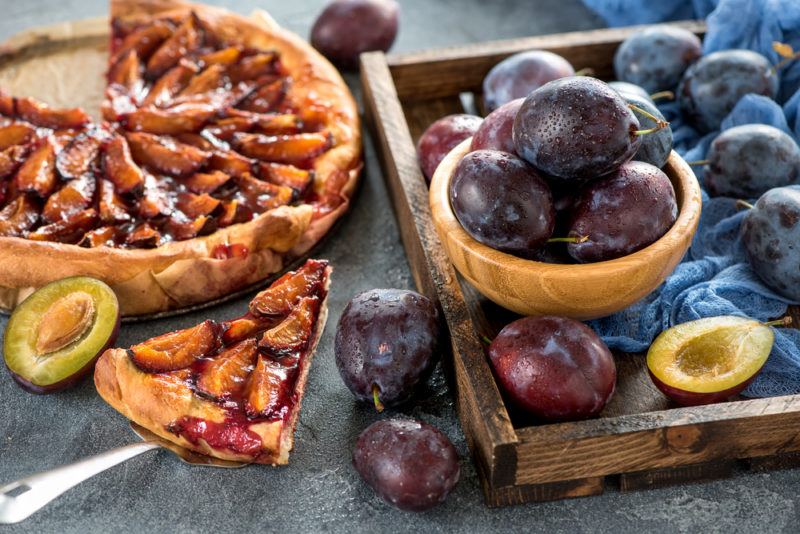 Speaking of darker colored fruit, a plum pie is another delicious approach. You get a rich dark fruit flavor without relying on berries, which is simply fantastic.
As with most of these pie ideas, there are plenty of styles that you can try. The classic approach would be a pastry-based pie crust with a pastry topping. Another option is to create something more similar to a cobbler.
For example, you might try skipping the base altogether and use fruit instead. Then you just need to worry about the topping. You can even make a biscuit-like topping, like in this recipe, to create a delicious pie that is a breeze to make.
Apple Pie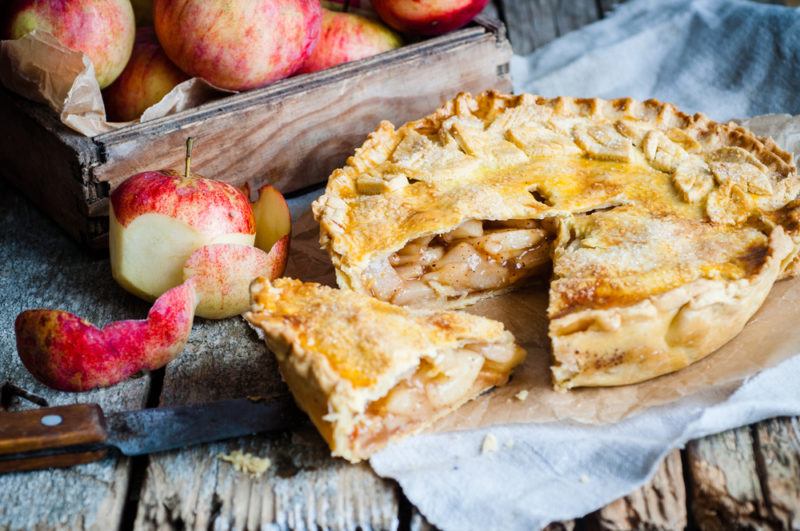 Apple pie is one of the classics. It is made time and time again, often as a holiday dish. Getting the consistency of the filling right can often be the hardest thing, as the apples can often end up too watery. Precooking the apples can help, and you can drain some of the juice before making the pie. You can rely on thickeners as well to give your pie more body.
While apple pies can seem mundane, there are many easy ways to vary the recipe and make it a bit more interesting.
Adding berries is one option. Raspberries are a fantastic and easy option as are blueberries. Alternatively, you could look for a less common type of berry. There's no shortage of options.
Herbs and spices can be fantastic too. Adding rosemary and honey, for example, can make a simple pie stunning. There are other classic additions too, like cinnamon and perhaps nutmeg.
One more option is to include caramel or salted caramel in the pie. This makes the flavor much more noteworthy. Besides, caramel and apples complement each other so well.
Cherry Pie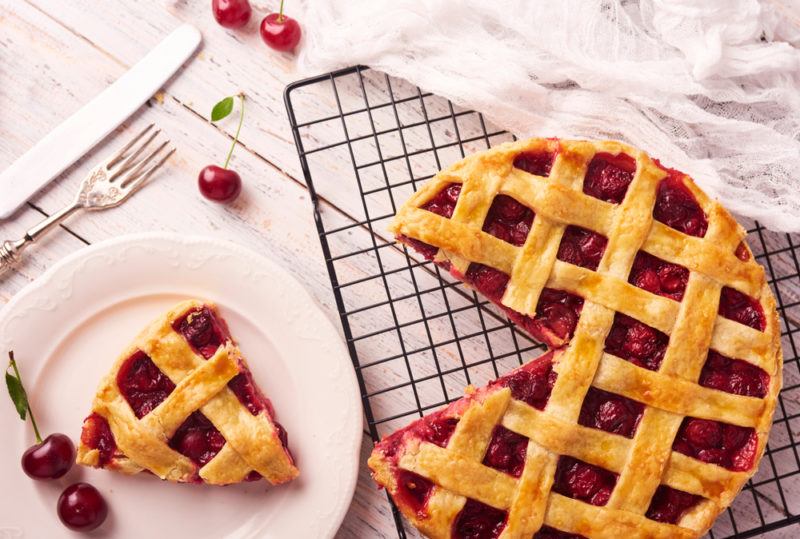 Cherries are another fruit that are incredibly common in a pie. Many versions focus on sweet cherries, but you can use tart cherries instead. Tart cherries are a great way to stop the pie from getting too sweet, although you'll still need to include some sugar in the recipe, or the tartness will get overwhelming.
Why not play around with both types of cherry in the same pie?
You can experiment with the top of the pie too. A lattice top can work well, as you can see the cooked cherries through the gaps in the lattice. This also lowers the amount of pastry and allows the flavors of cherries to shine through even more.
You could even take the tart approach. Here you're using some thin pastry on the bottom of the time and then a cobbler-like topping. You could use nuts as part of the topping, like in this Cherry Almond Crumble Tart. This creates a fantastic contrast between the sweetness of the berries and the nutty flavors in the topping.
Strawberry Rhubarb Pie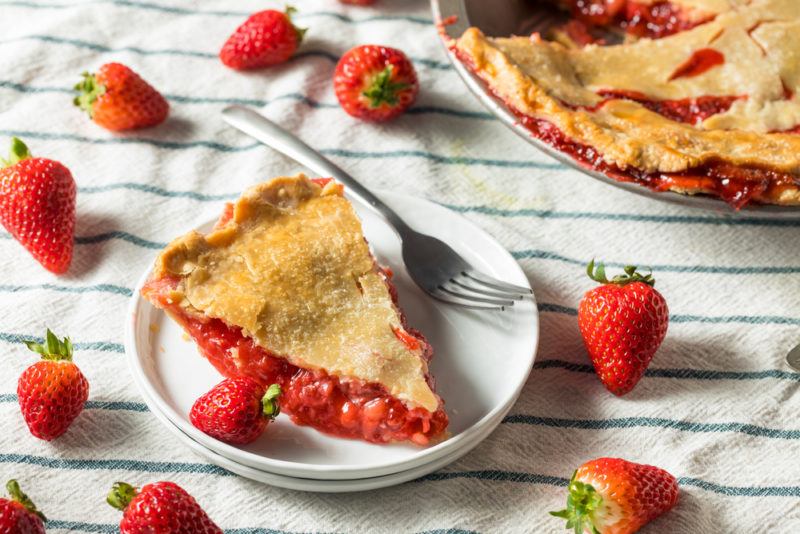 Fruit pies don't need to just rely on fruit – as this classic example shows. You can often add in other ingredients to change the balance of flavor and texture. Strawberries and rhubarb work well together because rhubarb has a notable sourness that perfectly contrasts strawberries' sweetness.
Using strawberries and rhubarb together gives you a delicious pie and isn't overly sweet. This is perfect for people who prefer a little tartness in their desserts.
Adding rhubarb is useful for nutrients that it offers too, including fiber and vitamin K1. The vegetable has antioxidant properties as well.
Concord Grape Pie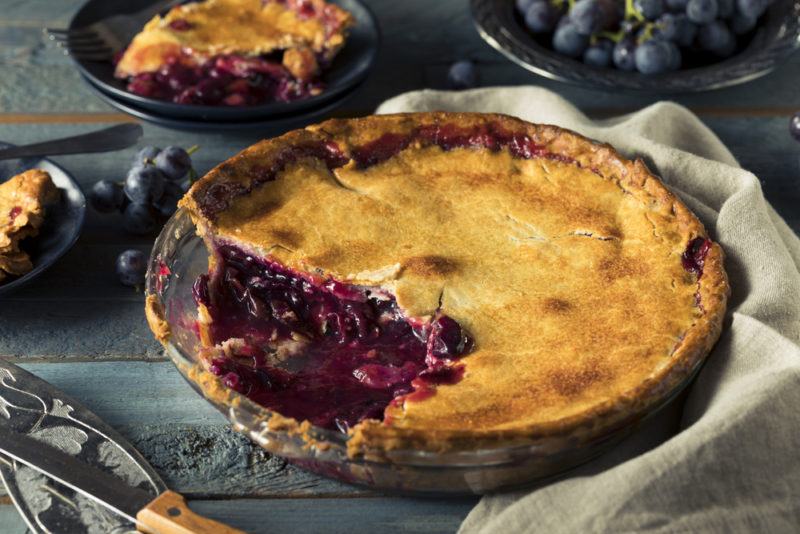 Grape pies aren't the most common type of fruit pie, but they can be delicious. They can have a rich flavor profile and you can rely on local grapes to make the dish. You'll often see grape pies served in New York, especially during the Naples Grape Festival every year.
Making the grape pie at home, on the other hand, can be tricky and time-consuming. This is partly because grapes are incredibly moist. This gives you a very wet filling that can easily turn into a soggy mess.
Using some cornstarch as a thickener can help a little. You can also precook the filling and allow it to cool before putting the pie together. This should help to give it more structure and prevent any serious issues.
Blueberry Pie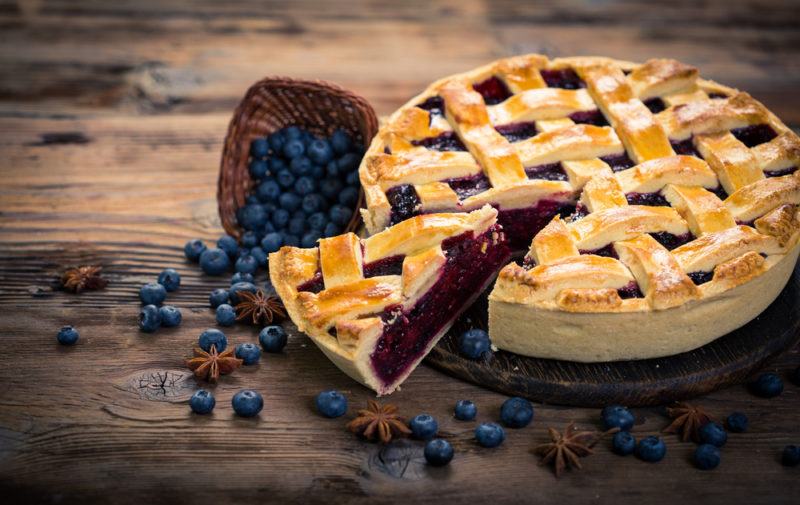 The rich color of this pie is simply amazing and the flavor is even better. You're getting plenty of benefits from the fruit, as blueberries contain more antioxidants than most other foods. These antioxidants can lead to many benefits, like improved immunity and decreased disease risk.
Like most fruit pies, you can eat a blueberry pie hot or cold. Serving it hot, or at least warm, tends to be better, as the heat brings out the flavor of the berries, making the pie taste much richer.
Nectarine Blueberry Pie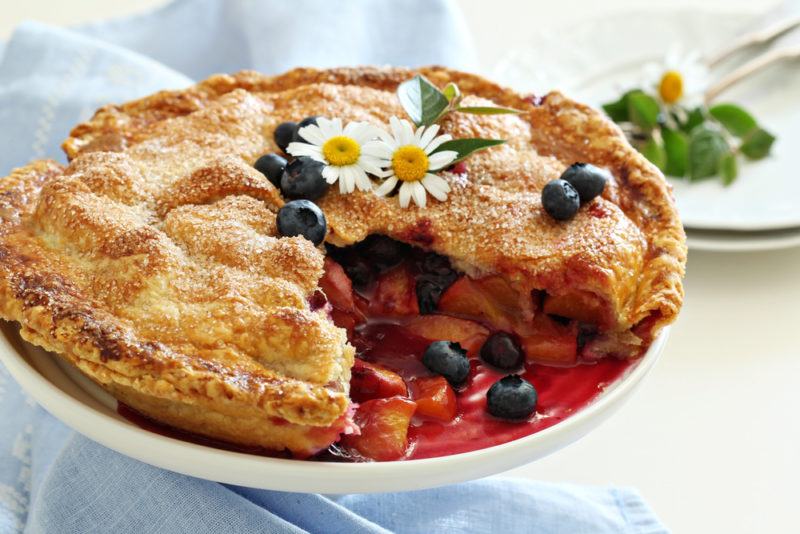 Many of the best fruit pies rely on two different types of fruit. You get a delicious contrast of flavors and textures. And, with only two types of fruit to worry about, this type of pie is straightforward.
In this case, you're focusing on blueberries and nectarines. Blueberries have that amazing rich color and flavor, along with plenty of antioxidants. Nectarines, on the other hand, have a milder flavor and a lighter color.
The nectarines help to bring some freshness and make the rich berry flavor a little less intense. Honestly, you won't go back to a classic blueberry pie after this one.
The interior of your pie mostly takes on the color of the blueberries, but you'll see the bright nectarines poking through from time-to-time too.
Blueberry Peach Pie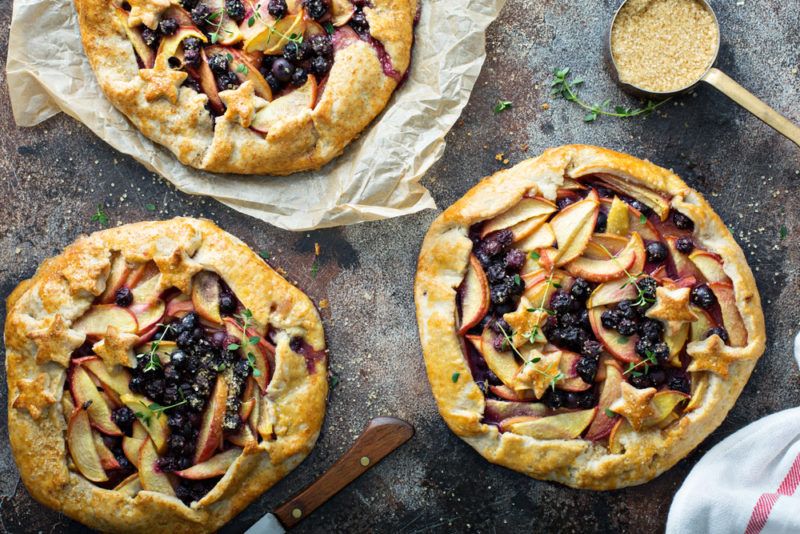 Blueberry and peach is another fantastic combination that tastes just as good as it sounds. It follows a similar idea as the previous pie. The peach adds a lighter note to the pie compared to one that just focuses on blueberries.
The biggest challenge is that peaches are juicy. Even if you cook them and drain them, you're going to get more liquid in this pie than many others. You could use some type of thickener to give the pie more body, although this would somewhat change the texture.
You'll need to be especially careful if you're relying on frozen fruit rather than fresh, as frozen fruit can be juicier. Make sure you drain it all the way first and blot it dry. This reduces the amount of juice in your final pie.
For that matter, you could use nectarines or peaches with any type of berry pie, like a boysenberry pie or a blackberry pie. The finished pie will be different depending on the fruit combination you use, but it's certain to be delicious.
Apple, Pear, and Hazelnut Pie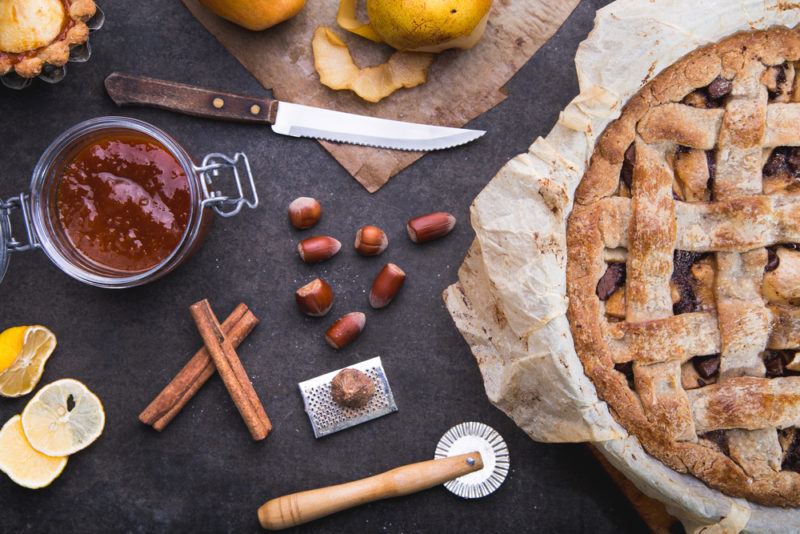 Here's a chance to take the traditional apple pie flavors and extend them out to create something much more unusual. Combining apple and pear in the same pie is clever, as the two have a similar texture, but they don't taste exactly the same. So, your pie tastes more complex than if you had used apples or pears.
The hazelnuts then bring the dish to an entirely new level. They provide a delicious nuttiness that perfectly complements the other flavors.
However, you will need to grind the hazelnuts until they are fine crumbs, rather than using them whole. Otherwise, the texture of this pie simply wouldn't work.
Blackberry and Ginger Pie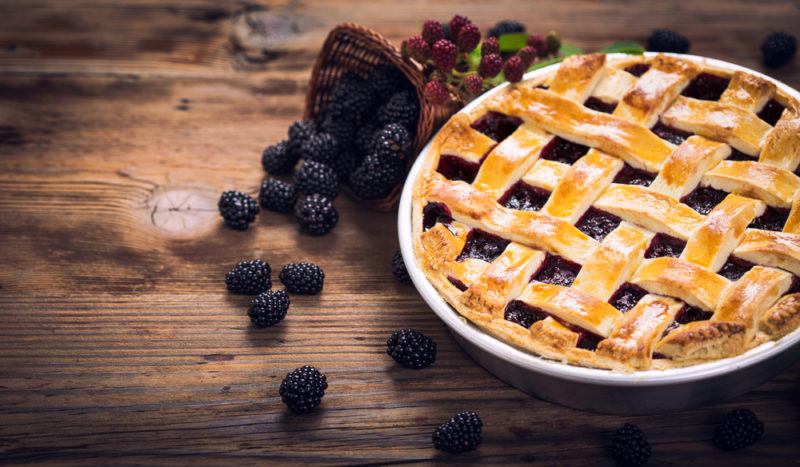 Here's another pie that plays with multiple flavors, but this time we're looking at a fruit and a spice. Combining blackberries and ginger in the same pie is a masterstroke, as ginger provides a delicious flavor contrast to the richness of your blackberries.
This is a great way to make the blackberries seem more exciting, without needing a second type of fruit.
Strawberry Pie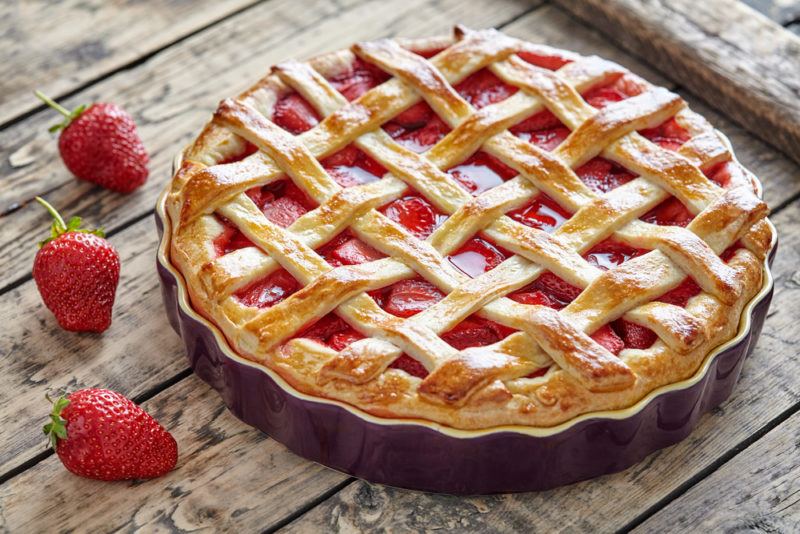 We mentioned a strawberry and rhubarb pie earlier, but of course, you can just focus on strawberries. This gives you a sweeter pie, as you don't get the distinctive sharpness from the rhubarb.
Still, the difference isn't a bad thing. A sweet pie could be perfect for many situations.
Many versions of this pie just rely on strawberries and fruit juice for the filling. However, some versions use gelatin as well. The gelatin is a fantastic way to help the pie set and give it a firmer texture than you'd get otherwise.
Boysenberry Pie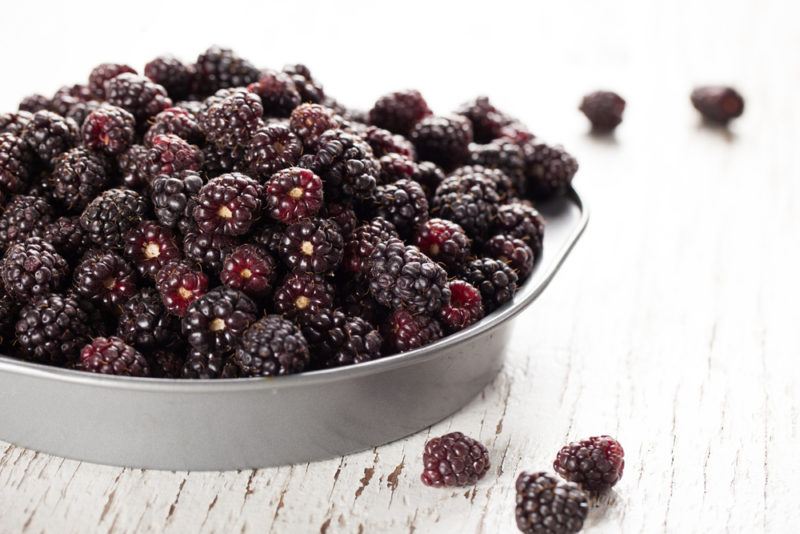 Boysenberry pies are always amazing, as boysenberries are such a rich berry. You don't need to include many other ingredients either. Even just the berries, a little lemon juice, and the crust could be enough to create a delicious pie.
If boysenberries are too intense on their own, you could add another type of berry into the pie. Strawberries and boysenberries combine well, as the two berries have distinct flavors and textures.
Key Lime Pie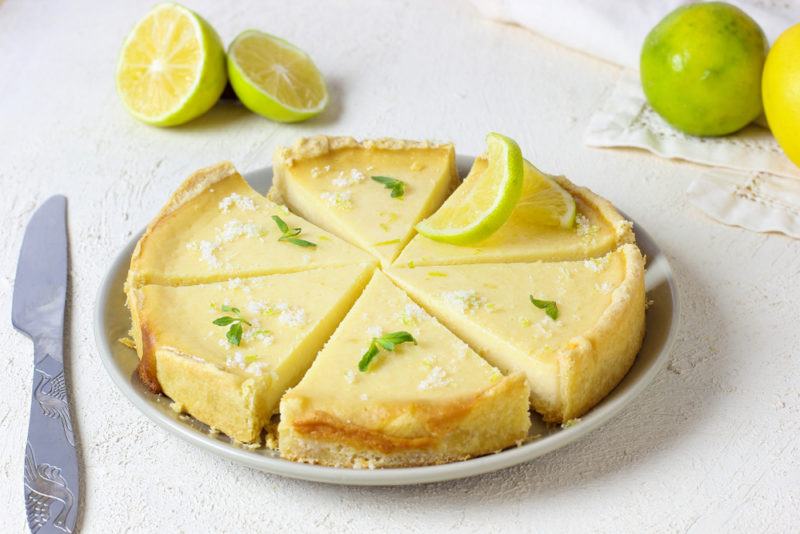 While fruit pies often just involve using fresh fruit in a pie crust, there are some other styles too. Key lime pie is a classic example. Here, you're using lime juice as part of a cheesecake-like filling.
Because you're using juice, you don't get much texture from your limes, but the lime flavor certainly stands out. The pie ends up with a fantastic creamy texture, along with bright vibrancy from the limes.
Lemon Meringue Pie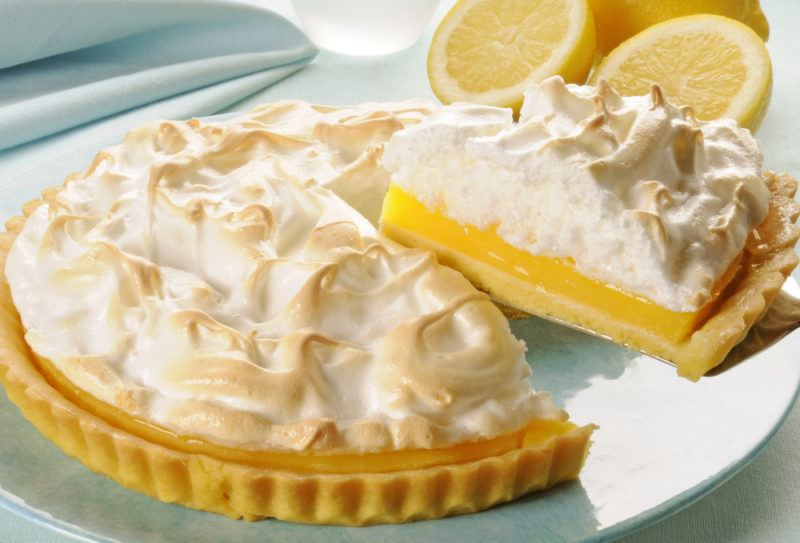 You can't really use whole lemons in a pie either, which is why lemon meringue pie has a similar texture to key lime pie. Once again, you're focusing on juice rather than the flesh of the fruit.
You'll need to use a decent amount of sugar too, as lemon can be quite tart.
It can take some experimenting to get the balance of sweet to tart quite right in a lemon meringue pie. If you're not careful, you could easily end up with a cloyingly sweet pie, which doesn't work all that well.
Keeping a little tartness in your pie also gives you a fantastic contrast between the pie and the meringue on the top.
And, of course, you can make lemon pie without the meringue. Just do exactly the same thing and skip the topping. Your pie will still taste just as good, if not better.
Cranberry Pie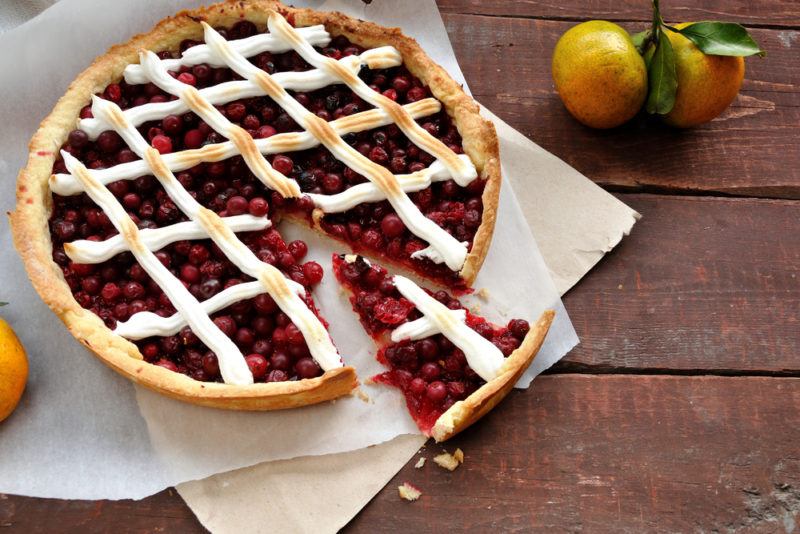 Cranberries have a delicious tart flavor – and they're wasted if you're only using them in cranberry juice and cranberry jelly. The berries have so much more potential.
This recipe from Wonky Wonderful takes a fun approach to cranberry pie, as the pie is creamy and delicious. You end up with an excellent balance of tart and creamy.
That's not the only angle. You can skip the creaminess entirely and make a more traditional fruit pie. Try adding in some orange zest and orange juice, just enough to balance out the tartness of the cranberries.
Cherries are another ingredient that you can add into your pie. They have a similar shape and color to cranberries, so the pie ends up looking fantastic. If you're using sweet cherries, then you get a delicious sweet-tart balance.
Apple and Cranberry Pie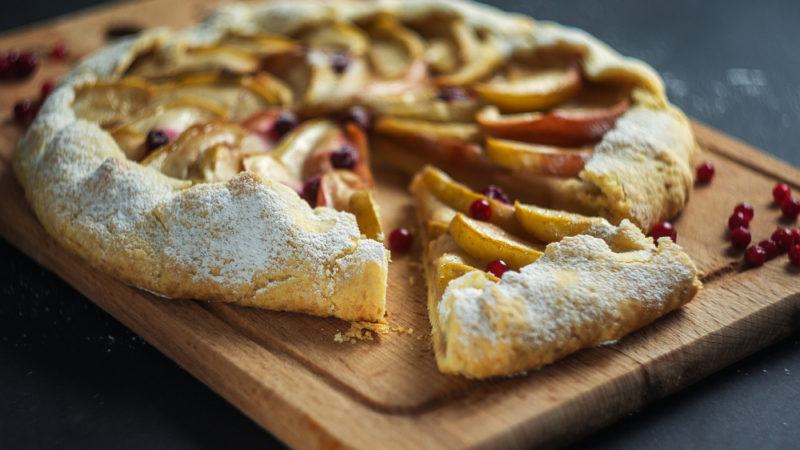 If a full cranberry pie sounds a bit on the intense side, then an apple and cranberry pie could be perfect. The apples help to spread out the cranberries, giving your dessert a more balanced flavor.
This could be a perfect pie to make in the fall, as you're combining two seasonal flavors at once. And, if nothing else, an apple and cranberry pie is more interesting than a traditional apple pie.
You could alter this pie by playing around with the ratio of cranberries to apples. For example, you might make an apple pie that uses a handful or two of cranberries – just enough to give it some flavor. On the other hand, you might try one that is mostly cranberries, where the apples are simply a way to stretch the fruit a little further.
Lemon and Raspberry Pie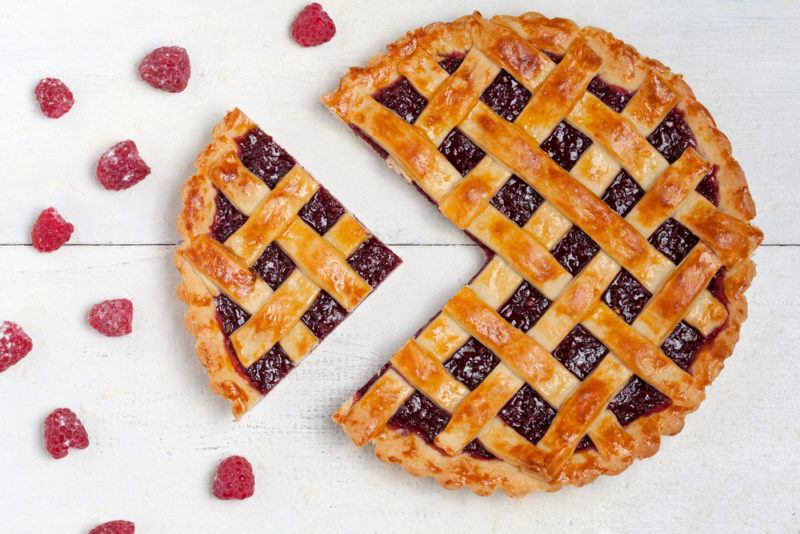 You can also combine two different types of fruit in a single pie. Take this one as an example. You're using lemons and raspberries in the same pie. The pairing works well, as sourness from the lemons helps to balance out the sweetness from your raspberries.
Combinations like this can be amazing, as fruit pies can easily be far too sweet. After all, there's a lot of sugar in there from the fruit, not to mention any other sweet ingredients.
Apple Raspberry Pie

If lemons are too tart, try combining apples and raspberries in the same pie. Apples have a relatively mild flavor and they're not as sweet as berries.
Using them with raspberries is a great way to make your pie less intense. This helps to stretch your berries further, which is good if you don't have many of them on hand.
Banana Cream Pie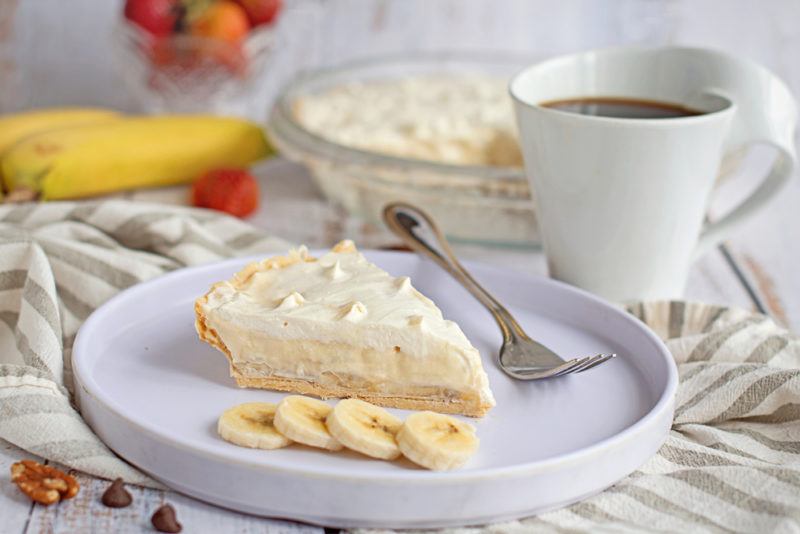 Banana pudding is a delicious dessert, so why not get the same texture and flavor combination in a pie instead? To do so, you'll normally be using instant pudding mix along with your bananas.
You could simply use Cool Whip as the topping for your pie or perhaps whipped cream. If you want to be more creative, try combining the whip with whipped cream cheese. This makes the topping a little less sweet and gives you a delicious balance of flavors.
Peach Huckleberry Pie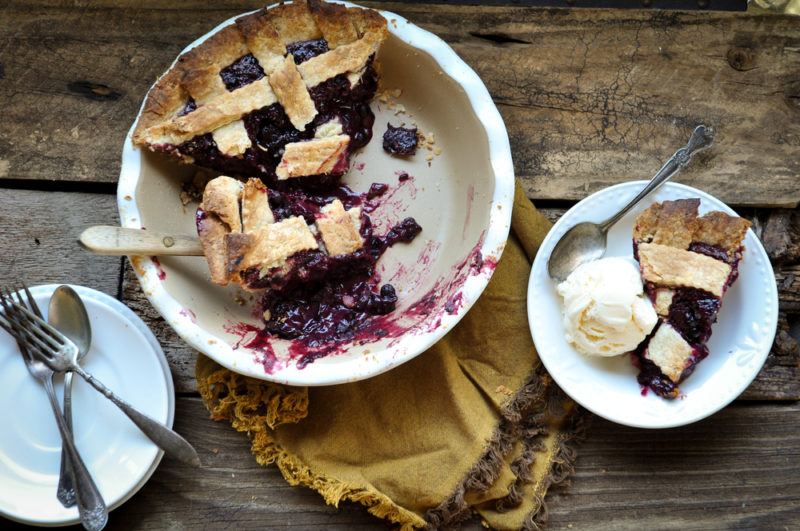 Who says that we need to stick with the classic flavors in your pie? This pie relies on peaches and huckleberries. You get the delicate sweetness of the peaches, along with the stronger flavors of your huckleberries.
Huckleberries are very similar to blueberries and you can use them in all the same recipes. Huckleberries are a little tarter, so you'll need to use a little more sugar for a huckleberry pie than for a blueberry one.
Mixed Berry Pie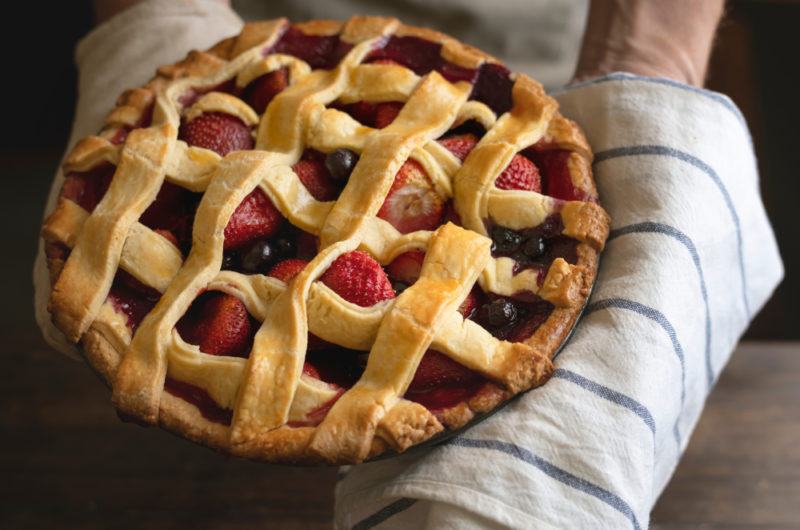 We've mentioned various berry pies already, like strawberry, blueberry, and the like, but you're not limited to a single type of berry. You can use a combination of berries instead.
Doing this can be even better, as you're getting some flavors from each type of berry that you include. Blackberries, blueberries, and raspberries make for a fantastic combination, especially as raspberries have a brighter flavor than the other two types.
You can even make this type of pie using frozen berries from your grocery store.
Other berries would work too, including uncommon options, like loganberries.
Just be careful of strawberries with this type of pie. They have more flesh than other types of berries and may react differently to the same amount of baking time. If you're using them from frozen, the strawberries might not have fully thawed by the time the pie is cooked.
One fun trick is to cook half of the fruit that will go into your pie and leave the other half uncooked. This gives you a more interesting balance of flavors. This could stop the pie from being as soggy too.
Christmas Mince Pie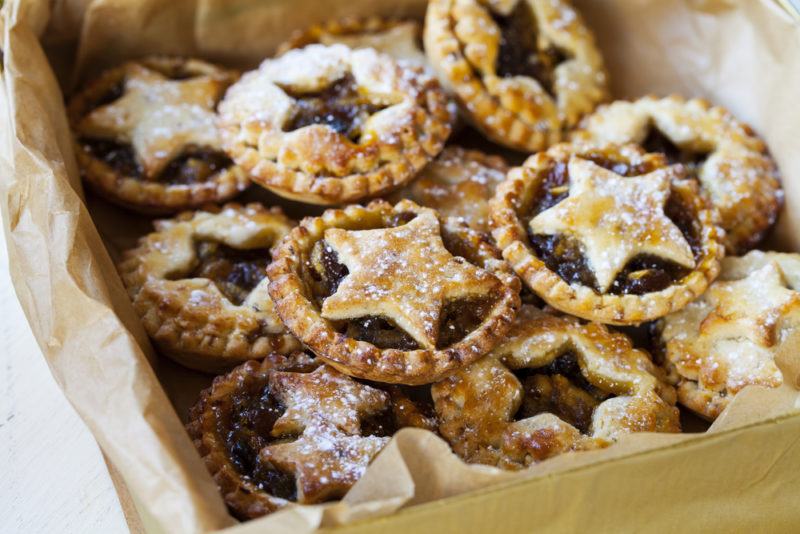 Traditional Christmas mince pies are a popular choice in the winter months. Most people rely on pre-made Christmas mincemeat. Of course, you can make your own too. Key ingredients include raisins, currants, chopped citrus peel, apple, and dark brown sugar.
The pies are a fantastic way to enjoy the flavors of fruit, without needing to have any fresh fruit on hand.
Winter Fruit Pie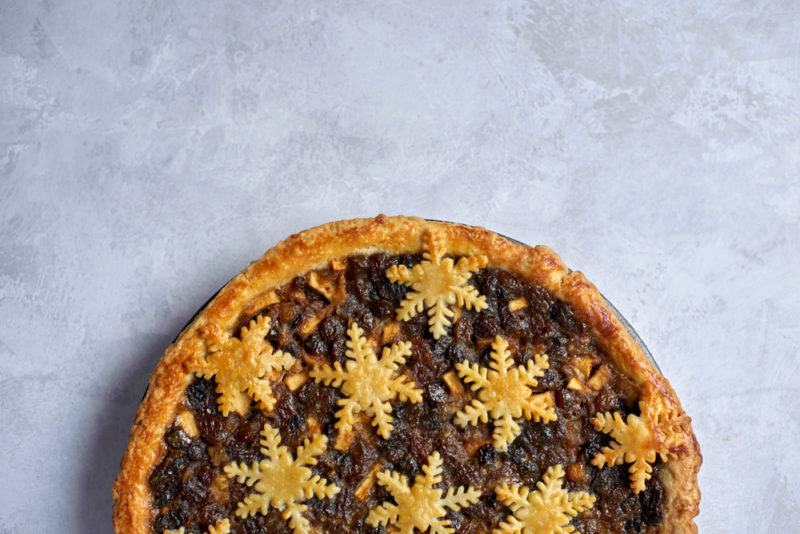 This fruit pie uses a combination of pre-made mincemeat and fresh fruit. It's a fun way to make a mince pie taste less intense without compromising the flavor at all. In fact, this version can taste even better than the 'real' thing.
To make the pie, you'll need to use some cranberry sauce, along with fresh fruit like apples, peaches, and pears. Keeping the fruit juice or syrup is helpful too, as this gives the pie more moisture than it would have otherwise.
Caramel Pear Pie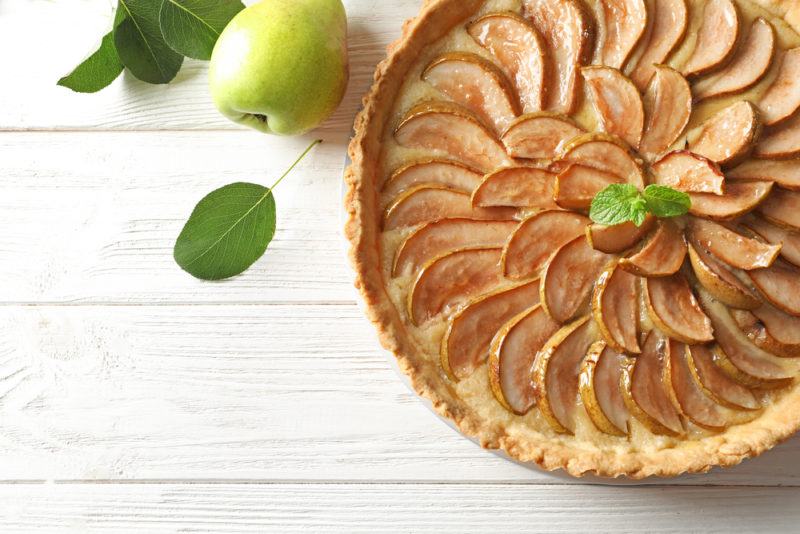 Here's a fun flavor combination to try out – caramel and pears. Why not? Apples and caramel always combine so well with one another.
Using pears and caramel is even better in some ways, as pears have a slightly different flavor profile to apples. They can be more robust too. This might make it a little easier to build your pie.
Pineapple Pie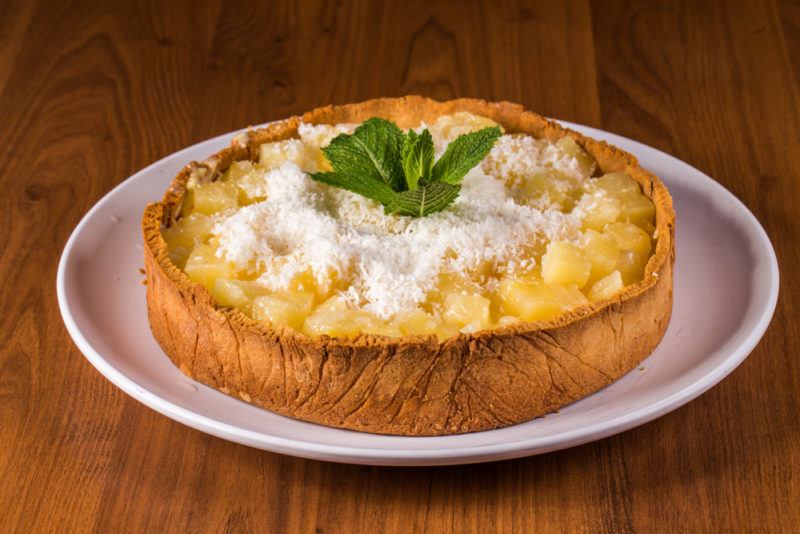 Berries and apples are the most common fruits to feature in pies, but they're not the only option. Pineapple pie is another entirely different approach – one that can be just as delicious.
However, there's more than one way to make this type of pie.
One is to use fresh pineapple as the filling for your pie, just like you would with any other type of fruit. You will need to carefully drain your pineapple if you take this approach, as it is a very moist type of fruit.
Another option is to make a creamy pie. You might end up with something like a key lime pie, except that you're using pineapple instead.
You'll also need to think about whether you just use pineapple or whether you include another type of fruit too. After all, pineapple can be quite sweet. A little lemon juice or zest could be a good way to offset some of this sweetness.
I've seen pineapple and coconut pies too. This style works well, as you are combining two tropical flavors
Finally, think about where you're getting the pineapple from. Fresh pineapple has a sharpness to it that you don't find with canned pineapple. You may need to change your recipe a little, depending on the type that you choose.
Fruit Cocktail Pie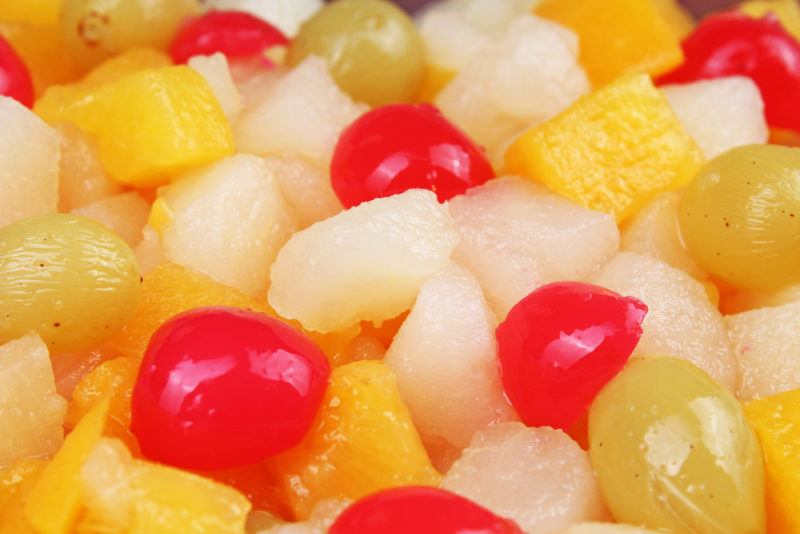 We've talked about making pies with two or three types of fruit, but why stop there? Using more types of fruit can work too and give you an interesting balance of flavor and texture.
One of the easiest approaches is to use fruit cocktail straight from a can. You'll need to drain the juice and thicken it before adding the juice back to your pie.
Some versions of this recipe add extra ingredients, like condensed milk or vanilla pudding mix. Such ingredients can alter the flavor of your pie and make it more interesting again.
Black Forest Pie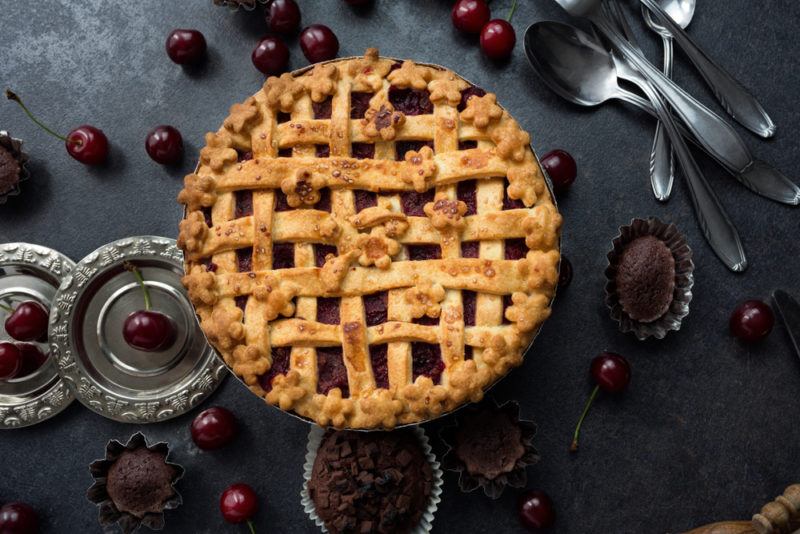 Black forest cake is famous for its rich chocolate and cherry flavors. You can replicate some of this in a pie without too much difficulty at all.
Most black forest pies will have two parts – the chocolate and the cherries. For example, you might make a rich chocolate layer first and then have a cherry layer on top.
I've also seen a version that uses chocolate and cherry flavors in the same layer, creating a creamy filling, much like you would see with a key lime pie.
Persimmon Pie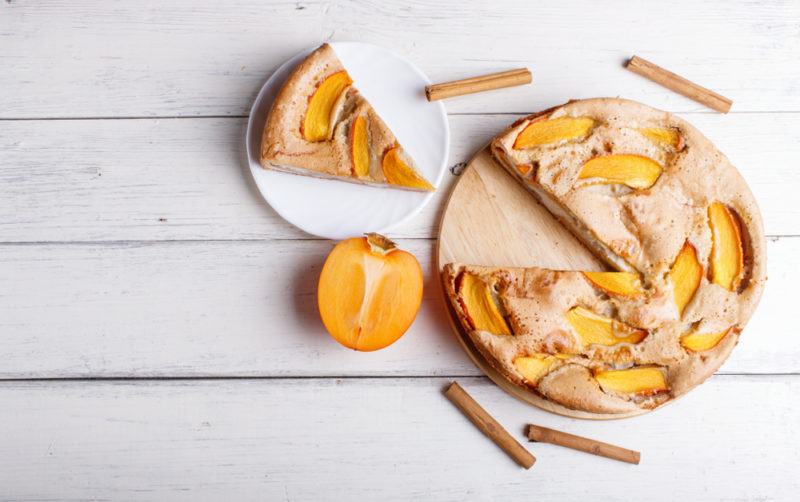 Why stick to classic fruits, when you can make a pie using exotic ones instead? That's exactly the idea with making a persimmon pie.
Most of the time, this pie uses a custard-type filling with persimmon pulp added in. This allows you to get the persimmon flavor into your pie, without worrying too much about the texture.
However, you can make a pie using fresh persimmons as well. Fuyu persimmons are the best choice, as these are the non-astringent ones. The pie works best when the persimmons are still firm, so that they keep their shape. Brown sugar and cinnamon complement the fruit well, giving you a delicious pie.
Any Type Of Berry Pie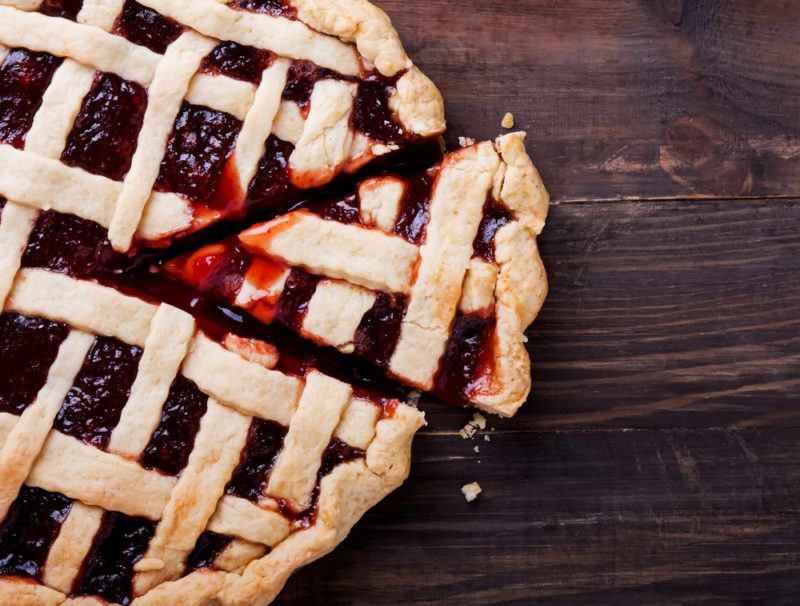 We've mentioned a few berry pies already, including cranberry, strawberry, and boysenberry pies. But, in practice, you can make pies using most types of berries.
The main goal is to find berries that are going to taste good in a pie. This means that they shouldn't be too tart or have a very unusual flavor.
If the berry you're thinking about wouldn't be quite right on its own, you could try using multiple types of berries in the same pie. Adding some apples is another approach that can work well. Apples help to make the berry flavor less intense while also changing the texture of your pie.