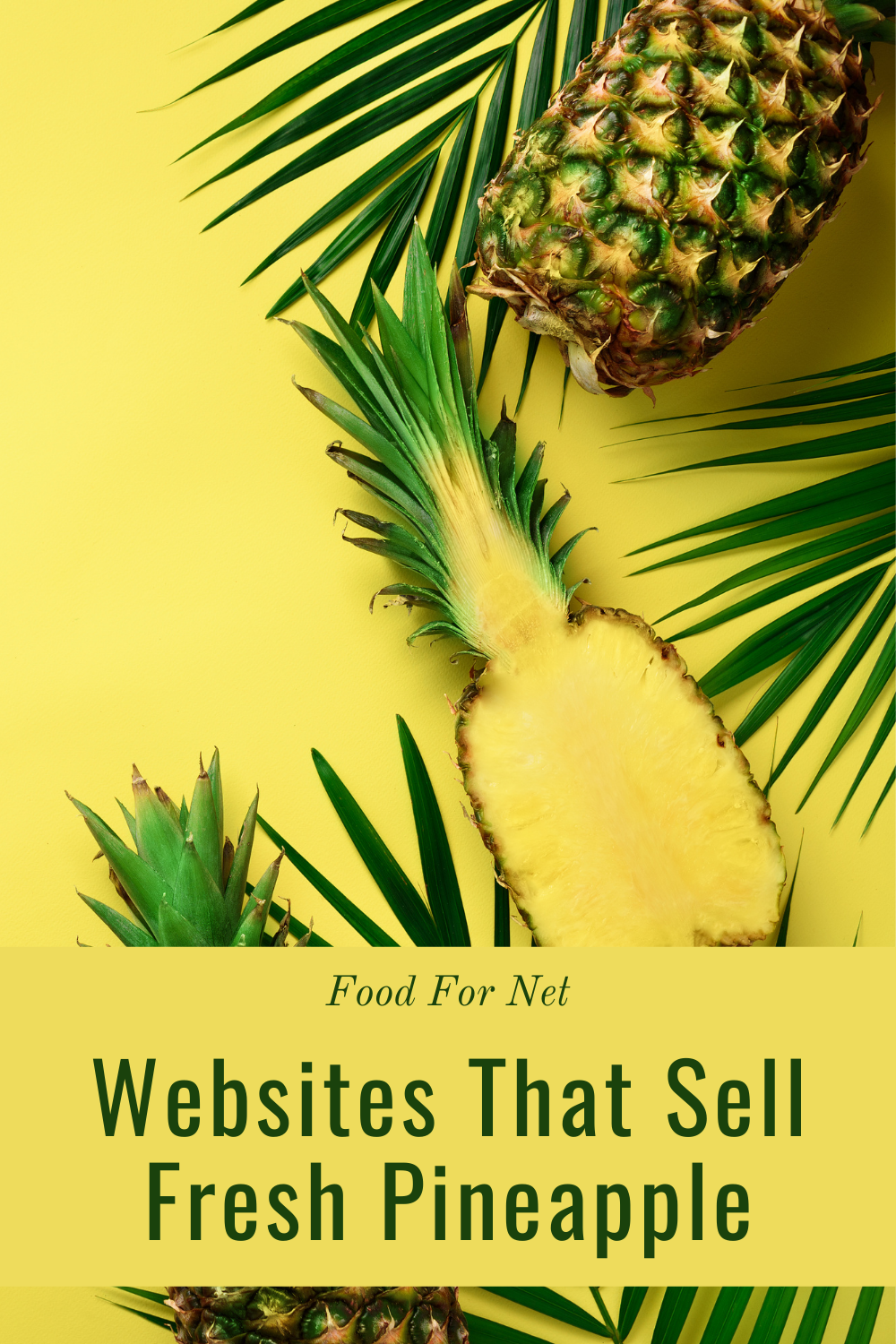 Pineapples are highly sought-after due to their delicious, unique flavor and impressive nutrient profile. You can eat them alone as a snack or cook them into a savory meal for a splash of sweetness.
Pineapples are absolutely loaded with nutrients, including fiber, manganese, copper, potassium, iron, niacin, folate, vitamin B6, vitamin C, and many more. They also contain plenty of powerful antioxidants. The presence of antioxidants is not rare in fruit, however, pineapples are special because most of their antioxidants are bound. This means they can survive harsher conditions in the body, providing stronger and longer-lasting effects.
Their enzymes are also good for easing digestion. These enzymes breakdown protein molecules into their individual "building blocks" like amino acids and peptides. Once broken down like this they are more easily absorbed in the small intestine. This is helpful for those with sensitive digestive systems, or anyone with pancreatic insufficiency – where the pancreas doesn't create enough digestive enzymes.
Pineapple has also been known to help suppress inflammation, which is more common than many people realize. Once inflammation is under control, many other health issues are put at bay. Prolonged inflammation can cause the immune system to attack the body's healthy tissue. This puts you at higher risk for diabetes, cancer, heart disease, and more. The anti-inflammatory properties can also help temporarily ease pain associated with arthritis
Everyone knows that fruit is good for you, but pineapples in particular have some surprising health benefits that shouldn't be ignored. When you buy fresh pineapple online, what you get is often fresher and better quality than the ones you may find at the local grocery store. It's important to get the best, especially if you want to make pineapple a staple in your diet. For those in the United States, your best bet is Hawaii, but the fruit is also native to Costa Rica.
And, while you're at it, why not look for other types of fresh fruit? Sour cherries, pomegranates, and persimmons are just a few examples that are easy to buy online.

Where to Buy Fresh Pineapple Online
Maui Gold
Kauai Sugar Loaf
Tropical Fruit Box
Hawaiian Crown
1. Maui Gold

Maui Gold has a simple purpose – to provide the United States with high-quality and extra sweet pineapples. Pineapple is already sweet, so these special pineapples will be an extra special treat. You can buy them in boxes of one, two, or six at a time.
Of course, you're free to order them for yourself but they also make an amazing gift. Their pineapples are guaranteed to be fresh and are grown right in Maui. To preserve freshness, they package and ship your pineapples no later than one day after you place an order.
Or, you can place an order and call to request a later ship date. When buying them as a gift, this helps guarantee your recipient will get them when they're supposed to. Even though you've ordered and paid ahead of time, they'll still ship the freshest pineapples they have when the day actually comes.
Shipping is available throughout all of the United States, except for Alaska.
2. Kauai Sugar Loaf

Kauai Sugar Loaf is a company owned and run by a couple who have both become passionate about pineapples. They believe it is the ultimate tropical fruit and have focused their attention on the sugarloaf pineapple as they've determined it's the best to grow in their area. They grew up in California and New York, but have since taken up a quieter life in Kaua'i, enjoying the sun, going surfing, and growing their beloved pineapples.
Their pineapples are available as singles, or you can order in packs of two or three. If you're giving the pineapples as a gift they also have some cute little things you can add like a personalized photo card. If it's a Christmas present they even have Santa hat photo cards.
Lastly, while their focus is on harvesting and shipping their delicious fresh pineapples, they also sell packages of dried sugarloaf pineapple. These make a tasty treat and they last much longer, meaning you can buy them in bulk and store them up for later. Shipping is available to the United States and the United Kingdom only.
3. Tropical Fruit Box

Tropical Fruit Box is a unique company with a passion for tropical, exotic, and rare fruits. The founder grew up in a Cuban-American household, always with plenty of exotic fruits to go around. Her passion began with her father finding the best ways to source exotic and tropical produce from around the United States and the rest of the world.
Growing up, she went with him on many trips to seek out new fruits and suppliers, during which time she gained her own love and appreciation for the business. Eventually, she started Tropical Fruit Box and is following proudly in her father's footsteps.
Tropical Fruit Box isn't your typical online store. They sell fruit by the box, which you can set up as a one-time delivery or on a subscription basis. Her ultimate goal is to get rare, hard-to-find fruits in the hands of anyone who wants them.
To begin, the boxes are separated by tropical and exotic. Within each category, you can choose to receive a random, surprise mix, or an entire box of one fruit. Failing that, you do have the option to customize your box from all fruits currently in season and available. This includes everything from the more common avocado, mango, and pineapple, to really rare things like Spanish limes, guava, passion fruit, mamey fruit, papaya, golden berry, and more.
Regardless of which box you order, all fruit is handpicked and carefully selected for quality. Your box is then promptly packed and shipped to preserve freshness as much as possible. All fruit is guaranteed fresh, so if there are any issues, they'll happily resolve them for you and send replacement fruits.
In addition to fruit, they also have a selection of tropical roots. These are just as delicious and versatile, and often just as difficult to find as rare fruit. In addition to ginger which is common, they have yuca root, white malanga, turmeric, and more. These roots are available in much the same way as their fruit – in boxes, either mixed or individual. You can also get a "tropical wellness" box that contains a combination of fruit and roots with a focus on those that boost immunity.
Shipping is free and available only to those in the United States.
4. Hawaiian Crown

Hawaiian Crown is a group of locally owned family farms located in Oahu, Hawaii. All of the companies involved work hard to maintain ideal conditions and produce the highest quality products they can. While they've expanded quite a bit, the brand began with a vision to produce premium pineapple. This soon grew to include other specialty crops.
Ultimately, their goal is to allow customers to taste pineapple that is truly field-fresh because the difference is noticeable. They use only the best farming practices and are proud to offer several special pineapple varieties that are hard to find elsewhere. You can order their fresh pineapples in sets of two. They are available alone or as a set with bags of dried pineapples and/or large macadamia nuts. This fruit/nut mix makes a perfect gift for any occasion.
Other product categories include dried fruit, Hawaiian chocolate and cacao, macadamia nuts on their own, Hawaiian honey, Hawaiian coffee, and an assortment of healthy snacks. All products are grown and/or produced right in Hawaii and all by small family farms.
Shipping is available anywhere in the United States, with free two-day shipping offered on all pineapple orders.
Things to Consider When Buying Fresh Pineapple Online
Pineapple is one of the most popular and common exotic fruits, meaning many try to grow it even in places that aren't ideal. These pineapples won't be terrible, but they're often not quite the same as the "real thing" from Hawaii, Costa Rica, or other places where the fruit is native. For this reason, you'll get the best taste when you buy fresh pineapple online from one of these places.
You should consider all the facts before placing an order.
The Source
If you're after the best and most authentic pineapple in the United States, your best bet is to order from Hawaii. Unfortunately, this is often costly. While it may be well worth the cost, ordering from a more local farm will save you money. If you're on a budget but still want a decent pineapple, many places in Florida and California do have success growing them.
Shipping Times
You want fast shipping to ensure the pineapple gets to you while it's still at peak freshness, especially if you're ordering all the way from Hawaii. Look into their shipping process and see if they offer overnight or two-day shipping, this is ideal. Any longer and you risk the fruit being compromised in transit.
Availability
Because pineapples can be grown in several places throughout the United States, you can often find them fairly easily. That being said, Hawaii's season runs from mid-June through September, and then they're done for the year.