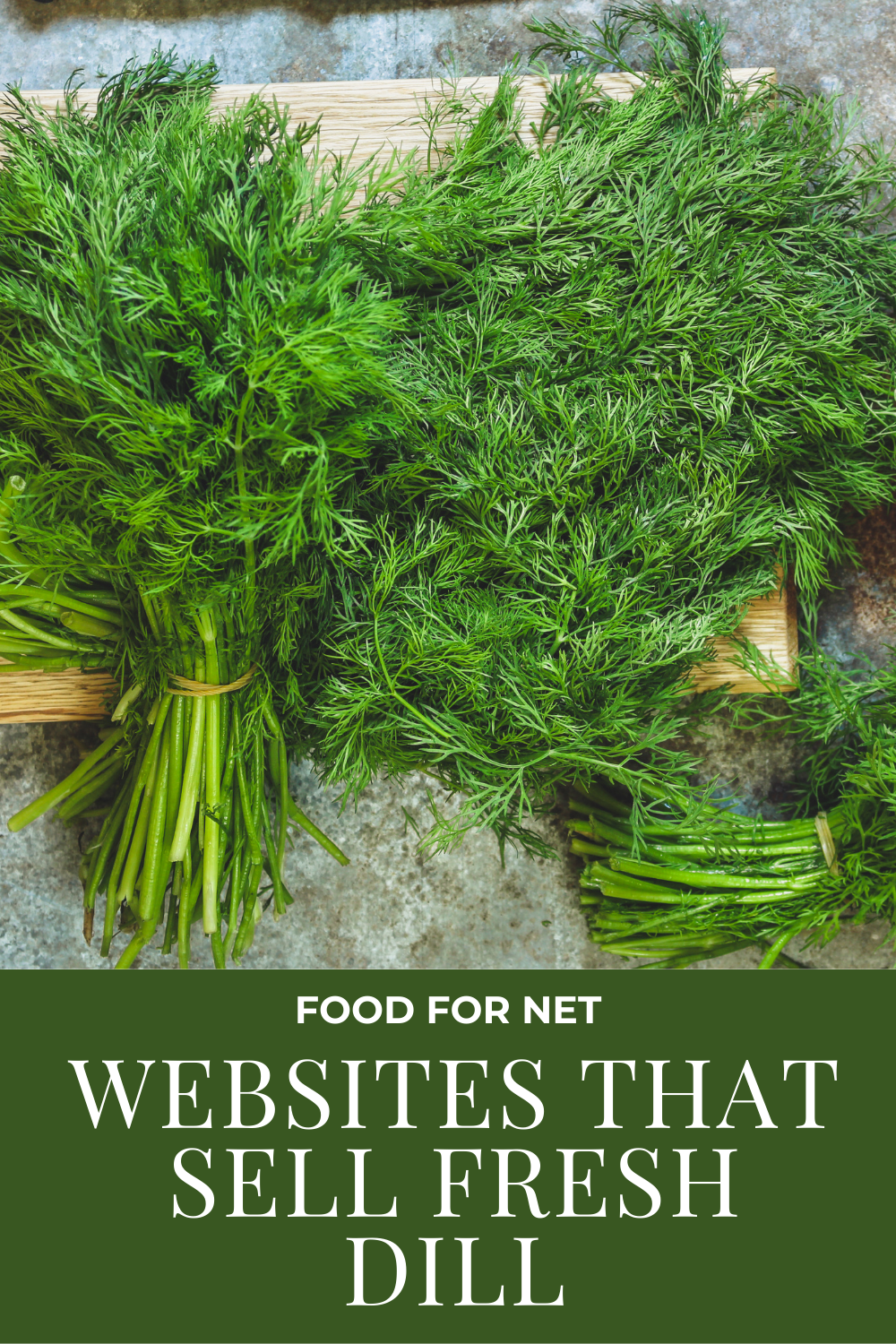 Flavorful and fragrant, dill is an excellent source of vitamins A and C as well as calcium and iron. The herb is most commonly associated with pickles, but it's also great for many other things. Another popular use is to enhance sauces and dips, adding a strong, herbal flavor. It's also great when used as a seasoning, going well with potatoes, carrots, and many other vegetables.
Dill has very few calories and no fat, making it a healthy addition to your dish. Though it should be noted that a little goes a long way, with a teaspoon being enough for most things. If you use too much, the flavor is overpowering and will likely ruin your dish. It's best to start slow and add a little more as needed.
Dill is also rich in antioxidants and may support heart health while helping lower blood sugar levels. The health benefits are many, though you should be careful when consuming it for the first time. It's a strong herb and may cause a very strong reaction if you're allergic. It's also recommended that pregnant and breastfeeding women avoid it.
Fortunately, dill is inexpensive and often easy to come by. You can buy fresh dill online at many online grocery stores, many of which offer organic options and baby dill, which is a little harder to find at your local grocery store.
Buying online is powerful too, as you'll often get fresher and better quality dill than you will at local stores. The same is true for other fresh herbs and spices.

Where to Buy Fresh Dill Online
It's Delish
Bristol Farms
Summerhill Market
Midway Farms
Lydia's Foods
1. It's Delish

It's Delish is a family business that's been creating, curating, and delivering delicious food and other products for more than 20 years. Today, they have over 500 gourmet foods and other items to choose from, including sauces, candies, chocolates, nuts, fruits, spices, spice blends, and more.
They also have a wide range of natural, organic, and kosher certified products that are prepared to the highest quality and with the highest standards. With all their products, you can do a normal grocery shop or buy things in bulk and save money. They also have a large gift section that has some of their tastier products packaged together and wrapped up nicely to make a beautiful gift. This includes sets of nuts, chocolates, candies, peanut brittle, and more.
Their dill weed is packaged fresh and is non-irradiated. It's the perfect addition to any number of dishes, including fish, potato, soups, or as an additive to sauces, dips, or spreads.
They do ship internationally to a limited number of countries, including the United States, Israel, the United Kingdom, Japan, Australia, Brazil, China, France, Germany, Mexico, and Russia.
2. Bristol Farms

Bristol Farms first opened in 1982 and those involved have always worked hard to build the brand in a meaningful way and make sure products are always of the best quality. To commemorate their hard work, they've received many "best of" awards from a variety of media outlets, including best small market, best deli, best sushi, best meat, and best cooking school.
They currently have several locations, all of which support their local community and all work hard to uphold the company's high standards.
Their categories of specialty and gourmet foods include meat, produce, bakery, seafood, cheeses, basic grocery items, and snacks. They also have a selection of bulk foods, household supplies, health and beauty products, gift baskets, flowers, wine, and spirits.
They have both regular dill and baby dill available, which are fresh and organic. They also have dill sauerkraut, a dill sauce, dill hummus, and more. Shipping is available throughout the United States. You can enter your zip code before ordering to see if they ship to your exact location and to get more details.
3. Summerhill Market

Summerhill Market began as a small neighborhood grocery store in 1954. Founder Frank McMullen made an effort to get to know his customers by name and soon he was one of the most well-known members of the community. He lives on through the store, which is still thriving, and still holds on to his commitment and dedication to top-notch customer service above all else.
Frank always went above and beyond, guaranteeing all his products and vowing to find something for someone, should they need it and the store not have it. His legacy has been carried on as the store still operates under these values. The store is still in the family and is still a pillar in its community, though they have grown to offer a much bigger selection and shipping throughout Canada, the United States, and the United Kingdom.
For those who want to learn more, they have an awesome blog with all kinds of useful information. You can find articles on specific foods or recipes as well as more general knowledge like storage and handling tips.
Their dill comes in fluffy, fragrant bunches that are fresh and ready for cooking. The website also offers a few basic ideas for using the herb, such as potato salad, deviled eggs, or as a seasoning for carrots and potatoes.
4. Midway Farms

Midway Farms is not only the one farm in Oregon that is fully dedicated to gluten-free food but they are creating a new standard of farming. They use only organic methods, including perma-culture, eco-farming, small scale agriculture, and are focused on sustainability. They've been this way since their inception in 1988. They believe in the power of mother nature and they don't rely on anything artificial.
From this, they are known to have some of the best crops in the area. In addition to focusing on quality, they also care about the environment. They pay close attention to the ecosystem at their farm and work hard to reuse anything that might be destined for a landfill. They care about wildlife and want to preserve the habitats of wildlife as best they can.
They take their dedication to gluten-free very seriously, going so far as to make and grow their own feed to give their animals. This means that even what the animals eat is gluten-free, absolutely ensuring that the product remains gluten-free and safe for even the most sensitive intolerances.
Their dill is fresh and crispy, shipped in four-ounce bunches, and is ready to be used however you please – in a sauce, as a garnish, the options are endless. Shipping is available throughout the United States and Canada.
5. Lydia's Foods

Lydia's Foods was founded by Lydia Kindheart. With more than 30 years of nutrition practice and culinary experience, she has created an award-winning line of both cooked and raw snacks, drinks, and other foods. She believes that good food is good for both the body and the soul.
She is also a pioneer in the organic, vegan movement, creating a line of organic, vegan food that's loved by many. She even has five restaurants in her local area, one of which was, at one point, the largest vegan eatery and community in the United States.
Her artisanal food is made in small batches with a focus on overall health. This means she uses plenty of sprouted seeds and ingredients with low sugar, lots of fiber, and notable chlorophyll content. Her snacks like chips, bars, and crackers, are dehydrated at a low temperature to preserve nutrients.
While many of the online store's offerings include her pre-made foods and snacks they also offer plenty of single ingredients. This includes dill, which is sold fresh and in small bunches. They also offer some information on the plant, including origin, background, and some tips for planting and growing it.
Things to Consider When You Buy Fresh Dill Online
Dill is a versatile herb that is available at many online grocery stores. It's inexpensive and often available throughout the year. But, there are a few different ways you can get it, so consider the following before you place an order:
How You Want It
Fresh dill can be purchased in bunches and still on the plant, or already chopped and ground up. How you buy it will depend on what you're using it for.
If you want to sprinkle it on something or use it to add flavor to a sauce or dip, it's probably easier to buy it pre-ground. If you're cooking with it or using it as a garnish, buying a bunch of it still intact is the better route.
Dill Weed or Dill Seed?
Though some use these terms interchangeably, these two aren't the same. Dill weed refers to the leaves and stems of the plant while dill seeds are the fruit of the plant. Both have a similar dill flavor, but the seeds are much stronger and you can't usually substitute one for the other.
If you're looking for fresh dill weed, don't get confused and buy dill seed instead, even though they seem similar.
Other Products
Though unique, dill has a versatile flavor that enhances many things. You can use fresh dill to make sauces and dips, but if you're strapped for time you can buy these pre-made as well. Often, if a farm sells fresh dill weed, they'll sell sauces and other products made from their very own dill, meaning you don't have to sacrifice freshness and quality just to have it made for you.