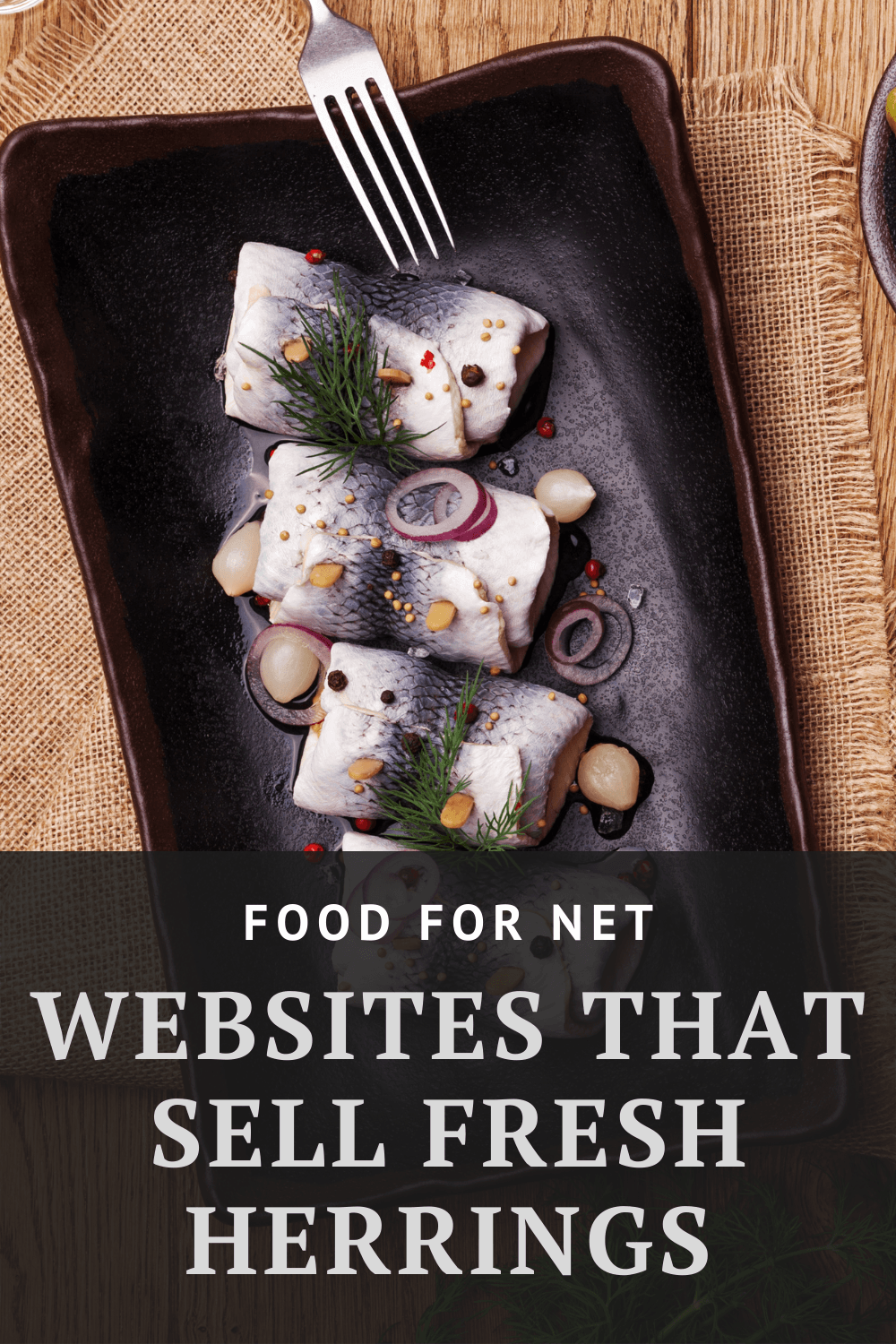 Herring is a small, elusive fish that many try to find but often don't succeed. It can be hard to find in the ocean and therefore hard to purchase, which is why you may have no option but to buy fresh herring online.
Your search for "whole fish for sale near me" may yield excellent results when it comes to salmon or cod, but herring is another story. You probably won't find herring in fish of the month clubs often either. If you want herring in your life on a regular basis you may just have to find a good online source.
The good news is that there are many benefits to buying herring, or any other seafood for that matter, online. Firstly, local selection, if you can find any, is often limited. Many companies online are able to source from multiple locations and offer a bigger selection from one place.
There is also the possibility of choosing your own cuts and styles, rather than being limited to what the store has. Lastly, you are often able to buy in bulk which is great if you're planning a party, wanting to save money, or trying to stock up and be prepared for when they go out of season. And as with buying anything online, you save the time and effort it takes to physically go to the grocery store.
Even though herring can be hard to find, it's so worth it when you do. Aside from its taste, it comes with a whole host of health benefits. For starters, it contains plenty of EPA and DHA. These are fatty acids that keep the heart healthy, prevent heart disease, and help keep the brain functioning well.
These fatty acids have also been known to reduce the effects of inflammatory conditions such as arthritis or Crohn's.
Herring also contains many other helpful ingredients such as antioxidants, Vitamin D and B12, and protein. In addition to these powerful, healthy things, it's also very low in mercury. Despite the numerous health benefits of eating fish in general, many species do contain somewhat concerning levels of mercury. You won't have to worry so much about that with herring.
While herring may be hard to find, it's not impossible. The following companies offer herring for sale through their website at affordable prices.
Where to Buy Fresh Herring Online
iGourmet
Wholey
Breaker's Fish
1. iGourmet

iGourmet was founded in 1997 with the goal of sharing their specialty and gourmet food finds with the world. Their passion for gourmet food goes back to when their grandfather would import his favorite European cheeses below the waterline on passenger boats.
Today, they offer a huge assortment of high-quality specialty food that includes more than 900 different cheeses. That's a lot of cheese, but it's not all they've got going for them. They constantly peruse small and mid-size artisan stores and producers in an attempt to bring their unique offerings to a broader audience.
This includes specialty finds in many categories. They have all kinds of sweets to try, from specialty marshmallows, fudge, cookies, and custard to cakes, licorice, panettone and so much more. Their pantry section features all kinds of pasta, noodles, rice, syrups, sauces, spreads, spices, oils, snacks, and more.
What's particularly impressive is their meat and fish section. Many types of meat and seafood are extremely difficult to find, herring being near the top of the list. Not only do they have herring available, but they have it in many different forms.
You can get plain fillets, smoked peppered fillets, and herring "tidbits" which is fresh herring broken down into smaller pieces and shipped to you express so you get it at the peak of freshness.
They also offer jars of fresh, Scandanavian herring in a flavored sauce – wine sauce, cream sauce, or mustard dill sauce. These are also shipped express to anywhere in the United States. They currently do not offer international shipping on any of their products.
2. Wholey

Wholey is passionate about its fresh seafood as well as its premium meats. Fish and meat are what they focus on, and they're extremely good at it. Especially when it comes to seafood, they've established themselves as one of the best online resources.
They began in 1912 as a small, local store that sold a selection of fresh poultry, meats, coffee, and sausages. Since then, they've grown into a seafood empire, offering a selection of rare and specialty seafood and meat that can be shipped to all of the United States, including Alaska.
Their selection of available meat includes pork, beef, bacon, sausage, poultry, lamb, and even rabbit. You can also buy meat packages to get a variety and also save some money.
When it comes to seafood, their list is impressive. Their fresh fish section has all kinds of things, from sardines to haddock, but If its herring you're after, you have four options. Their marinated herring comes in your choice of either wine sauce or sour cream.
They also sell herring kipper fillets, which is herring with the bones removed. Or, you can get it smoked. Herring is a difficult fish to get, but it's not the only tricky thing they've been able to source.
Also on their list of available fresh seafood is crab, lobster, caviar, turtle meat, frog legs, squid, octopus, shellfish, and alligator meat. Most of these you most certainly will not find in your typical, everyday grocery store!
3. Breaker's Fish

Breaker's Fish is a Canadian company that sources fish from all over the world and exports them to wherever they need to go. They have been in operation since 1996 and have a combined 125 years of experience in the seafood industry.
They work closely with many markets and large companies to meet the needs of their clients when it comes to seafood. Their fish range from the more common varieties like cod and halibut to the rarer and more elusive types, such as herring. Specifically, Atlantic herring.
Their entire catalog of fish, as well as the peak season for all of them, are listed on the website along with the sizes you can order.
You can't order directly from the website, you do need to get in touch to discuss your needs and place an order with them. However, the extra step is worth it as herring is hard to find and they do offer it along with many other options.
Things to Consider When Buying Fresh Herring Online

Because it can be hard to find, your options for buying fresh herring online are limited and therefore, your decision won't be too difficult. However, there are still some things to consider before you do make a purchase, that might influence your decision a little.
Where It's Coming From
This is an important factor if you want to get some herring but you're on a budget. All of the above-listed companies will ship to anywhere in the United States, but if it has a long way to get to you, shipping can become very expensive. Especially when buying fresh, the shelf life is limited so express shipping will likely be required, and this doesn't come cheap.
Unfortunately, you may not have a lot of choices depending on where you live, but it's something to consider when looking to find a supplier.
How It's Packaged
While buying herring plain and fresh gives you the opportunity to cook and prepare it however you want, it's not the only way you can buy herring. Many find herring to be a good fish for pickling, though this is a process. If you like pickled herring, you may consider buying it that way to save you the trouble.
Some companies also offer marinated herring. This is another way to experience the fish a little differently and with a variety of flavors, that don't require extra effort or prep work on your part.
Another popular way to buy fish is in fillets. However you like to enjoy your herring, you can probably find it pre-done for you if that's what you want. It may be more expensive as it's more work to prepare and package, but it can save you precious time.
Other Options
The thing with any fish, even more common varieties like salmon or halibut, is that they are always in at least some danger of selling out. If this happens, they'll remain out of stock until more can be either sourced, or in some cases, caught.
If this happens, you'll be forced to look elsewhere if you really, really want herring. But, if the store you've chosen has a good selection of other fish still available, you might be able to find an acceptable alternative. This would save you the time and trouble of tracking down another store.
Like any other fish, there is a peak season for herring and once that's over, they can be even more difficult to come by. It doesn't hurt to have a backup plan and who knows, maybe you'll even find a new favorite fish in the process!