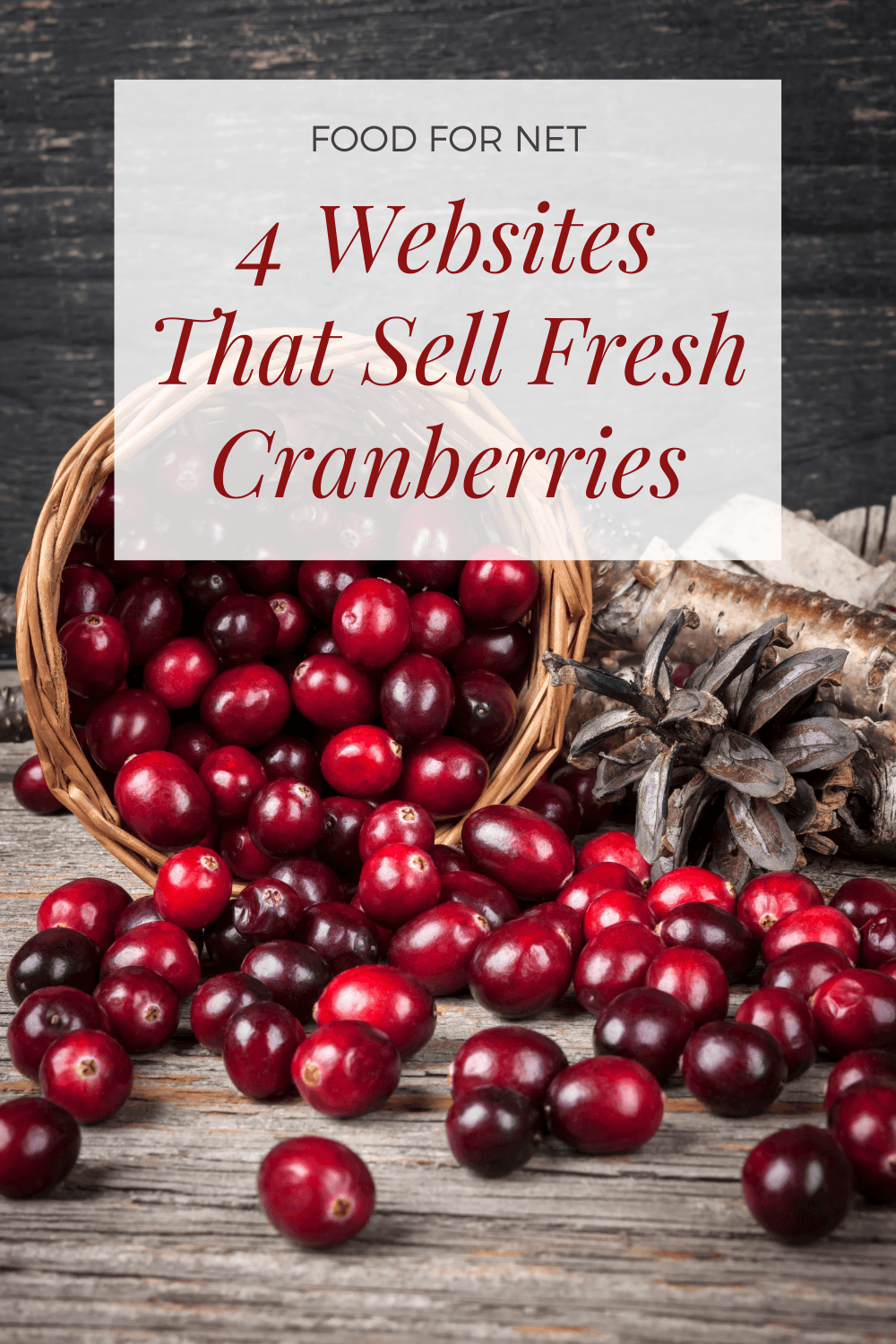 As far as we know, Cranberries are one of only three fruits with roots that can be traced back to North Ameican soil. The other two are the blueberry and the Concord grape. This makes it a special piece of North American history, one that many families are working hard to preserve.
For years, fresh cranberries helped sustain Native Americans. It's an extremely healthy fruit and was most commonly used in pemmican – a high-protein food that consists of crushed cranberries, dried deer meat, and melted fat. It sounds strange, but it kept generations of Americans going strong.
It was also traditionally used medicinally to treat wounds, as well as a dye for blankets, rugs, and other creations.
Cranberries require very unique conditions in which to grow. Many believe they grow in water but this isn't true. They grow on vines that are situated in beds of peat soil, sand, gravel, and clay. While the conditions have to be just right, growers rarely have to replant. An undamaged and healthy vine will survive on its own indefinitely and keep producing. Many vines are over 150 years old.
Our ancestors had a set of unique uses for cranberries, many of which we don't still use today. But, the fact remains that cranberries come with many health benefits.
Like any other brightly colored fruit, cranberries contain plenty of anti-oxidants which do your body so much good. They are also a source of many vitamins and minerals, including Vitamin C, Vitamin E, Vitamin K1, Magnese, and Copper.
They've also been known to support heart health and prevent things like stomach cancer and ulcers. Of course, they don't replace any sort of medical advice or intervention, but it doesn't hurt to add them to your diet!
Because they are grown successfully in so few places, it's important to know where your cranberries are coming from. This is why it's smart to buy fresh cranberries online as you can have them shipped right to your door from wherever they're the freshest at any given time of the year.
You could also buy other fresh ingredients at the same time, including apples, vegetables, and even milk.
Where to Buy Fresh Cranberries
Wetherby
Cape Cod Select
Fresh Meadows Farm
Northwest Wild Foods
1.Wetherby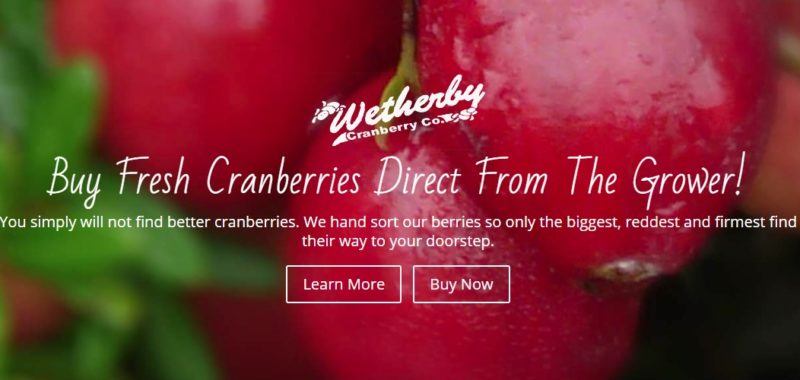 Wetherby is currently run by third-generation cranberry growers who are proud to carry on the family legacy. The company was founded in 1903 and soon began selling their fresh cranberries to locals at farmers' markets and such.
Today they are able to ship their cranberries all over the United States so everyone can experience some of the best cranberries around. They are located in Wisconsin which is responsible for approximately 60% of the world's cranberry production.
Even when cranberries are out of season, people come from all over to see them being grown in-person. This includes everything from school groups to overseas tourists. Because of the interest, Wetherby has also made it their mission to educate the public about cranberries and their benefits.
You can buy their fresh cranberries by the bag and they come in various sizes. In addition to fresh, you can also get them sweetened and dried. These offer a different taste experience and they also last a little bit longer.
2. Cape Cod Select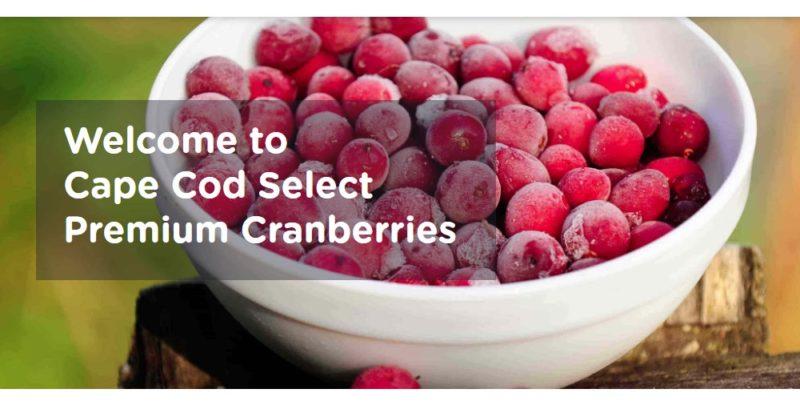 Cape Cod Select has been family owned and operated for more than 75 years. They began as a small operation that wanted to make waves in the cranberry market. Not only did they want to do things with more transparency and integrity than the "big guys" but they wanted to make cranberries available to customers year-round.
Of course, cranberries still have their peak growing season but Cape Cod Select freezes them at the height of their freshness. This means they can be stored and used during all seasons and not only right after they're harvested.
Not only is Cape Cod Select dedicated to the quality of their cranberries but also the quality of their business. They work hard to keep prices as low as possible by doing everything themselves – growing, harvesting, packing, even marketing. There is no middleman to pay any money to. They also use solar-powered facilities to reduce their costs while always looking out for the environment and seeking new ways to be even more efficient.
They also have a fantastic recipe section on their website that includes a whole host of things you can do with cranberries. Their recipes range from salads, meals, and smoothies to holiday favorites and even some fun cocktails.
You can order their cranberries straight from their website, or find them in one of almost 5,000 stores nationwide.
3. Fresh Meadows Farm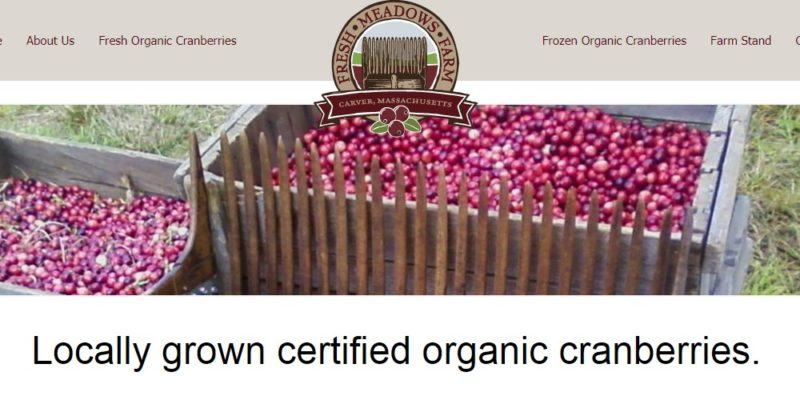 Fresh Meadows Farm works hard to provide the best possible, certified organic, cranberries to its customers every season. Not only are they focused on the quality of the final product but they pay great attention to detail throughout the entire process.
Fairly new compared to many farms, they began operation in 2008. They are situated in Massachusetts where they have experienced several challenges over the years – namely a lack of suitable land to grow on. They also face hefty competition from Canadian imported cranberries, where the colder growing conditions have a much smaller pest population.
However, despite the obstacles they have not only remained successful but they have grown over the years. Their main selling point is that they grow pure, heirloom cranberries whereas most of the imported varieties are a hybrid.
Their cranberries are available for pickup if you're local. If not, they do ship to the entire continental U.S., in five, 10, or 30-pound shipments. If you'd like to order larger, bulk shipments you can do so by contacting them and discussing a custom order directly.
Their fresh cranberries tend to sell out quickly due to the high demand and shorter shelf life. But, their frozen stock is stored and available to order year-round.
4. Northwest Wild Foods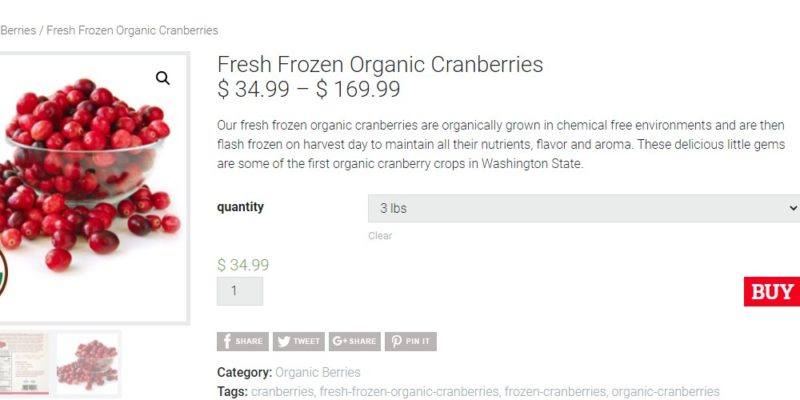 Northwest Wild Foods is a small, family-owned company located in Burlington, Washington that is passionate about the rare, unique, and natural, wild foods that are found in their region and beyond. They work hard to bring these new and interesting finds to the public conveniently and affordably.
For example, their favorite berry is the Wild Mountain Blackberry, a tiny, elusive berry that the family has been tracking down and harvesting for many generations. Of all the berries, it's the hardest to find meaning its availability is extremely limited.
They are surrounded by many more berries like this and they've made it their mission to share them with as many as possible. On their list of regular products is also cranberries.
They have both traditional and USDA certified organic cranberries available fresh, dried, or frozen. The same goes for many other berries ranging from common types like raspberries and strawberries to the rarest of the rare like their favorite little mountain Blackberries.
They don't stop at berries, though. Their selection includes other things like nuts, seafood, mushrooms, and pies. They also create a series of honey, jams, and fruit powders from their fruit, so you really can find anything when it comes to your fruit needs.
Things to Consider When Buying Fresh Cranberries Online
Cranberries are often readily available at the grocery store, but their quality and origins can be questionable. This is why it's good to buy fresh cranberries online, but you still must be vigilant about your supplier. Think about the following before making a decision:
Where They're Coming From
Though they are native to several places in North America, not every region is as ideal for growing as others. Much of the world's cranberry production takes place in Wisconsin. If your cranberries are coming from Wisconsin, you can be pretty sure they'll be great.
That's not to say great cranberries can't come from other places, but different regions to face different issues, such as pests. It can be difficult to control these pests naturally and organically so some companies may resort to artificial fertilizers or sprays.
The Variety of Cranberry
You'll want to pay attention to the type of cranberry each company is offering as many may not have "pure" or heirloom cranberries. For example, many cranberries are imported from Canada due to colder conditions. These colder temperatures mean fewer pests to control.
However, it's worth noting that these are often a hybrid cranberry which may not suit everyone's preference.
Availability
Lastly, it's important to pay attention to picking season and try to order your cranberries accordingly. Pre-ordering is even a good idea if it's possible. This is because the high demand of fresh cranberries means many places often sell out of their fresh stock pretty quickly.
So, if a company sells out before you get a chance to order – do they have frozen cranberries available as a backup? There are some that try to sell their cranberries year-round and will therefore freeze a good amount of them at the peak of their freshness.
Once the fresh stock runs out this may be what you have to do, so keep an eye out for this too. If you're worried about running out and/or want to buy them during the off-season, make sure you find a place that offers frozen and/or dried cranberries as well as fresh.