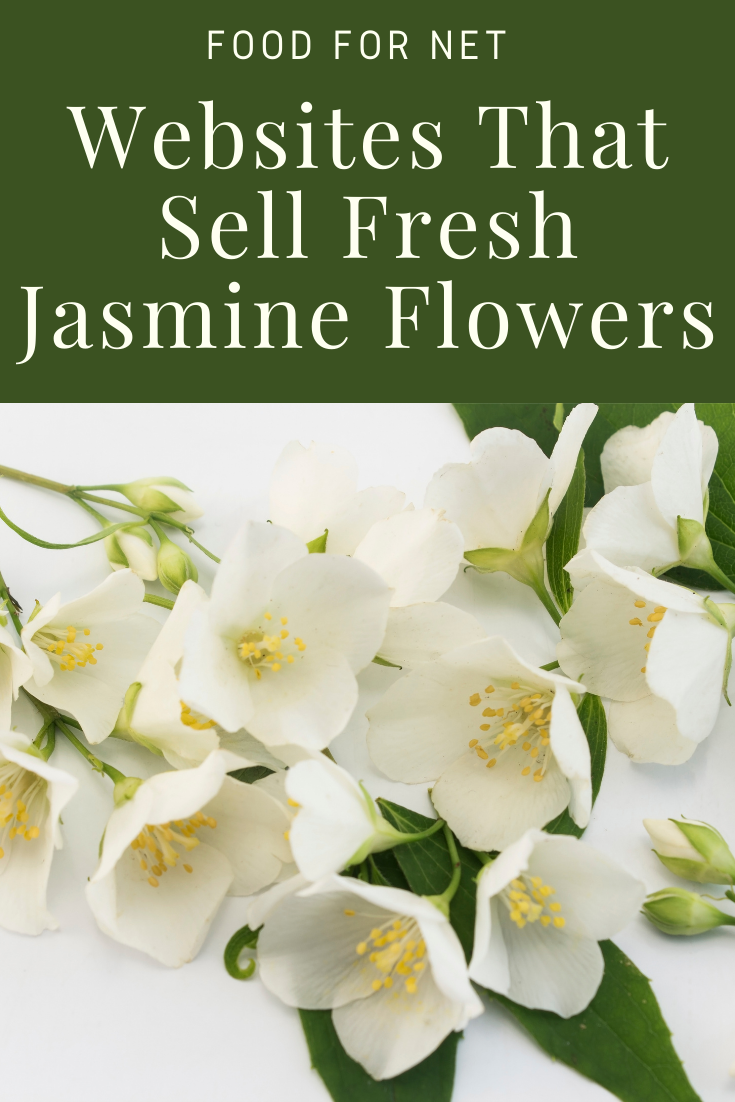 Jasmine flowers are a unique little plant with a wide variety of uses. They are used often in Indian culture to create wreaths and garlands that are used in rituals, ceremonies, and all kinds of celebrations.
They are also used to create an herbal tea that offers many powerful health benefits. First of all, many studies have been done on the ability of the flowers to fight free radicals and therefore help prevent cancer. They're also good for cardiovascular health, fighting a fever, treating constipation, easing stress, treating insomnia, alleviating pain and aches, and so much more.
In addition, they're simple and pretty, making them a great decoration or accent for your home.
They're available in many forms – you can buy them already potted and ready to grow once you receive them, or you can get them already weaved into a beautiful garland for your celebration. You can also get them still fresh but already cut from their vine.
The versatility of this little flower is quite amazing and it's easy to buy fresh jasmine flowers online. This ensures you're getting them fresh and you can more easily find details on their quality and how to use and care for them.
And, while you're at it, you can check out the online options, including fresh flower bouquets, roses, and orchids.

Where to Buy Fresh Jasmine Flowers Online
Jasmine Flowerw 2 Go
White Flower Farm
Richters
Indian Flowers
1. Jasmine Flowers 2 Go

Jasmine Flowers 2 Go began in 2017 and they have always been passionate about preserving their Indian culture through the traditional use of flowers. They offer a large selection of fresh Indian flowers in bouquets, baskets, and garlands. Their creations are perfect for celebrating special occasions like a wedding, birthday, anniversary, or any important event in your life.
Freshness is their priority so they work hard to always import only the best quality flowers. Then, they handle and store them with care to preserve them as long as possible. Once the flowers arrive they also pay great attention to each detail and ensure each arrangement is expertly designed and perfectly suited for the intended use. They want to share their passion for these traditional uses for jasmine and other flowers, so they offer to ship around the world.
What they specialize in are beautiful and intricate garlands that can be worn or used as decoration. Jasmine flowers are their specialty but they also offer many other garlands including roses, carnations, orchids, and more. They also offer several different bouquet styles.
In addition to their variety of jasmine strings and garlands, you can get the flowers loose. You can choose between a bunch of the whole flowers, or a box of all the buds pulled off the stems for you already.
2. White Flower Farm

White Flower Farm is a family-owned nursery that began in 1950. Their focus is on ornamental plant varieties, which they've been growing since the beginning and delivering to gardeners across the country. They work hard to support gardeners by not only providing top-quality plants but lots of information and education regarding their care, storage, and handling. They cater equally to beginners and experienced gardeners, offering quality and guidance to both.
The family began sharing their love of flowers and gardening back in 1930 and by 1950, were working hard to share their knowledge and introduce others to new and interesting hybrids from overseas. At the same time, they've always worked hard to maintain a balance and not let the original, traditional, and well-loved plants get lost and forgotten about.
They ship their jasmine plants already set, so as long as you monitor and care for the plant properly, you're guaranteed a bountiful and beautiful bloom. And, by ordering this way, you're getting the freshest possible flowers because they'll bloom right in front of you. They offer a variety of sizes as well as a few different pots to choose from. You can get a bold, bright red pot or a tall, decorative stand, depending on where you intend to put the plant and how you wish to display it.
They currently offer shipping across the continental United States, though some locations have restrictions on certain plants. Details are available on the website.
3. Richters

Richters is a Canadian company that, as the owners put it, has "lived and breathed herbs" ever since the beginning of Richters in 1969. They are based in Toronto and encourage locals to visit the farm and see everything in person. For those that can't they ship internationally.
They have a catalog that goes out every year for those that want it, or you can shop directly on their website.
Their passion for herbs is certainly apparent in the impressive selection they offer. They go far above and beyond simply offering herbs for sale. They have everything you could possibly need to create and maintain a diverse garden, or a single plant inside your home. They have seeds, potted plants, bulbs, roots, and all kinds of gardening supplies available.
They also have a section of specialty herbs specifically for medicinal purposes as well as a selection of herbal oils. If you don't want to grow or take care of anything, you can get some dried herbs as well as pre-made teas and spices. For those that are new to the industry or anyone that wants to learn more, they also have a selection of books all about herbs, plants, specific uses, etc.
You can get jasmine in the form of potted plants that will bloom with plenty of fresh jasmine flowers, or you can buy whole dried plants in bulk. They have some information about the plants on the website where you can learn a little bit about how to take care of them and where they come from.
In addition to regular jasmine flowers, you can get Arabian jasmine plants which are a little bit smaller. This type of jasmine is often what's used to create crowns and flowers to be worn or used as decoration. It is also a popular ingredient in floral perfumes which use their distilled oil to create a highly sought-after fragrance.
4. Indian Flowers

Indian Flowers exists to help bring rare flowers only available in India to those who want or need them in the United States. Many who live in the United States still wish to practice rituals and celebrate special events from their culture. Indian Flowers hopes to make it easier and help preserve the traditions.
They offer a range of options, including strings, garlands, special leaves, and fresh, loose flowers. They also work hard to accommodate special requests in terms of specific colors or color/flower combinations. Once you get in touch they'll work closely with you to get you what you need.
Their products can be made from button roses, rose petals, carnations, tube roses, green leaves, and jasmine flowers. Their pre-made jasmine strings are five feet, though you can request something different if you wish. They also sell fresh, loose jasmine flowers in batches of 100g.
Things to Consider When Ordering Fresh Jasmine Flowers Online
While extremely useful, jasmine flowers are also quite versatile which means they come in many forms and from many places. It's important that you consider a few factors before beginning your search to buy fresh jasmine flowers online.
The Source
First, consider where the flowers are coming from. Were they grown by the seller themselves or were they imported? Jasmine is a popular flower in India and some prefer to get them straight from their native land.
There are also several different types of jasmine, some of which survive better than others in cold climates. Considering the variety you want might change where you can find the best ones.
How You Want Them
Next, you must consider how you want to purchase the flowers. If you're looking for a potted plant to grow in your home or garden, buying a plant grown in the United States shouldn't be an issue. This is a great way to go if you're able to put in the effort as there is nothing fresher than growing the flower yourself.
You can also get them pre-made into garlands or wreaths, if that's what you're after. Most of the time, these are made to order and though they are cut and strung into formation, they're still fresh and sweet-smelling. You should buy these from someone with experience and knowledge of the culture to ensure you're getting something authentic and good-quality.
What They're For
Considering the different forms jasmine can come in, what you're using them for may dictate how you buy them. If you need strings for a party or other specific reason, it's easier for you to buy these pre-made. This saves you time and gives you one less thing to think about as you plan.
Or, if you do want to make your own, you can buy them pre-cut but not yet strung up. This still saves a little bit of effort in that they come ready to go, but you can still customize the string however want.
On a completely different note, you might want to use the petals or leaves to make tea. In this case, buying a plant will suffice and you'll get plenty of flowers to work with.