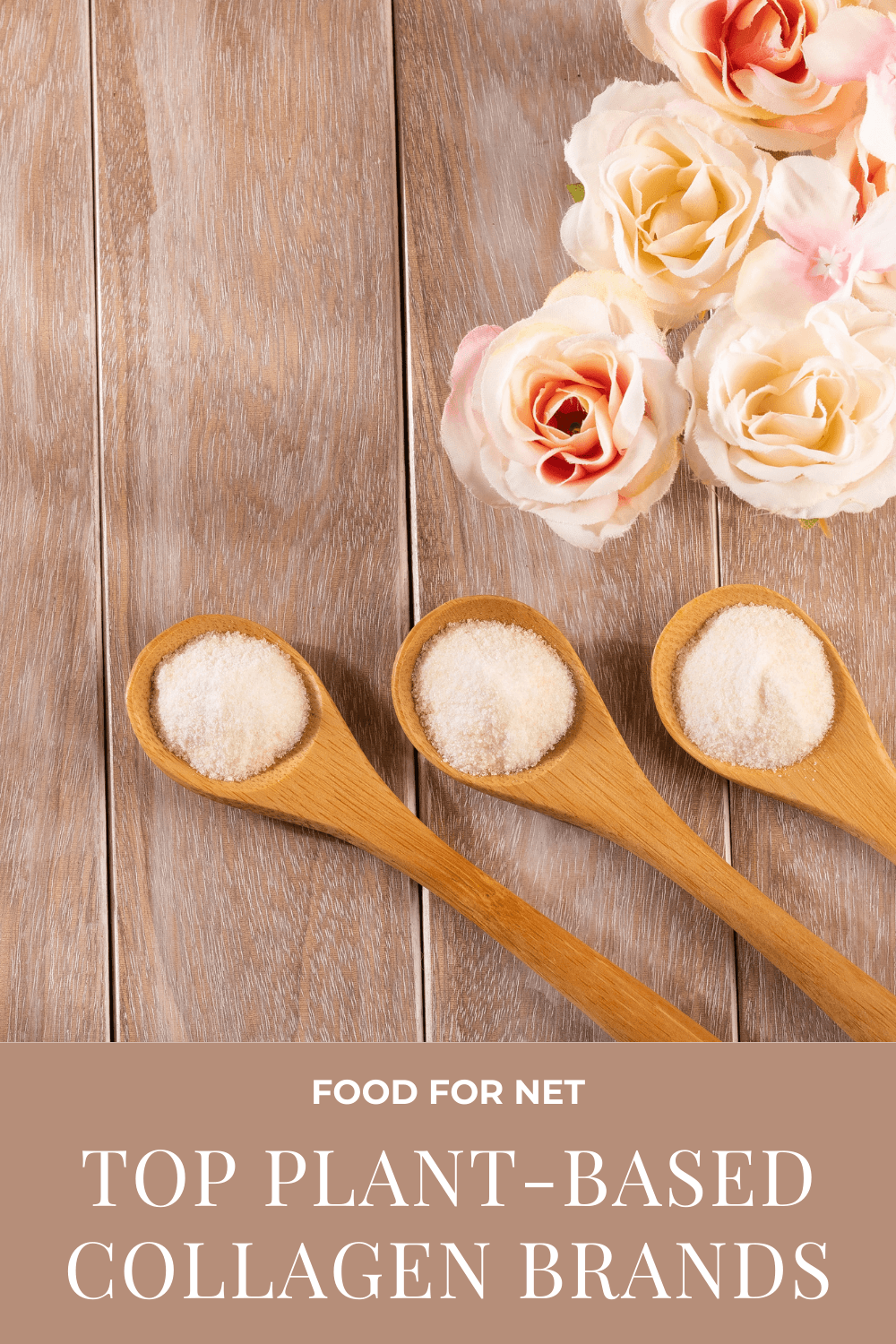 Collagen is a naturally occurring protein within the body. It's found in your muscles, bones, tendons, and skin. Your body produces lots of it and it's essentially what holds a lot of things together. It's also good for repairing body tissues which is why it's such a popular element in skincare. It can be taken internally as a supplement to better your skin from the inside out, or it can be applied topically.
Topical products can be tricky though as many are difficult for the skin to properly absorb because collagen molecules are large. This is why taking it internally is a more effective way to increase collagen production in the body and see the benefits in your skin. This becomes especially important as you get older because collagen production decreases with age.
The problem, for some, is that many collagen supplements and medical treatments are made by sourcing the protein from a variety of animals. While many argue that it's for a good purpose, there are other, healthier ways to increase your collagen levels.
The following plant-based collagen supplements contain powerful, natural ingredients that are proven to either boost collagen production in your body and/or prevent it from breaking down. The formulas are created by companies that have done careful research and testing to give you a combination of ingredients that work together effectively and are easy to add to your diet and routine!
The Best Plant-Based Collagen Brands
1. Sunwarrior Collagen Building Protein Peptides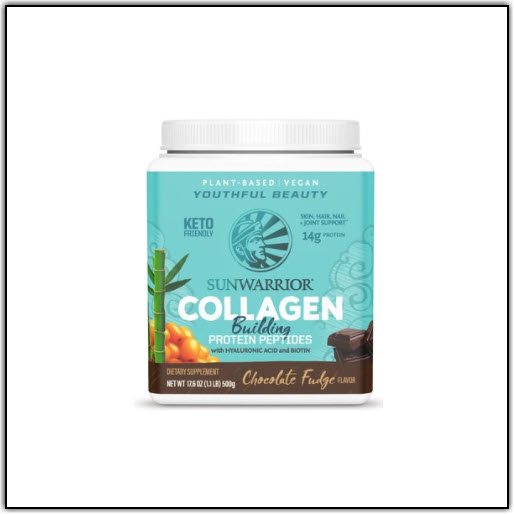 Sunwarrior Collagen Building Protein Peptides is specifically for those who want to slow the aging process in their skin and the company believes collagen is the way to do this. The supplement is full of plant-based peptides and amino acids, things that your body directly converts into collagen on its own.
It also offers a slew of other nutrients to hydrate your skin, helping it stay smooth, healthy, and glowing. This includes things like silica which is sourced from bamboo, spirulina which is one of the most nutrient-dense foods in the world, sea buckthorn which is high in vitamin C, biotin which is known for supporting skin, and hyaluronic acid which is crucial for hydration and retaining moisture. Hyaluronic acid is also naturally occurring in the body but, like collagen, production decreases with age.
The supplement is free from soy, gluten, dairy, and added sugar. It's certified vegan, keto-friendly, non-GMO and it comes in four delicious flavors – natural, chocolate, vanilla, and salted caramel. You can also get it unflavored if you prefer. It's easily mixed with water or your favorite drink/smoothie for convenient use.
2. Anima Mundi Collagen Booster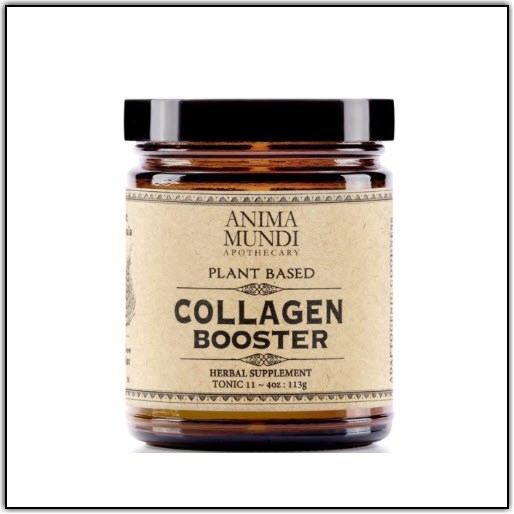 Anima Mundi Collagen Booster is designed as an all-around beauty supplement. With an array of ancient herbs, flowers, and other powerful ingredients, it boosts the body's natural production of both collagen and keratin. This means it'll help your skin glow, your hair grow and shine, and your nails become stronger. It's also designed to increase the elasticity of your skin, joints, and ligaments while potentially strengthening and healing bones and cartilage.
The list of benefits here is long, and while results do depend on other factors such as diet and lifestyle, those benefits show what can happen when you harness the power of plants and nature.
Ingredients here include horsetail extract powder, nettle, calendula, he shou wu extract powder, mangosteen peel, mangosteen fruit, and gynostemma. All of these are either organic or wildcrafted.
These ingredients are not ones you hear of often, but the science and research are there. Gynostemma is an ancient adaptogen that has been used since ancient times to increase longevity and promote things like healthy heart function, stamina, immune system strength, hair loss prevention, and even better memory.
3. Moon Juice Collagen Protect

Moon Juice Collagen Protect is designed to not only boost collagen production but to protect and preserve the collagen that's already in your body. It's perfect for anyone who wants healthy, glowing, and youthful skin but is particularly good for those who want to fight aging specifically. It minimizes fine lines/wrinkles and hydrates from the inside out.
It's a simple supplement, containing only a handful of ingredients such as rice bran solubles, silver ear mushroom, and sodium hyaluronate, which is the salt of hyaluronic acid. These ingredients are all one hundred percent naturally derived and sourced from organic, family farms in China and Thailand.
The supplement is also unique in that it's designed as a "creamer" instead of a regular powder supplement. It's great for coffees or smoothies, creating a creamy, delicious flavor and texture. Because of its natural state, it may clump so blending is recommended.
4. Ora Organic Collagen Booster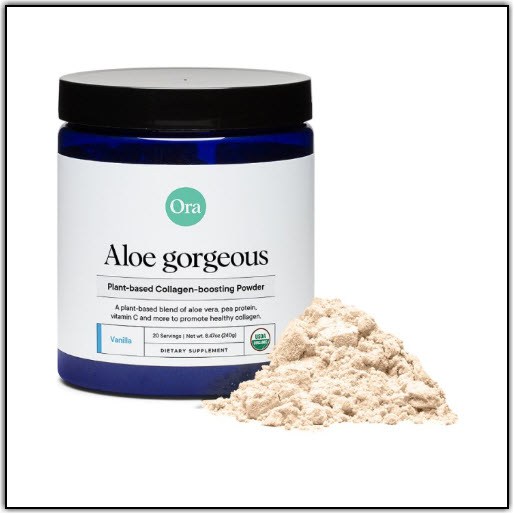 Ora Organic Collagen Booster uses the power of plants to help your body boost its own collagen production and help you achieve healthy, beautiful skin while supporting many other functions in the body.
The supplement is certified vegan, gluten-free, dairy-free, soy-free, non-GMO, and all organic. Ingredients include aloe vera, silica from bamboo, pea protein, coconut milk, vitamin C from acerola cherry, coconut sugar, vitamin E from sunflowers, and natural vanilla flavoring.
You can take this delicious supplement mixed with a regular drink or smoothie, or they suggest some fun, alternative recipes if you want to mix it up. This includes a creamy collagen-boosting cup of coffee and yummy chickpea dough balls! These recipes are easy to follow and include only a handful of additional, healthy ingredients.
5. Amazing Grass Glow Collagen Support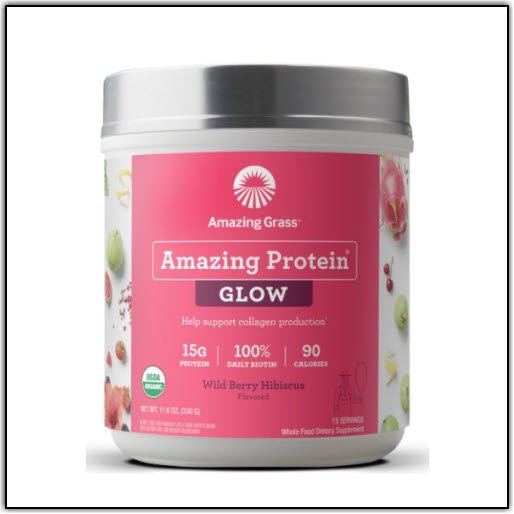 Amazing Grass Glow Collagen Support is made with organic and plant-based proteins, superfoods, and greens, many of which are homegrown on the family farm. It offers 15 grams of protein per serving as well as nutrients like vitamin C and biotin which are known to promote healthy skin.
The ingredients list is a little longer than some, but it includes many beneficial things like beetroot, pitaya fruit, hibiscus flower, monk fruit extract, kale, lemon peel extract, and many others that give your body an incredible nutrient boost. Taken daily as directed, it's a robust and wonderful addition to both your diet and beauty routine!
Available as a powder, the many available flavors create yummy drinks and amazing smoothies. You can choose from wild berry hibiscus, chocolate rose, vanilla honeysuckle, or unflavored. The unflavored powder is great if you want to add it to your favorite juice or smoothie recipe but would prefer the taste remains unchanged. For something a little different, they've also created a delicious chia pudding recipe using the berry hibiscus flavor!
Managing Collagen Naturally
While any one of these supplements is a fantastic addition to your diet, they're not a bulletproof solution. For optimal results and general maintenance of great health, you should be mindful of your body's natural collagen production. There are both steps you can take and things you can avoid to even further support and boost the production and preservation of collagen in your body.
Foods to Eat
You can enhance your own production of collagen by making some changes and/or additions to your diet, and many are plant-based and vegan friendly!
Citrus fruits. Vitamin C is crucial to the healthy and abundant production of collagen.
Berries. Also high in vitamin C, but they also contain plenty of antioxidants which are known for protecting skin from damage.
Tropical fruits. More vitamin C of course, but guava especially contains zinc which also contributes to the production of collagen. Bonus: guava also has the highest protein content of all fruit.
Garlic. Garlic is high in sulfur which helps prevent the breakdown of collagen that's already there.
Beans. Beans are high in protein and contain many of the amino acids necessary for collagen production.
Cashews. These are high in zinc and copper.
This list is not exhaustive as many foods support collagen production, but these are some of the highlights, as well as ones that are generally easy to access and add to your diet.
What to Avoid
In addition to adding some things to your diet, there are some things you can avoid to prevent collagen from breaking down and opening your skin up to damage and aging.
Sugar and refined carbs. Eating too much of these things is known to damage collagen and prevent it from repairing itself.
Too much sun. Don't get this wrong, this doesn't mean you should become a hermit and stay inside. But, too much ultraviolet radiation can reduce collagen production. Avoid excessive sun exposure when possible and always sit in the shade if it's an option!
Smoking. In addition to the many other negative consequences that come with smoking cigarettes, it will reduce collagen production in your body and lead to premature wrinkles.
Stress. While it's nearly impossible to avoid stress entirely, excessive and prolonged stress will cause high amounts of cortisol to form which can break down collagen and lead to wrinkles. Everyone manages and copes with stress differently so what you can do here is to keep your methods close at hand and don't neglect self-care. Things like meditation, mindfulness, exercise, reading, and much more are all forms of self-care and stress reducers. For the sake of your skin and your sanity, prevent and reduce stress wherever and whenever possible!