You've probably heard the good news by now – nuts are healthy. There are plenty of reasons why, including the nutrient content, the protein, and the fact that nuts aren't processed much at all. However, nuts aren't all the same. Each type has a slightly different nutrient profile and varies in other ways.
We've talked about other nuts in previous posts, including almonds, walnuts, and even peanuts (even though they're technically a legume). Today, we're asking, are cashews good for you?
Cashews do, after all, have the same features as other nuts, including a decent selection of nutrients and plenty of protein. They're also softer than most other nuts and have a subtle flavor. That combination of features makes cashews easy to use in recipes.
Of course, it isn't all good news. Cashews have some issues too, including their carb content. We need to look at the good features and the bad ones to work out whether cashews are worth eating regularly.
Are Cashews Good For Your Health?
The Benefits Of Cashews
The Problems With Cashews
Are Raw Cashews Safe?
How Do Cashews Compare To Other Nuts?
Should You Eat Cashews?
The Benefits Of Cashews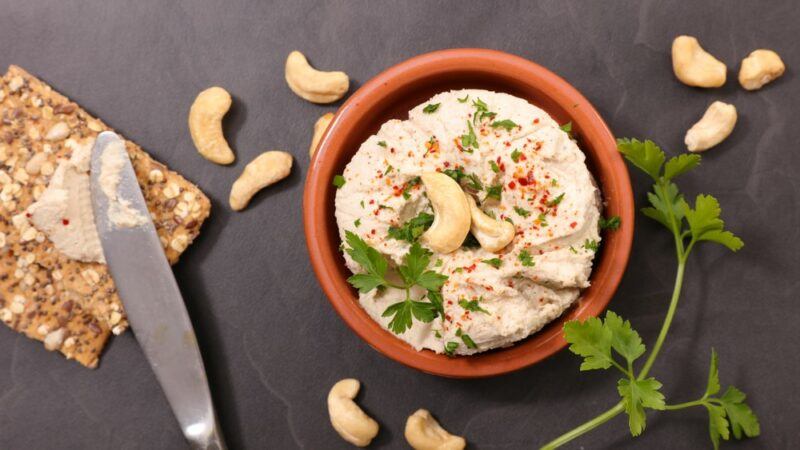 The Nutrients
Nuts are renowned for their nutrient density. For cashews, the most significant nutrients include iron, vitamin B6, potassium, and magnesium. There are some other important nutrients present too, including zinc and folate.
Vitamins and minerals like these are all essential to health. Our bodies don't produce nutrients like these, so we need to get them from our diet instead.
Now, eating more of a given nutrient doesn't generally provide extra benefits. However, you do need to meet your targets for each nutrient. Nuts can help in this area, as they're an easy snack that has plenty of vitamins and minerals to go around.
The iron in cashews is particularly important, as iron deficiency remains surprisingly common. If you're not eating meat regularly, then cashews could be an easy way to boost your iron levels.
Cashews Are Versatile
While most nuts are eaten whole, the softness and creaminess of cashews makes them much more versatile. Sometimes cashews can even help to replace dairy, like in cashew cream and cashew cheese. The pattern is particularly common in vegan products.
In fact, cashews turn up in a surprising number of recipes, like a Cashew Fettuccine Alfredo dish or Cashew Pesto. They're even soft enough to be thrown through a stir fry or scattered on top of a salad.
They're Rich In Antioxidants Too
Nuts aren't bright and vibrant like berries and some vegetables, so it's easy to forget that they contain antioxidants too.
Nuts can even be a more useful source of antioxidants than fruit, as they last longer. Cashews may be less powerful for antioxidants than almonds and walnuts because they don't have a skin. Even so, the versatility of cashews means that you can use them in more ways, so it's easier to get them into your diet.
Interestingly, the antioxidant activity of cashews appears to increase as they are roasted. This might make roasted cashews even more powerful than non-roasted ones.
May Promote Weight Loss
Nuts make a surprisingly good snack for weight loss, despite their calories and fat. They work well because they're satisfying.
That effect comes from their protein content. A handful or two of nuts is enough to sate your appetite and get you through to the next meal.
The trick is to watch how many you eat. Like other nuts, cashews are calorie dense. And, you only get around 18 cashews in an ounce (which is the best serving size). It's really easy to eat more cashews than this, especially if you have an open bag next to you.
To avoid the problem, try measuring out your serving of cashews first, then putting the rest of the bag away. Even then, make sure that the calories from cashews fit in your eating plan. You might need to cut out a treat or two to make room for them.
The Problems With Cashews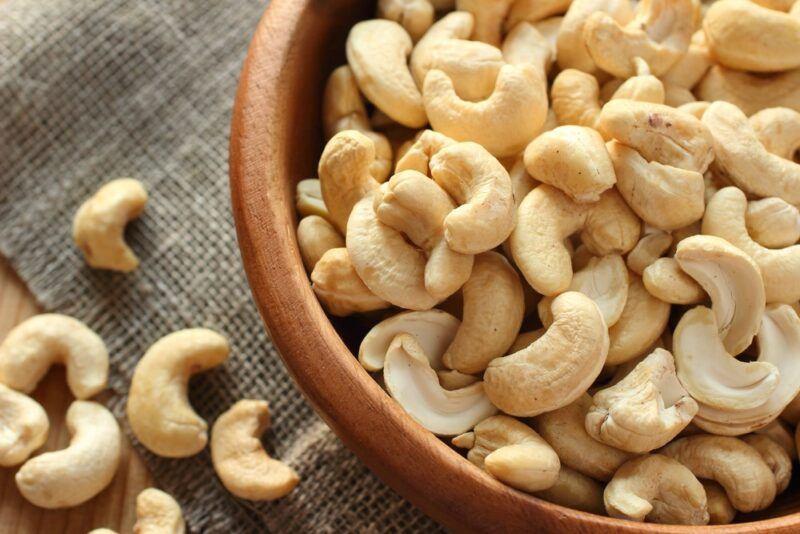 Their Carb Content
Cashews have a different macronutrient balance than most other nuts. Rather than being mostly fat, they're surprisingly high in carbs, with a whopping 26 net grams of carbs per 100 gram serving.
The carb content is an issue, as high carb diets are thought to increase inflammation and could raise the risk of some diseases too. Plus, modern diets are already rich in carbs, so adding more doesn't seem like a great plan.
Thankfully, the carbs in cashews aren't as concerning as the carbs found in white bread, white pasta, and other processed foods. At least with cashews, you're getting plenty of nutrients at the same time and nothing has been stripped away.
Whether the carbs are an issue will depend on your goals. If you're following a low carb or keto diet, you might need to give cashews a miss. But, if you're being more flexible with your carb intake, then cashews could be just fine.
It's Easy To Eat Too Many
Cashews are only good for you if you're eating a reasonable amount. Unfortunately, it's easy to consume too many. After all, an ounce of cashews (around 18 nuts) contains around 160 calories. That's a decent amount of calories for a small serving size.
Most of us could easily eat more than that in a sitting. You might even eat three or four times that amount if you're snacking on roasted and salted cashews while watching a movie.
Plus, if you were simply told that nuts are healthy, you might consume decent quantities without ever thinking about the serving size.
To get benefits from cashews, you really do need to stick to reasonable portions. This mostly means a serving of roughly a handful per day. Any more than that and you're consuming far too many calories.
Their Heart Disease Effect Is Less Certain
Nuts are often seen as a way to decrease heart disease risk. This happens because they're rich in monounsaturated and polyunsaturated fats, which may both help to lower cholesterol and triglyceride levels in your blood.
While various studies have found this effect for nut consumption, few studies have specifically examined whether cashews on their own decrease heart disease risk. One recent study suggested that cashews might not be as powerful as other types of nuts. In that research, the authors found that cashews didn't have any notable impacts on blood lipids.
The study was tiny and used an unusual design, so it doesn't prove much on its own. Still, this does suggest that cashews have their limits.
The apparent lack of a positive heart benefit could come from the saturated fat in cashews. While most types of nuts contain no more than 2 grams of saturated fat per ounce, cashews contain 3 grams instead (macadamia nuts and Brazil nuts are the other exceptions, each containing more saturated fat than cashews).
The Sodium Content
While cashews don't naturally contain much sodium, they're often roasted and seasoned, which raises the sodium dramatically. This is a significant problem, as many of us are already consuming more sodium than we should be.
Anyone following a low sodium diet will need to be cautious with their cashew intake. You may need to focus on cashews that contain no added salt. Doing so gives you all the benefits of the nuts, without the excess sodium.
Are Raw Cashews Safe?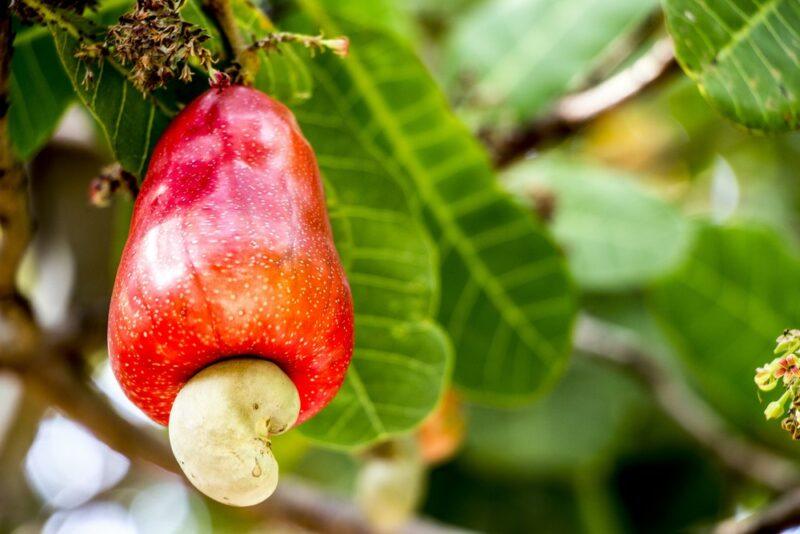 Raw cashews contain urushiol. This substance is also found in poison ivy and is toxic. In fact, even skin contact with raw cashews can cause a skin rash for some people.
It might be surprising, then, to see raw cashews sold in stores. Those cashews are safe to eat, as they're not actually raw. While the cashews haven't been roasted, they have been steamed, which is enough to remove the urushiol.
This type of cashew can be useful for dishes like cashew cheese, as you're only getting a mild flavor from the cashews. Roasted cashews can add too much flavor to some foods.
How Do Cashews Compare To Other Nuts?
Cashews offer around 4 grams of protein per ounce. This is similar to many other nuts, but is less than the amount you find in almonds and pistachio nuts. The fiber content, however, is much lower. You're only getting 1 gram of fiber per serving with cashews. Other tree nuts offer between 2 and 4 grams.
Cashews do contain less fat than most other types of nuts, but they also have 3 grams of saturated fat per serving. That's on the high end and could be a problem if you're avoiding saturated fat.
Then there are the nutrients. Cashews stand out for their iron and zinc content. They offer a decent amount of potassium and magnesium too. This is a pretty good nutrient balance really.
However, almonds are a better choice if you're looking for calcium or vitamin E, while pistachios are one of the most powerful nuts for potassium and vitamin B6.
Finally, as we mentioned before, cashews contain more carbs than most other nuts.
How this all balances out depends on what you're looking for. If you're worried about carbs or saturated fat, then cashews aren't a great choice. Almonds, pecans, and walnuts are all lower in both these areas, making them better choices.
If you're more interested in the nutrients then cashews can work well. They're also more versatile than most other nuts, which may be another reason to use them.
Should You Eat Cashews?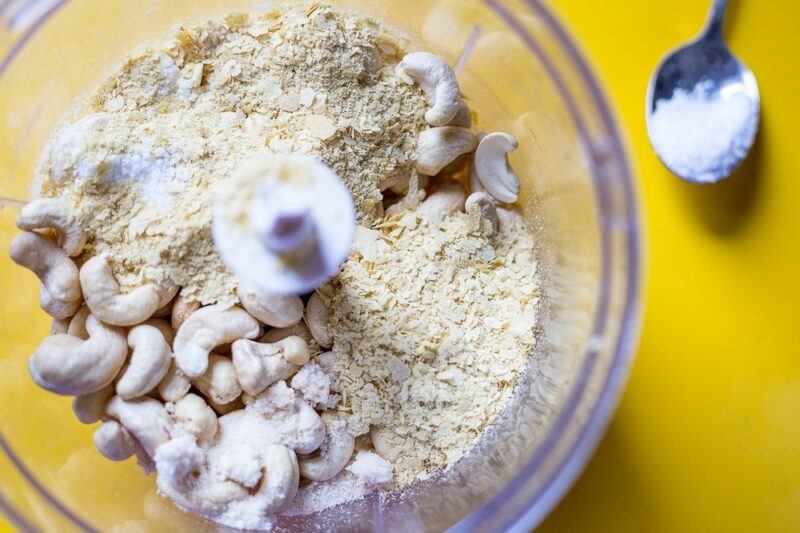 Cashews do have their good features, including their nutrient content, the way they can promote heart health, and simply how versatile they are. They can even be helpful for weight loss, as their protein makes them an excellent snack.
However, just like other nuts, cashews are high in calories. You need to be careful with your servings to make sure that you're not eating too many at a time. This issue isn't limited to the nuts themselves either. Foods that use cashews as a key ingredient are often much higher in calories than you might expect.