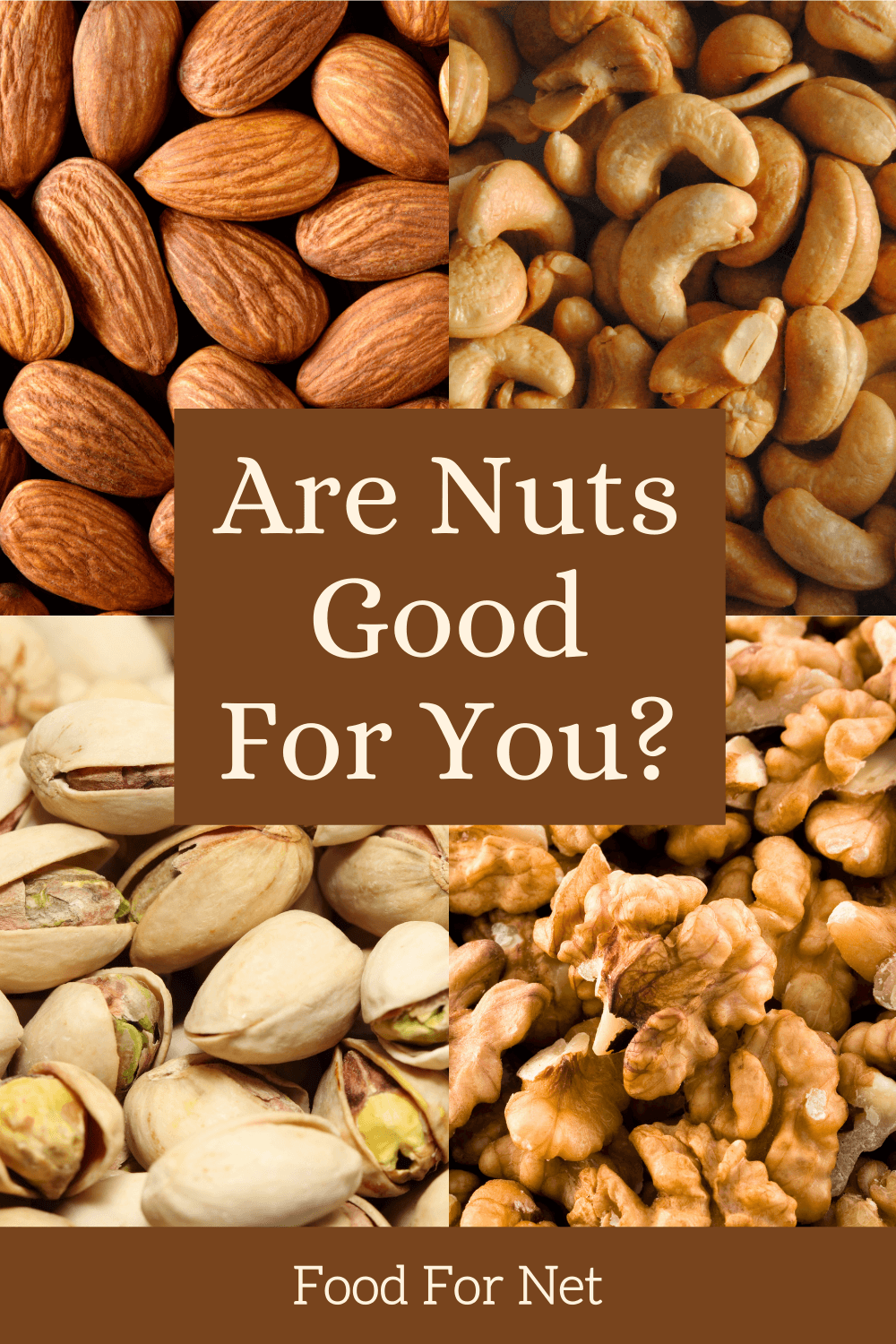 It's easy to see nuts as an unhealthy food. After all, they're relatively high in fat and calories. Many of us also eat too many at a time, especially if we're snacking on roasted and salted nuts. Yet, plenty of studies have found benefits for nuts. So, why are nuts good for you and how do you use them well?
Part of the effect comes from the nutrients in nuts. Nuts provide you with a decent amount of nutrients in a small package. They're easy to eat too. You can simply have some as a snack, boosting your nutrient intake without much effort at all.
The fat is actually another reason. Much of the fat in nuts is in the monounsaturated form. This type of fat has been linked to many benefits. It could even decrease the risk of heart disease and obesity.
Those are just two areas. There are plenty of other things to think about with nuts too, including positive features and less appealing ones. The features also vary depending on the type of nut that you choose. Almonds, cashews, and walnuts, for example, have some similarities in protein and nutrient content, along with plenty of differences.
Are Nuts Good For You?
Benefits Of Nuts
The Problems With Nuts
Do Nuts Promote Weight Loss?
Which Nuts Are Best?
What About Peanuts?
Should You Eat Nuts Regularly?
Benefits Of Nuts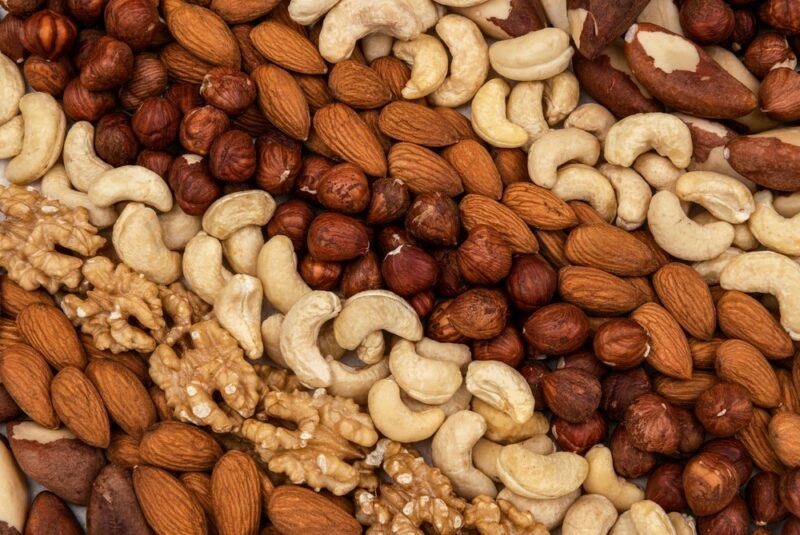 Nuts Are Nutritious
Regardless of the type, nuts are nutrient dense. They contain many important vitamins and minerals, often including a decent amount of vitamin E, magnesium, manganese, and copper. Other nutrients are present too, in varying quantities.
Of course, the type of nut you choose will make a difference.
Brazil nuts, for example, stand out for their selenium content, with just a few of the nuts giving you your daily selenium needs.
Almonds, on the other hand, are decent sources of riboflavin, niacin, and calcium. They're often called the most nutritious type of nut, a claim that isn't unfounded. Even so, other types of nuts are still powerful and worth including in your diet.
Because the nutrient composition varies between nuts, it may be best to include a wide selection in your diet. This way you get plenty of different nutrients and plant-based compounds.
They Promote Heart Health
Nuts are high in fat, but this doesn't make them bad for your heart. Quite the opposite, in fact. Multiple studies have shown that regularly eating nuts can reduce heart disease risk.
They also have positive impacts on heart disease risk factors, helping to decrease cholesterol levels, increase HDL cholesterol (the 'good' type of cholesterol), and improve triglyceride levels.
These effects may be linked to the high levels of monounsaturated fats in the nuts. Most nuts are low in saturated fat too, which could be just as relevant.
Most Are Low In Carbs
There's plenty of debate around carbs these days. Many experts still say that carbs can be healthy, particularly complex carbs, like the type that you find in legumes and whole grains.
Other people focus on avoiding carbs as much as possible. Doing so may help to minimize blood sugar spikes, reduce inflammation, promote weight loss, and provide other benefits.
Nuts are often a good choice for keeping your carb intake low, as they're mostly made up of fat. This makes them useful for low carb and keto diets, and for any time you don't want to spike your blood sugar.
However, some nuts aren't so great for carbs. Cashews, chestnuts, and pistachio nuts are particularly poor choices, with cashews containing around 26 net grams of carbs per 100 grams.
They're Antioxidant Rich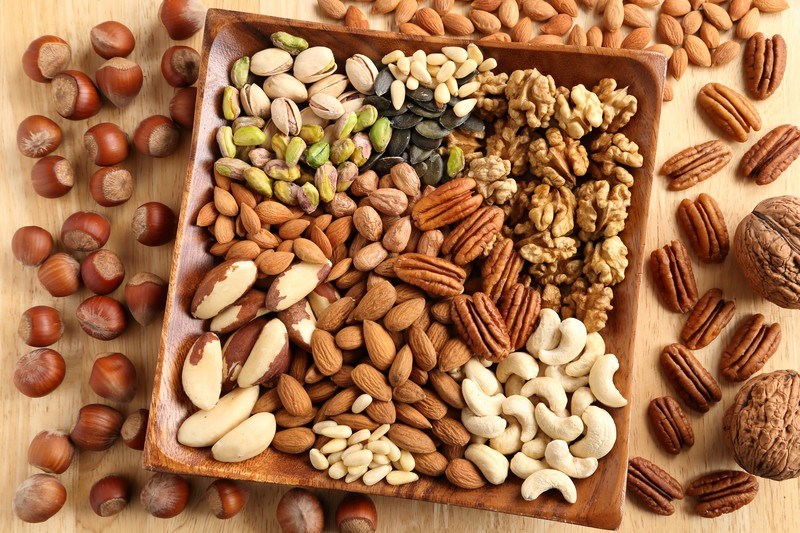 We often think of bright fruits and vegetables as our main sources of antioxidants. While those tend to be antioxidant rich foods, they're not your only options.
Nuts provide some antioxidants too. Almonds and walnuts appear to be the most powerful, with multiple studies linking them to benefits. Antioxidants are important because they may help to fight free radicals and reduce oxidative damage.
While you can't get all of your antioxidants from nuts, they can be a useful way to increase your antioxidant intake. Who knows? Your health might improve as a result.
They're Convenient
We can't forget about the convenience factor either. If you buy roasted nuts, you can simply eat them as-is, with no prep work to worry about.
This makes them an easy way to satisfy hunger or boost your nutrient intake, especially if you're in a hurry. So, if you're looking for a between meals snack, few foods are easier than a handful of nuts.
Of course, there are other ways to use nuts too. You'll often see them as an ingredient in granola or as part of healthy recipes. Cashews are particularly popular in vegan recipes, as they add some creaminess.
They're Unprocessed
Snack foods are often very processed, with plenty of additives and too much sugar. Nuts don't have this problem at all. This makes them a much better choice.
You can even roast and season the nuts yourself. This gives you even more control over the ingredients that are used.
The Problems With Nuts
It's Easy To Eat Too Much
Overconsumption is the biggest problem that most of us have with nuts. After all, nuts are small, calorie-dense, and are delicious. It's easy to keep reaching for more, especially if you're eating roasted and seasoned nuts.
The calorie density means that a serving size is often smaller than you expect. With almonds, for example a one-ounce serving consists of roughly 23 almonds and fits into a quarter cup measure. Many of us would want more almonds than that at a time.
The best way around the problem is to measure out your portion and then put the rest of the nuts away. That way there's no risk that you'll keep snacking when you don't mean to.
They're High In Fat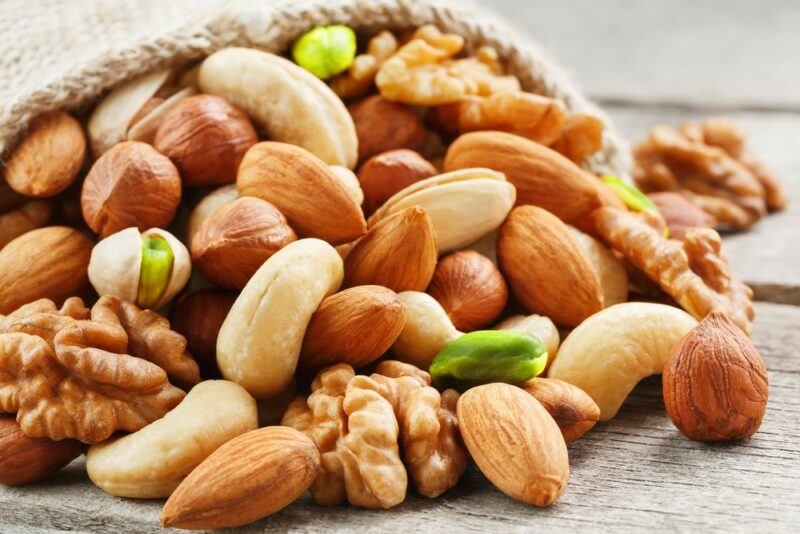 Nuts are mostly made up of monounsaturated fats and polyunsaturated fats, which both offer benefits. And, as we're starting to realize, eating fat doesn't necessarily make you fat. Weight gain is much more strongly linked to your overall calorie intake.
Even so, high fat foods aren't always the best choice.
For one thing, such foods tend to be calorie dense. It's easy to eat too much, especially if you're choosing nuts that have been cooked in oil and covered with salt.
And, while replacing unhealthy fats with healthy fats can be good for your health – eating too much fat may not be. There are concerns that high fat diets could change your red blood cells, metabolism, and even your brain function.
Realistically, the link between fat intake and health isn't well understood. We don't truly know what the ideal balance of fat, carbs, and protein is – or even whether there is a single ratio to aim for. We also don't know much about the long-term effects of high fat diets, particularly those that focus on healthy fats.
Because of these gaps in our knowledge, eating too much fat may not be wise. Many people would do better to have a moderate fat intake, while also eating plenty of low fat nutrient dense foods.
They Can Mess With Your Omega 3 To Omega 6 Ratio
You've heard about the benefits of omega 3 fatty acids, right? These are the polyunsaturated fats that make fish such an important part of your diet. What about omega 6 fatty acids?
These are still a type of polyunsaturated fat – and they're still good for you, in theory.
The problem comes down to ratios. Having a good balance of omega 3 to omega 6 may promote health in various ways, like helping to lower inflammation and decrease the risk of chronic disease. Yet, modern diets are often high in omega 6 fatty acids and low in omega 3 – partly because we rely on processed foods.
While nuts are a natural choice, they can make the omega 3 versus omega 6 problem worse. Most of them have a more ratio of the two polyunsaturated fats. Almonds, Brazil nuts, and peanuts are some of the worst choices, as their omega 3 concentration is low and they contain plenty of omega 6 fatty acids.
Macadamia nuts have a better ratio, but you're not getting many polyunsaturated fats per nut. Then there are walnuts. They contain more omega 3 fatty acids than other types of nuts, but they're exceptionally high in omega 6 as well.
In the end, all types of nuts will increase your omega 6 intake. Whether this matters depends on the rest of your diet. If you're not heavily relying on processed foods and consume a decent amount of omega 3 rich foods, then nuts could be a healthy addition. But, if your omega 6 intake is already high, then nuts may simply make things worse.
Allergies
Tree nut allergies are common. Roughly 0.5% of Americans are allergic to one or more types of tree nuts. Some people are just allergic to a single type of tree nut, while others are allergic to multiple.
Even if you're only allergic to one or two types of tree nuts, it's often best to avoid all tree nuts. This is because you can still get cross-reactions. Plus, tree nuts are often processed on the same equipment as one another, so there's a high chance of contamination.
Do Nuts Promote Weight Loss?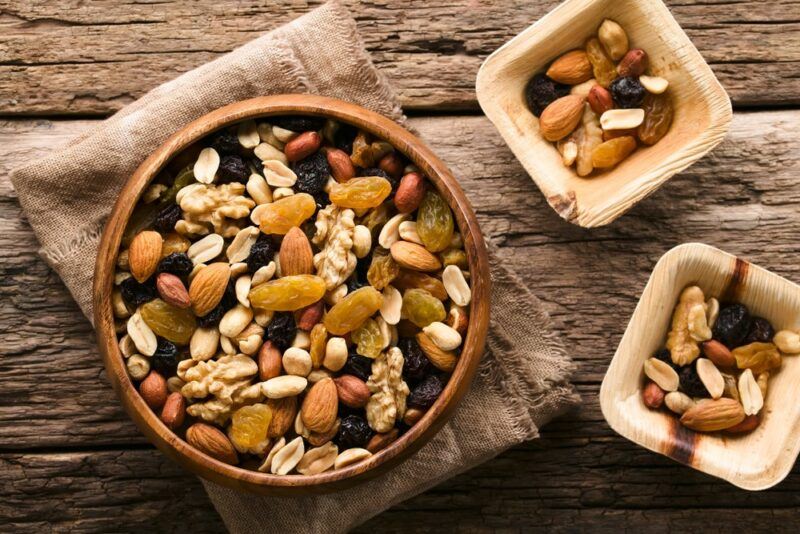 The relationship between nuts and weight loss is interesting – and complex.
On one hand, nuts are calorie dense. They're also easy to eat and are somewhat addictive, especially when they're roasted and salted. These features alone mean you can easily gain weight from eating nuts.
Anyone who struggles with self-control around food may need to avoid nuts entirely.
Yet, if you can keep your portions in check, nuts may promote weight loss. This is partly because they're rich in protein and relatively low in carbs. As such, nuts won't spike your blood sugar and can help you to feel full for longer.
These effects can decrease your calorie consumption, helping to promote weight loss.
You'll see the most benefits if you eat nuts instead of similarly calorie rich foods. For example, some studies have compared diets rich in nuts to high carb diets, finding an association between nut eating and decreased risk of obesity.
Likewise, on a calorie restricted diet, people who eat nuts often do better than those who don't.
So, while you can lose weight by eating nuts, you need to be careful. For many people this will mean sticking to a one-ounce serving of nuts each day and adjusting the rest of their diet accordingly.
Also remember that the serving size varies. In particular, an ounce will give you roughly 24 almonds, 8 Brazil nuts, 18 cashews, 12 hazelnuts or macadamia nuts, 14 walnut halves, or 35 peanuts.
Which Nuts Are Best?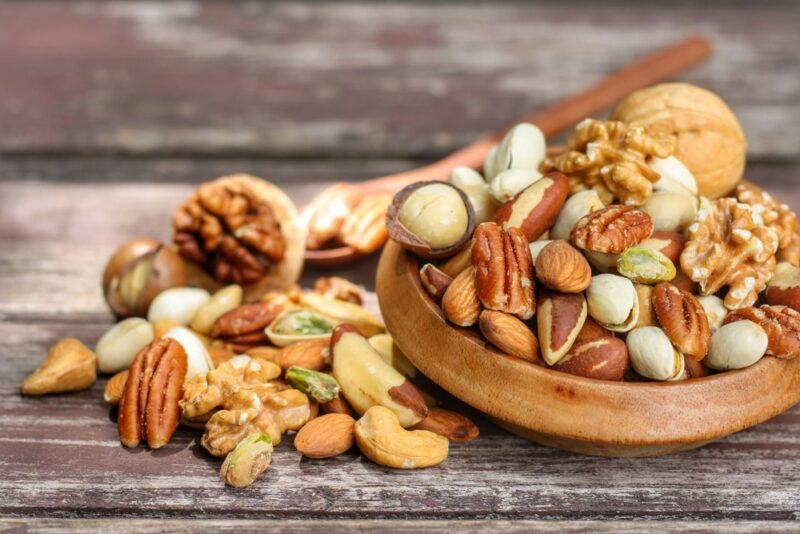 Nuts share many of the same features. They're all sources of healthy fats, protein, and fiber. They're all calorie-dense too, so you must always be cautious with your serving size.
However, there are differences too, as you can see in the list below (all nutritional data is for a one-ounce serving).
Almonds. A serving contains roughly 23 nuts and 160 calories. Almonds are one of the best choices for protein, but they do contain more carbs than some other choices, making them a little tricky for keto dieters.
Brazil Nuts. These large nuts are famous for their selenium content, making them important for male health. They're low in carbs too, but unfortunately, contain less fiber and protein than many other options.
Cashews. These nuts are one of the worst choices on a low carb diet and they aren't great for protein either. Still, they do offer nutrients, some protein and fiber, and have been linked to health benefits.
Macadamia Nuts. The fat content is most notable here. Macadamia nuts contain more fat and saturated fat per serving than most nuts, which pushes the calorie content up too. The high amount of fat also means that the nuts are lower in carbs, protein, and fiber than many other options.
Walnuts. These could be the best nuts for brain health and offer other potential benefits as well. Walnuts are a decent enough choice for protein and fat content, plus they add a delicious flavor to baking.
Hazelnuts. While hazelnuts aren't as popular for snacking as most other nuts, they still have their uses, especially when making hazelnut spread or doing some baking. Hazelnuts fall into the middle of the range for protein, fiber, and carbs, making them a decent all-round choice.
Pecans.If you're on a low carb diet, then pecans are the nuts for you. They contain fewer carbs than most other types of nuts, along with a decent amount of fat.
Pistachios. Unlike pecans, pistachios are a poor choice for carbs. But, they are delicious and many people love the flavor. Plus, if you keep your serving size low enough, you can still use pistachios for decoration and flavor, even on a keto diet.
There are also plenty of other types of nuts, including many exotic and unusual ones. While less is known about the benefits of these, any edible nut will provide you with some important nutrients.
Overall, almonds are often seen as the single best type of nut. That's partly because they're high in protein and fiber, contain fewer calories than many other types of nuts, and have a decent amount of nutrients.
Honestly though, almonds mostly just benefit from really good marketing. The other types of nuts are all powerful too.
The healthiest choice might be to not choose at all. Rather than trying to find the best type of nut, why not include a variety in your diet? This way you're getting a wide array of benefits. Besides, we know that eating a varied diet is better for your health (as long as you're focusing on healthy foods, not unhealthy ones).
What About Peanuts?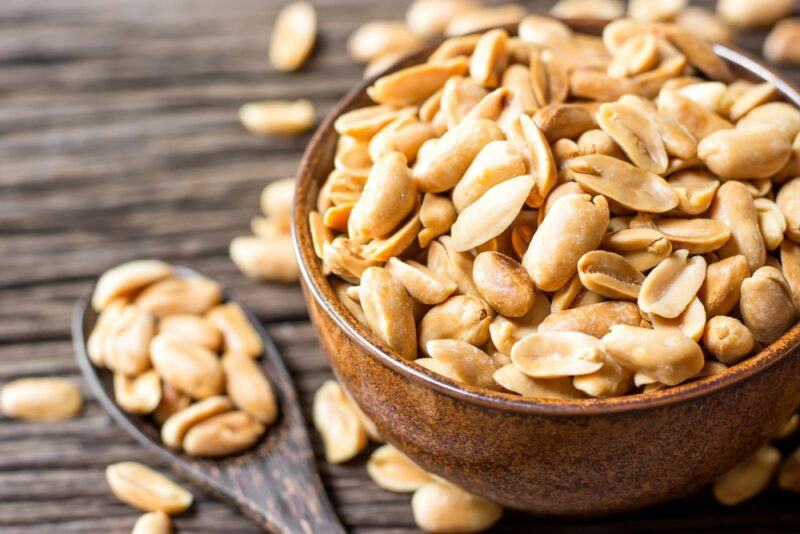 Peanuts are technically legumes rather than nuts. Despite this, they do have a similar nutritional profile to nuts – and may offer some of the same benefits. In fact, many studies consider peanuts and tree nuts at the same time, suggesting that peanuts can easily be part of a healthy diet.
Plus, because peanuts are so much less expensive than tree nuts, they're an easier choice when money is tight. This feature alone can make peanuts worth eating regularly.
Should You Eat Nuts Regularly?
There's enough evidence to say that nuts really can promote health. Eating nuts regularly could help with your heart health, inflammation levels, and even your weight. This is fantastic news for nut lovers.
There are also many types to choose from, each with their own distinct flavor, texture, and nutrient profile. As such, everyone should be able to find some nuts that they enjoy. Even so, nuts are high in fat and calories. It's easy to eat more than you mean to, especially when you're snacking on salted nuts. If you want nuts to improve your health rather than harm it, you'll need to pay close attention to your portion size. Most of the time, this means having no more than a serving of nuts per day.
Frequently Asked Questions
Are Nuts Gluten Free?
Nuts themselves are naturally gluten free. However, you need to be cautious of dry roasted and flavored nuts, as these sometimes use gluten-containing ingredients as part of their coating.
To get around this issue, look for flavored nuts with a gluten free label. Alternatively, you can buy plain nuts, then roast and season them yourself. This way you still get the flavor you want without any gluten.
Are Nuts Keto?
Nuts aren't just keto friendly. They're also popular on a keto diet, as they offer plenty of protein and healthy fats.
However, some nuts are better for keto than others. Pecans, Brazil nuts, and macadamia nuts are the most powerful, offering just 4 or 5 net grams of carbs per 100 gram serving. Walnuts and almonds are higher in carbs, with 7 net grams for walnuts and 9 for almonds. These are still viable for keto, but you need to be careful with your portion size.
Then there are pistachios and cashews. These aren't nearly as good, as pistachios have 15 net grams of carbs per serving and cashews come in at a whopping 22 grams. So, you'll need to be very cautious if you want to use these nuts on your keto diet.
Are Nuts Legumes?
Many of the nuts we eat are classified as nuts (as in, they fit the botanical definition of being a nut). The most famous exception is the peanut, which is botanically classified as a legume rather than a nut. However, peanuts are the only nut in this category and they are nutritionally distinct from other legumes.
Almonds, pistachios, and cashews aren't really nuts either. They're often classified as drupes instead.
Do Nuts Have Any Fiber?
Nuts all contain some fiber, although you'll normally find more fiber in seeds than in nuts. Almonds are the best choice, offering around 4 grams of fiber in an ounce serving. Pistachios, hazelnuts, and pecans all come in at 3 grams of fiber instead.
Some of the fiber in nuts is found in the skin, so choosing nuts with skins (like walnuts, some almonds, and some peanuts) is your best choice for fiber.
Are Nuts Seeds?
Interestingly, many of the foods we call nuts aren't botanically considered as nuts at all. Peanuts are legumes, while cashews, pine nuts, pistachio nuts, and walnuts are all seeds rather than nuts.
Nuts that are actually classified as nuts, including pecans and hazelnuts, are in the clear minority. Still, the distinction between nut and seed doesn't really matter. The health benefits of these snacks remain the same regardless of what we call them.