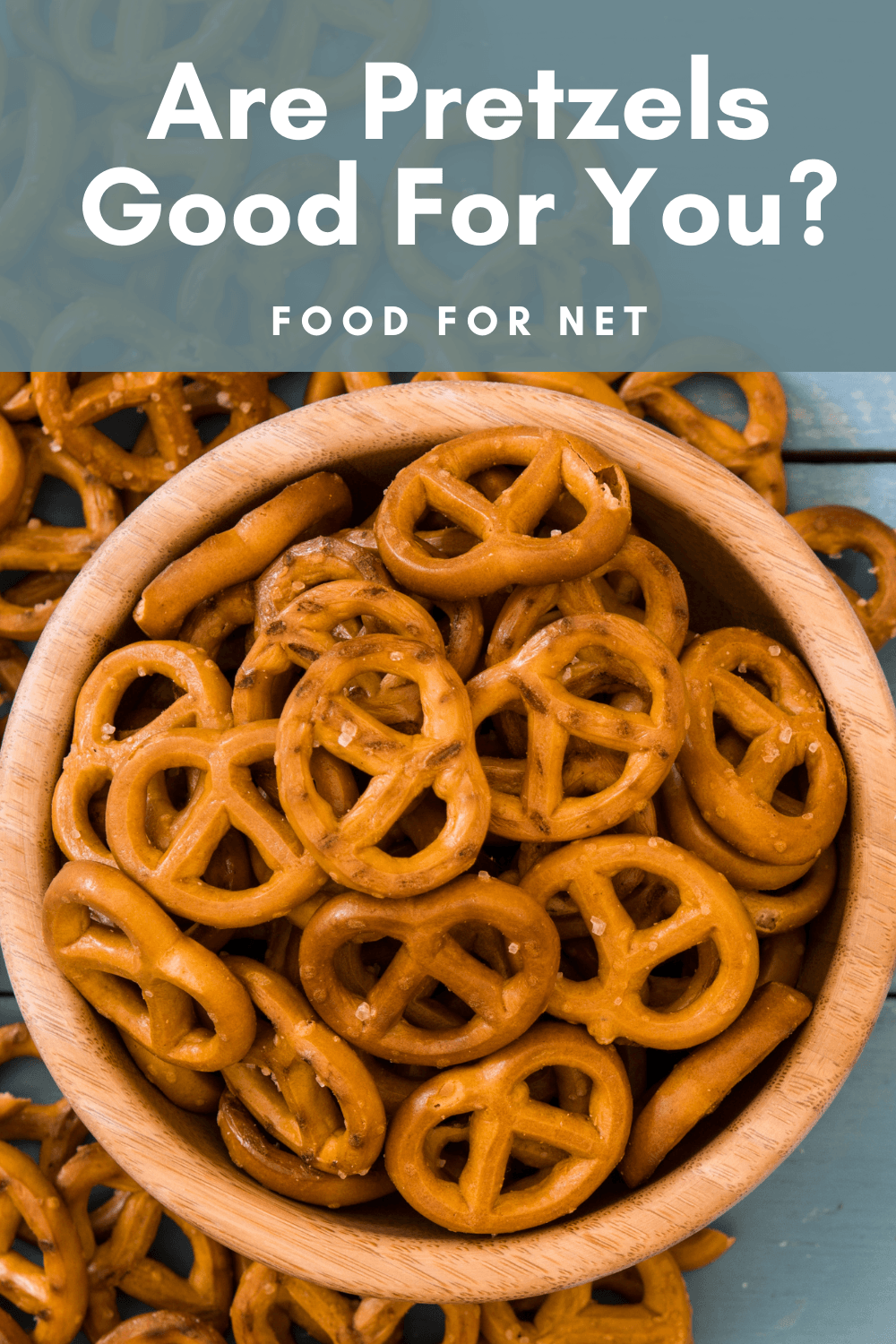 Whether you like them soft or hard, straight or shaped, with salt, chocolate dipped, or with a different topping, pretzels are delicious. They're an amazing snack for almost any time of the day, especially as the soft ones pair so well with mustard and other condiments. They pretty much all seem like an indulgence, but are pretzels good for you in any way shape or form?
Pretzels can even seem like a healthy choice at times, especially since baked rather than fried. They might be better than potato chips, right? You can even buy soft pretzels fresh out of the oven.
Still, we must ask, are pretzels good for you? They do have some concerning features, like relying on white flour and being high in carbs. Their sodium content isn't great either.
Are Pretzels Good For You?
Types Of Pretzels
Pretzel Nutrition
Benefits Of Pretzels
Risks Of Pretzels
How Do Pretzels Get Their Crust?
How To Get The Most Out Of Pretzels
Final Thoughts
Types Of Pretzels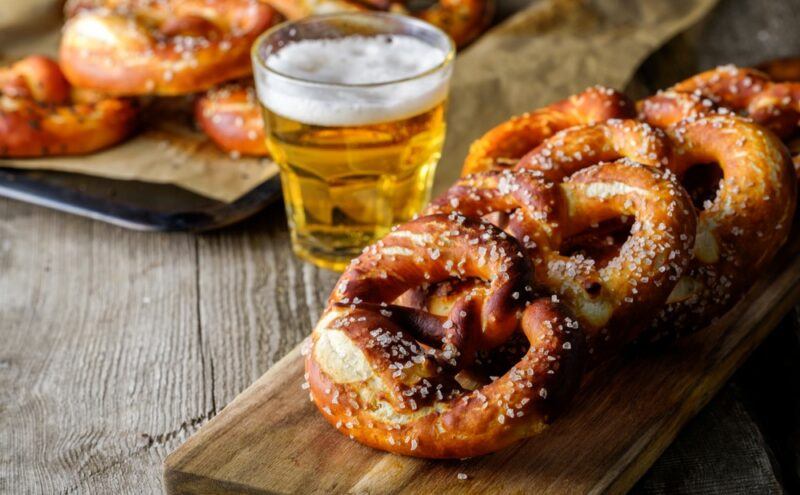 Pretzels fall into two basic categories – soft and hard. Soft pretzels are often large and normally sold on their own. You'll find them at bakeries, concession stands, and plenty of other places. You can even make them at home.
Then there are hard pretzels. These are much smaller and crunchier, without the same chewy softness that you find with large pretzels. They do last longer than the large versions though, making them an easy snack to take almost anywhere.
Some people enjoy both types of pretzels equally, while others have a clear preference.
Interestingly, soft pretzels are the traditional version. Hard pretzels were developed because soft ones went stale too quickly, making them impractical for shipping.
Despite their difference in texture and appearance, soft and hard pretzels use a very similar recipe, meaning that their nutritional benefits and issues are roughly the same as well.
You'll see the samepatterns with other types of pretzels as well. For example, soft pretzel buns are often made with the same dough that is used for soft pretzels, while pretzel sticks are generally regular hard pretzels that haven't been molded into the traditional pretzel shape.
Pretzel Nutrition
Let's begin with the nutritional profiles. The pattern is roughly the same for soft pretzels compared to hard ones, although the serving sizes are often different.
For a large soft pretzel, roughly 140 grams, you're looking at this profile:
483 calories
Carbs: 99 grams
Fiber: 2.4 grams
Sugar: 0.4 grams
Fat: 4.4 grams
Protein: 12 grams
For 100 grams of hard pretzels, the profile looks like:
362 calories
Carbs: 81.3 grams
Fiber: 7.7 grams
Sugar: 0 grams
Fat: 2.6 grams
Protein: 11.1 grams
Those two profiles are averages, as there are always differences between individual products. Regardless, you're looking at a high calorie snack that contains an exceptional amount of carbs, some fiber and protein, and not much fat. The fiber content may be higher if your pretzel has been made using whole grain flour rather than white flour.
There are some nutrients present too, including iron, B vitamins, and folate. These nutrients do all offer benefits, but pretzels aren't an amazing source of them. There are plenty of more nutrient dense foods out there.
Benefits Of Pretzels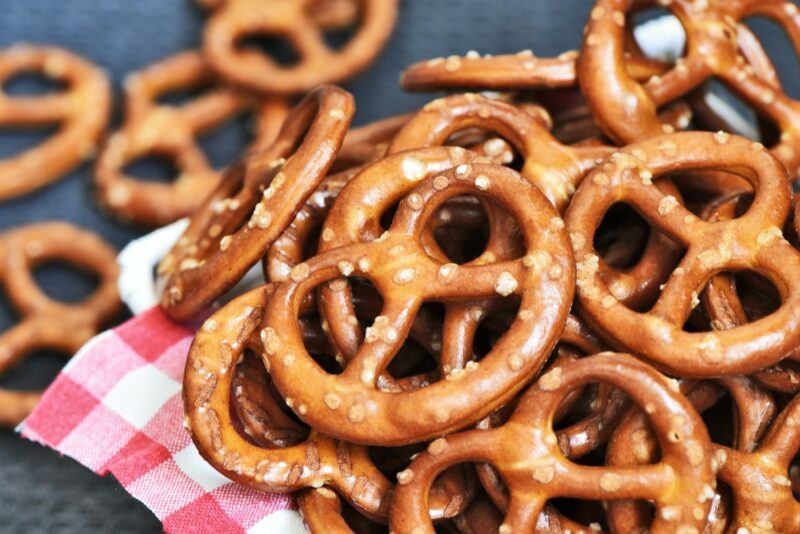 Let's be realistic, pretzels don't have a ton of benefits. You can probably see that from the nutritional profile alone. Still, they're also a snack that people eat for pleasure, so they don't need to be incredibly nutritious.
They're Baked, Not Fried
Pretzels are baked in the oven, rather than being deep fried. This means they're lower in fat and calories than potato chips.
This difference could even mean that choosing pretzels over potato chips helps to decrease your heart disease risk and could even lead to weight loss. But, those benefits only apply if you're doing a direct swap. Your weight isn't likely to improve if you're simply adding pretzels to your diet.
They're Easy And Delicious
This isn't really a health benefit, but pretzels are certainly delicious. They're easy to eat too, particularly if we're talking about the dried ones that you buy from the store.
Risks Of Pretzels
The Carb Content
You guessed it. The carbs in pretzels are one of their biggest issues.
There is a lot of concern around carbs these days, including fears that they can increase inflammation and raise your risk of disease. Issues are particularly significant with simple carbs, as these are quickly digested and cause rapid spikes in your blood sugar levels.
Pretzels are an awful choice here, as they're a refined food that's rich in simple carbs. Many pretzels don't even contain much fiber, which just makes matters worse.
The carbs make pretzels are particularly concerning snack for people with diabetes, leading to blood sugar increases and an increased risk of complications.
They're High In Sodium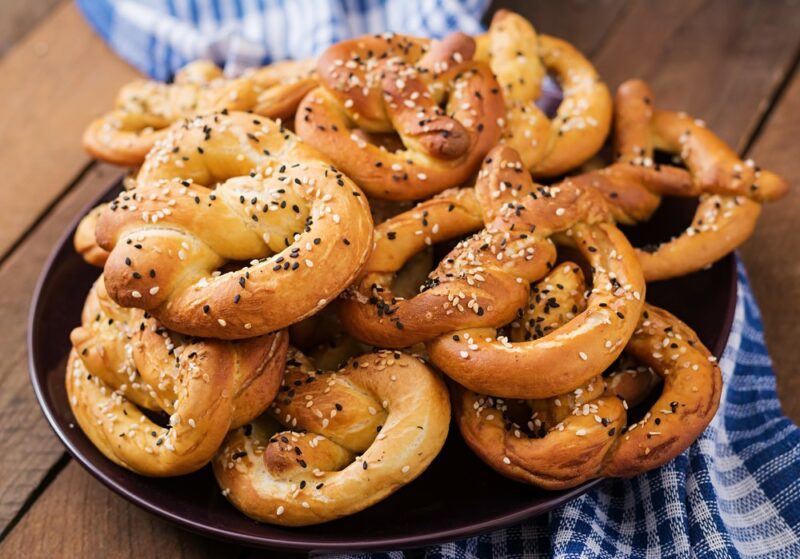 No surprises here, pretzels are high in sodium. You could easily get close to 400 mg of sodium in a single ounce of pretzels. Some of that sodium comes from the pretzels themselves, but most of it comes from the salt used on the outside.
Sodium is a bit scary, as too much sodium increases blood pressure and fluid retention, raising your heart disease risk in the process.
You do need some sodium to function well, but sodium is so common in processed foods that most of us are getting much more than we need, rather than not enough. Pretzels risk making this pattern so much worse.
There are low sodium brands out there, which help to mitigate this effect. However, you'll need to experiment to see whether you enjoy these or not. After all, the salt on pretzels is much of the reason they're so delicious.
They're Processed
Pretzels are always processed. This is even true for soft pretzels that you buy from a local bakery, as the flour that's used to make them is highly refined.
Much of the time we're talking about white flour, which is just made from wheat endosperm. As such, white flour loses many of the nutrients found in the whole wheat grain.
Processed food is convenient and often lasts for a long time, but it's never amazing for health. Seriously. Many of the health issues we experience today may come from how we rely far too heavily on processed foods.
They Could Be Contaminated
Processed food comes with another issue too – contamination. For example, back in 2016, Rold Gold pretzels were contaminated with peanut traces. For people with nut allergies, that contamination could have been incredibly dangerous.
The situation isn't an isolated case either. While recalls of processed foods are rare, they do happen. And, let's be honest, when food is highly processed, you never really know what you're eating.
Pretzels from a bakery aren't necessarily any better either. They still rely on ingredients that can be contaminated and there's the risk of contamination in the bakery itself.
They Don't Contain Many Nutrients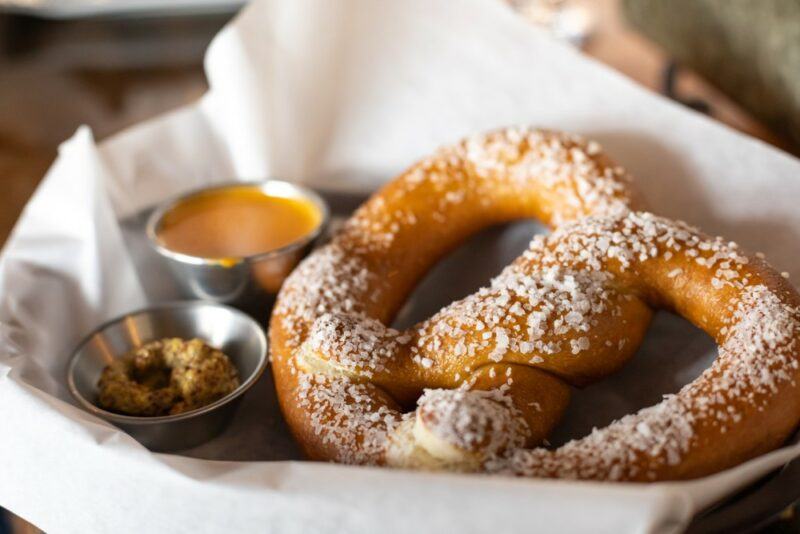 Even if you choose whole grain pretzels, the nutrient content is never amazing. You're mostly just getting a ton of carbs. This isn't helpful at all.
The Gluten Content
Pretzels are made from wheat flour, so they contain a decent amount of gluten. This is bad news for anyone with celiac disease or gluten sensitivity.
If you fall into either of these groups, you might experience side effects from pretzels, such as stomach cramps or even diarrhea. Delicious as they are, pretzels aren't worth such issues.
How Do Pretzels Get Their Crust?
The dark brown pretzel crust has its own interesting story. Traditionally, this is made using food grade lye. Yes, lye, which is chemically the same as drain killer.
This isn't a cause for concern though, as the lye is manufactured carefully and is heavily diluted. Plus, the baking process causes a chemical reaction that gives pretzels their traditional crust and stops the lye from causing any ill effects for your health.
The biggest problem with lye is simply that it needs to be used carefully. This is why many homemade pretzel recipes skip the lye entirely (you can use lye at home, but if you're going to do so, you need to be very careful).
How To Get The Most Out Of Pretzels
Pretzels clearly have some issues, but what if you don't want to give them up?
Be Careful With Your Portions
The first step is simply to watch your portion size. This might mean just having a handful of hard pretzels at a time or just part of a large soft pretzel.
Pair Pretzels With Healthy Ingredients
You can also think about what you eat at the same time. Remember, one of the biggest problems with pretzels is that they're carb dense and don't offer much else at all.
Having some fiber and protein at the same time helps to decrease the blood sugar impact of your pretzels, making them a much healthier choice. Hummus is particularly excellent here, as it is made from nutrient dense chickpeas and tahini.
Look For Low Sodium Varieties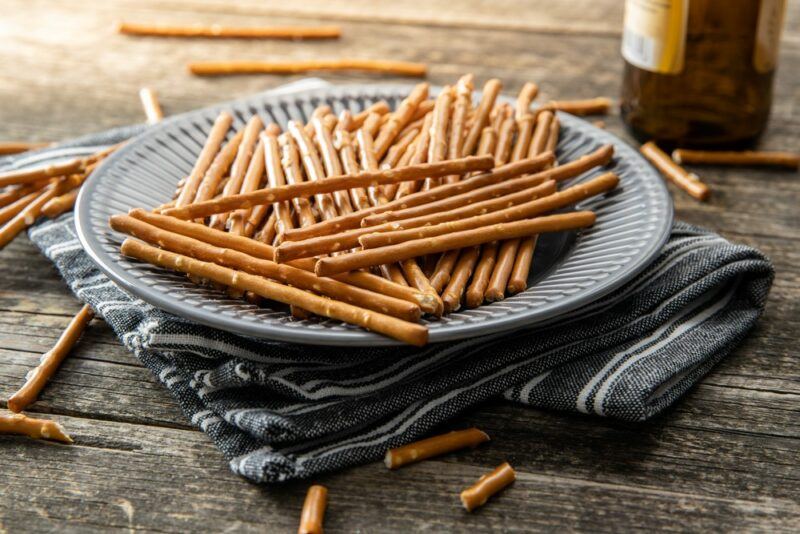 Sodium is another serious issue with pretzels. Thankfully, most of this sodium is on the surface of pretzels, rather than in the dough mixture.
This means you can avoid most of it by focusing on low sodium products. Sometimes this may involve having plain pretzels rather than salted ones (don't worry, you can add flavor by dunking your pretzels in a low sodium dip).
Alternatively, you can look for pretzels that use sodium free toppings. This approach is particularly common with soft pretzels, with possible toppings including cinnamon sugar, poppy seeds, sesame seeds, and more.
You can also experiment with salt free seasoning brands from your local grocery store. Many of these are surprisingly delicious.
Pay Attention To The Ingredients
Finally, pay close attention to the ingredients label. This is always important, as companies sometimes add unexpected ingredients, like preservatives or artificial flavors.
Final Thoughts
Pretzels are delicious, but just like potato chips, they're not a healthy snack at all. Instead, they're high in carbs and sodium, a combination that could lead to all kinds of health problems.
Does this mean that you should never have pretzels again? Not necessarily. It's easy to forget that your diet doesn't have to be perfect all of the time. There's no need to make every single ingredient nutrient dense and packed with benefits.
You can still have your treats. The trick with pretzels is simply to remember that they are treats. Even if you choose the best possible product on the market, pretzels are never going to be a health food.
Frequently Asked Questions
Are Pretzels Gluten Free?
No. Pretzels use wheat flour as one of their main ingredients, so they contain plenty of gluten.
However, you can find gluten free pretzels. These are made using alternative types of flour and starch. While these don't have the same flavor and texture as true pretzels, some are surprisingly close.
Are Pretzels Vegan?
The basic recipe for pretzels is entirely vegan friendly, as it relies mostly on flour, water, salt, sugar, and yeast.
This doesn't make all pretzels safe though. Some companies use milk, eggs, or butter, either in the recipe itself or in a glaze. This makes it important to closely check the ingredients label. You can also make pretzels yourself, which means you know exactly what goes into them.
Are Pretzels Good For Weight Loss?
Pretzels sometimes seem good for weight loss because they're fairly low in fat. However, they still have a notable blood sugar impact and don't offer many nutrients at all.
Pretzels aren't satisfying either. It's too easy to eat a large amount at a time, then end up overdoing it with both sodium and calories.
Are Pretzels Fried?
Whether they're hard or soft, pretzels are always baked in the oven, rather than being fried. Baking them helps to keep the fat content low, while giving the pretzels their distinct texture.
Are Pretzels Good For Acid Reflux?
Soft pretzels can be good for acid reflux simply because they're easy to digest and avoid most acid reflux triggers. You'll need to be careful with toppings though, as spicy mustard will certainly set off your acid reflux.
Also remember that the pretzels don't offer much nutrition. This means they won't help reduce your acid reflux symptoms in the long term. So, it's best to see pretzels as a safe snack rather than a healthy food.