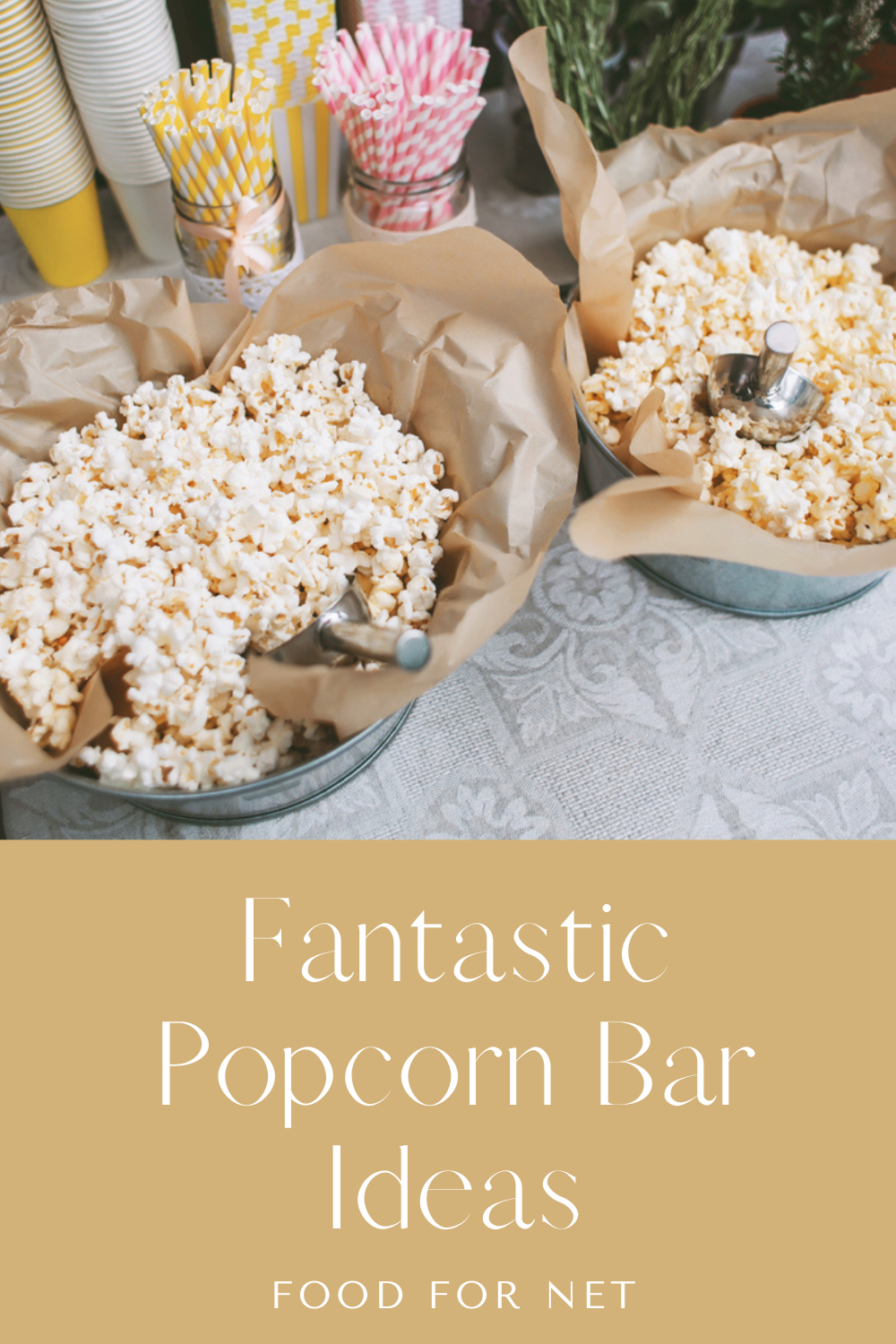 DIY bars always work well for parties. They're creative, fun, and allow guests to create exactly what they want. This is much better than a table of finger food that no one is really interested in. Popcorn bars are particularly good, as they can be very inexpensive and you have countless options for toppings. But, you need somewhere to start, right? That's why this post focuses on popcorn bar ideas.
Let's start with the basic idea. A popcorn bar generally has one or more large containers of popcorn, plus a variety of mix ins and toppings.
Guests can grab a container and add whatever combination of ingredients they want. Some might make a classic combination, like caramel popcorn with chocolate drizzle. Others might build something completely bizarre. Either way, the experience is fun and guests end up with a custom treat with all the flavors they want. What could be better?
Of course, popcorn bars aren't all equal. Some are much more popular than others. So, how do you make your popcorn bar stand out? Here are some ideas to get you started.
Ideas For Your Next Popcorn Bar
The Popcorn You Choose
First, we need to talk about popcorn. This is the base of your popcorn bar, so it's crucial. If you get this part wrong, the rest of your bar just doesn't work.
Unsalted Plain Popcorn
If you're only serving one type of popcorn at your bar, then plain popcorn, with no butter, salt, or anything else, is the way to go. This popcorn acts as a blank canvas, allowing guests to add whatever flavors they like.
Unsalted popcorn is also helpful if any guests are watching their sodium intake, as guests can simply add as much or as little salt as they like.
Salted Popcorn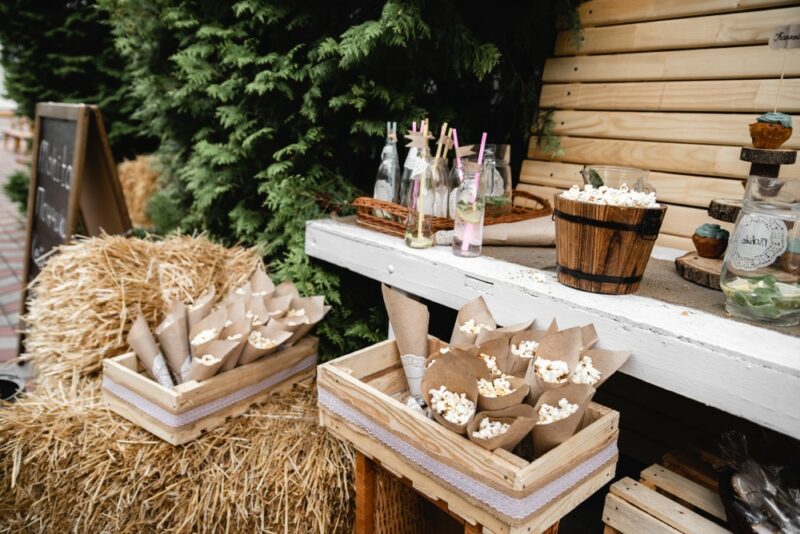 You can still offer salted popcorn, as most people will want some salt. Just watch how salty you make the popcorn.
It's easy to overdo it, especially as some guests will want much less salt than others. Besides, your guests can easily add salt to the popcorn, but they can't remove it.
Caramel Popcorn
Caramel popcorn is almost essential for any sweet popcorn bar. The caramel flavor is the perfect base for countless sweet toppings and mix ins, including chocolate drizzles and M&Ms.
Microwave Popcorn
If you're serving a small crowd, microwave popcorn is a fantastic choice. You can even prepare the popcorn during the event, giving guests bowls of hot popcorn.
Unflavored microwave popcorn works well here. You could turn to lightly buttered popcorn too.
Popcorn with heavy butter isn't such a good match, especially if you're offering sweet toppings and mix-ins. If there's too much butter, it will drown out the flavor of anything added to the popcorn.
Cheese Popcorn
Cheese popcorn is less versatile, but it can still work, particularly if you already have the basics covered with plain popcorn and caramel popcorn. Serving cheese popcorn could also help encourage guests to experiment with savory flavor combos, rather than sweet ones.
Plus, some people love mixing caramel and cheese popcorn together for a sweet and savory contrast.
Gourmet Popcorn
Some types of gourmet popcorn will work well on a popcorn bar, while others will be more difficult. To work this out, you'll need to think about the popcorn's flavor and what else you're serving on the popcorn bar.
In particular, gourmet popcorn, including products from popcorn of the month clubs, can sometimes have an intense taste. Their flavor could easily overwhelm any add-ins you plan to use.
Weird flavored popcorn can be a particular problem, as the flavor mightn't pair well with any of your other ingredients. Seriously. You can get popcorn flavored like mince pie, a gin and tonic, or even a hamburger.
More nuanced gourmet flavors, like garlic and parmesan or black pepper will be a better fit for your popcorn bar. This way your guests have plenty of flexibility.
Video: Gourmet Popcorn Bar w/ Prosecco
Mix-Ins To Consider
The next question is what guests can mix into their popcorn. There's an endless array of options here, including sweet and savory mix-ins.
When you're deciding, it helps to think about the theme of the event. Consider your guests' preferences as well. For example, if you're mostly serving kids or teenagers, you'll probably want simple mix-ins, while adults may look for more unusual and refined flavors.
Sweet Mix-Ins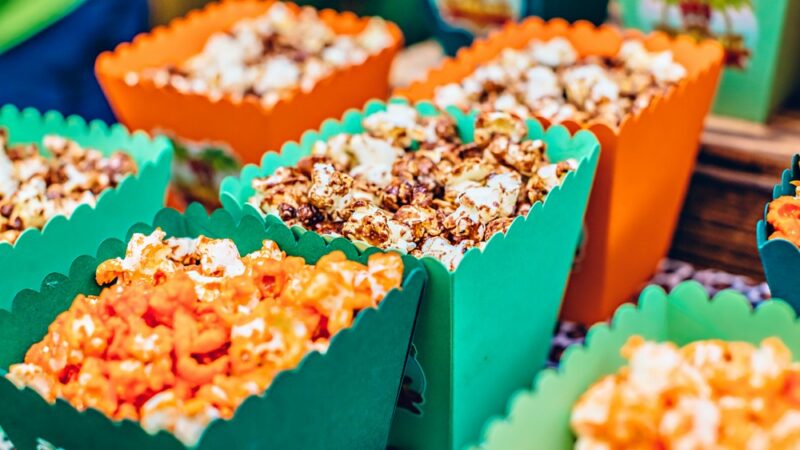 Chocolate chips. Simple, tasty, and familiar, how can you go wrong? Milk chocolate chips are the obvious choice here. You could experiment, though. Why not offer white chocolate chips as well or a mix of the two? Even dark chocolate chips might work.
M&Ms. M&Ms give you chocolate and a bright candy shell. The chocolate is an excellent complement to the popcorn, while the bright color stands out. Perfect, right?
Reese's Pieces. These give you peanut butter in a candy shell. They'd work well with M&Ms or instead of them.
Gummies. Gummies in popcorn, why not? You can go with your current favorites or try something new. You could cut the gummies up into small pieces or keep them whole. Either style works well.
Sweet-sour gummies. Gummy worms and some other gummies have a sweet-sour balance of flavors. This contrast is excellent on popcorn, helping to contrast the sweetness of other ingredients.
Mini marshmallows. These create a fantastic texture contrast, giving guests a hit of sweetness in their popcorn. If you don't have mini marshmallows, try cutting up large ones instead.
Crushed cookies. Oreo cookies are the go-to choice here. In fact, some gourmet popcorn companies already sell white chocolate popcorn with crushed Oreos. That combination of ingredients creates a cookies and cream experience that you can easily replicate at home. Of course, you could easily crush other types of cookies.
Cereal. This is an odd choice, perhaps, but some types of cereal will work well with your popcorn. Froot Loops are a good place to begin or perhaps Chocolate Cheerios.
Candy. Any type of candy can work as a popcorn mix-in. This includes Reese's Pieces, Junior Mints, Milk Duds, and even caramel pieces.
Dried fruit. If you want something healthier than candy, what about dried fruit? It provides plenty of sweetness, along with some antioxidants.
Savory Mix-Ins
Wasabi peas. Perfect for anyone who likes things a bit spicy. You might even find guests adding the peas to their popcorn on a dare.
Nuts and seeds. Any type of nut or seed could be an exciting popcorn addition. Chopping them into small pieces helps, as whole nuts will quickly sink to the bottom of your guests' popcorn containers.
Chex mix. Chex mix provides a bunch of textures all at once. It's an excellent choice for times when you're just adding a few mix-ins for guests to choose from.
Potential Toppings
Then there are the toppings. Here too, you're looking for a combination of sweet and savory ingredients.
It also helps to include a few unusual toppings in the mix, as this makes everything more exciting. Some guests will stick to the toppings they know, while others may be willing to experiment.
The lists below give you some ideas of sweet and savory toppings that you can use. It isn't a comprehensive selection though, as you can use almost any type of powder as a popcorn topping.
Sweet Toppings
Melted chocolate. Keeping chocolate melted can be a little tricky, but it's worth doing so, as drizzled chocolate is such an amazing popcorn topping. You may need to use a double burner setup or perhaps a fondue pot that relies on a tea-light candle.
Chocolate sauce. If melting chocolate feels like too much work, what about chocolate sauce? There are plenty of products to choose from and many are completely shelf stable.
Caramel sauce. Caramel is amazing too, especially if you're not offering caramel popcorn as part of your bar.
Sprinkles. Sprinkles are popular as cake toppings, so they're easy to find. They're also fantastic on your popcorn, as they're light and sweet.
Hot cocoa powder. This is another way to add chocolate flavor to popcorn. You can even choose a flavored hot cocoa powder, like peppermint or mocha. Don't forget about white hot chocolate either. This would be amazing on popcorn.
Fruit preserves. Fruit preserves offer a rich hit of fruit flavor. You can make them at home or buy some from the store instead. Either way, you end up with a fantastic popcorn topping.
Cinnamon. Cinnamon pairs well with sweet popcorn toppings and some savory ones. It's also an easy one with your popcorn bar, as cinnamon is often sold in shakers anyway. You could take this a step further by making a sweet cinnamon sugar mix.
Savory Toppings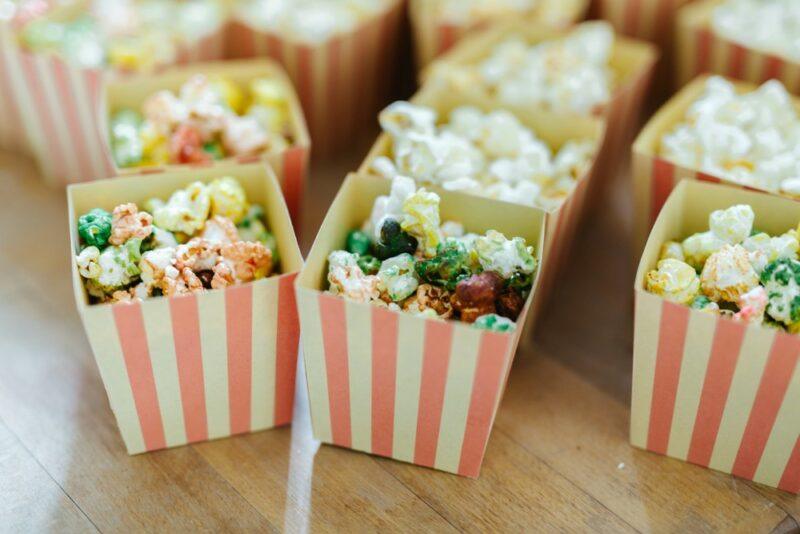 Salt (including flavored salt). Some type of salt is almost essential for a popcorn bar. Even if you're serving salted popcorn, some guests are going to want extra saltiness. Flavored salt helps make things more interesting. You might even include a few different types of flavored salt.
Butter. Popcorn is often butter flavored, but this often relies on flavoring ingredients, rather than actual butter. So, including melted butter on your popcorn bar can be a real treat.
Cheese seasoning. Any cheesy popcorn seasoning will work well on a popcorn bar. You could stick with a straight cheese flavor or perhaps something with herbs. You might even include real parmesan flakes for guests to sprinkle on.
Bacon bits. Who doesn't love bacon? Bacon bits bring plenty of bacon flavor to the table. They're also easy to use and are forever popular.
Ranch seasoning. You can buy or make ranch seasoning powder. This adds a touch of ranch flavor to your popcorn. Some guests might even use ranch seasoning and bacon bits at the same time.
Vinegar. While vinegar isn't a common choice, the right guest will love it. Besides, it's easy to include a bottle of vinegar on the table. It hardly matters whether the guests use it or not.
Hot sauce. Hot sauce makes things even more exciting. You could choose a fairly mild hot sauce or go with something much more intense.
Truffle oil. Truffle flavoring is popular on gourmet popcorn, so why not offer truffle oil and allow guests to make their own truffle popcorn?
Spice blends. Most spice blends work well as popcorn toppings. This includes a chai spice blend and pumpkin pie spice. If you're not sure, why not experiment yourself before building the popcorn bar. You'll quickly work out which combos taste good and which ones don't.
Video: Kernel Season's Popcorn Seasoning
Other Things To Consider
The popcorn, mix-ins, and toppings are the food aspect of your popcorn bar, but they're not the entire experience. There are some other things to think about as well. These shouldn't be overlooked, as they can make a huge difference to your guests.
Do You Have A Theme?
You might theme your popcorn bar towards a particular type of flavor, a color, or an event. For example, a Saint Patrick's Day display would feature a lot of green, while a Valentine's one would contain a lot of pink and red ingredients instead. You might even color the popcorn to match.
Or, you might have a sweet popcorn bar, where most or all the toppings are sweet. This leaves savory popcorn lovers out, but it's much easier than trying to include both sweet and savory toppings.
It helps to think about the theme first. This way you know exactly what toppings and styles you're looking for.
Think About The Accessories
A popcorn bar is going to need containers for guests, popcorn, toppings, mix-ins, and anything else you're offering. You'll need a few other items too, like labels for the different flavors and scoops for the mix-ins.
The popcorn bar looks amazing if you make the various items match each other.
Also, try putting some of the seasonings in shakers. Using scoops for powder toppings can get messy very quickly.
It's actually worth experimenting with the different containers before you fully set up the bar. Try having a mock run of making popcorn yourself. This way you can quickly see whether the setup works or whether it's going to be incredibly messy.
Consider A Sign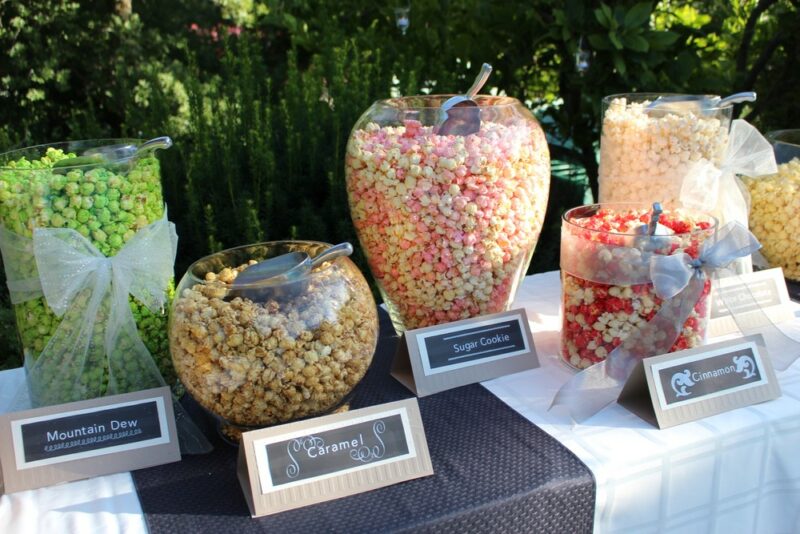 Having a sign isn't essential, but there are some cute popcorn bar signs that add to the entire event. Many just provide basic instructions, leaving little space for doubt.
Make Sure There's Enough Space
People tend to congregate around popcorn bars. It can take them a while to choose the flavors and toppings they want. The table can also turn into a gossip space.
Because of this, you need plenty of space around the table. The best tables have space around every side. Others may be against the wall but have room to spare around the remaining three sides of the table.
Make A Flavor Inspiration Board
Why not encourage your guests by including some creative flavor suggestions on a board? We're not just talking about predictable ideas here, like chocolate and caramel with salted popcorn.
You could include some pretty weird popcorn flavors on the list. Did you know that some people even make cheeseburger popcorn? Or wasabi popcorn?
Skip The Toppings And Offer Interesting Popcorn
If you want a less complicated popcorn bar, you could just provide half a dozen containers filled with flavored popcorn – some sweet, some savory. This provides plenty of flavor and means you don't need to mess around with toppings and mix-ins.
You could even put some weird flavors in the mix. These are a great way to break guests out of their comfort zones. Products from popcorn of the month clubs would work particularly well here, as most clubs send you out new flavors every month.
Related Content