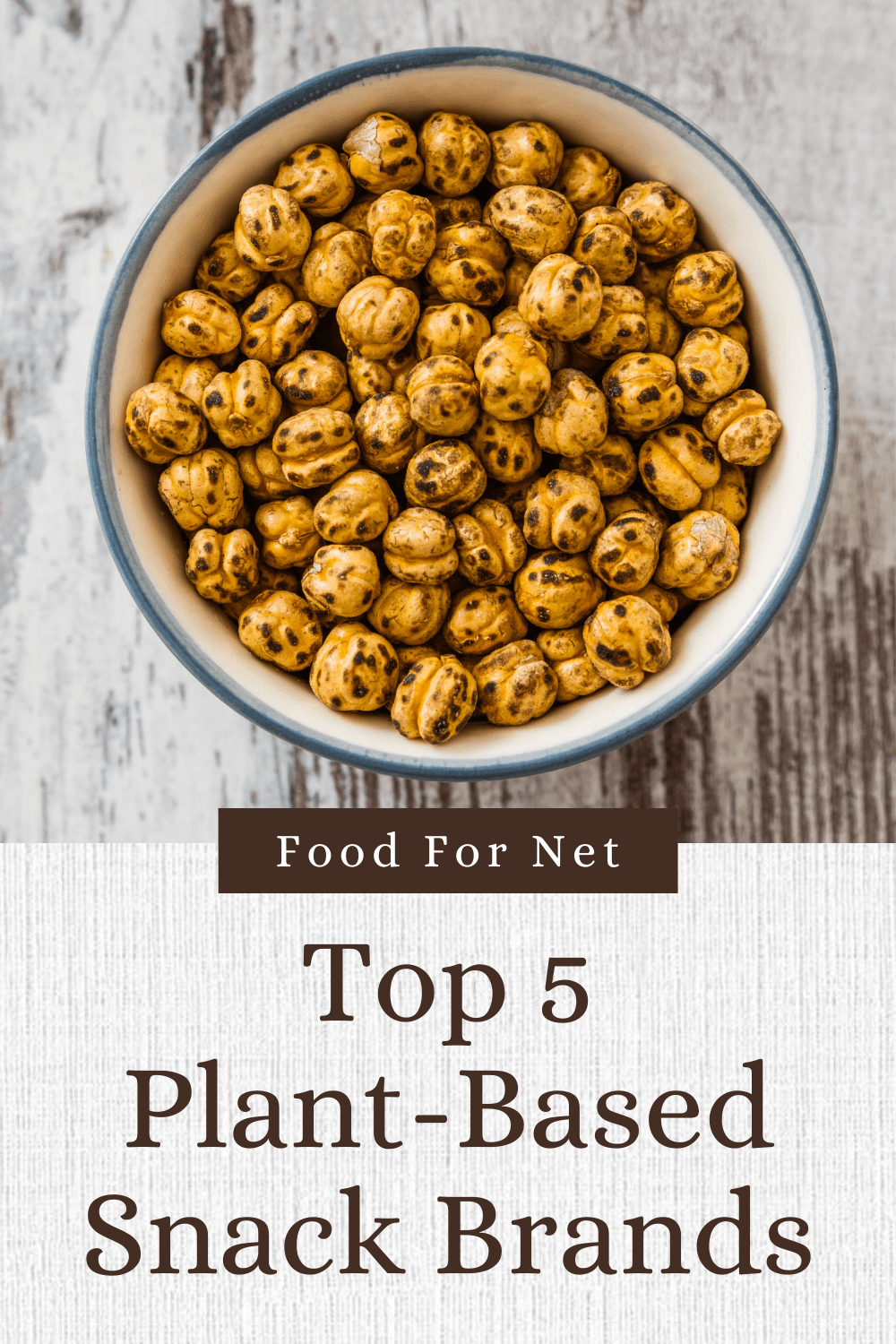 Whatever diet you're on, or whatever lifestyle you've chosen, snacks are universal! Whether you want a little extra between meals, are fueling up for physical activity, or just want to enjoy something tasty, we all need a snack once in a while. While you shouldn't have to cut snacks out of your life entirely, there are, unfortunately, plenty of things you should be avoiding. Snacks are generally known to be unhealthy – full of sugar and salt. With a little more attention to detail, however, it's easier than you think to find healthy snacks that you don't have to make for yourself.
The beauty of plant-based snacks is that not only are they vegan friendly but many of them cater to other lifestyles and diets too such as keto, kosher, gluten-free, etc. There are plenty out there on the market, but we've highlighted some of the best here, in terms of nutrition, taste, and convenience.
You can take these along to work or throw them into the kids' lunches – very little effort is required but they're tasty and healthy at the same time. You can even pick and choose depending on what they need – nuts for a little more protein, hummus dip for some fiber, etc.
The Best Plant-Based Snack Brands
1. Three Farmers Chickpea Snacks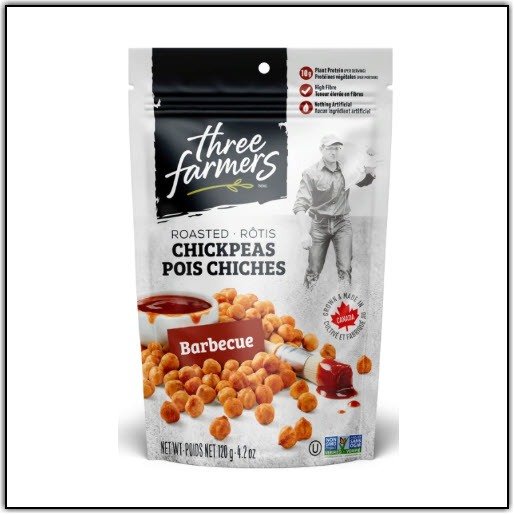 Chickpeas are amazing for many reasons. You can cook them, toast them, even blend them up and make lots of cool snacks, meals, and sides. If you're after a crunchy, salty snack but would rather avoid regular potato chips, Three Farmers Chickpea Snacks are the perfect solution.
The chickpeas are carefully and expertly roasted to perfection to create the perfect, satisfying crunch you're craving. Then, they're lightly seasoned with their respective flavoring and packaged up – that's it!
There are five flavors available: sea salt and lime, turmeric and spice, BBQ, balsamic and cracked pepper, and plain sea salt. Other than the spices required for flavoring, the only ingredients used are the chickpeas themselves and sunflower oil.
One serving of these chickpea snacks offers 10 grams of protein and 10 grams of fiber and is only 190 calories per serving. If you like the crunchy, roasted style of the chickpeas but want to mix it up a little, they also have roasted lentils, peas, and fava beans you can try.
2. GoGo Quinoa Savory Snacks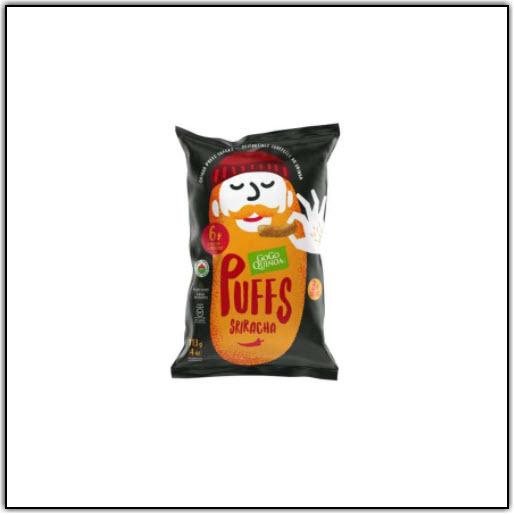 GoGo Quinoa Snacks are the perfect substitute for the Cheeto lover. They have the same crispy, fluffy crunch to them, without all the sugar and artificial flavoring. They have three flavors of these plant-based quinoa puffs available – salt and vinegar, siracha, and white cheddar. The salt and vinegar flavor is also organic.
Each serving (roughly half the bag) contains 230 calories and six grams of protein as well as 10% of daily iron. There's also no cholesterol and they are gluten-free, trans-fat-free, wheat-free, peanut-free, and non-GMO, making them the perfect snack for just about anyone.
The ingredients are minimal and vary slightly from flavor to flavor but include things like sunflower oil, pea protein, sunflower extract, sorghum flour, and more.
3. Sabra Hummus Snacks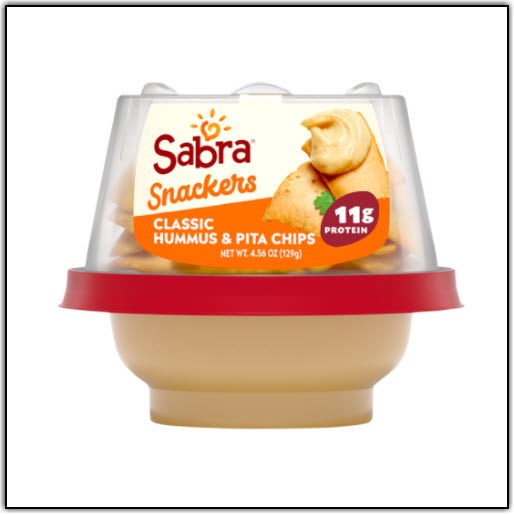 Sabra Hummus Snacks are not only plant-based and nutritious, but they also make packing lunches and preparing for outings as easy as ever. Each snack package has two sections – one with some yummy hummus dip and the other with crispy pita chips for dipping. They're perfect for on-the-go but they're just as suited to a lazy day at home where you want an easy snack!
Each package has 390 calories, six grams of fiber, 11 grams of protein, and a decent amount of iron. Ingredients include chickpeas, soybean oil, garlic, and salt for the hummus and whole wheat flour, oat fiber, sea salt, and sunflower oil for the pitas.
Sabra has many different flavors of hummus that are perfect for all your dipping needs. They also have a range of other, sweeter, more dessert-like snacks with their graham cracker sticks and brownie batter dip – a great, portion-controlled treat for kids after a healthy lunch!
4. GimMe Seaweed Snacks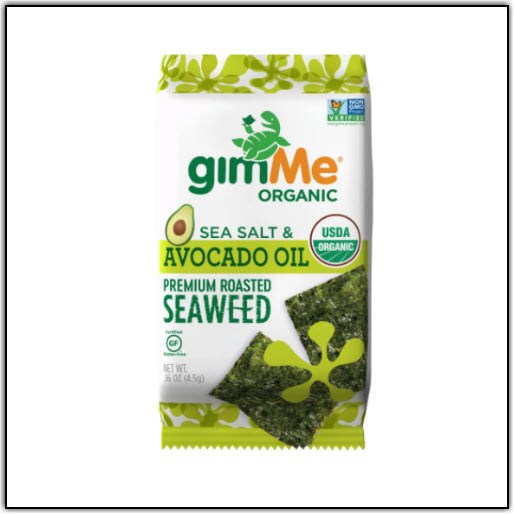 GimMe Seaweed Snacks are a delicious and ultra-healthy way to satisfy your craving for something crispy and salty. Seaweed isn't usually the first thing that comes to mind when you think quick, tasty snack, but they're a fantastic option. They have a unique taste and they offer many health benefits.
In addition to containing only 25 calories per package, the snacks offer a small amount of protein and fiber along with a whole host of vitamins, minerals, and antioxidants. They have their regular, original sea salt flavor along with avocado oil, teriyaki, wasabi, olive oil, and toasted sesame. They all have similar nutritional values and they're all made with minimal ingredients – nothing more than seaweed and whatever oils or spices are needed for the respective flavors. Eat them on their own for a quick snack, put a spread on top, or pile some rice and avocado on top for a sushi-like experience!
In addition to being vegan, these seaweed snacks are also non-GMO verified, USDA organic, and gluten-free certified.
5. Wonderful No Shell Pistachios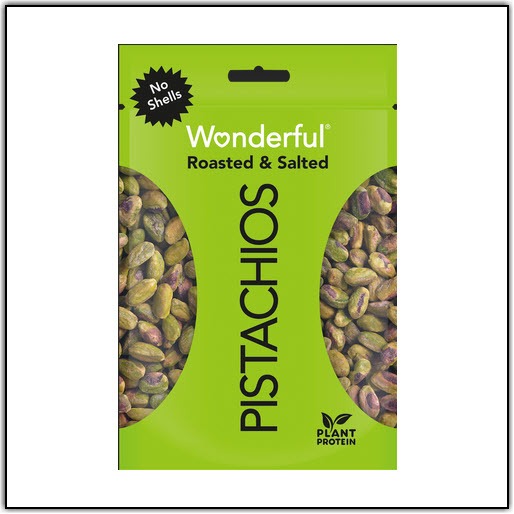 It's no secret that nuts are a great source of protein and healthy fats. There are plenty to choose from, each with its own unique texture and flavor. Pistachios are just as delicious and nutritious as other nuts, but they, unfortunately, require a little extra work! Each nut is enclosed in a tough shell that must be removed before eating. Most of the time getting the nut out is an easy job, but not always!
Sometimes they're a little trickier, meaning you either spend way too much time on a single nut or you eventually give up and it's gone to waste. Neither of these is ideal, especially if you're trying to enjoy a nice snack on your limited break at work or school.
This is where Wonderful No Shell Pistachios comes to save the day. The company offers several flavors of pistachios, which they have conveniently shelled for you. Flavor options include roasted and salted, lightly salted, chili roasted, honey roasted, BBQ, and sea salt and vinegar. Each of these types also comes in three different sizes of packaging – one for on-the-go, one for everyday snacking, and a large bag for sharing, and perfect for parties!
One serving of these pistachios (about ¼ of a cup) contains 170 calories, six grams of protein, three grams of fiber, and a long list of other nutrients including calcium, potassium, iron, copper, vitamin B6, and more.
Homemade Plant-Based Snacks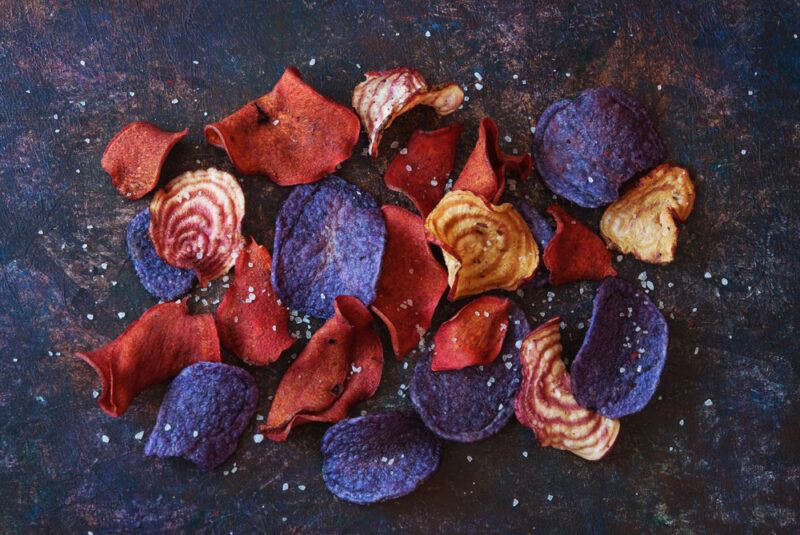 There are plenty of amazing plant-based treats and snacks out there that taste great and satisfy cravings while offering plenty of nutrients and health benefits. They are easy and convenient no doubt, but if you do have the time and resources to make your own healthy snacks, a whole new world opens up as you can try different flavors and change recipes up to suit your needs.
Try these recipes if you're looking for healthy, homemade alternatives to your favorite less-than-healthy snacks:
Veggie Chips
Potato chips are one of the most popular snacks. They're perfectly crunchy, salty, and have so many flavors available you couldn't even name every single one. They're also cheap, require no preparation, and are easy to pack up and take on the go. Unfortunately, most of them are terribly unhealthy and prolonged, regular eating can and will take a toll on your health.
The good news is that there are plenty of quality alternatives, both available to buy but also to make! This recipe is vegan, gluten-free, paleo-friendly, and endlessly healthy. Using actual vegetables such as beets, zucchini, and carrots for the "chips," other ingredients are nothing more than oil, salt, and pepper (and/or whatever you'd like to season them with!)
They're also incredibly easy, requiring some slicing and only 20 minutes in the oven.
Vegan Chocolate Chip Cookies
Cookies are another classic snack that everyone loves but is often filled with artificial crap. Like chips, though, you don't have to give them up entirely! This easy recipe is one of many that help you make your very own healthy, vegan cookies to enjoy (mostly) guilt-free. There is some sugar required here, but you can use unrefined sugar or coconut sugar to make it a little better.
If you'd prefer no sugar whatsoever, the recipe itself links you to a sugar-free version! Beyond some sugar, ingredients here include vanilla extract, vegan butter, plant-based milk of your choice, plant-based chocolate chips (you can try making these yourself, too!), and some flour and salt.
These basic ingredients allow you to enjoy the taste and texture of a soft, fresh cookie without all the extras. You can even omit the chocolate chips if you'd prefer something plainer.