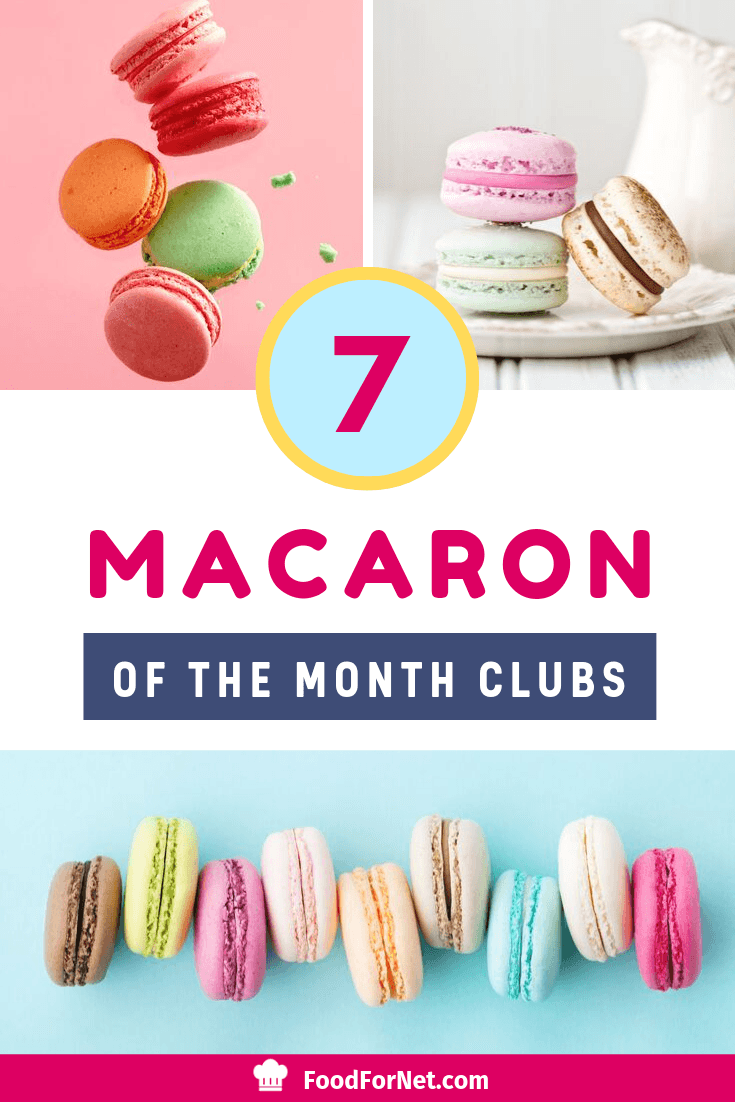 Macarons are a popular meringue-based treat. They're mostly made using 2 cookies, with some type of buttercream, jam or ganache filling in the middle. While the style is similar from one baker to the next, there are plenty of differences too, especially in terms of flavor.
A macaron subscription box is a perfect gift (even if it's to yourself), because who wouldn't like a sweet, decadent treat delivered to their door every month?
The ingredients used in macarons makes it easy to alter the flavor profile. This means that you'll find many amazing types of flavors in these monthly boxes – many that might even surprise you!
People love this one specific type of treat so much, that there are actually macaron of the month clubs that will deliver unique and delicious macarons to your door each month.
While you can buy macarons locally without too much trouble, monthly macaron clubs are a much more fun option. These boxes allow you to try unusual flavors that you wouldn't otherwise see in your local area. You can also be certain that your treat is fresh. The same can't be said for macrons from a grocery store.
Besides, there's something awesome about a collection of sweet treats turning up each month with little effort on your part.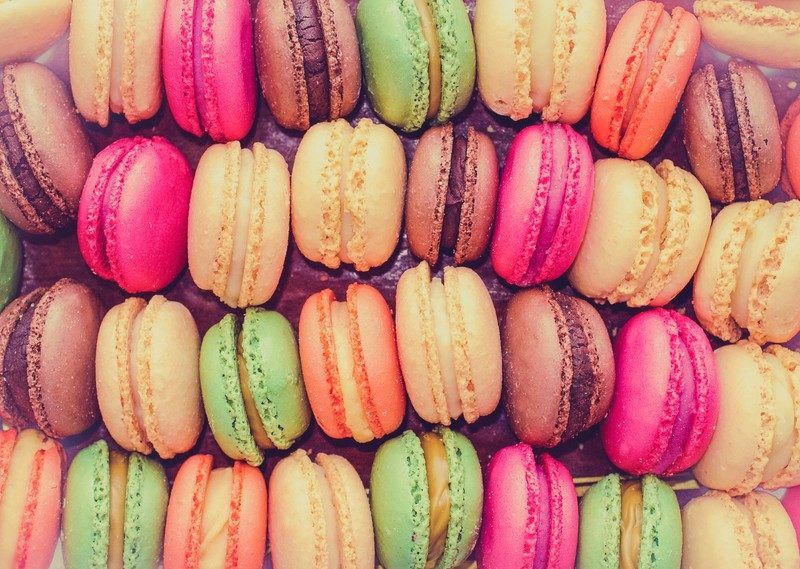 Macaron Of The Month Clubs
Pastreez Subscription
Airy Bakes Macaron Subscription
Nikkolette's Macarons
Mademoiselle Macaron
Macaron Subscription
Olivia Macaron Monthly Subscription
Ma-Ka-Rohn Subscription
PS. Before you scroll down, I also recommend opening up our cookie of the month club list in another tab, so you can browse that selection too.
PPS. Cupcake of the month clubs are a thing too, just FYI.
Pastreez Subscription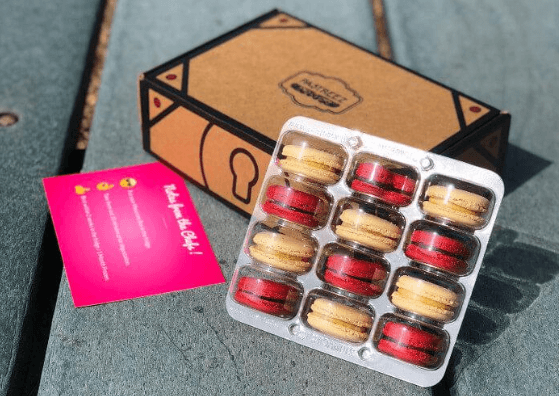 The monthly box from Pastreez is one of my personal favorites, as the company strikes a good balance. You get 12 seasonally flavored macarons each month. Unlike other companies, this doesn't mean you're getting a single flavor. You're not receiving many different types either. Instead, you get 2 distinct flavors every month.
These macarons are carefully arranged to create a checkerboard-like effect. They also come in custom packaging. The packaging helps to keep the macarons safe during shipping.
There is just 1 subscription option, so you don't need to make any hard decisions with Pastreez. You're simply paying $19.90 each month for the box, along with $8.90 shipping. You can also choose the frequency and get your macarons every 1, 2, 3 or 4 months.
Airy Bakes Macaron Subscription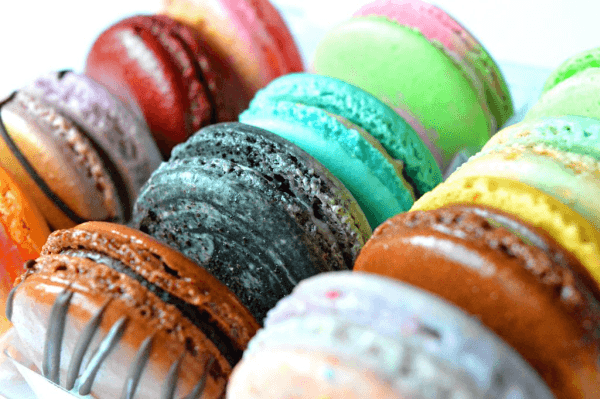 Airy Bakes focuses strongly on macarons. Part of this is a strong emphasis on flavor. Airy Bakes tries to create taste combinations that aren't normally found with macarons, such as Lychee Raspberry Rose, Fudge Brownie, Lavender Lemon and Fruity Cereal. The flavors are a good reason to try out the company, especially as the subscription provides you with 12 macrons each month.
Speaking of the subscription, there are 3 durations to choose from. The shortest version is a 3 month subscription, which costs $120. There is also a 6-month and a 12-month version, which cost $250 and $590, respectively. The 6 and 12 month versions provide you with 1 or 2 months free, making them a little cheaper per month.
That's it for options. You're not able to order month-to-month or change the number of macarons that you receive.
Nikkolette's Macarons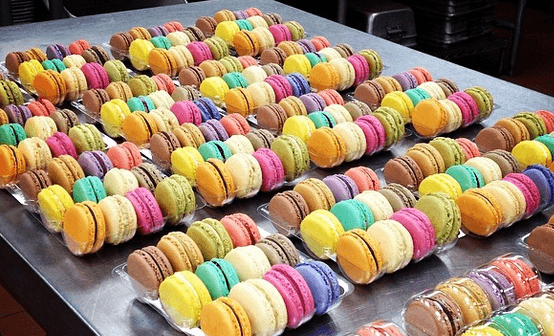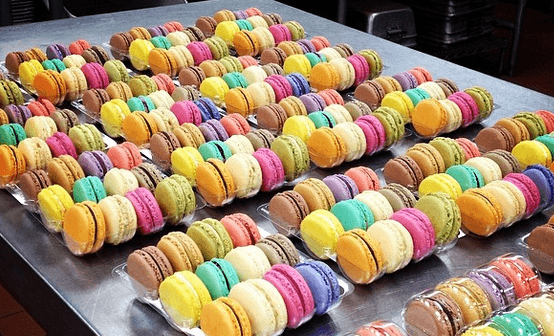 Macaron clubs are fantastic, but they're also pretty similar to one another. Nikkolette's Macarons breaks away from the mold somewhat, offering a slightly different style. Rather than sending a mixed box of macarons, the subscription provides you with a 12 pack of the current seasonal flavor that is being offered.
This decision means that you're not going to be getting repeats of flavors. It's a particularly good style if you plan to share the macarons. After all, having only 1 or 2 macarons of each flavor could be a problem if you're sharing with your family.
There are 3 subscription durations to choose from. The 3-month version costs $102, the 6-month version costs $180 (5 months paid, 1 month free) and the 12-month version costs $360 (10 months paid, 2 months free). All of the subscriptions need to be pre-paid, there is no month-to-month option.
Mademoiselle Macaron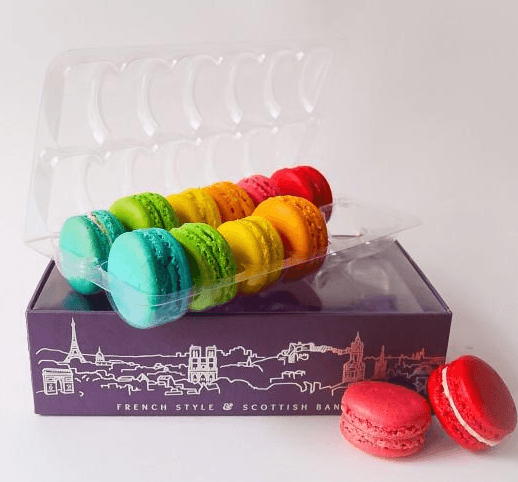 Mademoiselle Macaron is more than yet another macaron company. A key difference is their emphasis on quality. They aim to create moments of luxury. This is particularly obvious with the monthly subscription, as you're receiving a box that contains 12 macarons and some loose leaf tea. Tea and macarons are a fantastic combination, giving you a good chance to simply relax and enjoy.
The subscription is priced at £19.99 each month when purchasing on a month-to-month basis. There are discounts for longer subscriptions. The price is reasonable compared to other macaron companies, which is another reason to give this one a try.
Macaron Subscription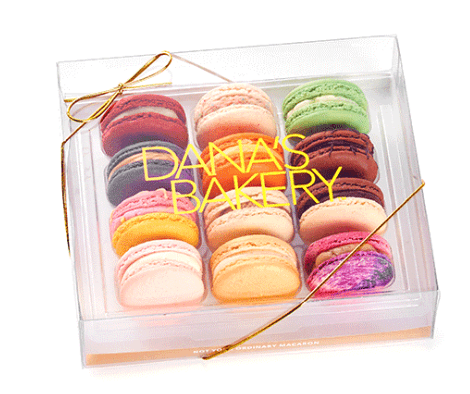 Macarons remain one of the most popular cookie types. This isn't a surprise, as there is something amazing about the combination of flavors and texture. Plus, macarons often make use of creative flavors, ones that you might not see elsewhere. This macaron subscription comes from Dana's Bakery, which is known for producing high-quality baked goods.
The basic version of the subscription costs $51 and you're paying month-to-month. This price provides you with a Dana's Bakery Variety Pack. That pack contains 12 different flavors from the company. You can order for longer durations as well. You receive a month free if you order for 6 months and 2 months free for a 12-month order.
Olivia Macaron Monthly Subscription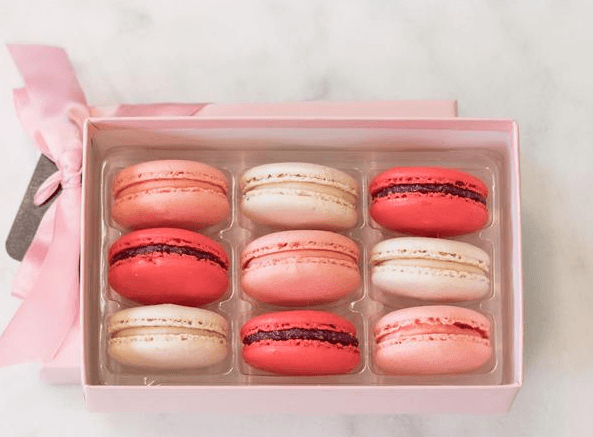 Olivia Macaron does a fantastic job with their monthly subscription, making each box look amazing. They always present their macarons in the best possible light. This is an important feature, simply because there are so many different macaron subscription programs out there. The style is ideal for gift giving or you could simply keep the subscription for yourself,
This is also one of the few subscriptions that provides you with a decent amount of macarons. In particular, you sign up for a box of 20 macrons each month. The subscription costs $49.50, so it's not cheap. Even then, the appeal is easy to see. Many people find that they get through 12 macarons much too quickly.
The other option is to get a box of 9 monthly. This version costs $24.30 per month – making it a more reasonable place to get started.
Regardless of the size that you choose, the subscription comes with mixed flavors. You get some seasonal macarons, along with signature ones from Olivia Macron. The signature flavors are likely to repeat, so you may see some flavors multiple times during your membership.
Ma-Ka-Rohn Subscription

The company Ma-Ka-Rohn has a strong interest in creating new and exciting macarons. They aim to make 2 or 3 new flavors each month, which is seriously impressive. The style means that they need to regularly retire macarons too, to ensure that their menu remains practical.
Their Macaron of the Month Subscription provides an amazing chance to try out the new flavors as they're produced, without any fear of missing something exciting.
There are 3 different box sizes to try out. These all have the same flavors, but the larger ones give you more macarons of each flavor. The first is the Classic box, with 12 macarons per month for $21.69. There is also the Lover, with 24 macarons for $43.29 and the Party with 35 macarons for $69.99.
Still not enough sweets? Maybe you'd like to try a cupcake of the month club.