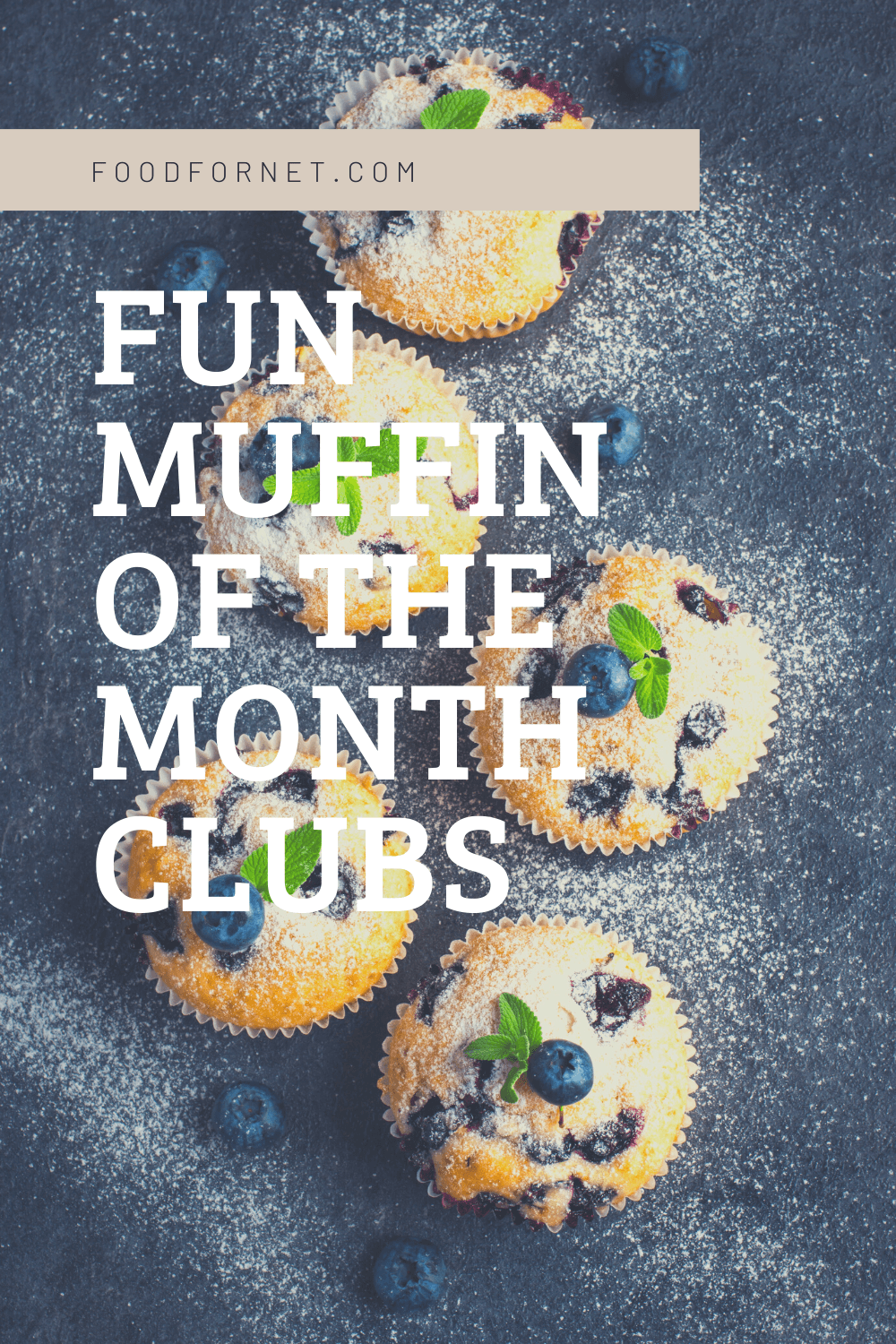 If you love muffins, then these muffin of the month clubs could be the perfect choice for you. This is true regardless of which type of muffin you like, as the clubs have all your bases covered.
First though, let's talk a little bit about muffins themselves. There are two different types of muffins, the English muffin and the American muffin. The two are quite different from one another.
Some say the English muffin originated in 10th or 11th century Wales. Others disagree, believing that they originated in America when Samuel Thomas started making them based on his mother's tea cake recipe.
The history of the American muffin dates back to the 18th century. The American muffin came about after the development of pearlash. Pearlash is one of baking's most significant discoveries and was the first chemical leavening agent used in baking.
Before pearlash, the most common way to get the dough to rise was by using yeast, a biological leavening agent. However, the invention of pearlash provided a faster way to leaven bread, which is where quick bread got its start.
There are 3 principal distinctions when it comes to the English versus the American muffin. The first is the leavening agent, and the second is the cooking method. American muffins are a small molded chemically risen baked quick bread. And, the English muffin is a yeast dough cooked on the stovetop.
Additionally, American muffins tend to be sweeter, while English muffins are typically savory. In fact, American muffins are sometimes considered to be more similar to a cake than to bread.
However, English muffins and American muffins have one main thing in common. They are both fantastic breakfast foods.
They are also compact, easy to eat on the go, and fun to share with others. Plus, they make a fabulous gift.
There are 3 amazing muffin of the month clubs that you can try. Each of the three is unique from one another:
Creative Sweet Treats offers classic American style quick bread muffins
Wolferman's Bakery has extra thick English muffins
Muffin Revolution has muffins packed with superfoods
Whether you are looking for the convenience of a regular monthly muffin delivery or are looking for the perfect gift, the bakeries below are sure to have all of your breakfast muffin needs covered.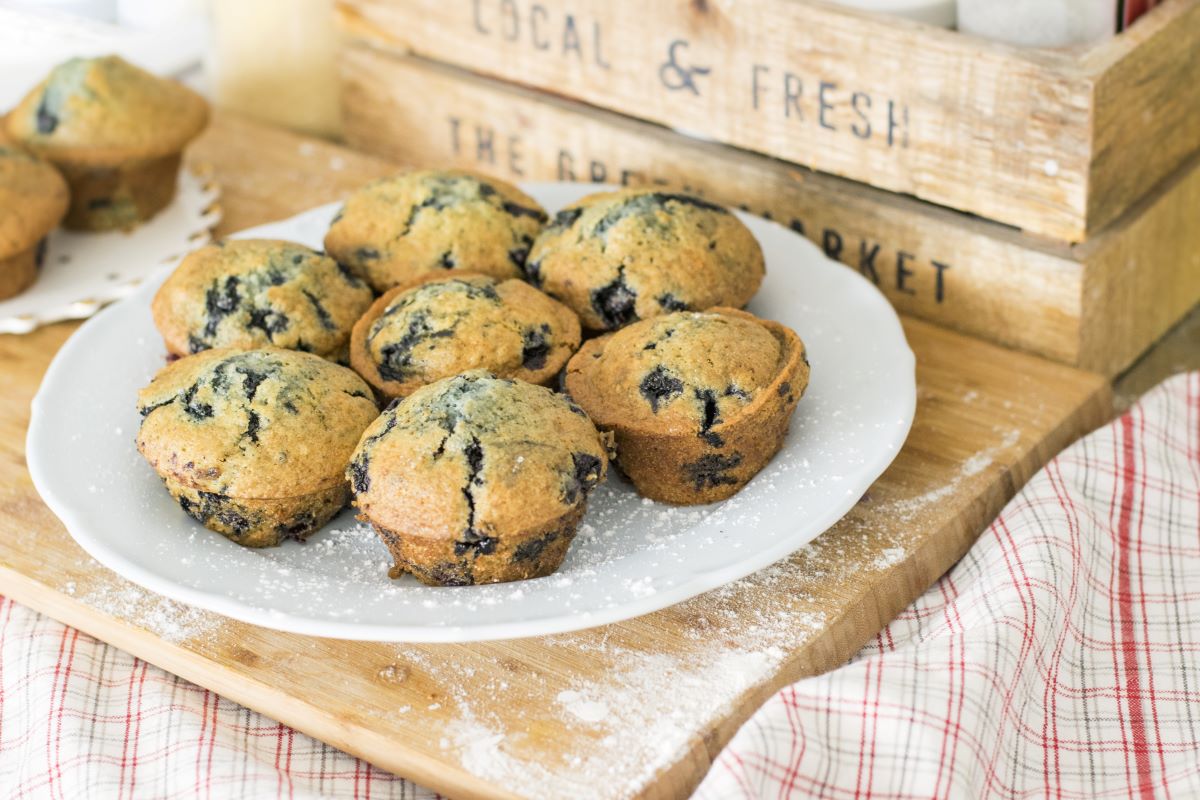 Muffin of the Month Clubs
Creative Sweet Treats
Wolferman's Bakery
Muffin Revolution
Muffin Gift Baskets
Simply Scrumptious
Dulcet
Harry & David
Creative Sweet Treats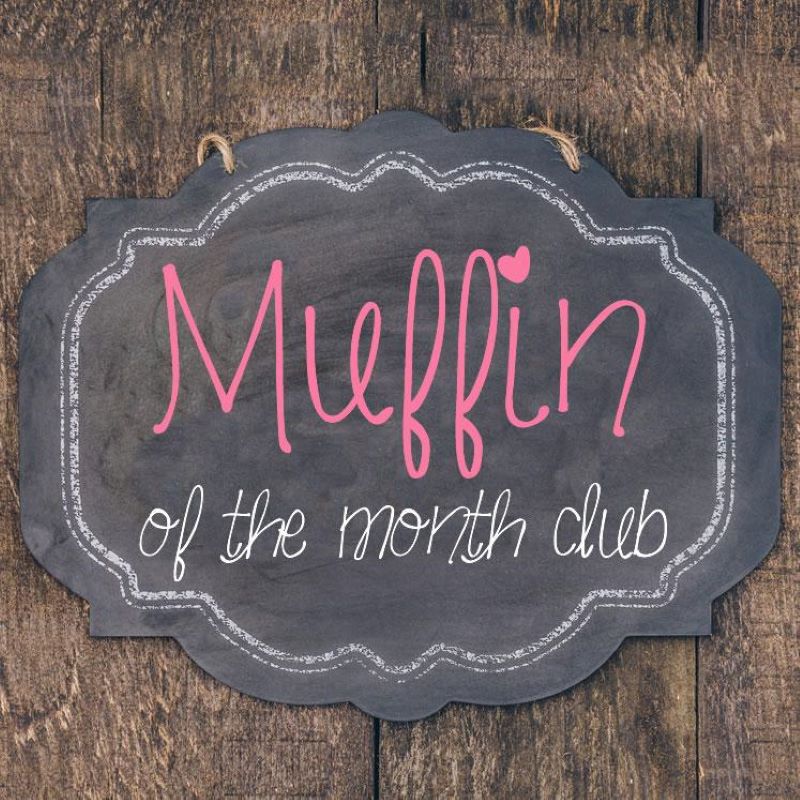 Creative Sweet Treats, founded in 2008 by Cassia in St. Louis, Missouri, has been featured multiple times on the local news promoting some of the company's sweet treats like Chocolate Pecan Pie and Chocolate Lollipops.
Creative Sweet Treats only uses the best ingredients for their various goodies. They even import their chocolate from Europe.
Sweet Treats offers a multitude of delicious baked goods, all of which are available for shipping nationwide. Some of the treats you will find are:
Cheesecake filled pineapple upside-down cake
Chocolate covered bacon
Chocolate covered twinkies
Fudge brownie cookies
Gooey butter cake
Easter smores stackers
In addition to these goodies, they also offer a muffin of the month club. There are four different price point options:
3 Months – $85.95
6 Months – $166.95
12 Months – $329.95
24 Months – $639.95
You will then choose the type of muffin for each month. There are 15 flavors to choose from, such as:
Apple cinnamon
Pineapple
Banana chocolate chip
Blueberry
Cranberry
Orange cranberry
Lemon poppyseed
Pumpkin chocolate chip
Peach
After choosing your subscription, you will then decide what month you want the membership to start. Finally, you'll decide on the shipping speed USPS 1 to 3 days for free or overnight for $120.
Every month the recipient receives 12 individually wrapped muffins. All of the muffins are standard size and are made from scratch.
Wolferman's Bakery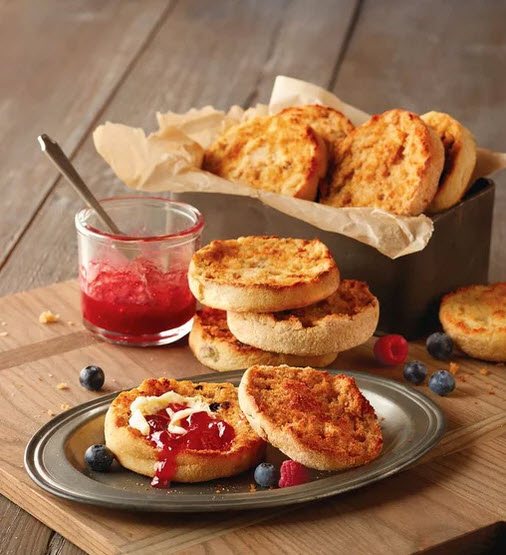 Wolferman's Bakery, founded by Louis Wolferman in 1888, started as a neighborhood grocery store in Kansas City, Missouri. By 1910, Wolferman's was baking their "legendary super-thick" English muffins.
Eventually, they fully transitioned into a bakery. Wolferman's is now an online bakery that offers a multitude of treats like:
Cheesecake
Gluten-free baked goods
Quick bread
Variety baskets
Pastries
Cakes
Fruit spreads
Coffee and tea
Gourmet Gifts
In addition to all of that, they offer three different monthly food clubs, including a premium English muffin club. There are three different club options:
3 Months – $49.99
6 Months – $99.99
12 Months – $179.99
Each month the recipient receives a different flavor of English muffin, some of the flavors included are:
San Francisco-style sourdough English muffin variety assortment
Cherry blossom
Wolferman's cheddar cheese
1910 original recipe English muffin variety assortment
Multi-grain honey wheat English muffin variety assortment
Apple cinnamon
Pumpkin spice
Cranberry citrus English muffin variety assortment
Cinnamon raisin English muffin assortment
Wild Maine blueberry English muffin variety pack
Chocolate chocolate chip
The months listed as a variety assortment includes items such as:
Signature English muffins
Traditional English muffins
Mini English muffins
English muffin bread
Every month the recipient receives four packages of the specified English muffin variety.
Muffin Revolution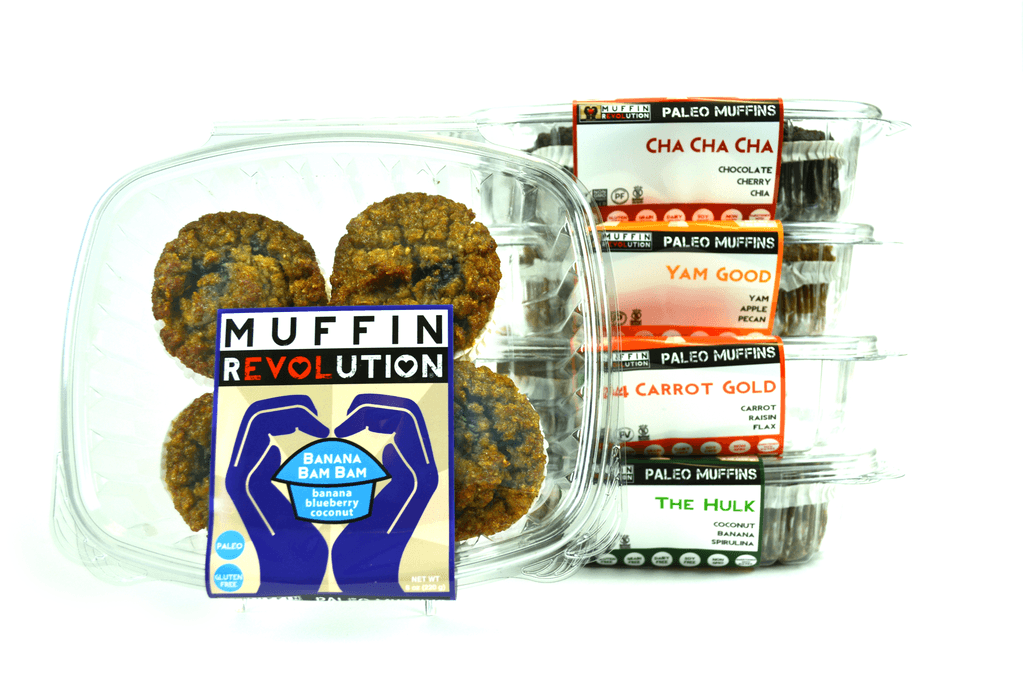 Muffin Revolution specializes in making "superfood muffins." Their goal when starting was to create a meal in a muffin for those on the go.
Muffin Revolution, founded, owned, and operated by Marirose and Christy, is located in Richmond, California. Though they do not have a storefront, you can find them in markets along the west coast and in the southern midwest.
But if you don't live in these areas, don't worry, you can always buy their muffins online. Muffin Revolution has six different flavors to choose from:
Carrot Gold
Banana Bam Bam
Cha Cha Cha
La La Lemon
The Hulk
Yam Good
Muffin Revolution offers two great ways to sample their various muffin flavors, either purchasing their variety pack or signing up for their muffin of the month club.
The monthly subscription offers several delivery options ranging from deliveries once a week to every 6 weeks or once a month up to every 6 months.
Each delivery you receive will contain 4 varieties of your choice. Each flavor chosen will consist of 4 muffins, for a total of 16 muffins per shipment. Muffins are shipped out every Monday to ensure timely delivery.
Additionally, each shipment is packed with dry ice and a frozen gel pack to keep the muffins frozen during delivery. Once they arrive, simply pop them in your freezer or fridge. The muffins are good for 7 days when stored in the refrigerator.
Muffin Gift Baskets
Simply Scrumptious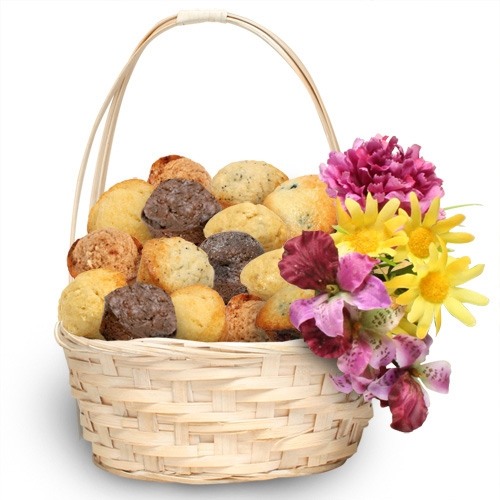 Simply Scrumptious located in Arlington Heights, Illinois, offers an array of baked goods including, specialty items such as:
Fat-free donuts
Fat-free cake
Fat-free coffee cakes
Fat-free cookies
Fat-free cupcakes
Low carb fat-free coffee cakes
Low carb fat-free brownies
Low carb fat-free muffins
Low carb fat-free poppers
Low fat gourmet cookies
High protein brownie bars
Gluten-free brownies
However, not all of their baked goods fall into their Fit & Flavorful Fat-Free Low Fat line. They also have several indulgence items to choose from too. Such as cookies, brownies, and muffins.
Amongst their many options, they offer 6 different muffin gift baskets perfect for any occasion or celebration.
Happy Birthday Muffin Gift Basket
Muffins n' More Muffins Gift Box
Elegant Floral Muffin Gift Basket
Classic Cookie, Brownie & Muffin Gift Basket
Dozens of Delights Muffin, Brownie & Cookie Basket
Dozens of Delights Easter Gift Basket
The baskets range in price from $18.95 to $44.95 and include a variety of flavors. Also, gift baskets come with the option of different quantities.
Dulcet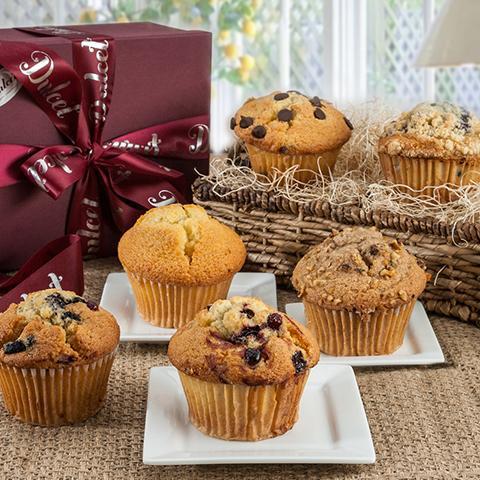 Dulcet owned and operated by a sister duo, is located in Monroe, New York. Dulcet isn't your average bakery since they only specialize in gifts. They offer a wide range of baskets and boxes filled with delicious baked delights. They offer several unique gourmet options like:
Whoopie pies
Mini bundt cakes
Hamentaschen
Rugelah
Linzer cookies
But if you prefer more classic options, they also have:
Brownies
Cookies
Decadent cakes
Muffins
Plus, they have gifts for every occasion, event, holiday, or celebration. And of course, they offer a muffin gift baskets and boxes. There are 3 primary options, but they have several seasonal choices too. The 3 options available year-round are:
Gourmet Muffin Assortment – 6 full-size muffins
Pumpkin Muffin Gift Basket – 6 full-size muffins
Dulcet Muffins Gift Basket – 3 mini muffins of 4 different flavors
The 3 boxes and baskets range in price from $55.95-$57.99.
Harry & David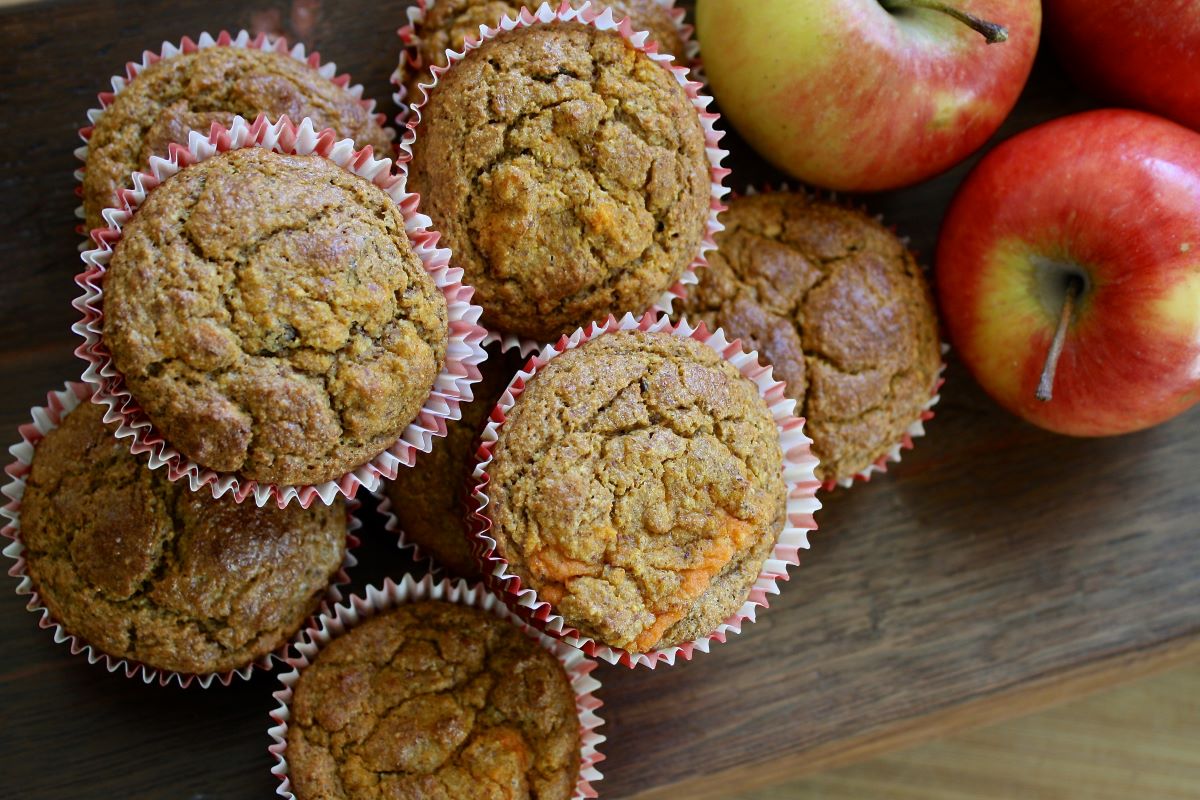 Harry & David, founded in 1934, by brothers, started as an orchard in Seattle, Washington. This family-owned and operated company grew over the years, and though they still have their farms, they have expanded their gift selections far beyond fruit.
Today the Harry & David company has become synonymous with gourmet gifts. Whether you purchase from their online store or stop in at one of their 40+ retail locations, you will be able to find the perfect gift for either the special someone in your life or the potential business partner you just met.
Harry & David offers gourmet gifts such as food subscriptions, towers, boxes, and baskets. Some of the gourmet gifts you will find are:
Sweets from baked good to candies
Specialty popcorn
Dips, spreads, and sauces
Flowers
Fruit
Cheeses and meats
Wine
Meat and seafood.
However, of their hundreds of choices, they also offer a muffin basket. This specialized gift is perfect for the gluten-sensitive person in your life.
The gluten-free lemon poppyseed and cinnamon streusel muffin basket is sure to make the recipient feel special. The basket contains 6 mini muffins of each of 2 two flavors and comes with the option to add a gluten-free pie to the gift as well.