Food Delivery Apps By Category
Restaurant Delivery
Uber Eats


Let's start with Uber Eats. Uber Eats is one of the most well-known food delivery companies out there and they're still going strong.
We're talking about many different types of restaurant too, ranging from McDonald's to ones that are more refined and expensive. Uber Eats is available in many different countries and the supported restaurants will vary dramatically depending on your location.
Uber Eats has taken multiple steps to respond to the coronavirus outbreak. This includes making sure that orders are sealed to protect the food and allowing customers to request that deliveries be left on their doorstep.
Delivery fees have also been waived for a large number of independent restaurants (more than 100,000!), although some other restaurants do still have delivery fees.
DoorDash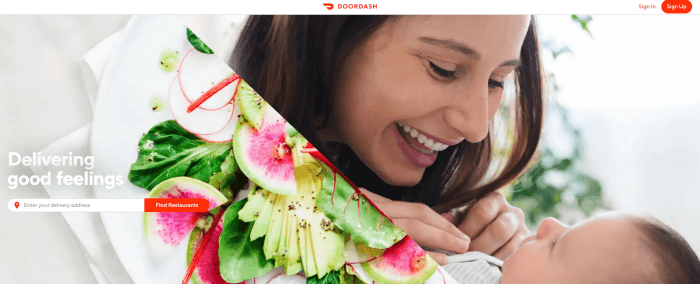 DoorDash follows a similar style to Uber Eats and is just as well-known. The service offers delivery from more than 300,000 different restaurants.
The DoorDash app works well, allowing you to track your order live so that you know exactly when it will turn up.
DoorDash has responded to the current crisis by cutting down the commission fees that restaurants pay. This may not have much effect on customers, but it helps restaurants, as they may sometimes pay up to 30% in commission fees.
DoorDash has also promised to expand its program by adding 100,000 new restaurants into their program for free. No contact deliveries have now become the default setting on the DoorDash app, making it easy to keep your social distance.
Caviar


Caviar is similar to the previous apps in many ways, but the service tends to focus on higher-quality restaurants. While some people have bad experiences with the app, many others report that everything goes perfectly and that the food is delicious.
Caviar is owned by the same company as DoorDash. Both are focusing on keeping their drivers safe while ensuring that food delivery continues.
Once again, restaurants can join the program for free (until the end of April) and the commissions that restaurants pay are being decreased. These patterns should help to keep some restaurants running, while also meaning more options for food delivery over time.
Grubhub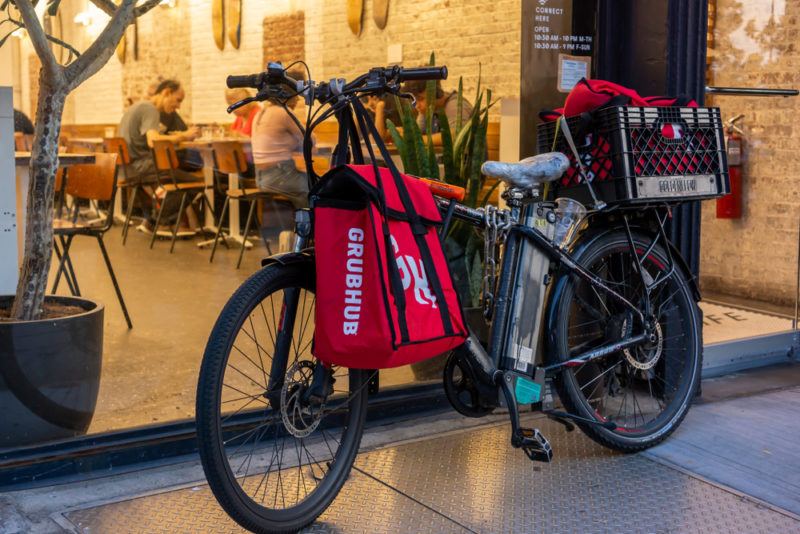 Grubhub is another popular restaurant food delivery service. It is present in around 3,200 cities across the United States, making it an especially prolific service.
Reviews are often positive, with customers getting their food without any major issues. While there are occasionally times where the restaurant's menu through the app isn't entirely accurate, this issue doesn't seem to happen often and is difficult to avoid completely.
Grubhub now has multiple brands in its portfolio, including others that you may have heard of, like Seamless, AllMenus, MenuPages, SkipTheDishes (in the United States), and LevelUp.
Like many companies, Grubhub is working on helping restaurants. Their approach has been promoted as a $100 million relief program, which defers fees for restaurants using the service. However, Grubhub's approach isn't as good as it sounds, as the service isn't decreasing or waiving its fees. It is simply deferring them. Restaurants will still need to pay later.
Still, it is good to see that Grubhub is focusing on finding ways to help restaurants. Hopefully they can refine their processes as time goes on.
SkipTheDishes


SkipTheDishes (or just Skip) is a Canadian food delivery company, which works in a similar way to the other services. In the United States, the service has merged with Grubhub and orders are made through Grubhub rather than Skip.
In Canada, Skip continues to operate independently. The company has implemented contactless delivery for all orders, where your food is left on your doorstep. Some couriers will call when the order has been delivered, but in other cases, you may simply need to check your doorstep regularly.
Waiter.com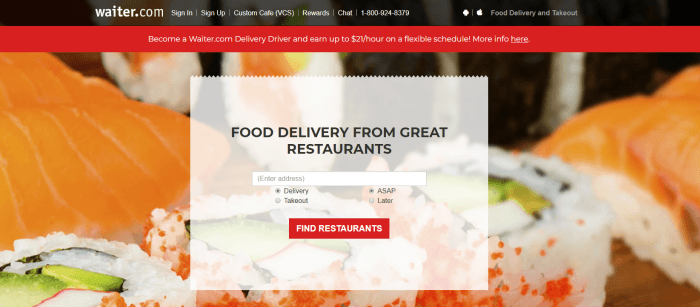 Waiter.com is slightly different from our other entries, as the service focuses on delivering lunchtime orders and catered meals to offices, rather than individuals. The service can be used by individuals too, giving you the chance to order food to residential addresses.
The smaller size of the company means that fewer people know about it, which could mean that there is less demand for the services. On the other hand, the company may have fewer resources to deal with changes in demand.
Local Options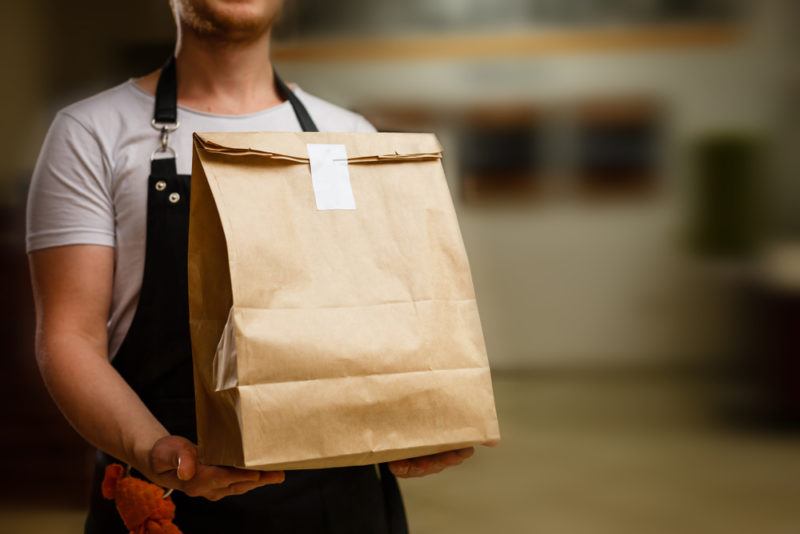 Some groups of restaurants are also setting up their own local services, especially if the big players aren't available in their region. This has already happened in Oregon and may also happen in other parts of the country as time goes on.
There is currently no comprehensive list of the local options, but you can simply Google search for delivery services in your local area. With any luck, any new local services will show up on the search engine results.
Get (Almost) Anything Delivered
Postmates


Postmates is an interesting service, as you can basically get anything delivered, including restaurant food, groceries, and drinks. This style is powerful, especially if you find that you need multiple items at once.
The service is available in many cities across the United States but, like all of these services, you'll find that they're not present everywhere. Some smaller hubs may also struggle to meet demand.
Postmates is promising to support its workers, which includes providing financial assistance in some cases. They're also implementing various non-contact options for delivery, so it should be easy to avoid contact entirely.
Favor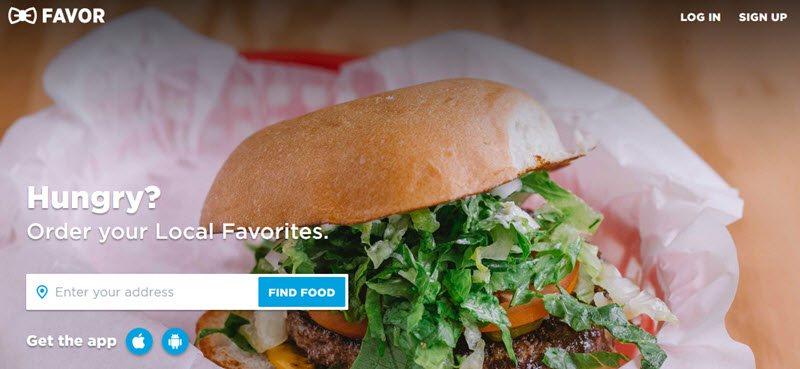 Favor is another service that offers the chance to get anything delivered. This includes food from local restaurants, items from grocery stores, and just about anything else.
Runners from Favor can basically act as errand boys (or girls), which should mean that you can order items from multiple stores and get quite specific in what you are requesting. Users can communicate with their runner, making it easy to deal with substitutions and other changes to the order.
Favor is unusual in that the company doesn't seem to have agreements with the companies that you are ordering from. This gives them more flexibility and is one reason that you can make so many different requests.
The style of Favor could be particularly relevant if you find yourself running short on a few household items and want restaurant food at the same time.
Delivery.com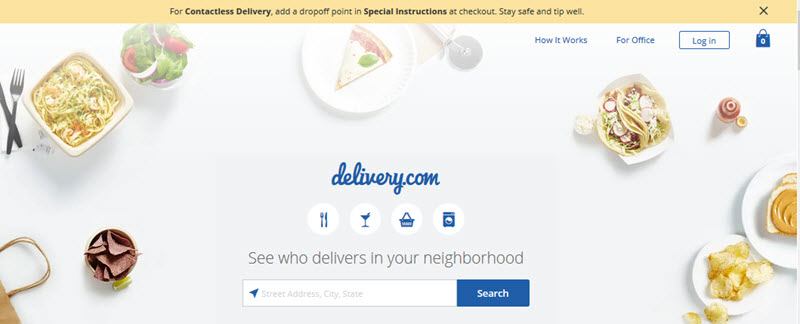 Delivery.com supports various requests, including restaurant food, groceries, alcohol, catering, laundry, and gifts. As always, there is a location-specific aspect to their service. This means that the services may vary depending on your physical location.
Delivery.com is smaller than most of its competitors, although it does offer most of the same features. The smaller number of restaurants isn't necessarily a bad thing, as this allows the service to focus more strongly on the restaurants that it is partnered with.
Of course, the viability of delivery.com will depend on your location. The service isn't as widespread as competitors like UberEats and Grubhub. Even if the service is active in your area, you might find that there are relatively few restaurants or other services to choose from.
Grocery Delivery
Instacart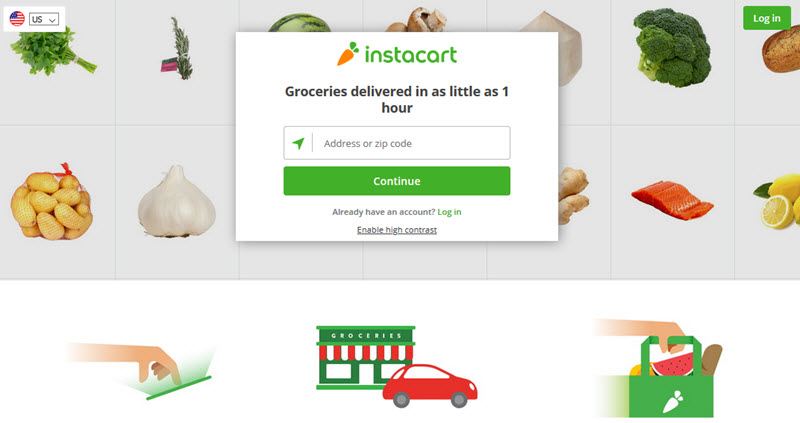 Instacart is the most well-known grocery shopping app. The service allows you to order groceries from a local store and have them delivered to your door.
While Instacart isn't available everywhere, the service is present in many cities and continues to expand.
Instacart tends to slightly markup the price that you pay for products. The markup isn't dramatic and varies across services, but it is something to be aware of. Depending on what you order, you might be paying $20 more or something like that.
There are fees for using the service too, including a delivery fee, which is often $5.99. You can sign up for Instacart Express too. This means that your deliveries are free if you order more than $35 worth of food and you don't need to pay extra if you order during busy times.
This is another service where you can now have food left at your door if you are self-isolating. There have been some recent issues with service outage and may be more as demand increases. Make sure that you check that the service is active in your area before ordering.
Shipt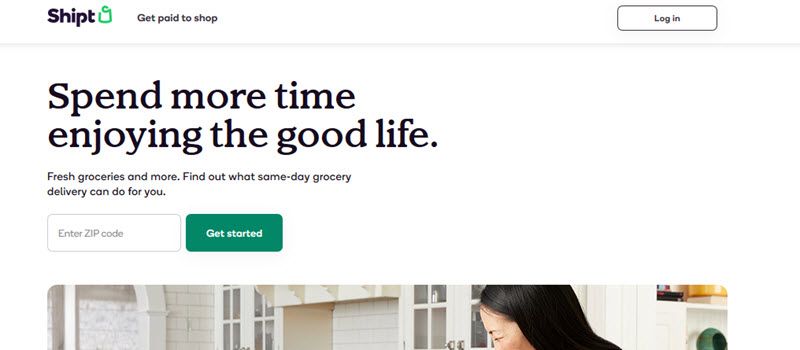 Like Instacart, Shipt allows you to order food from various grocery stores, like Kroger, Fry's, Meijer, and Publix. Orders can be made for any time that the store is open, which is 24 hours a day in some cases.
If you sign up for a Shipt membership (for $100/year or $14/month) then all orders above $35 have free delivery. Otherwise you're paying a delivery fee of around $7, on top of the grocery markup.
Delivery from Shipt tends to be fast. You'll often get your order on the same day, perhaps even in an hour or so.
Thrive Market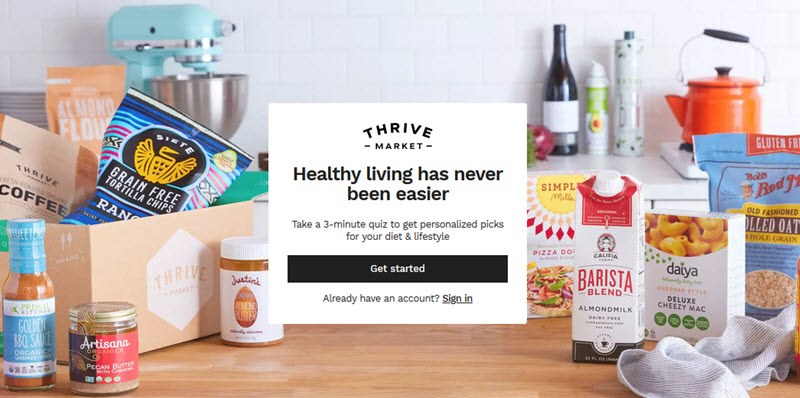 Thrive Market is an online store that focuses on healthy, organic and non-GMO products. The company sells many common organic brands, but also has its own in-house brand that contains more than 500 items.
This is a powerful choice for anyone who aims to eat ethically, especially as this current crisis unfolds. Plus, Thrive Market is selling and shipping the items themselves, so the process is less complex than sending a gig worker to pick up food from the grocery store.
The company's CEO has been updating users regularly. He mentions that Thrive Market has been stocking up the essentials and aims to keep items in stock as much as possible. Thrive Market is also committed to avoiding surge pricing, so the prices of products should remain the same regardless of changes.
There are also some issues with delivery times and stock availability. Similar problems are true for many companies that need to stock and ship out their own goods.
Peapod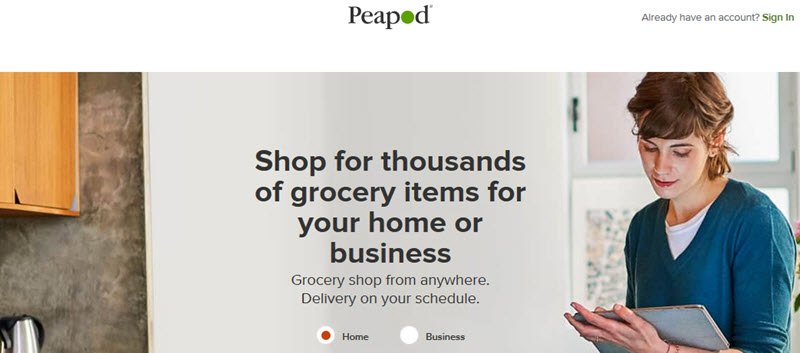 Peapod is another online store that delivers their own products to residential and business customers. Their site and app allow you to filter products based on dietary needs, making it easy to find the right items for you.
Peapod tends to deliver items the day after your order, although some areas will get their food on the same day. Of course, these delivery times may be stretched out if the demand is high.
The company offers organic food, as well as some brands that you won't find elsewhere.
Interestingly, Peapod also offers meal kits. Meal kits tend to give you partly prepped ingredients that you can use to make meals. They can work very well, so it's pretty cool to see a service that offers groceries and meal kits.
FreshDirect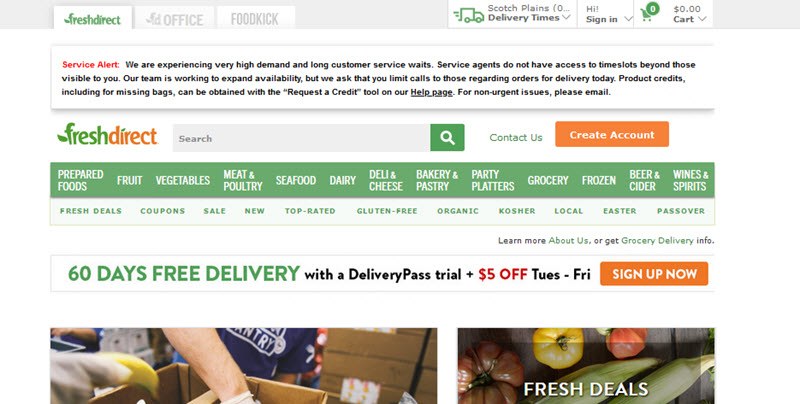 Again, FreshDirect is an online store rather than a grocery store. As the name suggests, they have a focus on making sure your food is as fresh as possible. One cool feature is that you don't need an account to check out what the service has to offer.
You can choose when you want your items delivered, up to a week after when you shop. In New York and New Jersey, it is even possible to get same-day deliveries.
However, FreshDirect is a relatively small company and doesn't serve many locations. This may mean that they struggle to meet the higher-than-normal levels of demand for online shopping.
Amazon Prime Now And Amazon Fresh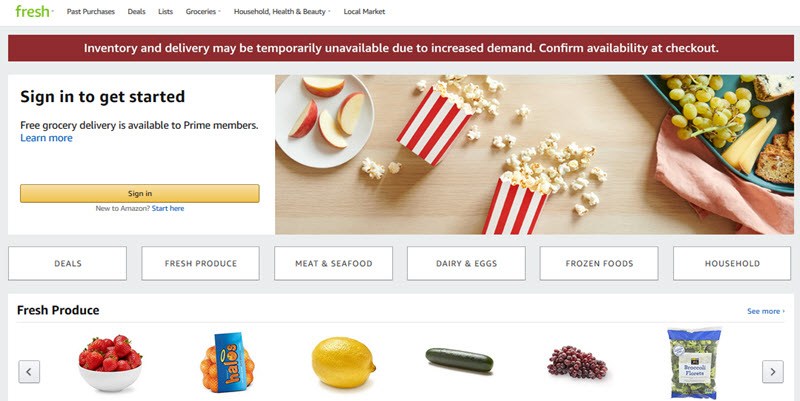 The Amazon Prime Now service is part of the Amazon Prime program. You're mostly ordering items that are stored in Amazon's warehouses, which means that you may even get them within a few hours of ordering (depending on your location). The speed of delivery is one of the most notable things about the service.
This style does mean that the service focuses on household essentials and staples, rather than fresh food.
Amazon also offers Amazon Fresh, which is another grocery delivery service. It is only available to Amazon Prime members and users must be invited into the program. Users in eligible areas can get free delivery within 2 hours for orders of $35 or more.
Still, be aware that the delivery times are likely to be longer than normal for Amazon Fresh (and for every food delivery app). The current level of demand is much higher than the apps were designed to manage.
It's worth checking the availability of these apps before using them, as Amazon has already temporarily closed another of its services – Prime Pantry due to high demand.
Favor's Senior Service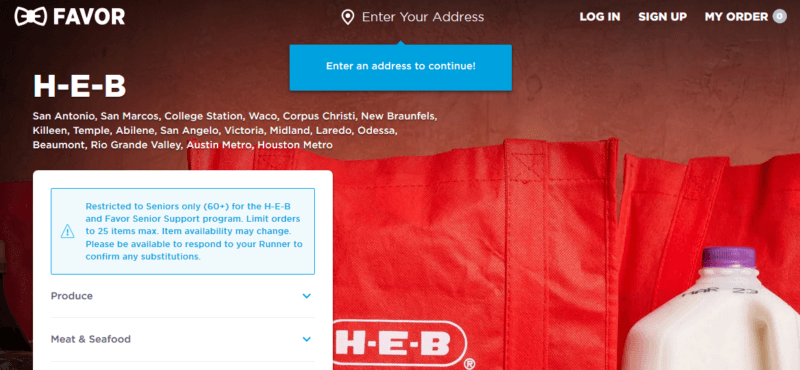 Favor is featured on this list twice, because the company has been working with H-E-B to create a low-cost delivery option for seniors in Texas during the COVID-19 crisis. This service provides same-day delivery of a variety of essential food and supply products.
Their selection includes items like frozen goods, spices, produces, meat, breads, and household items. Customers are limited to 25 items in their order.
The exact selection and prices are subject to change, especially as some products are in high demand. Favor mentions that seniors need to be available to confirm any substitutions or changes in their order.
One cool thing is that this is a same-day service. Customers may be able to get their food in just a few hours if the demand isn't too high.
Walmart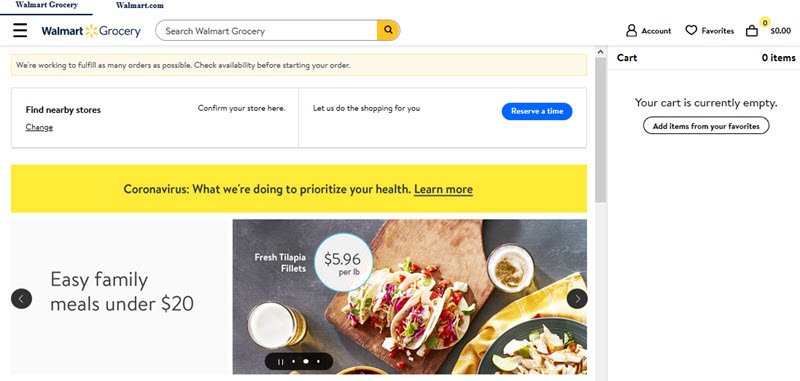 Walmart has a delivery app of its own, which allows you to order groceries from the store with ease. The app is called Walmart Grocery, although Walmart is merging the delivery features into its main app.
Many reviews mention that Walmart Grocery requires that you pick up the groceries from the store. While this was the case at one point, Walmart has expanded the features of its program to provide delivery in some cities.
Walmart generally charges between $8 and $10 for deliveries, plus tips. There is also a program that allows unlimited deliveries for a monthly or yearly fee.
The app has been extremely popular in recent weeks, so delivery slots can sometimes be difficult to find.
Other Food Options
goPuff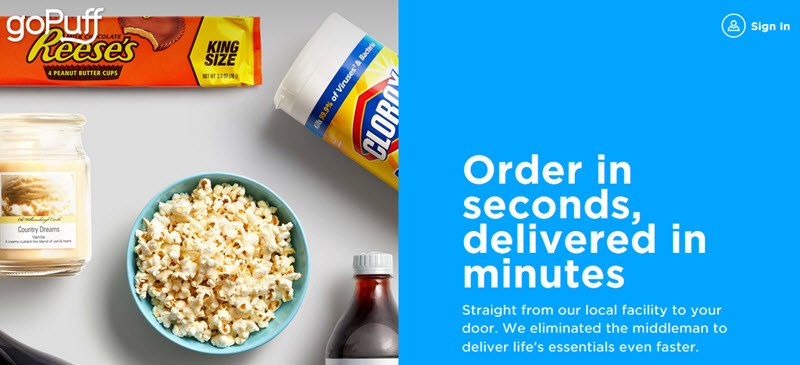 goPuff is a smaller service that operates in various Michigan cities. It focuses on snack and convenience store delivery, rather than groceries or restaurant food. While the style wouldn't be so good if you need a lot of supplies, it's perfect if you're just looking for a few items.
It was always possible to have no contact deliveries with goPuff, but the company has now made this easier by adding a checkbox for users. You can also provide specific instructions for the driver if needed.
goPuff has also taken the cool approach of offering hospital employees a free goPuff order (which includes free delivery). The free order is only for employees at participating hospitals, so some people may miss out. But, if you're a hospital worker, this is definitely something to look into.
Blue Apron


Blue Apron is the quintessential meal kit delivery service, although there are now many others in the market. The company mostly focuses on meal kits, where you get the prepped ingredients and then make the meals yourself.
The style isn't the same as having groceries delivered but it does have similar advantages – especially if you already have pantry staples at home. This is also an exciting way to keep eating fresh and healthy meals.
Sun Basket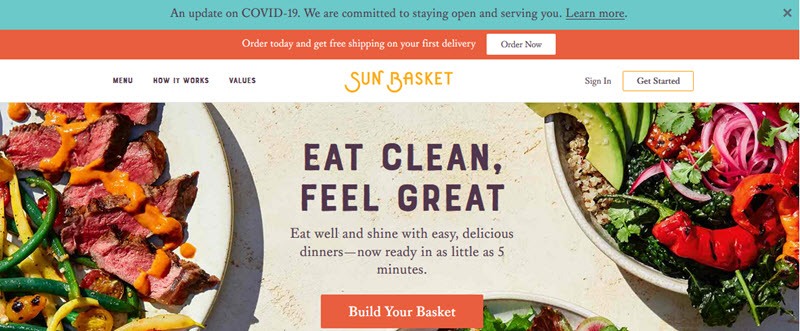 Sun Basket is the only other meal kit service we're going to highlight here (you can check out a more comprehensive list here – and most major meal kit brands do seem to be still delivering).
Sun Basket tends to be more expensive than Blue Apron starting at $10.99 per serving. However, the company offers consistently delicious food and reliable service. They also have more food allergen and diet options than most companies, including options like pescatarian, low carb, diabetic friendly, and paleo.
The company also focuses on clean ingredients and organic produce. This approach is perfect for anyone who is focused on organic eating. It may also mean that the quality of food is better than with some other services.
Prepared Meal Delivery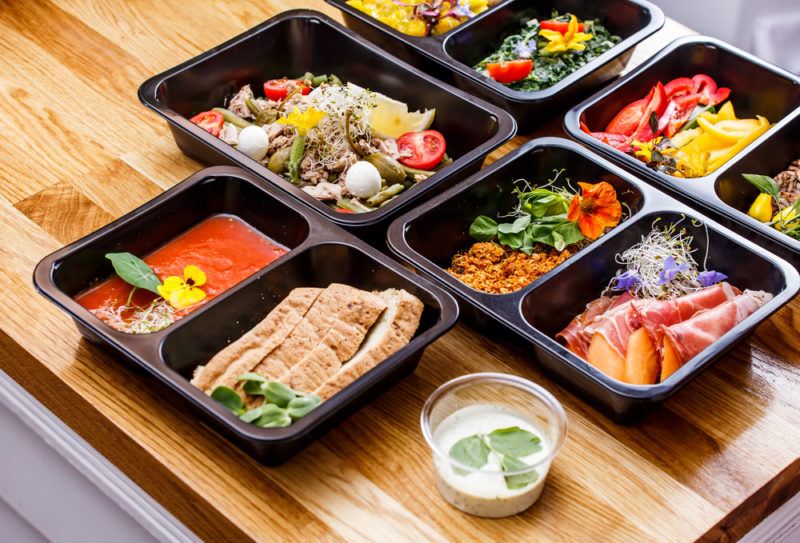 The final option that we want to highlight is prepared meals. There are many companies in this field (you can check out our full list here, there are far too many to highlight in this post).
The idea works as you might expect – you're getting prepared meals delivered to you. Every so often these will be hot, but most of the time you'll need to reheat the food. Some companies have fresh meals that you can reheat or freeze, while others focus on frozen meals.
Many of the services are specialized towards a specific set of needs. For example, Fresh n' Lean focuses on organic and gluten-free meals, while Magic Kitchen aims to support a wide variety of dietary needs, especially those that are relevant to seniors.