Let's face it, vegetarians often have a tough time finding a decent enough selection of dishes at restaurants. That means you need to cook at home a lot. This can lead to the stress of weekly shopping, meal preparation, and even just deciding what to cook. Besides, even if the restaurants in your area are good, going out can be a pain. Having meals in the comfort of your own home is often easier and much less stressful.
Why not have the best of both worlds, with vegetarian meals delivered straight to your door? Prepared meal delivery services bring you already portioned fresh/frozen meals that you can pop in your microwave or oven to enjoy in a matter of minutes.
There's a lot of options on this list, but Trifecta is what I recommend right now. These are meals created for athletes, so you know these meals will keep you full, and give you the energy you need for…life.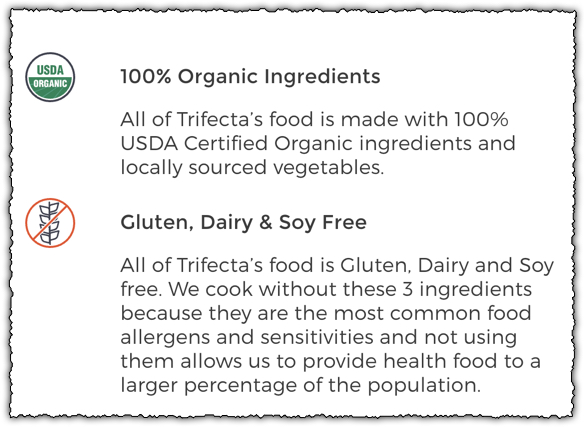 Others on the list may have boring meals, or even just be a juice delivery service (I included this one for the sake of completeness!)
They are more expensive than shopping and cooking for yourself, but they save you lots of time, and if you count the portions that you eat when cooking for yourself, you can often save money in that department. If you boil 10 potatoes for making mashed potatoes, you might eat 3-4 potatoes! But if you are just given one "portion", you might consume just one. This type of portion control can also encourage restricting calorie consumption, which could lead to weight loss or easier weight maintenance.
Besides that, there are some amazing services out there. Some of them offer more interesting and complex meals than you'd ever think to make yourself. Others are simply convenient.
My #1 choice from these vegetarian meal programs is Trifecta. Hands down, best flavor, and I like that they are targeted towards athletes. I need my fuel for the gym and I need my brain functioning on high alert all day. I NEED HEARTY FOOD TO FUNCTION. A vegan shake and some oats is not gonna cut it for me.
Check out all the services available below that I could find. Know of more? Let us know in the comment section! If you love cooking on the weekends, or just don't want to pay for ready-made meals, you can check out the vegetarian meal kits I've found as well. They ship the ingredients and recipe cards, then you make the meal. This makes a really fun date night!
There are also many vegan meal services and vegan meal kit services that you can consider as well. In fact, some of the items on this list are vegan as well. Alternatively, you can experiment with vegetarian recipes in the sous vide. The sous vide is a great tool for making delicious meals from the comfort of home.
Vegetarian Meal Delivery Services
Trifecta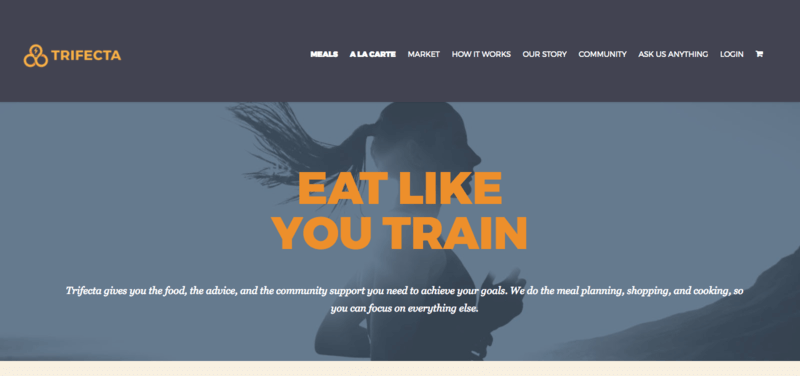 Trifecta is a performance-focused company and also focuses on high-quality meals including a vegetarian plan. They use USDA organic ingredients, sourcing ingredients from locally-run suppliers whenever possible. They also avoid artificial ingredients and use options like coconut, olive and avocado oil when added oil is needed.
There are five meal plans to choose from. The vegetarian option starts at $113.90 per week. This price includes five breakfasts and five lunch/dinners, averaging out at around $11.40 per meal.
You can select either two, three, or four meals per day and also choose whether to get meals five times or seven times each week. There is also the option to include or exclude breakfast as one of the meals. The various options all impact the price but they do offer plenty of flexibility.
One limitation is that you don't get to pick the meals. Instead, they're based on the menu for the week. If you have allergies, you can specify these and Trifecta avoid including meals that contain those ingredients. But, this can result in duplicate meals instead.
The smallest version of the program is ten meals per week. That's likely to be more than many people need.
There is also an A la Carte menu, which allows you to order items individually. But, this menu doesn't offer meals. Instead, you buy the components of meals, including protein, carbs, and vegetables. These are ordered by the pound. Annoyingly, there aren't many vegetarian options here and almost all of the protein sources are either meat or fish.
The Vegan Garden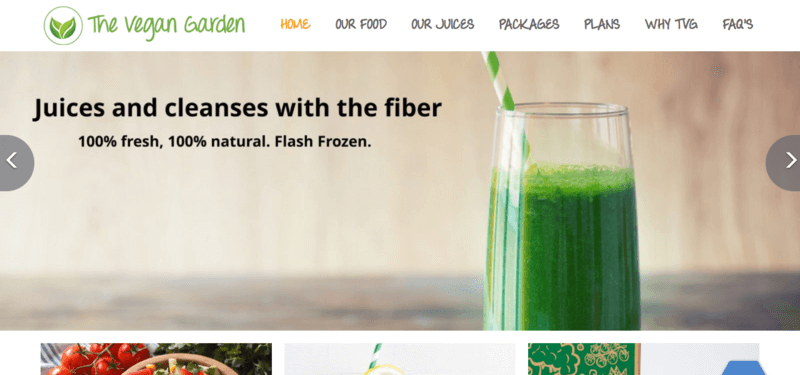 Based in San Francisco, The Vegan Garden is a family business offering fresh and natural vegan meals. Their offerings include breakfasts, entrees, desserts, and juices.
They also include some gluten-free options. Despite being vegan, many of the meals included look fairly conventional – as the dishes are often designed to mimic regular meals. This can be a good thing or a bad thing, depending on your preferences.
The service offers multiple meal plans and packages to choose from. Some examples of packages include their 5 Day Feast for $129, 5 Day Juice Cleanse for $120, and Slim Dinners for $160. Plans include a 7 Day High Protein Weight Loss Plan for $580 per month, a Taste Great Lose Weight Plan for $520 per month, and a Customized Meal Plan for $550 per month.
Most of the plans give you no options at all. For example, the Taste Great Lose Weight Plan contains seven breakfasts, seven lunches, and seven dinners per week.
The Vegan Garden chooses all of those meals for you. The Customized Plan is better, allowing you to pick each of the meals. But, you still can't alter the number of items you receive or many any other specifications. On the plus side, many of the plans are fairly inexpensive. For example, the Taste Great Lose Weight plan calculates out to less than $17 per day. Many other companies charge that much, or more, per meal.
Your meals arrive in frozen packages, and they ship all over continental America but do not ship to Alaska and Hawaii. Delivery time frames depend on your zip code, and you may need to contact customer care to know when your package will get to you.
Meals from The Vegan Garden are healthy and an excellent choice for weight loss. Their smoothies are delicious and nutritious as well. However, if you have soy allergies and do not like the taste of meat, it may not be the best choice for you. Most of their meals have soy-based meat alternatives that taste like meat. Also, not all their products are 100% organic and there are few details about how the ingredients are sourced.
Sunfare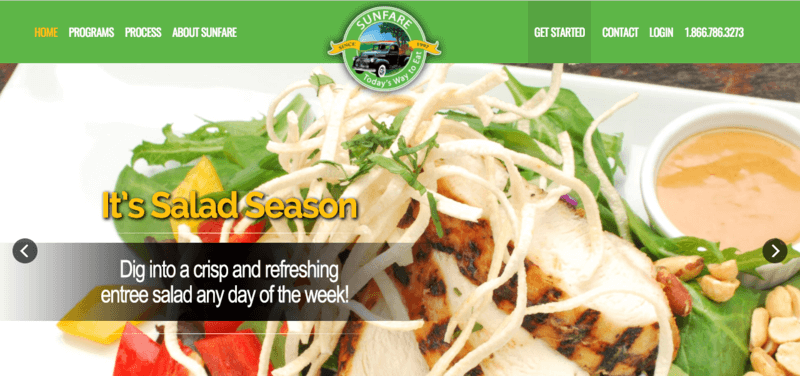 This Prepared Meals service joined the healthy food delivery scene more than ten years ago as a catering company. The catering business did not work out, and Sunfare transformed their operations to meal delivery. They have diverse menu offerings including Vegetarian, Weight Loss, Healthy Meals, and Family Dinner options.
Unlike other meals services, Sunfare has a dislike sheet meaning that you only get the meals that you enjoy. They offer monthly plans and weekly A la Carte meal plans. The weekly plans allow you to choose which meals you want on which days. They also provide some selection of the food you receive.
The monthly plans are either 20-day or 28-day. These contain breakfast, lunch, dinner, and two snacks. If you're in LA, the 20-day plan costs $60.75 per day or $1,215.00 for the entire period. In Phoenix the same plan costs $55.90 per day (these seem to be the only two delivery locations).
In both cases, the 28-day plan has the same per day cost as the 20-day plan. The prices are high but you do get a significant amount of food per day. You can log into the company's website to change what meals you get each day. The catch is that these plans don't let you have fewer daily meals – you'd have to go with A la Carte for that.
This meal delivery service caters primarily to weight loss needs. Their portions fall on the smaller side, and their meals are very light. The dishes aren't amazing either, although many people would enjoy them. The upside is that they ship out every day. Plus, you do get to influence which meals you end up getting.
Magic Kitchen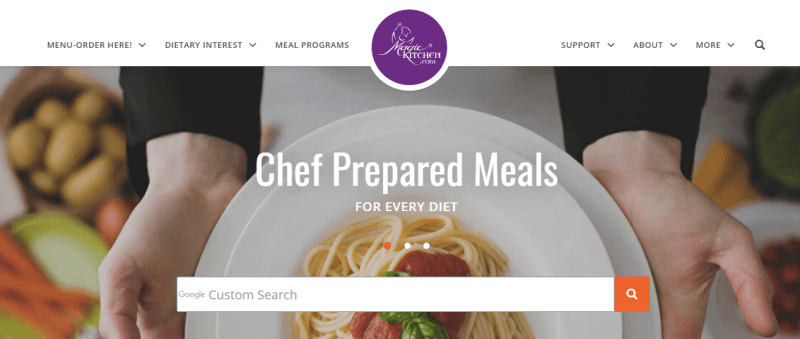 Magic Kitchen is a California-based meals delivery service. They deliver food in a frozen state across the United States. The meals are all easy to reheat and come with all the instructions you need. The key focus of Magic Kitchen is dietary needs.
They offer a range of meal plans, including ones that cater for seniors, dialysis, renal, and diabetic diets, as well as many other areas. Vegetarian meals are also on their list.
The main way to order is through their A la Carte menu, which allows you to order meals individually or in bundles. Many of the dishes contain multiple servings, such as a two-serving Cheese Ravioli with Marinara Sauce for $15.99.
This is true for sides as well, such as two servings of Buttered Carrots for $11.99. However, there are single-serving meals as well, which often cost around $11.50. There is also a gifts plan allowing you to send a cooked meal to a loved one.
Choosing what you want can be a little confusing because of the various serving sizes. This can make it difficult to piece together a full meal, especially if the food is for a single person. The pricing isn't the cheapest out there but it is reasonable. Depending on your location, their delivery services costs start from $18 and $20.
Single people may also find the two-serving meals problematic. The ideal would be to have one serving the first day and the rest the second. But, that's often difficult to do in practice, especially as the servings will be in a single container. If you struggle with restraint, it would be best to stick to the single-serving meals only.
Diet to Go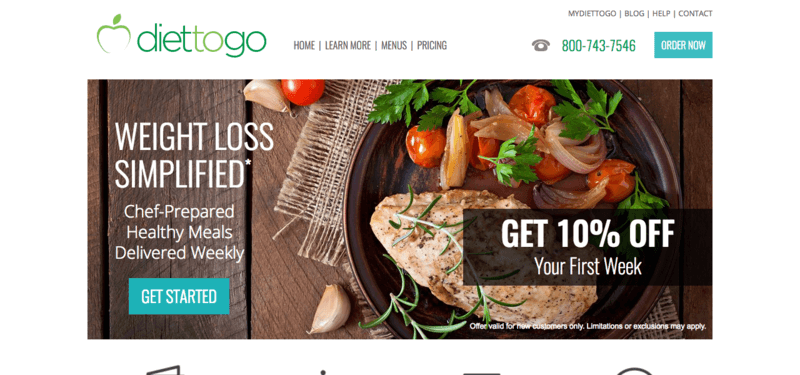 Hilton Davis founded the Diet to Go prepared meals service in 1991. The food delivery company partners with health clubs and gyms around the country to bring healthy meals closer to Americans. Their primary goal is to help you achieve healthy weight loss.
Diet to Go has a five-week meal rotational menu with a diverse selection of dishes. They offer four key meal plans to choose from and each has a different style and combination of meals. The plans are Balance, Balance-Diabetes, Carb30, and Vegetarian.
The Vegetarian Plan plan is also heart-healthy and is calorie controlled. Examples of meals include Asian Soy over Sesame Rice, Peanut Butter and Pita, Spanish Stuffed Peppers, and Aztec Quinoa Salad. You're also able to customize your plan by adding in meal preferences after you have ordered.
Also, you can go for door delivery service which will cost you $9.99. Alternatively, you can collect your order from a local health club. The meals service ships out every Tuesday and Thursday.
You have the option of ordering either two meals or three meals per day. The food delivery service has five-day and seven-day packages. For the five-day plan, the two meal option will cost you $11.76 per serving. The seven-day plan will cost you $9.20 per serving.
Shipping charges are extra in both cases. Diet to Go would best serve anyone who wants a weight-loss driven meals service. It helps if you don't mind some repetition – as the menu is just on a five-week cycle. This is fine in the short-term but could get frustrating if you use the service for months.
Vegin' Out (LA)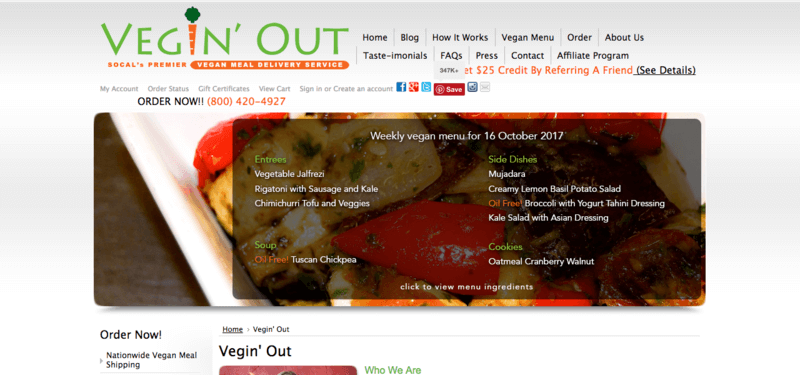 Vegin' Out is a Los Angeles based prepared meal service, and it has been delivering vegan and vegetarian meals since 2008. They serve the Los Angeles area with shipments sent out every Monday between 9.00am and 5.00pm. If you are ordering from Southern and Northern California, your order will arrive either by close of business on Monday or Tuesday.
The main two options for ordering are a Single Weekly Meal Order or a Double Weekly Meal Order. The Single is equal to nine or ten dishes. It typically includes roughly three servings of the eight dishes present on the weekly menu, along with five cookies.
What the meals are will vary from week to week but they typically include one soup, some entrees, and some side dishes. This costs $127.99 if you're in Los Angeles, $145.99 in North California, South California or Arizona, and $189.99 nationwide.
The Double option simply doubles the amount of food you get (hardly surprising). The cost is $234.99 if you're in LA, $259.99 in North California, South California or Arizona, and $360.98 elsewhere in the nation. This is slightly less expensive per meal than the Single plan, although the difference isn't huge.
If these packages do not appear as filling as you expect, you can order extra entrees at $130 each, side dishes at $11, cookies at $6 a package, and salad dressings at $.50.
You can also make requests about any ingredients that you want to avoid and Vegin' Out will try to accommodate those requests. But, doing so will normally mean you get two servings of some of the meals. There are no other options. That's fine if the service matches your food needs. But, if it doesn't, there is no room for adjustment.
Nationwide orders arrive within two to five business days after shipping. All orders ship out on Mondays with the cut off ordering period being close of business on Fridays. You receive your package in an insulated box filled with dry ice.
Eatology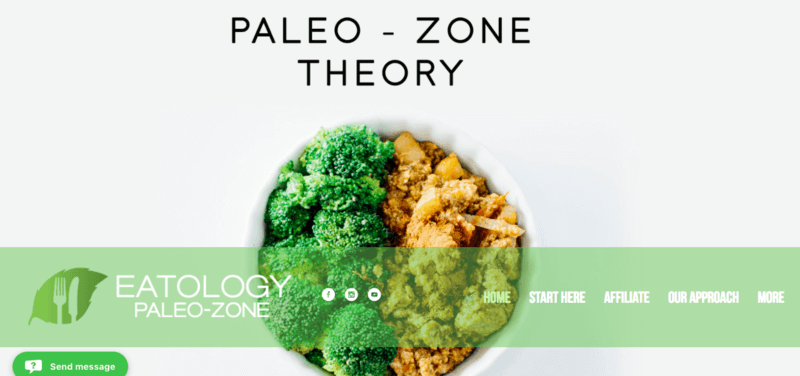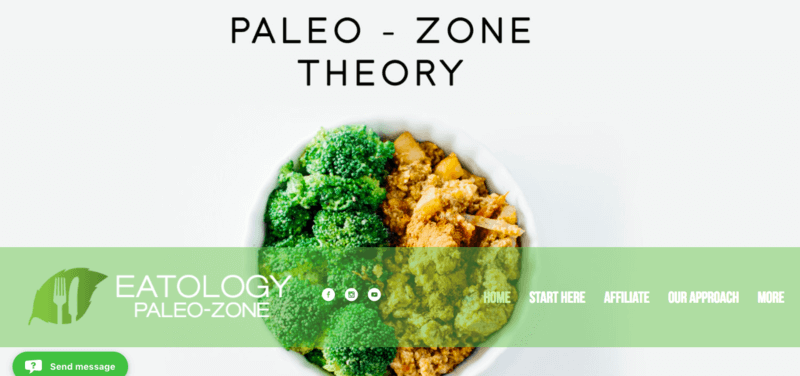 The main focus of Eatology is on paleo meals, which normally suggests that they are meat-heavy. And indeed, many are. But, we're including Eatology on the list because they do cater for individual diet types, including vegetarian. This suggests that you can set up your order so that you only receive vegetarian meals.
The company itself is a step down from some of the others. For example, the website doesn't have any images of the individual meals, aside from a few promo shots. It is also limited in the information that is provided. There is no specific menu choice for vegetarians either. Instead, you need to simply choose dishes that don't contain meat from their selection.
Those aspects are all unappealing. Even so, the company does have some appealing factors too. One is the meal sizing. There are two options here, called 2B and 3B. Both are portion controlled, offering a ratio of 30% protein, 40% carbohydrate and 30% fat. The 2B one contains 155 calories per meal, while the 3B is larger, offering 232 calories. There are also family platters that you can order.
The pricing is simpler than most other companies. You just pay $10.50 for a 2B meal or $12.75 for a 3B meal, regardless of how many you order. If you set up an auto shipment, you receive a 20% discount on your total.
Finally, despite the issues we see, users do tend to enjoy Eatology and find that the meals taste good. It would also be easy to figure out which meals you liked once you'd tried a few from the company.
Fresh n' Lean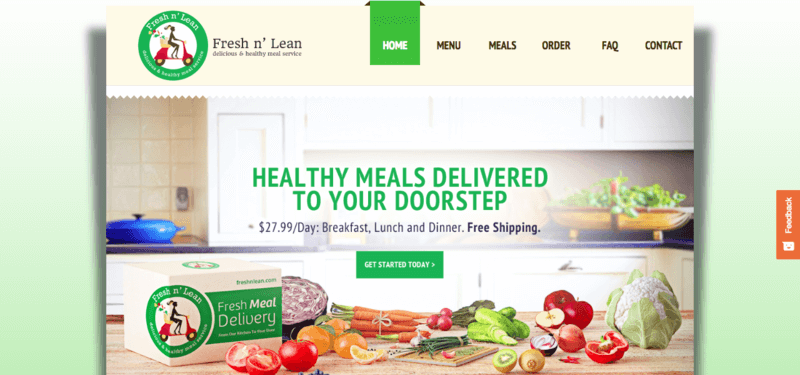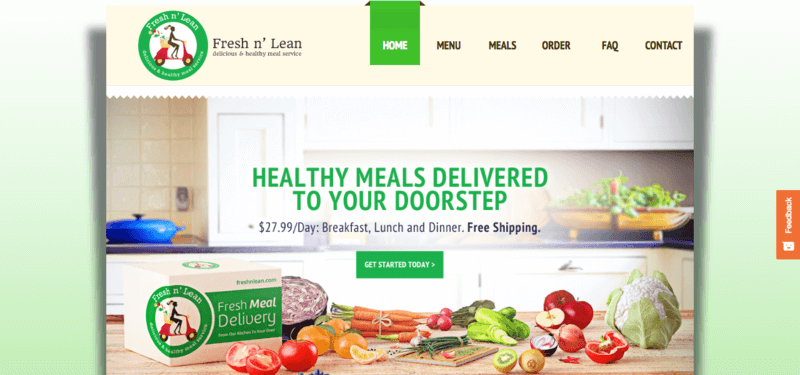 Fresh n' Lean focuses on healthy organic meals, which are also gluten-free, low in sugar, fat, and sodium. The meals are also inspired by various cooking styles, including Asian South American and Mediterranean. As a result, the dishes are a little bit different than what other companies have to offer.
This also means that the company isn't vegetarian as a whole. Instead, they have two meat-based meal plans and two plant-based ones. The vegetarian options are called the Standard Plant-Based Meal Plan ($9.33 per meal) and the Low Carb/Low Cal Plant-Based Meal Plan ($11.33 per meal). Both contain no animal products and are highly nutritious.
As the names suggest, the standard plan is useful for most people and situations. The other menu is powerful for weight loss. Once you've chosen a plan, you get to specify how many meals you want per day (between one and three) and how many days per week (either five or seven days). You can also choose to add on extras. These include breakfast/snacks, entrées, bulk meals, and sides.
The flexibility is good. But, if you follow a plan, you don't get to choose any meals individually. Instead, you receive whatever the company sends out each week. If you like variety, this style can work well.
Alternatively, Fresh n' Lean does allow you to order meals individually. If you do so, the price depends on the meal in question. Most main meals are between $11.99 and $13.99 each, while snacks are less expensive. Sides and bulk meals vary much more, depending on what you're getting.
22 Days Nutrition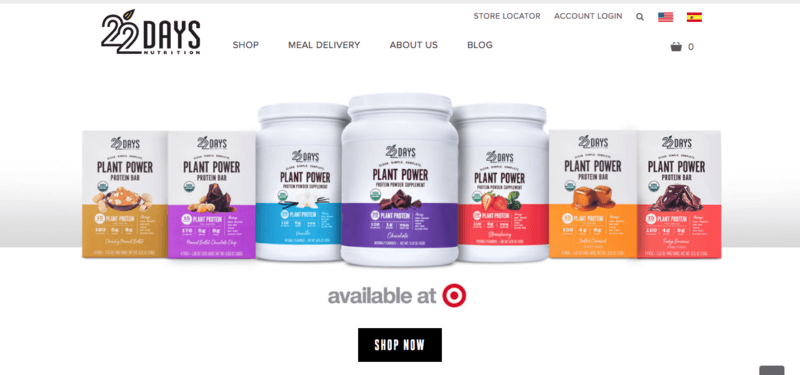 The idea behind 22 Days Nutrition is simple – it takes 21 days to form a new habit. So, if you can follow a habit for 22 days, it should be engrained and a natural part of your life. The service offers vegan meals, while also relying on naturally gluten-free ingredients and avoiding soy. The ingredients are also organic, making this a particularly healthy company. Because the service is vegan, it is a good vegetarian choice as well.
There are three different meal plans to choose from. The best value is their 22-day plan, while the others are the 7-day and the 5-day. The main difference between them is simply how many days you're signed up for. In each case, you can choose how many meals per day (two or three), along with whether you want the subscription to repeat.
Having a repeating subscription gives you a discount on the total. But, doing this makes any service more frustrating to cancel if you want to.
The 22-day plan starts at $9.50 per meal, while the 7-day starts at $11.50 per meal and the 5-day at $12.50 per meal. However, the ordering process makes it difficult to see exactly what you're paying when you make the order. You can also order A la Carte and those dinners cost $12.95. But, they do sell out fast.
One other thing to mention is the food. The meals are interesting, including options like Teriyaki Veggie Quinoa Bowl and Maple Pumpkin Rice Bowl. So, you're not likely to get bored by anything they have available.
Sakara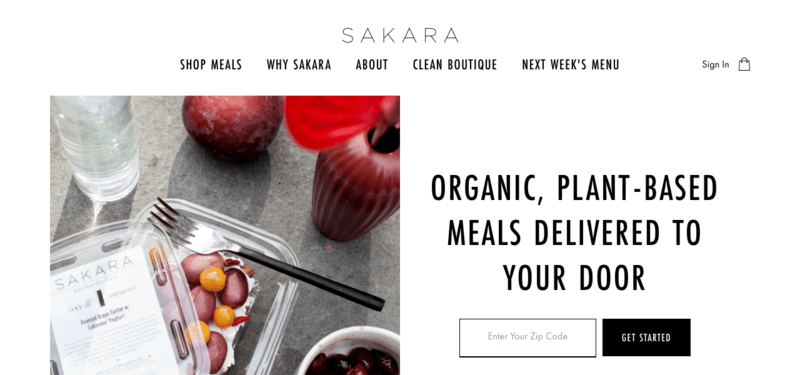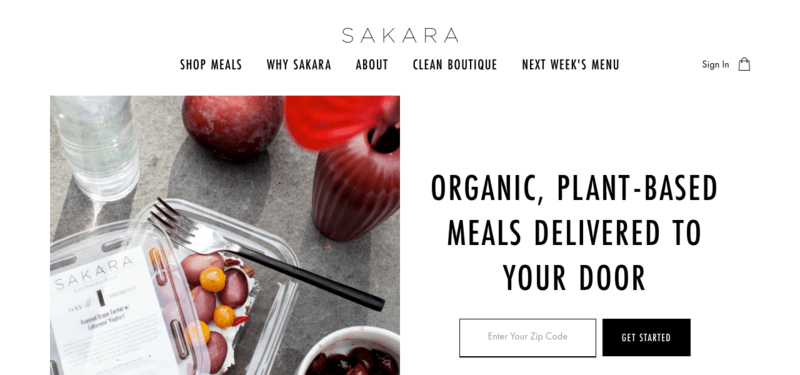 Vegetarian meals are plant-heavy by definition but Sakara takes this to a new level. The company aims to provide between four and six cups of greens in every lunch and dinner, which is an impressive amount. They also use organic ingredients and focus on concepts like clean eating and detoxing.
In addition to being vegetarian, Sakara meals are also gluten-free, dairy-free, non-GMO, and avoid refined sugars. The meals often involve a combination of raw and cooked plant ingredients as well. If you have food allergies not already covered, it is possible to request up to three ingredient exclusions. However, Sakara charges an unspecified fee for doing so.
This style means that the meals are very different as well, including a strong emphasis on salads and bowls. They can often be eating cold as well. In fact, many of the meals wouldn't be out of place on Instagram or Pinterest. This is very different than most other companies, where the meals are more similar to microwave dinners.
Sakara's meal program allows you to order breakfast, lunch and/or dinner for either three days or five days. For all three meals, the three-day plan costs $239 per week while the five-day plan costs $420. This is expensive compared to other programs but the quality of food is likely to be higher as well.
The food you receive comes from a weekly menu. This means you will get plenty of variety, with the food changing throughout the year. But, you have no control over the meals you get. This can be frustrating because honestly, you're never going to like everything that is prepared for you.
Schwan's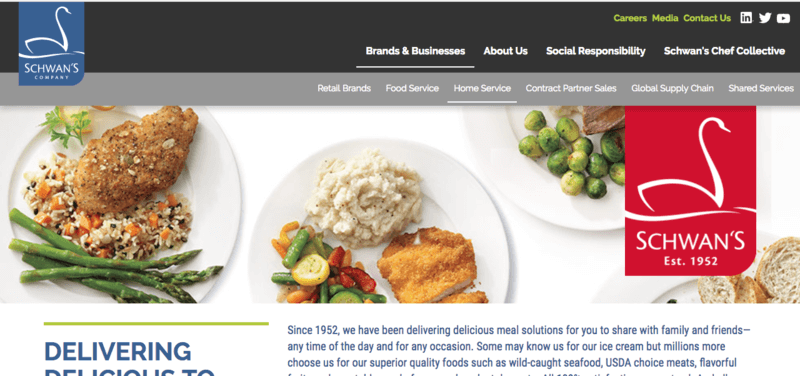 Schwan's isn't the most amazing company out there and it offers frozen meals rather than fresh ones. Even so, it is a good choice in many situations. Schwan's does also emphasize quality, which includes relying on wild-caught seafood, USDA-approved meats, and fresh ingredients. Their meals are also flash frozen to preserve their nutrients.
There is also a LiveSmart range provided, which focuses on healthy meals in many different styles. That includes vegetarian meals, as well as vegetable sides and other tasty options.
The company entirely relies on A la Carte ordering. This allows you to pick and choose the meals you want from their large selection. The LiveSmart selection alone contains more than 80 different products, while the company as a whole offers hundreds of items. Few other options get close to this level of selection.
Orders can be made online or through the company's app. Pricing varies and can be anywhere from $4 to $20 or more. You can also buy from distributors for Schwan's if they are in your local area. But, if you do, you may still need to pay shipping.
Veestro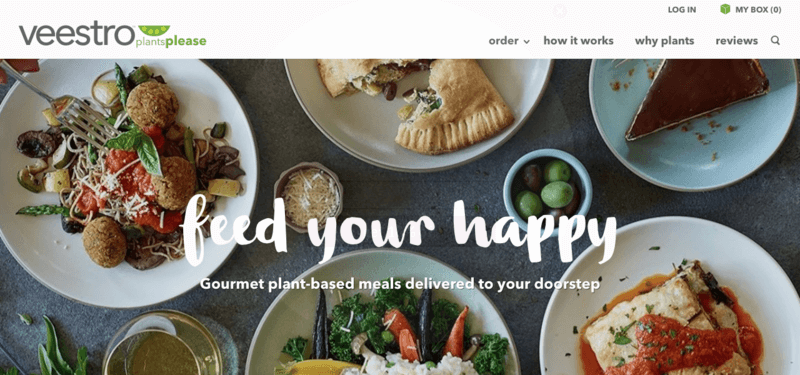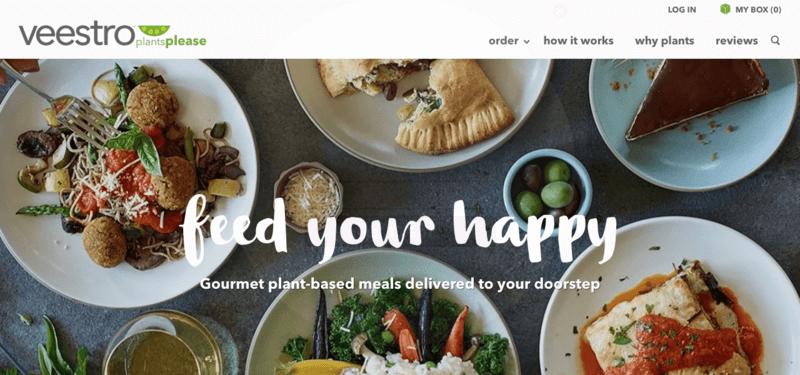 As an entirely plant-based service, Veestro is perfect for vegetarians. Not only are the meals plant-based but they're also organic and free from preservatives.
The company doesn't provide much customization and you can't choose the specific meals you get on a plan. Even so, there are a large number of options to choose from – making this a particularly interesting company. First of all, you can choose between ordering meals individually, buying meal packs, joining the weight loss program, or the juice cleanse program.
The meal packs are basically ways to order in bulk and there are eight of them to choose from. This includes styles like their Starter Pack (12 meals and one juice), 21 Day Kickstart (three pack sizes to choose from), Protein Pack (25 meals), and Gluten-Free (24 meals). Each starts out at either $8 or $9 per meal. The total cost depends on how many meals in your pack.
There are similar patterns for the Juice Cleanse and Weight Loss. Ordering meals individually works like you'd expect and most dishes are somewhere between $10.99 and $11.99.
Unlike some other companies, Veestro meals arrive frozen, not fresh. Frozen meals often aren't as appealing as fresh ones and they can lose some nutrients along the way. But, these aren't the type of frozen dinners that you find at the grocery store. Instead, they will taste amazing and are very healthy. The frozen aspect helps with convenience as well, especially as you're receiving the meals in packs.
The overall style of Veestro is unusual. It could work perfectly if you wanted to stock up your freezer or didn't know which nights you were going to want extra dinners for. But, it isn't a great choice if you want meals each night of the week and many of the meal packs are one-time orders only.
MamaSezz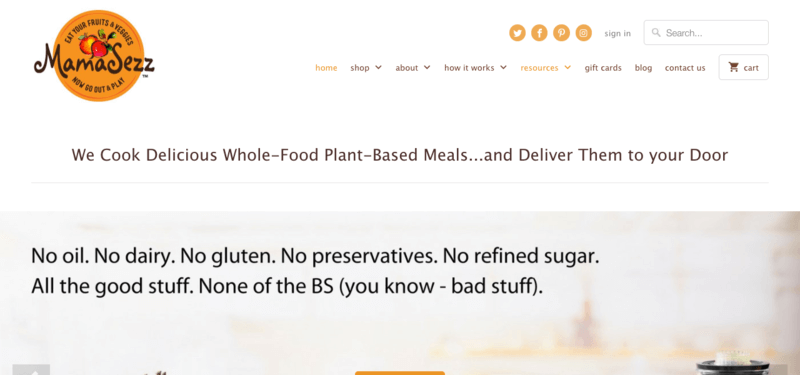 MamaSezz is actually a vegan company, so all of their meals will be vegetarian by default. Their dishes also avoid gluten, oil, preservatives, and refined sugar. They also rely on locally-sourced organic ingredients. Some items are soy-free, although most of them are not. Meals arrive to you fresh, not frozen, ensuring they retain high nutritional value.
Like many companies, MamaSezz offers an A la Carte menu, which allows you to order only the meals that you want. There is no minimum order size. But, you need to spend at least $89 to get access to free or reduced price shipping.
The cost of meals varies significantly. Many of the dinners cost $15.99, which is more than most other companies. But, the meals are often large. For example, the $15.99 Gardener's Pie contains three servings, as does the Mac Attack Stack.
You can also order meals in bundles. These contain a selection of themed meals from the menu and do provide a discount. This can work well, as long as you're happy with the meals the company provides. These bundles can be ordered individually or on a subscription basis.
Shipping is somewhat complex, with prices varying depending on where you live. Some local areas can even pick up their food. If you do get your meals shipped, they come in an eco-friendly cooler, which is later returned to the company.
Thistle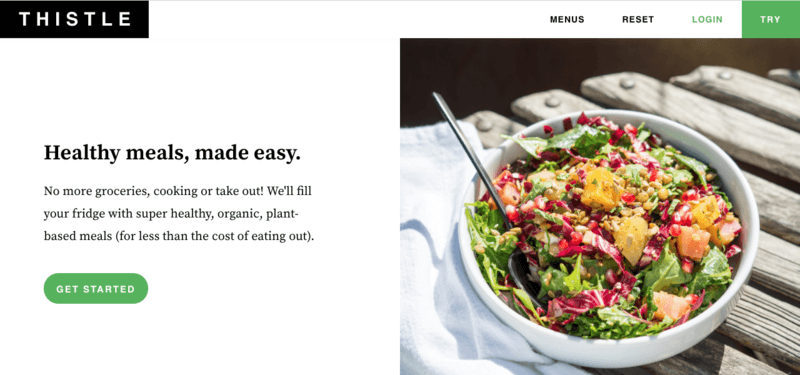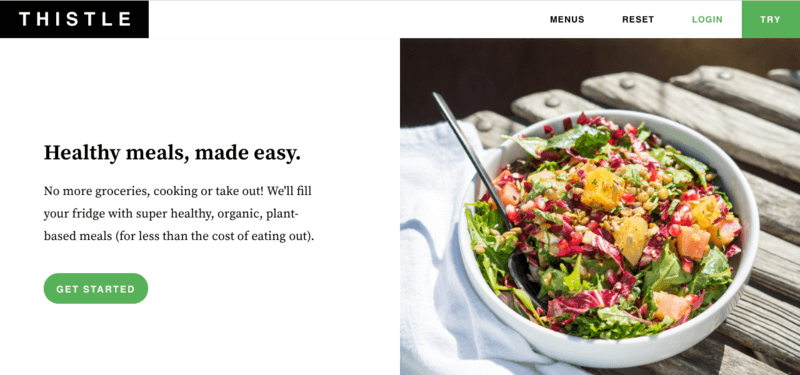 Thistle is a local option, serving the San Francisco area, along with greater California and Nevada. For people in the right locations, it is a powerful plant-based company, offering amazing meals that are packed with nutrients.
All of the meals provided are entirely organic, gluten-free, and dairy-free, with no GMOs or preservatives. Those approaches are fairly common, especially for vegetarian and vegan companies. But, what is unusual is the choice of plants. Thistle emphasizes superfoods and has an average of 5.8 different fruits and veggies per meal. This leads to some very interesting dishes that include ingredients like matcha, chia, turmeric, and spirulina.
The service is perfect for people wanting to go beyond simple vegetarian meals and toward something more interesting.
The meal plans are also flexible. Thistle allows you to choose between three, four, five, or six days of service each week. You can also select which meals you want and whether you have any allergens. You can choose either plant or animal protein as well.
The price varies based on the options that you choose. But, the cost starts at $42 per week. The lowest cost per meal is $11.50, although you need one of the larger plans for that. All-in-all, the style works well and there is plenty of flexibility.
There are only two significant limitations with Thistle. First, their delivery area is small. Second, you don't get to choose the meals. What you receive is based on the menu for the week. That's fine if you want easy meals – but some people do prefer to select for themselves.
The plans let you make various specifications, such as the size of the meals and how many days you order for. The price per meal also varies depending on what you choose – with the larger plans offering a bigger discount. There are too many options to go into the pricing here. But, some plans end up averaging $20 per meal or thereabouts. This is higher than many other companies. Even though the food looks good, I doubt it's enough to justify that price tag.
FoodFlo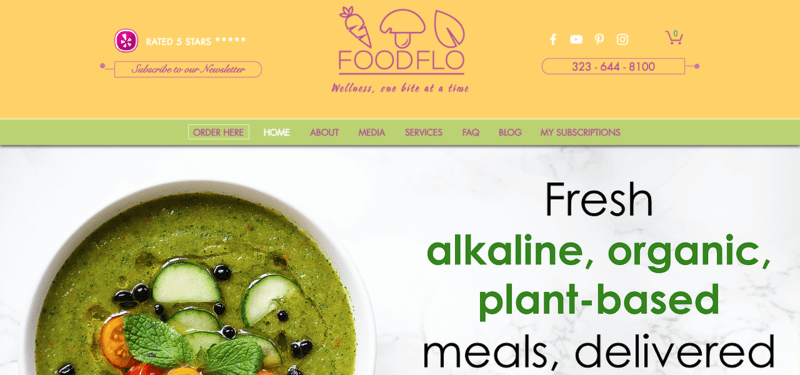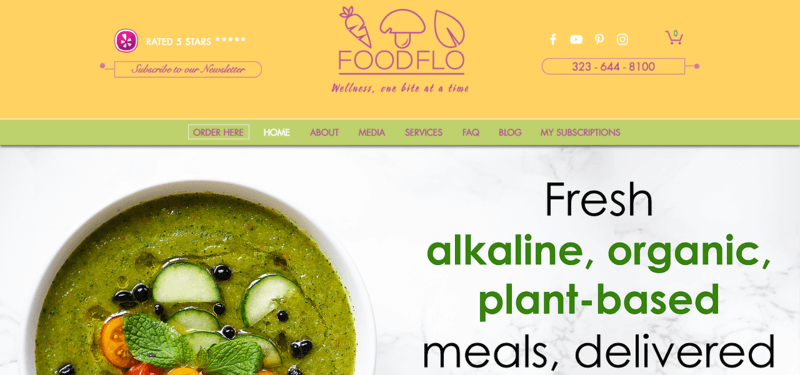 FoodFlo is an LA-based vegan meals delivery program, which means the meals are also perfect for anyone on a vegetarian diet. Like many companies, the ingredients are all organic. FoodFlo takes this a step further and the meals are all alkaline as well. They rely on Kangen alkaline water and fresh ingredients to ensure that outcome.
The implications of alkaline foods for health are the subject of much debate and I'm not planning to discuss that here. If nothing else, the style helps make FoodFlo unique. There aren't many other alkaline-based meal delivery services out there.
The company provides a new menu each week, which consists of various soups, salads, entrees, sides, and snacks. Your order is based on this menu and you don't get to choose which meals are included or excluded.
There isn't much versatility in the plan either. You can simply order a FoodFlo One Week Delivery for $139 or the FoodFlo Four Week Delivery for $499. Regardless of the pack, you get one soup, two side salads, four entrees, four side dishes, and four snack bars every week. This basically gives you meals for four or five days, depending on how much you eat.
That's pretty much it. You can order some extra items through the A la Carte option but the selection is small. Even then, what you can order is based on the current week's menu. For the Entrée and Side Dish option, you don't even get to choose which meal you receive.
If your needs happened to fit precisely in what FoodFlo offers, then it could be a good company. The meals are certainly interesting and you're getting more than just one reheatable meal each day. Still, the limited options may make this unsuitable for many.
Kitchen Verde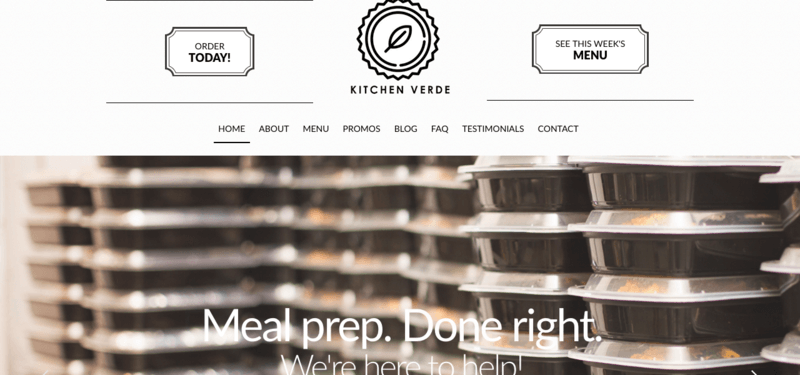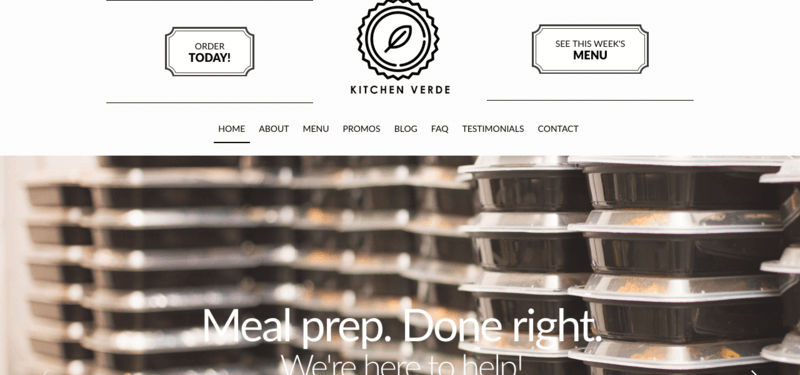 Kitchen Verde is an entirely plant-based company, so they don't use any animal products in their meals. This makes it a great choice for vegetarians and you don't have to worry about choosing the wrong meal by accident. The meals are also cooked without oil. Most are gluten-free and are clearly labeled.
The company has a slightly unusual style for ordering. Like many, they release a menu that changes each week. The menu includes breakfast, lunch/dinner, snack boxes, organic cold pressed juice, desserts, and add-ons. Most give you a basic description of the meal and the nutritional breakdown, although there are no images.
But, you're not signed up for a specific meal plan. The items on the menu are all individually priced and you simply order as many (or as few) as you would like. Orders need to be placed by Thursday each week and you get your food on the following Sunday or Monday.
Delivery is just to the Monroe County area and costs $5, regardless of your order. You can also pick up your food if you live in Rochester, New York and save yourself the delivery fee.
The meals sound like they would be good, although there are few pictures and none of the current menu. Even so, with no minimum order size and inexpensive delivery, there would be little risk in trying the meals out for yourself.
Mom's Meals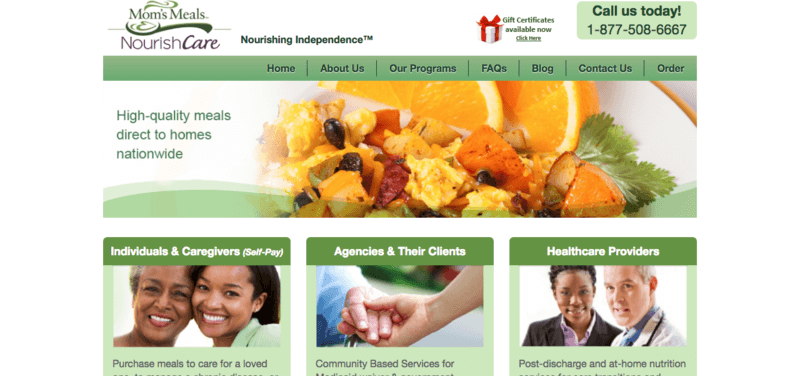 Mom's Meals focuses on supporting independence, particularly for people who are struggling. They're one of the few services that works with individuals, agencies and healthcare providers. In some cases, meals may even be provided under insurance. The meals use Fresh-Lock packaging and can be stored in the fridge for up to 14 days, which is incredibly unusual.
A key aspect of this is the wide range of diets the company accommodates. This includes very specific diets, such as renal-friendly, diabetic-friendly, cancer support, and pureed foods. There are also more general menus, including a vegetarian option. Vegetarian meals range from 350 to 620 calories per meal. This makes them relevant to weight loss and to overall health.
The website for Mom's Meals allows you to select a diet type and see an example of the menu. When you order, you choose which menu you want, along with the types of meals and how many you would like. The options include most combinations of breakfast, lunch, and dinner. You can choose between 3 (first order only), 7, 10, 14, or 21 meals.
Regardless of the number chosen, meals cost $6.99 each and there is a $14.95 shipping fee. You do get to choose the meals as well, giving you more control over what you end up with. But, the selection is small and some of the meals don't even have pictures.
In all honesty, the meals provided aren't amazing. Many feel low-quality and they certainly aren't exciting. But, they are very inexpensive, especially as the meals are fresh, not frozen. This makes them relevant to some situations, especially if you're on a tight budget.
NutriFit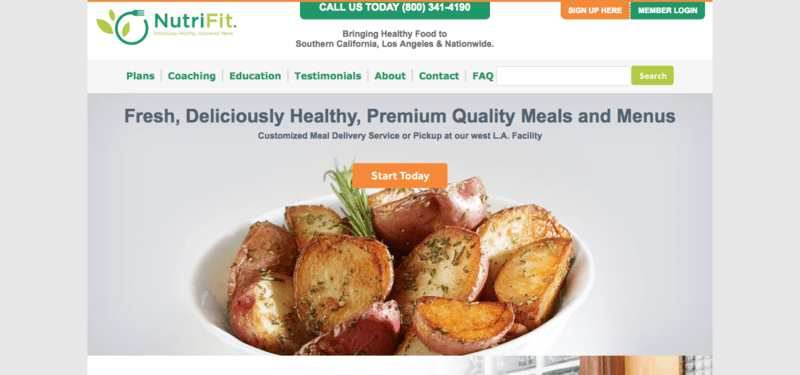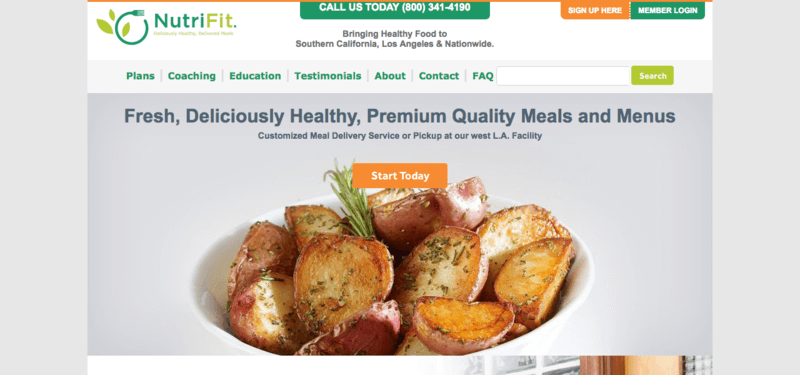 NutriFit is a very comprehensive meal delivery service, with a strong emphasis on the quality of food. They also support many different diet styles and vegetarian is just one of those options. The company aims to use organic ingredients whenever possible, along with sustainable meat. You can get 100% organic meals as well, although these come with an additional charge.
NutriFit prides itself on customization. You're able to talk to staff members to develop a meal plan that is right for your specific needs, regardless of what these are. It is even possible to account for multiple allergies at the same time, something that most companies cannot do. However, there is an additional fee for some customizations.
The main two plans they offer are Premium and Essentials. Premium allows you to make selections yourself, while Essentials only lets you view upcoming meals. Pricing varies depending on which plan you choose, the length of the plan, and your specific options. But, as an indication, a Dinner Only plan costs $17.95 for Essentials and $28.95 for Premium. The Premium includes a soup/salad and dessert, and an evening snack.
It seems like you can follow a vegetarian diet on just the Essentials plan. But, the site isn't entirely clear. It's probably best to check with a representative before paying any money.
I will also mention that NutriFit has a VERY annoying website. In many cases, they want you to call and talk to a representative before they'll provide much information about the plans and the meals that you get. When there are dozens of other companies out there, this process is incredibly frustrating. And honestly, sales reps aren't the best people to offer objective advice about a service.
Nurture Life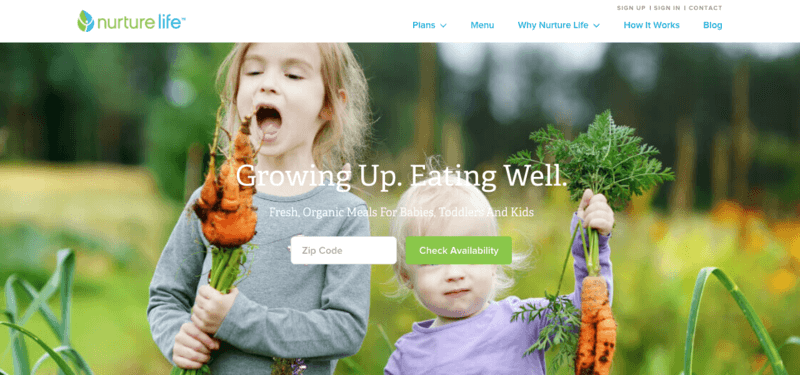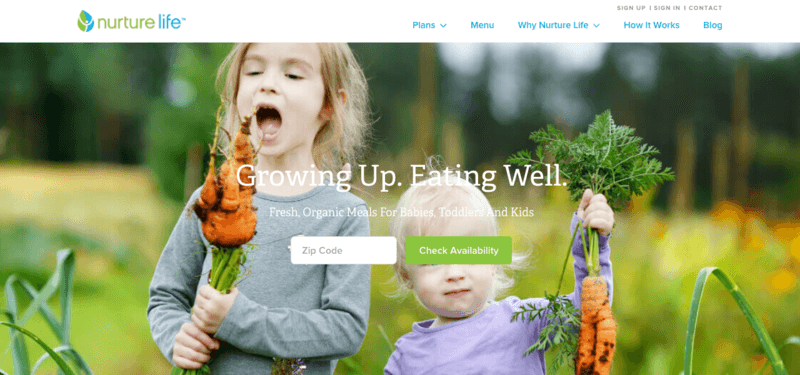 Unlike the other options on this list, Nurture Life is designed for children only. The service uses organic ingredients whenever possible and avoids artificial ingredients, nuts, trans fats, and high fructose corn syrup. The service focuses entirely on the needs of children as they grow.
To do so, they offer plans for three different age groups: babies, toddlers, and children. These are further broken up into specific ages and the food varies depending on the age. For example, babies aged 6+ months get simple pureed foods, while babies aged 8+ months get some more complex flavors. Babies aged 10+ months get non-pureed food that is soft and easy to eat.
At each level, the meals are carefully designed for kids. Decisions are based on nutritional needs and also on behavior. The service acts as a great way to introduce kids to new flavors, although there are many classics on the menu as well.
The company excludes most major allergens by default and there is also the option to have veggie, meat, and fish as ingredients or just veggies. The latter is perfect for vegetarians. This also means you can be certain kids will get enough nutrients on a vegetarian diet.
The meal plans go up to 14+ years and would be suitable for teens of all ages. Nurture Life also mentions that adults can use the meals as snacks – although they're probably not large enough for full adult dinners.
There are seven plans in total across the age range. The size of the meal increases along with age, as does the price. There are also two frequency options. For babies, the first is 8 meals a week, which ranges from $35 to $55, depending on the age. The other is 14 meals per week, which ranges from $60 to $89. For all other ages, the options are 5 and 10 meals per week. The smaller option costs between $47 and $62, while the larger one costs between $89 and $119.
Paleta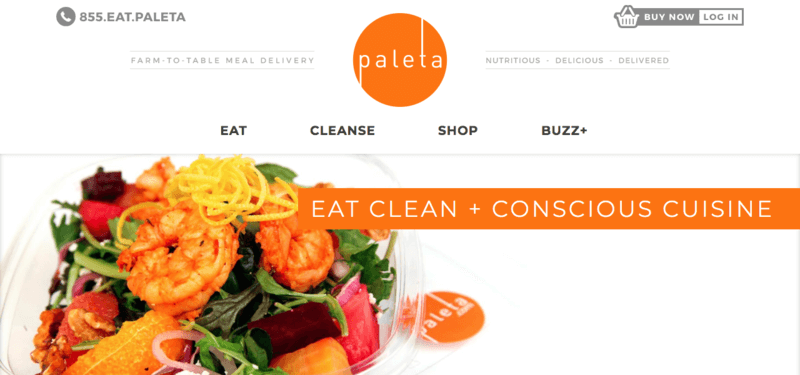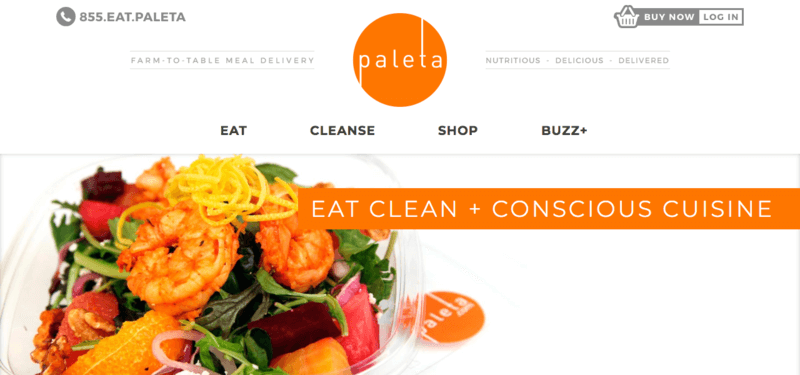 Paleta focuses on the idea of farm to plate food. As a result, they strongly emphasize ingredient quality. They also tend to produce amazing food, taking advantage of fresh produce and seasonal flavors. Many of the ingredients are organic.
However, Palenta states that they focus on sustainable sourcing primarily, which sometimes means relying on small farms where organic certification simply is not practical.
There are multiple types of meals available through Paleta, including a vegetarian plan and also a vegan one. You are able to choose how many days per week you want your food delivered, along with whether you want breakfast, lunch, and/or dinner. There are also desserts and snacks that you can choose from.
Oddly, Paleta doesn't specify the price for the vegetarian and vegan plans, although they do for most other options. This may simply mean you can pick another plan and then tailor it to be vegetarian.
One key set of plans is the Market Menu. Plans in this menu follow the concepts of a Mediterranean diet and there are three variations. Fit offers 1,200 calories per day and starts at $49. Lifestyle offers 1,600 calories per day and starts at $59, while Performance has 2,200 calories per day and starts at $69.
These seem expensive but the prices are for breakfast, lunch, dinner, and dessert, as well as a snack for the latter two plans.
There are other options as well, including a fully personalized plan that starts at $149 per day with a 10-day minimum. Even though the pricing is a little complex, the service looks amazing. It should also be easy to find the details you need by signing up for an account or by calling them for a consult.
Send a Meal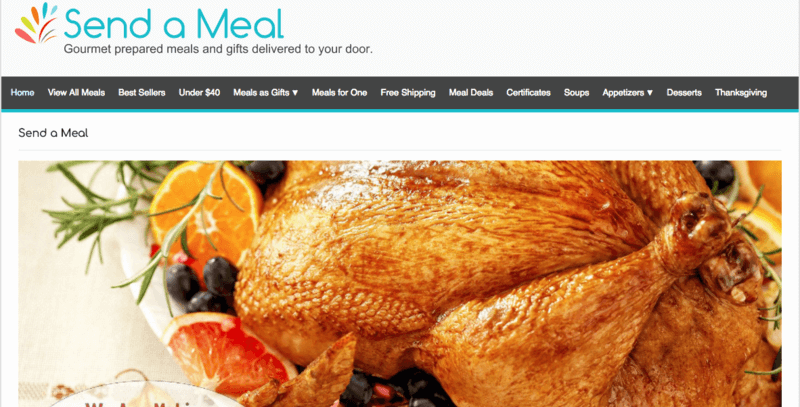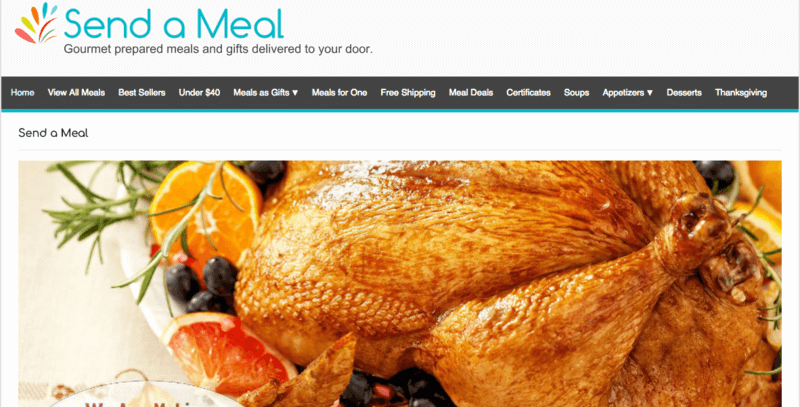 Send a Meal is actually designed as a gifting service. As part of this, there is no membership component and no subscriptions. Instead, you order meals individually or in bundles (mostly bundles). What you order is then shipped to you cooked and frozen. The main exception is steaks, which you need to cook yourself.
The idea is perfect for stocking your freezer and offers go-to meals at any time. The meals are also designed to be simple to reheat, with all the instructions provided on the package. However, the quality is likely to be lower than other brands. There are no organic ingredients and the meals have been frozen.
Send a Meal doesn't focus on vegetarian meals nearly as much as I would expect. They have separate categories for many areas but vegetarian isn't one of these. Thankfully, you can use the search function on the site.
The main vegetarian options are two samplers. The first costs $139.95 and contains four full meals, each with two servings. The other costs $199.95 and offers seven meals. These all have two servings as well.
The style of Send a Meal means that you cannot make any alternations to the packages. The meals will also be the same each time. And honestly, they're pretty expensive for dishes that aren't that impressive. The service might work well if you need some options in your freezer. But, if you're wanting delivered vegetarian food every week, this isn't a good company.
Veggie Vibes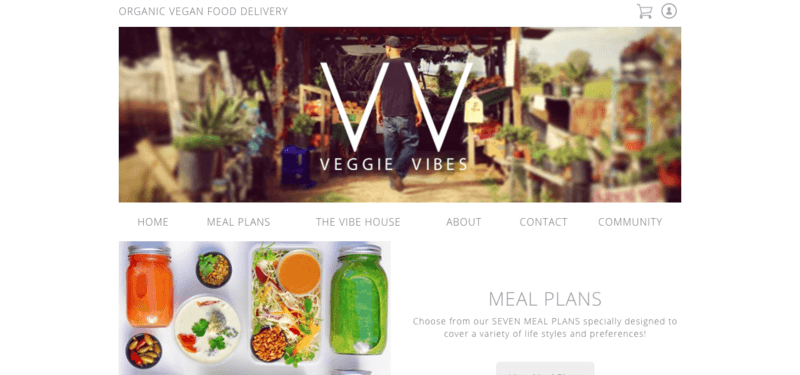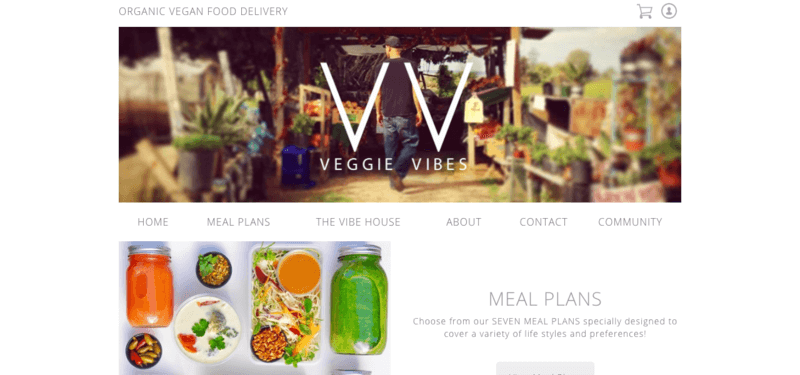 As the name suggests, Veggie Vibes focuses on vegetables. To be more precise, the company offers raw organic vegan meals. Their meals are also gluten-free and they avoid any artificial ingredients, along with highly processed sugars and flours. All of the meals can be eaten as-is but they can also be warmed up or cooked if you prefer it that way.
There are four specific meal plans that you can choose from. These are Alive, Reset Cleanse, Savory Raw, and Your Selection. In each case, you can choose either a single order or a subscription. You also pick whether you want three, five, or seven days of meals per week.
Each of these provides various styles of meal, along with snacks and other items. For example, the five-day Alive plan includes one soup, four raw entrees, and two raw snacks under the dinner section. Smoothies and juices are often included under breakfast as well.
As always, the price varies depending on what you choose. There are many different options and you're not just getting meals, so comparison is slightly difficult. But, as an indication, the Alive plan offers breakfast, lunch, and dinner each day. A three-day subscription order costs $163 per week, while a seven-day order costs $336 per week. The Savory Raw plan just contains lunch and dinner. This one costs $138 on subscription for three days and $243 for seven days.
The Your Selection plan is also worth mentioning. This one starts at $163 for three days on subscription and $336 for seven days. Here, the three-day offers 12 individual items, the five-day has 20 items and the seven-day has 28 items. You get to choose what those individual products are.
Pete's Paleo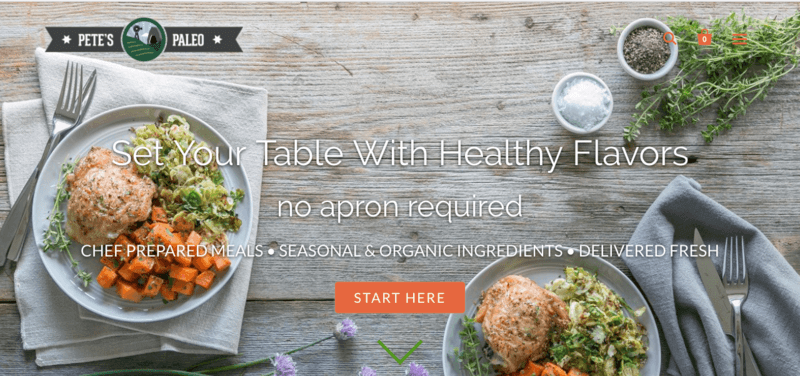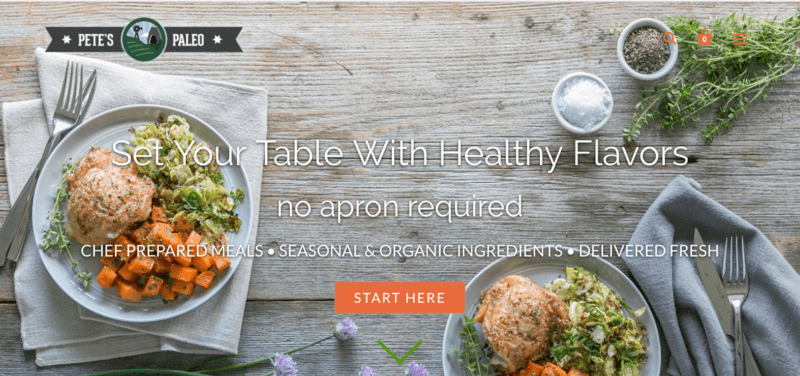 Paleo companies are normally meat-based. Pete's Paleo is as well but the company does also have one vegetarian plan. The company is also fascinating. They have a very strong focus on seasonal and organic food. The weekly menu is designed based on the way that harvests change over time and you end up with new flavors from one week to the next.
With Pete's Paleo, you simply purchase through their weekly plans. There is no ability to order meals individually. For the vegetarian plan, you order ten meals for a total of $129. That calculates out to $12.90 per meal, which is pretty good.
The only option you have is whether you want the meals delivered weekly or every two weeks. You're basically choosing between five and ten meals each week. That's it. The menu is chosen for you and you cannot make specifications about allergens or anything else.
There is also no indication about what your meals actually are. Pete's Paleo does offer a menu each week, along with a YouTube video showcasing the meals. But, all of these contain meat. It's not clear what you'll receive on the vegetarian plan.