Whether you just became a vegan or you have been one for a while now, it's clear that the process involves making significant food adjustments and compromises. While vegan food can be absolutely delicious, you have to work hard to find it or to make it, especially if you are not located in a cosmopolitan area like LA, SF, or NY. Vegan meal kits kits make it much easier to transition or maintain this type of diet.
If you have trouble coming up with meal plans for your vegan diet, you are not alone. That's what makes vegan meal kit delivery services such an amazing thing. They get the groundwork done by sourcing the ingredients and coming up with accompanying tasty vegan recipes. This saves you the time of taking a trip to the grocery store, and hours on Pinterest trying to find the perfect meal for each day of the week.
It seems like there are selections of meal kit services serving just about every other type special diet needs out there. However, very few predominantly offer vegan meal kits. These also tend to be fairly eco friendly services.
My personal favorite from this list below was Sunbasket. Best flavor and most unique recipes hands down. However, they don't have a specific subscription for vegans – just vegetarian. You have to handpick the vegan options.
For a full vegan subscription, I recommend Green Chef. Solid meals, and a solid service all around.
Below are all the meal kit delivery services offering pure vegan options that I could find. Know of more? Leave a comment and I'll add it to this selection. Sometimes they are regionally based. That's fine too!
Also, if you are unhappy with the selections below, I have another post on fully-prepared vegan meal deliveries, as well as plant-based frozen meals that you just have to reheat. These types of services will save you even more time in the kitchen, although they will cost a bit more, generally speaking.
Vegan Meal Kits
Sunbasket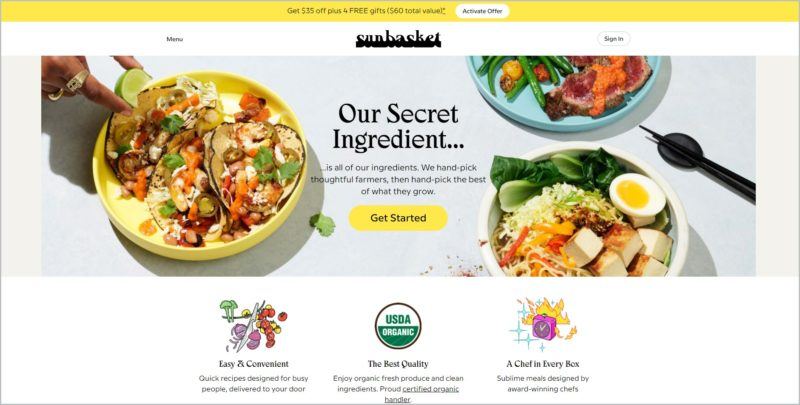 Sunbasket is one of the most flexible meal kit services that I've seen. The company provides multiple meals plans that you can choose from, including paleo, gluten-free, vegan, vegetarian, Mediterranean, and Lean & Clean.
Like other services, you do get to choose your meals as well. This makes it easy to avoid any that you're not interested in and focus on appealing ones.
There is also a strong reliance on organic and sustainable ingredients. Many of the ingredients are also seasonal, which means the meals and flavors will change over time. I love this style personally, as it always results in more interesting meals.
The ingredients are divided into individual bags based on your meal and Sunbasket minimizes the amount of cardboard that they use. The style makes it easy to find the right ingredients for your meals.
All of the packaging is compostable and recyclable as well. The dishes are all easy to prepare and they taste good. Many of the meals are interesting, rather than typical dishes that you'd cook on your own time.
In addition to the meal plans, you can choose whether you're cooking for two or four people. There are two options if you're cooking for four, either a classic or a family menu.
However, vegan meals are only supported through the classic menu. If you're cooking for two, you automatically get the classic menu. For this menu, your only option is three recipes per week – that can't be changed. But, three per week is pretty common among the different services and would work for many families.
Annoyingly, you have to step most of the way through the order process to find out much the meals cost and the price may depend on where you live. In my case, the meals were $11.99 per serving for a two-person plan and $9.99 per serving for either of the four-person options. Shipping was $5.99, although it was free for my first order. You can find full details of my experiences on my Sunbasket review.
Green Chef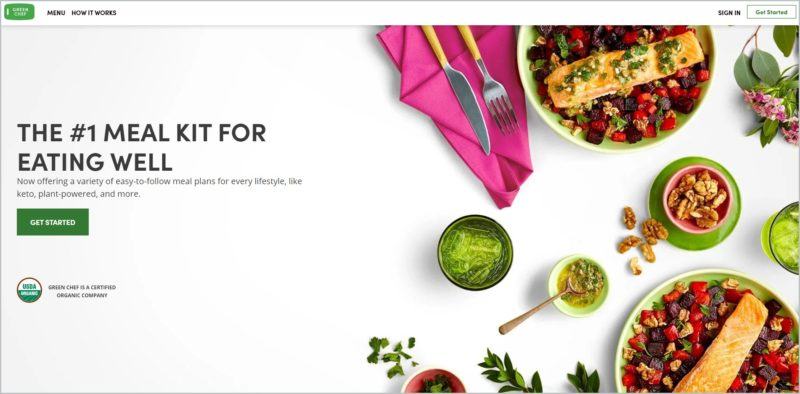 Green Chef is a USDA-certified organic meal kit company, one that strongly focuses on healthy and high-quality ingredients. All of their dishes are GMO-free and soy-free. I particularly like their focus on quality and their ideas work well with the principles of a vegan diet.
As the image below suggests, Green Chef doesn't exclusively provide vegan meals. They actually have seven key meal plans: Omnivore, Carnivore, Paleo, Keto, Gluten-Free, Vegetarian, and Vegan.
Their vegan menu claims to offer innovative plant-based dinners, which rely on specialty ingredients and sauces that they create in-house. A quick glance at their vegan menu shows that the dishes are indeed interesting.
This includes options like Hoisin BBQ Tempeh, Linguine 'Alfredo' and Moroccan Cauliflower. If nothing else, the service might inspire you in the kitchen, helping to show you new directions and recipes to try on your own.
Their recipes are easy to use, backed with photos, step-by-step instructions, and chef tips. They deliver ingredients every week in a refrigerated and insulated box to keep the food fresh. However, the ingredients aren't organized well, which makes the process a little more difficult. Still, the recipes are easy enough to follow, even if you're an amateur in the kitchen,
I've tried out this service myself and you can read my full review for more details. I wasn't specifically focused on vegan meals, so my experiences may differ from yours. Even so, I did get a good sense of the company and what they offer compared to other services.
The meal plans vary in price, with the vegan plan offering three vegan dinners each week, for $11.99 per meal. This is for two-serving meals, so the pricing isn't too bad. The service automatically renews your subscription every week, which you are free to cancel at any time.
Cancellation is a little frustrating but it isn't the worst that I've seen. Additionally, their delivery and subscription services are flexible, which gives you the chance to find the best setup for your needs. They deliver to most parts of the continental United States, except for Alaska, Louisiana, and Hawaii. They charge a $9 shipping fee on every order.
Purple Carrot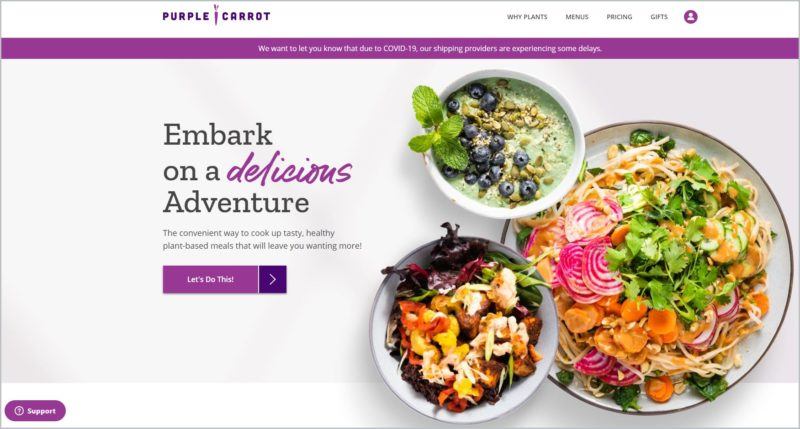 Purple Carrot is powerful because the service focuses entirely on plant-based meals. This makes them experts at providing meals that are high in nutritional value, while still tasting amazing.
In fact, Purple Carrot is well-known for creating innovative and unique meals, ones that you won't find elsewhere. Because the meals are entirely plant-based, you can be sure that they fit in with your needs. Plus, there is no risk of cross-contamination or that you'll get a meal containing meat by mistake.
They deliver pre-measured ingredients removing the guesswork out of the cooking process. Food is packed in recyclable boxes and comes with recipe cards that include easy step-by-step instructions. Most of their meals take roughly take 40 minutes or less to prepare.
Another cool thing is the plans. Their basic plan caters for 1-2 people, providing three meals per week for $72 ($12 per plate). They also have a 3-4 person plan, which is perfect for families. This one costs $80 per week and averages out to $10 per plate.
However, you only get two meals per week with this plan, not three. There is also a third plan, which offers performance meals. This one is also for 1-2 people. It costs $78 per week, averaging out to $13 per plate. There is no shipping fee on any of the plans.
This last plan is particularly interesting. The meals are higher in protein than other Purple Carrot meals. This should make them more filling. That outcome is great for anyone interested in performance, such as athletes and anyone trying to gain muscle. The style would also be useful if you normally find yourself hungry after a vegan meal.
Finally, the subscription service is flexible. This allows you to skip or cancel your order anytime. For example, you might choose to skip if you're going away for a week or if you just want to cook recipes on your own for a while.
Hungryroot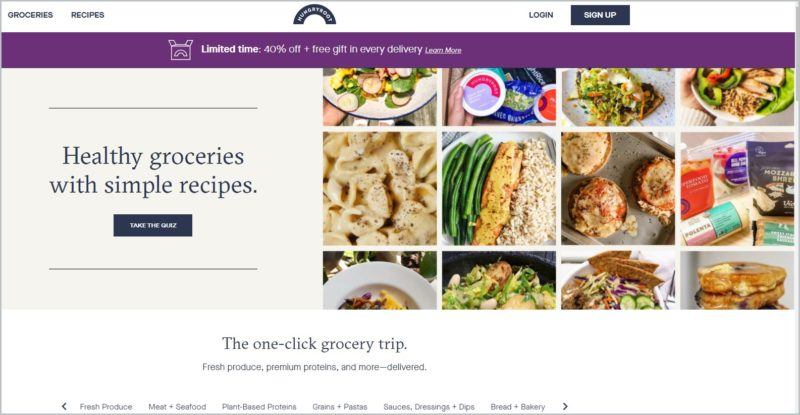 Not your typical 'meal kit service,' Hungryroot is more of a personalized grocery service. They will learn more about you from a series of questions that will determine your goals, how many people you're feeding, what you like to eat for dinner, and of course, you can simply choose 'vegan' when asked if you have any dietary needs. By telling them a bit about yourself via a short quiz, they will create a grocery plan and deliver you healthy groceries along with chef-designed recipes that fit your specific needs.
Hungryroot will fill your cart with their suggested groceries with recipes that are especially for you. You can take their suggestions or choose from their more than 100 top-rated products. Their team of food sourcing and personalization experts looks for the most nutritious options that are available out there, they make sure that all the food they carry is free of partially hydrogenated oils, artificial colors, high-fructose corn syrup, artificial sweeteners, and artificial preservatives.
Their plans start at $59.94 which consists of 3, 2-serving meals. Again, the plan size is personalized based on how much food you want them to deliver. The size varies depending on the number of breakfast, lunches, dinners, snacks, and sweets you want for the week – you can simply update it anytime. Their plans are very flexible – you can skip, pause, or cancel your next delivery if you wish to.
The shipping fee for plan sizes that are less than $70 is $6.99, for plan sizes that are over $70, the shipping fee is absolutely free. Hungryroot's shipping materials are recyclable, the box, paper cooler, and food protector can be recycled along with your cardboard and paper materials, while the Enviro Ice can be used for plant food.
Hungryroot is a great choice for people who would like to stick with their diet but don't have the time to do the time-consuming task of meal planning and grocery shopping. With their 'meal kit,' you can just enjoy cooking with the best of ingredients and savor every meal – all days of the week if you wish to.
PlateJoy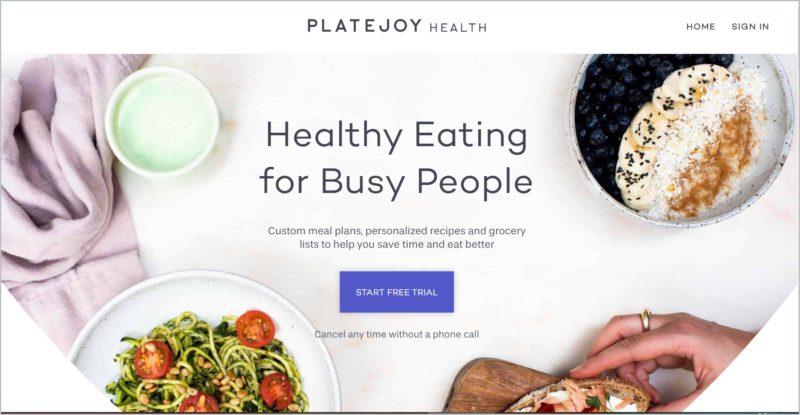 PlateJoy isn't really a meal kit service, not like the others on this list. Instead, the goal is to assist with meal planning. This basically means that they produce entire meal plans for you, based on your preferences. You're then given recipes, along with an ingredients list. You can shop for the food yourself or use Instacart to have it delivered to you from local stores.
The idea is actually really powerful. Meal planning takes a considerable amount of time and effort, as does shopping for the ingredients. This becomes more complex on a vegan diet. You or your family members may have other food requirements to consider too, such as food allergies.
PlateJoy makes it incredibly easy to work out what you're going to eat every week. The system is also comprehensive, allowing you to select many more preferences than a traditional meal kit service. After all, the company doesn't have to prepare kits for each customer. This creates an amazing ability to be flexible. I looked at many of these options when I tried PlateJoy for myself.
This also means the service works well in many different situations. For example, if you're dealing with picky kids or multiple dietary restrictions – you can tailor your PlateJoy settings accordingly.
PlateJoy is also reasonably priced. The service costs less $12 a month for a 6-month plan and less than $9 a month for a 12-month plan.
There are separate fees for the Instacart side of things but they're still not excessive (you can always choose to shop yourself if you would rather that). In fact, PlateJoy is a good low-cost alternative to meal kits. It gives you some of the same advantages but at a fraction of the cost.