Meal kits are very popular in the USA, and these services are starting to trickle out into the rest of the world world. This list is highlighting the various meal kits for the UK. Many of these kits are quite similar to US versions, but some are a little different such as the Italian-focused meal kit, Gourmio.
Of course, meal kits tend to source ingredients locally, so you can expect the recipes in these boxes to match UK tastes and use local meat, veggies, and flavorings.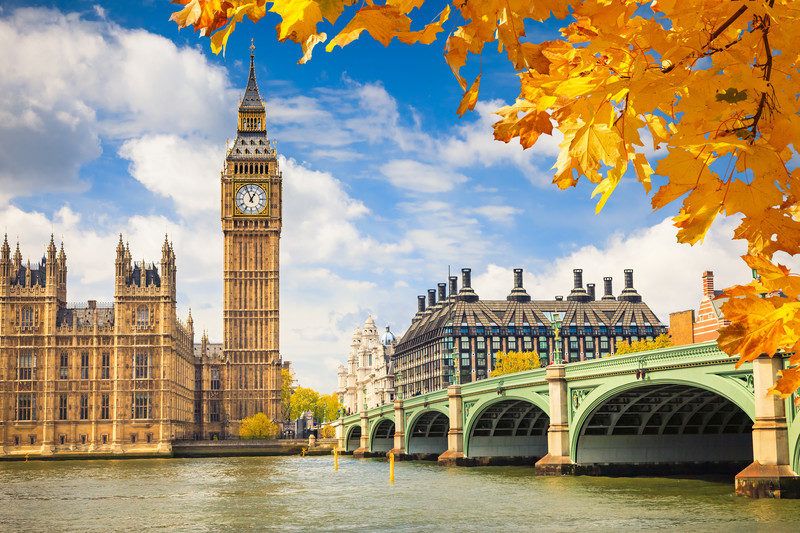 Meal Kits For UK
HelloFresh
Boxd Fresh
Feast Box
Riverford Organic Farmers
Mindful Chef
Gousto
Gourmio
Abel & Cole Recipe Boxes
Simply Cook
The Spicery
HelloFresh

HelloFresh has become a household name for meal kits. I've tried the American version myself (you can read the full review here), but today we're talking about the UK branch of the company. Like most similar services, HelloFresh sends customers fresh and portioned ingredients that are ready to use in recipes. Making the meals is easy. You simply follow the recipes.
There are 3 different plans to choose from, which all start at £5.83 per meal. The price changes depending on how many people you're feeding and the number of meals that you want each week.
The first plan is the Classic Box. You can choose from 16 recipes each week and set preferences based on your needs. The next is the Family Box, which can feed 2, 3 or 4 people. With this plan, you get meals that require minimal effort, taking less than 30 minutes and only using 2 pots.
The final plan is the Rapid Box. There are only 4 meals to choose from each week, but these are incredibly fast to prepare. The style is unusual and could be worth trying out. You can also swap in regular meals for some of those if you have more time some days.
Boxd Fresh


With BoxdFresh, you're getting fresh British produce and ingredients to make a wide range of internationally inspired recipes. There is a strong focus on quality too, which includes organic veggies, free-range meat and sustainably sourced fish.
A key aspect is simplicity. The meals can all be created in roughly 30 minutes. That's a reasonable amount of time. I've tried some meal kit recipes that took an hour or so to create, which is far too long at the end of a busy day.
This time, there are 2 plans: The Couple's Box (from £7/meal) and the 4 Person Plan (from £6/meal). The Couple's Box isn't limited to 2 people either. You could use it when you're single and just have leftovers for the next day. The main limitation is that there are only 6 meals to choose from most weeks and some of those are salads. This doesn't provide much variety, especially if you're getting 4 meals per week.
Feast Box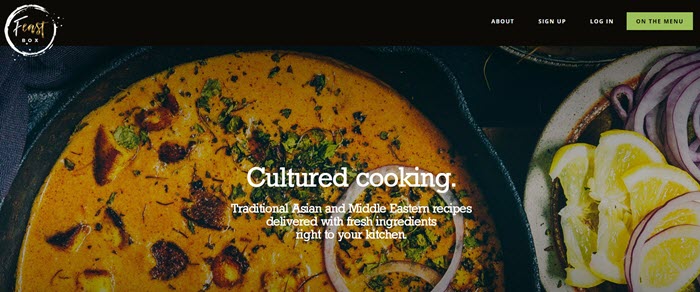 Most meal kit companies focus on a wide variety of foods. Feast Box takes a different approach, providing traditional Middle Eastern and Asian recipes. There's no shortage of variety either. There are 12 different meals to choose from each week, in a range of styles.
The types of recipes chosen are particularly appealing because many people don't have much experience with this type of cooking. It can also be difficult to find the right ingredients. Feast Box makes the whole process easy, providing you with clear instructions and everything that you need.
Riverford Organic Farmers


Riverford Organic Farmers isn't your typical meal kit company. In fact, they're not a meal kit company at all. As the name suggests, Riverford Organic Farmers provides farm-fresh ingredients. This includes meat, fruit, veggies and dairy from various sources. They also have recipe boxes for anyone who likes the meal kit style.
This aspect works exactly as you would expect. There is a weekly menu of recipes and you can choose which ones you're interested in. The ingredients are shipped out to you, allowing you to make the meals at home.
While the idea is similar to other companies, there are some unusual aspects too. One is that the meals are all for 2 people only. There are no options for larger families. Another aspect is the ingredients. These are in the right portions, but they don't seem to be prepped. This means more work in making the meals.
Mindful Chef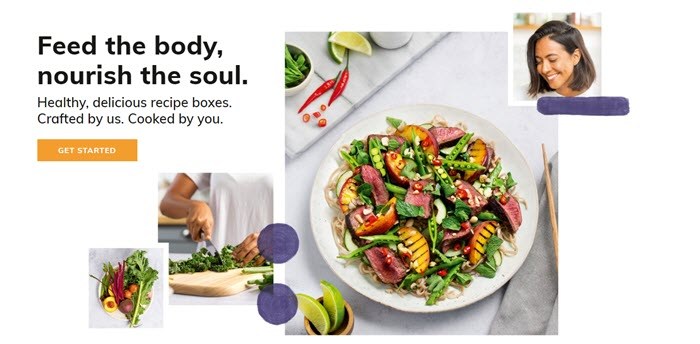 Mindful Chef is a health-focused meal kit service. The company sources their ingredients from many different UK-based small farms, relying on ingredients like grass-fed beef and free-range chicken. The food boxes start at £4 per serving.
The strong focus on health means that the meals should help to promote weight loss. In fact, Mindful Chef avoids using refined carbs, including white rice, bread and pasta. They also emphasize veggies and protein, which creates satisfying meals. Like most companies, Mindful Chef has a menu that changes weekly. This contains 16 different recipes each week for you to choose from.
Surprisingly, Mindful Chef doesn't follow the typical meal plan style. Instead, the company provides personalized boxes based on your needs. They can provide for 1, 2 or 4 people and allow you to choose up to 5 recipes per week.
Gousto


The flexibility of Gusto is a key advantage of this service. Gusto offers 20 different recipes each week, including some that are vegetarian, meat-based or fish-based. You're even able to choose which day of the week your ingredients are delivered, the number of servings and how many recipes per week.
It's unusual to find a meal kit service that has so many options. The recipes fall into various categories. This includes family, world food, classics and healthy categories, along with a few 10-minute meals. The dishes strike a good balance between being creative and familiar.
Gourmio


Gourmio is a meal kit service with an Italian twist. The meals all follow an Italian theme, but there's much more to it than that. The ingredients are also Italian and are sometimes imported. The meal kits even come with recommended wine pairings, to give you a truly Italian evening.
Another interesting aspect is the ingredients. Most meal kit services provide the ingredients as-is. These will often be prepped, but that's all the work that has been done. Gourmiotakes the process a step further. You're still doing most of the cooking, but some parts will be done for you, such as bechamel sauce for lasagna.
The partly prepared style won't suit everyone, of course. It does mean that you're not learning as much in the kitchen, which is a shame. Even so, the meals are much faster to prepare. That aspect alone is a serious advantage.
Abel & Cole Recipe Boxes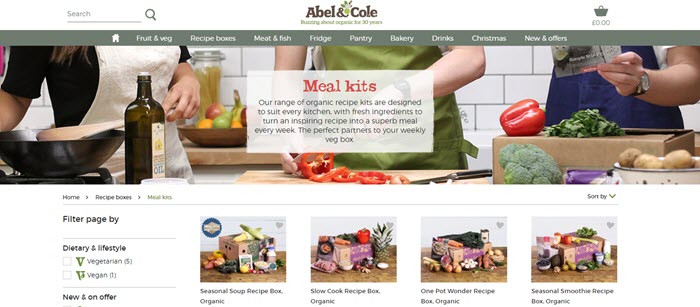 Abel & Cole is an organic food company, delivering many different ingredients to customers. They don't have a strong meal kit focus, but there are a few boxes to choose from. This includes a Slow Cook Recipe Box, One Pot Wonder Recipe Box and a Seasonal Smoothie Recipe Box.
There aren't enough boxes provided for you to feed your family multiple meals every week. Even so, the style has merits. Buying a box from time-to-time could be a way to give you an easy meal, right when you need it the most. There is even an impressive Christmas Feast Box that gives you all that you need for the holiday season.
Simply Cook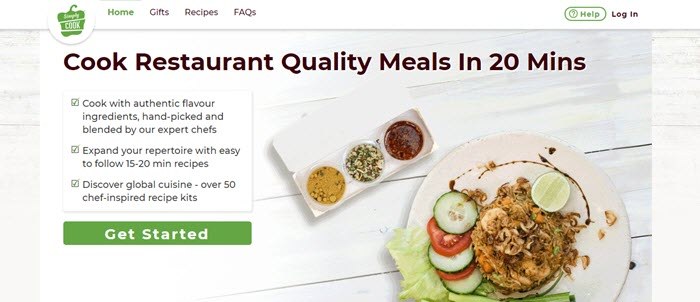 Simply Cook isn't your typical meal kit service. You don't get a box full of ingredients that you can use to create amazing recipes. Instead, each box contains 4 individual kits, allowing you to make 4 different recipes. These kits contain flavor blends, like infused oils, rubs, herb/spice blends and similar items. The recipe cards tell you what fresh ingredients you need to buy, along with how to make the recipe.
The style is powerful – as the boxes just cost £9.99. You still need to buy the other ingredients, but Simply Cook keeps the ingredient list short. You end up spending less than with many other meal kits, while still creating delicious meals. This is the perfect system for anyone hesitant about the price of meal kits.
The Spicery


As the name suggests, The Spicery is entirely focused on spices. This means that you're not getting an entire meal kit with ingredients. You're getting a much smaller packet, which just contains the spices that you need. Why not? The spices truly are what sets a meal apart. It's also a pain to buy large packets of spice when you only need a small amount.
The Spicery gets around this by providing recipe and spice kits. These can be purchased individually for £2.95 each from their website. There is also a monthly subscription. This provides you with boxes that contain recipe cards and spices. The kits are shipped in a letterbox-friendly box, so you don't need to be home when it turns up.