Everyone prefers a home cooked meal over fast food, and meal kit delivery services have made it a convenient process to have home cooked meals as often as you would like. You've heard of Blue Apron, right? They deliver the ingredients, and you cook the food according to their instructions/recipe cards. It makes cooking during the weeknight much easier, plus you get to save time on shopping.
Most people do not have the necessary time needed to plan, shop, and then prepare meals on a daily basis. If this rings true in your case, a meals delivery service is what you need. Blue Apron doesn't currently offer a gluten-free only option, but no worries. Here are ten gluten free meal kit delivery services.
I've tried a bunch of these so far, and my favorite is Sunbasket. Personally, I thought they had the widest variety of flavors and were the most fun meals to make. However, Green Chef meals were more simple and familiar flavors, if that's your style.
Don't see one on the list that you know of and liked (or didn't like)? Let us know in the comments! This is supposed to be a comprehensive list and I'll update as more services are added. Also, if you don't have time to cook, you can always check out our list of gluten-free prepared meal delivery services, which make the meal for you beforehand and then deliver it fresh or frozen and ready for you simply reheat.
Keep reading to find out more about each individual service, and a link to their website. Please let us know in the comments if you found more similar services we can post. This will be a comprehensive list we'll add to overtime!
Also, you may want to check out our post about paleo meal delivery services because there's a lot of crossover between the two types of diets. Double-check with customer service for each service how they handle gluten, but you should be good to go since these are raw ingredients and not prepped around gluten-containing agents.
Gluten Free Meal Kits
Green Chef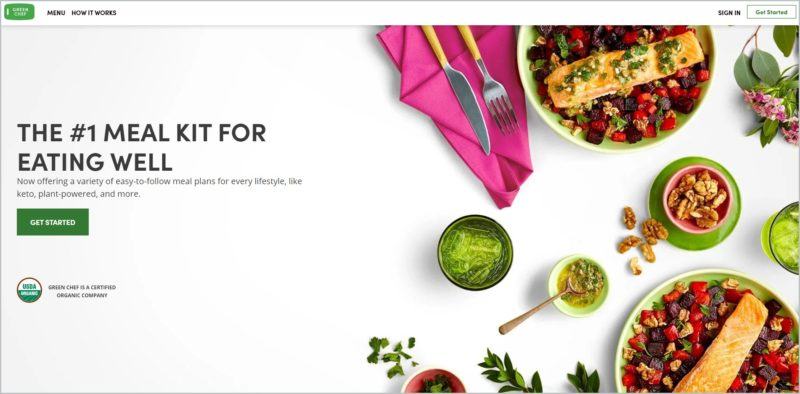 Certified by the USDA as an organic food meal kit company, Green Chef delivers non-GMO and sustainably sourced prepped ingredients to your home. The food service offers a selection of seven meal plans to meet diverse individual dietary needs.
They include the Omnivore, Keto, Carnivore, Vegan, Vegetarian, Paleo, and Gluten-Free plans. All their meals take 30 to 45 minutes to prepare and taste great. You can check out my review for full details.
Green Chef has two ordering options. One is a two-person plan and the other is designed for a family of four. Under the two-person plan, you get three dinners per week, while the family plan provides two wholesome meals each week.
All ingredients come packaged in a box with changing recipes to make your meals of choice every week. Pre-made marinades, spice blends, and sauces come with the kit. They do not have a minimum commitment period, and you can skip orders and cancel your subscription at any time.
There isn't an option to combine different meals to create your custom menu. Instead, you have to stick with their selected dishes under their different meal plans. Like with most food delivery service, their prices fall on the higher side and wouldn't be a convenient option for a large family for every day of the week. Their prices range from $10.49 to $14.99 per serving depending on the chosen plan.
Sunbasket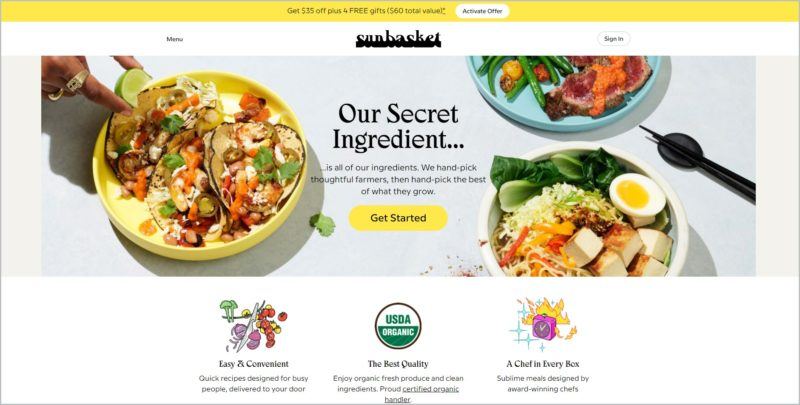 Sunbasket provides fresh, prepped packaged ingredients to most parts of the U.S, except for states located too far from their facilities. They have a Classic Menu, Family Menu, and Rise and Shine Menu options (choose from all menus here, with a $45 discount). You get a selection of ingredients enough to cook two dinners and two breakfasts with the Rise and Shine menu.
Their meals are non-GMO, organic, and contain hormone-free meats. Award-winning chef Justine Kelly is behind their list of nutritionist-approved recipes. You get a choice of paleo, vegetarian, and gluten-free meals.
Also, the food descriptions include details about potential allergens, and they feature helpful tags including dairy-free, soy-free, and spicy that come in handy when placing orders. Sunbasket is also a company that I've tried myself and you can check out my review for more details about what they offer.
Sunbasket does not have any vegan menu options, which does not make it the ideal choice for anyone who is on an entirely plant-based diet. If you do not have any food restrictions, you can try their Chef's Choice options.
Unfortunately, you can only sign up for weekly subscriptions, which means that you cannot order single meals or food that is enough for just one day. Also, you have to call their customer service to cancel deliveries because you cannot do it online.
The Classic Menu features a weekly package with three daily meals (enough for two or four people) at $11.49 per meal. Their Family Menu comes at $9.99 per meal with the option of two, three, or four weekly meals (enough for four people). You pay a $5.99 weekly delivery fee regardless of the plan you choose.
Gobble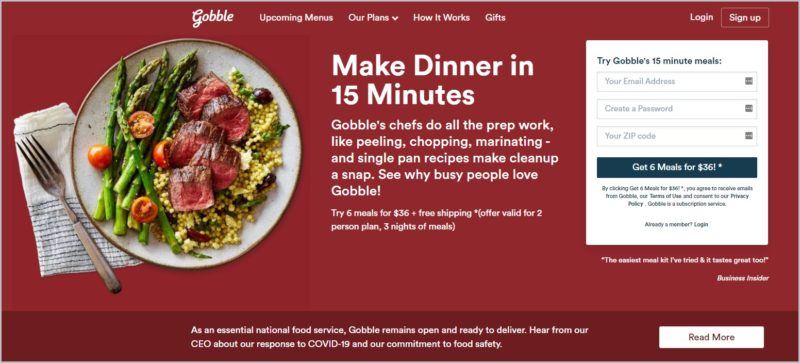 Gobble promises to help you spend less time in the kitchen with their convenient, fast, and easy food delivery service. They deliver meal kits with farm-fresh ingredients sourced locally, and their proteins are hormone-free. Renowned chef Thomas Ricci creates all their gourmet recipes, which they promise can get you a cooked meal in just 15 minutes.
This is true too and it's something I noticed when trying out the kits. You can find more details about the experience in my Gobble review. Their meals aren't all gluten-free but some are. You can select meals individually when ordering, so it's easy to just get the gluten-free ones.
The meal kit service delivers prepped and portioned ingredients which reduces cooking time significantly. They offer three-step recipe cards that make cooking easy.
Although, in fairness, there are more than three steps involved in the recipes. One reason for the fast cooking time is that the sauces are premade and are simply provided to you. This does make the process easier, although homemade sauces have a certain something that Gobble doesn't manage to replicate.
When ordering, you can pick from their chef-designed menu with selections of dishes to suit diverse diets and preferences. The Gobble meals have between 500 to 700 calories, making them healthy and fast dinner options. Your order arrives in a big refrigerated box, with either a selection of ingredients to prepare four or six meals.
The portioned ingredients come packed in individual bags, and they can last for up to five days in your fridge or up to three months in your freezer.
Gobble allows you the flexibility to skip deliveries and cancel at any time. However, they only deliver on Tuesdays and Saturdays. You can either get their four meal plan at $13.95 per serving or their six or more option at $11.95 per serving.
HelloFresh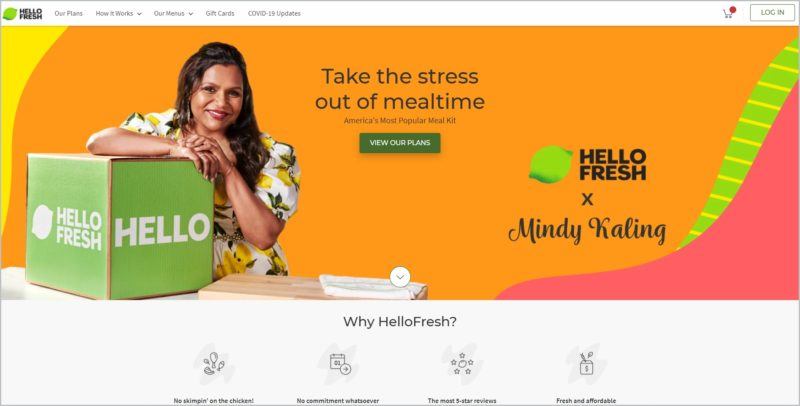 If you are looking for a meal kit service with diverse selections of weekly recipes to suit your lifestyle, give HelloFresh a try. This is another one that I've reviewed. It isn't my favorite meal kit out there but it still has some advantages.
HelloFresh puts together their weekly collection of recipes with the help of their in-house dietician. Each week, you get 15 new recipes to choose from, with meal preferences and customizable options available. They have a choice of omnivore and veggie diet plans with three meal plan packages.
Their Classic plan has the option of three or four meals per week for two or four people. The HelloFresh Veggie plan features plant-based proteins and comes in a choice of three meals per week for two or four people. Their Family Plan has the option of two or three meals per week for four people.
Most of the HelloFresh recipes contain gluten; it is possible to swap out these ingredients to create equally healthy gluten-free meals. You can look out for the recipes labeled as gluten-free because they offer some specific gluten-free options each week. The selection of gluten-free meals isn't amazing but it would be fine for many people.
Like most other food delivery services, they only ship out a minimum order for two people. That's unfortunate for anyone who wants meals in single-serving portions! Of course, you could just keep the other half for leftovers.
The meal kit service delivers free of charge, and they send out orders seven days weekly. Their Classic and Veggie meals cost $9.99 per serving, while their Family meals cost $8.74 per serving.
Marley Spoon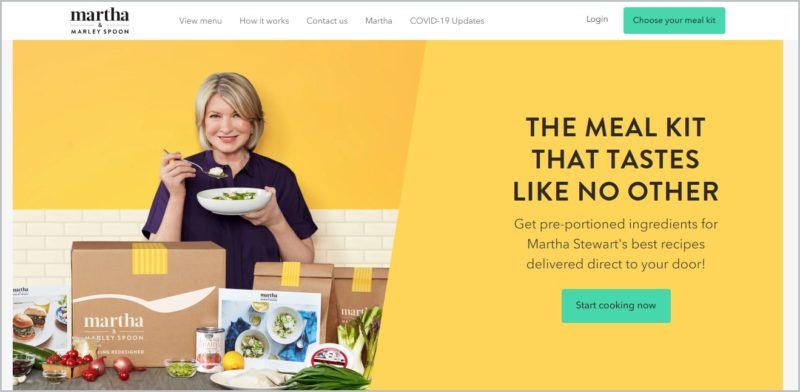 Marley Spoon is another interesting meal kit service, also called Martha & Marley Spoon (due to the involvement of Martha Stewart). It relies on high-quality ingredients, although these don't appear to be organic.
The company delivers to most of the contiguous states, although you'll have to step through the signup process to find out whether they ship to your area. Marley Spoon is annoying in that way.
There are two different meal plans to choose from. The first is designed for two people. You can order two, three, or four meals per week. This averages out to either $12, $10.25, or $9.50 per serving, respectively.
The second is for three to four people. Again, you can select two, three, or four meals each week. This time, the average price per serving is $9.50, $8.90, or $8.20. Shipping is free for all options.
You could also choose a three to four-person meal plan for a couple. The leftovers from doing so would mean that a box might last you close to a week.
There is no gluten-free specific meal plan to choose from. Instead, you select meals individually from the weekly menu. There are ten different meals to choose from each week and some of these will be gluten-free.
For example, the menu at the time of writing contained five meals that were gluten-free, while the remainder weren't. This is a fairly poor selection – but it could be fine if you only want one or two recipes per week. It would also work if you're not very picky about the meals you eat.
Hungryroot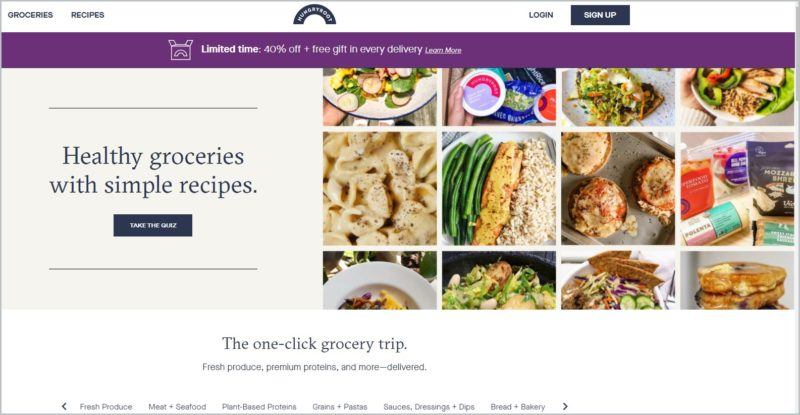 Hungryroot is more of a personalized grocery service than a meal kit service but functions quite similar because they'll send you the groceries with accompanying recipes. They will learn a few things about you from a series of questions that will determine your goals, the number of people you're feeding, and what you like to eat for dinner. For your dietary needs, simply choose 'gluten-free,' they also cater dairy-free, soy-free, peanut-free, tree-nut free, shellfish-free, egg-free, vegetarian, vegan, and pescatarian.
Hungryroot will fill your cart with their suggested groceries with chef-designed recipes that fit your needs based on the answers you gave them in the quiz. You can either take their suggestions or choose from their more than 100 top-rated products.
They have a team of food sourcing and personalization experts that ensures that all the food they carry is free of high-fructose corn syrup, partially hydrogenated oils, artificial colors, artificial sweeteners, and artificial preservatives. They look for the most nutritious options available out there to offer their customers.
The plan size is personalized based on how much food you want them to cover for the week. It will vary depending on the number of breakfast, lunches, dinners, snacks, and sweets you want – you can simply update it anytime. Their plans start at $59.94 which consists of three, 2-serving meals. It's actually very flexible, you can skip, pause, or cancel your next delivery if you want to.
The delivery fee is fixed at $6.99 for plan sizes that are less than $70, however, it's absolutely free for plan sizes that are over $70. They take pride in that their shipping materials are recyclable. The box, food protector, and paper cooler can be recycled along with your cardboard and paper materials, while the Enviro Ice can be used for plant food.
Home Chef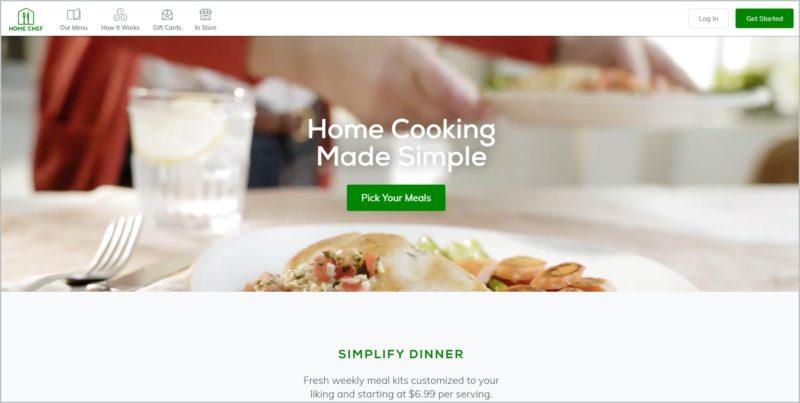 In many ways, Home Chef is a good middle-of-the-road company. They offer some interesting meals that are fairly fast and easy to prepare but there is nothing extremely unusual included. This is a good balance for many people, although I personally find that I enjoy more unique dishes. That being said, the meal selection is interesting and there are plenty of dinners to choose from.
Whether this works on a gluten-free diet probably depends on your sensitivity level. Home Chef doesn't use the term gluten-free to describe its meals. Instead, they rely on a Taste Profile feature. This allows you to select various ingredients that you want to be excluded from your meals.
Making the right selections here should mean that your meals are gluten-free. But, even if they are, there is the risk of cross-contamination. As such, Home Chef is best for people who are avoiding gluten in their diet by choice, not for people who are very sensitive to gluten.
Home Chef has flexible ordering options. You need a minimum order size of $45 each week but you get to choose the number of meals (from 2 to 6) and the number of servings (from 2 to 6) that you're looking for. The meals are all roughly $9.99 per serving, regardless of your selection.
PlateJoy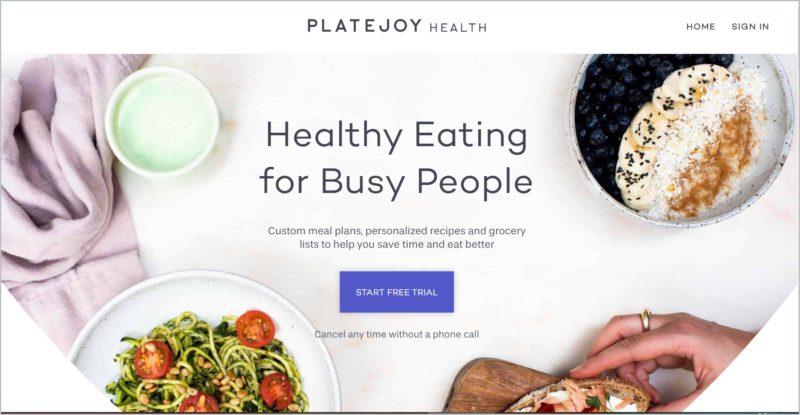 One more service to consider is PlateJoy, and this one is a little bit different. Basically, PlateJoy is a meal planning service. It can save you a ton of time by picking our recipes for you each week and providing you with a shopping list to work from. You can see more details about how it works in my full review.
There is also an ingredients delivery component. PlateJoy works with Instacart, which allows you to have food delivered from local stores. The interaction between the two is seamless and you can easily add or remove ingredients before you purchase anything. Instacart isn't available in all states and does have its own fees. Even so, it is a very interesting option and a great way to save time.
PlateJoy isn't as convenient as the other services on this list. There is more work involved in setting up your account and in making your grocery order. Even so, the style has multiple advantages.
One is cost. You pay less than $12 a month for a 6-month PlateJoy membership and less than $9 a month for a 12-month membership. You also get to choose your own ingredients and you can shop locally if you want to. That's a great way to cut down costs further. Besides, you may already have some of the ingredients at home.
Another key advantage is versatility. PlateJoy is able to offer more meal plans than most other services, covering many different diet types. Meal plans are also tailored based on other factors, like whether you are limiting carbs, whether you want out of season ingredients and even the kitchen tools that you have. This is perfect if you have picky eaters or complex dietary needs in your family.
PlateJoy won't suit everyone. But, it can be a less expensive and more versatile option than other services.
One Potato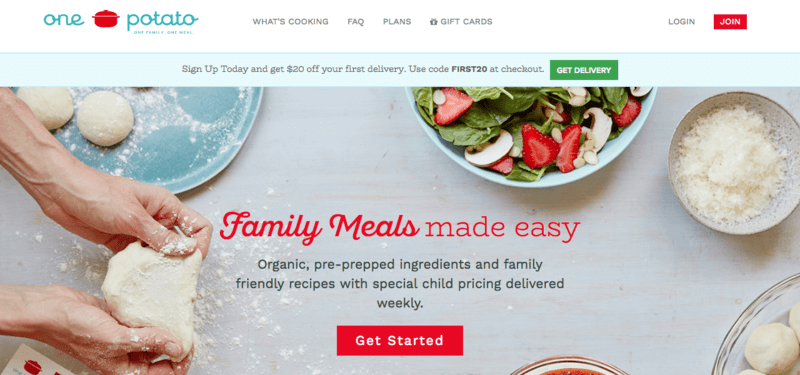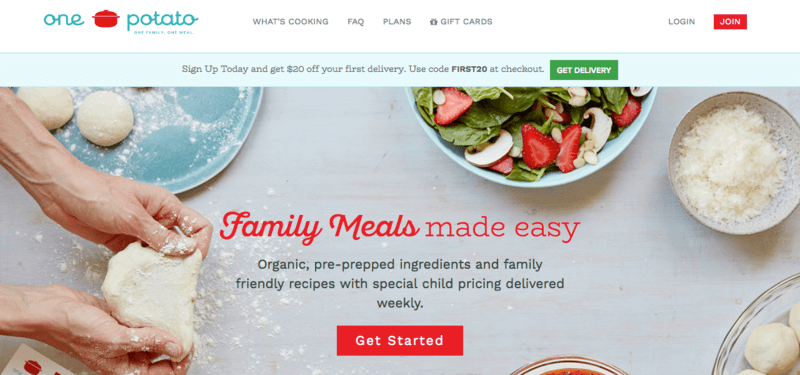 One Potato delivers family-friendly and organic meals. Their meal plans are customizable by family size and dietary preferences like gluten-free and vegetarian. One Potato will send alternatives to foods that contain nuts and gluten. You have to take into considerations though, that One Potato is not a nut-free or gluten-free facility.
A package would include family-friendly recipes that are from the trusted family food brand Weelicious and a James Beard award-winning chef, organic and non-GMO seasonal ingredients that are sourced from the country's top farms, pre-chopped, and pre-measured ingredients, and a free gourmet organic cookie dough.
They know that families would like to eat wholesome and delicious home-cooked meals if they can but we have to admit that it can get very challenging sometimes plus it's fairly time-consuming as well. One Potato makes it easy, affordable, and reliable making eating healthier possible with their meal kits.
Signup is super simple with One Potato, just tell them the size of your family, pick a plan, and wait for your deliveries. Their plan is very flexible, too, you can skip or cancel anytime.
Their cost per serving starts at $7.32. Their most basic meal plan costs $51.80 and includes two servings for 2 meals a week. That plan has two dinners with main and side dishes, condiments and dressing, and your choice of cookie dough – that is good for 2 adults, or 1 adult and 1-2 small children.
Takeout Kit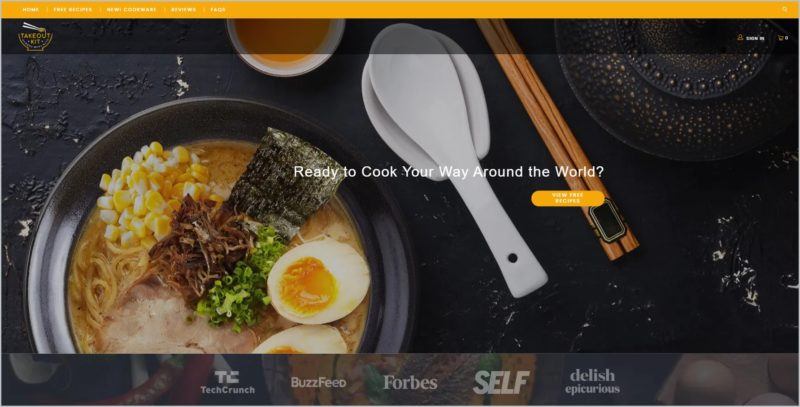 Takeout Kit is not your typical meal kit service, they are focused on international cuisine like Japanese, Indian, Korean, European, Peruvian, Moroccan and so much more. They however cater to different dietary preferences, so everybody's welcome to get adventurous with different international dishes and simply opt for gluten-free, vegan, vegetarian, or all-natural preference.
With Takeout Kit, cooking becomes more enjoyable and dining even more exciting as you experience cooking with hard-to-find ingredients and authentic recipes from different parts of the world. Through Takeout Kit, you will learn more about the culture and background of the dish, you will discover exotic new ingredients, and follow simple recipes to cook your globally-inspired meal. They even offer music playlists and drink pairing recommendations to further enhance your dining experience.
Takeout Kit's easy recipes will guide you through shopping for and cooking authentic global cuisine at home. Recipes are designed with your time in mind so rest assured that dinner will be fast – basically ready in 25-40 minutes. It's also customizable, you can simply swap in plant-based protein, omit the salt, or skip the chili powder.
Their meal kit includes a full serving for 4 people, a simple recipe card, high quality authentic global ingredients, a list of all the necessary kitchen supplies you'll be needing, and suggestions for additional fresh add-ins and drink pairings.
What a Crock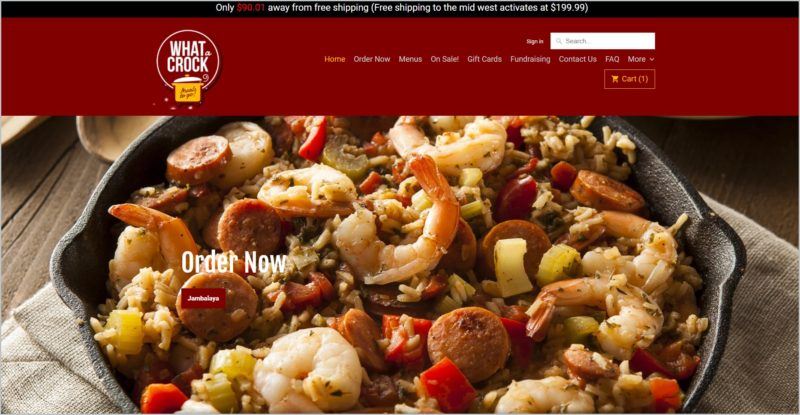 What a Crock is a family-owned and operated business. They are passionate about wholesome home-cooked meals and quality dinner time. They make sure that you're having a meal with real, natural ingredients prepped by a family that cares about home-cooked meals and dining together. They also cater to special diets like gluten-free, as well as low carb, low calorie, low sodium, or dairy-free.
Their meals are meant to be cooked on low in the slow cooker. Cooking times for meals of course vary from each recipe. An instruction card will be included in the bag, should you have any questions when cooking, or for some reason misplaced or lost your instruction card, simply call them for assistance.
What a Crock makes all their meals fresh from scratch using only the best of ingredients, the meats and veggies are trimmed, seasoned, browned, and then blanched or seared to lock in all the flavors. Their meals are sold by the portion, on average it weighs between 1.5 and 2 pounds. and one portion is good to feed one person with a large appetite or two light eaters.