Being socially isolated doesn't mean that you need to give up on your favorite foods, drinks or pastimes. There are plenty of ways to access these remotely, especially with so many different companies out there. In this post, we're looking at a particularly important area – alcohol delivery apps.
Let's be honest. Most of us like having at least some alcohol in the cupboard, whether it is a bottle or two of wine, some beer, or our favorite spirit. Even with the best planning in the world, we sometimes find that we need to stock up in a hurry, which is where the apps in this list come in.
These services all allow you to get alcohol delivered straight to your door, often within just a few hours of ordering. Some companies only offer alcohol delivery, while others allow you to order other things at the same time (perfect if you're planning a party).
Just make sure that you check out the service requirements first. Alcohol delivery tends to only be available in some states, plus many of these apps only operate in specific cities.
Alcohol laws also mean that you often need to sign for your alcohol too, although companies are doing what they can to make the process as contact-free as possible, given the current coronavirus crisis.
Alcohol Delivery Apps
Drizly
Saucey
Minibar
Swill
DoorDash
Grubhub
Postmates
Instacart
FreshDirect
Deliver.com
Boxed
Alcohol Of The Month Clubs
Drizly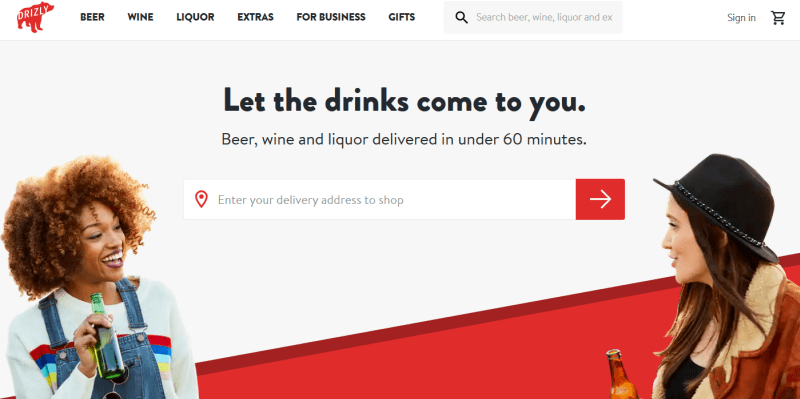 Drizly specifically focuses on alcohol delivery, That's it. You can get beer, wine or liquor delivered straight to your door – generally in less than 60 minutes.
The selection of alcohol is considerable, as the drinks that you order come from your local liquor store. You can buy related supplies too, including mixers, ice, snacks, garnishes, and even barware.
Drizly doesn't mark up the prices of alcohol ordered through them. The prices on the app are set by the local companies. However, the app prices may sometimes be out-of-sync with in-store prices, especially if the company has regular in-store specials and doesn't update its prices in-app very often.
There is also a Drizly Connect service, which currently operates in Washington D.C. and Massachusetts. This service ships items from local warehouses, rather than stores. The approach means that the alcohol takes longer to get to you, but
Saucey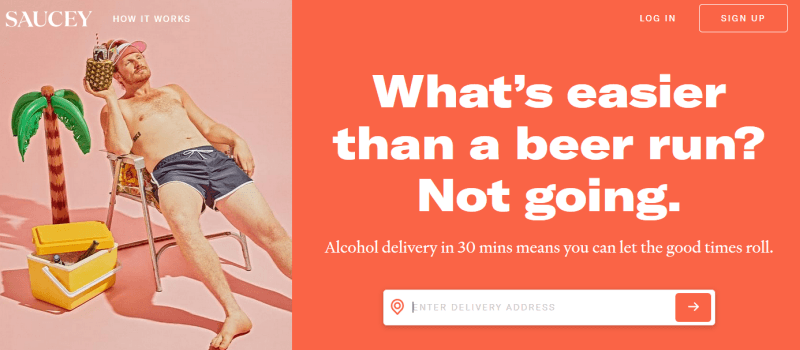 Saucey is a second service that focuses entirely on alcohol. It even offers a $5 first-order discount, giving you the chance to easily try out the service for yourself.
The most impressive part of the service has to be the speed. You can get your alcohol within 30 minutes of ordering, which is incredibly fast. The speed is partly because, once again, you're ordering from local stores. A gig worker picks out your order and brings it straight to you.
If you're not in the right area for the on-demand delivery service, you might still be able to order from the Saucey warehouse. If you do so, your order is shipped out and you'll get it in roughly two days.
Minibar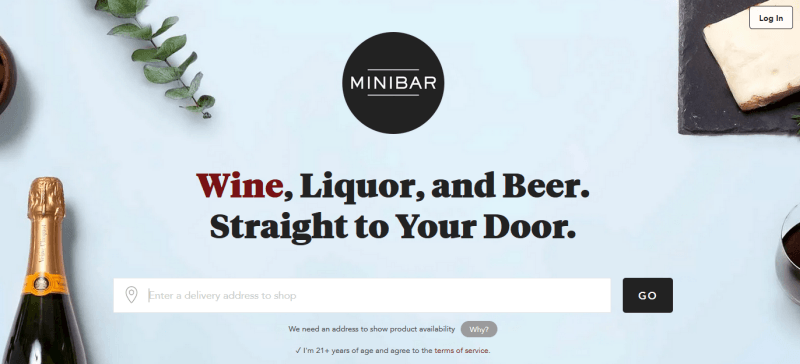 With a name like Minibar, the focus of this company isn't hard to guess.
Just like the previous examples, shopping with Minibar means that you're ordering from local stores. This means that you need to provide your location before you can start to shop for alcohol.
Delivery normally takes just an hour, so you won't be left waiting too long. The app has a decent service area too, offering delivery to 40 different cities across the nation.
Minibar has an unusual extra feature where you can hire a mixologist to tend bar at your next event. I've never seen a gig economy bartender service like this before and it's a cool idea.
This part of the service certainly won't suit all situations and isn't at all useful to anyone self-isolating at home. Even so, hiring a bartender could be a fun option in the future.
Swill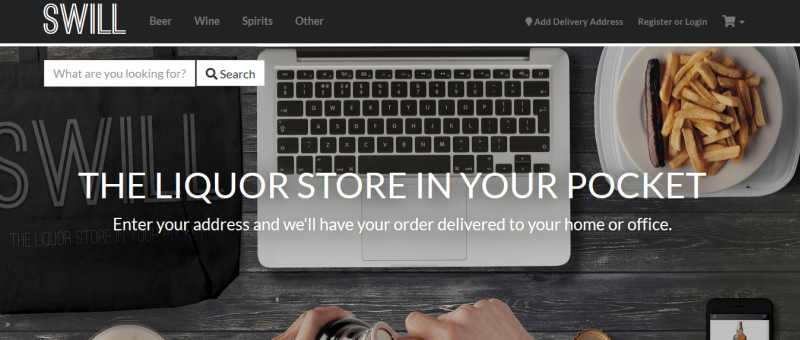 Swill is a smaller service than many of the others on this list, serving just 15 different cities. If you're lucky enough to be in their service area, then you can expect fast and easily delivery within 60 minutes.
The app and website maintain real-time inventory data, so there's no risk that you'll order something and then find that it is out of stock. There are also real-time notifications about your order as it processes, helping you to know exactly when it is going to turn up.
Swill isn't just relevant to your personal alcohol delivery needs either. You can use the app to send an alcohol gift to another person. What could be better than that?
DoorDash

DoorDash is mostly a service that delivers restaurant food to your door. It can be a fantastic choice if your favorite store doesn't offer deliveries.
You can also get alcohol through DoorDash if there are suitable partner companies in your local area. DoorDash is interesting in this sense, as you're able to order alcohol from some local convenience stores and also from restaurants.
Ordering alcohol from a restaurant will often mean that you're getting a can of beer or a small bottle of wine with your meal, but some restaurants may be more creative in what they offer. You might even be able to order cocktails in some situations, although this will depend on the restaurant in question and the laws in your area.
Grubhub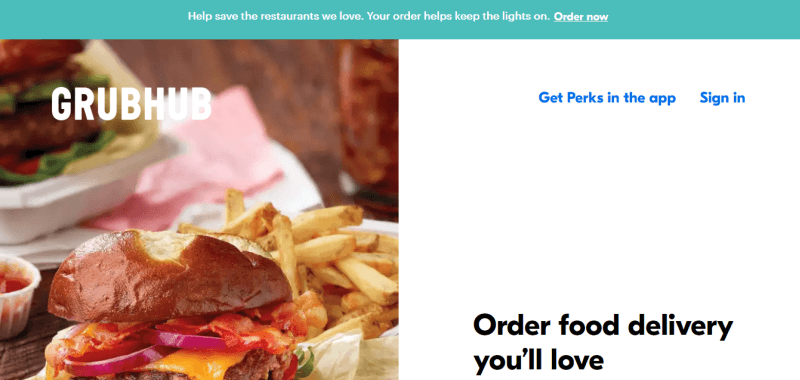 Grubhub is another popular restaurant delivery service. Drivers can't delivery alcohol from convenience stores or grocery stores, but they may be able bring you booze to if it is a part of your food order.
Alcohol delivery is only available in select cities and drivers must fulfill extra criteria to accept and deliver alcohol. This may make it harder to get your order filled if you're ordering alcohol.
Postmates


Postmates claims to deliver anything, including restaurant food, alcohol, and groceries. It's a fantastic combination app and is perfect if you're likely to want some snacks to go with your drinks.
If you're in a supported city, then you're able to get alcohol delivered in less than an hour. You're not limited to beer and wine either. The service also delivers spirits, so you can basically order whatever you want.
Instacart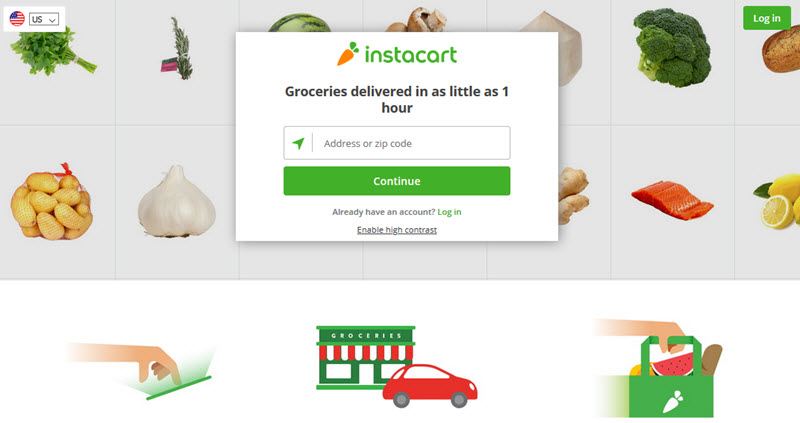 Instacart is a famous grocery delivery app, one of the most well-known ones out there. The service gives you the chance to order groceries from local stores that don't delivery. A gig worker picks out your order at the grocery store and delivers it to you.
Instacart doesn't provide alcohol delivery to all of its service locations, but many cities are included, such as New York, Atlanta, Miami, and New York City.
FreshDirect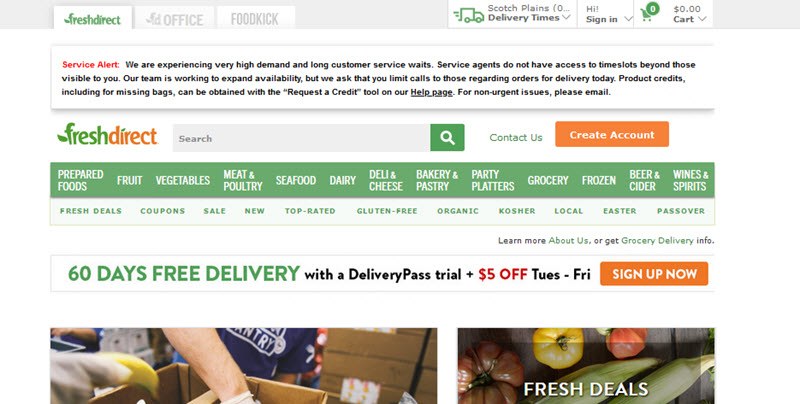 FreshDirect is similar to Instacart in that you can order groceries as well as alcohol. The biggest difference is that FreshDirect is an online marketplace. This means that you're ordering from the company itself, rather than tasking a shopper to fill an order at a local store.
This style is easier than a service like Instacart, as the FreshDirect site and app show you exactly what products are in stock. There's little risk that you'll have a personal shopper contact you about substitutions, making this a more hands-off process than Instacart.
FreshDirect doesn't skimp when it comes to alcohol either. The company has a considerable selection to choose from. Their alcohol is broken down into key sections, which are easy to search or sort based on your preferences.
The biggest limitation is that, like many companies, FreshDirect is currently experiencing high demand with the coronavirus crisis. Orders may take longer to process and there are fewer delivery slots to choose from.
Delivery.com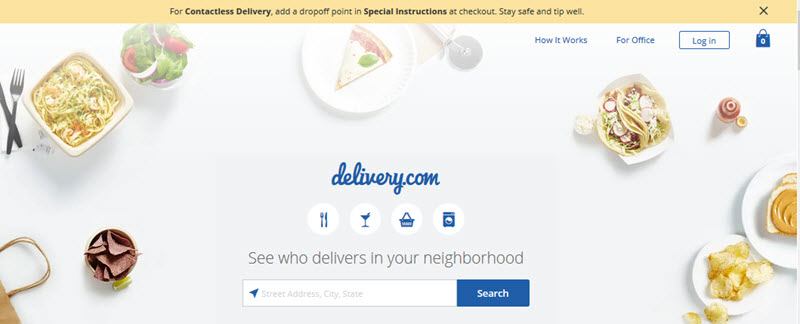 If you have a variety of food and drink needs, Delivery.com is a good company to consider. The service doesn't just offer alcohol and grocery delivery, they also deliver food from local restaurants.
Delivery.com rewards users with Delivery Points for relying on the app. The points can be redeemed for credit with the company. If you rack up enough points, you could even get a Chromecast or an iPad Mini 4, but the number of points needed for those rewards is on the extreme side.
If you were a previous user of Klink, which was an alcohol delivery service, you might be pleased to know that Klink is now part of Delivery.com. This type of merger is relatively common for apps such as these – and does mean you can get a larger range of items, rather than just alcohol.
Boxed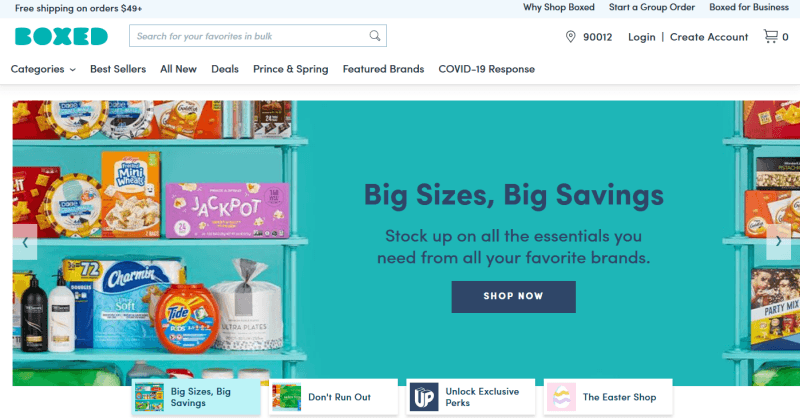 Boxed is another service that will deliver many different types of products. The biggest difference is that Boxed focuses on wholesale purchasing. This means you'll be buying large sizes of items, like a 36-piece carton of pop tarts, rather than a small box.
The service does offer alcohol too, but not the same selection that you'll find elsewhere. For the most part, they're just selling wine – and their range isn't extensive.
Still, the service is interesting, as you're getting discounts on the products. For example, a six-bottle collection of sparkling wine costs $79.99. The site estimates that this is a 41% saving on the retail price of the wine. You can even buy a 24-can variety pack of wine for $89.99, which could be appealing if you want something that's a little bit unusual.
Alcohol Of The Month Clubs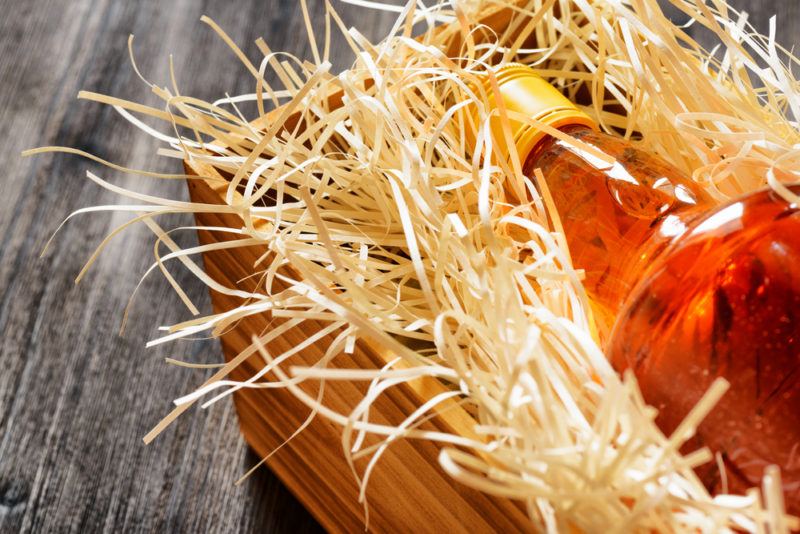 While we're on the topic, it's worth mentioning alcohol of the month clubs. There are many to choose from, including beer, wine, hard cider, whiskey, and cocktail clubs. Many of these clubs operate through websites only, but some do have apps as well.
A particularly good example is Flaviar, which has an iPhone app, but not a Google play app. Flaviar focuses on whiskey samples, giving you the chance to try various fine whiskeys that you may never have had the chance to otherwise.
Their quarterly club provides a tasting box each quarter, along with one full-size bottle and member pricing on whiskey bottles from their store.
Clubs like Flaviar mightn't be as convenient as some of the other items on this list, as you're only getting your alcohol every month or even less often. That's no good if you want it in a hurry.
Still, for those who like to plan ahead, monthly clubs can be a fantastic approach. Many clubs give you the chance to explore beer, wine or spirits that you wouldn't get to try otherwise.
Many clubs do also have stores that you can order from. While the speed of shipment varies depending on the company, you'll probably need to wait at least a few days for your alcohol.